Crested Butte Elopements
Named the "last great Colorado ski town," Crested Butte is a perfect four-season town for an intimate wedding. Crested Butte has a mellower feel to it than other Colorado ski resort towns, yet it boasts world-class skiing in winter, our famous wildflowers in spring and summer and breathtaking aspen colors in the fall.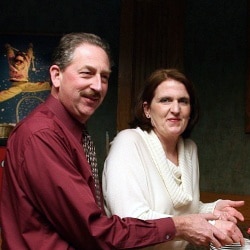 We're husband and wife team Maureen Thomson & Jeremy Myers and we love elopement weddings. (We had one ourselves!) We and our crew of talented local wedding professionals have been putting together small weddings filled with laughter and happy tears in and around Crested Butte since 2002.
If you're envisioning:
A simple mountain wedding in a breathtaking Crested Butte outdoor location
Gorgeous professional photography
Actually enjoying your wedding day (What a concept!)
And you want
Access to our handpicked Crested Butte wedding professionals
An all-inclusive intimate Crested Butte wedding package
Someone to handle all of the details for you
A wedding planner with local knowledge and small wedding expertise
The good, the bad and the ugly of locations including tips about dealing with tourist season, weather issues and potential yuckiness you'd never think of — until it happens.
A totally stress-free wedding experience!
And you DON'T want:
A big wed-a-palooza
To spend months planning a wedding on your own
The frustration of researching, interviewing and screening vendors
The uncertainty of trying to plan a long distance wedding