A Sapphire Point Elopement for Jacqui and Shawn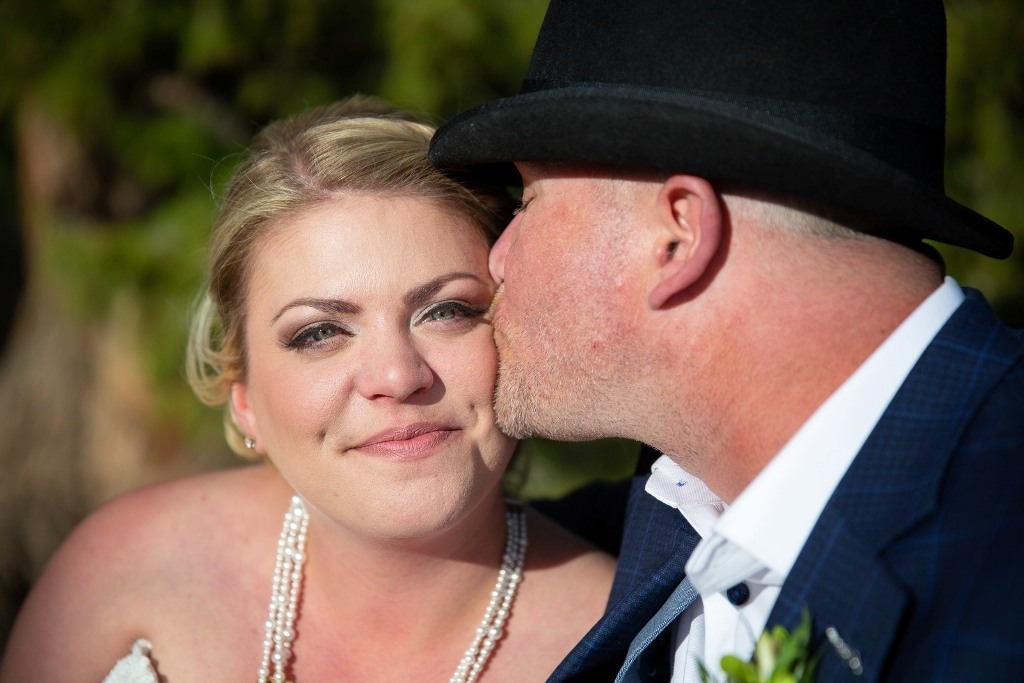 Sapphire Point Overlook is a popular spot for Breckenridge Elopements
Once you see Sapphire Point Overlook, it's easy to understand why it's such a popular elopement venue. With a backdrop of the Ten Mile Range of the Rocky Mountains as well as views of sparkling Lake Dillon, it's hard to imagine a Colorado elopement venue that could be any more appealing.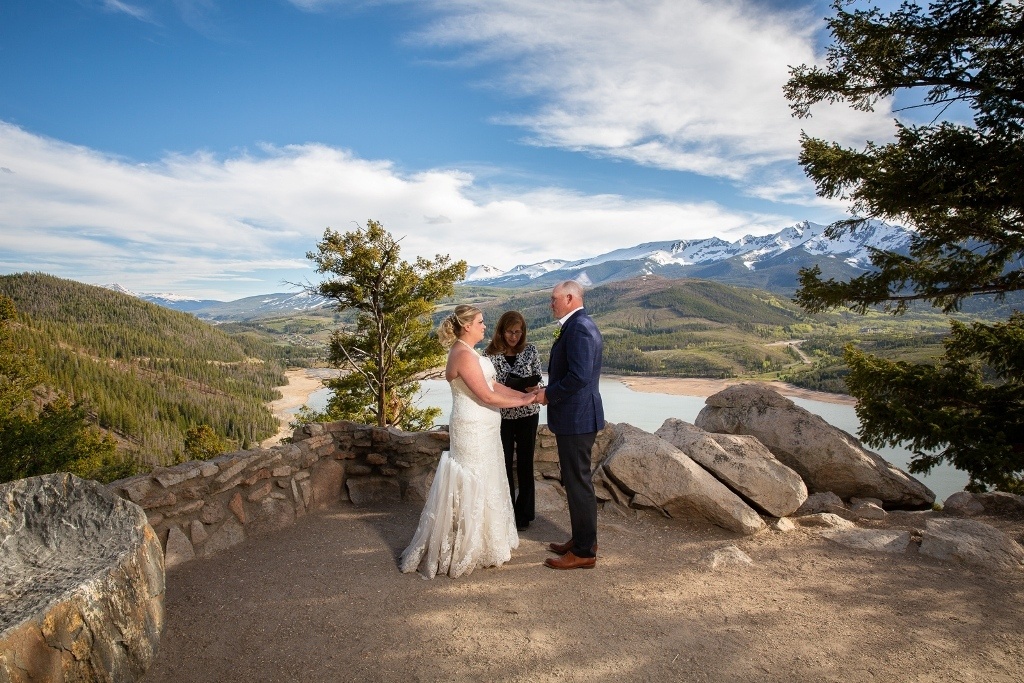 I caution couples that Sapphire Point can be busy with tourists and locals who come here to take the short walk that leads to this stunning overlook. Usually, once informed of the busy-ness of Sapphire Point, couples have me suggest other, lesser-traveled Breckenridge wedding venues. But Jacqui fell in love with the views from the photos and video I sent as part of our elopement location consutling services. So, Sapphire Point it was for Jacqui and Shawn's elopement wedding!
As it turned out, by booking a Monday evening wedding, Sapphire Point was quieter than we'd anticipated. And the weather for the day was perfect!
(If you're not familiar with it, Sapphire Point Overlook is a reservable elopement wedding venue in Breckenridge.)
Jacqui & Shawn's Wedding Day
With a higher-than-usual snow pack from the previous winter, the Rocky Mountains over Sapphire Point were still impressively snow-capped well into June. This gave Jacqui and Shawn a majestic backdrop for photos. To top it off, the sunny evening made Lake Dillon glimmer in the background.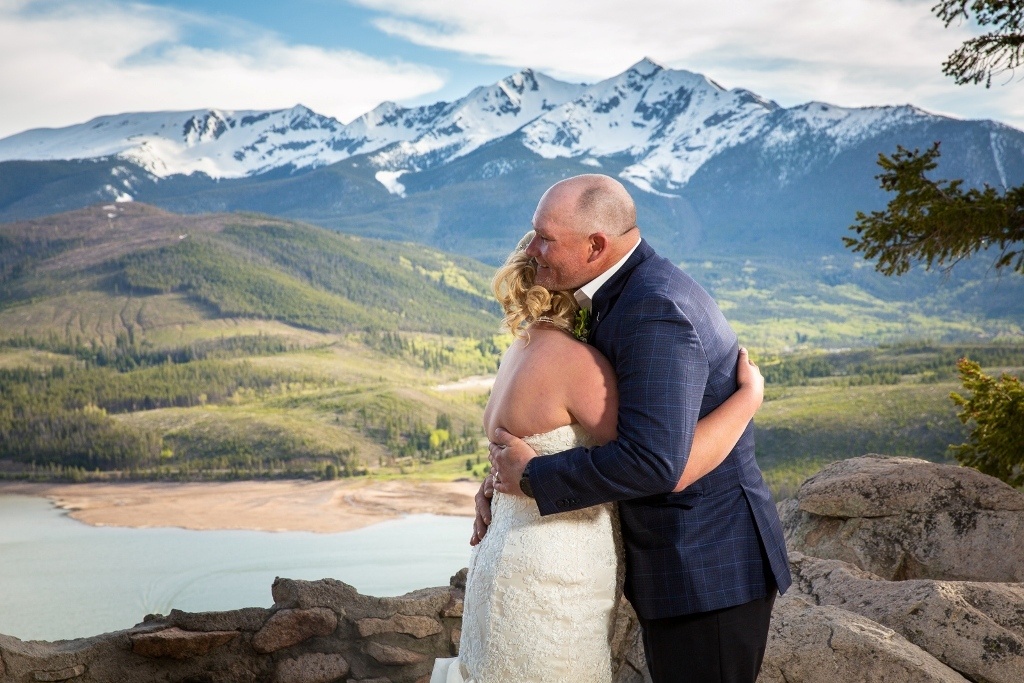 When Jacqui first contacted me, she emphasized that she wanted their wedding to be stress-free, casual and easy-going. Coming from Michigan, they didn't want to fuss with any of the details upon arriving in Colorado. (Fortunately, handling details is one of our fortes!)
Their other priorities included gorgeous photographs and flowers.
Bridal Hair & Makeup
Jacqui sent us pictures of the styles she envisioned for her hair and makeup. Our stylist pulled her blond hair back into a low, loose bun and gave her a natural, understated look for her wedding-day makeup. The total effect was stunning. (Shawn seemed to agree!)
Sapphire Point Wedding Backdrops
Sapphire Point provides such a variety of backdrops for elopement wedding photos. Step a few feet in either direction and the landscape changes from mountains to rocks to forests. Our photographer had Jacqui and Shawn take full advantage of all the options. (It helped that they were okay with scrambling over some rocks!)
Elopement Wedding Flowers
Our florist created Jacqui's bouquet in a gorgeous blend with a variety of flowers in dusty blues, light pinks and white, embellished with several types of greenery.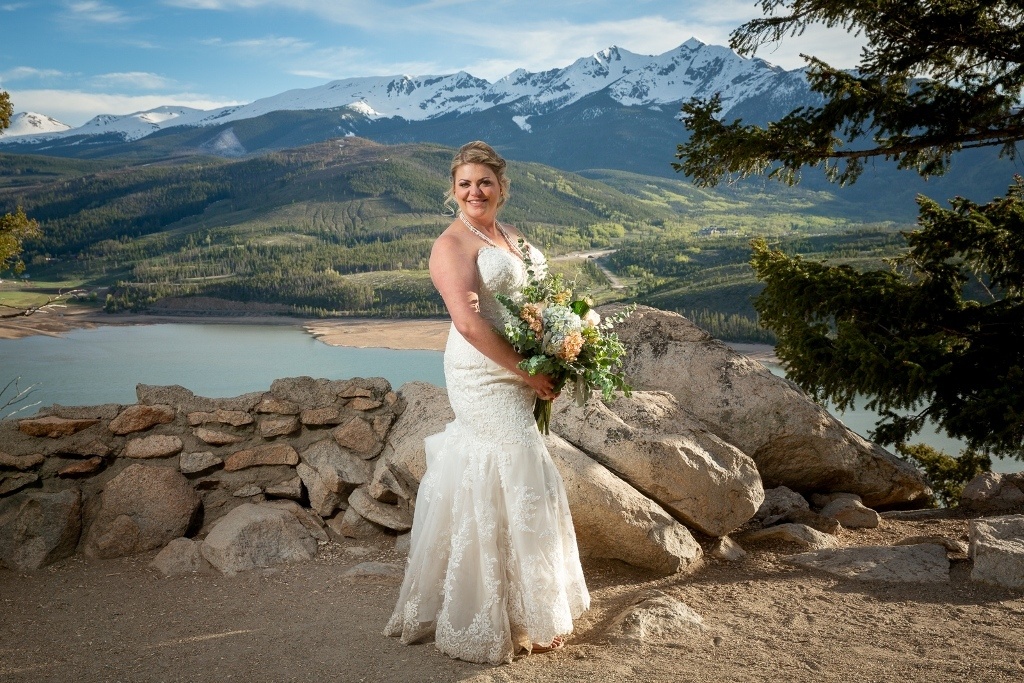 Then it was time to pop the Champagne!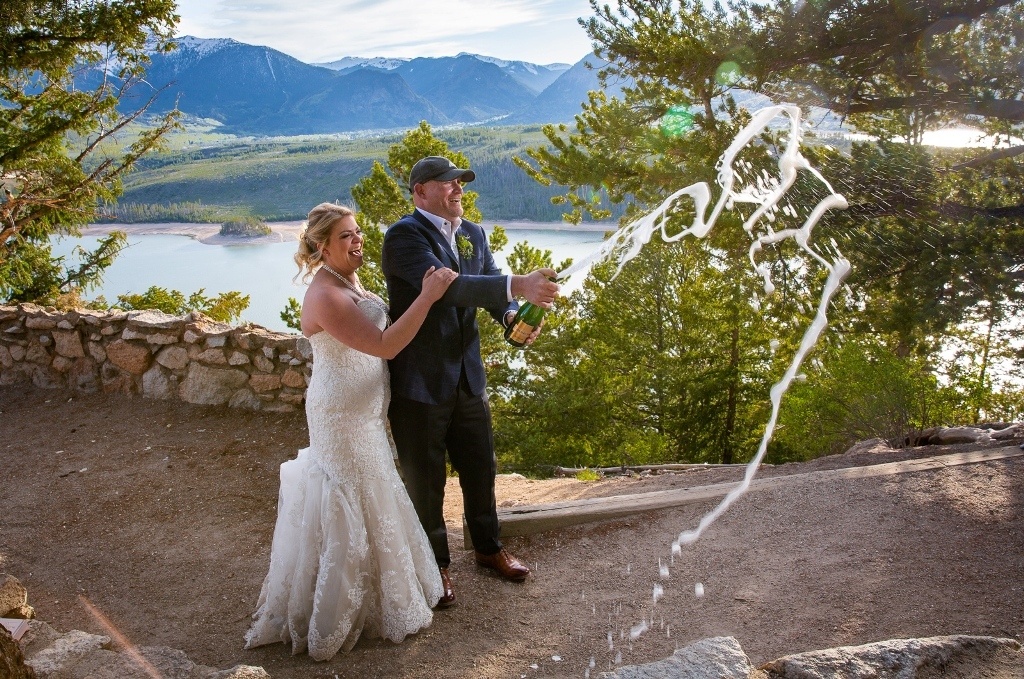 In Their Own Words
Why did you choose an intimate wedding? We wanted to be able to focus on each other and celebrate our love together. We still had a reception back at home so we were able to celebrate with family and friends too!
What made you select Sapphire Point? The view!!!! The online pictures and video looked amazing but once we were there it was even more beautiful. Breckenridge was also a great location to have a vacation.
What words best describe your wedding day? Perfect! We would not have changed anything! It was beautiful and everyone was amazing. We were able to focus on what we were there to do, celebrate our love for each other.
What was your favorite part of your wedding day? Being pronounced husband and wife.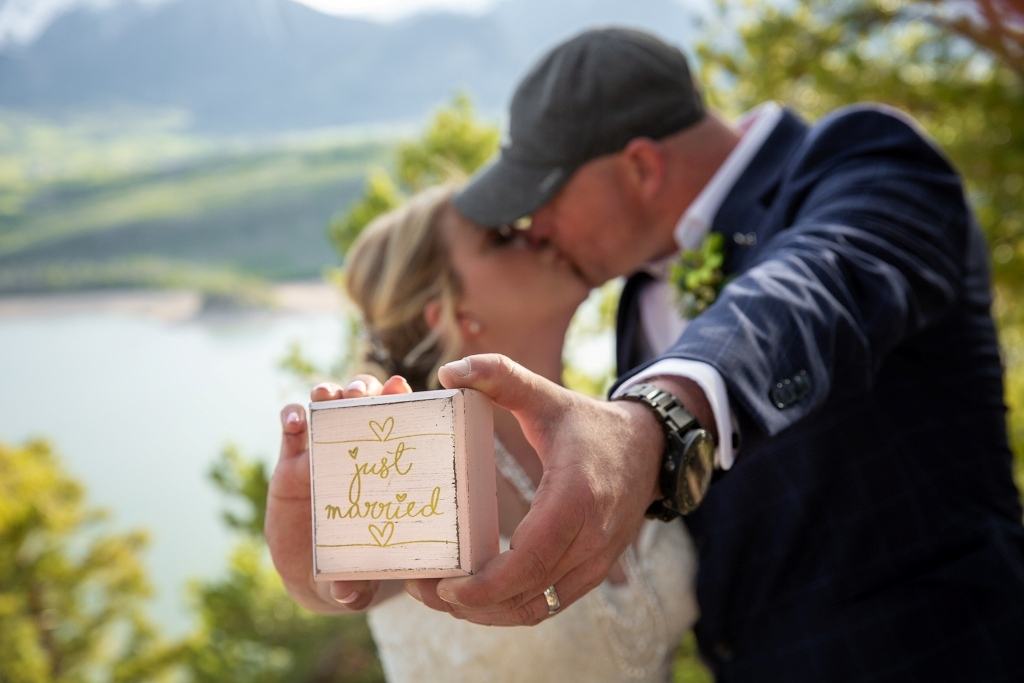 Everything went perfectly! I wouldn't have changed anything. Everyone was wonderful. Thank you so much!!! We are very happy!
Services included in Jacqui and Shawn's Sapphire Point Elopement Package
Location Consulting
Officiating
Photography
Bouquet/Boutonniere
Bridal Hair & Makeup
Coordination Services