Elope in Telluride
Telluride is where you go when you want to elope high atop the Colorado mountains. The views here are unrivaled anywhere! We'll put together a custom Telluride elopement package for you, and we'll cover every detail (so you don't have to!).
What we provide for your Telluride elopement:
A stress-free mountain elopement or micro-wedding (up to 30 guests) in a breathtaking Telluride outdoor location.
A secluded Telluride venue that will keep you away from onlookers.
Best quality professional photography from a locally-based photographer.
Professional officiating services.
Bridal hair and makeup services provided by our Telluride stylists.
Full-sized fresh flower bouquet/boutonniere in your choice of flowers and colors.
Professional videography.
Hands-on, no-detail-left-to-chance, coordination services by our wedding planner to handle all of the details for you.
What you can take off your worry list if you work with us:
Feeling like the center of attention in front of 200 guests on your wedding day.
Working with inexperienced wedding vendors. We require our vendors to have a minimum of five years in their field and 5-star reviews across the board.
The uncertainty of trying to plan a long distance Telluride elopement on your own.
Stressing over the details.
Having to wait for answers to your wedding-related questions and concerns.
Wedding day drama.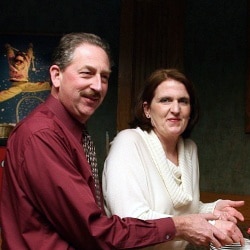 We're husband and wife team Maureen Thomson & Jeremy Myers and we love elopement weddings. (We had one ourselves!) We and our crew of talented local wedding professionals have been putting together Telluride elopements filled with laughter and happy tears since 2002.
How does this whole thing work?
Our focus is on making the process of eloping in Telluride as straightforward and stress-free as possible. Here's the step-by-step description of how the whole thing works:
Check out our Pricing Page, or request our Pricing Guide to make sure we're within your budget.
Send us an inquiry and share as many details as you have about your Telluride elopement.
We'll send you a custom proposal and price quote.
Set up a complimentary consultation call with Maureen.
Get started with Location Consulting Services to find the perfect-for-you place to elope in Telluride.
Once you choose your venue, confirm the services you want from us. Then, we'll assign your vendors.
Complete our online contract.
You'll be assigned a personal coordinator who will be your go-to person from start to finish. They'll oversee the entire process and basically be your fairy godperson up through the wedding day.
Elope in Telluride, having the best day of your lives and truly enjoying the experience!
Of course, there are a ton of behind-the-scenes details we'll be handling for you. But you won't need to worry about those. We'll also reach out to you during the planning process at the right time for you to complete some tasks (like giving us your preferences for flowers and hair and makeup). Throughout the entire process, your coordinator and your wedding vendors will only be a call, text or email away if you have any questions.
NOTE: Telluride has become a very popular destination for weddings of all sizes. Since the pool of qualified elopement vendors in Telluride is small (and we're super-picky, so that rules out a lot of Telluride-based vendors who simply don't meet our standards), this makes lining up vendors for your wedding a challenge – especially in the summer and early fall months. If eloping in Telluride in summer is a must-have for you, then you should plan on booking your elopement package 12-18 months in advance in order for us to secure vendors. And the more flexibility you have in terms of dates, services and location, the better. Telluride is in high demand.
Ready to get started with your Telluride elopement?
Yea! We can't wait to hear more! Please send us an inquiry and we'll take it from there.
Watch a video of one of our Telluride elopements.