Monterey Elopements
On central California's shore, Mother Nature has given us a spectacular backdrop. Sunlight dancing on the Pacific, powdery sand, dramatic rock formations, lush parks and crashing waves are our outdoor "chapels."
Man (and undoubtedly Woman) picked up where Mother Nature left off in the Monterey Bay area, providing us with charming inns, colorful gardens, and an abundance of things to see, do, eat and drink. It's no wonder that we host the intimate weddings of hundreds of couples each year in this beautiful part of the world. It's a little slice of heaven!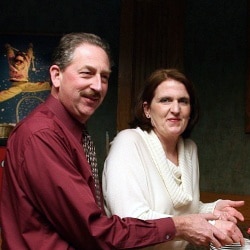 We're husband and wife team Maureen Thomson & Jeremy Myers and we love elopement weddings. (We had one ourselves!) We and our crew of talented wedding professionals have been putting together small weddings filled with laughter and happy tears in and around Monterey since 2002.
If you're envisioning:
A simple wedding in a breathtaking Monterey beach, ocean overlook, private garden or redwood location
Stunning professional photography
Actually enjoying your wedding day (What a concept!)
And you want
Access to our handpicked Monterey wedding professionals
An all-inclusive intimate wedding package
Someone to handle all of the details for you
A wedding planner with local knowledge and small wedding expertise
The good, the bad and the ugly of locations including tips about dealing with tourist season, weather issues and potential yuckiness you'd never think of — until it happens.
A totally stress-free wedding experience!
And you DON'T want:
A big wed-a-palooza
To spend months planning a wedding on your own
The frustration of researching, interviewing and screening vendors
The uncertainty of trying to plan a long distance wedding