California Redwood Forest Weddings
California elopements aren't just about beaches; many of our couples tell us they want to be married amid the lush redwood forests that exist from just north of the San Francisco Bay Area all the way south to Big Sur.
There's something utterly magical about exchanging vows under centuries-old redwood trees. There are also some things to think about–perhaps some things that may not occur to you…cuz…you know…you don't get married every day of the week… (That's why you have us!)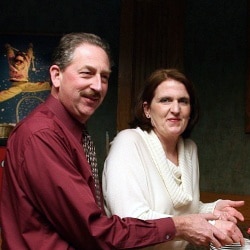 We're husband and wife team Maureen Thomson & Jeremy Myers and we love elopement weddings. (We had one ourselves!) We and our crew of talented local wedding professionals have been putting together small weddings filled with laughter and happy tears in and around San Francisco since 2002.
The biggest hurdle that couples face when planning a California redwood wedding is finding the perfect redwood site. We've got that covered for you. As part of our Location Consulting Services, we'll point you in the direction of redwood venues that will give your wedding that deep in the woods feeling (while not actually having to hike for hours to get there!).
After finding the perfect-for-you redwood wedding location, obtaining the required permit can be a nightmare for the inexperienced. Sometimes the parties that own these venues don't make it easy! Fortunately, we've navigated all the federal, state, county and local governments that manage these sites and we can handle the permit process for you. Trust me–this will save you excessive bouts of hair-tearing!
We also have exclusive arrangements with some private redwood sites. This is the way to go if you want more privacy and flexibility. Some of our private redwood venues also provide onsite lodging and catering for an all-in-one-exclusive California redwood wedding experience.