Elopements in Half Moon Bay
Half Moon Bay is the answer to your dreams if you're envisioning a Hawaii elopement but don't want the expense and stress of traveling to Hawaii. (And with the governor of Hawaii asking people to refrain from visiting the state due to a spike in Covid-19 cases, it's really prudent to elope closer to home!) Half Moon Bay's beaches are unrivaled–with miles of shoreline, white sand and dramatic cliffs. Perfect for intimate California beach weddings. (And oh yes–Half Moon Bay has redwood elopement venues, too!) Eloping in Half Moon Bay is all about ease and enjoying your time together.
If you're envisioning:
A stress-free, idyllic elopement on the beach in California or among the redwoods.
Stunning professional photography to document your California elopement wedding.
Actually enjoying your wedding day. (What a concept!)
And you want
Access to our handpicked Half Moon Bay wedding professionals.
An all-inclusive elopement wedding package in Half Moon Bay.
Someone to handle all of the details for you.
An elopement wedding planner with knowledge of Half Moon Bay.
A totally stress-free wedding experience!
And you DON'T want:
A big wed-a-palooza.
To spend months planning a wedding on your own.
The frustration of researching, interviewing and screening vendors.
The uncertainty of trying to plan a long distance wedding.
To run the risk of hiring wedding vendors that don't deliver on the quality you're expecting.
The logistics of eloping in Half Moon Bay
You'll need to obtain a California marriage license prior to the wedding. Our officiant will guide you on this process. Bear in mind that the county marriage license offices are not open on weekends.
Unless you obtain a confidential marriage license (this is rare), you will need one witness to sign the license. This can be your photographer if you don't have any guests with you.
Eloping on the beach in Half Moon Bay will require a state of California beach wedding permit. These run around $325. We will roll the cost of the permit into your package fee with us and obtain the permit for you.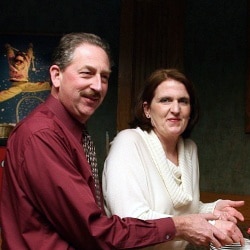 We're husband and wife team Maureen Thomson & Jeremy Myers and we love elopement weddings. (We had one ourselves!) We and our crew of talented local wedding professionals have been putting together small weddings filled with laughter and happy tears in and around the California coast–including Half Moon Bay–since 2002.