Elope in San Francisco
Eloping in San Francisco is like no other experience on earth. Of all the places where Blue Sky Elopements offers our elopement packages, the San Francisco Bay Area offers the greatest variety of venues for an intimate destination wedding. Your options for places to elope in San Francisco range from toes-in-the-sand on the beach (with either the Golden Gate Bridge or the Oakland Bay Bridge as your backdrop), cliff overlooks, cityscapes, redwoods, rooftop terraces, fabulous gardens, and San Francisco City Hall.
We'll put together a custom San Francisco elopement package just for you. We'll simply ask a few questions, have a phone consultation, find out what you're thinking for your small wedding, and then we'll be able to manage all the details for you (so you don't have to!).
How we give you the perfect San Francisco elopement
We'll offer you our extensive local knowledge on the best places to elope in and around San Francisco. We specialize in outdoor weddings with breathtaking natural backdrops.
We'll connect you with topnotch Bay Area small wedding vendors.
Ensure you have gorgeous professional photography.
Let us handle all the details for you with our knock-your-socks-off coordination services.
We'll package everything for you and handle all the details to ensure you a totally stress-free small wedding experience!
Remove these items from your worry list when you work with us for your San Francisco elopement
Feeling like the center of attention in front of 200 guests.
Ending up with low-budget, inexperienced novices as your wedding vendors.
The stress of planning your San Francisco elopement on your own.
Being disappointed with your wedding photos.
Drama, chaos and regret surrounding your wedding day.
If you'd like more info about eloping in San Francisco
Feel free to request our San Francisco elopement pricing guide or contact us for a custom proposal.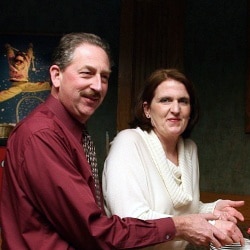 We're husband and wife team Maureen Thomson & Jeremy Myers and we love small weddings. (We had one ourselves!) We've been offering elopements in San Francisco since 2002.
Why we love San Francisco elopements