Grace and Peter Get Married Near Berkeley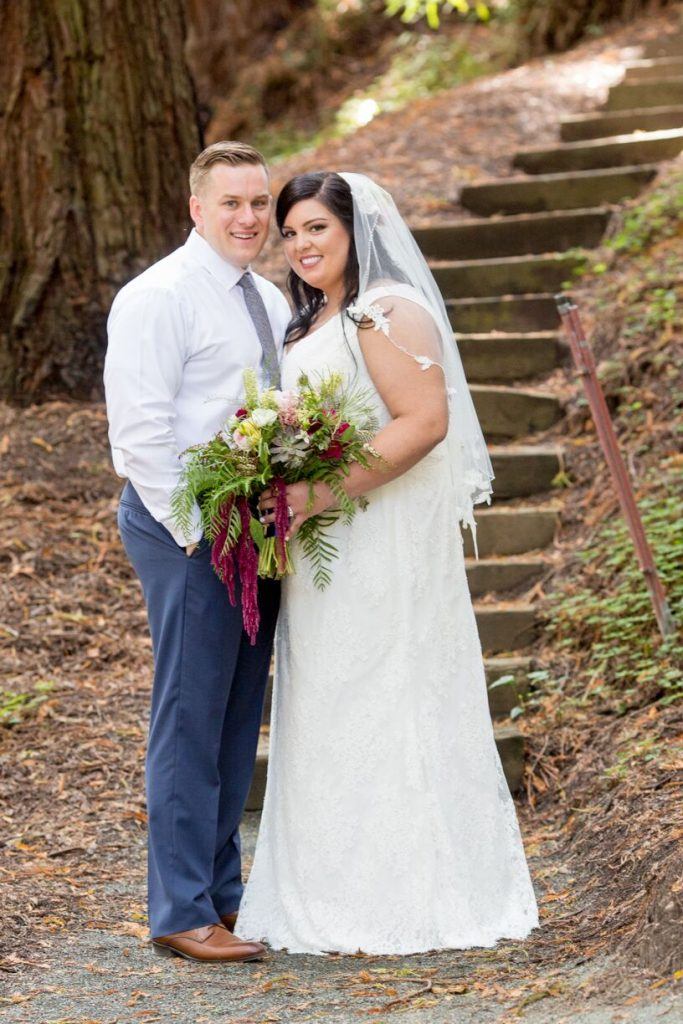 Grace and Peter met 9 years ago on their college track team.  After they met for that first time, Grace knew the two of them were meant to be together.  Following a long engagement and trying to avoid a big wedding, Grace and Peter contacted me to plan their intimate California elopement. They wanted their wedding to be focused on their love, not on the pressure to please their guests.
Grace and Peter's August wedding ceremony was gorgeous, with sunny 75 degree weather. Grace remembers the day as ethereal, stress-free, and happy.
"We love the outdoors," wrote Grace and Peter. "From backpacking to camping, kayaking to stargazing, we've traveled around the country. For us, there is nothing that takes our breath away like the California Redwoods."
Grace chose wildflowers, ferns, hydrangea, orchids, and roses for her bouquet and those of her attendants.
Weddings are made unique through the details. And nothing screams unique better than jazzy socks!!
The botanical garden setting for Grace and Peter's wedding offered a variety of landscapes, ranging from a towering forest backdrop to settings straight out of the Southwest.  It's multiple wedding destinations all rolled into one!
The couple looks back on their elopement in California with no regrets.
"There was no stress! I wasn't concerned with pleasing tons of guests. Our wedding was about us and our families in an AMAZING location. We are so grateful. When I reached out to Maureen, I didn't think that planning a wedding 3,000 miles away was possible. It ended up being more than I could ever have imagined."
And they're advice to other couples curious about eloping with the help of Blue Sky Elopements?
"Do it! You will not regret it. There was nothing Maureen couldn't handle!  If you want a euphoric wedding focused on you and your significant other, unconditional love, and pure bliss, this is for you!"
More…