Eloping in Santa Cruz
Santa Cruz elopements have a style that is uniquely their own. Known for our balmy climate, breathtaking coastline, redwood forests, and socially liberal leanings, Santa Cruz attracts couples who consider themselves a little offbeat, nontraditional, nature-lovers who are looking for an alternative to traditional venues where they can tie the knot.
Blue Sky Santa Cruz Elopements
We've been offering all-inclusive elopement packages in Santa Cruz since 2002 (before elopements became popular!). We specialize in lesser-known (i.e. less crowded/more private) outdoor coastal and redwood sites that offer a spectacular backdrop for your intimate wedding. We combine that with our award-winning photography and other topnotch wedding vendors (officiants, videographers, florists, and hair and makeup artists) and top off the whole thing with our hands-on coordination services that leave no detail to chance. We'll even make all your travel arrangements for you if you like.
If you're envisioning:
A simple elopement-style wedding in a breathtaking Santa Cruz beach or redwood location
Stunning professional photography
Actually enjoying your wedding day (What a concept!)
And you want
Access to our handpicked Santa Cruz elopement professionals
An all-inclusive Santa Cruz elopement package
A private ceremony venue that will keep you out of the eyes of onlookers
A local elopement wedding planner to handle all of the details for you
A totally stress-free elopement experience!
And you DON'T want:
A big wed-a-palooza
To spend months planning a wedding on your own
The frustration of researching, interviewing and screening vendors
The uncertainty of trying to plan a long distance wedding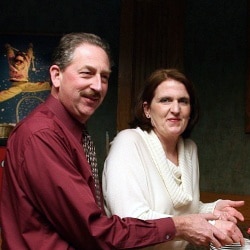 We're husband and wife team Maureen Thomson & Jeremy Myers and we love elopement weddings. We and our crew of talented elopement wedding professionals have been putting together Santa Cruz elopements filled with laughter and happy tears since 2002.
We'd love to help you!
Request our Santa Cruz elopement pricing guide or contact us for a custom quote.
Resources for your Santa Cruz Elopement
Click the links below for more information.