Taylor and Jordan's Wedding at Muir Woods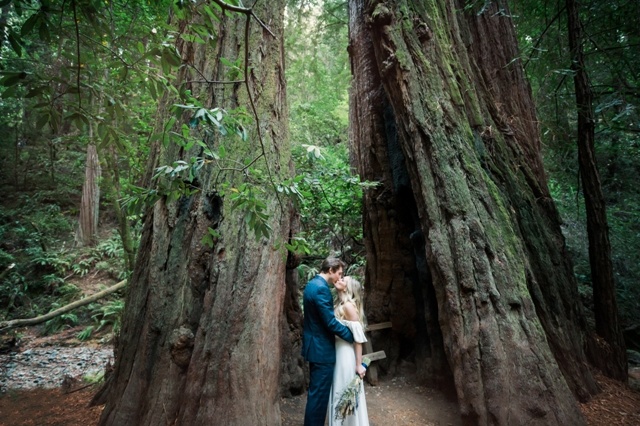 Coming from Florida–where forests are not exactly abundant–Taylor and Jordan longed to be married underneath California's towering redwoods. We initially discussed several options–including Big Sur, Santa Cruz and the East Bay. But ultimately, they settled on a Muir Woods wedding–specifically in Cathedral Grove.
That site requires a $255 permit for weddings of any size, so we rolled that into their package to make it easier for them. They wanted to keep things super-simple, so it was as easy as connecting them with a photographer and an officiant. Everything went off without a hitch and on October 1st, Taylor and Jordan were officially married–just the two of them with a glorious redwood backdrop.
Their wedding was all about romance and simplicity–from Taylor's feminine off the shoulder white dress and the simple wreath of flowers on her head to Jordan's casual attire. The entire day was a reflection of who they are as a couple.
I asked Taylor what words best described their wedding day. "Perfect and calm."
And what was the best thing about having an intimate wedding?
"We remember every detail. It's not a blur." (How many "big wedding" couples can say that?)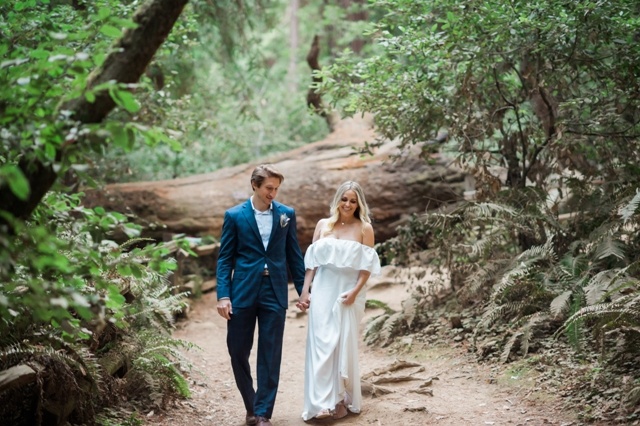 Taylor and Jordan have known each other since the 4th grade, so this was a marriage of best friends.