Corren and Andrew Elope in Saratoga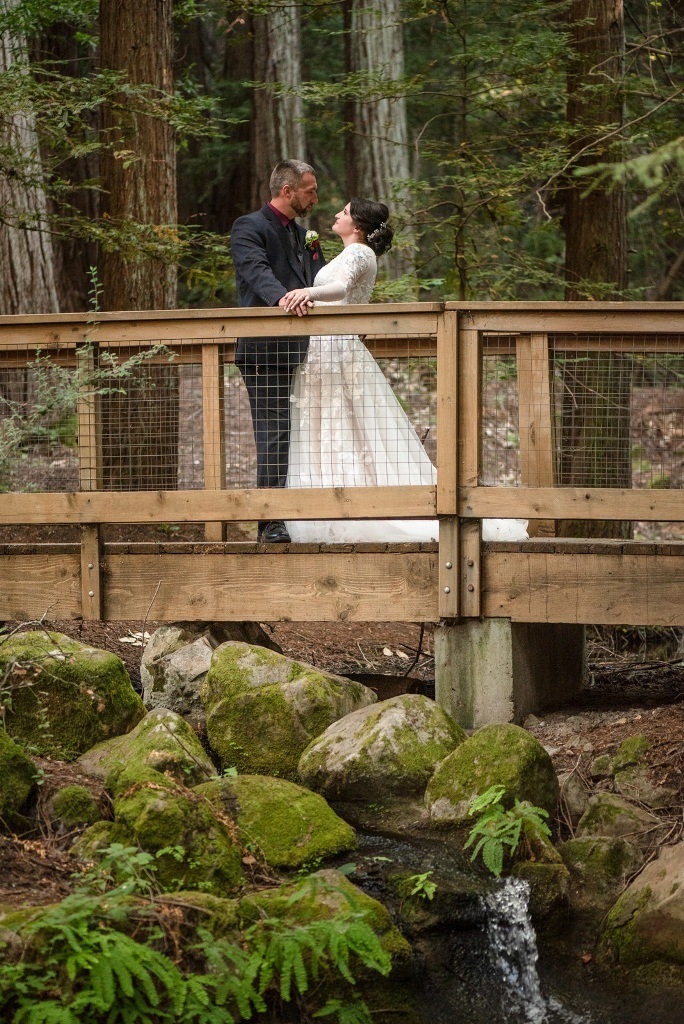 Some people simply shouldn't be in the wedding business!
While I wouldn't say Corren was in a panic when she called me about eloping in the California redwoods (she was pretty composed considering someone else that she'd trusted for her wedding planning had dropped the ball), she was definitely concerned about making it happen within her two month timeline.
I generally don't take on weddings with this short of notice–my theory being that couples who procrastinate on wedding planning general procrastinate on everything, making them difficult to work with. But Corren is not a procrastinator; I could tell that within the first three minutes of our call. What she was was a victim of a non-professional "elopement wedding planner" that had left her and Andrew stranded.
That made me just indignant enough on Corren's behalf to step up to the plate and fix things. (Cue Pet Peeve Number 39 – Unethical Wedding "Professionals")
It was the other gal's loss. Corren and Andrew were dream clients with whom it was a pleasure to work. Their redwood wedding took place in beautiful Saratoga, in a little-known part of the woods that afforded them privacy along with the enchanted forest vibe that they were going for.
We started with a first look.
Their enchanted forest Saratoga elopement
After the ceremony
Officially husband and wife, the newlyweds set off around the park so our photographer could capture the spirit of the day against a variety of backdrops.
The flowers and Corren's hair and makeup
Our stylist swept Corren's dark hair back into a loose bun and our florist fashioned a stunning bouquet in red and white roses highlighted with pink carnations.
It's a wonder everyone doesn't elope!
Corren echoed my thoughts exactly when she said:
"We never understood why people spend thousands of dollars for others to attend your wedding and ensure they have a good time when it's supposed to be about you and your partner."
Yup! Have you ever wondered what it would be like trying to explain a traditional U.S. wedding to someone who just crawled out from under a rock and had no idea what a wedding was?
"Yeah, so we make an intimate commitment pledging our lives to one another…out loud….in front of 200 people (some of whom we've never met) and then after that, we pay approximately 30 bazillion dollars to feed them and ply them with booze and hope they don't get drunk and make a scene. Meanwhile we play host to ensure our guests have a good time, when what we'd rather do is just be together–alone! Oh yes, and we take approximately 18 months to plan this all out."
No worries about that for these two! They were more about dancing alongside the creek…just them.
What Corren had to say about their Saratoga redwood elopement
What made you select the location you did? We love the forest, mountains and adventures. I wanted an enchanted forest vibe.
What words best describe your wedding day? Intimate, laid back, unstressful, enchanted.
What was your favorite part of your wedding day? Besides getting to marry the love of my life, definitely our officiant! My husband and I absolutely loved Corrina. Her voice was so calm and her vibe just made me and my husband feel like we were the only two people in the world. Nobody else or anything else in the area mattered. She was genuinely happy for us to share our love together for the rest of our lives and that was an amazing experience I didn't think you would get from eloping.
What was the best thing about having an intimate wedding? Not having to worry about anything. Just focusing on me and my husband.
Any advice for other couples planning to elope? Plan ahead! Even though elopement is meant to be spur of the moment. If you have a vision of your wedding day plan ahead, it will save a lot of stress!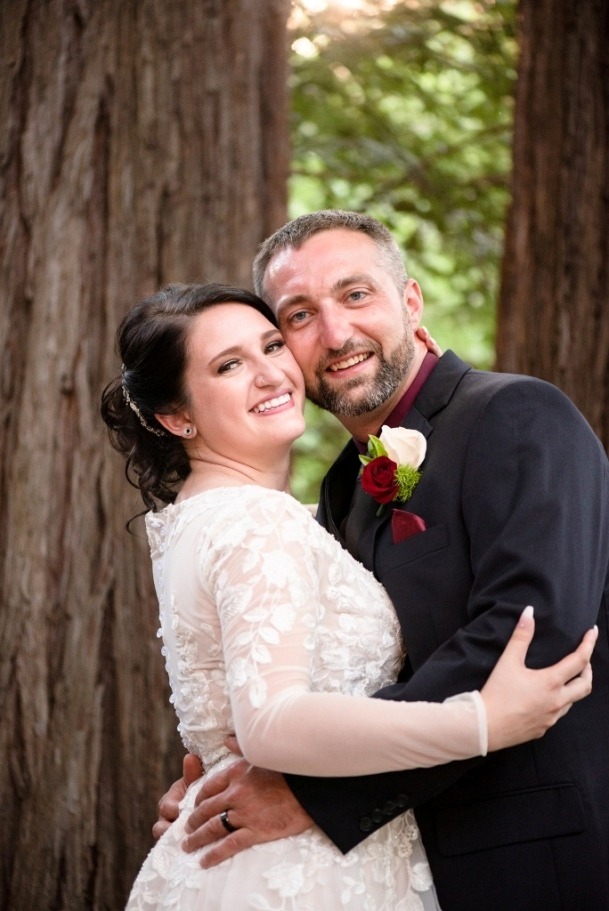 Eloping was the best decision ever! The scenery was perfect and just what we wanted
Blue Sky Elopements literally saved our wedding. We originally had a travel agent who specializes in destination weddings who was able to plan everything or so they said… fast forward two months until our wedding and the only thing done was our flights being booked we freaked out and luckily found Blue Sky Elopements who was able to plan our whole wedding, our dream wedding, in two months!.
Services included in Corren and Andrew's Saratoga redwood elopement
Location Consulting
Coordination
Officiating Services
Photography
Flowers
Bridal Hair and Makeup