A Lighthearted Enchanted Forest Wedding for Amara and Kalan
In the beginning…
Amara and Kalan have Amara's cousin to thank for bringing them together. She's the one that set up the Tinder account! That was back in 2015 and the first step to what ultimately brought them to us seeking an elopement with an "enchanted forest wedding" vibe.
Yeah…we've got that!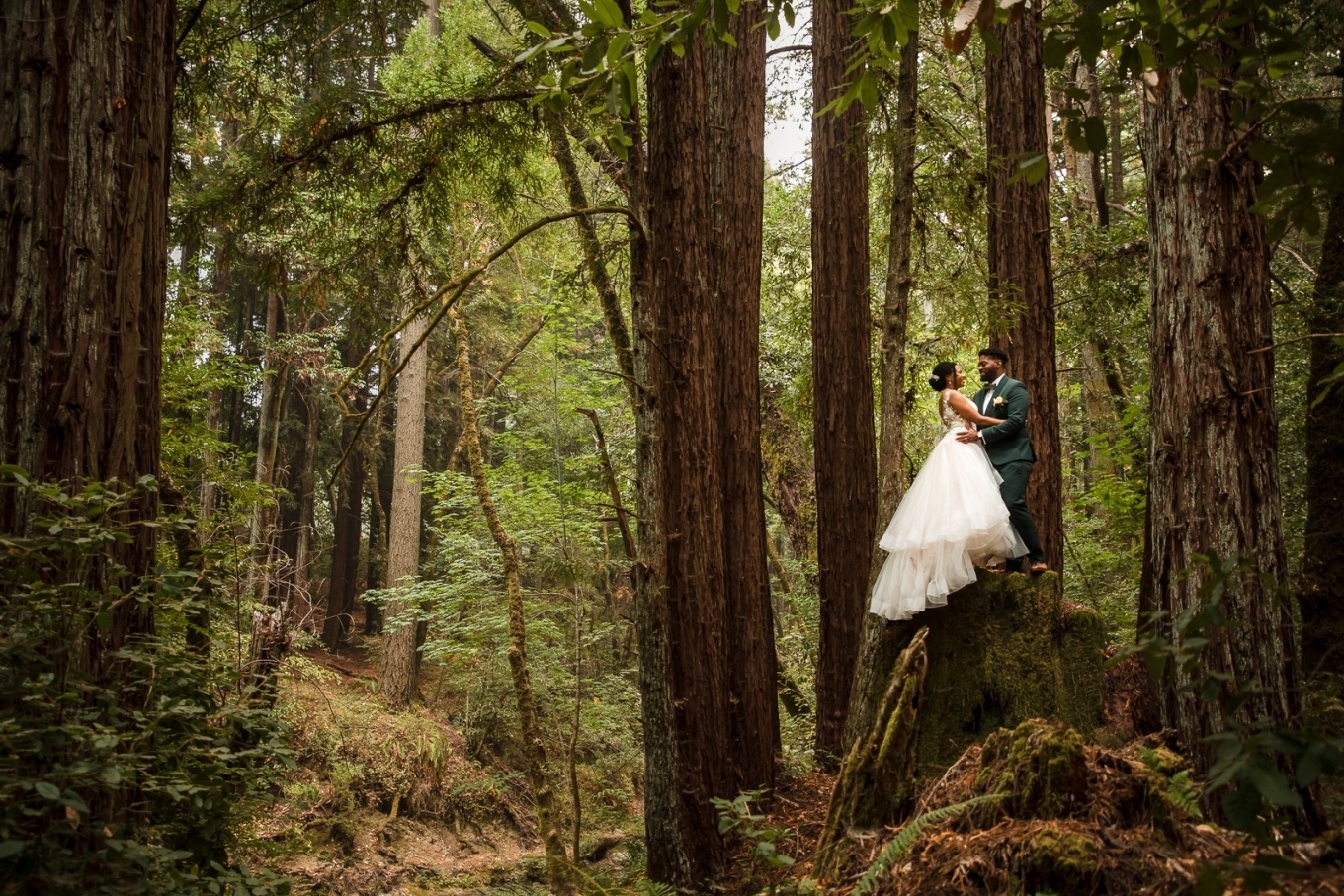 Not that there weren't a few hiccups along the way. But we'll get to that later…
The wedding vibe they were seeking
The minute Kalan, Amara and I connected, I knew these two were perfect for our services.
From Amara:"We really enjoy outdoors activities like hiking and camping and we want our wedding to reflect that. I think an elopement surrounded by redwoods could give us the romantic and outdoors feeling that we're looking for."
I had the perfect site in mind for them–a private, yet affordable enchanted forest redwood setting in the Santa Cruz mountains. I sent them photos and video and they fell in love with it on the spot.
Leading up to the wedding day
So, of course there's a story to their wedding planning. I think the best weddings are those where there are a couple of moderate-but-not-impossible-to-overcome challenges that crop up in the wedding planning process. Makes for an interesting experience, and let's face it, if planning a wedding was a piece of cake, no one would have any need for services like Blue Sky Elopements.
But I'll own it–pulling off this wedding so that Kalan and Amara were spared any undue stress took a bit of doing!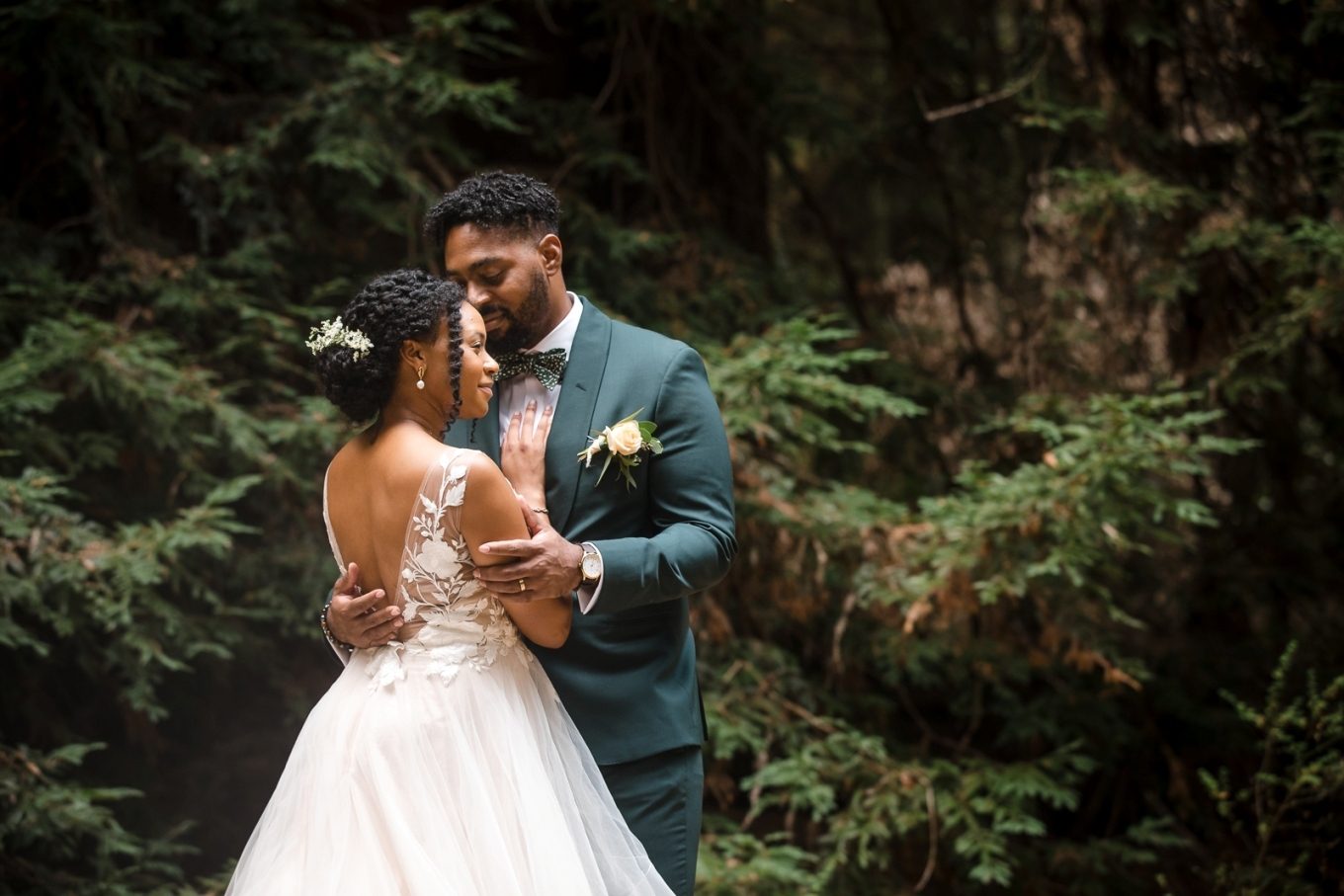 First, there was the matter of matching their travel schedule to Blue Sky staff availability as well as the availability of our redwood forest site. They wanted a September wedding and, even though they booked our services in January, availability of the site was limited. (Hint: if you're planning a September elopement, plan ahead; it's the most popular month for weddings.)
The only date on which we could accommodate them was September 11th. Not exactly an auspicious date for one's wedding anniversary, but these two were willing to go for it.
Great! First hurdle dodged.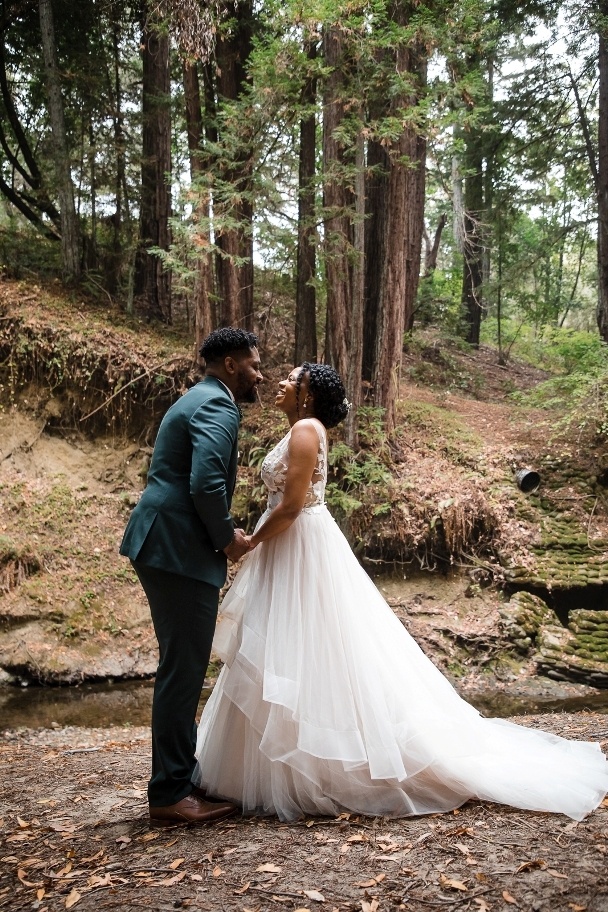 Eloping during the Covid pandemic
When Amara and Kalan booked their elopement package with us, it was January and Covid was little more than a blip on the screen occurring on the other side of the world. By March, we all knew that was no longer the case, By April, we were talking about the possibility of rescheduling their September wedding. But we collectively decided to take a wait and see approach.
The months rolled by. The two shortened their guest list to bring it down to California guidelines. We held our breath and crossed our fingers and… just when we thought we were good to go…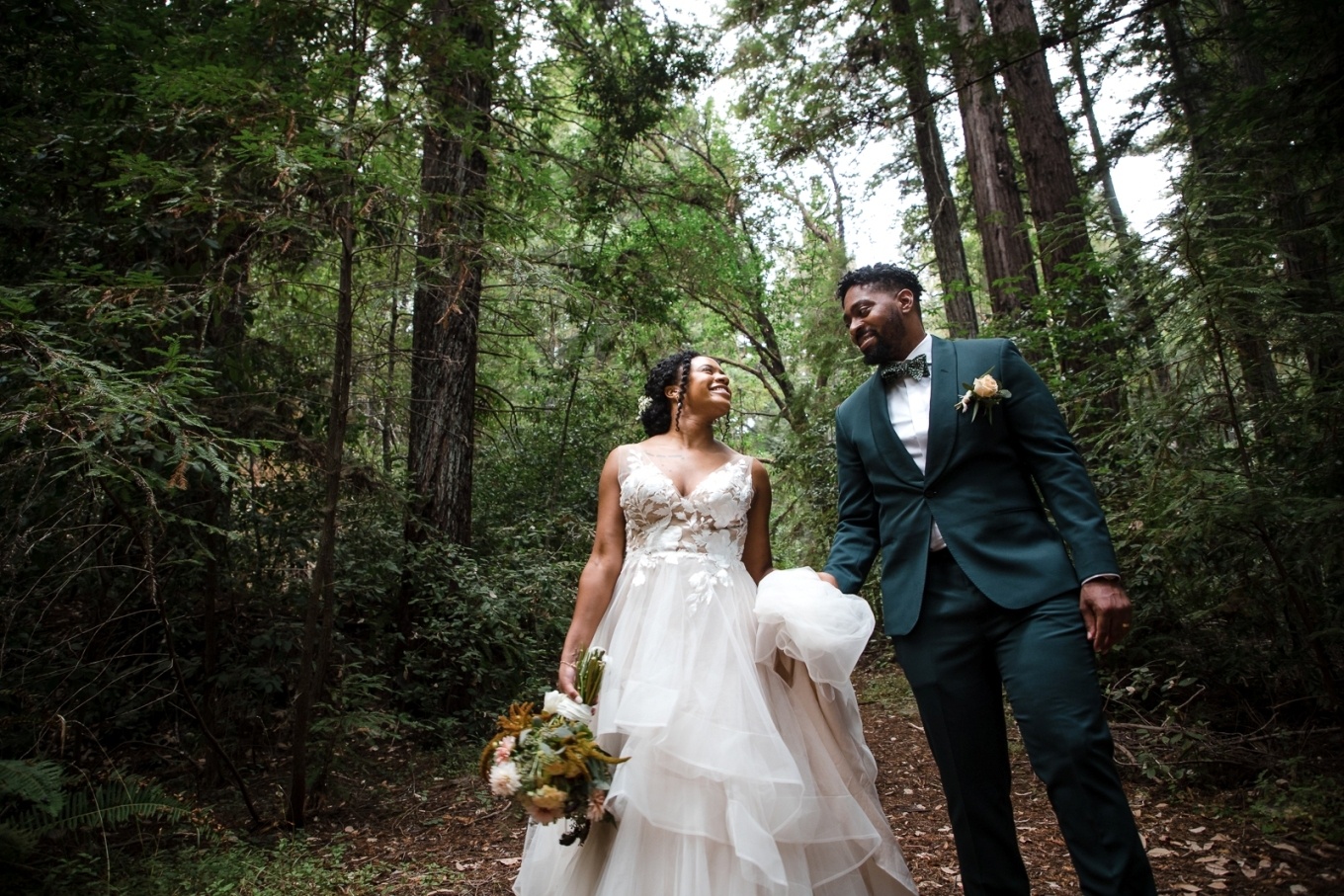 And THEN what happened????
Well, then there was the matter of the California wildfires that began raging in August and threatened the very existence of our redwood fairytale site. To illustrate how close the flames got to the site, Big Basin State Park, which is just down the street, was radically impacted by the CZU Lightning Complex Fire and remains closed as of this writing.
We had to relocate three other late-August weddings from this site due to area evacuations and even with daily contact with the site staff, we had no idea if we were going to be able to hold Amara and Kalan's there.
When did we find out for certain? Three days before the wedding! Yep–that's when the fire department gave us the all clear to be onsite. (And yes, we had a backup wedding venue waiting in the wings.)
And through it all, these two kept their cool. They seemed to intuitively know all would be well in the end. They trusted me to handle the process for them and I kept them updated with the news (good or bad!) every step of the way.
The fire only scorched a small area on the perimeter of the property so our beautiful redwood backdrop remains intact.
So, let's get to the good stuff!
The wedding day
We started things off with the traditional first look. Bride and groom arrived separately and eyed each other for the first time that day in the redwoods.
Kalan was all set to see his bride!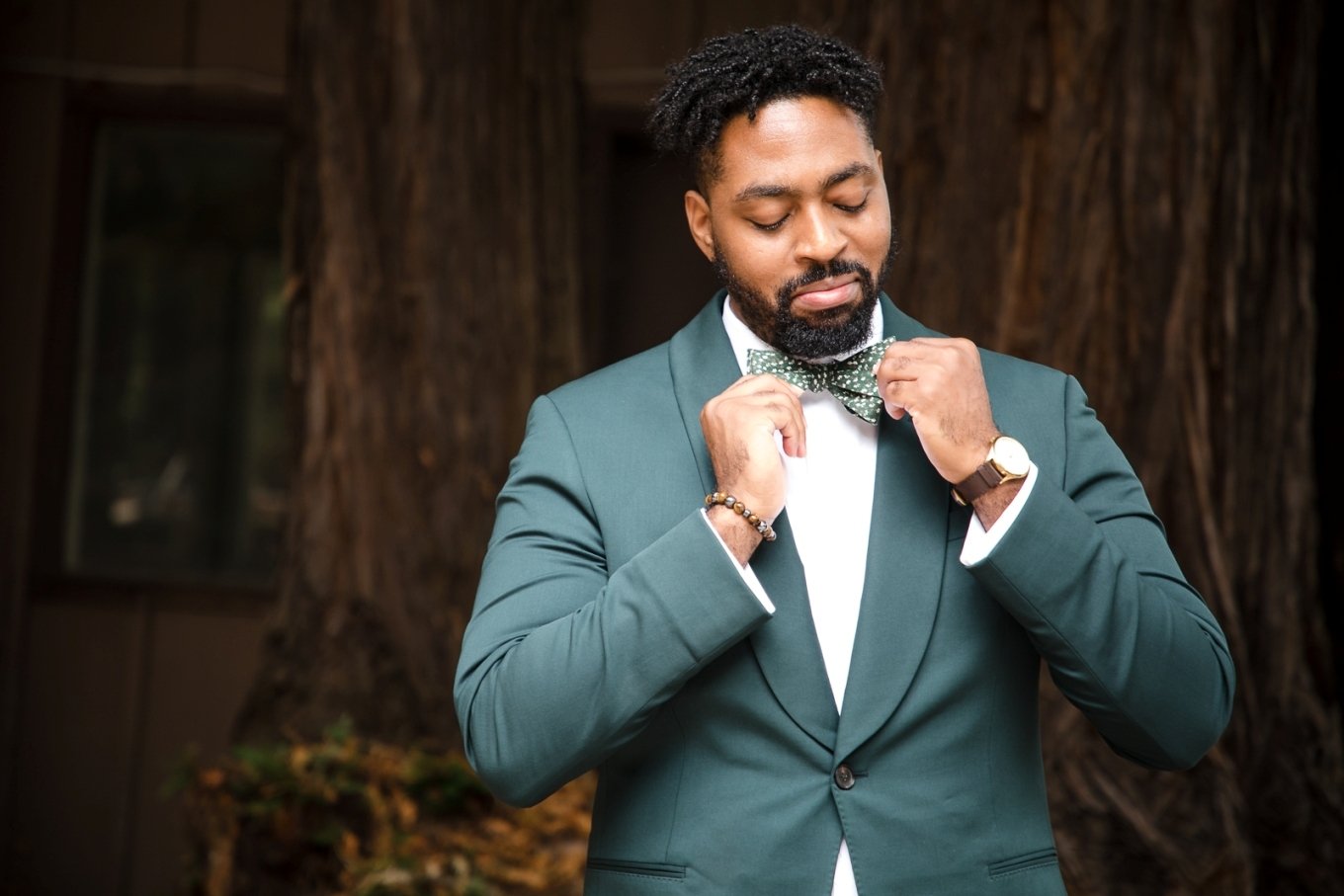 And Amara was excited as well.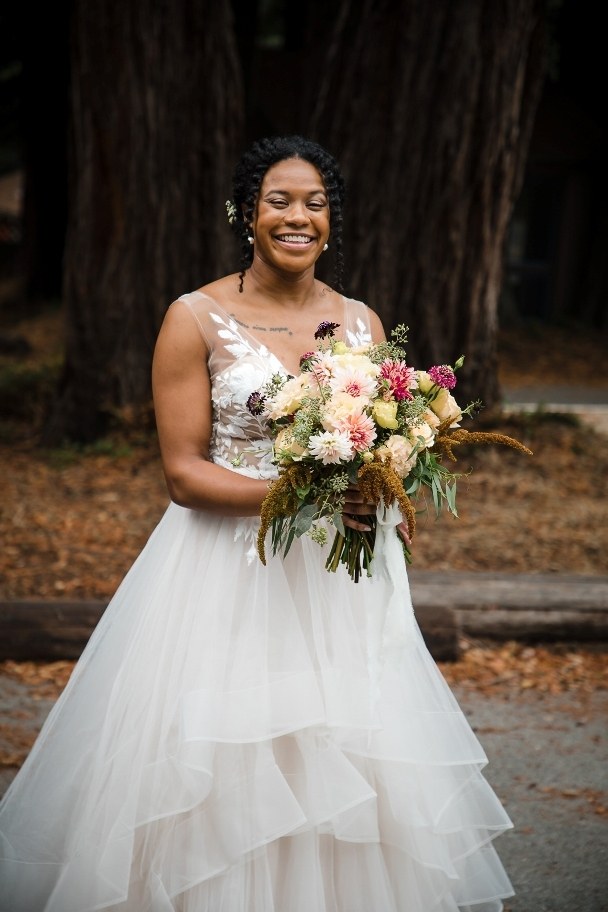 So, let's see how that played out.
Their enchanted forest wedding ceremony
The joy evident on their faces for the first look pretty much stayed with Amara and Kalan for their entire ceremony and ensuing photo shoot. While almost all of our couples are able to relax and enjoy their wedding day (One of the best reasons to elope, in our opinion!), these two immersed themselves in the experience like no other. They simply had fun with the whole thing.
I guess when you can pull off a wedding day on 9/11 during a pandemic and surrounded by wildfires, not much else fazes you!
Amara's bouquet was a dynamic color combination of white, blush, rust, and eucalyptus green.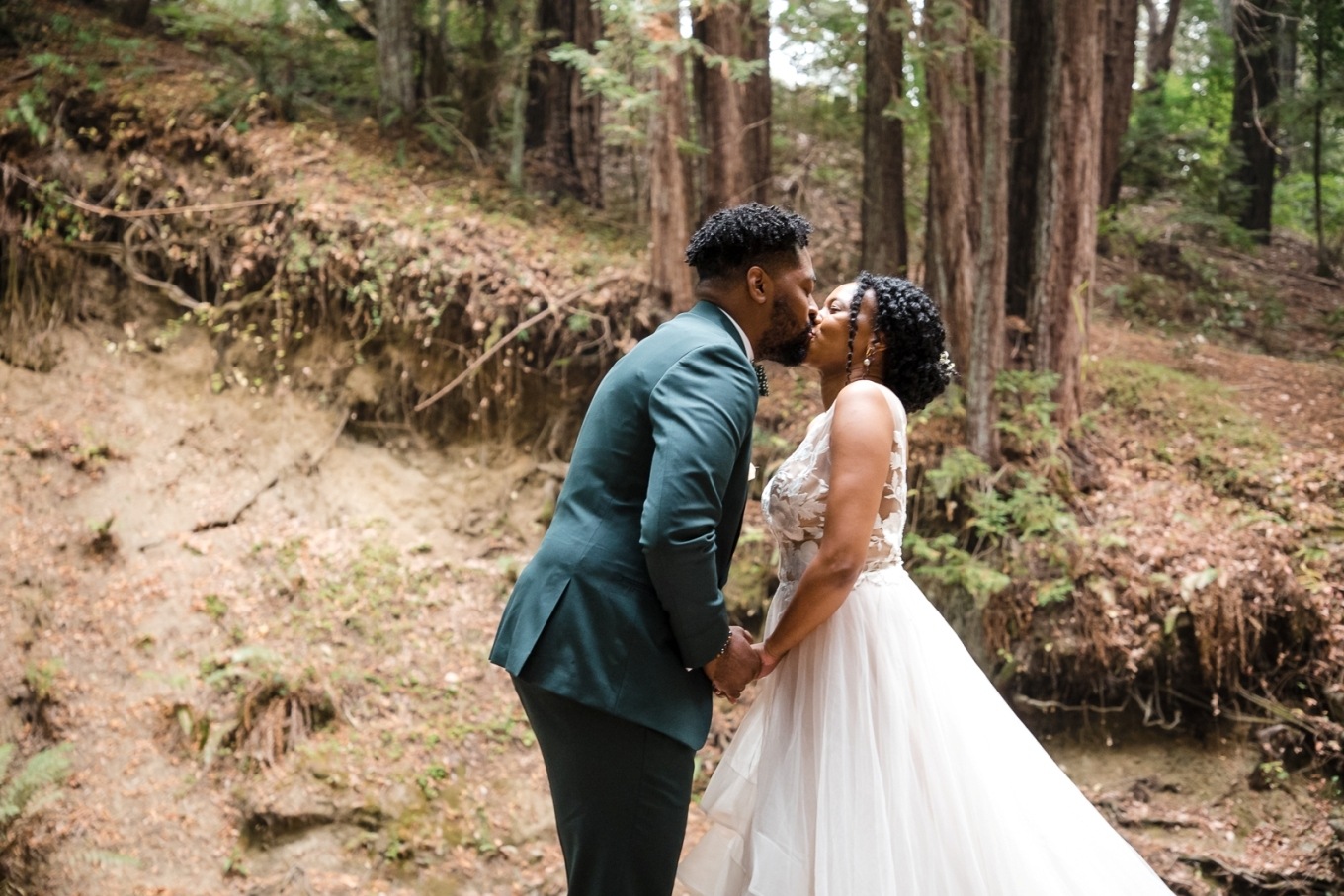 After they were (finally!) officially pronounced a married couple, our photographer took them deeper into the forest for more breathtaking candid shots.
I'm pretty sure these two forgot the photographer was even there documenting their adventure. They were having so much fun and so obviously into one another that they were naturals in front of the camera.
And of course there was dancing in the forest!
Let's take a moment here to notice how beautifully our hair and makeup artist styled Amara's hair–complemented by a small sprig of flowers to match her bouquet. Stunning! (And her style stayed put, even with all that dancing!)
After their photo session in the woods, Amara and Kalan returned to their guests for a celebratory toast.
Amara and Kalan's wedding experience in their own words:
Why did you choose an intimate wedding? We chose an intimate wedding because it was more cost effective, it was logistically easier to plan and execute (we always wanted a wedding in the forest somewhere and figuring how to pull that off with 100+ people felt impossible and expensive), and when it came down to it we knew we really wanted to share this moment with a select few people.
What made you select the location you did? We're an outdoorsy couple. We love camping and hiking so choosing a location in the forest, amongst the trees was the most fitting for us and our personalities.
What words best describe your wedding day?Magical, stress free, connected (mentally, emotionally, with nature, and the people around us), and just generally full of love and joy.
What was your favorite part of your wedding day?Taking pictures! That was such a beautiful and peaceful moment where the two of us could just take everything in and it was just really fun to have our picture taken.
Did you face any challenges in eloping? Not really. Initially we were worried that our family would be upset if we eloped and couldn't invite every single one of them to see us get married but the more we talked to them we found out that they really supported us.
What was the best thing about having an intimate wedding? We didn't have to go into debt to have a beautiful wedding day and we got to enjoy the day without the stress and pressure that other people will unintentionally put on you (e.g., asking if you have cold feet, making you worried about things you hadn't even thought to be worried about, judging everything about your day). We wanted to get married a very specific way and there's not a single thing we would change about our fairytale wedding in an enchanted forest.
Any advice for other couples planning to elope? Do it! Don't overthink it and don't think twice about it! If you feel like eloping will be the best for your budget, your sanity, or whatever else you find important to you, then do it. You won't regret it in the long run. None of this could have gone on without Maureen! Trust her and your day will go off without a hitch!
Click here to learn about eloping in the California redwoods.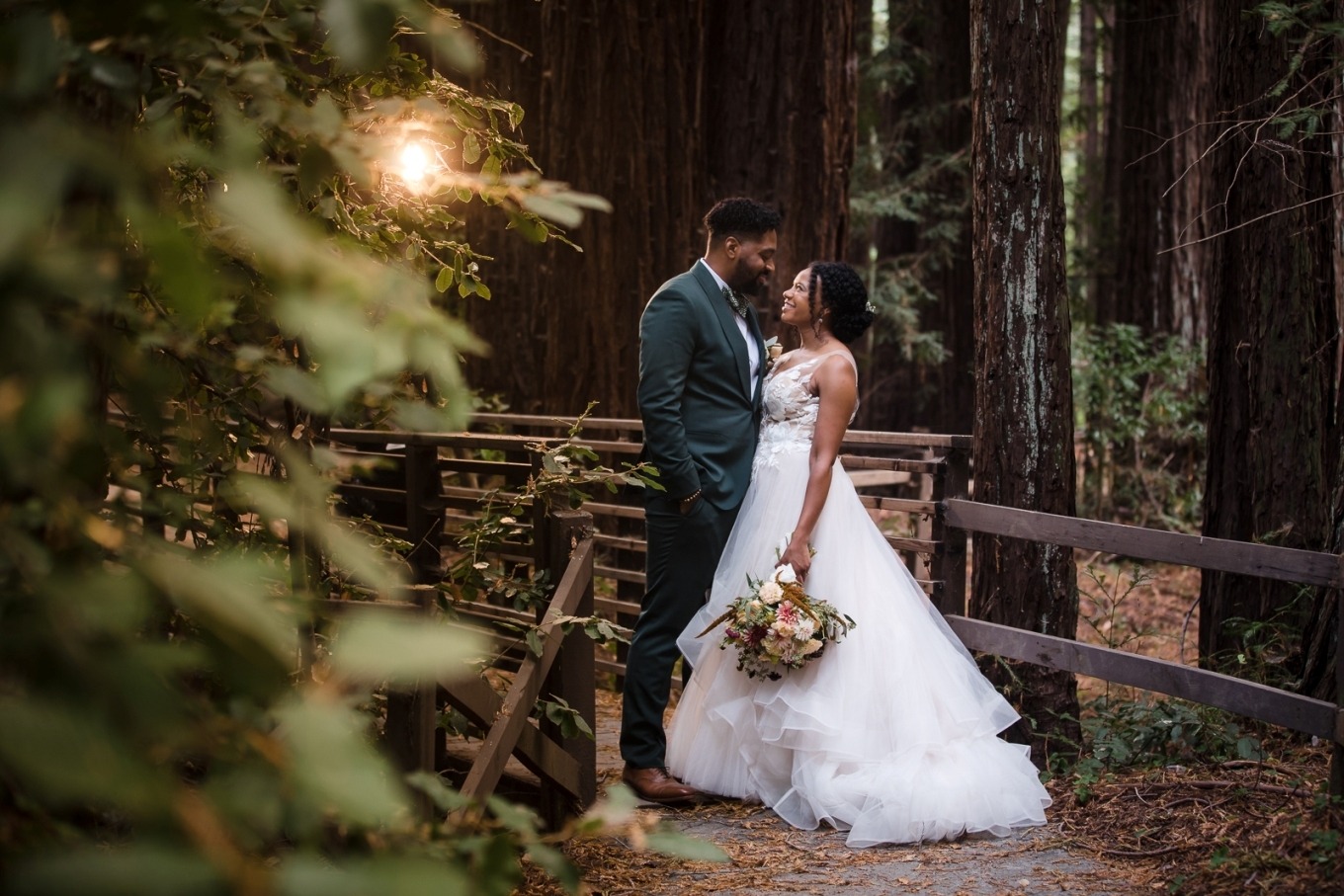 We got married during a global pandemic and wildfires and had to worry about very little! Thank you for making our wedding stress free during the most stressful year ever!
Services included in Amara and Kalan's enchanted forest elopement package
Location Consulting
Officiating
Photography
Bridal Hair and Makeup
Flowers
Coordination