Joe and Angie are Married on the Beach in California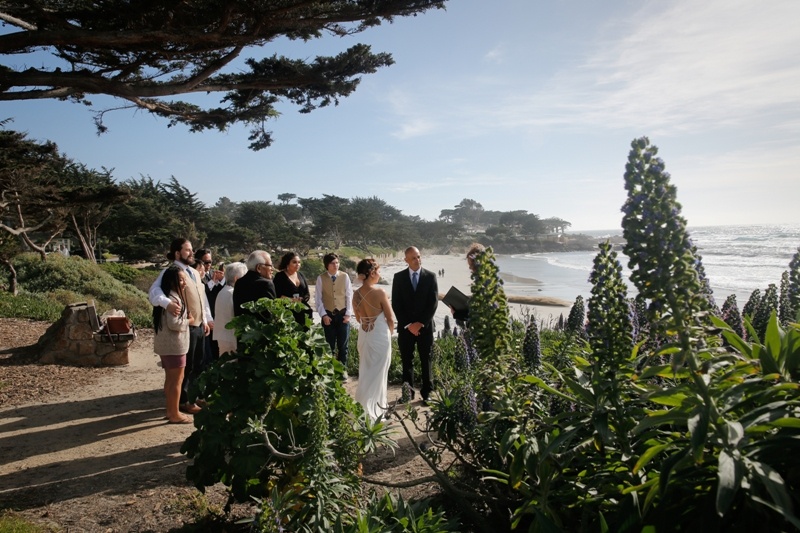 Joe proposed to Angie (whose full name is Cresangeli–which I think is the prettiest name ever!) after six years of them being together (and with some subtle nudging form their kids!). Angie knew right away that she wanted to be married in an intimate ceremony on the beach in Carmel.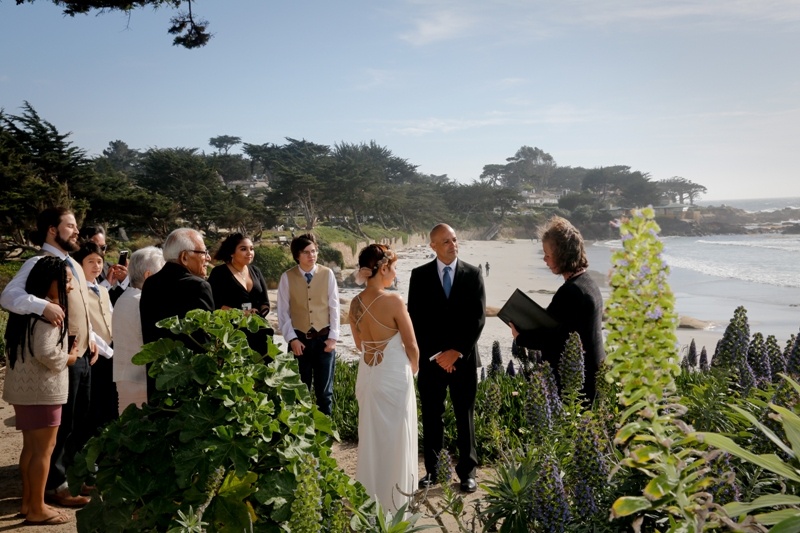 When she contacted me, Angie made it clear that the ceremony, photos, flowers and her hair and makeup were very important and she didn't want to stress about any of it. She was the perfect bride for what we offer. I got right to work lining up her vendors and getting her flowers ordered.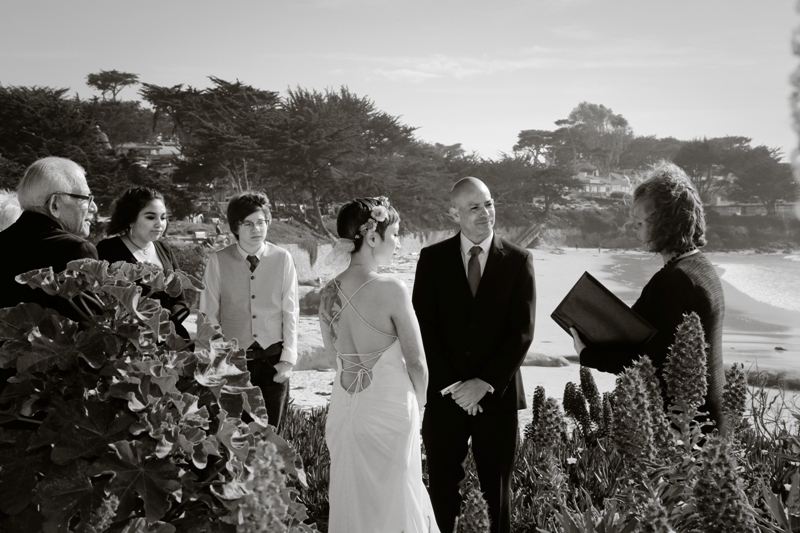 Angie had seen one of the eco-friendly bouquets made of wood in a variety of tans and chocolate roses and topped with delicate pearls. Could I order something like that in a "real" flower bouquet? I doubted it, but talked to the florist and we came up with something reasonably close that would delight our bride.
Unfortunately, on the day of the wedding when Angie, Joe and the kids wisked off from their hotel to get to the ceremony, they left the gorgeous bouquet and boutonniere behind. So I don't have any photos to show. True to Angie's nature, she shrugged it off and the rest of the ceremony–although windy–went off without a hitch.
Although the bouquet was forgotten, Angie nonetheless sported her tan and beige roses on her fabulous head-wreathe and a bracelet that encircled her left wrist.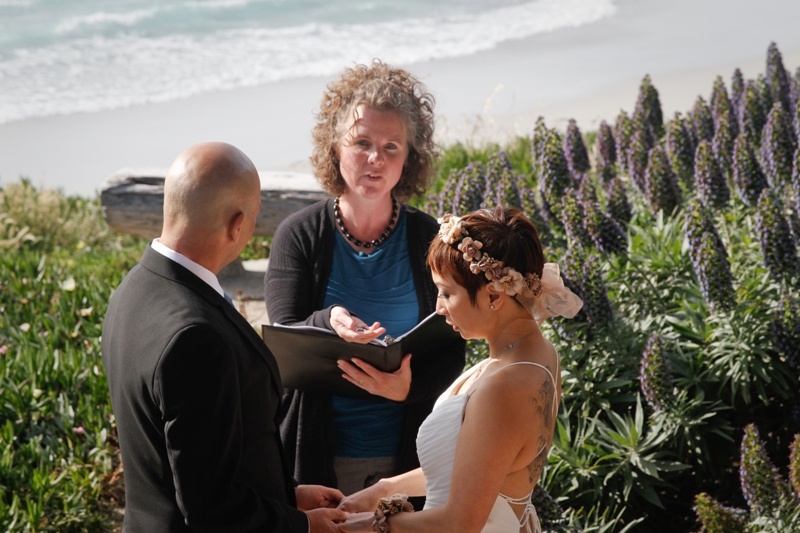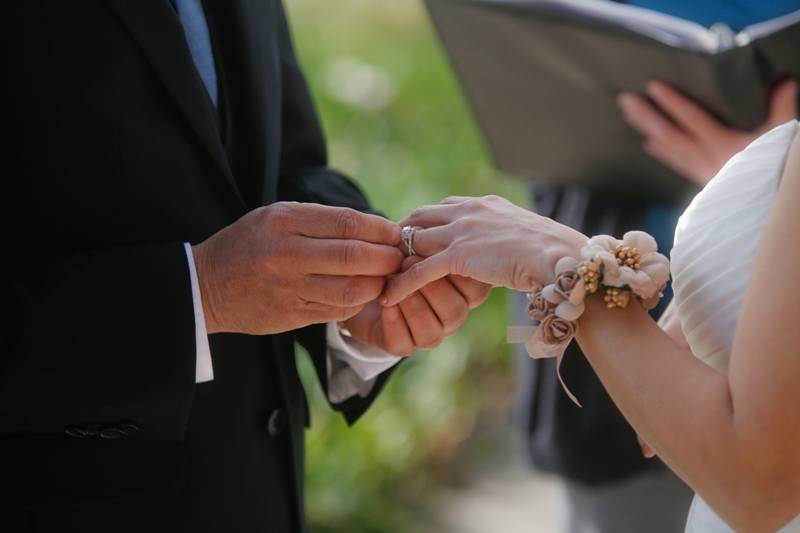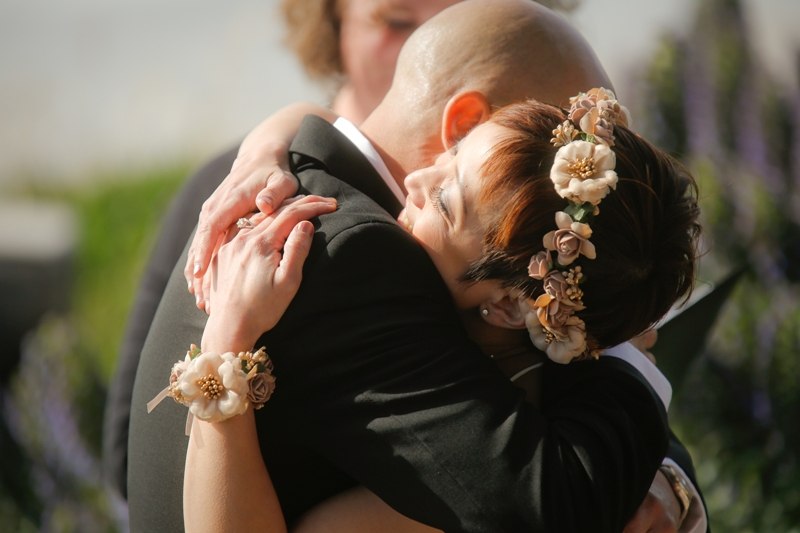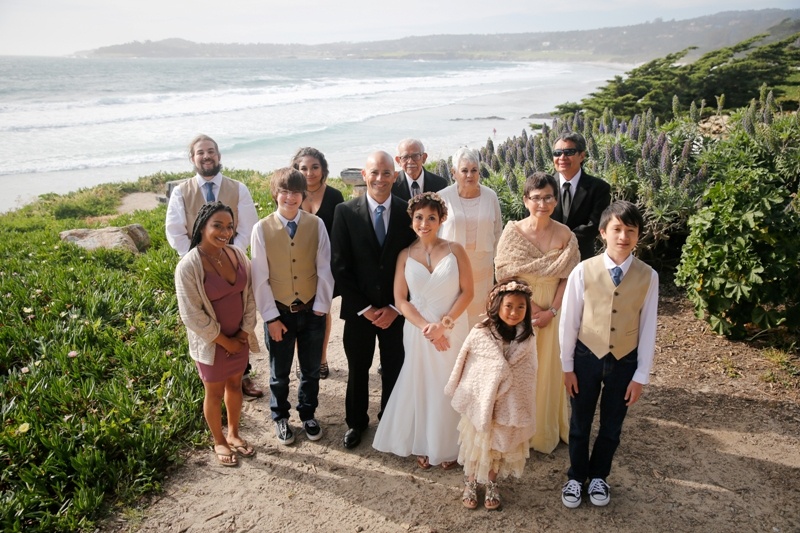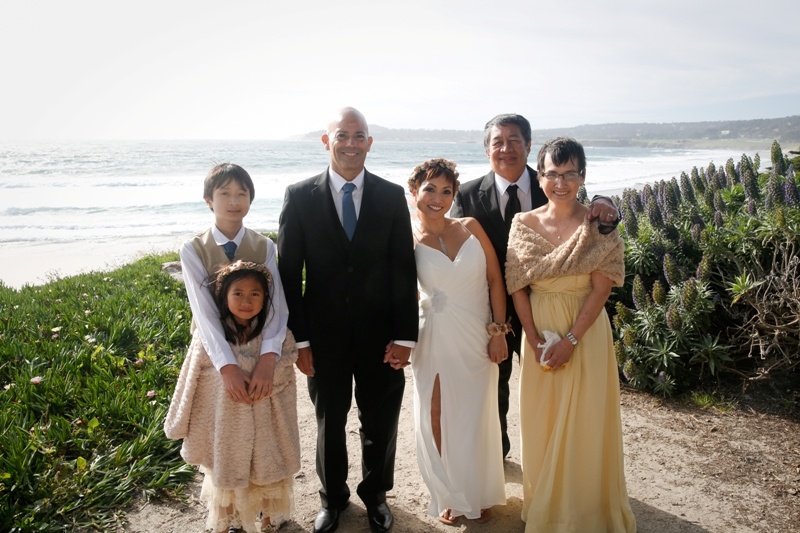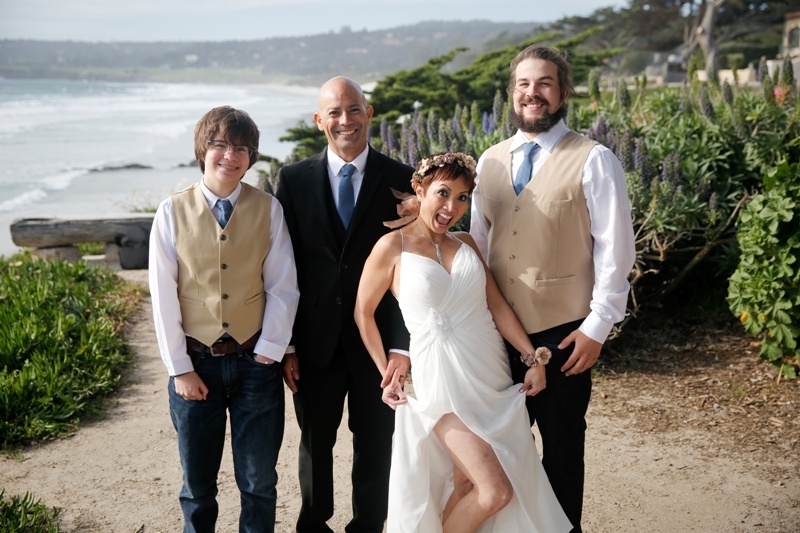 Angie is a natural in front of the camera and we took advantage to get some fabulous shots showing her playful, yet sexy nature.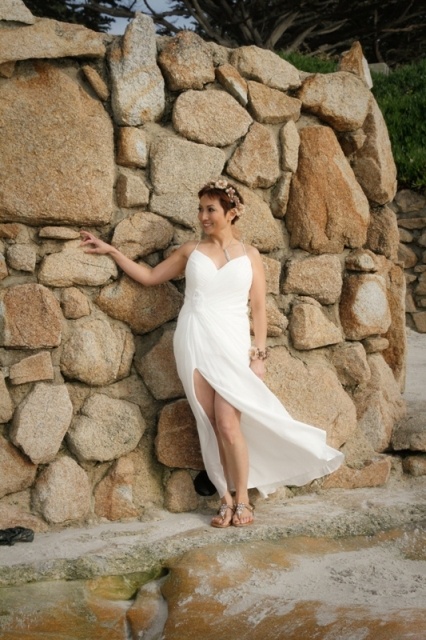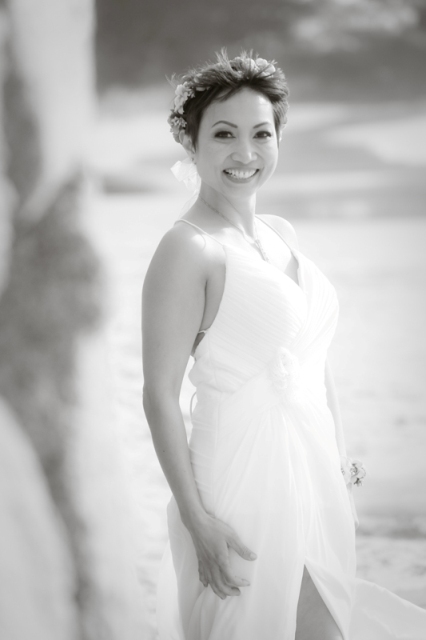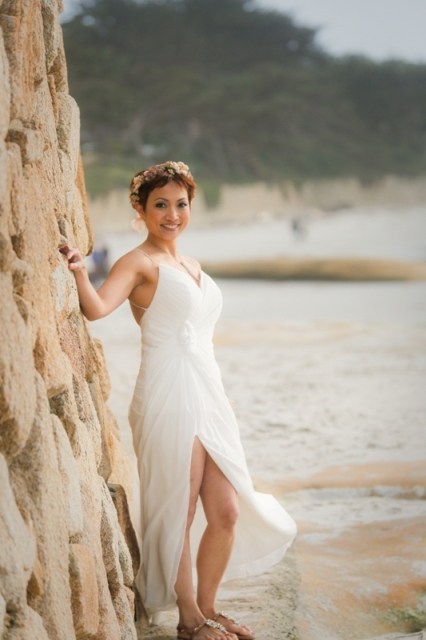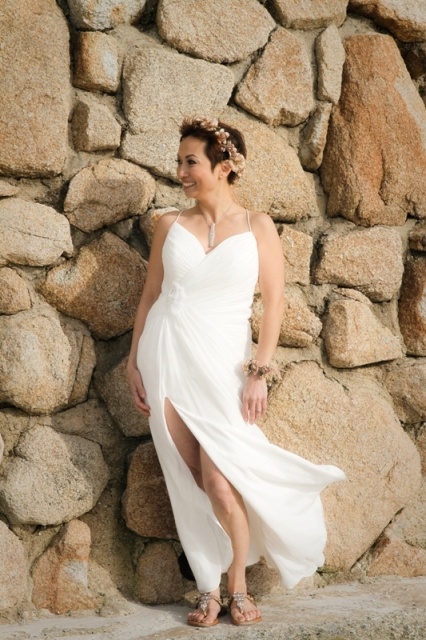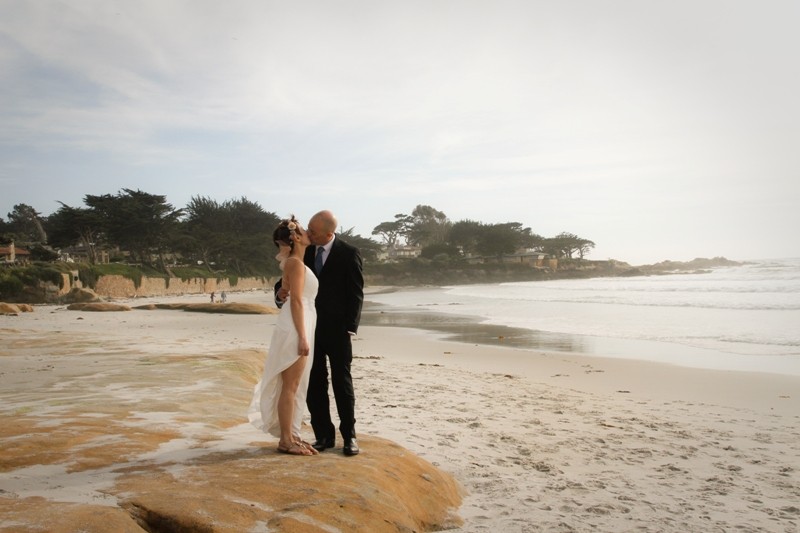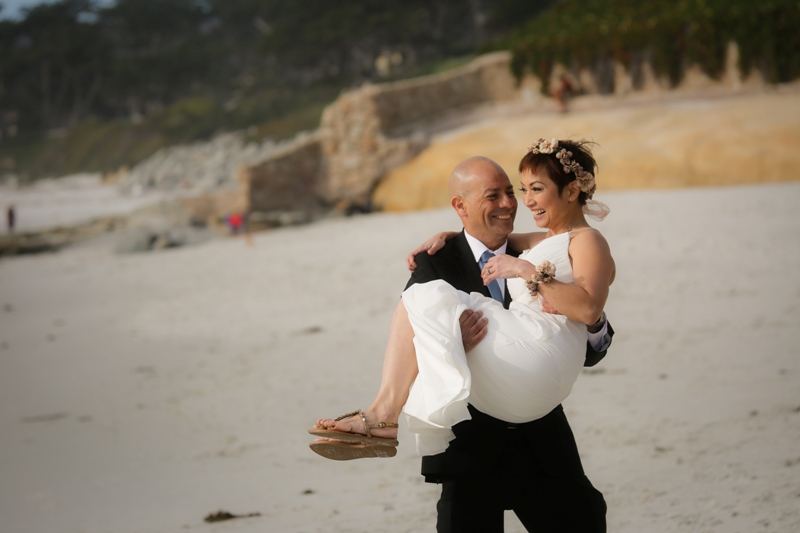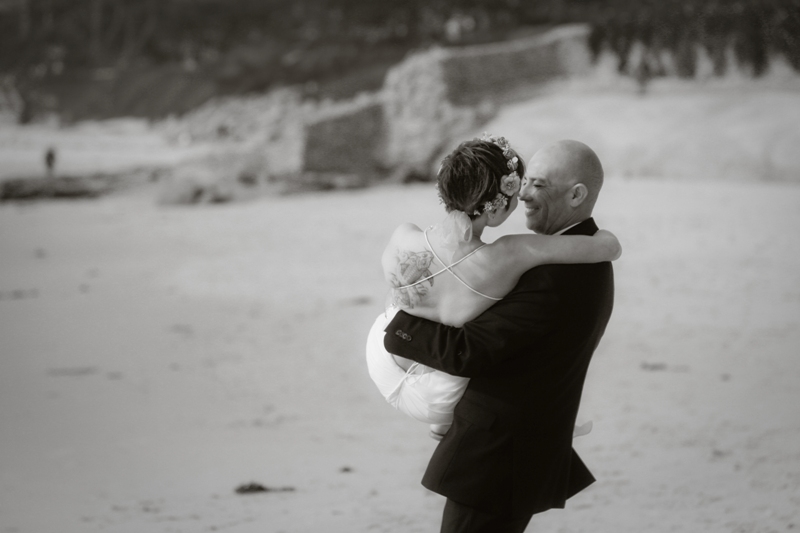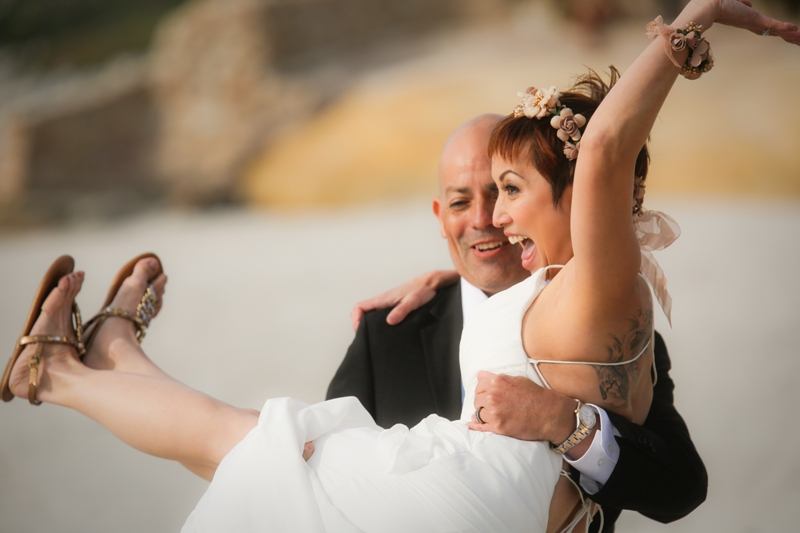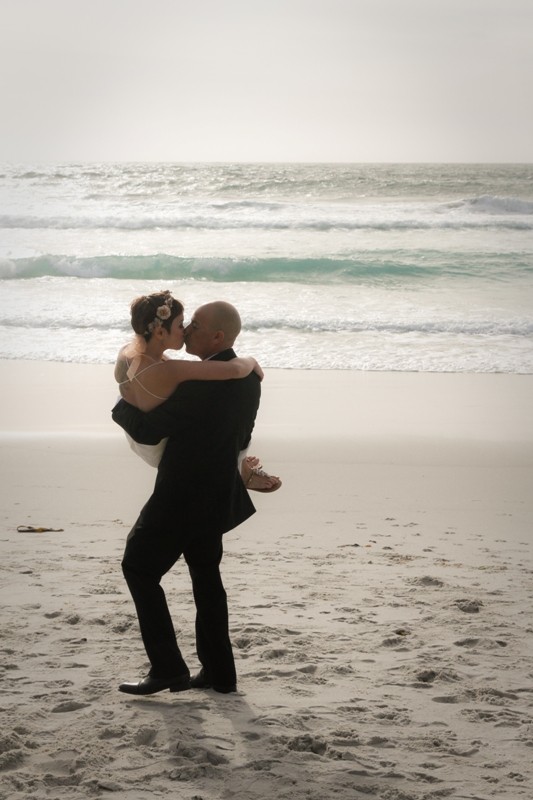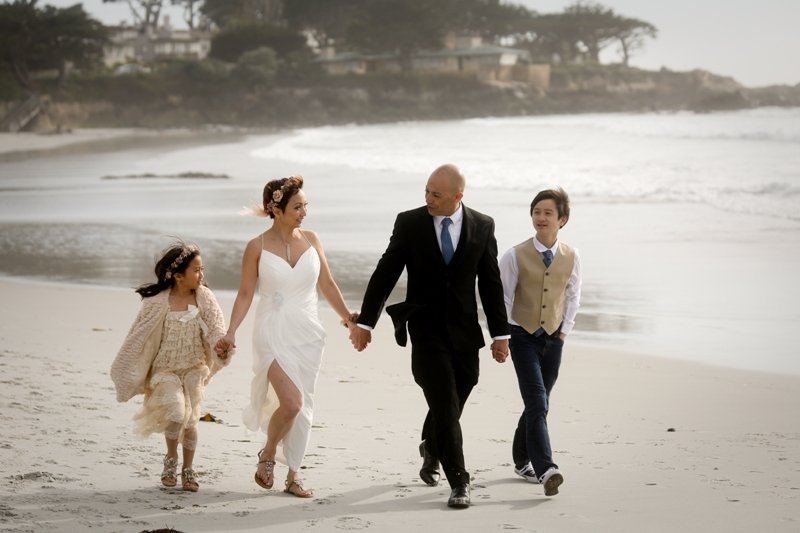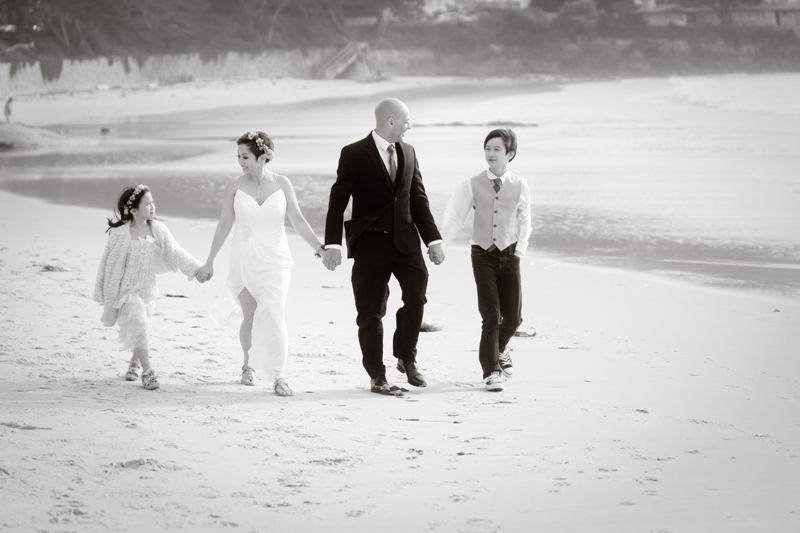 Why did you choose an intimate wedding?
"We chose an intimate wedding because we wanted mainly our parents, and kids to be part of this special day without having the stress part. And sure enough, it was the best decision we did."
What made you select the location you did?
"Because Carmel has always been our favorite spot, and we both love the sandy beach."
What words best describe your wedding day?
"Unforgettable, intimate, very romantic, and fun filled. One of the happiest days of my life."
What was your favorite part of your wedding day?
"Everything! Maureen was fabulous! My make up artist was superb, the photographer was very fun to work with and he managed to turn the windy day into a perfect photo moment. Our officiant was very accommodating and super nice. Most of all, the flowers were very beautiful."
What was the best thing about having an intimate wedding?
"Stress free, budget friendly, and it was more romantic."
Any advice for other couples planning to elope?
"If you want an intimate and stress free wedding, go for elopement."
Words of praise for Blue Sky Elopements
"Maureen totally took the stress away! We were very happy and will highly recommend this to everyone."