How to find the best places to elope in Colorado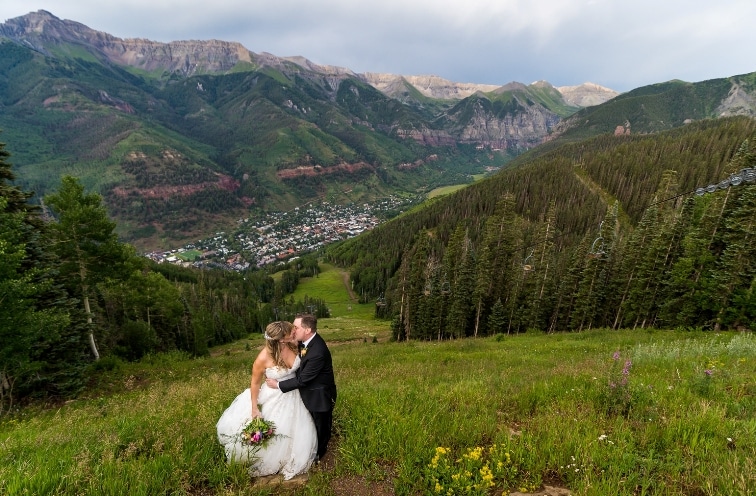 What not to do when you're looking for the best places to elope in Colorado
Here's how not to go about trying to find the best places to elope in Colorado.
Ready? (Fair warning: what I'm about to say is considered heresy to the majority of rational-thinking people around the globe!)
Here's the thing that couples don't realize, but it's the truth.
As powerful and all-knowing as the Internet is, you're not likely to find a secluded mountain venue for your Colorado elopement by Googling the term "where is the best place to elope in Colorado?" I know, I know–I can hear you now. "Whatd'yamean I can't find what I'm looking for for free on The Googles?"
Oh, you'll dredge up some sort of list when you type in that query. But what you're going to get in response to that search will fall into one of two general categories:
#1. In all likelihood, you'll be directed to a list that includes the sites that everyone knows about. Be prepared to see these names:
Rocky Mountain National Park (and the various sites within it, like Bear Lake, Lily Lake, 3-M Curve and Sprague Lake)
Sapphire Point
Garden of the Gods
Chautauqua Park
Maroon Bells
Sunrise Amphitheater
Lookout Mountain
There ya go! I just saved you the trouble of searching. (Y'er welcome.) You might find one or two other elopement sites tucked in between your search results, but I can almost guarantee the seven sites above will be listed. While these sites are all easy to access and have gorgeous mountain views, the one thing the listings fail to reveal is that–at most times of the year–they're all as crowded as a subway train at rush hour. (Translation in case you don't get to the city much: really, really crowded!)
Think about it. If a site is gorgeous, well-known, easy to access and you found it in the top three Google search results in response to your query of "best places to elope in  Colorado," don't you think everyone else is going to find the same venues? And since all of these locations are not solely elopement wedding venues, (they're also appealing to hikers, dog-walkers, tourists, nature-lovers, mountain-bikers, and amateur and professional photographers alike), most likely you're going to arrive to find an assortment of other users immersing themselves in the Colorado mountain experience.
That might not be the atmosphere you're envisioning for your intimate, romantic Colorado elopement.
This brings us to our second scenario, (which in my humble opinion is as helpful as a toddler in the kitchen–but let's address it anyway):
#2. In addition to well-known, crowded locations, the other list of "best places to elope in Colorado," will not be elopement venues at all, but cities, towns or general areas. "Crested Butte is a great place to elope," is a true statement (as are Vail, Aspen, Breckenridge, Telluride and Estes Park), but they are all towns, not specific venues. What are you supposed to do? Go stand in the middle of Main Street in a random Colorado mountain town and expect an elopement venue to come up and introduce itself?
So, either way, my guess is you won't find many of these "resources" to be at all helpful.
Maroon Bells is the perfect example
Check out the photos below. Everyone thinks Maroon Bells is the must-have location to elope in Colorado, when in realty, most of the time it looks like the first photo below. Trying to find a crowd-free time to elope at Maroon Bells is a losing battle. The second site below, however is not a "big name" elopement venue. It seldom has anyone there and the views are very similar to those of Maroon Bells.
Which one do you think is the "best" place to elope in Colorado?
So, truly, where is the best place to elope in Colorado?
It's no surprise that the question I get most often from eloping couples is "where are the best places to elope in Colorado?" Because–as we've just discovered–it's not likely you're going to find that out through a Google search.
And my answer is always, "it depends." I know, that's a terribly evasive response. I don't mean it to be. But if you read on, I've given you a number of factors upon which a truthful and thoughtful answer really does depend.
Full disclosure: because we feel the sites we offer actually are the best places to elope in Colorado, we don't disclose them to couples that aren't our clients. And even when someone becomes our client, while we still provide tons of info on each venue via our location consulting services, we still keep the actual names and exact locations a bit vague until a couple actually chooses a site. There's a reason for that. We want to keep our secret locations a secret.
So, no–you're not going to get a listing–complete with map pins and turn by turn directions–of our favorite Colorado elopement locations in this post. (What's that I hear? The sound of a mass exodus as people click off the page. That's okay–sorry we couldn't help.)
What I can give you…
…are some fabulous pictures of my favorite Colorado elopement venues along with some things to consider in choosing the perfect-for-you place to have an elopement in the state. I can also offer my expertise, and experience at living in Colorado for 25 years (and offering elopement wedding services for 20) to help you determine your best elopement venue in the state. However, I do charge for that service. Location consulting is included in every elopement package we offer in Colorado (assuming you don't already have a confirmed venue in place), or, if you don't want a Blue Sky Elopements all-inclusive package, we offer our location consulting services for $500.
These are just a few of the factors we look at in helping you find the best place to elope in Colorado
The "best" place to elope in Colorado for me might not be the "best" place to elope in Colorado for you. I'm a former New Englander who grew up in the snowy northeast. I wilt at temperatures over 65 degrees and I love being outside in the snow. So, I eloped in Colorado, outside, on a crisp December evening, with the city lights of Denver twinkling in the background. Jeremy and I rode off in a horse-drawn carriage (complete with a "Just Married" sign on the back) down the Sixteenth Street Mall and had the carriage stop at an ATM so we could get cash to tip our driver. Romance meets practicality–that's us!
That kind of small wedding isn't for everyone. There are so many factors to consider. Sheesh! And you thought eloping was supposed to be simple! Actually, it is, if you know what to look out for and what questions to ask yourself. The best place to elope in Colorado for the two of you may depend on your answers to the following questions.
Questions to consider in choosing a Colorado elopement location
What time of year are you getting married?
How long will you be in Colorado?
What else do you want to do (besides getting married) while you're here?
Will there be guests? How many?
Do we have to consider the needs of anyone else that might be coming along? Kids? Grandparents? Pets? Anyone with health or mobility issues?
Should we look at private or public sites? What's your tolerance for onlookers at your wedding?
What's your budget?
Let's take a look at them.
What time of year would you like to be married in Colorado?
Summers are glorious in Colorado. That's the good news. Other than the periodic afternoon thunderstorm (which we work around in terms of ceremony timing), the weather is gorgeous.  With a semi-arid climate, even higher summer temps don't feel as scorching due to the drier air. And if you're not a warm-weather lover, we simply recommend sites at higher elevations–like Breckenridge. Aspen and Telluride–for your intimate wedding.
Summers are glorious in Colorado. That's also the bad news. Tourists love Colorado in summer. If they love it, they will come. And they do. In droves. In planes, in cars and pulling the ubiquitous RV.
For example, we advise couples not to even think about eloping in Rocky Mountain National Park in summer. Attendance at national parks increases every year. (See this article.) We're all about stress-free elopements and I just don't think it's stress-free to fight hordes of people, wait in line for 45 minutes to pay your entrance fee and then not be able to find a place to park once you get inside the park. Post 2020 update on RMNP – the Covid-19 pandemic has dramatically increased the number of visitors to national parks, and Rocky Mountain National Park is no exception. Their 2021 wedding permits were fully issued by April (meaning the park wouldn't accept any more wedding bookings for the year after that month).
Conversely, we have access to some sites that are only accessible in summer. Our most popular site is this little known, off the beaten path elopement venue in Breckenridge that offers panoramic mountain views, a lake, a waterfall and the occasional moose. See the photos below.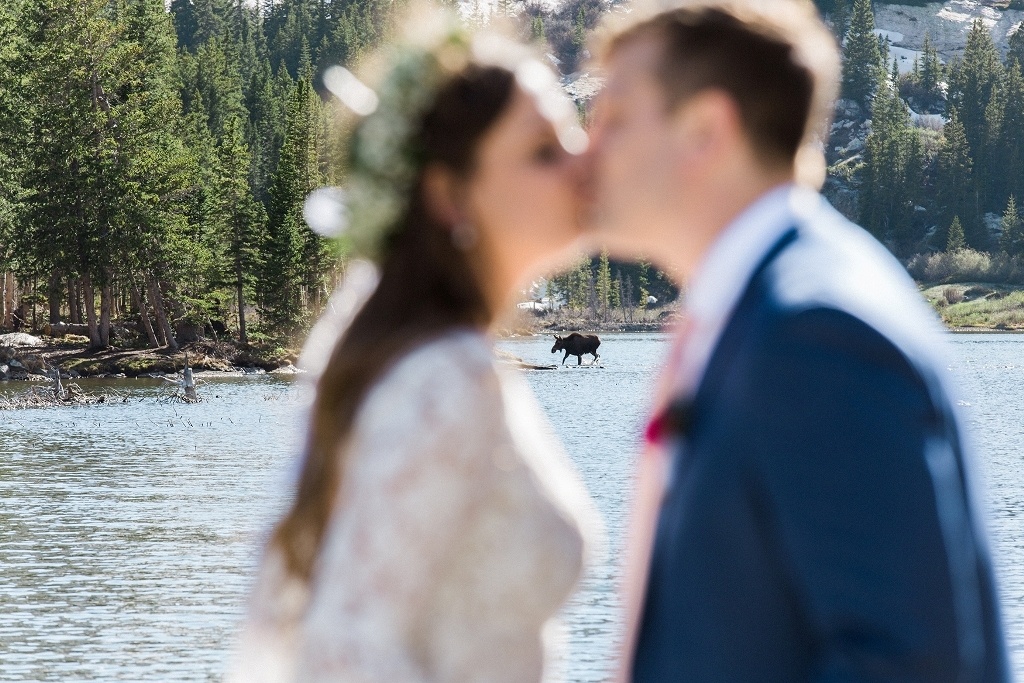 Other Colorado elopement venues we love
Breckenridge: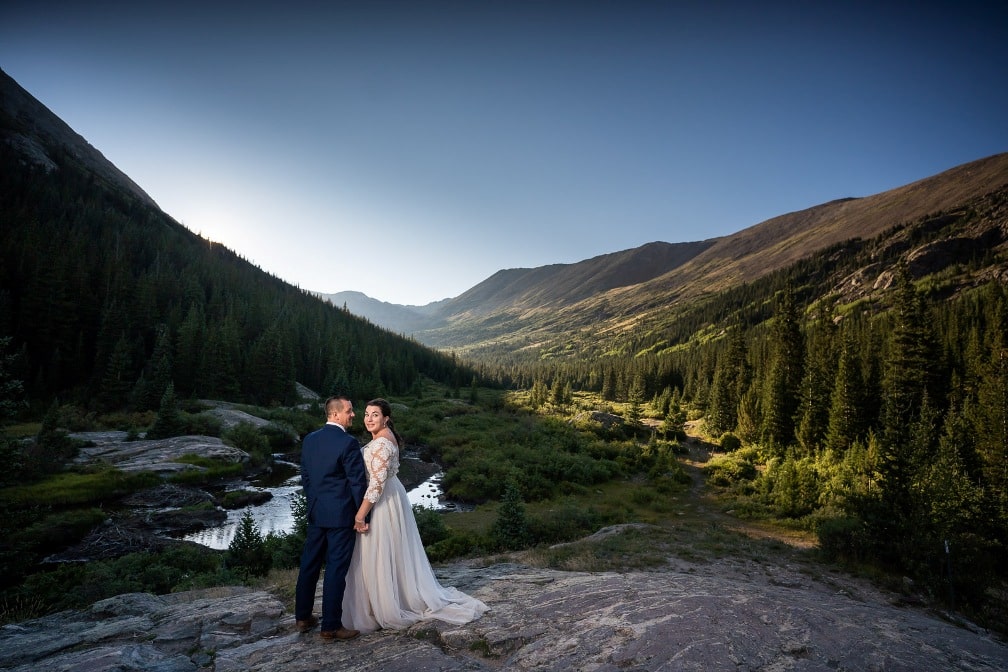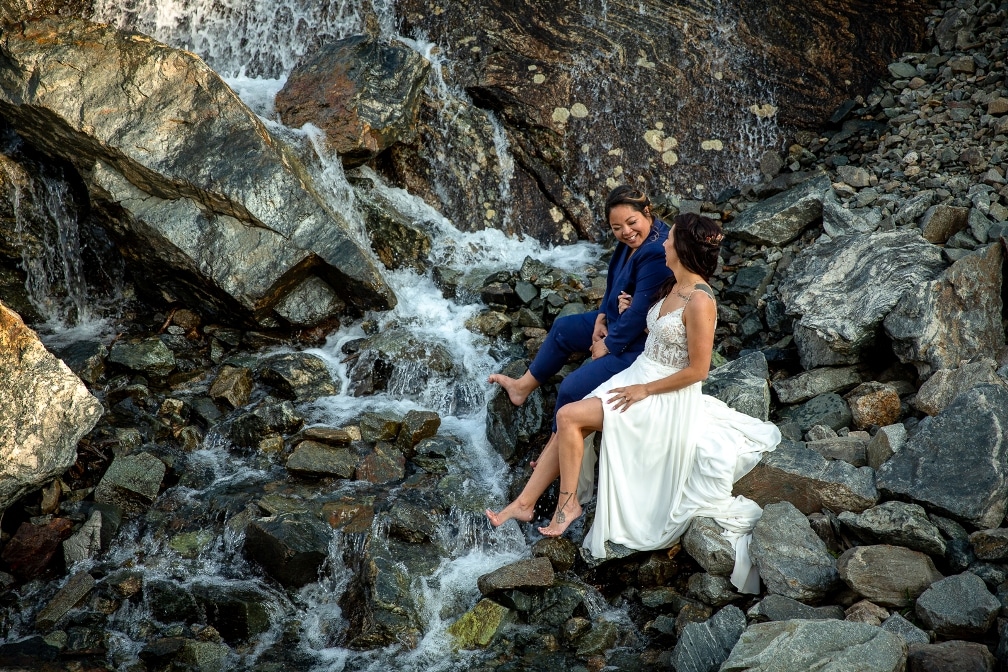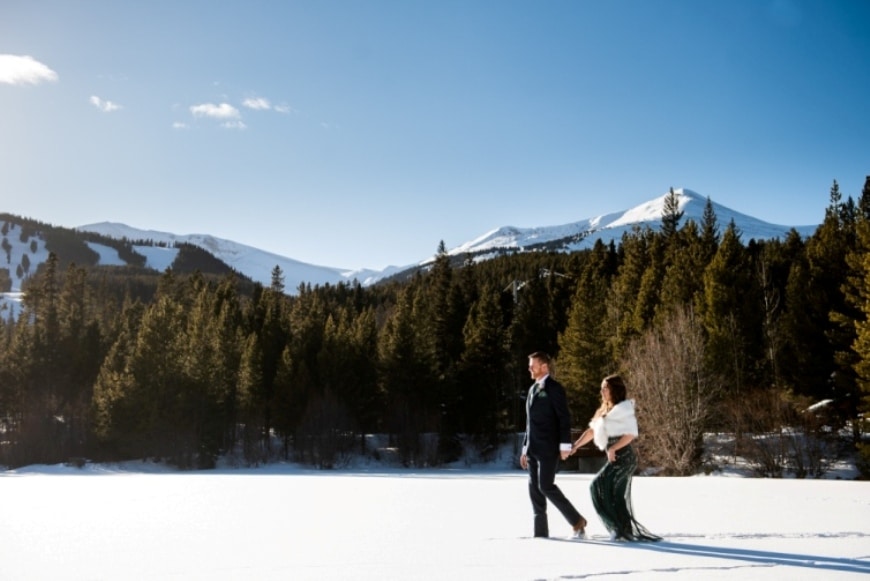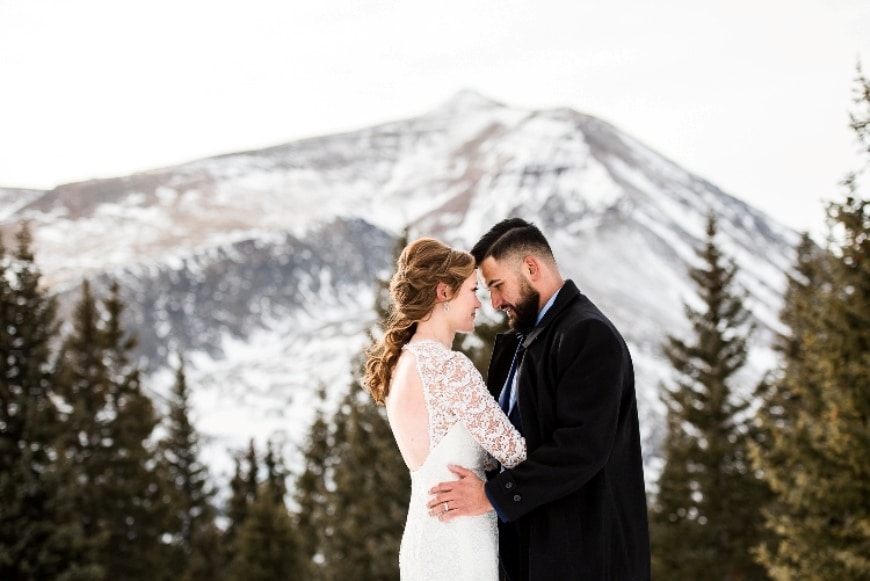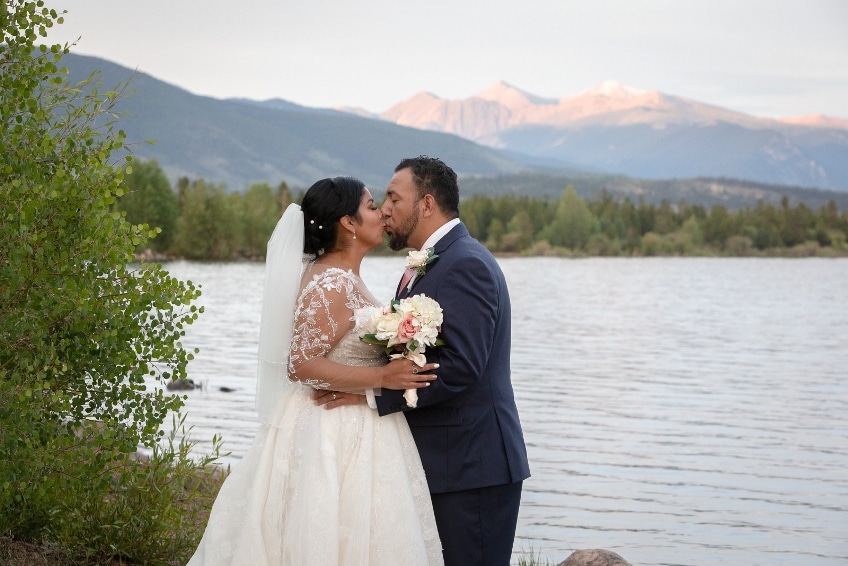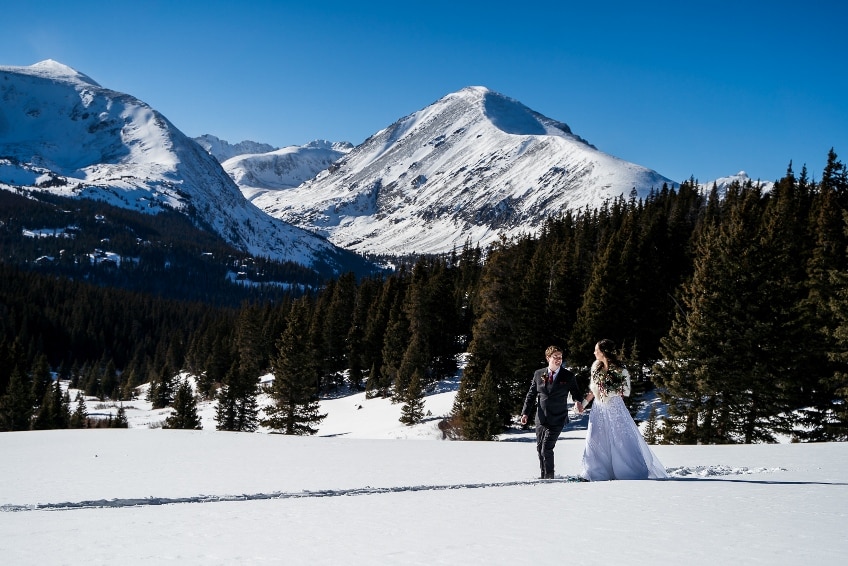 Crested Butte: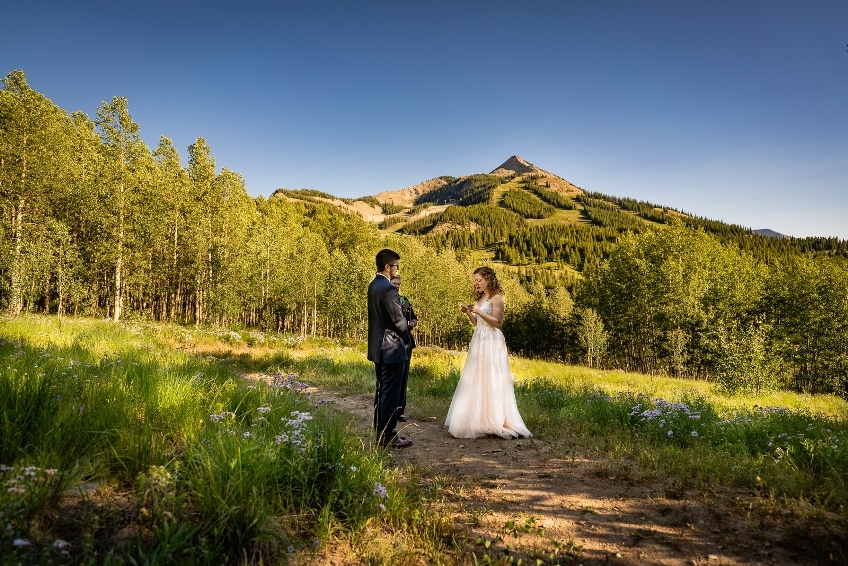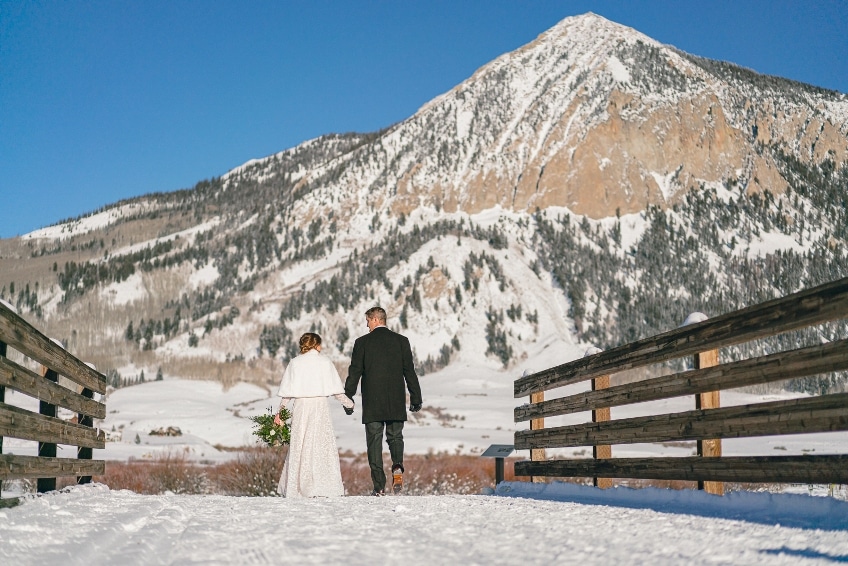 Telluride: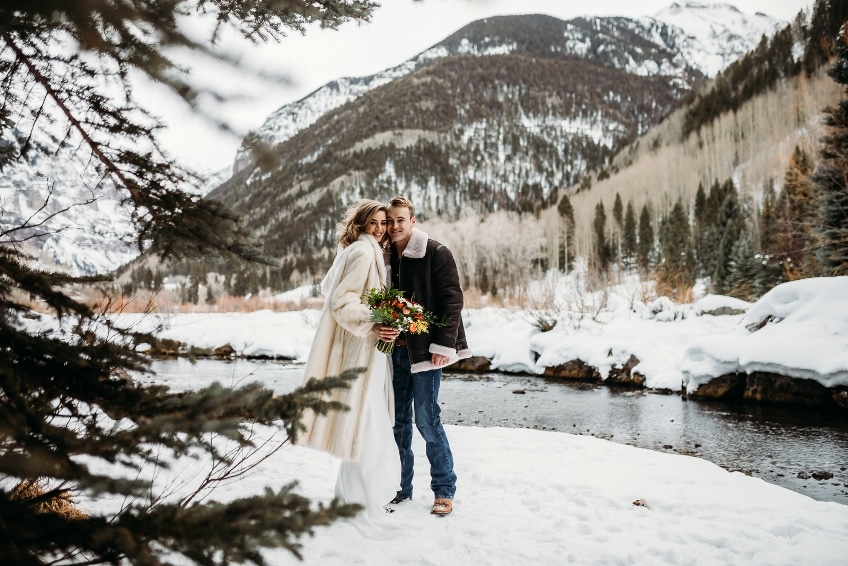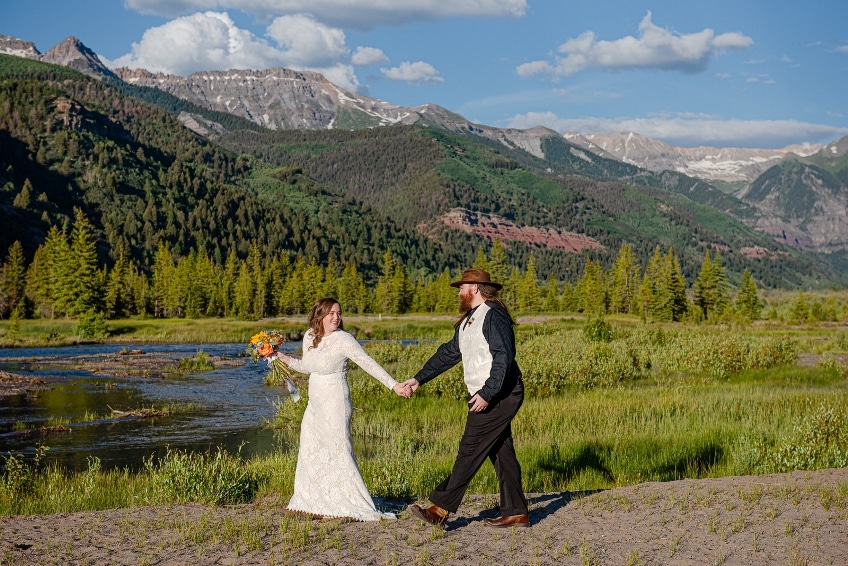 How much privacy do you want at your elopement location?
We've already discussed the reasons why we don't list the names of our elopement sites on our website. This is extremely valuable information that we only pass along to couples that book our services. It's also the reason we spend so much time pounding the pavement to find out of the way, lesser-known and private venues so that your intimate Colorado wedding will stay intimate–and not attended by strangers and passers-by.
But privacy is a relative term. Is it going to bother you if a few passers-by call out, "Congratulations!" as you share your first kiss? If so, you'll want to consider a private, exclusively-yours venue. If you can take that sort of thing in stride, a public, but lesser-known venue should work for you.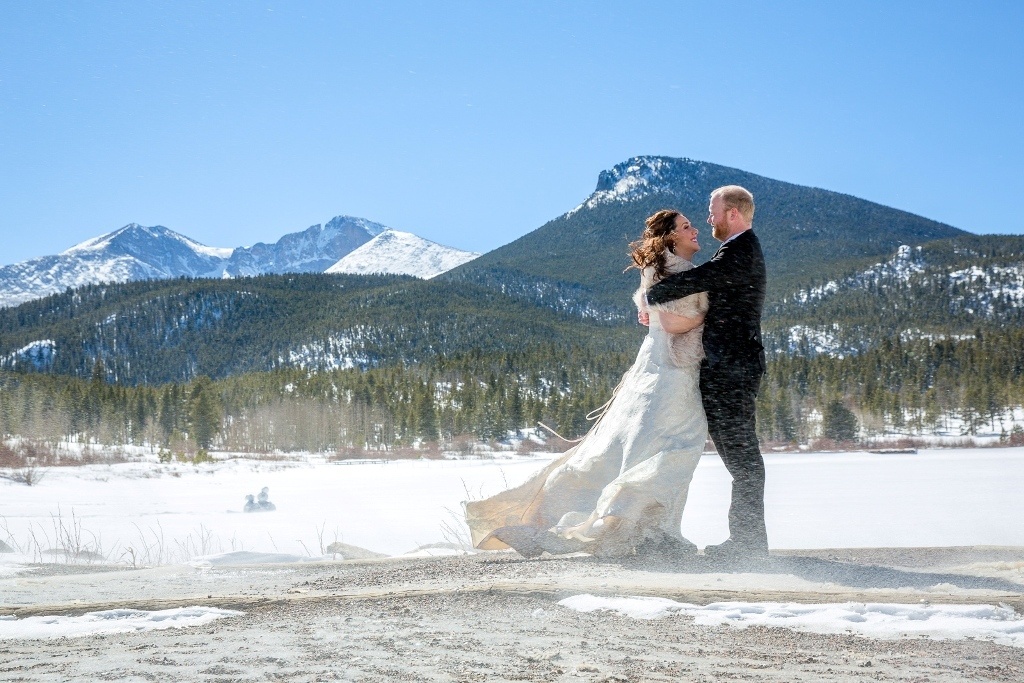 Let's make it truly about the two of you and ensure the maximum amount of privacy for your Colorado elopement.
Private elopement locations in Colorado can be hard to find, as most traditional wedding venues cater to wed-a-paloozas with 100 or more guests. These venues can feel cavernous for your diminutive guest count.
We've ferreted out a small number of private wedding venues that are perfect for elopements with up to 30 guests. So this is something we can help with. The venue below is a private venue that offers the spectacular mountain views you expect from a Colorado elopement, while also ensuring exclusive use of the site for your wedding.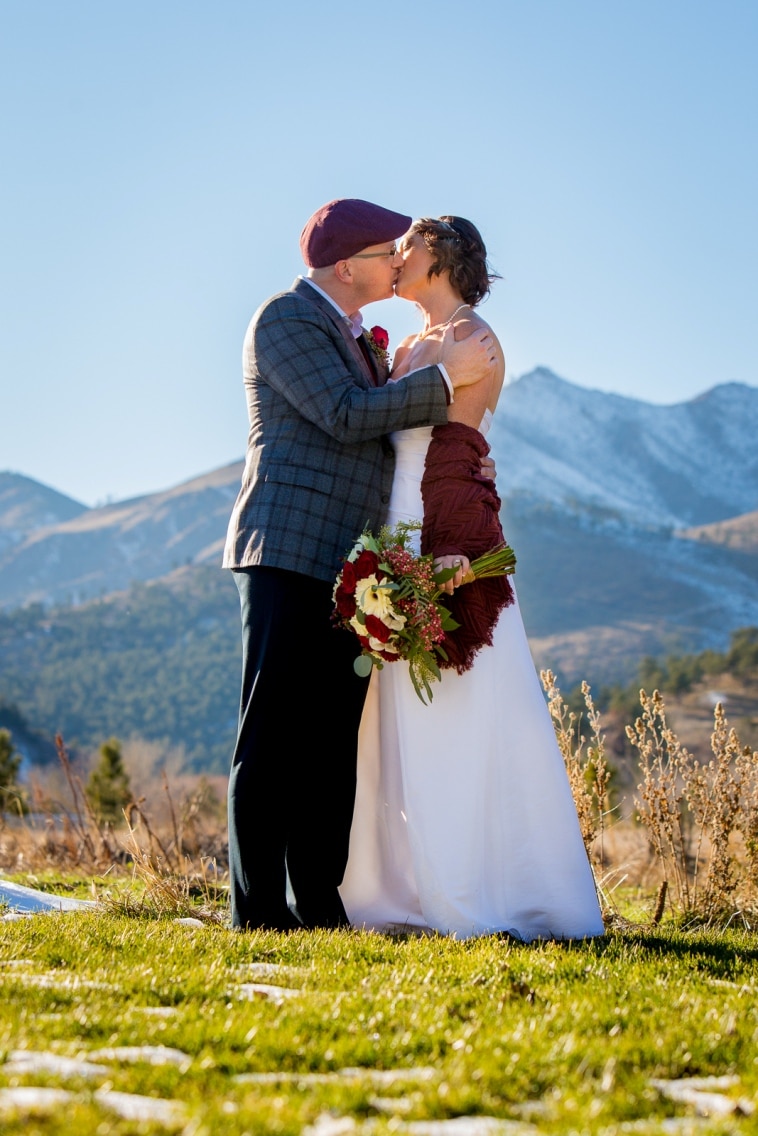 What else do you plan to do while you're here?
How long will you be in town? Is your Colorado elopement also your honeymoon? Will you stay in one place or do you want to spend several days in a variety of towns?
Are you hikers? Biker folks? Do you want to go white water rafting? or would you prefer to climb a Colorado fourteener? Are you eloping while in town for one of Colorado's numerous mountain festivals?
Are you city people or country folk? Foodies? Want to check out our numerous microbreweries? Take a jeep tour? Dance to the wee hours of the morning? People watch? Smoke pot? (Yep! It's legal here.)
Are you train fanatics? Or do you want to go fishing? Shop til ya drop? Or do you prefer to simply chillax and be waited on and pampered hand and foot?
Are you looking for kids activities? Trying to appease a wide range range of guests? Is your mom going to insist on visiting the Rocky Mountain Quilt Museum while your best friend is going to want to hike his brains out? It's all good.
The answers to these questions will determine the best place to elope in Colorado for you.
Hopefully, you're starting to see why we require an in-depth phone consultation before recommending elopement sites–and why it's way more than just slapping "Ten Best Places to Elope in Colorado" on our website.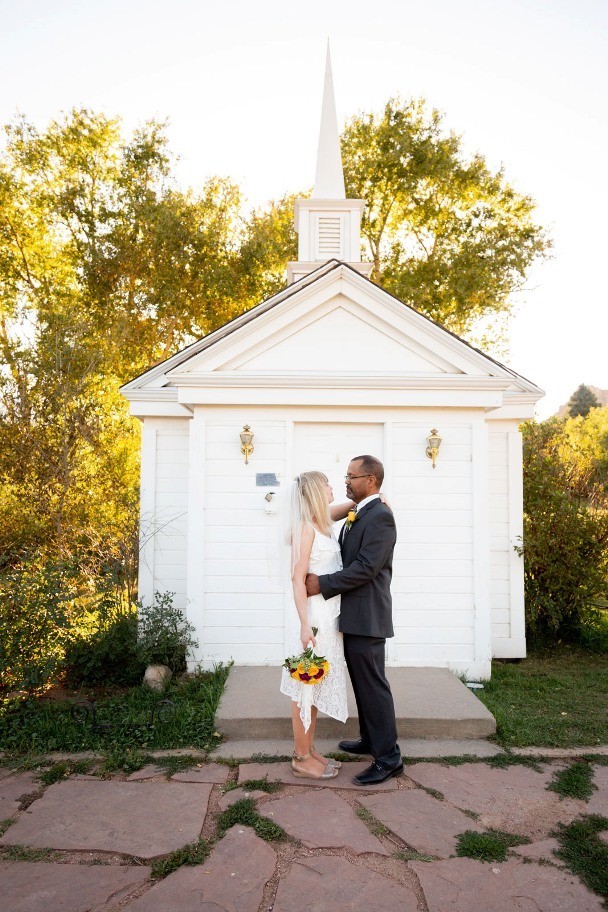 Most couples elope to Colorado to have a breathtaking mountain backdrop, but some prefer to be married in the quintessential Little White Colorado Wedding Chapel. This one combines the best of both worlds–an indoor site nestled in a park with stunning mountain views.
Where are you traveling from and how are you getting here?
Why does this matter in determining the best place for you to elope in Colorado? Because if you're driving in from Arizona and have a limited number of days for your Colorado vacation, then we're going to recommend places on the western side of the state: Telluride, Vail, Crested Butte or Aspen.
If you're flying in and plan to arrive in Denver, you're probably better off in locations like Denver/Boulder, Estes Park, Colorado Springs or Breckenridge.
Location, location, location!
This is also where time of year comes into play. If you're eloping to Colorado in winter, we're going to want to minimize your drive. The last thing you want to be doing is slip-sliding over Colorado mountain passes in a rental car (especially if you're not used to driving in the snow).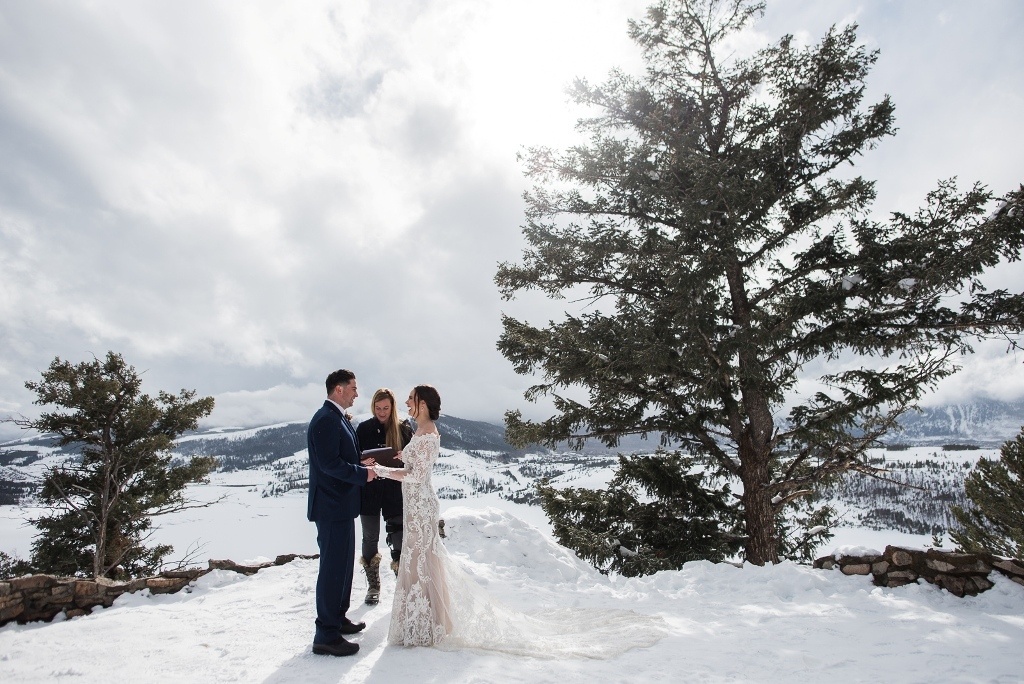 What's  your budget for eloping in Colorado?
Private elopement venues are generally pricier than public ones.
Resort areas like Vail, Aspen and Telluride cost more–not just for Blue Sky Elopements' packages, but lodging, dining and things to do will most likely cost more in these areas.
Flying into small regional airports like Gunnison, Aspen, Vail or Montrose might put you closer to your intended wedding venue upon arrival, but flying into these smaller airports usually costs more than if you land at the airport in Denver or Colorado Springs.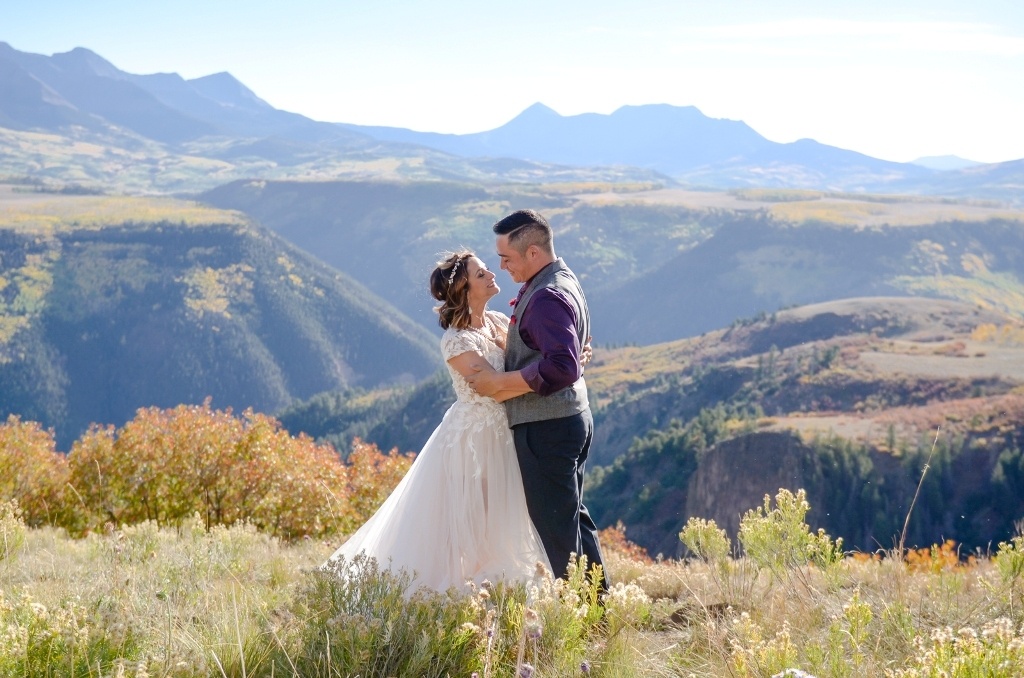 Will you have guests, and if so, how many?
Some Colorado elopement locations lend themselves better to fewer guests while some are perfectly suited for a "large" elopement (which we define as 25-30 guests).
Sometimes it's the venue itself that determines the optimal number of guests and sometime it's the parking situation. If you want an out of the way, little-known, outdoor Colorado wedding site and you don't want a ton of people around, chances are it's not going to have an enormous parking lot!
I maintain that intimate weddings with 20-30 guests are usually better off at a private outdoor venue, whereas smaller weddings can usually be fine with a more public site.
For one thing, think about inclement weather. Most private sites offer an indoor backup ceremony venue in the event of rain or snow. That makes a last minute decision to move indoors fairly seamless–even if you have guests. But if you're standing out on the side of a mountain to say "I do," it's a bit more of a juggle to get guests over to the Plan B site. That's much simpler if it's just the two of you.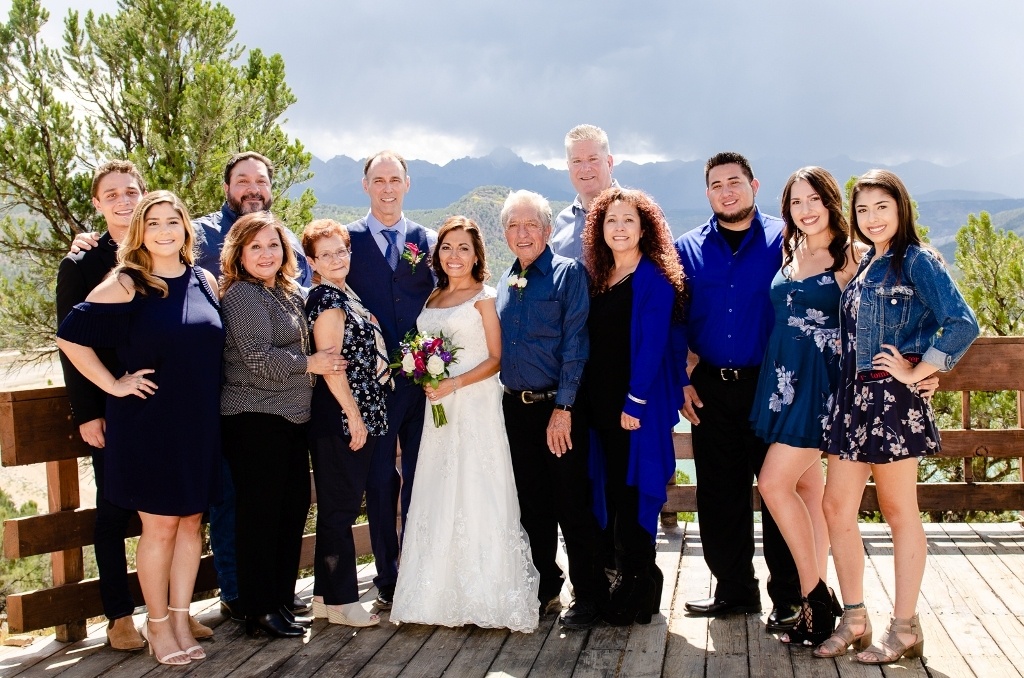 A private wedding site like this one in Telluride, might make more sense if you're bringing along guests to your Colorado elopement.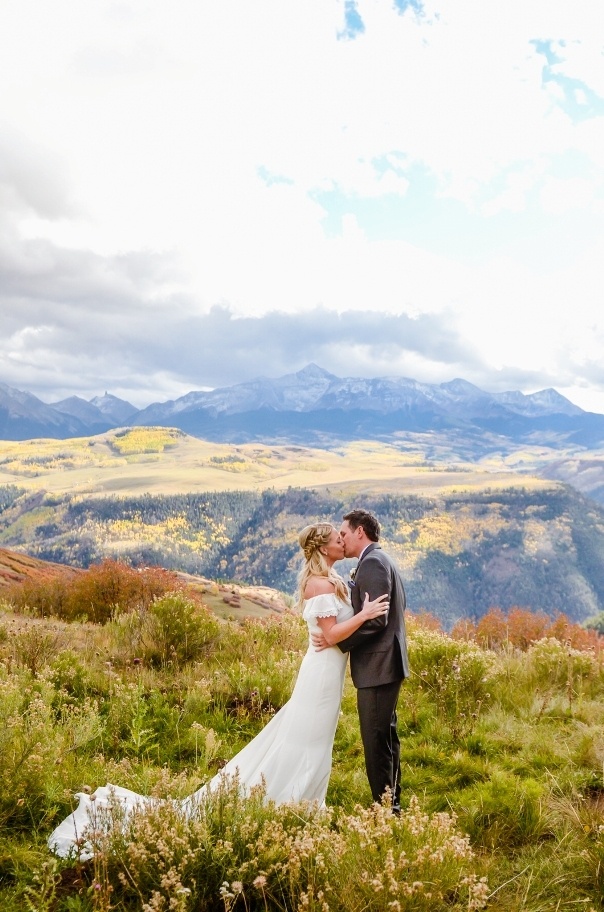 if it's just the two of you eloping, then it's easier to turn on a dime if need be at the last minute.
The bottom line about your elopement location in Colorado
The bottom line is this – there is no one "best place to elope in Colorado." Just like your wedding itself, the location you choose has to reflect what's best for you. And it can be very intimidating to choose an elopement site when you live out of the area and have no plans to visit Colorado beforehand to scope things out in person.
We get that. That's why we offer so many in-depth resources to help you choose the best place for you to be married in Colorado. I've personally visited every venue we serve and our elopement location consulting services provide you with my insights along with photos, descriptions and video of all the sites we serve, thereby making the choice to determine your best Colorado elopement venue just a bit easier.
Let us help you with a stress-free wedding experience: Find out more about our Colorado elopement packages. Request our Colorado elopement pricing guide or simply send us an email and tell us what you're envisioning for your elopement in Colorado.