12 Reasons Why Colorado is the Best Place to Elope
Forget Vegas! For our money, Colorado is one of the most spectacular places on earth to be married. Consider the following:
The price of a marriage license in Colorado is one of the least expensive in the nation. $30! For Vegas, it's double that at $60.
You don't even need a wedding officiant in Colorado. You can self marry and it's perfectly legal. While having an officiant present is a must for many couples due to the solemnity of the occasion, if it comes right down to it, you could do it yourself.
You don't need to be a resident of the state to be married here.
There is no waiting period to be married after you obtain the license. You can pick up the license and be married immediately.
If you're coming in from out of town, Denver International Airport is easily accessible and places you minutes from downtown Denver and within a couple of hours drive from the mountains.
Location, location, location! Have you ever seen the Rocky Mountains?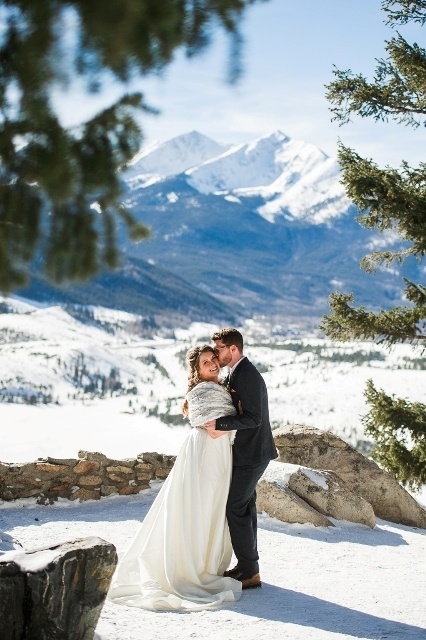 Colorado is a true year-round destination wedding spot. Whether you choose to marry on a snow-capped mountaintop, in an alpine meadow brimming with wildflowers, in the warmth and charm of Denver's Brown Palace, a stone chapel, the living room of an historic Bed & Breakfast, the breathtaking Garden of the Gods in Colorado Springs, or in one of Colorado's many excellent wedding venues, you'll have a spectacular backdrop.
If you desire an outdoor wedding, your chance of rain here is less than almost anywhere else in the country.
When you're not exchanging vows (which, after all, really doesn't take all that long no matter how head over heels you are for each other), there is so much for you (and your guests, if you have any) to do. Colorado is an outdoor-lover's paradise with everything from skiing and hiking fourteeners to a gentle meander through a garden. And the towns and cities of Colorado are second to none in terms of leisure time opportunities. The concerts, theater, museums, comedy, and shopping experiences are second to none and if you truly want the gambling experience of Vegas, you can pop on over to Blackhawk, Central City or Cripple Creek and take on the slot machines there.
Crowds? Not likely.
I don't know of any Elvis Impersonator officiants in Colorado. That alone, should persuade couples to cash in their Vegas tickets for Denver ones. Officiants in Colorado generally travel to all types of locations to perform ceremonies. We don't make you come to our chapel and wait in line with the other eloping couples until it's your turn.
When you look at your wedding photos from Colorado, chances are the background will be of a gorgeous mountain vista, a sparkling fountain or an historic building. As opposed to, "Oh look! There's a picture of the newlyweds standing in front of Lucky Louie's Casino!"
Of course, some people like that sort of thing!