Eloping in the Mountains
Most couples have an affinity for at least one aspect of nature. They may restore their souls by the ocean, in the woods, hiking by a river or by meandering among gigantic rock formations. For many, it's the pull of the mountains that keeps them coming back over and over again for inspiration and joy. With couples wanting to incorporate what they love into their intimate wedding, it's no wonder that so many of them think of eloping in the mountains as their #1 choice.
Saying "I want to elope in the mountains," is the first step. "Then what?" you might be asking. Mountain elopements are vastly different from getting married in your church, the local courthouse or even other outdoor locations. And you may be trying to figure out which mountain range is right for you. We've written this guide to help you plan your mountain elopement, answer your questions about eloping in the mountains, and give you a list of suggested mountains that are the most popular ones for eloping in the US.
The Ultimate Guide to Eloping in the Mountains
Table of Contents
The Different Types of Mountain Elopements
All mountain weddings are not created equal! Your mountain wedding backdrop can be snowcapped, rugged, rocky, treed, or foliage-covered. The peaks can consist of rolling green hills, jagged spires, be awash in wildflowers, have waterfalls, giant boulders, or an alpine lake. You can marry on a top the mountain for that "top of the world" experience, or with the mountains standing majestically behind you for that jaw-dropping backdrop.
So the first step might be to think about what mountain look you're aiming for. Look through Pinterest and Instagram photos and see what makes your heart sing. Or do a Google image search for "mountain elopement" and see what pops up.
Maybe you have a favorite mountain hike that you frequently take together; or the proposal took place in a gorgeous meadow surrounding by mountains. Did you take a memorable vacation together in a state with gorgeous mountain backdrops? Did one or both of you grow up vacationing in the mountains? If you're considering a winter mountain elopement, do you have a favorite ski resort? The more of a personal connection you have with your location, the more meaningful it will be to you. The mountain can be an integral part of your wedding day love story.
Do you want to be married "in the mountains" or "on top of the mountain?"
The difference is significant and is something you'll want to think about before you actually choose your elopement mountain venue. Many couples think they want to be married "on a mountaintop," when in actuality, what they're envisioning is dramatic mountain peaks in the background. It's the difference between this:
and this: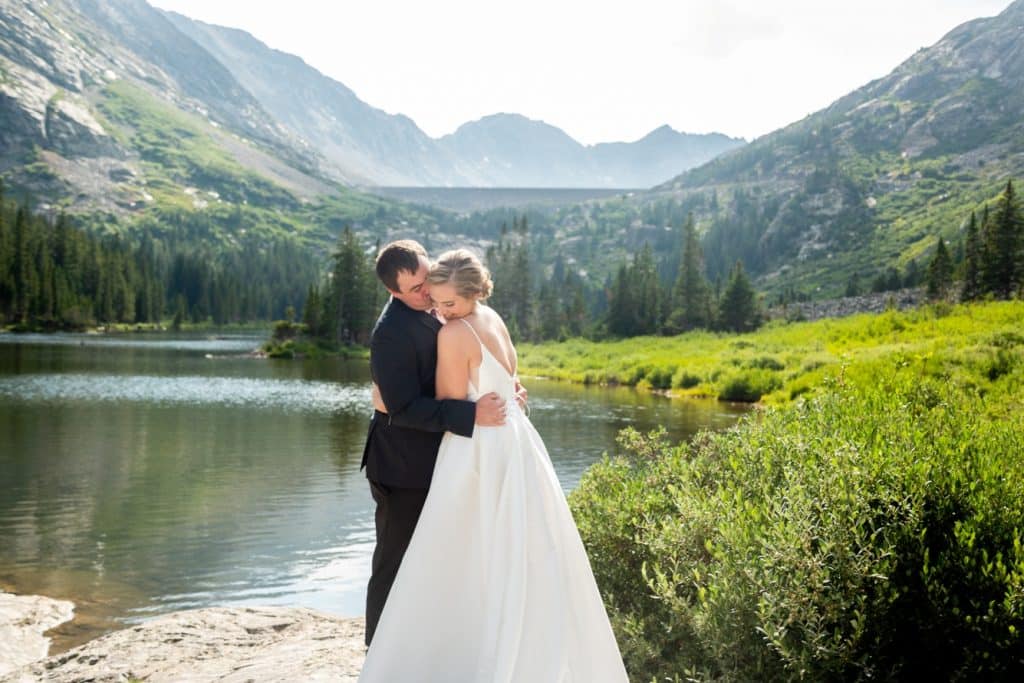 Both options offer stunning–but different–backdrops. Being married on top of the mountain gives you that "top of the world" feeling. Oftentimes, the panoramic views are endless and amazing. However, mountaintops can be tricky to access. And they may require an arduous hike that you're just not up for on your wedding day, or you'll need to take a chairlift to get there (which can be fun in and of itself, but sometimes lifts will be shut down for weather or mechanical issues, so have a Plan B in place). Some mountaintop sites are drivable, but remember–if they're easy to access by car and offer stunning views, everyone else may be up there visiting as well. Your ceremony might not be as private as you'd like it to be.
If you want to be married literally on top of a mountain and you're not familiar with the area, your best bet would be to hire a local planner or photographer who can advise you on which mountain locations will offer the best views along with a semblance of privacy. Mountaintops can also be windy, so if  you go that route, you might think about ditching the veil.
Mountain backdrops, on the other hand, can surround meadows, valleys, lakes and even smaller mountains. They can be easier to access and can provide an interesting variety of backdrops for your photography. And if you marry at the right time of year, you can get snowcapped peaks in the background without having to trudge through snow underfoot. It's kind of the best of both worlds.
Things to consider in planning any type of destination wedding
While this is a how-to guide on how to plan a mountain elopement, there are some things of which you should be aware when planning any type of outdoor destination wedding. Let's go over those first, then we'll delve into the nitty gritty of specifics for eloping in the mountains.
Determine how far from home you want to travel for your destination elopement. For that, you might want to take a look at the following:

What's your mode of travel? Flying? Driving?
Is the trip a quick couple of days to simply elope? Or are you making a honeymoon out of it too? How long you plan to stay in your destination town may impact how far you're willing to travel.
If you're flying, how far from the airport is the mountain destination you're considering? For example, the flight to Denver might be a short one from wherever you live, but if you have to drive another three hours from the airport to get to Vail, is it worth it? And Alaska is a huge state! Calculate the mileage from the nearest large airport, or the cost of taking a small plan into the nearest regional airport.

Whether or not you have guests may impact which destination you choose.

Does anyone have mobility issues? If so, you'll want to choose a really easy-to-access venue.
How long will the guests be in town? You and your sweetie may plan to be at your destination for a couple of weeks–giving you plenty of time to get there and relax. But if your guests are flying in the day before your wedding and leaving the day after, you don't want to be getting married at a destination that is five hours away from the nearest airport.
Having guests means you have to feed them. (Although it's typical for guests to pay for their own transportation and lodging costs, so that's something you shouldn't have to budget for unless you really want to help out.) This needs to be factored into your overall wedding budget. That may reduce the amount you have for travel.

Hire a professional full-service elopement wedding planner to help you plan your micro-wedding. I know I have a vested interest in this, being as I am one of those. But really, it can be ridiculously stressful to try and plan a wedding–however small–when you don't live in the area. The biggest challenge is not knowing what you don't know (hopefully, this article will help a bit with that). There are so many things you won't even think to ask about, and a reliable, experienced planner will head these things off at the pass, so all you have to do is show up and enjoy your day. The details that require your attention will start to add up and the next thing you know, all that stress you thought you were dodging by eloping will find you!
Don't scrimp on photography. The one regret I hear from couples (that is, couples that didn't hire Blue Sky Elopements) is that they either skipped hiring a professional photographer all together or they went cheap and the photographic results were not what the couple had hoped for. When you're eloping, professional photos are all you have to show the 200 people that didn't come to your wedding. You want stellar images that reflect your personalities as well as showcase the breathtaking mountain backdrop you choose for your micro-wedding. Sometimes, eloping couples discard the idea of professional photos because they are camera-shy, or don't like being the center of attention. But a talented photographer is going to get you to relax and forget that they're even there. You'll be so happy when you look back through professionally-taken images after your wedding day. And you may regret it if you eliminate having a high-quality, professional photographer for your wedding.
You will need to obtain a marriage license in the state where you get married; you don't bring one in from your home state. Most marriage license offices are not open on weekends and holidays, so you'll need to allow time in your travel itinerary to obtain the license prior to the ceremony. And some states have waiting periods before the license can be used. If you're not using a planner, you'll need to check out these requirements on your own beforehand.
Put together a detailed day-of-wedding timeline for your destination wedding. If you're not working with a planner, you should take on this task yourself. Make sure it gets distributed to all vendors and guests beforehand and has times, addresses, locations (for both ceremony venue and post-ceremony celebration) and any additional instructions for guests. Putting things in writing will help ensure that everyone ends up where they're supposed to be when they're supposed to be there.
Things to consider in planning an elopement in the mountains
I've lived and worked in mountain towns for most of my adult life. There are things we locals take for granted about being in the mountains that you should know.
Mountain weather is unpredictable and it changes quickly. Don't expect the temperature at the top of the mountain to be the same as it is at the bottom. And the wind may be blowing much harder up there. No kidding, I did a wedding atop Pikes Peak a few years ago and I thought those rings were going to blow out of my hand and land somewhere halfway to Kansas. Do your homework. Many mountaintops have webcams so you can see what the conditions are like beforehand. For mountain weddings, a Plan B for the ceremony venue is a must. That could be a gorgeous vacation rental, a covered pavilion, having the ability to postpone your wedding for a day, or simply getting to lower elevation where the weather is better,
Speaking of weather, mountain lightening storms are no joke–especially if you're above tree line.  Weather patterns vary by region, but in general, mid-afternoon in summer is not the best time to be out on a mountaintop–especially if getting back to safety is going to take some time. That works out well, anyway, as afternoon light in summer is usually pretty harsh for photography; you want to aim for what photographers call the golden hour. This is the time within a couple hours of sunrise or sunset when the sun is lower on the horizon and the light is soft and flattering.
Depending on the mountain location you choose, be mindful of the altitude. Altitude sickness can derail the most well-planned wedding day. If  you come from  sea level to an altitude of over 5,000 feet, your body may need some time to adjust. Allow a couple of days to acclimate; drink lots of water, plan to take it easy for the first couple of days in town, and most important–if you feel headachy, short of breath or woozy after you arrive, it's time to slow down and relax. You can't "push through" a bout of altitude sickness!
When thinking about what mountain region you're going to choose for your elopement, consider what you'll be doing in town when you're not busy getting married. How long will you be in town? are you making a honeymoon out of your time, or is it a quick two- or three-day weekend? Each mountain town has its own distinct personality and there are varying amounts of things to do. If you're huge foodies, you don't want to go to a sleepy mountain town that only has three restaurants–and two of them close at 7:00 PM. If you're down-to-earth, simple people who simply want to commune with nature and relax on your time away, then an upscale, shi-shi mountain town like Aspen might not work for you.
Mountains are outdoors in nature. That means serving as a wedding venue is not their primary function. (I know! Go figure!) When you're in the mountains, you're on Mother Nature's turf. That means there may be wildlife in all its forms. Respect that, please. As enchanting as it will be to have that moose in the background of your wedding photos, don't approach it. Ditto with the elk, the bears and the mountain goats.
Being on the top of a hill means you're that much closer to the sun. This can be a significant thing in places like the Rocky Mountains where you may be at 12 – 14,000 elevation. Sunscreen is a must. So is a lip balm with sunscreen. Trust me on this–having blistered lips can put a real damper on that first married kiss.
Remember to dress for the conditions. The proper footwear is essential. Your elopement in the mountains is not the time to don strappy 5-inch stilettoes. You can go full on formal with a floofy white wedding dress if that's your style, but you'll want to be sporting hiking boots or shoes underneath. If that's not what you're envisioning, you can bring your dress shoes and put them on once you get to the wedding site. But there are oh-so-many adorable hiking boots available out there! Besides, you're going to want to be wearing comfortable shoes when you have to run away from the bears!! (Oh relax–I'm just kidding. Besides, everyone knows you don't run from a bear anyway. You know that, right?)
Select an intermediary meeting place to connect with your vendors prior to the ceremony. Mountain ranges usually don't have an address and the road markings can be sketchy. Often cell phone service is non-existent. You don't want to be roaming all over the hills looking for your wedding vendors. If you[re unfamiliar with the area, ask your photographer and officiant to suggest an in-town meeting place with an actual address (and cell phone coverage!), then caravan over together.
Expect the unexpected. More than almost any other outdoor elopement wedding experience, mountain weddings require flexibility on the part of couples. Dirt roads and bridges can get washed out. Hiking trails will close for maintenance, rockslides happen. Or your previously hidden gem of a mountain gets discovered and you show up to find a horde of campers making s'mores at your ceremony venue. While these scenarios aren't likely–they are possible. We've had them happen with a couple every know and then–and it's the ones that are willing to go with the flow that end up having a fantastic wedding day in spite of some last minute pivots.
What time of year should you get married in the mountains?
So many factors determine what season you should elope in. In general, expect the following from the various seasons when it comes to eloping in the mountains.
Winter

If you're ski or snowboard enthusiasts, a mountain elopement in winter might be a no-brainer. You might even want to consider eloping on the slopes themselves. Winter in the mountains inevitably means snow. If that's the vibe you're going for, then find a planner that specializes in outdoor winter weddings. These type of weddings require a special set of skills and ability to pivot at the last minute if need be due to inclement weather conditions. If your reality self is not a hearty cold-weather type, but your fantasy self really wants to be, I'd skip the winter wonderland wedding. Perhaps you're not used to driving in the snow and you've spent very little time in cold temperatures. If so, odds are you're not going to enjoy exchanging vows in below-freezing temperatures. If you're not used to the cold, but insist on a winter wedding in the mountains, at the very least, hire a driving service to get you around. You don't want the stress of trying to navigate slick road conditions when you're not used to it.

Spring

Spring can be tricky in the mountains. In many cold-weather areas (like Colorado and Alaska) spring in the hills is not much different than winter. In Colorado, there's a possibility of snow underfoot up through early June (although the daytime temps do start to warm up a bit beginning in April). Ditto Alaska, where many parts can zip from wearing down parkas to short sleeves seemingly overnight. In the Olympic Mountains of Washington, it's still pretty rainy up until the middle of May, although snow stays on the mountaintops well into July in a good year. And many east coast mountain regions have what is called "mud season" in the spring. This is when all that snow turns the land into a mushy quagmire and it's not most couples' idea of the perfect time to elope.

Summer

Ah… beautiful summer is the most popular time of year to elope in the mountains.

Wildflowers are plentiful in many mountain areas, the elevation of the mountains keeps temps at a comfortable level and there's little worry about a snow dump to torpedo the day. One thing to watch out for in summer is excessive numbers of tourists milling about. (I don't encourage summer weddings in National Parks for that reason alone; if you're thinking of a summer mountain elopement, ask your planner to recommend a lesser-known site so you won't be fighting crowds on your wedding day.) The only other potential downside to summer elopements in the mountains is afternoon thunderstorms. Plan your wedding for closer to sunrise or sunset to work around that potential pitfall.

Fall

Autumn is second only to summer as the most popular time of year to elope in the mountains–especially in places that sport gorgeous fall foliage. From the maples of northern Vermont and upstate New York, to the beautiful Blue Ridge Mountains and west to the brilliant aspens of Colorado, Mother Nature puts on a show that is unrivalled. If you elope in September, in most areas you'll avoid snowy conditions and sidestep summer tourism crowds.

Shoulder season (a.k.a. the fifth season)

I'm listing this here because many mountain towns have what they call a shoulder season in late spring and/or late fall. Most shoulder seasons last from end of April through Memorial Day (in spring) and end of October through Thanksgiving (in fall). They're the times when the ski season is over and the summer tourist season hasn't started yet, or the leaf-peeping opportunities have faded and ski season hasn't yet started. The beauty of this time of year is that you will not have to share the town with a ton of tourists. And rates for lodging will be considerably less expensive. The drawback is that many restaurants close during this time of year. Do your homework before choosing a mountain town to elope in during shoulder season.
The season you choose will be impacted by the activities that you'd like to participate in while you're in the area. If you'd like to white water raft, consider late spring/early summer. If you're into skiing and snowshoeing, winter is your winner. want to partake in the maximum amount of tourist activities? Aim for a summer elopement. And if you're primarily interested in eating and drinking your way through your mini-moon/elopement (Hey! We don't judge! It's your wedding and if you simply want to vege out and be waited on hand and food, I say go for it!), then almost any season will do.
What to wear for your mountain elopement
This is where it gets really fun! One of the best things about eloping is that you can throw out as many of the rules as you want. Just toss things that don't appeal to you; keep the rest! And nowhere is that more applicable than in the area of wedding attire.
I get questions every now and then (mostly from brides) that start with, "is it typical for …?" or "have any of your former brides worn …?" I always reassure them that even if no other bride in the history of the world prior to them wore something (highly unlikely, by the way), they can still choose to forge their own path in the wedding apparel department.
Things to think about when choosing your mountain wedding attire
While there are no rules regarding what you wear for your mountain elopement, there are some common sense practicalities you will want to pay attention to. And of course the time of year in which you plan to marry comes into play.
Mountain weather is unpredictable and it can change rapidly. The key is to dress in layers that can be easily removed and then put back on (sometimes several times!) during the course of your photoshoot.
The other primary thing to consider in the clothing department is your footwear. I can't emphasize enough how important it is to wear practical shoes/hiking boots with a good tread on them. It will allow you to get to places with breathtaking backdrops. You're not going to be able to scramble up that boulder wearing dress shoes.
Lastly–and I'm amazed at how many couples overlook this–I'd advise that you and your partner's clothing "match" in terms of the style and vibe. No, this does not mean you should show up wearing identical outfits. However, it always seems off to me, for example, when a bride shows up in a formal white gown and the groom is wearing jeans. While either of these clothing choices is perfectly fine for an elopement, they don't seem to coordinate well with each other. It gives the appearance that she went to a lot of trouble to dress for the event, while he sort of rolled out of bed and threw on any old thing. We've had couples with him in jeans and her in a less-formal, flowy dress and the combination is stunning.
Let's look at some options.
For men: we've had the guys in everything from tuxedos to shorts (although I wouldn't recommend shorts for a mountain wedding–not only can it get really chilly, but you also want to protect against no-see-ums that may be lurking in the mountain grasses). A neatly pressed pair of jeans with a crisp white shirt and a casual boutonniere looks fabulous for a mountain wedding. Plus it pairs well with those hiking boots that are a must.
Getting married outdoors in the mountains doesn't mean you can't go with a more formal look, however. Grooms will never go wrong by choosing a tux or a suit. Just make sure it fits properly and gives you enough wiggle room to navigate those mountain paths.
For women: this is where we can get really creative. Unfortunately, the flip site of creativity means there are a lot of options. So many, in fact, that the choices can feel overwhelming. Our brides have shown up wearing traditional white wedding dresses (complete with trains and bustles), dresses in every color and length imaginable (a white dress is not mandatory, you know!), sundresses, pantsuits, and jeans.
The most popular women's-wear option for a mountain elopement is a long white dress in a flowing, but not bulky style (paired with hiking boots, of course–which can be the cutest combination ever!). You want to reduce bulk when you're going to be walking around a mountainside (even a little bit) so the less the dress weighs, the better.
A special note on mountain wedding attire for same-sex couples. The decision to coordinate your clothing is a personal one and needs to reflect your individual tastes. We've had two grooms marry in matching suits and one clever couple who coordinated their bow ties, suspenders and tennis shoes (one in yellow and one in orange). Brides have worn matching dresses, different-but harmonious dresses, and some two-bride couples have opted for more tailored attire like a suit or jeans and a vest. The sky's the limit in your fashion choices as long as you are wearing clothing and shoes that allows you to comfortably navigate mountain terrain.
What to pack for your mountain wedding
In addition to the things you'd need to bring along for any elopement (your wadding attire, rings, photo ID to get the license, a basic bridal emergency kit, etc.) there are some must-haves that are necessary for an elopement in the mountains. Several of these items have been mentioned throughout this article, but let's consolidate them here for easy reference.
Hiking boots (note: make sure they're broken in a little before the wedding day).
Two clear umbrellas. If it rains, these will be invaluable at still allowing you to get fantastic photos. Be sure to provide umbrellas for any guests as well (or remind them to bring their own).
Sunscreen.
Lip balm with sunscreen.
Bug spray.
Rain gear.
Tights to wear under your dress (for warmth – a good idea for all fall, winter and spring mountain elopements).
Drinking water. Okay, you wouldn't necessarily pack this item as most mountain towns in the United States do, in actuality, have drinking water! But you will want to make sure you bring plenty of drinking water with you on the wedding day. Mountain air can be dry and getting dehydrated can spoil the day.
What will my wedding day look like? (A sample itinerary)
We get this question a lot. Since the anticipation is part of the fun, couples want to know what to expect on the actual day of their mountain elopement.
There are a ton of factors that go into the itinerary: time of year, services included, how much photography coverage you've booked, how easy/difficult the mountain venue is to get to, guest count, etc. So this itinerary may be vastly different than what yours will be. But it should still give you a general idea of what to expect.
We're going to assume a couple-only mountain elopement, in late spring/early fall, with four hours of time with your photographer (including time to get from place to place). You may opt for more or less photography, but this gives us a place to start.
Wake up at your leisure. It's just the two of you with no guests to worry about, so you can sleep in and have a leisurely morning. Go out for a stroll, pop into a local coffee shop (or have something delivered if you don't want to get out of bed!) for an intimate breakfast. Get a couple's massage before the festivities start. The morning is all about easing into the day.
With sunset at 7:30 PM and a ceremony start time of 5:00 PM, your photography coverage might start at 3:30-ish. That will give you enough time for several backdrops plus travel time to get from one place to another. If  you're a bride, you've most likely booked professional hair and makeup services and in all likelihood these services will be provided at your place of lodging. Hair and makeup can take up to two hours, so that would be scheduled for around 1:00 PM.
2:00 PM. Your flowers will be delivered to you.
3:00 PM. Hair and Makeup services complete, your photographer arrives to get some getting-ready photos. If there are cute outdoor spots around your lodging (this is where staying in a picturesque AirBnB is well worth the investment) the photographer will take you outside for shots there as well. If you want to do a first look, this is one place to do it.  Or, maybe the two of you prefer to do your actual first look right at the ceremony site, that's totally doable. You'd simply configure your photography coverage differently.
3:45 PM. Everyone heads out for some pre-ceremony photos. Don't forget your flowers, marriage license, hiking boots and water bottles.
4:00 – 4:30 PM. Photos in a spot that will give you a different backdrop. Your photographer may take you to a waterfall, lake, stream or wildflower-strewn meadow for some pre-ceremony photos.
4:30 PM. Leave for ceremony site.
4:45  PM. Arrive at ceremony site. Meet officiant (and videographer if you've booked that service). There may be a brief walk involved to get to the exact site on the mountain where you'll say "I do."
5:00 PM. Ceremony.
5:15 PM. Ceremony concludes. you're married! Officiant gets the required signatures on the marriage license and leaves. Note: your officiant will file the marriage license with the proper county for you.
5:15 – 6:15 PM. The photographer will snap pictures of you all around your mountain wedding location. In all likelihood, they've provided photo coverage there prior to your wedding day, so they'll know all the cool spots to bring you to.
6:15 PM. You may want to head to one last location for some different types of photos. Most mountain towns are adorable and have unique opportunities for quirky, whimsical, fun photos. Or, you may want to have the photographer head back to your lodging with you for some cake-cutting, Champagne-toasting pictures.
7:00 PM. Wrap up with the photographer and head to your post-ceremony meal.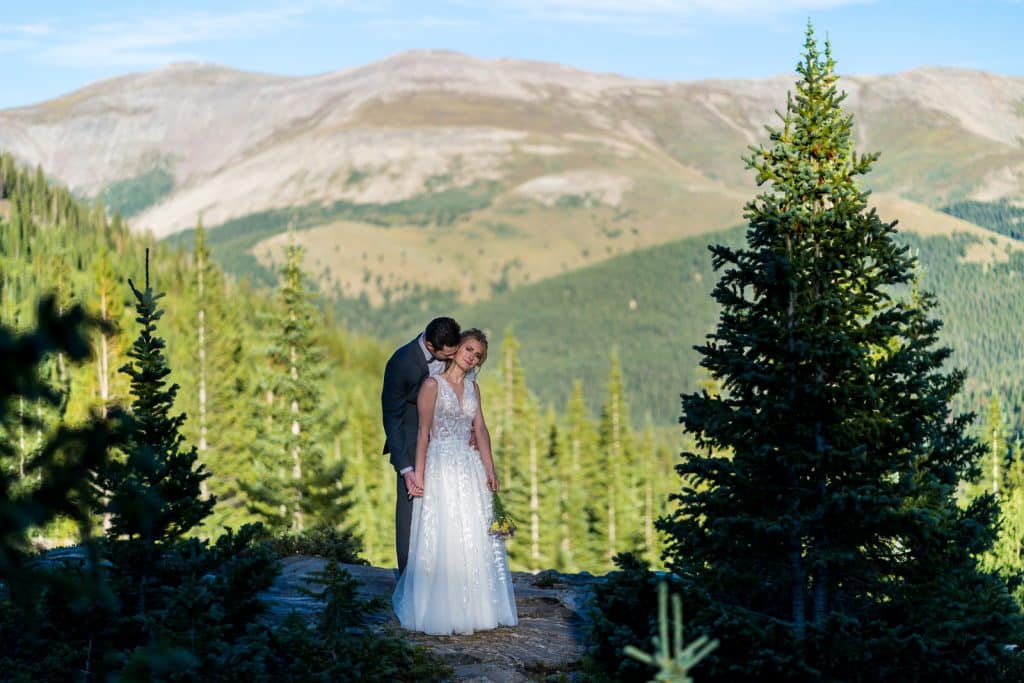 The best mountains in the United States for an elopement
That, my dears, is widely open to interpretation. I have my own personal favorites, but I'll try to refrain from influencing you and give you my "just the facts" listing of options. I'll list them geographically from west to east (more or less–geography is not my forte; don't split hairs if I'm off by a mile or two!) so I don't unduly influence you. I know some of these overlap–the Grand Tetons, for example, are part of the Rocky Mountains–but some mountains deserve their own listing.
Alaska
For the ultimate in adventure elopements! Too many mountain ranges to name here. Denali National Park, Wrangell-St. Elias Mountains, Mendenhall Glacier, Hatcher Pass–the options are endless.
Olympics
The Olympic Peninsula is a lesser-known gem that offers coastal, rainforest, and lake views as well as mountain backdrops.
Cascades
Mount Rainier, Mount Baker, Mount Hood and of course Mount Saint Helen are the best known mountains in the Cascades, which are primarily located in Washington and Oregon.
Sierras
Rocky Mountains
John Denver didn't sing the praises of the Rocky Mountains for nuttin'! While Colorado is the most popular state for Rocky Mountain elopements, this range actually stretches from New Mexico up to Montana (technically further than that, but this post doesn't cover Canada).
Grand Tetons
Appalachians
Great Smoky Mountains
Adirondacks
White Mountains
Blue Ridge Mountains
Next Steps
If you're interested in a mountain elopement in the Rocky Mountains of Colorado, request our Elopement Pricing Guide for a ballpark idea of our fees. Or contact us for a custom proposal.