Alex and Mary's Crested Butte Elopement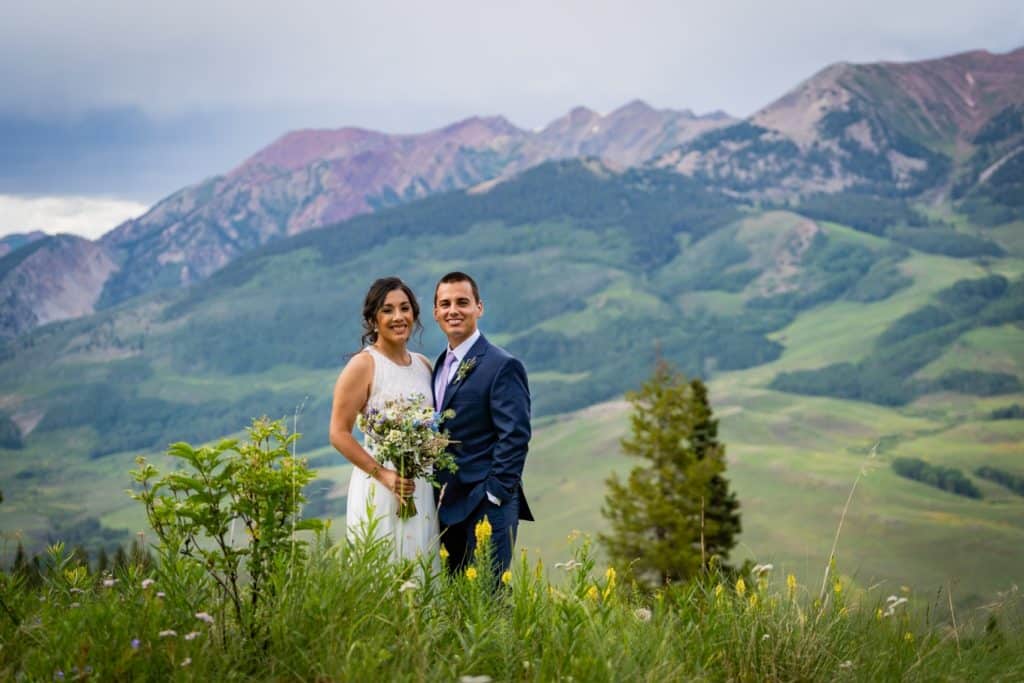 A Crested Butte elopement was the perfect choice for Alex and Mary
Alex and Mary's love story was filled with serendipitous events. Although they grew up within 20 minutes of each other in the suburbs of Chicago, they didn't meet until they separately moved to Colorado. Their first date was a hike (which is just about the most "Colorado" thing you can do on a date!).
Having no interest in being in the spotlight on her wedding day (turns out Alex felt the same way) Mary had always envisioned an intimate wedding in a beautiful location. When Alex proposed at the start of the Coronavirus pandemic, the decision was made. With big weddings thrown into turmoil all over the place in 2020, the two knew right away that eloping was the best choice for them. And with a move from Colorado to Ohio on the horizon, what better place to tie the knot than in the state they both loved and where they'd met?
Don'tcha just love it when serendipity intervenes to create the perfect context for a love story?
But… where in Colorado to elope?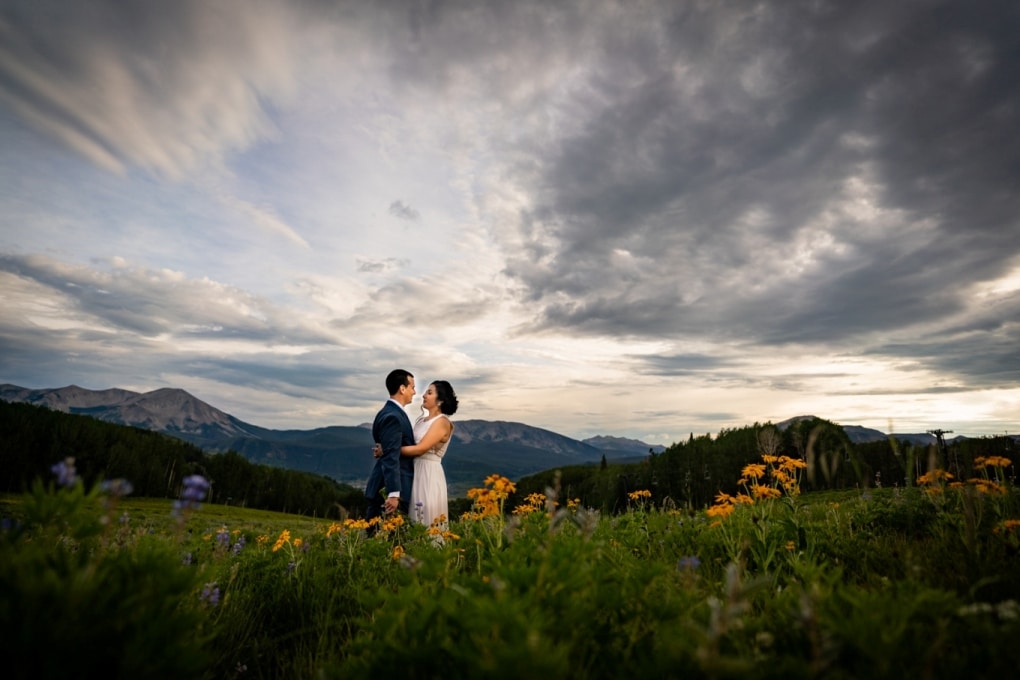 We only had three months to plan their elopement. But since they were living in Colorado at that point, that made things easier. When Mary mentioned her love of wildflowers and that they were looking at a July wedding, I knew right away that a Crested Butte elopement was going to be in the cards for them. Sure enough, when I sent them their info on the many, many Colorado elopement venues available to them, they zeroed in on Crested Butte as the place to elope.
They chose a wildflower-dotted hillside close to town with majestic Mount Crested Butte in the background as the place to exchange their vows. Then, we took them all around the town for more photo backdrops. You can do that when the town is as small as Crested Butte and the couple doesn't have any guests on their wedding day!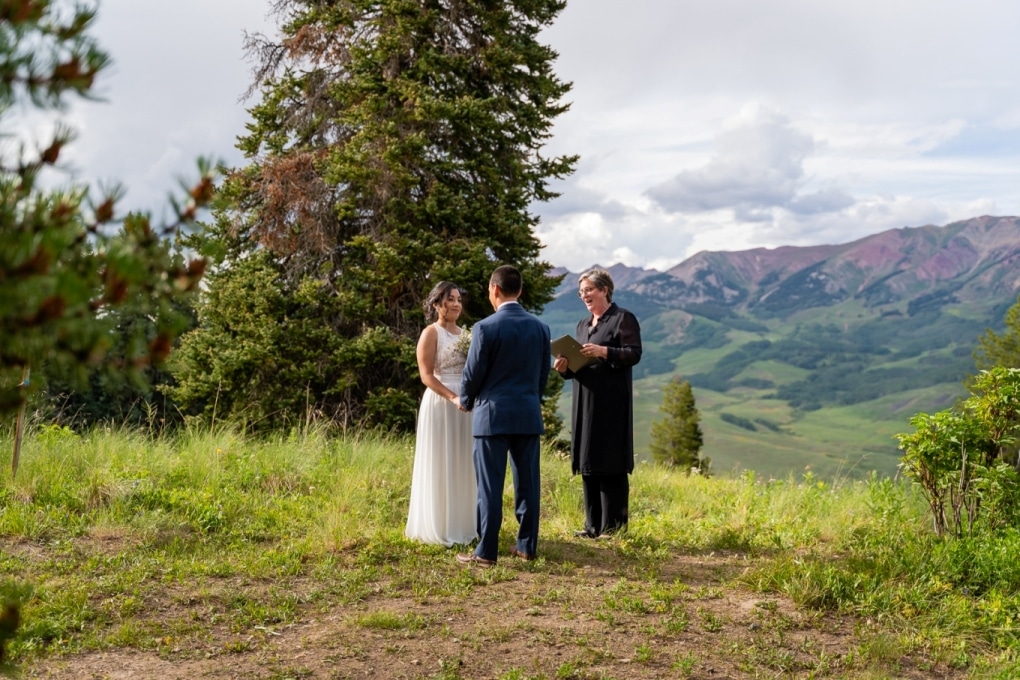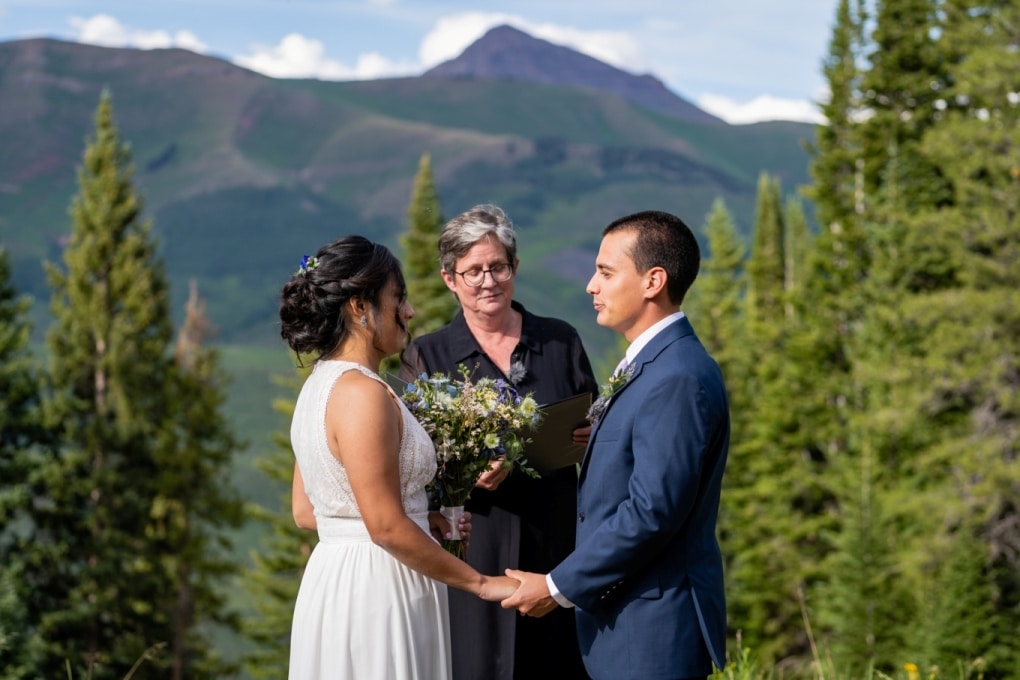 The two kept their vows a secret from one another and wrote them down in matching booklets.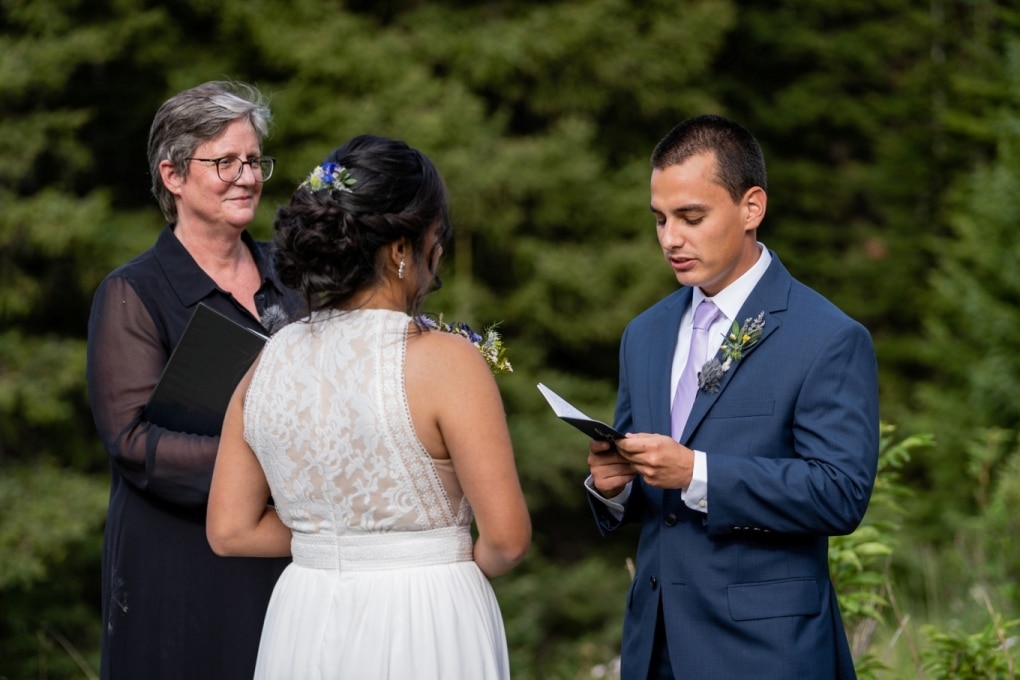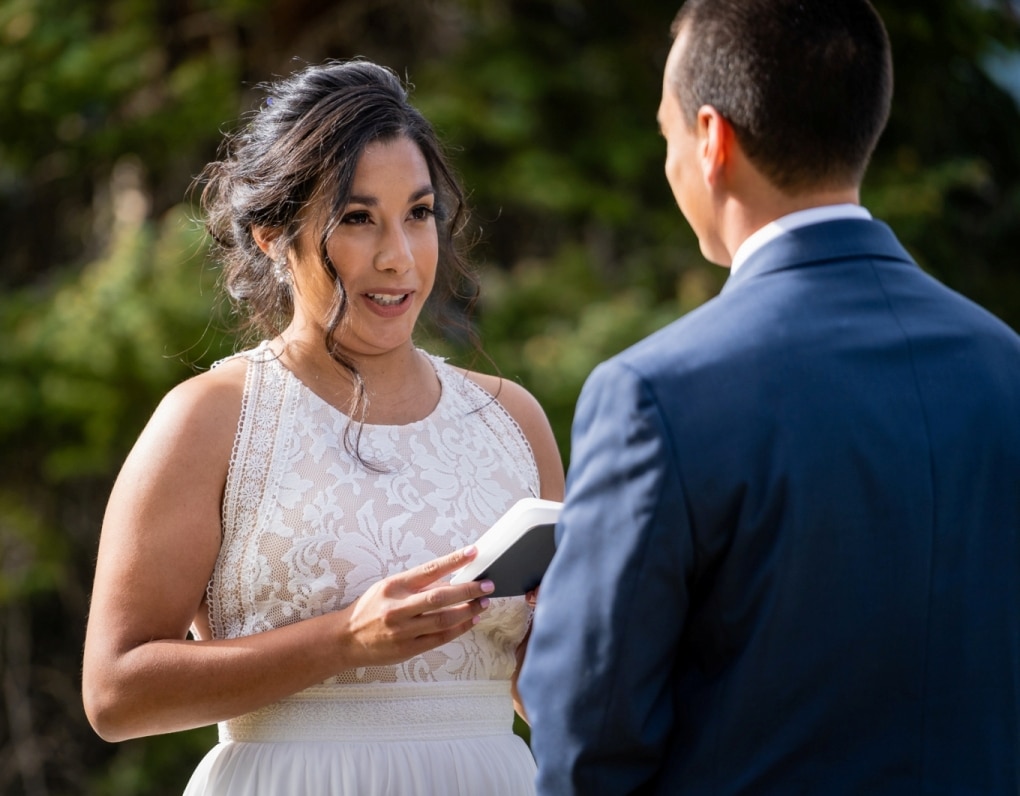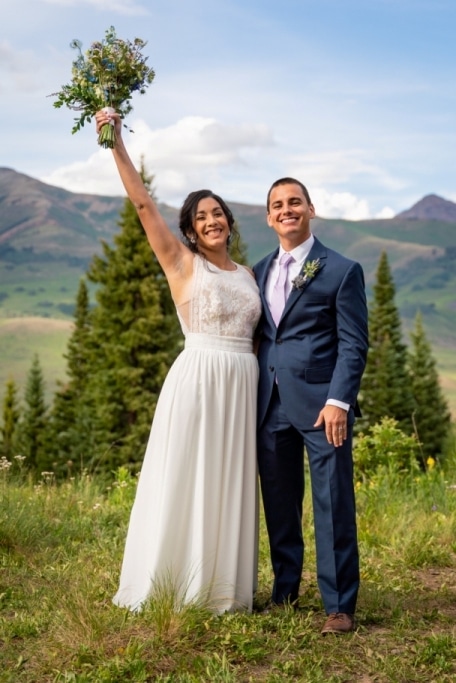 Mary went with a wildflower look (Naturally!) for her bouquet in blues, purples and white.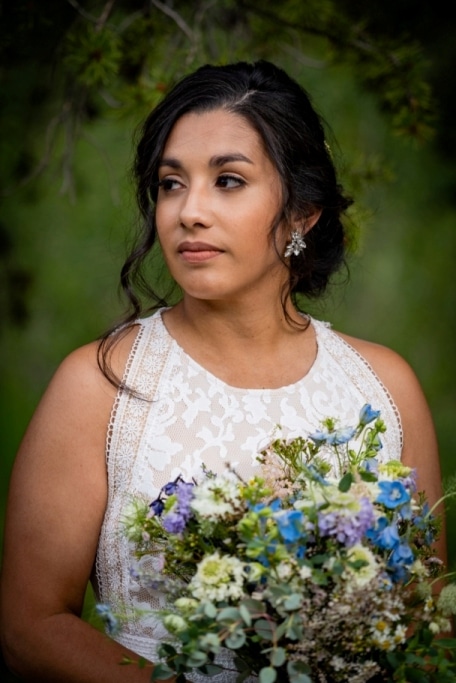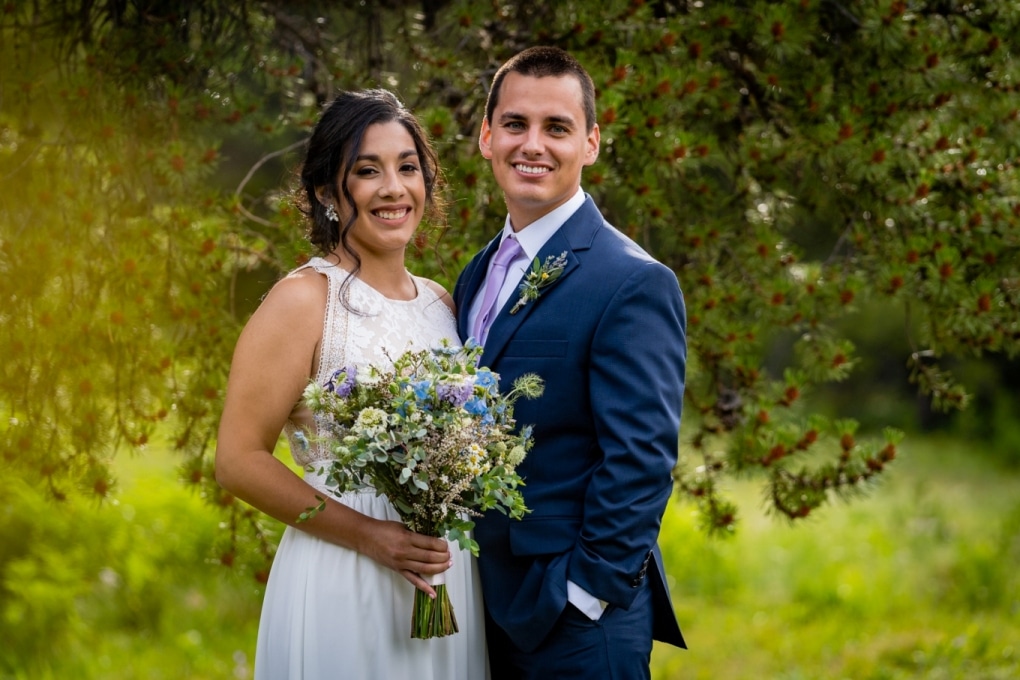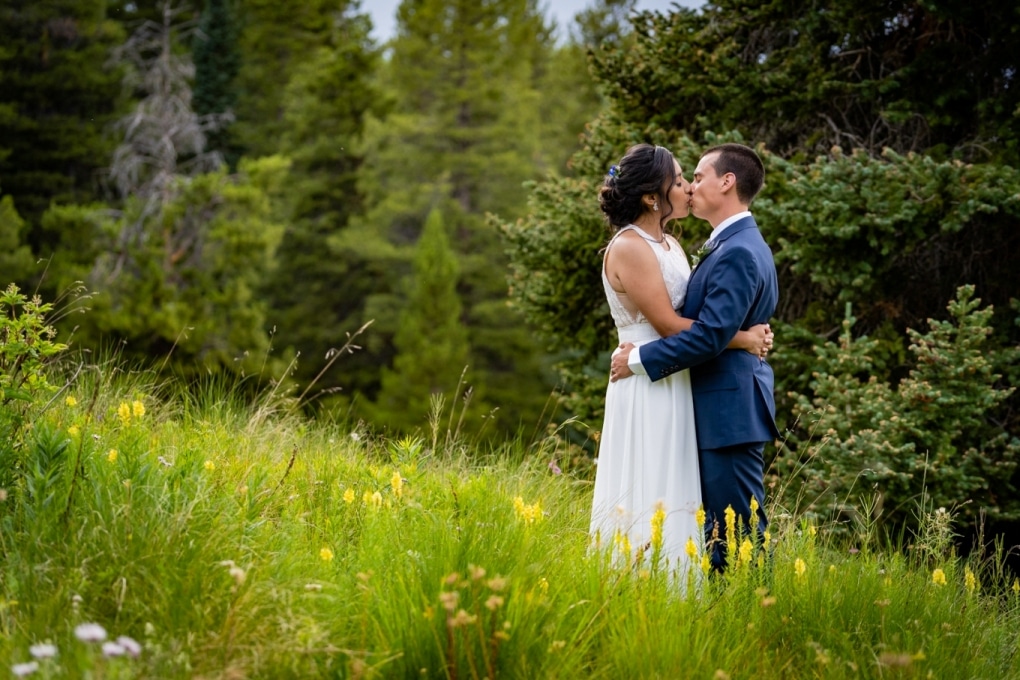 After the ceremony
Officially married and totally relaxed and immersed in each other and their surroundings (because they had no one else to worry about but themselves!), Mary and Alex allowed us to take them around to some other places in Crested Butte where we could get fabulous wedding photos. (And our photographer may or may not have deliberately waited a bit until the sun went down so we could get some fabulous backlit shots!)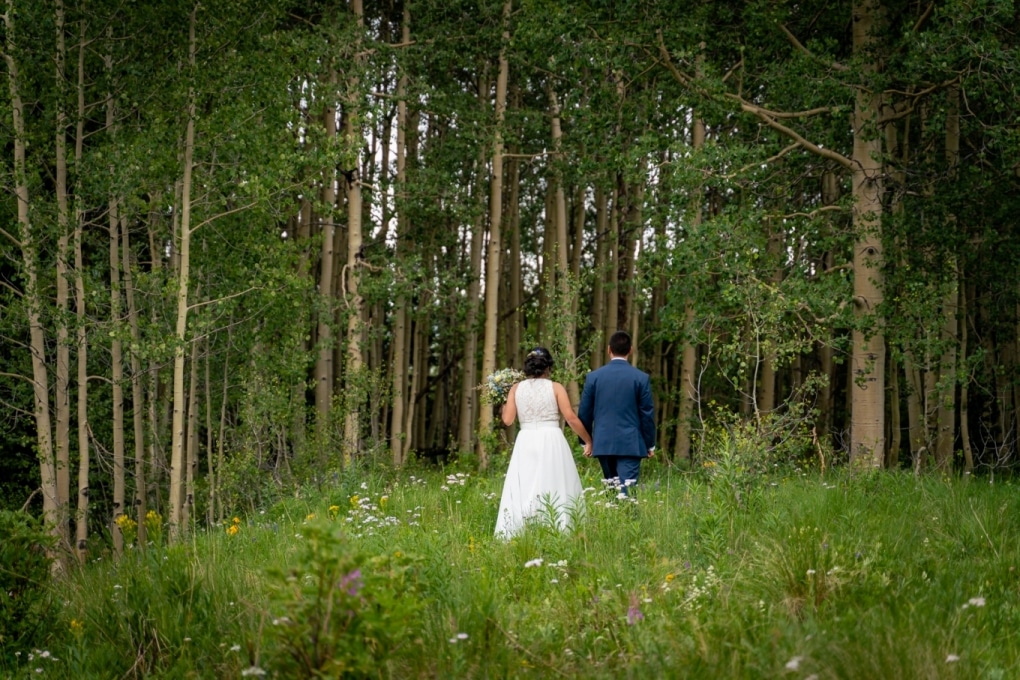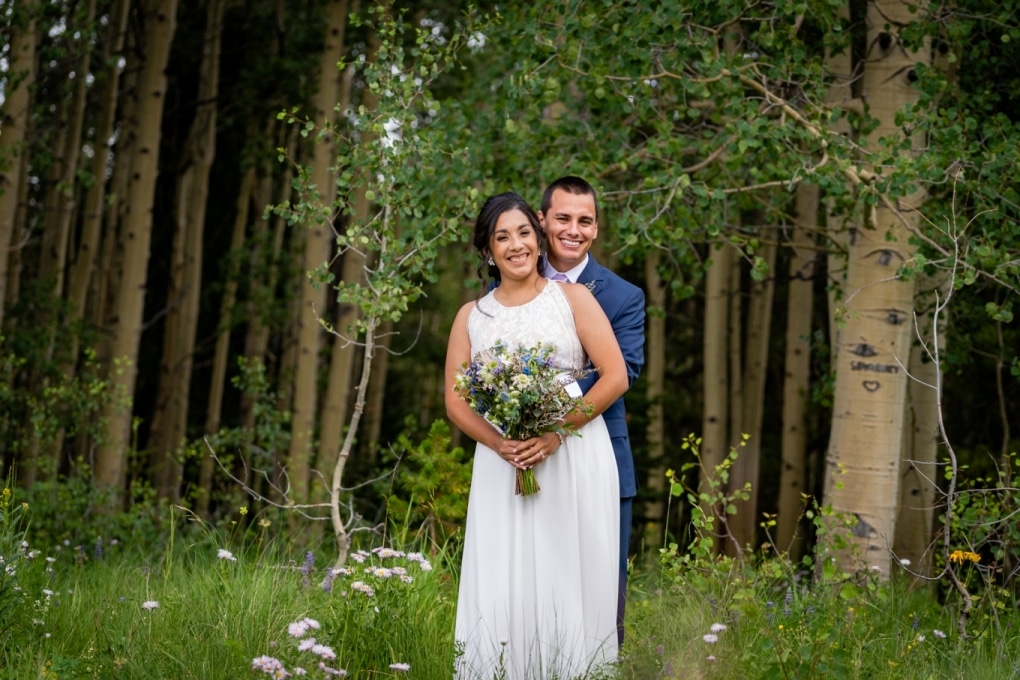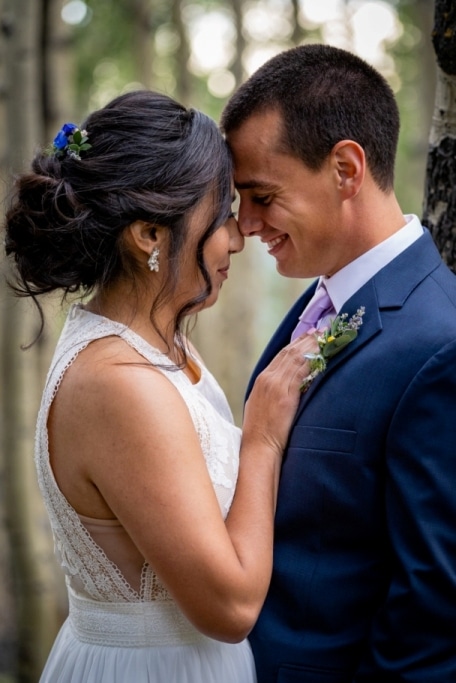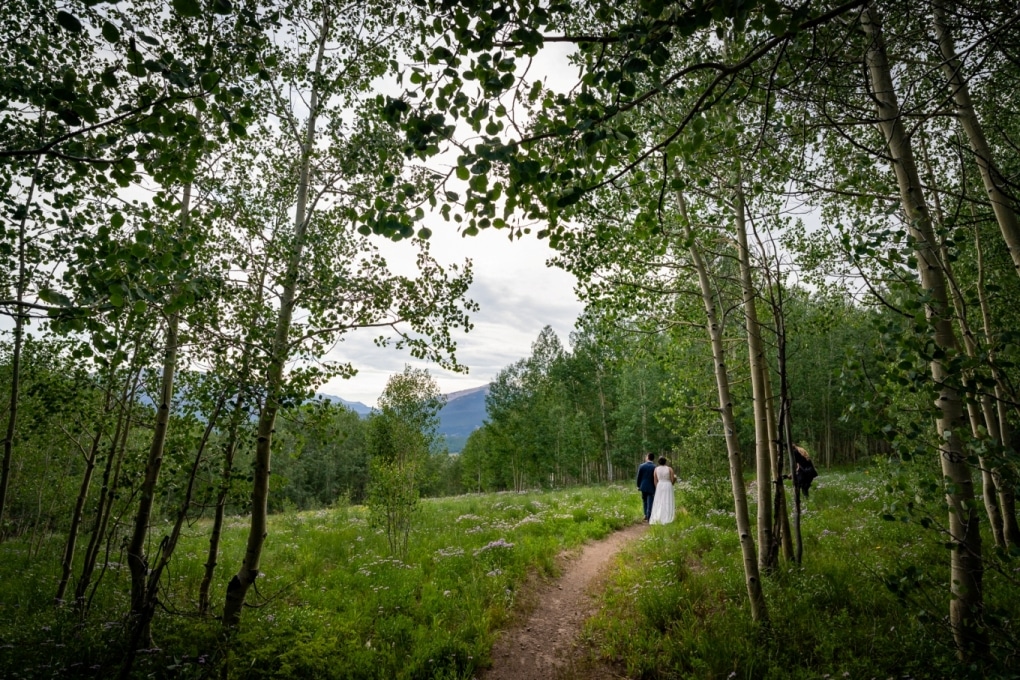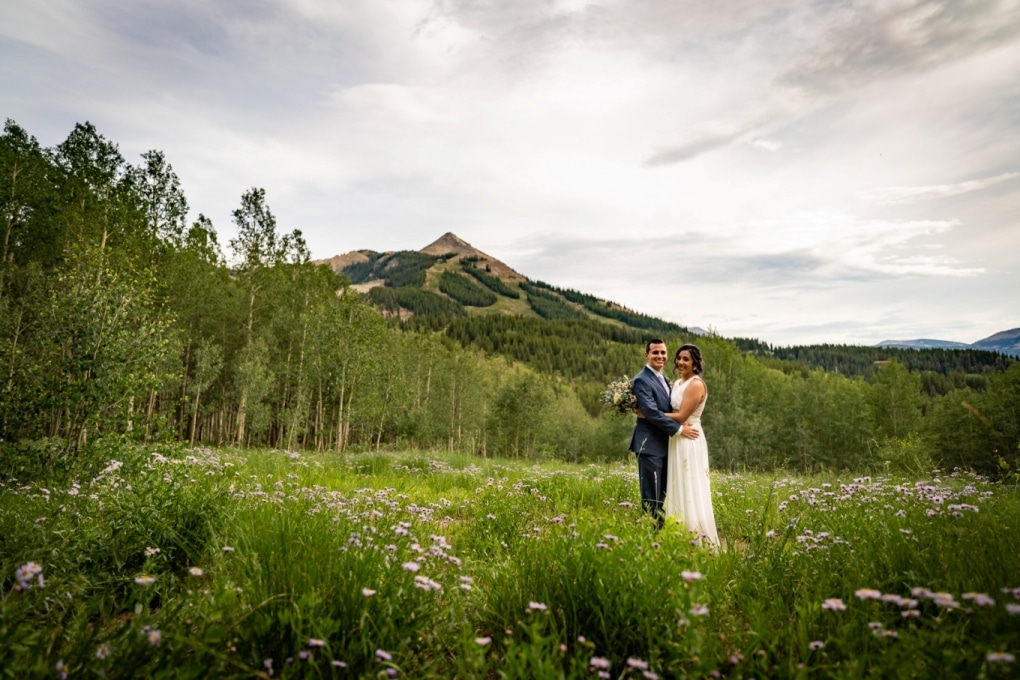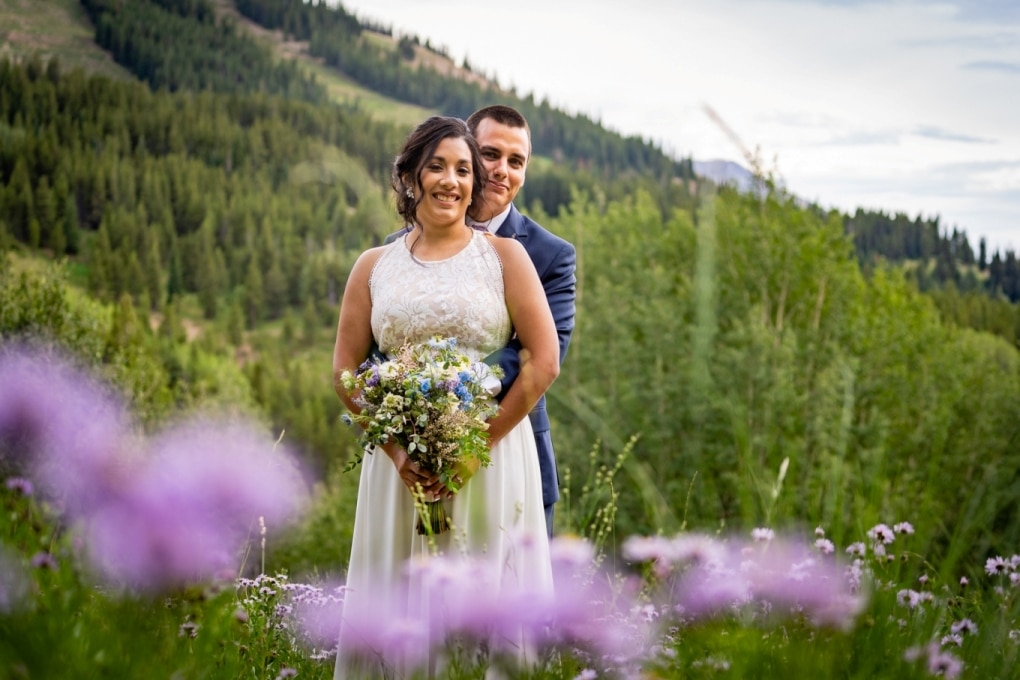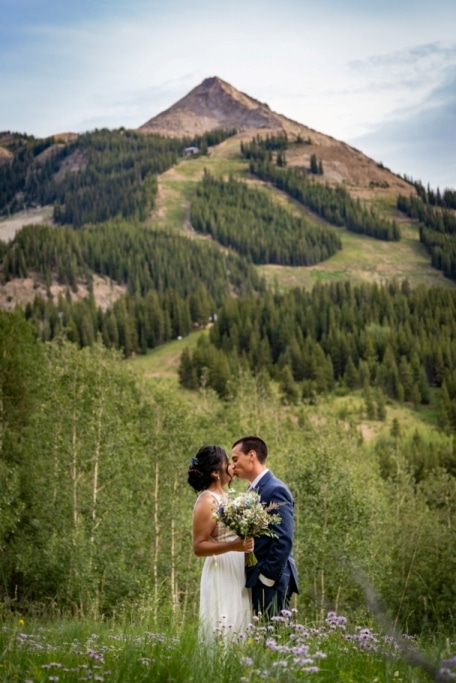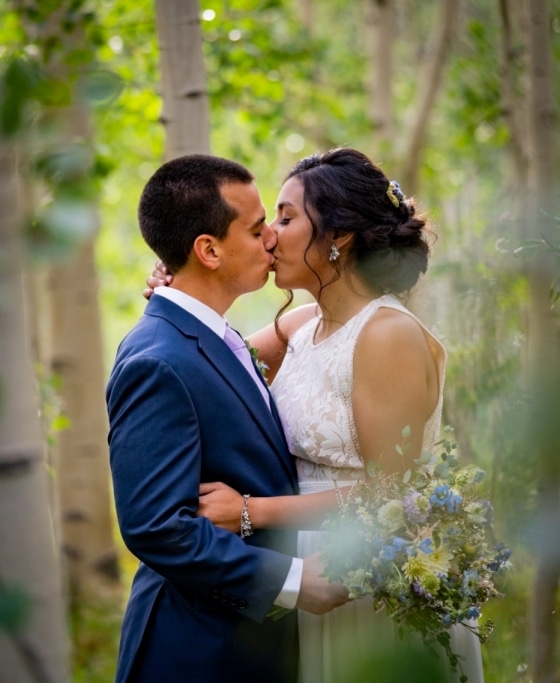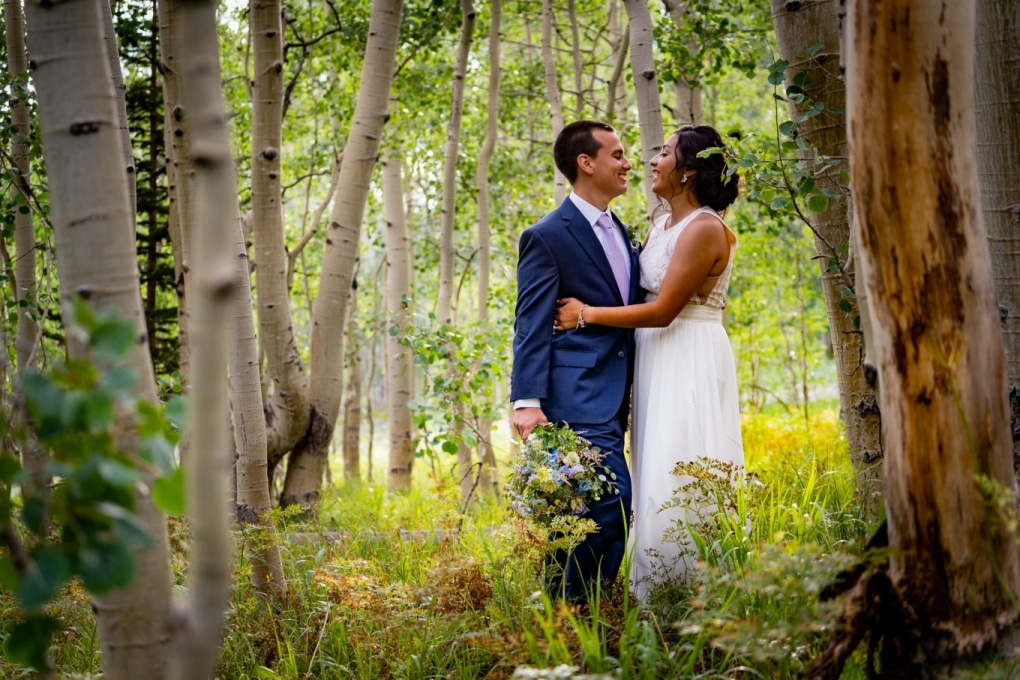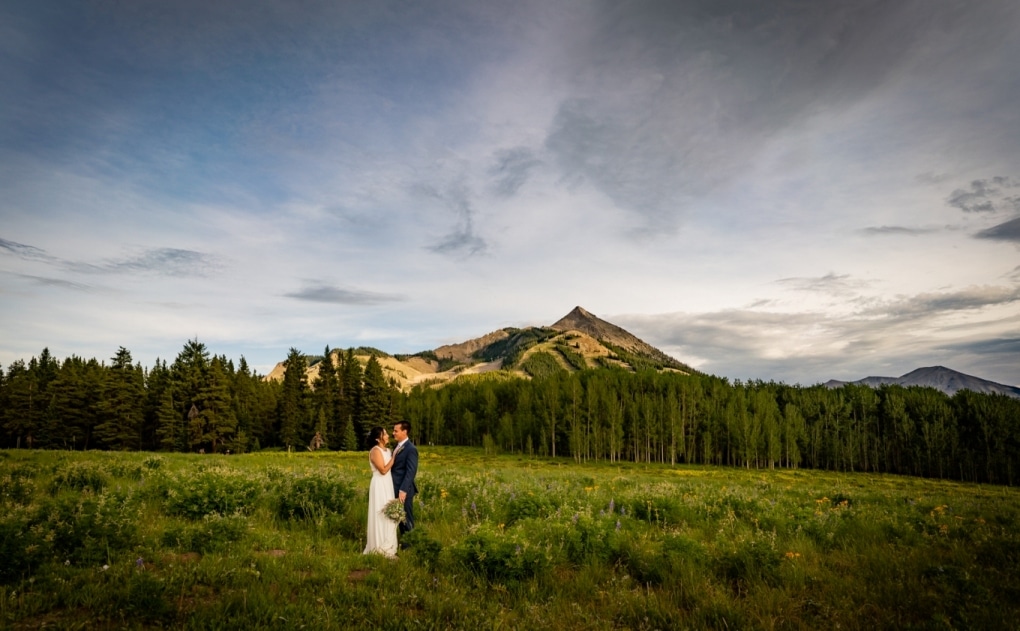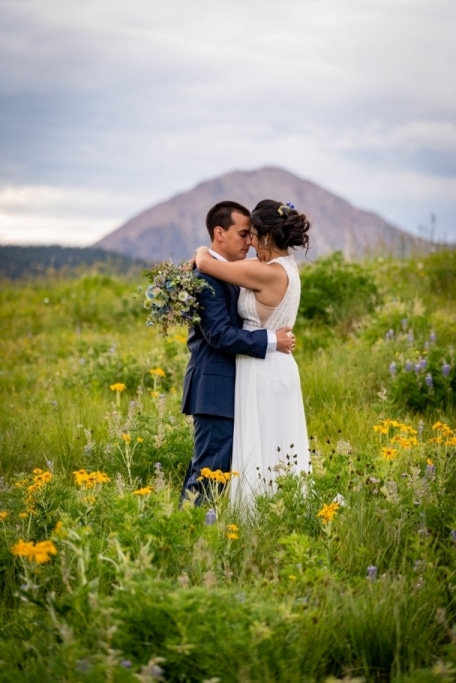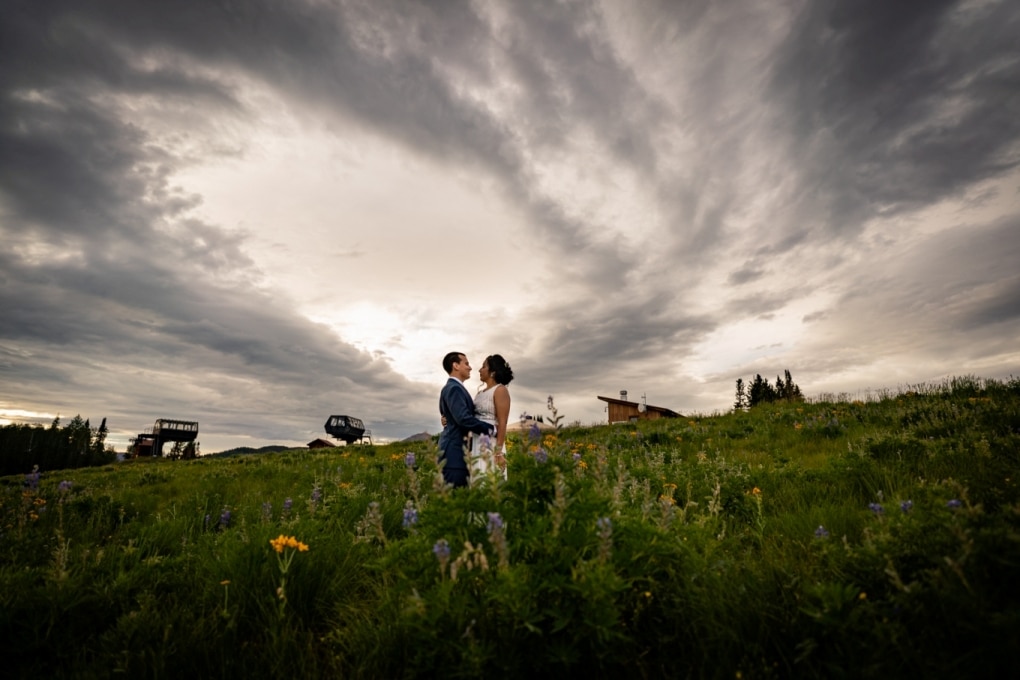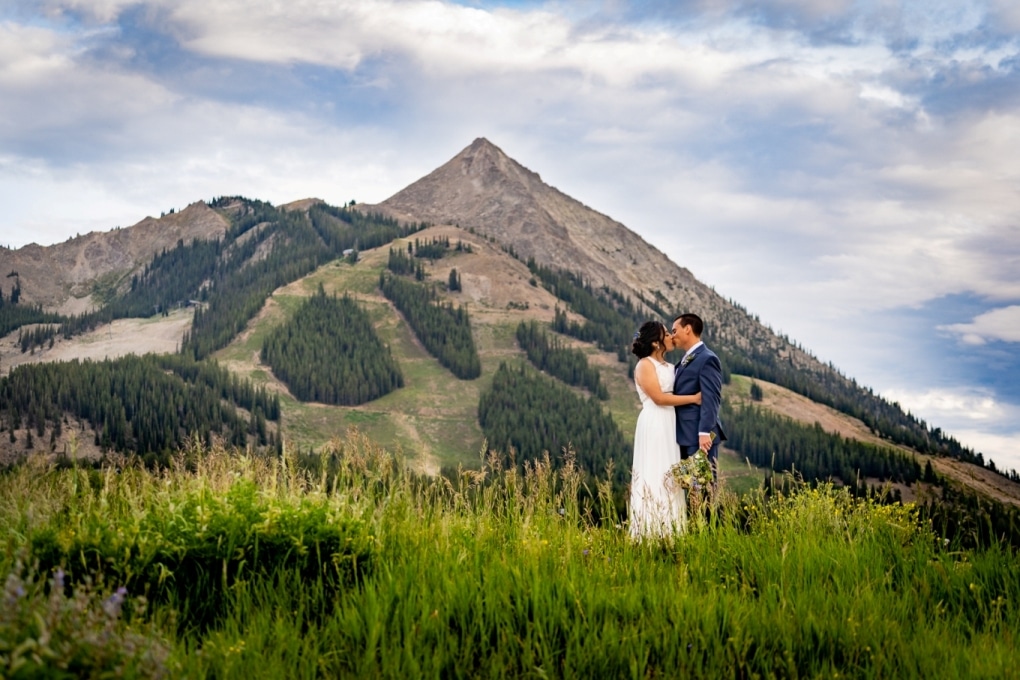 Watch Alex and Mary's wedding video below.
In their own words
Why did you choose an intimate wedding?
We got engaged at the start of a pandemic and the future was very unknown in regards to wedding planning and restrictions. Our dream was to get married in an intimate ceremony in a beautiful location…with the pandemic, it just made sense. 
What made you select the location you did?
We were planning on moving back to the Midwest at the end of the Summer, so it seemed like the perfect idea to get married in the state where we met. Colorado had a special place in both of our hearts. We met in this state, we enjoyed adventures in the great outdoors. Crested Butte in the summer seemed like the perfect place.
What words best describe your wedding day?
Beautiful, perfect, picturesque. Our day was everything we envisioned and more. Because we had such an intimate wedding with just the two of us (and the officiant and photographer), we got ready together in our AirBnb. We got to share our vows overlooking the Rocky Mountains. Then we got a tour of Crested Butte to take the most breathtaking photos with our resident guide/photographer.
What was your favorite part of your wedding day?
Of course, the ceremony was our favorite part of our wedding day. We kept our vows a secret from one another and recorded them in identical vow books. Fittingly enough, our vows were very similar to one another's and it was very special to reflect and commit to our future with one another.
Did you face any challenges in eloping?
We were both a little worried about what our families may have felt about our decision to elope. Due to the pandemic and uncertainty of everything, we decided to kept the ceremony very intimate. Luckily, both of our families respected our decision and were very supportive throughout the process.
What was the best thing about having an intimate wedding?
We loved that the ceremony was just about US and we didn't have to worry about tailoring our wedding to what our friends and family wanted or expected. We felt more in control of our OUR day and were able to focus on each other.
Any advice for other couples planning to elope?
If you're on the fence re: eloping vs having a large ceremony, there really is no right answer! Do what is best for both you and your family. We have no regrets about our decision; if had to do it over again, we would do the same thing.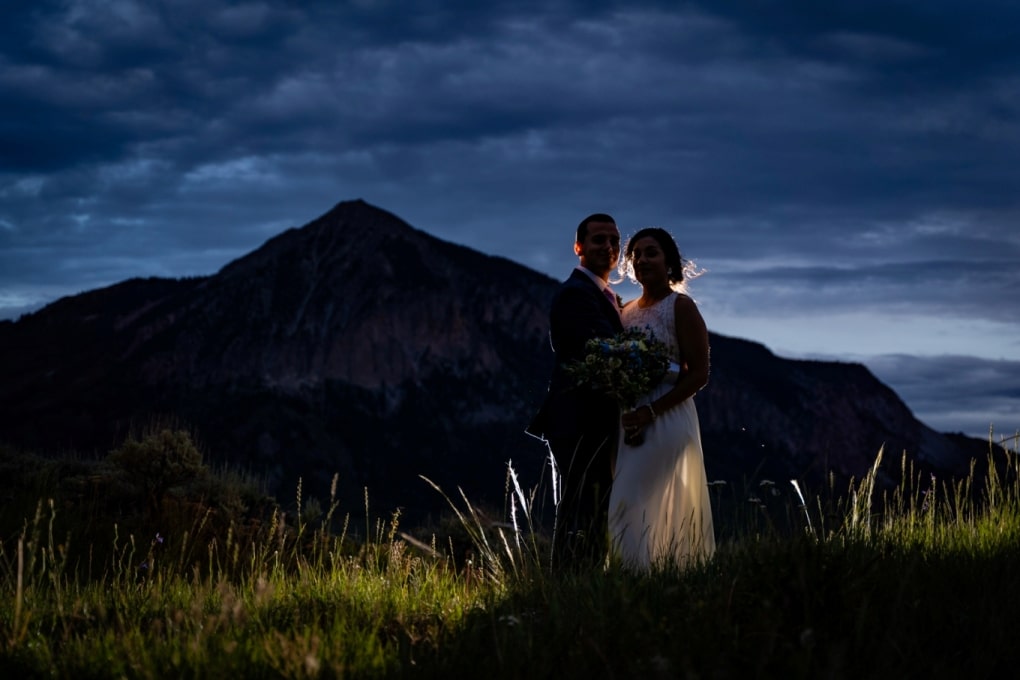 Services included in Alex and Mary's Crested Butte elopement package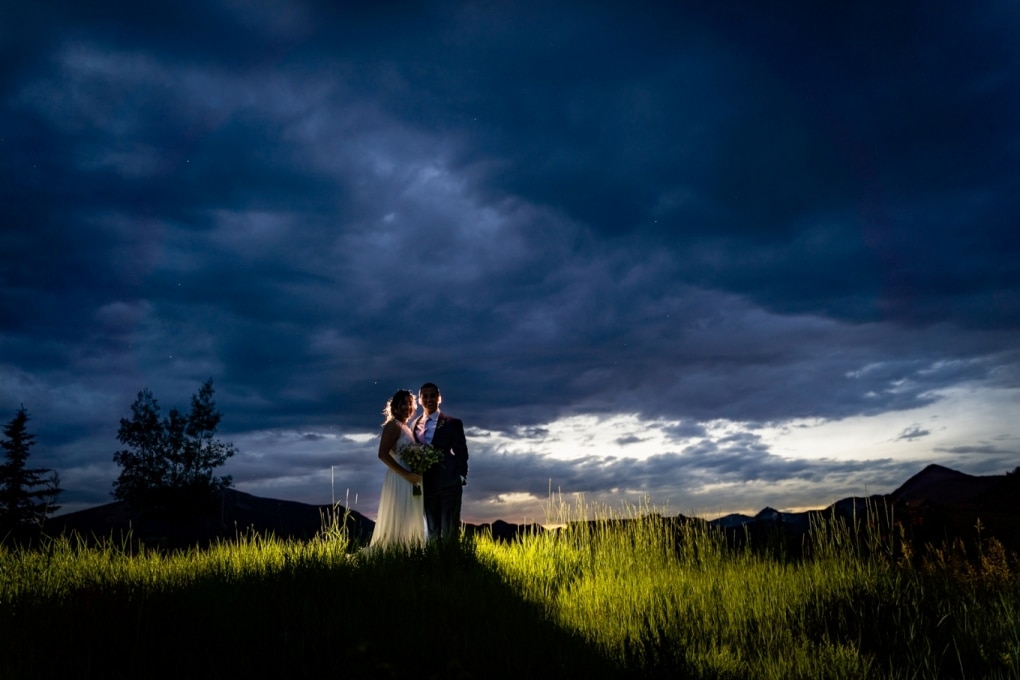 We are so grateful to have stumbled upon Blue Sky Elopements when googling elopements in Colorado. They made wedding planning so effortless. All of our vendors were AMAZING- from our makeup artist, to our florist, and to our photographer/videographer. They were professional and committed to making our wedding as memorable and special for us as possible. Everyone is in awe over our stunning pictures and I've had multiple family members cry watching the wedding video. They said they felt like they were there with us. Thank you for making our most important day stress-free. 15/10 would recommend. We would not have chosen any other way to get married. The whole weekend was perfect.