A Telluride Elopement for Brooke and Andrew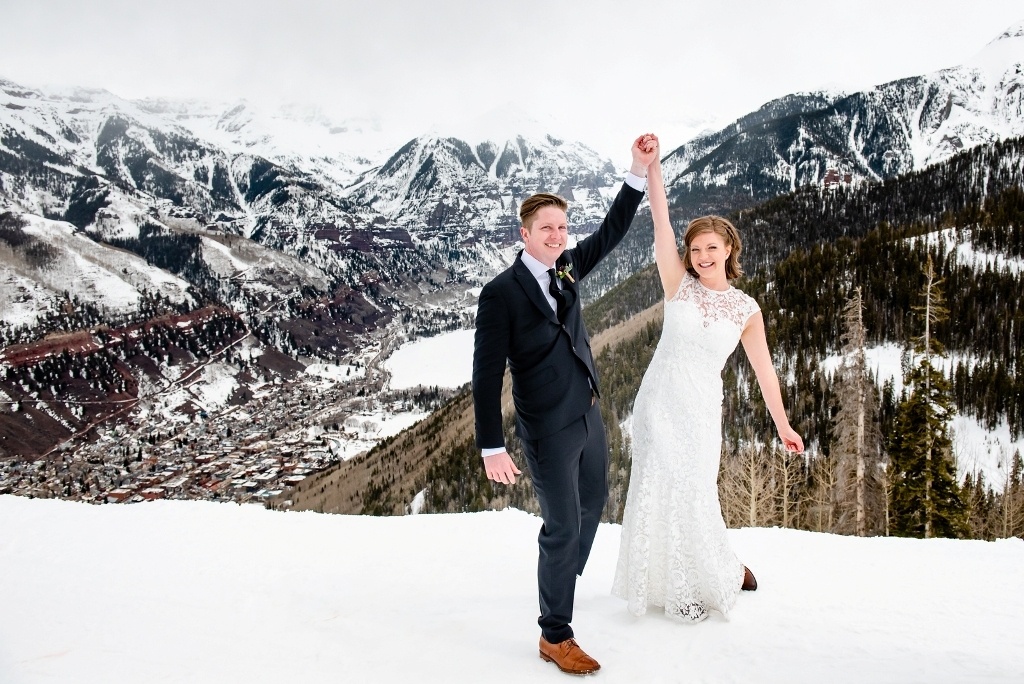 Brooke and Andrew live in Fort Collins, Colorado, so their Telluride elopement was not technically a destination wedding. However, a seven hour drive from home allowed them to have the feel of a getaway while still being married in their home state–a place near and dear to their hearts. And really, just because you live here doesn't mean anyone should dismiss the idea of a Colorado elopement. Why should the out-of-staters have all the fun?
It was just the two of them and their dog Bella (spoiler alert: cute pup photos further below!) on the mountaintop overlooking the town of Telluride. Although technically a spring wedding, in early April in Telluride, you never know what you're going to get weather-wise. The two came dressed for anything and after the ceremony, our photographer took them all about town for a variety of backdrops.
Brooke's bouquet was a mixture of peony, cala lilly, rose and helleborus in pinks, peaches and deep reds.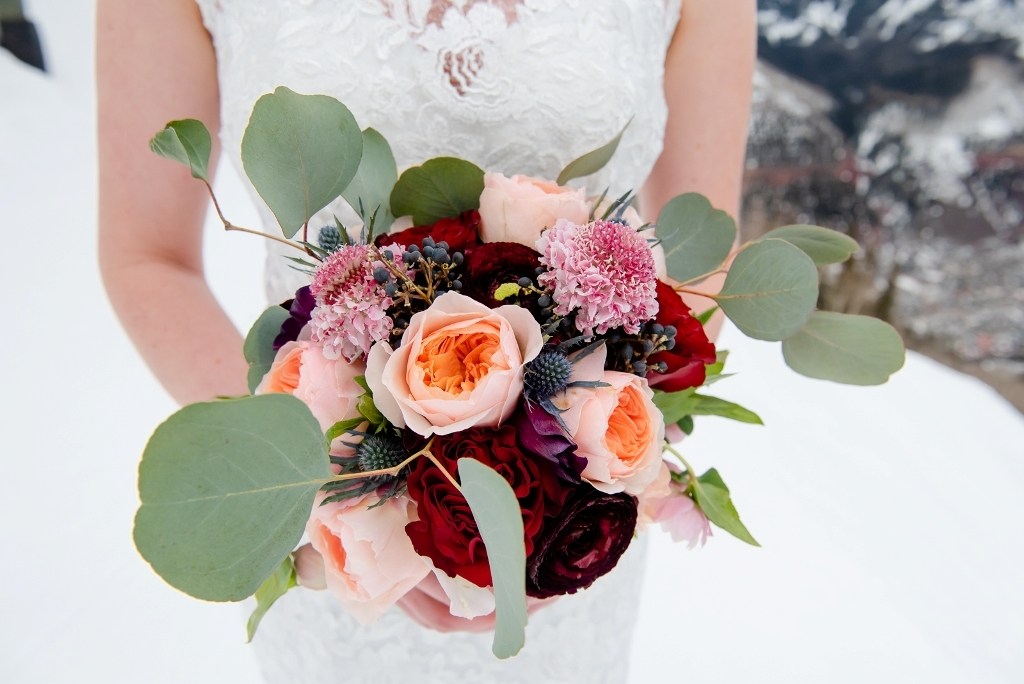 Officially married, the two took some time to share a post-ceremony dance on the side of the mountain. Because that's just what you're compelled to do when you get married amid the splendor of the San Juan Mountains.
A flourish and a final dip wrapped up their dance and they went down the mountain to continue their photo session.
The first time we talked, Brooke asked me about the possibility of having her bridal makeup artist on site at the ceremony for touch-ups. I was a bit puzzled as to why she wanted this when Andrew explained, "She's a crier!"
Brooke apparently did quite well because all we have are photos of BOTH of them smiling from ear to ear. (You know … that is…when they're not kissing … Or dipping.
Then it was back to downtown Telluride for some more kissing…and toasting…and dipping … this time in the middle of the road. (My favorite couples are the ones that don't care if they get honked at!)
Then a stop at The Sheridan Hotel–a Telluride favorite–to get warmed up and partake of a celebratory libation!
And with a final jump of joy (proving that these two are good at more than just dipping!!!) we left Brooke and Andrew to start their married life together.
Congratulations, you two. Keep smiling and may all your tears be ones of joy!!
Why did you choose an intimate wedding? We wanted to have our energy focused on our own energies and desires for the day, without the weight of expectations or obligations of guest who traveled in with their own baggage 😉
What made you select the location you did? Colorado is important to us and our relationship and Telluride was a location we had wanted to get to but hadn't yet.
What words best describe your wedding day? Magical, fun, stress-free,
What was your favorite part of your wedding day? The support and excitement of folks around town and on the street sharing their excitement with us was unexpected.
Any advice for other couples planning to elope? Plan out when you will share that you eloped with others. We decided before we got there to not tell anyone until we were on the way back. Knowing we were in the same page all day about the big reveal gave us a secret to keep without wondering often 'what about now?'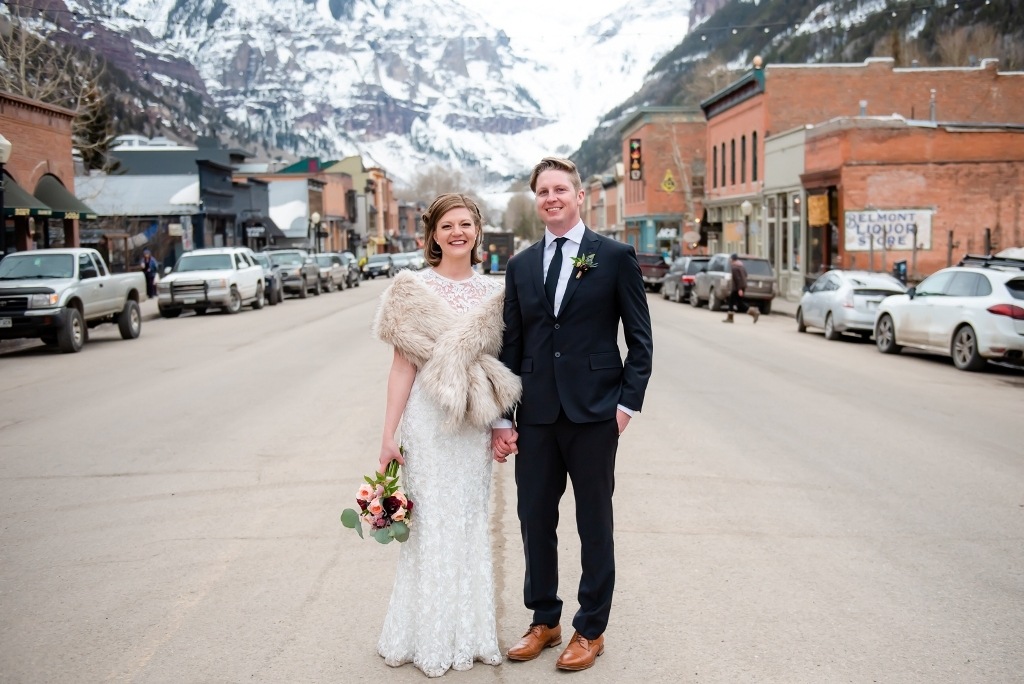 Services included in Brooke and Andrew's Telluride elopement package: Location Consulting, Officiating, Photography, Bridal Hair and Makeup, Bouquet/Boutonniere, Coordination.
"We loved using Blue Sky Elopements for our wedding day! The services were topnotch & it was a relaxing day as the flowers, hair, & make-up team all came right to our door. The photos turned out absolutely amazing! The photographer took so many shots & captured all the highlights plus more. Thank you Blue Sky Elopements for helping us make our day so special."