Melanie and Jason Elope in Telluride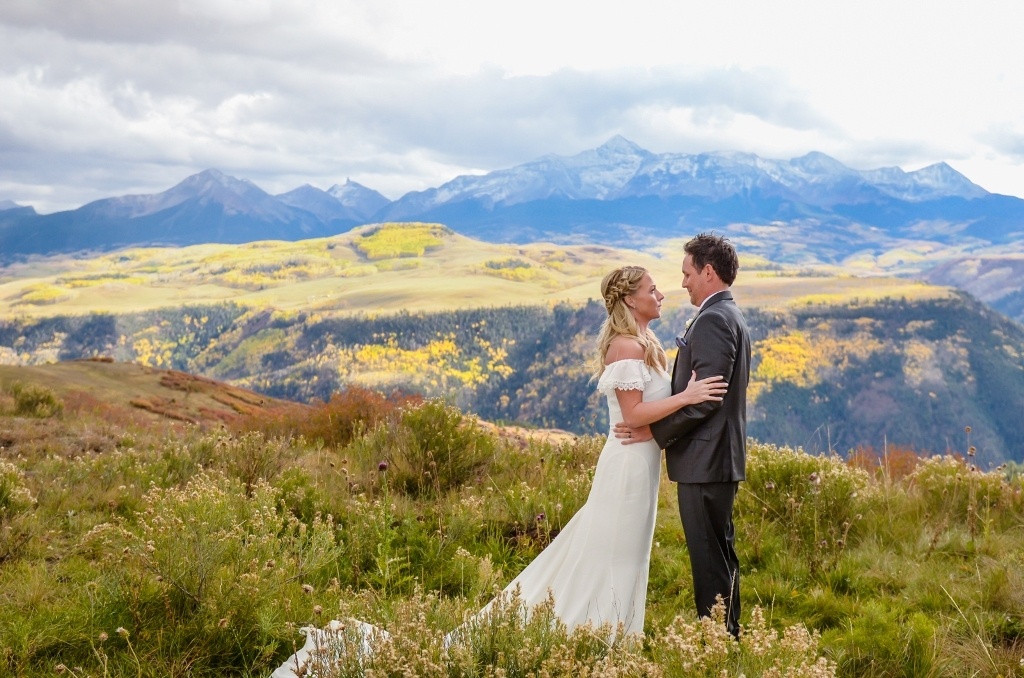 Fall was out in all it's splendor for Melanie and Jason to elope in Telluride
When Melanie reached out to me in February of last year, she indicated that she was looking for the "perfect place to elope" in the fall in Colorado. Since gorgeous mountain vistas with sweeping views of yellow aspens are everywhere in Colorado at that time of year, she and Jason had lots to pick from.
One of the questions I always ask when helping couples to choose the best venue for them is "what do you want to do while you're here (besides get married)? The answers are varied and always help me point couples in the right direction. Melanie requested a smaller, intimate town, with gorgeous mountain views, good restaurants and little independent-owned shops to poke around in.
Helloooooo…Telluride!
To elope in Telluride in early October means being surrounded by the most gorgeous mountain backdrop imaginable.  The temperatures are cooler, but getting hit with snow is less likely than if you wait until the end of the month for an outdoor wedding The summer tourists have gone home but the winter skiers have yet to arrive, so there's a little more elbow room to explore the town and the surrounding San Juan mountains.
Melanie and Jason chose an easy-to-access open meadow space just a few minutes outside of town. The day was a little cloudy–perfect light for our photographer to capture them amid Telluride's glorious mountains. There was snow on the mountains in the background, but none underfoot where they said their vows. A perfect combination!
Our stylist worked Melanie's blond hair into a gorgeous braided "crown." Her bouquet was a stunning combination of whites, creams and blush tones.
After exhausting all the opportunities for photos at their ceremony site, our photographer whisked them up to the top of the mountain for an overlook of the town…where they danced to their intimate "first married" dance.
Services included in Melanie & Jason's Telluride elopement package: Location Consulting, Officiating, Photography, Flowers, Bridal Hair & makeup, Coordination.