Tricia and Lance Elope in Golden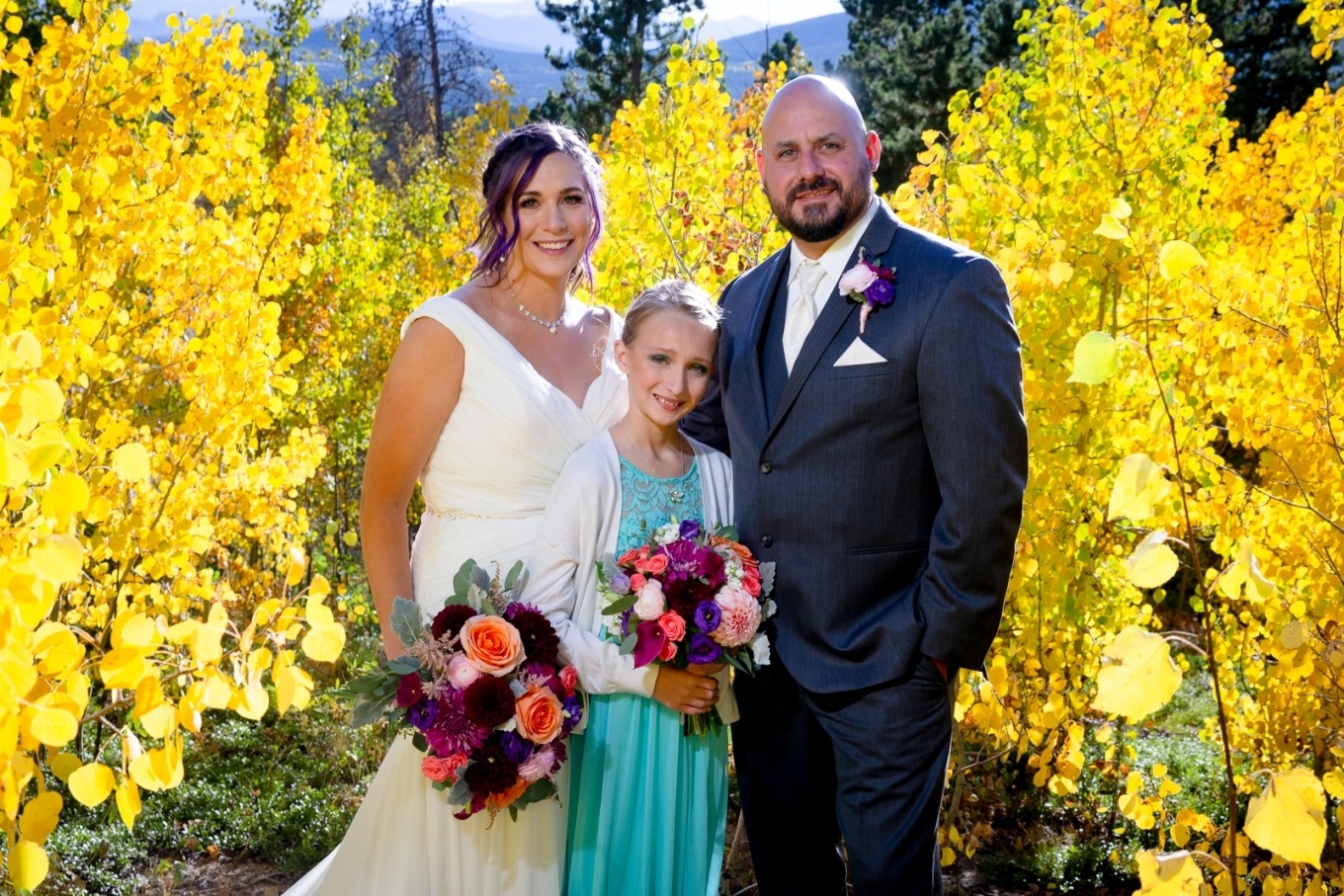 Tricia & Lance Eloped in Golden
Colorado locals Tricia and Lance originally talked to me about eloping in Estes Park, but once I showed them pictures of my favorite wedding venue in nearby Golden, they were hooked. This location is the perfect venue for an elopement wedding in the fall. Just look at the aspens in full color!
From Tricia:"We had our mind set on Estes Park until we started going through the random photos provided to help us chose a location. Then we saw the fall pictures  of the site we ultimately chose and picked multiple photos at the same location, all the while not knowing they were the same location at the time. Once we found out our favorite pictures were at the same location and it was only 35 minutes from our home, we were sold! It was definitely meant to be."
So with their daughter as their witness, Lance and Tricia eloped on a gorgeous September evening. With mother and daughter matching bouquets, a dapper groom and everyone wearing their wedding finery, it was an unforgettable evening.
The ceremony was very much a family affair, with Lance making promises not only to Tricia, but to their daughter as well.
Love Amid the Aspens
After having the marriage license signing (with a very special witness), our photographer took them all around the area to capture the fabulous aspens as well as the views of the Continental Divide.
This may be my favorite elopement wedding photo of all time!
Perfect footwear for a Colorado elopement! You can tell these ladies live here.
In their own words
Why did you choose an intimate wedding? A small, highly intimate setting really fits us as a couple and as a family. We have been living away from our families for the last 4 years and we are really close. As soon as we decided to do an 'elopement style' wedding, everything just felt right. The no fuss and low stress style of wedding fits our personalities and was really helpful considering our busy daily lives. I can't even fathom trying to plan a traditional wedding in our current lifestyle.
What words best describe your wedding day? PERFECTION! Not kidding, it was absolutely perfect! The weather, foliage, low-stress timing, everything just came together as one would hope.
What was your favorite part of your wedding day? Oh this is hard. I don't know that any one part was my favorite. From spending the afternoon getting pampered with my daughter at the salon, to driving into the park and seeing the fall leaves at their peak, watching my husband make a promise to our girl, to celebrating with an intimate dinner from our favorite restaurant while dancing in our kitchen – the entire time and experience was amazing.
What was the best thing about having an intimate wedding? No drama!
Any advice for other couples planning to elope? Do it! I know there's always the concern of family and friends not supporting you, but this moment isn't about them. It's about you and the love of your life promising each other forever. Everyone else in that moment doesn't matter. Plus, the money you will save can be used towards something far more pragmatic – like a house or an amazing honeymoon you will remember forever!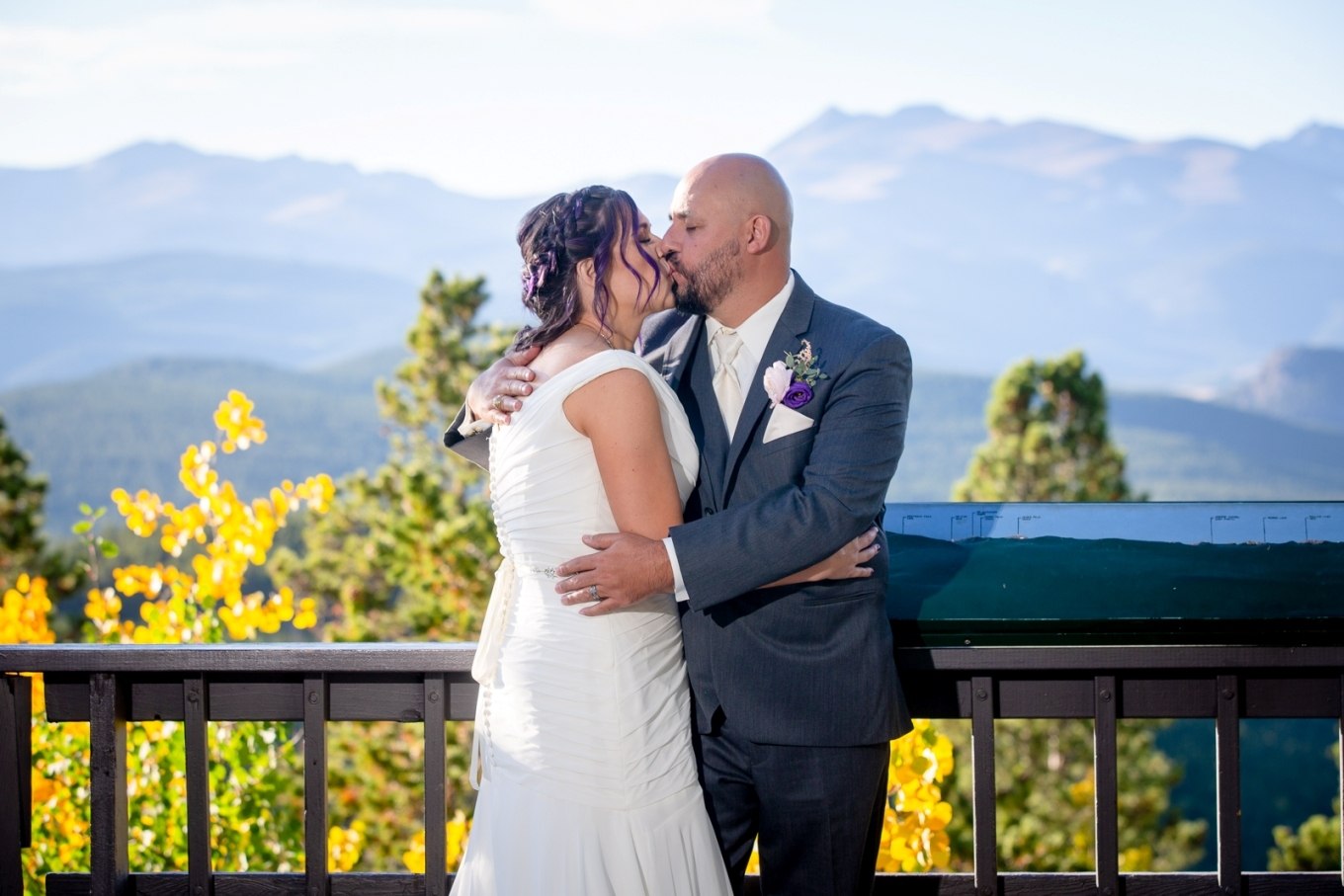 Services included in Tricia & Lance's Golden Elopement Package