A Cozy Winter Fireside Elopement for Aaron and Cody
A cozy fireside winter elopement was so NOT what we planned!
We had Cody and Aaron's Breckenridge wedding ceremony all planned! It was to be outdoors, in the snowy, crisp air, spirits bright, bells on bobtail ringing. Jack Frost was supposed to nip at our noses. There was to be–just maybe–a few fluffy snowflakes falling … just enough for atmosphere.
Yeah–not so much. Mother Nature had other plans for their late-November elopement in Colorado. And it went waaaaaay beyond any delightful nose-nippage!
It's not like we didn't try. Our photographer and videographer had the flowers with them and they got an early start heading out to the outdoor (original) venue in Breck. They slipped. They slid. They skedaddled. Basically, they did everything EXCEPT get up to the venue.
They texted me a photo of the road conditions. The Mother Hen in me promptly "lost my teeth." This is what my daughters call it when I slap my hand over my open mouth in horror at some real or imagined threat to my loved ones (including vendors and clients).
"Get over to their lodging, now!" was my texted response. "And we'll call Aaron & Cody and the officiant and tell them we're switching over to Plan B."
Taking our lives in our hands was not part of the plan.
Fortunately, Aaron and Cody had heeded my advice to book a gorgeous vacation rental as their lodging.  They chose a property through Grand Timber Lodge. This was the perfect Plan B for an indoor ceremony site and the transition was flawless. (After I got my hands out of my mouth, that is–but no one saw that but me.)
But first–some getting ready shots–which we got to take because we ended up arriving early once the plan got changed.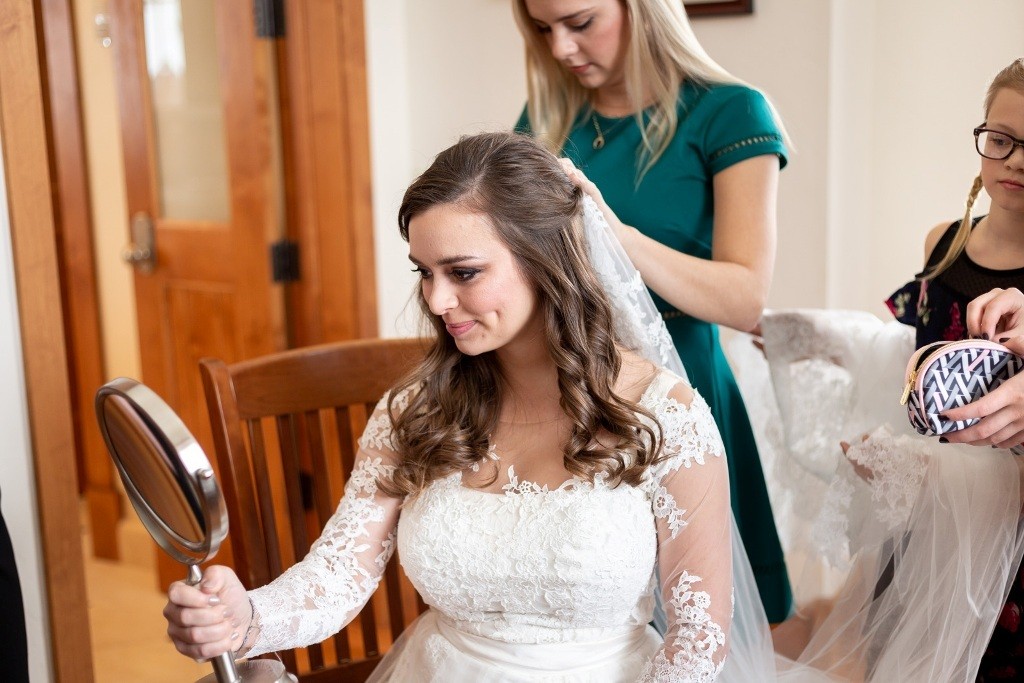 What snowstorm? Aaron was cool as a cucumber throughout the whole process.
And then it was on to the first look.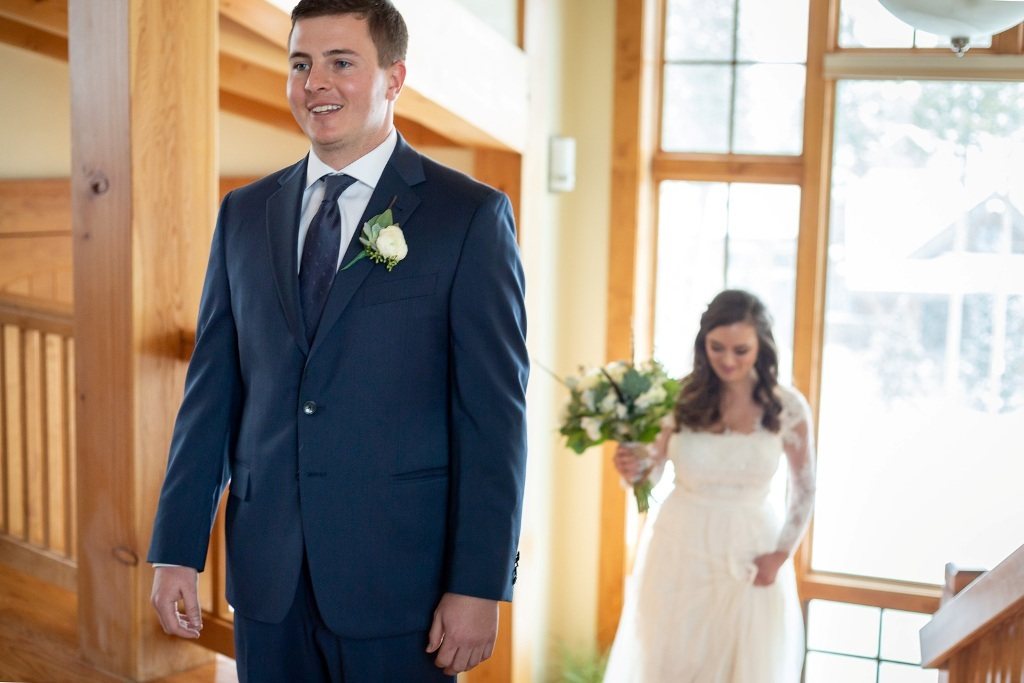 Anticipation!
With everyone safely and cozily gathered around the fireplace, we cued the flower girl and the ceremony was on.
We think the bugling elk approved!
Because outdoor wedding photos are a MUST when couples get married in Colorado in winter!
Leaving their guests safely tucked into their vacation home with food and drink, Aaron and Cody slipped outside for some breathtaking winter wonderland wedding photos.
I'd promised them that–even if the snow forced their ceremony indoors–our photographer and videographer would get them outside for photos for at least part of the time. The Breckenridge snowy backdrop is simply too gorgeous to ignore.
Colorado Winter Weddings get you snowy photos–no matter what. (We aim to please.)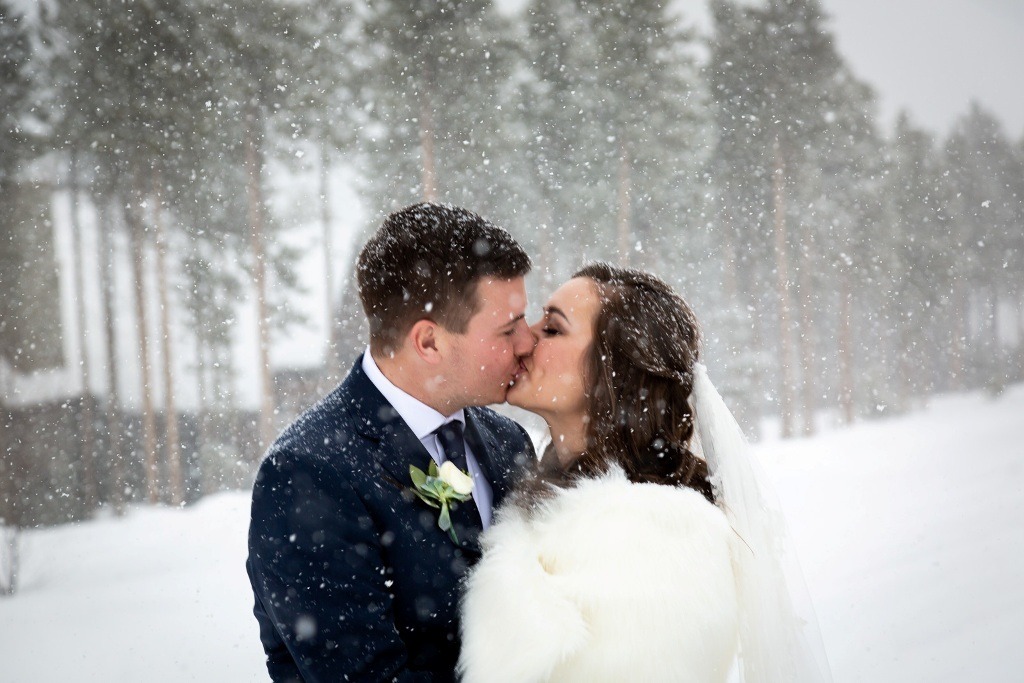 Aaron ditched the veil (that would have done little more than blow around her head outside) and added an elegant fur stole for the outdoor shoot.
Time to warm up! Cody and Aaron went back indoors (shadowed by our videographer and photographer, of course!) to join their guests in a toast. Okay–several toasts–but who's counting? Besides, one of the advantages of having everyone stay at the same place where you're married is that no one has to drive home! Perfect for a carefree post-wedding celebration!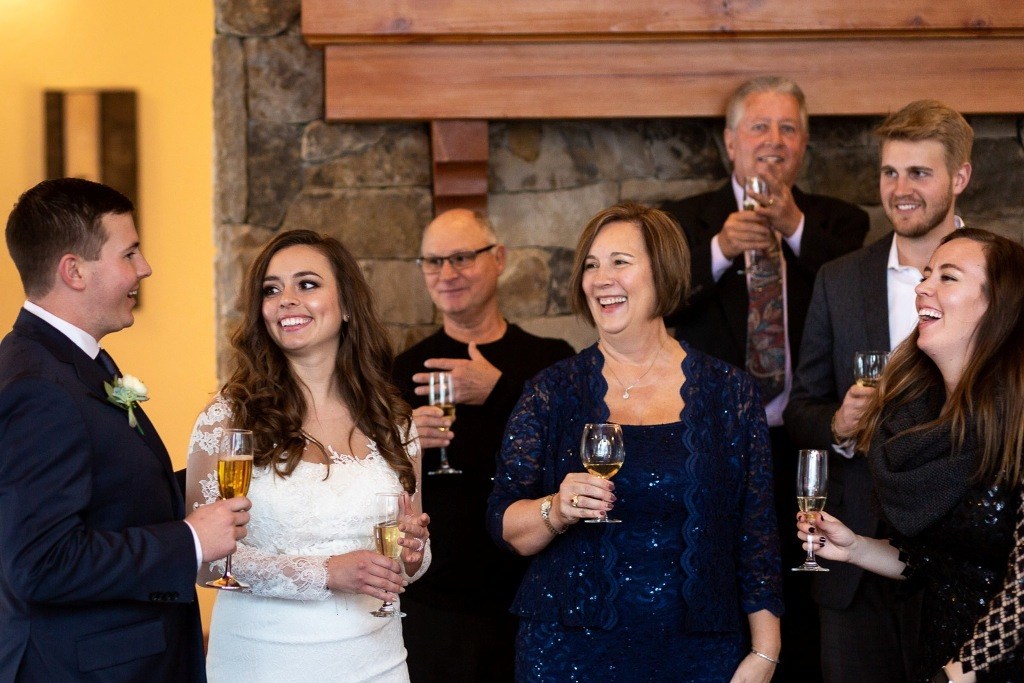 And I have to boast about our bridal hair and makeup services. Look how fabulous Aaron's look stayed even after going outside in the snow! She's absolutely radiant!
Eloping in Colorado in winter is not for Everyone
Not everyone is cut out to have a winter elopement. You've got to be able to go with the flow (or the snow!) and be ready to transition to Plan B at the last minute if need be. In winter, it comes down to setting up the best plan we can, knowing we may have to make wedding-day adjustments. Cody and Aaron didn't bat an eyelash when their wedding had to be moved indoors. They went with it and had a blast from start to finish.
Of course, they had us to orchestrate everything for them, which made it much easier. If they had to handle last minute calls to vendors to make the switch, things would have been chaotic and stressful. As it was, they only had to be involved in one 2 minute phone call and we swept in to handle everything.
Not everyone has the personality to handle the extra moving parts that inevitably come with a winter wedding. And that's okay. But if you're not as chill as these two…
…think July!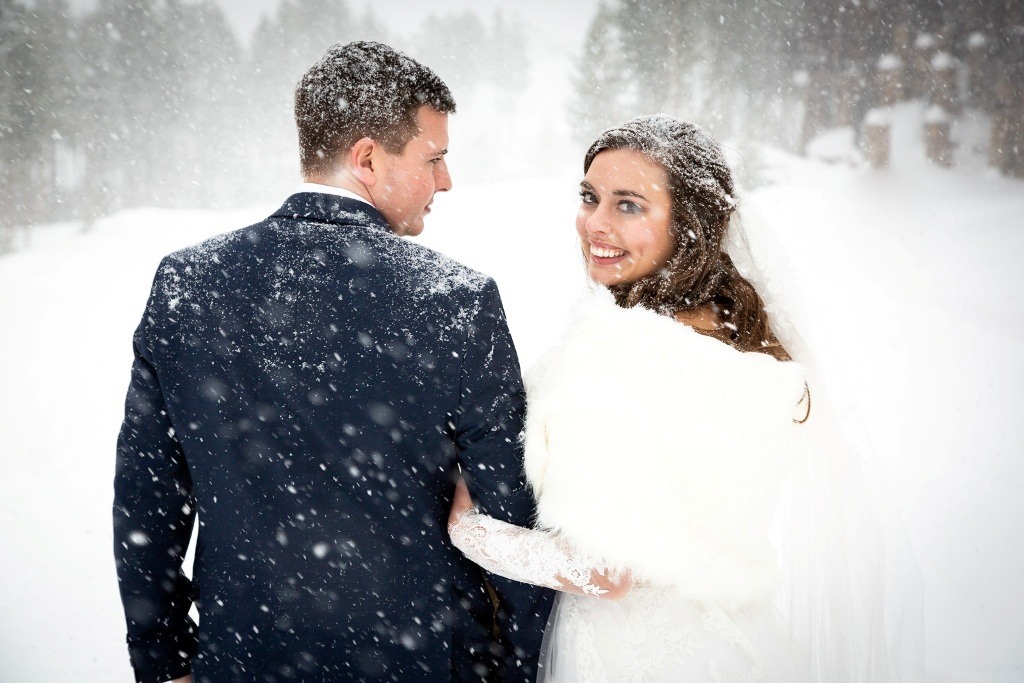 Services included in Aaron and Cody's Breckenridge winter elopement package
Location Consulting
Officiating
Photography
Bouquet/Boutonniere
Bridal Hair & Makeup
Videography
Coordination Services