Eloping at Garden of the Gods
Garden of the Gods is undoubtedly the most popular place to elope in Colorado Springs. By no coincidence, it's also one of the busiest tourist attractions in the area. An estimated four million people per year visit this gorgeous park to enjoy the one-of-a-kind sandstone rock formations that are surrounded by mountains (the most famous being Pikes Peak–which is another great place to visit while you're in town).
Garden of the Gods Park is a registered National Natural Landmark in Colorado Springs. Also–in case you're not familiar with it–it's not a "garden" in the traditional sense of the word. Think dramatic rock spires and dramatic views, 300-foot towering sandstone formations against a backdrop of Pikes Peak and brilliant Colorado Rocky Mountain blue skies–not flowers and botanicals. There is no admission cost and your elopement site must remain open to the public at all times. In other words, you can't reserve a private place to elope at Garden of the Gods.
How do you elope at Garden of the Gods?
The most stress-free way to elope at Garden of the Gods is to have Blue Sky Elopements handle everything for you. To that end, send us an email and we'll send over a custom proposal and price quote.
At present, Garden of the Gods is not requiring any fees or permits to have a small wedding there–as long as they are brief ceremonies without props (defined as chairs, arches, altars, tables, chuppahs, floral décor other than hand-held or pin-on flowers, or signage). It's not possible to reserve a place to elope within Garden of the Gods, so your elopement there would be on a first come/first served basis.
Garden of the Gods is open for weddings 365 days of the year. There was some talk a couple of years ago about requiring reservations to get married here, but then the Covid-19 pandemic hit and that got derailed. We'll keep this page updated if things change regarding permits to elope at Garden of the Gods.
Where can you elope at Garden of the Gods?
According to the Garden of the Gods website, there are six sites within the park where you can have a wedding.
Jaycee Plaza
Sentinel Plaza
Three Graces Plaza
High Point
Scotsman Picnic Area
South Spring Canyon Area
How many guests can we have at a Garden of the Gods elopement?
While these sites can technically accommodate anywhere from 25 to 50 people, note that we don't advise Garden of the Gods for weddings this large unless you plan to elope in winter. At any other time of the year, attempting to find parking and any level of privacy for a ceremony for more than the two of you and a handful of guests is going to be virtually impossible. (Also note: the max number of guests that Blue Sky can accommodate at any location is 30.)
The best number of guests for an elopement at Garden of the Gods is zero. That allows our photographer to bring the two of you all around the park to capture an astounding array of jaw-dropping backdrops for your intimate wedding photos. With just the two of you, we can tuck in anywhere for a brief ceremony and then spend the rest of your time touring all 1,367 acres of beauty that Garden of the Gods has to offer. Also, without guests, if we show up to your predetermined ceremony venue within the park, only to find it's crowded (or even occupied by another wedding party), it's no big deal. We simply move to a different, equally-beautiful spot and come back to the original venue for photos later.
If it's more then just the two of you, that's perfectly fine. Elopements are all about doing what's best for you and yours. If you have more than a couple of guests, we'll need to hold your actual ceremony at one of the Garden of the Gods' designated ceremony sites. Then you could send your guests off for some pre-arranged post-ceremony refreshments while our photographer takes you and your new spouse to all the prime spots within the park for your photos.
What's the best time of day for a Garden of the Gods elopement?
That's going to depend on the time of year that you get married here. Before we go into that, here's a tip about wedding photography at Garden of the Gods. It requires an advanced level of photographic skill to capture gorgeous images at Garden of the Gods. Particularly in summer, the light from the sun can really bounce off the rocks and reflect back onto faces. This can cause you to look like you've used some cheap self-tanner (i.e. it will turn your skin–and your white wedding dress–orange in photos). If your photographer doesn't use the correct lighting, camera settings and proper use of reflectors, your photos will not turn out well. Editing pictures taken at Garden of the Gods can also be tricky. Be sure you hire a wedding photographer that is experienced with the site. (All of our photographers must have a minimum of several years experience in photographing couples at Garden of the Gods before they provide services for Blue Sky Elopements.)
So, assuming your photographer knows what they're doing, the next thing to factor in regarding the best time of day to elope at Garden of the Gods is the time of year. In late spring to mid-fall, you'll want to time your ceremony and photo shoot to coincide with the "golden hour." This is the last couple of hours in the day prior to sunset, where the sun is lower in the sky and the light is softer. If you opt for a late fall to winter Garden of the Gods elopement, you might aim for early to mid-afternoon. Since the sun is lower on the horizon in winter anyway, the need to wait for the golden hour isn't as critical. That way, we can get you outside during the warmest part of the day.
Other things to know about eloping at Garden of the Gods
Dogs are allowed on a leash.
In addition to their "no props" rule above, Garden of the Gods also forbids the throwing or release of anything. So, no confetti, birdseed, flower petals, balloons, butterflies or doves can be tossed into the air. The natural beauty of Garden of the Gods is so stunning, you won't need any enhancements.
Most of the designated wedding spots are wheelchair-accessible. However, many of the out of the way spots for your couple-only photos are not.
If you're coming from sea level, be on the lookout for altitude sickness. Colorado Springs sits at an altitude of over 6,000 feet (a little higher in elevation than Denver, but not as high as mountain locations such as Breckenridge). Hydrate well a week or so before you arrive in Colorado and continue to do so after you get here. Cut back or eliminate the caffeine and if you start to feel light-headed, easily fatigued or headachy, kick your feet up and rest for a while.
In order to legally marry at Garden of the Gods, you'll need to present and sign a Colorado marriage license. You may obtain the marriage license anywhere in the state of Colorado; there are three offices in Colorado Springs, one of which allows you to obtain your license on a Saturday morning. You need to make an appointment and you may submit your preliminary application online. Click here for an online marriage license application for El Paso County. Colorado does not require witnesses' signatures on the marriage license.
Bathroom facilities at Garden of the Gods are located only in the visitor center and the main parking lot. Your ceremony venue may be far away from restroom facilities.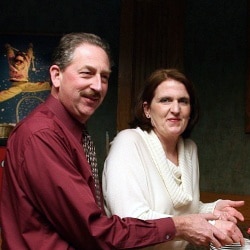 We're husband and wife team Maureen Thomson & Jeremy Myers and we love elopement weddings. (We had one ourselves!) We and our crew of talented local wedding professionals have been putting together elopement weddings filled with laughter and happy tears at Garden of the Gods since 2002.
Watch a video of one of our Garden of the Gods elopements.