Jeff and Meredith – Married at Garden of the Gods

It took a couple of tries, but we eventually got Meredith and Jeff married at Garden of the Gods.
Whet's that saying? "Into every life, a little rain must fall? Well, substitute "Covid-19 Pandemic" for "rain," and you'll understand the one and only challenge that Meredith and Jeff faced in getting married at Garden of the Gods in 2020.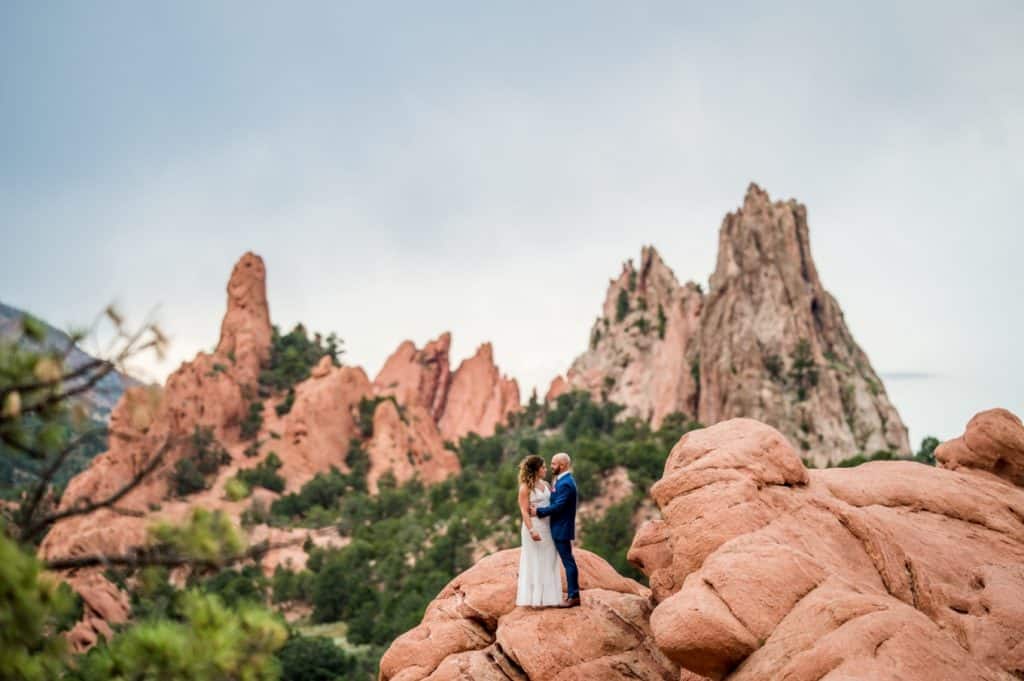 Traveling from Kentucky, and never having been to Colorado, Jeff and Meredith fell in love with the idea of getting married at Garden of the Gods in Colorado Springs the minute they saw the pictures and video I sent them. Choosing their venue was the easy part. Circumnavigating Covid? Not so much.
The original plan was to have their wedding in April of 2020 in order to hopefully capture a hint of snow on the red rocks of Garden of the Gods, and most certainly to have snowcapped Pikes Peak in the distance.
Yeah… that didn't happen.
Through the entire process, these two were absolute troupers. In spite of having to delay until July, their optimism never waned. To be honest, the fact that it was just the two of them marrying at Garden of the Gods was probably the main reason we didn't have to postpone yet a second time. By keeping it to just them, their officiant and their photographer, and having their ceremony outdoors, we were able to adhere to pandemic-related protocols and get them married safely.
Their ceremony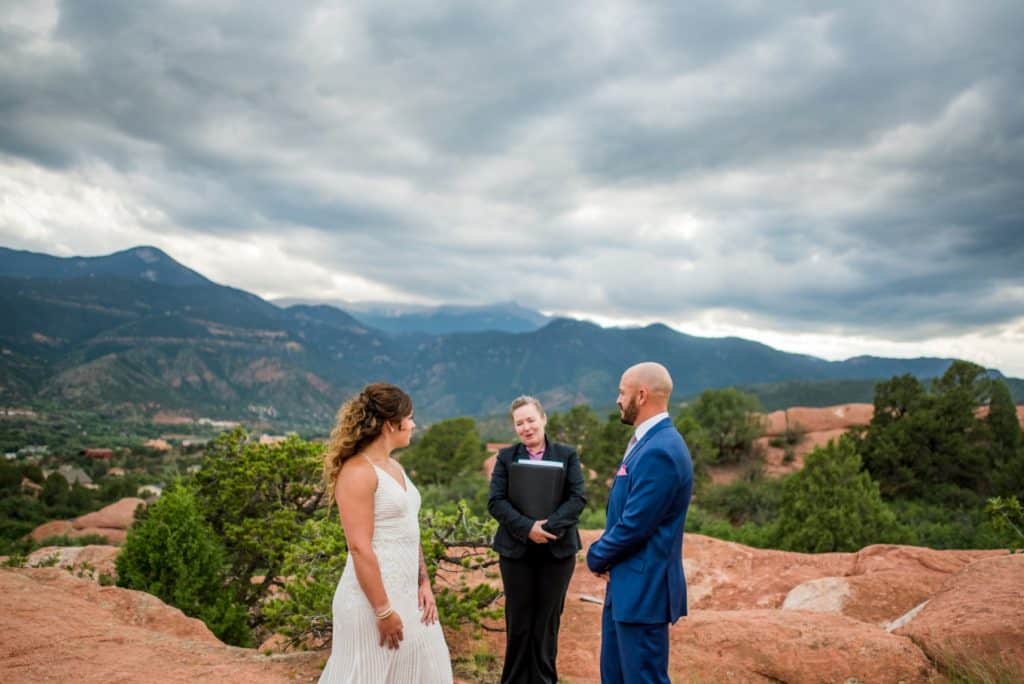 A second marriage for both of them, they both knew that they wanted the focus to be on the two of them and their commitment this time around, and not wasting precious amounts of energy tending to the needs of a large number of guests and throwing a mega-party (which by the way, Covid has made pretty passé–at least for the time being).
We tucked into a lesser known corner of Garden of the Gods for them to say their vows, so they could be away from the prying eyes of strangers there for the evening. Garden of the Gods is immensely popular for day users and tourists in the summer so it takes a bit of local know how to sleuth out the secluded spaces.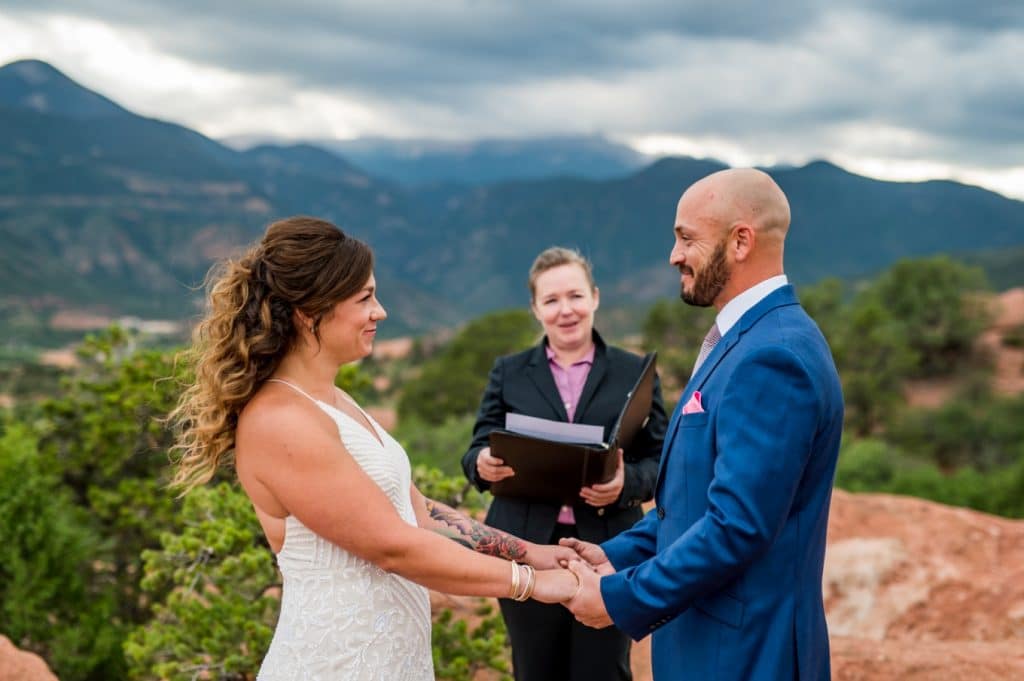 As is typical weather for summer late afternoon/early evening in Colorado, the thunderclouds threatened, but Mother Nature must have figured these two had already paid their dues. The rain held off and there were some really dramatic cloud formations that our photographer captured in her documentation of their elopement.
There was a ton of laughter…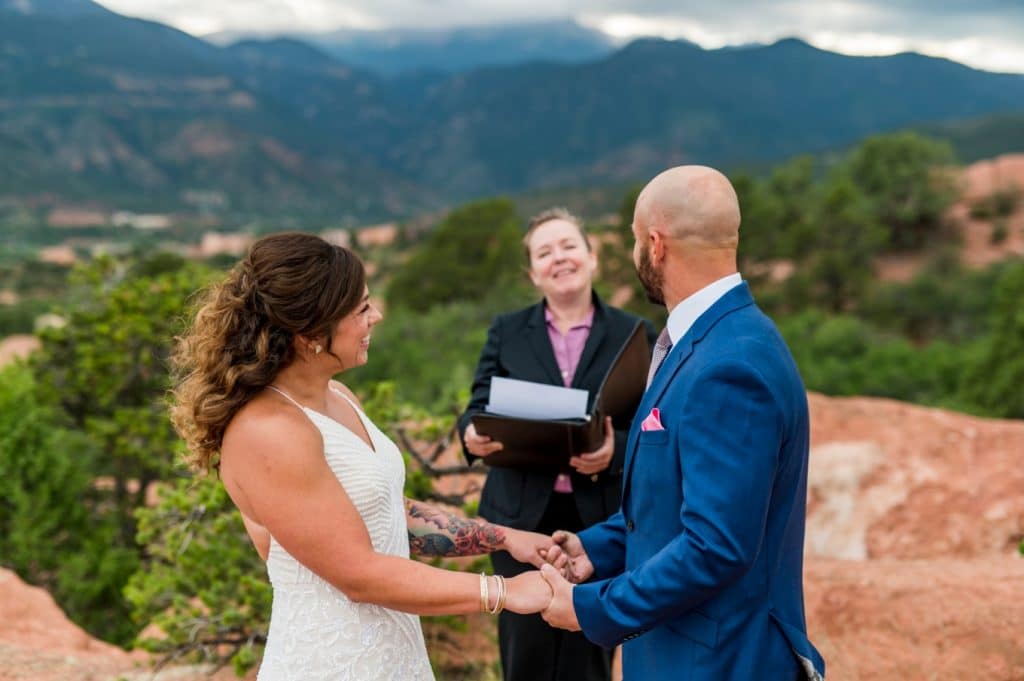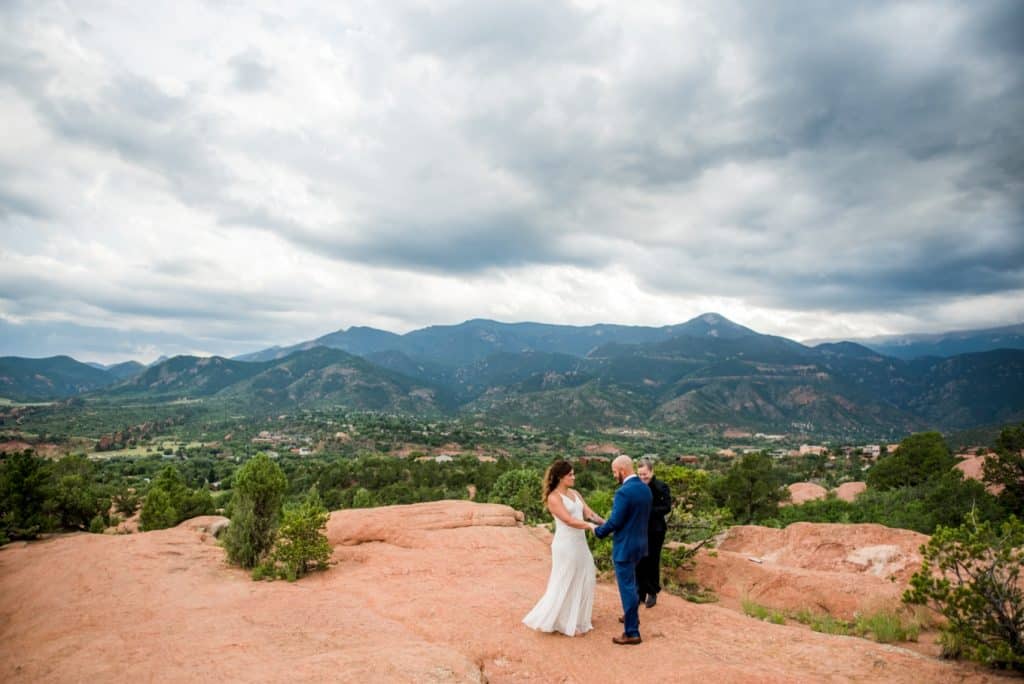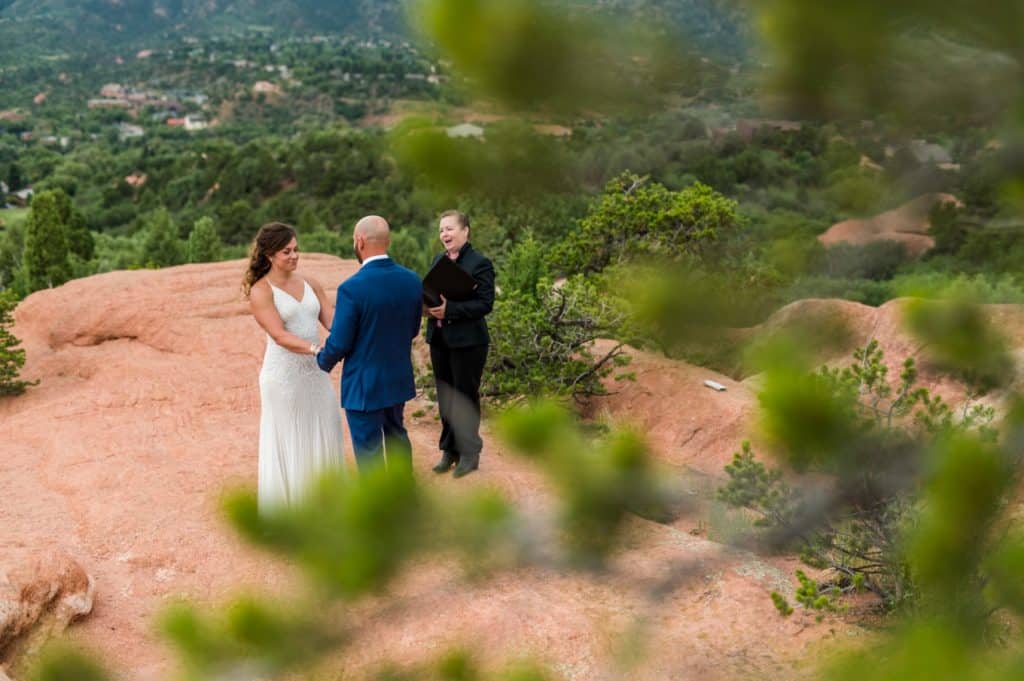 And some happy tears…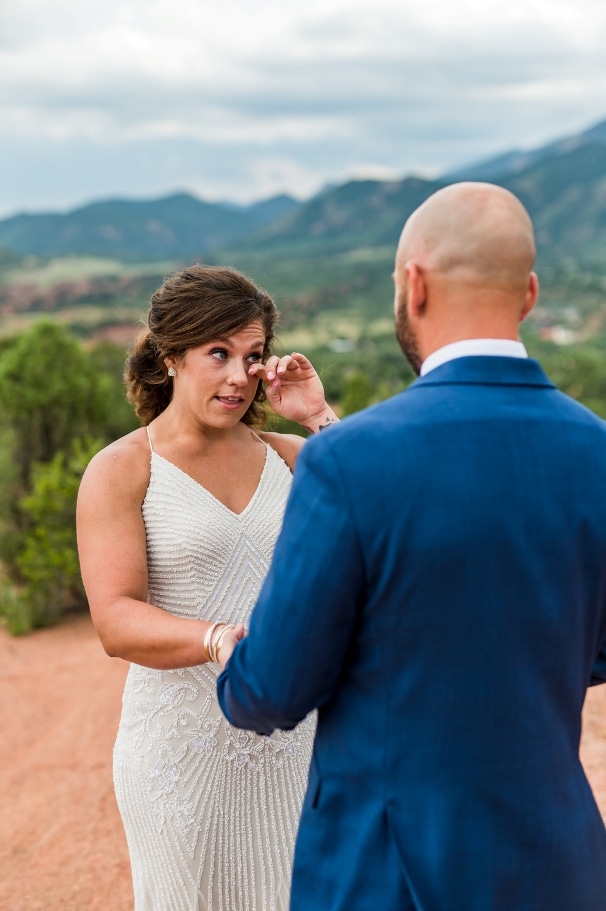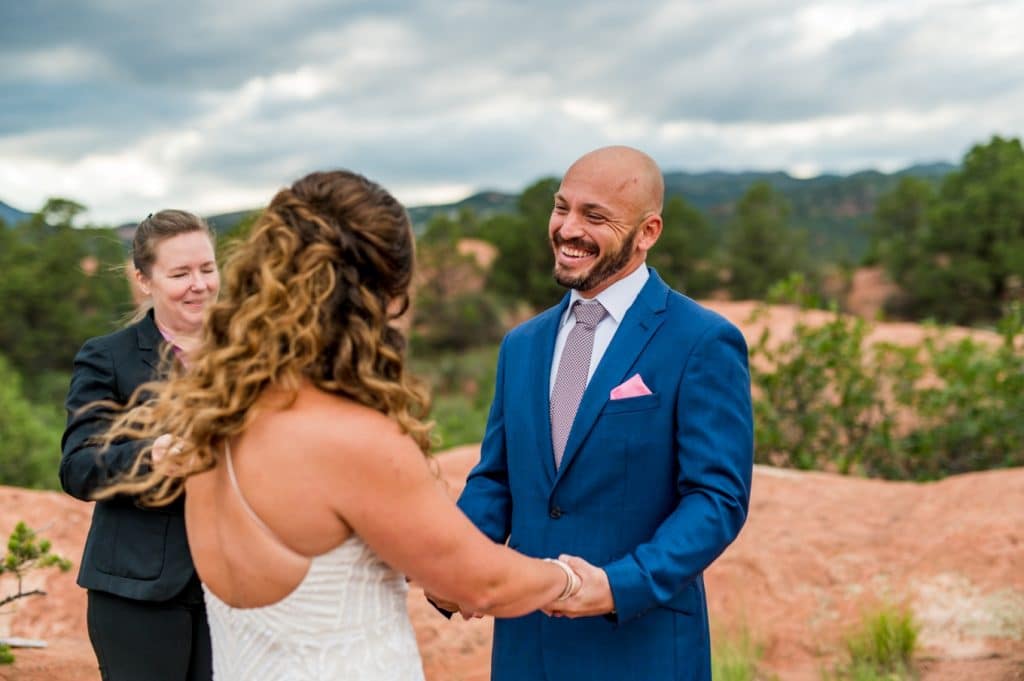 And some kissin'…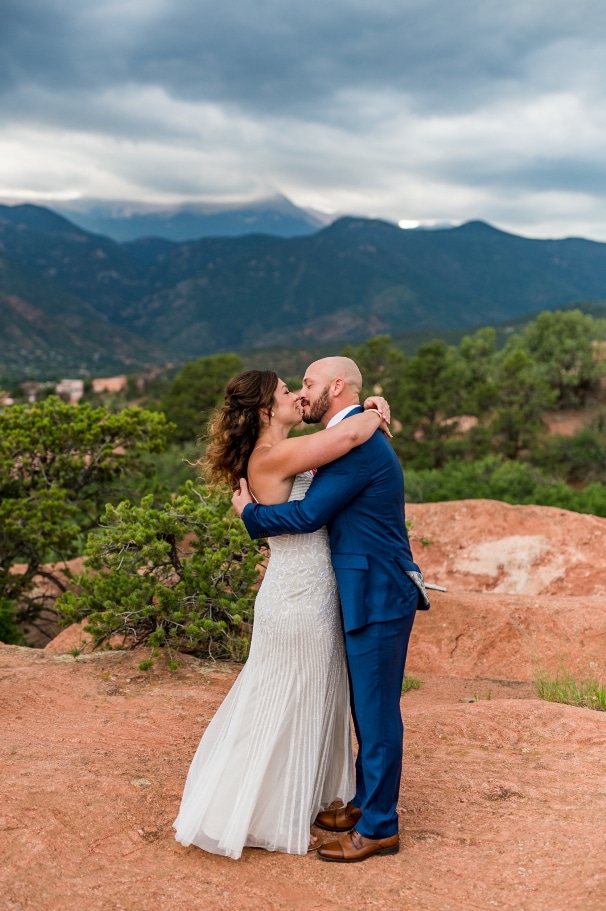 Then it was official!
At long last, the two were legally husband and wife.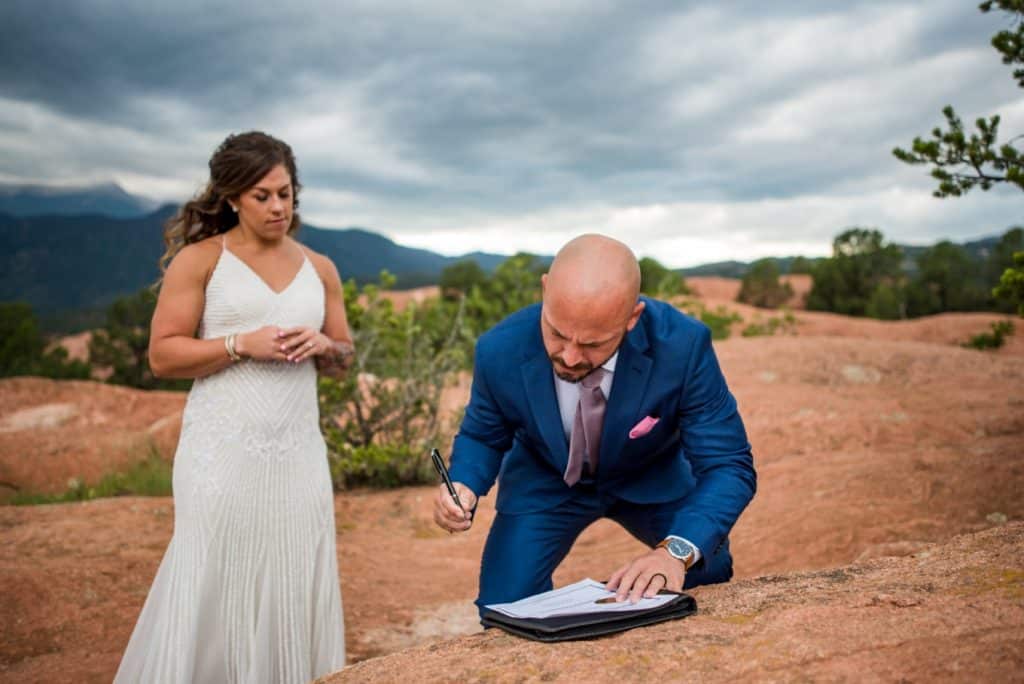 And only at Garden of the Gods can a couple utilize a ginormous sandstone rock as their license-signing "table!"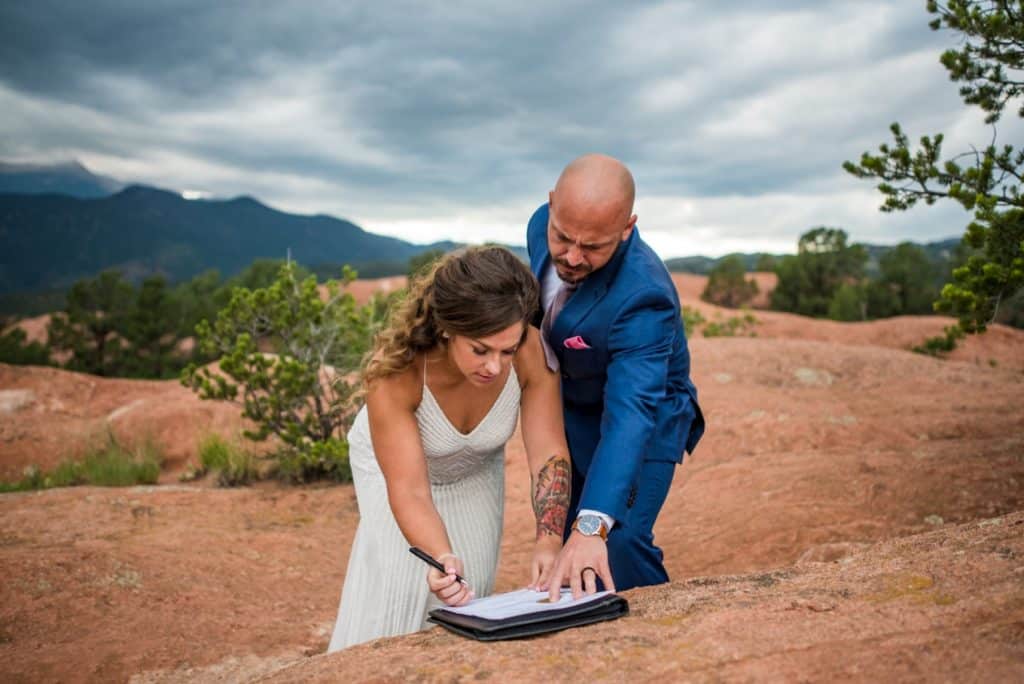 More Garden of the Gods photos
The legalities and formalities behind them (not that any part of their ceremony was terribly "formal" as the two were all about having a relaxed environment), our photographer got down to the fun stuff–capturing those glorious sandstone and mountain backdrops that make getting married at Garden of the Gods such a unique and fun experience.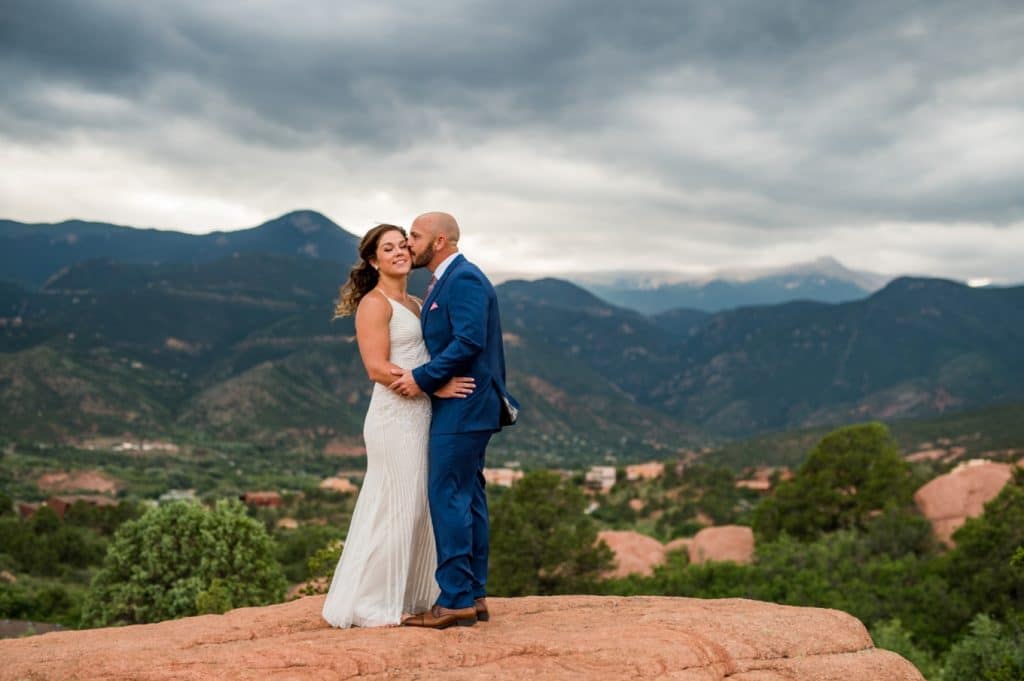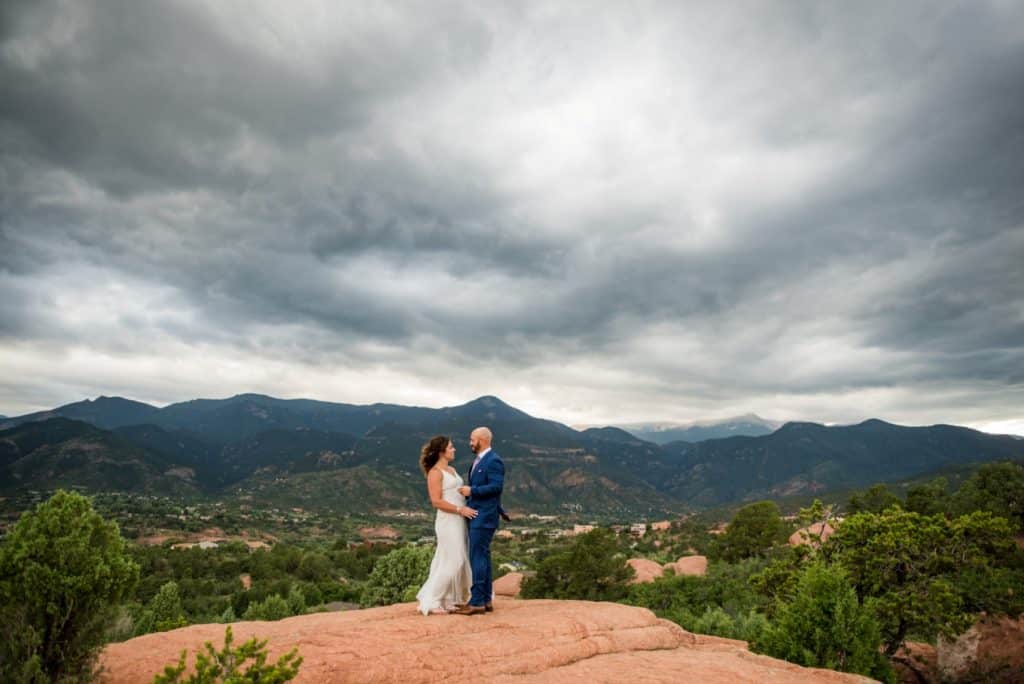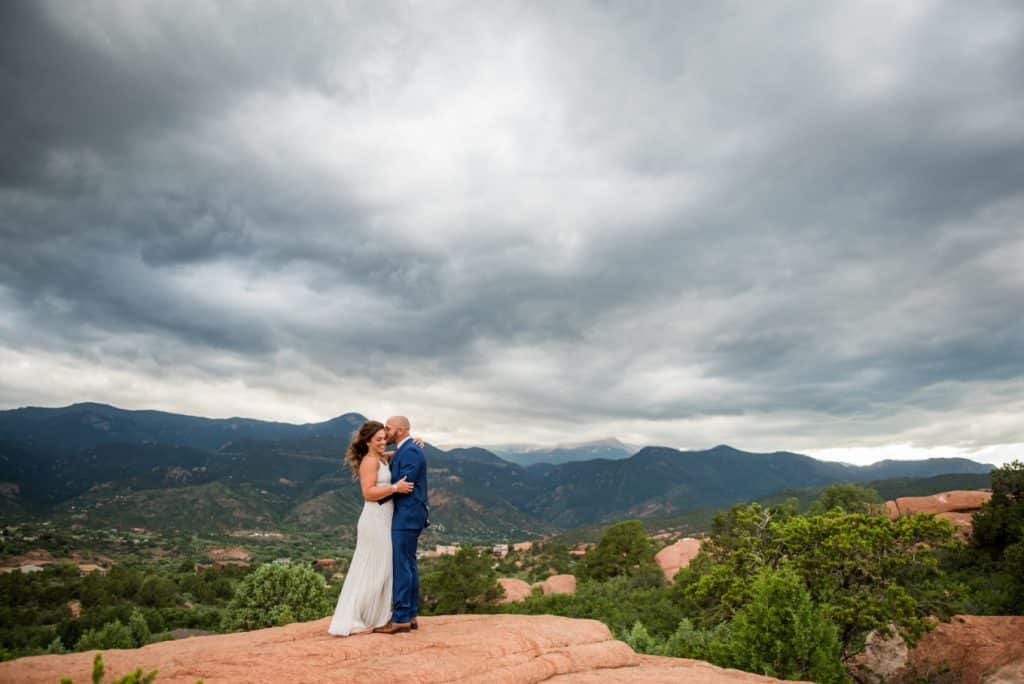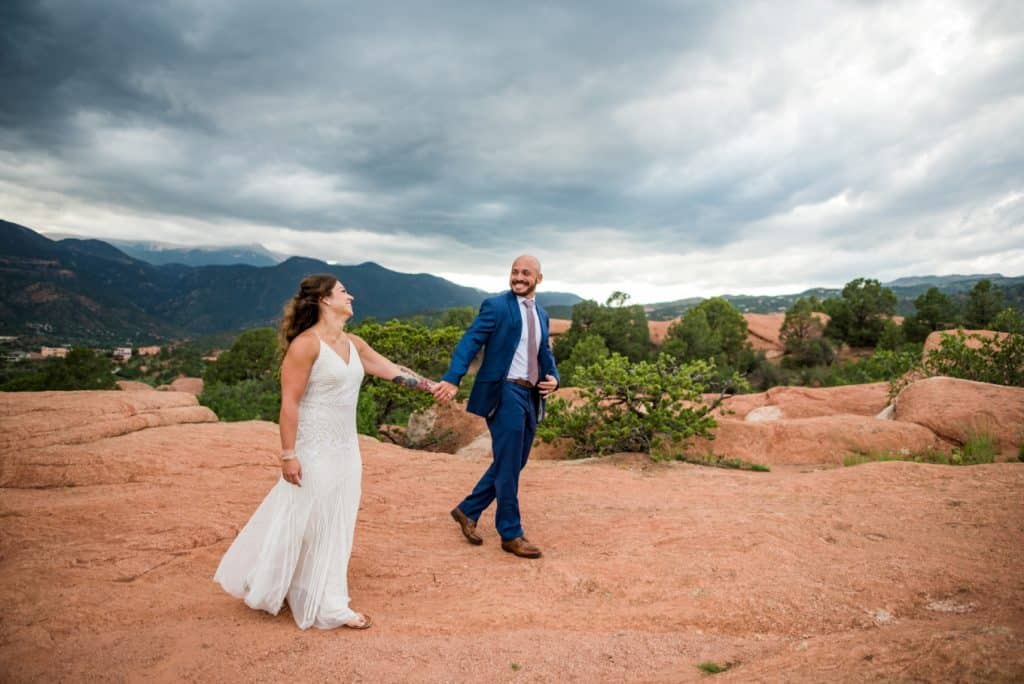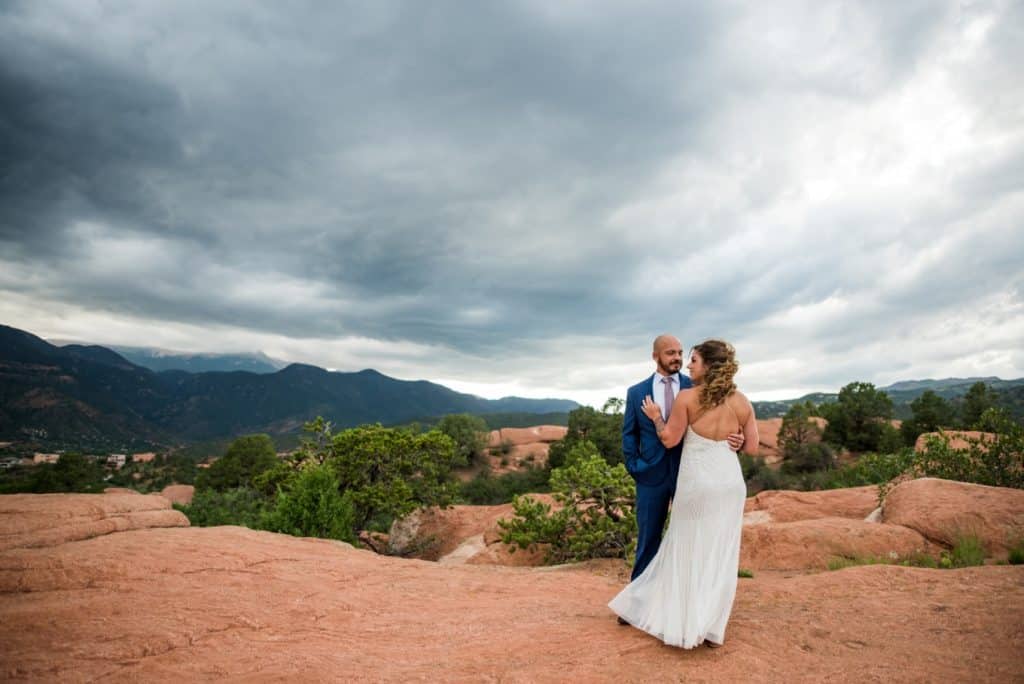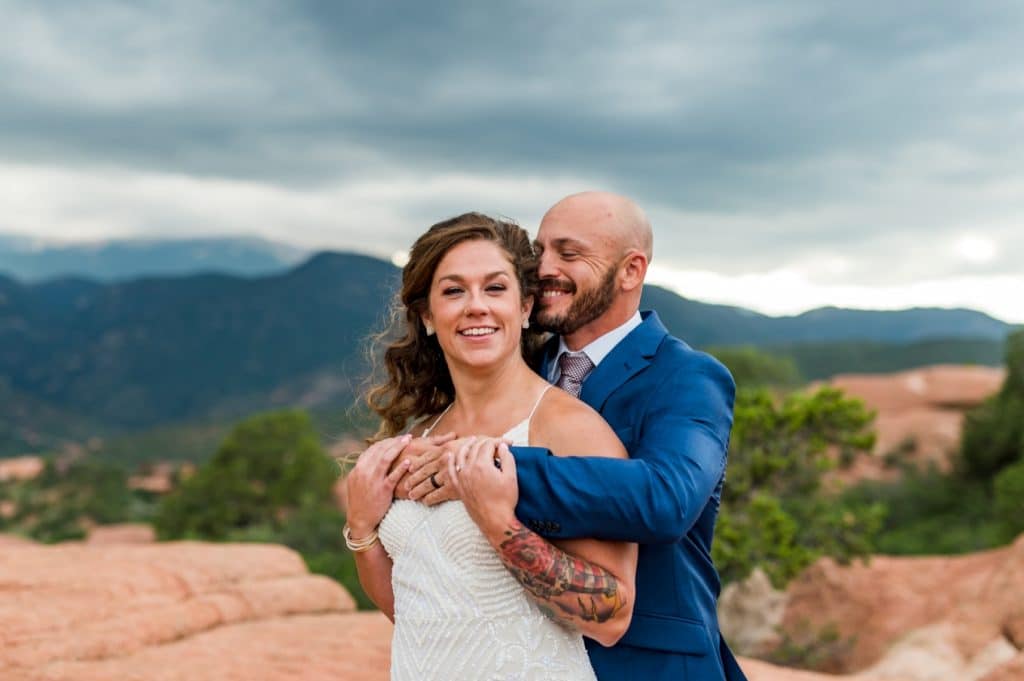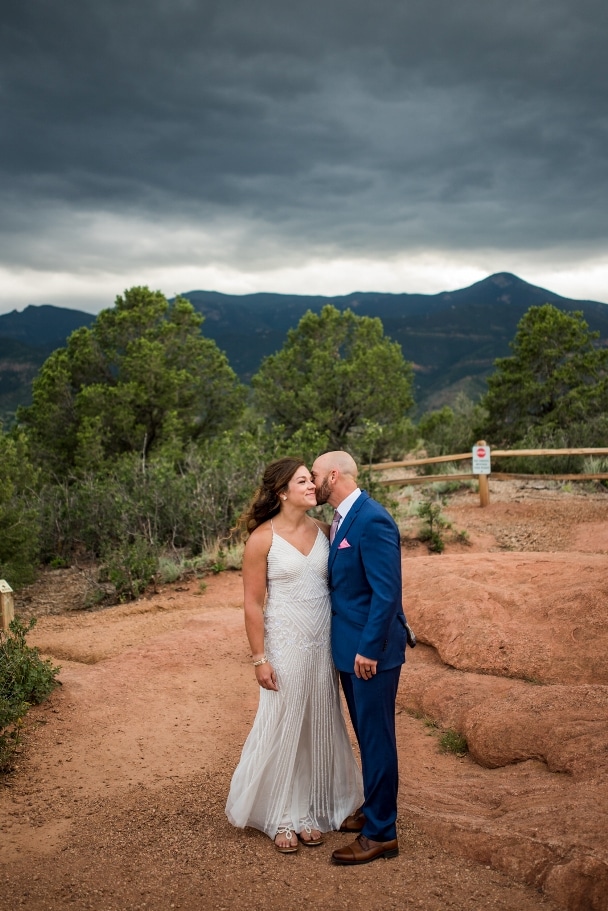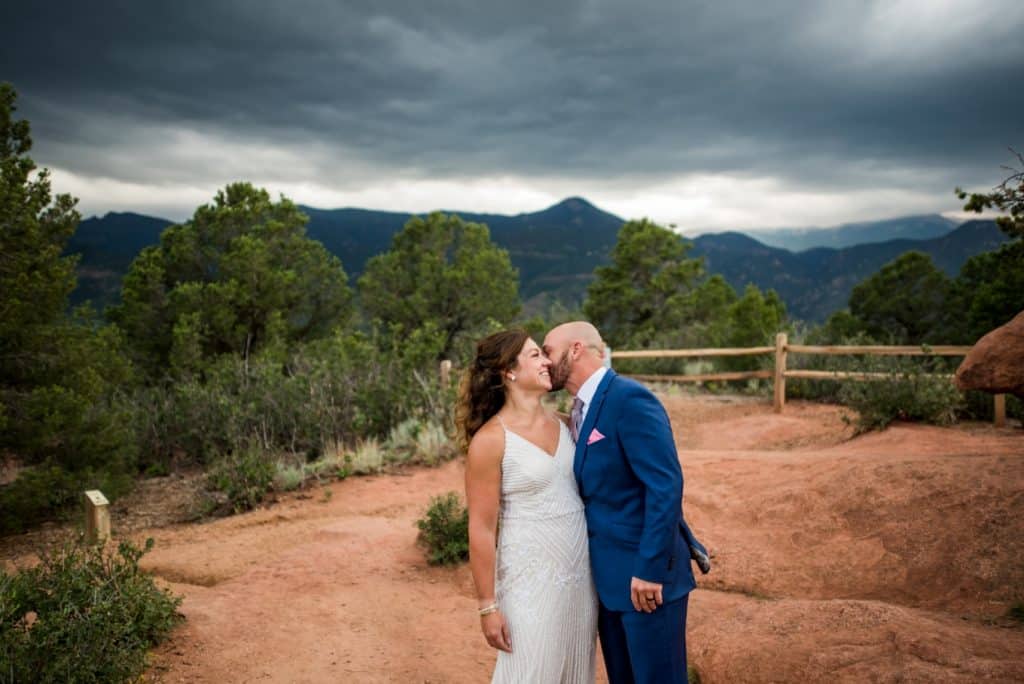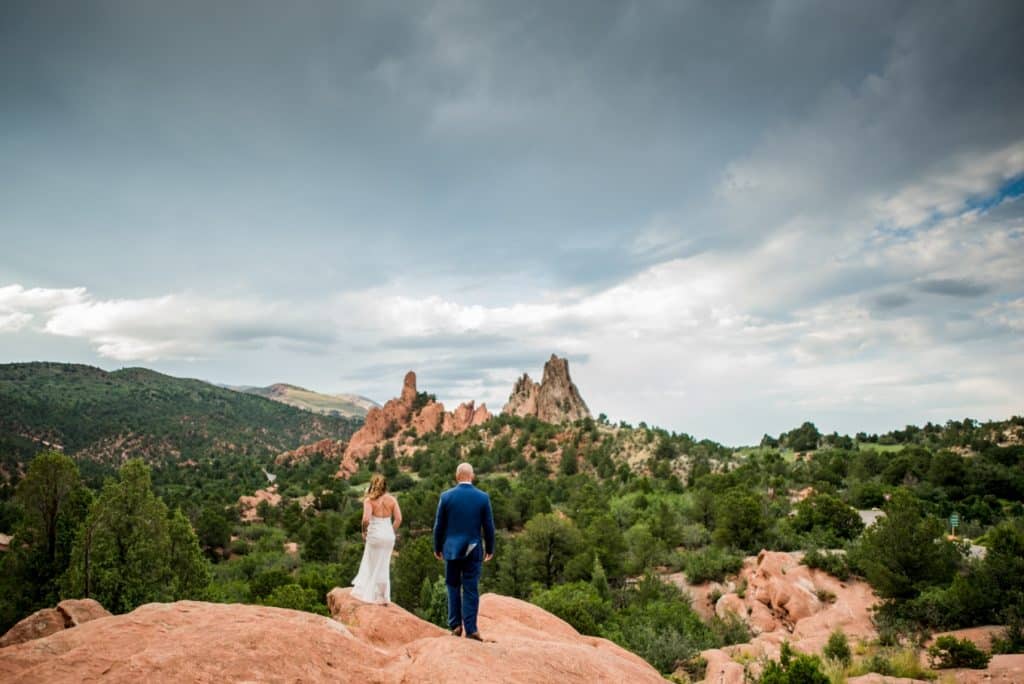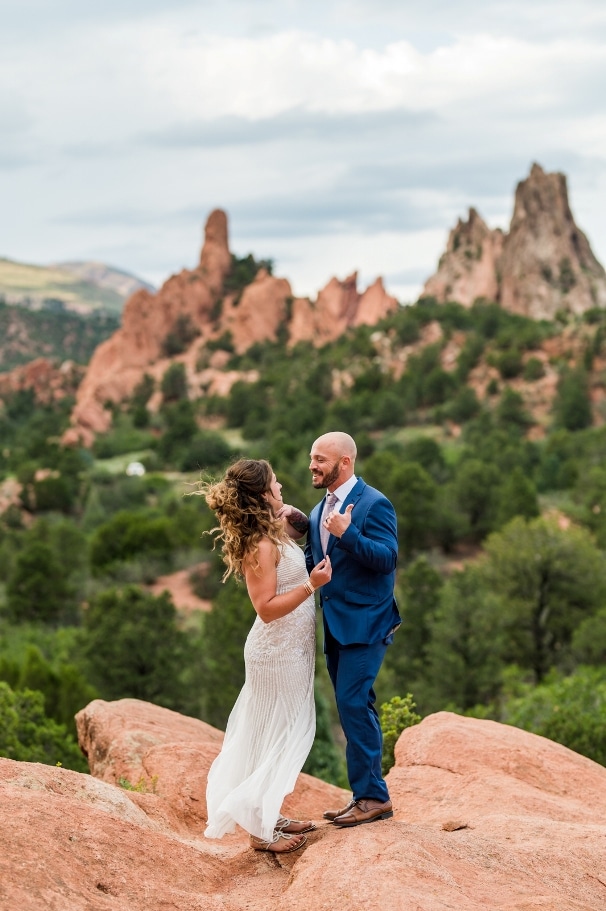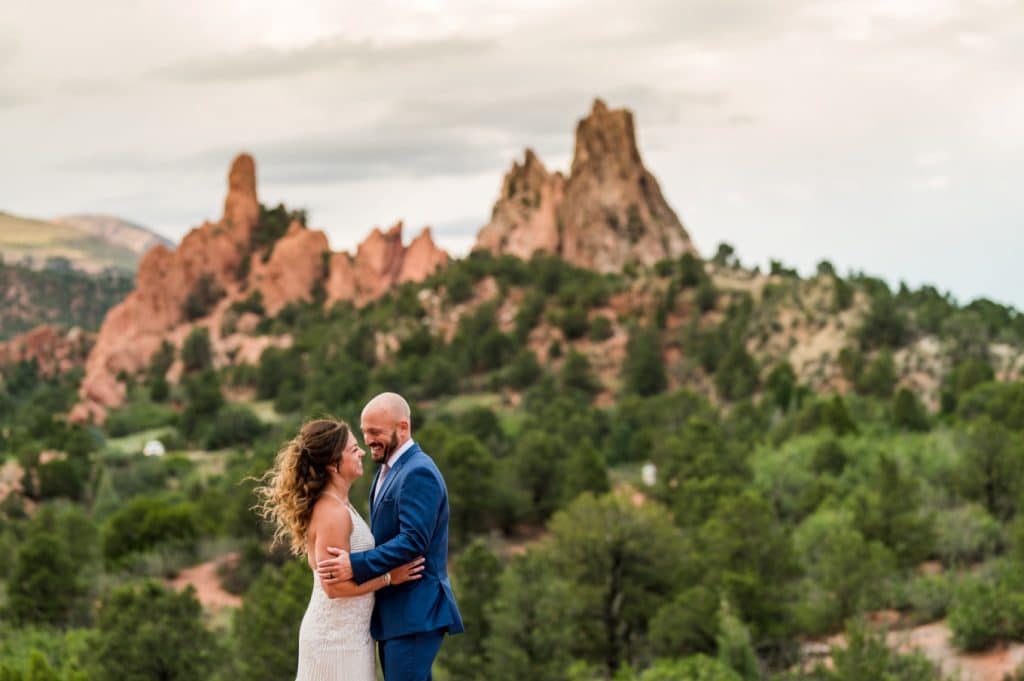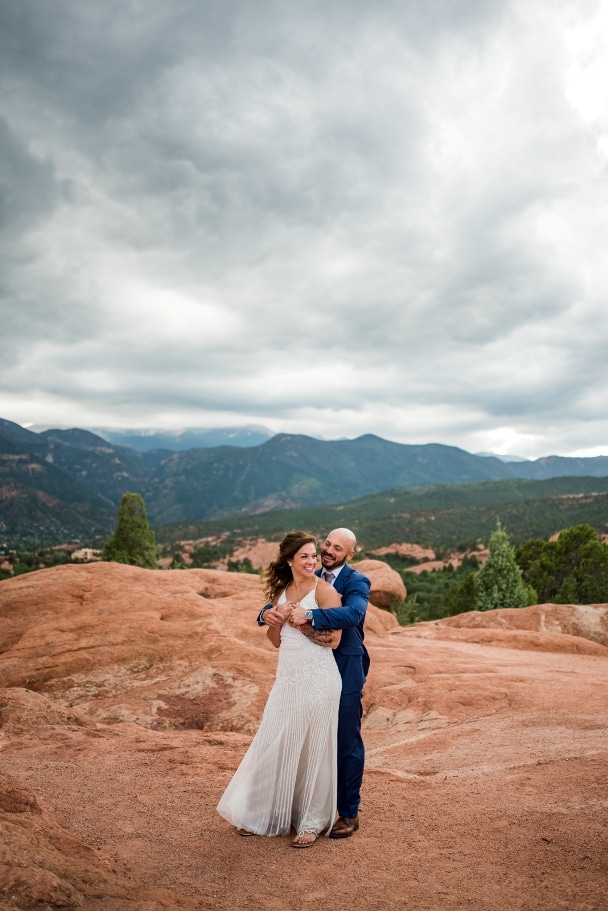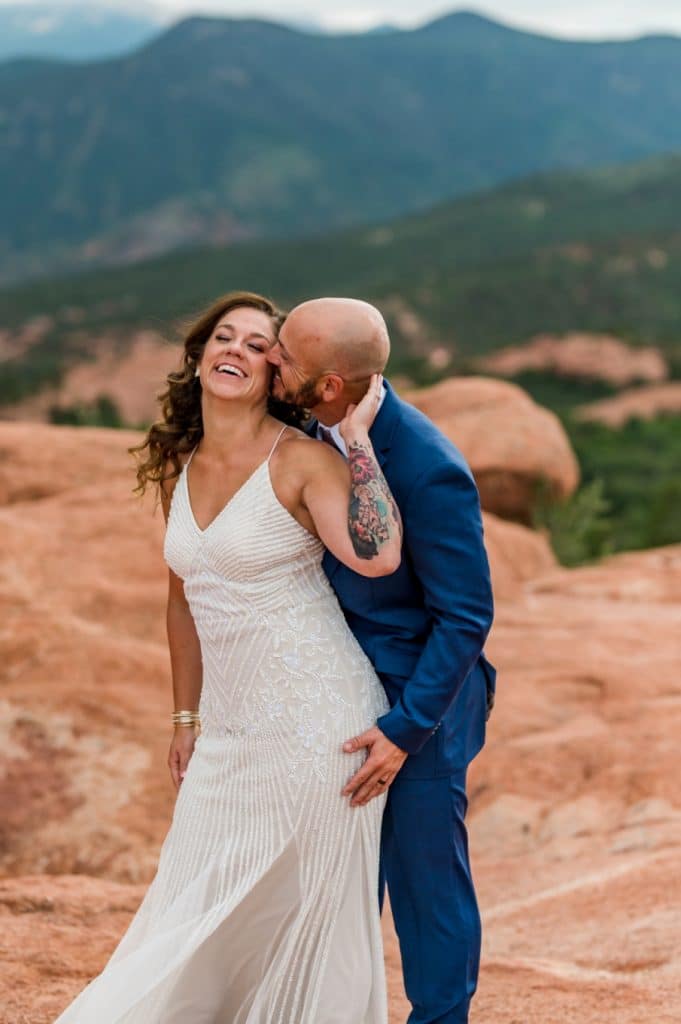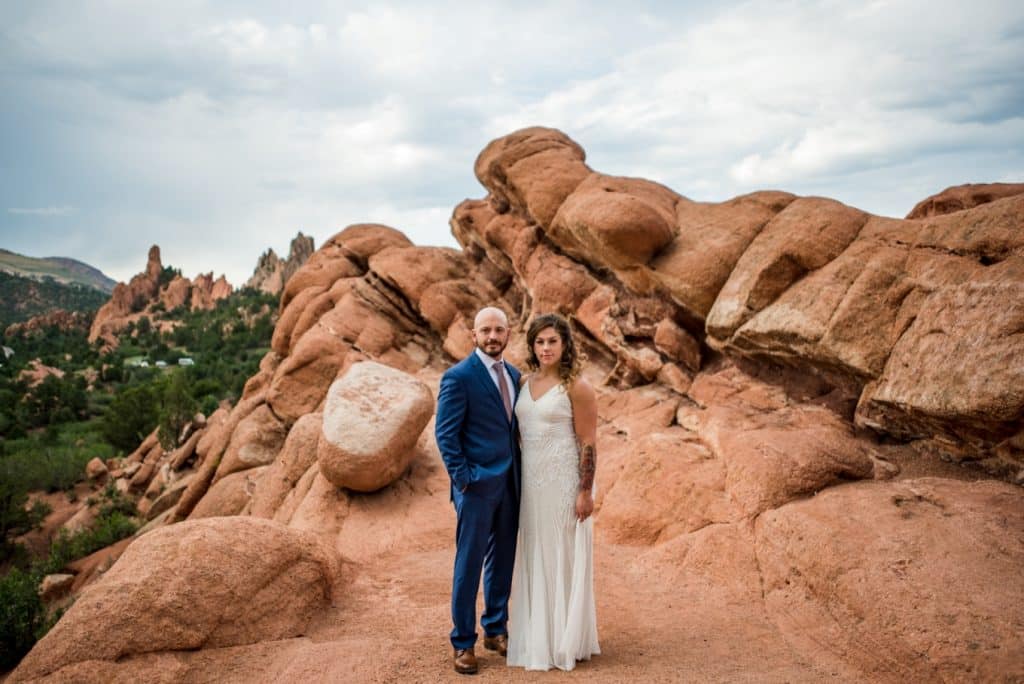 In their own words
Why did you choose an intimate wedding?
We've both been married before and understood the toll an elaborate wedding could take on our sanity (and our wallets). This time around, we wanted the ceremony to be for us and our benefit.
What made you select the location you did?
We had always wanted to go to Colorado and the elopement gave us the perfect excuse to get away! Once Maureen walked us through the different locations, we immediately fell in love with the red rocks of the Garden of the Gods.
What words best describe your wedding day?
The best words to describe our wedding day would have to be relaxing, enjoyable, and perfect.
What was your favorite part of your wedding day?
Our favorite part of that day was there was absolute no rush. The only agenda we had to abide by was for hair and makeup and then for the actual ceremony. We woke up late, went and saw some sights, Jeff went golfing while I had my hair and makeup done, and it was just so simple and stress-free.
Did you face any challenges in eloping?
The challenge we faced was having to reschedule due to COVID. We had planned on doing the ceremony in April in order to have some snow in the background for our pictures, but were forced to reschedule due to the craziness. We ended up getting married at the end of July and it turned out perfectly.
What was the best thing about having an intimate wedding?
The best part about eloping and it just being the two of us is that it was all about us and we didn't have to compromise what we wanted to appease anyone else. Like I said, we have both been married before and did the whole elaborate wedding scene and we both had the same experiences. While sharing in that moment with family and friends can be enjoyable, most of it can be tedious and stressful. We loved just having to worry about what we wanted. It felt good to be selfish for once.
Anything else about your wedding that you want to share?
Our wedding was perfect and the pictures turned out better than we ever could have expected. This was the best decision we could have made and I'd recommend eloping to anyone!
Any advice for other couples planning to elope?
My only advice would be to hire a company like Blue Sky Elopements if you are considering to elope. There's no way our experience would have been as enjoyable as it was if we were the ones organizing everything. If your goal is to eliminate stress for your big day, then hire a company to handle it for you!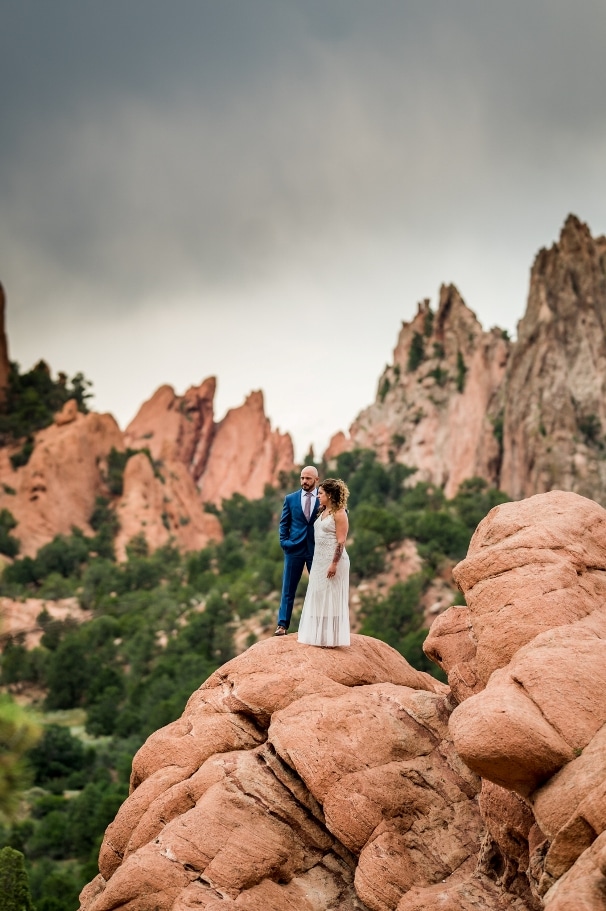 I was blown away by what Maureen and her team at Blue Sky Elopements were able to put together for us. Our big day was absolutely perfect and stress-free thanks to them. I can't thank them enough for all they did and how easy they made everything. I will shout their praise to anyone who asks about our wedding day!
Services included in Jeff and Meredith's Garden of the Gods wedding package

If you're thinking about getting married at Garden of the Gods
Check out our web page with all the details about getting married at Garden of the Gods.