Plan a California Beach Elopement in Ten Easy Steps
So, you think you want to elope on the beach in California
Beach elopements are the embodiment of many couples' fantasy of the perfect, intimate place to tie the knot. California's beaches offer pristine waters, endless sand, towering cliffs and really cool rock formations–which all converge to create a breathtaking coastal elopement wedding backdrop.
Turning that fantasy into a reality, however, might leave you feeling a bit like a deer in the headlights. Getting married is probably not something you do on a frequent basis, so in all likelihood you don't have any idea of where to start. We can help with that! However, before you begin planning your California beach elopement, let's look at some of the potential negatives. Then, if eloping on the beach still makes your heart sing, we'll talk about how to make it happen.
There are potential downsides to eloping on the beach in California (or any beach, anywhere, for that matter).
Not all beaches in California allow elopements and most that do allow them will require a permit.
Beaches in California are managed by local, county, state and federal governments. They all have different requirements, regulations and permit-issuance procedures. Even the requirements for state beaches are not the same across the board, as there are various sectors within the state. And–you guessed it–each sector has its own processes, requirements and fees.
So, if you've chosen a beach in California to elope to, your first question should be, "Can I elope on the beach?" This should be followed by, "How much does it cost to elope on the beach in California?" And if you can find out the answers to those questions, the next should be, "Do I need a permit to elope on the beach and how do I get one?"
Expect a bit of frustration with this process. I wish I had a succinct method to advise couples on how to obtain a permit for a beach elopement in California, but I don't. It's confusing and oftentimes, the answer depends on which person you get on the phone when you call. If all of that just sounds too stressful, you can hire someone to handle it for you. (We include permit procurement as part of our location consulting services, and couples tell me it's worth every penny.)
There is not one centralized resource for obtaining wedding permits for California beaches. There is a site called Getting Married in a California State Park–which might be a good place to start.
In general, the fewer guests you have, the easier it is to obtain a beach elopement permit in California. It's also easier to obtain a permit if you don't want things like chairs and arches. Some sectors automatically charge more for these types of micro-weddings.
Some beaches lack privacy.
Everyone loves the beach, and most eloping couples want a beach that offers some level of seclusion and is easy to access. The problem is, if it's easy to access for you, it'll be so for everyone else–which means the beach may be crowded. Ways around this include: booking a weekday wedding, planning your elopement for the off-season when there are fewer tourists around, or choosing a beach elopement location that requires a bit more walking to get to.
A handful of beaches in California are known to locals as allowing nude sunbathers or they are off-leash, dog-friendly beaches.
Usually, these nuances are known only to locals and they're not publicized. If having a nude jogger amble by during your vows or being interrupted by an excitable Labradoodle will upset you, this is something to check out before you decide at which beach in California you want to elope.
Eloping on the beach means you're subject to all weather conditions.
Beaches can be foggy and windy, and winter in California is the rainy season. Try as we may, no one can guarantee you a 70-degree, gorgeous sunny day at the beach for your wedding. Once again, this is easier to address if you have few to no guests; you can easily push off your beach wedding to the next day if it's just the two of you, an officiant and a photographer. That's a little tougher if you've invited 50 out of town guests.
It's not always easy (or permissible) to set up chairs and arches for weddings on the beach in California.
If you're envisioning rows of white chairs festooned with flowers and an arch, bear in mind, that might be expensive to pull off. By the time you add up the rental, delivery, set up and tear-down fees, it can cost close to $1,000 to have chairs on the beach for your 15 minute ceremony. And some beaches are quite a long walk away from the parking. It may not seem all that far until you're lugging chairs down a hilly path to get to the beach.
Also, some permits only allow for informal elopements in the beaches of California. This translates to no chairs, arches, or flower petals being strewn about.
Beaches and cliff overlooks can be dangerous for adults, kids and dogs.
If you're having guests (either the two-legged or four-legged variety), observe common-sense precautions on the beach. Dogs should be on a leash or under voice control (assuming they're allowed on the beach you choose). Children should always be under adult supervision. Hold your ceremony in an area that is a safe distance away from the incoming surf, be careful on slippery rocks and never, ever turn your back on the ocean.
The 10 Steps to Planning your California beach elopement
Assuming none of this has dissuaded you from eloping on the beach in California, let's talk about the steps to do that. I'm going to presume that you've already taken care of the basics inherent in planning any type of elopement, such as determining your guest count and budget. Once that's done, we can dive into the nitty gritty of planning your beach wedding.
1. Choose the beach where you want to elope.
Think about things like:
Location, ease of access, and the specific beach backdrop you're envisioning. Do you want endless white sand or are dramatic cliffs in the background more your style?
If you or your guests are arriving from out of town, how close is the beach to the nearest airport?
If you or your guests have any mobility issues, you'll need to determine if the beach is accessible.
How long will you be in town and what other amenities do you want to access while you're in California to elope? Eloping on the beach in San Francisco is going to put you in close proximity to upscale lodging, restaurants, shopping and organized recreational opportunities. Head a few hours south to Big Sur or north to the Redwood Empire and it's all about Mother Nature and getting away from civilization.
What's your tolerance for onlookers? If it's low, choose a lesser-known beach. (Of course, lesser-known often means "harder to get information about," so that's easier said than done. I can't underscore enough how valuable a local wedding planning service can be in this regard –especially one that specializes in California elopements on the beach.)
I suggest listing three separate beaches unless you know for certain that you can get married and secure a permit at a specific beach. Then you can do your research and pare it down. Good resources for determining the best beach for your California elopement are Instagram, Facebook groups (there are some tailored specifically for eloping couples) and Google search.
Also, if you've already chosen the general area where you want to be married, that's a huge plus. Then you can ask your photographer or elopement wedding planner for suggestions.
2. Determine the date and time.
This is a bit of a Catch-22 process. You can't apply for a permit (next step) without a date and time, and you want to make sure the beach site and your wedding vendors (the step after that) are all available on the date and time you choose. This is going to involve some juggling on your part. It's not exactly a linear process, so be prepared to be flexible.
As far as time of day to get married on the beach, aim for what photographers call the Golden Hour–the part of the day that is close to sunset, when the sun is low in the sky and the light is softer for more flattering photos.
Once you have your first choice beach, date and time, you're ready to apply for the permit (assuming one is required).
3. Apply for your beach wedding permit.
As previously stated, this may be your biggest challenge. If it were me, I'd book an all-inclusive beach wedding elopement package and let the professionals handle it, because obtaining a permit can be a Big. Fat. Pain. But if you're on a super-tight budget (or you're just a glutton for punishment), you can try reaching out to the managing entity to get information on the permit process. Utilize both phone and email communication and be persistent. Some sectors are more responsive than others.
Also note that many government agencies charge extra fees when you apply for a permit with less than 30 days to go until your wedding. For a number of reasons, it pays to plan ahead.
Fees for wedding permits range from free to upwards of $500. In case you're toying with the idea of asking forgiveness rather than permission and just showing up to elope on a California beach without obtaining the necessary permit, I'd advise against that. First of all, you're likely to have a park ranger politely ask you to leave if they ask for your proof of permit and you're unable to produce one. And secondly, supporting California's natural resources is the right thing to do.  So, don't skip the permit if the site requires one.
4. Permit in hand, book your wedding vendors.
At minimum, you're probably going to need an officiant and a photographer. If you're planning a California beach elopement from out of the area, a locally-based planner is going to save you a ton of time and alleviate the stress of planning a long-distance wedding.
In addition, you might think about a videographer, bridal hair and makeup and flowers. Whether you want to save money and manage all of this on your own, or book someone like Blue Sky Elopements to oversee all the details is up to you. Just remember that researching and vetting vendors can be really time consuming. And you need to know what questions to ask. Keeping track of all the communications and knowing when to do what can turn into the equivalent of a part-time job.
5. Make your travel arrangements and book lodging.
Make sure you'll be in town with plenty of time to pick up your marriage license prior to the ceremony. You always obtain a license in the state where you're getting married, NOT in your home state. If you live in California, you can get your marriage license in your home county and that'll be one less thing you need to think about once you arrive in town.
As far as lodging, I'd suggest staying somewhere that is right on the beach for that true California coastal experience.
6. Decide on your post-ceremony celebration.
Are you going to head to a fancy restaurant for dinner? Then book your reservations early. Prefer a fire and a picnic for two on the beach? Make sure that's permissible (Some California beaches have fire rings for this purpose–you just need to provide the wood and the matches!) and arrange for the picnic to be made up by a local shop or caterer. A popular option is to have a personal chef come into your beach vacation rental while you're out getting married, so the two of you can come back to an intimate meal for two.
Arrange for a cake and Champagne if you want to have that. If you're using a planner, they will take care of all of that for you.
7. Create a Plan B in case of inclement weather.
Either be willing to change your date at the last minute (make sure your vendors are on board with that and research any fees they might charge to change your date), or book lodging that can serve as an indoor or covered option should it pour rain on your wedding day. A place with a covered patio that faces the ocean is perfect for this. And bring along a couple of clear umbrellas. If it's only lightly raining, you can go ahead with your beach elopement. A rainy day actually provides perfect lighting for photos.
8. Make an appointment to get your marriage license.
You can obtain your California marriage license anywhere in the state of California; it doesn't necessarily have to be in the county where you will get married. Sometimes another county clerk's office will be more convenient for you. Your officiant should be able to advise you. (And yes, you do need to appear in person, together, in order to pick up the license. Many counties in California do have an advance online application procedure to cut down on the time you'll need to be in the office when you actually pick up the license.)
You need one witness to sign your marriage license in California. It can be your photographer or any passer-by. But it cannot be your officiant.
And while we're on the subject: in California, you need to request (and pay for) a certified copy of your marriage certificate after it's been recorded by the county. It will not be sent to you automatically, as is the case with many other states. The county clerk's office should provide you with the procedure for obtaining your marriage certificate after you're married. But if they don't–or you're not sure–remember to ask them about it.
9. Thoroughly research the nuances of the beach you've chosen.
Some beaches in California are vast and have more than one entrance and parking lot. And many have spotty cell phone coverage. Don't let all your careful planning be for nothing by being less than 100% sure of the exact spot to meet your vendors. If you're not confident about this, ask one of them to meet you at your lodging so you can follow them to the beach.
On the flip side, many California beaches have limited parking. (That's another reason we recommend a weekday elopement.) You don't want to arrive on the day of the wedding, only to find that there is nowhere for you and your vendors to park. If you're at all concerned, arrange for a car and driver to get you to the beach. And if you have guests, it may be wise to make arrangements for a private shuttle.
10. Show up and elope on the beach.
If you've taken care of all the steps above, this last part should be a piece of cake.
Additional Tips for Eloping on the Beach in California
Wear shoes that are appropriate for walking in beach sand. Or go barefoot.
Check tide tables. Many beaches disappear at high tide.
Beaches can be windy. Use lots of hair spray and think about ditching the veil.
Believe it or not, photos of your California beach elopement can get repetitive and boring if you don't have a variety of backdrops. There are only so many images your photographer can get of the two of you walking hand-in-hand along the shore. Consider eloping at a beach that offers greenery, cliffs, trees or interesting rock formations in addition to the sand and surf. Or book extra photo time and have your photographer take you to a secondary site (perhaps in town, at a garden or in the redwoods) so you can get a variety of images.
Speaking of photos, don't scrimp on a photographer for your California beach elopement. You want the absolute best wedding photos you can get and a cut-rate photographer won't produce the results you're looking for.
Blue Sky Elopements Resources for Planning an Elopement on the Beach in California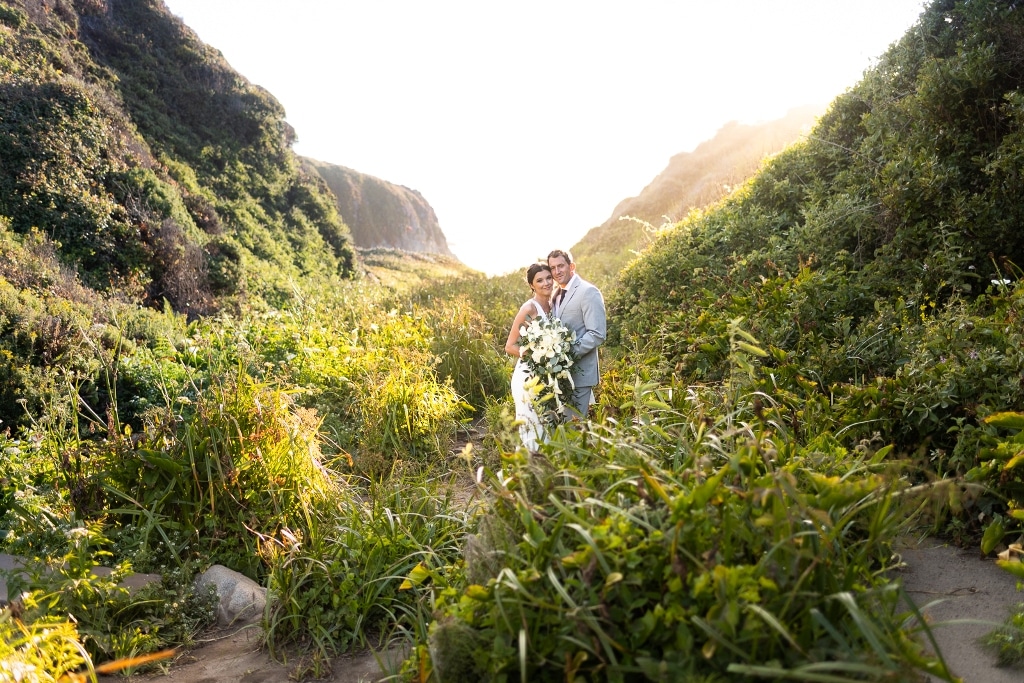 Choose a beach with a variety of backdrops.
Couples who've Eloped on the Beach in California with Blue Sky Elopements