Everything you need to know about getting married on the beach in California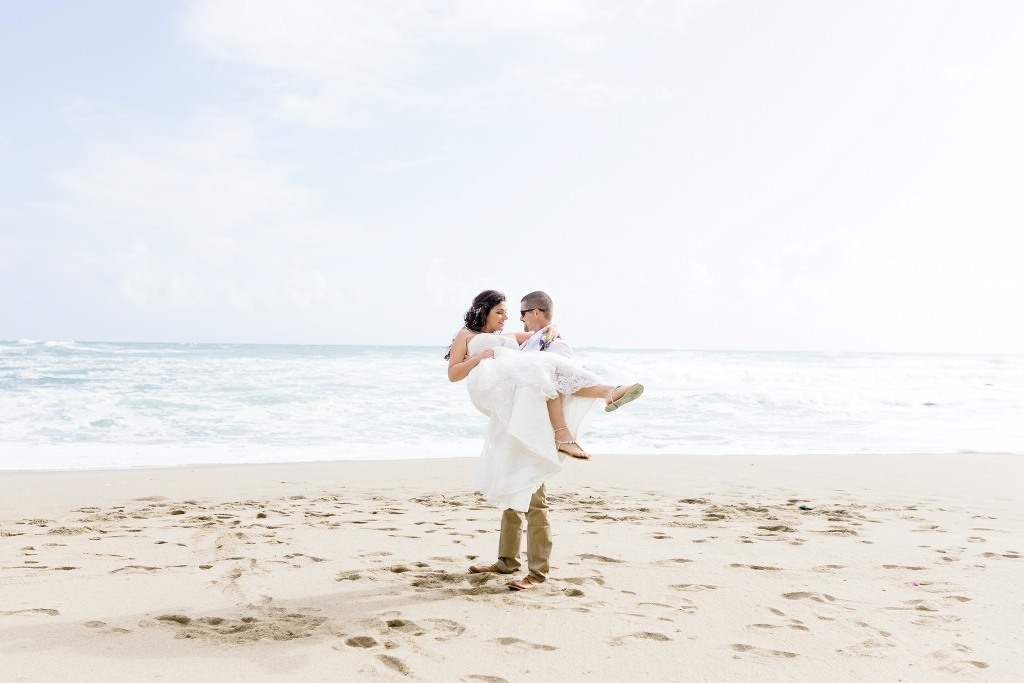 California beach weddings can be idyllic if the conditions are right.
Getting married on the beach in California has become popular again
Being as we serve the gorgeous central coast of California, it goes without saying that we work with gazillions of couples that want to get married on the beach in California. For some couples, tying the knot on the beach is a life-long dream; for others, eloping on the beach is a more spontaneous idea. And, let's face it, as of 2020, Covi-19 has inspired many more couples to elope on the beach; small, outdoor gatherings have become the name of the game.
Whatever the motivation, visions of sun, surf and sand elicit visions of romance, simplicity and natural beauty that are unrivaled.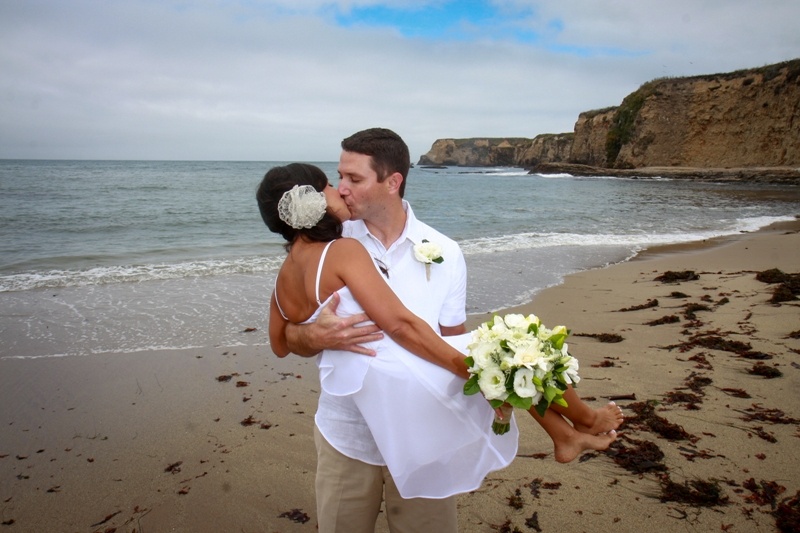 The two of you saying "I do" on a secluded beach…what could be more romantic?
Décor provided by Mother Nature
It's truly a one-of-a-kind experience to have an intimate beach wedding. Mother Nature provides the décor (and a helluva decorator she is!); there is nothing between you and the wide open sky; the earth is beneath your bare feet and the crashing of the waves is the only music needed.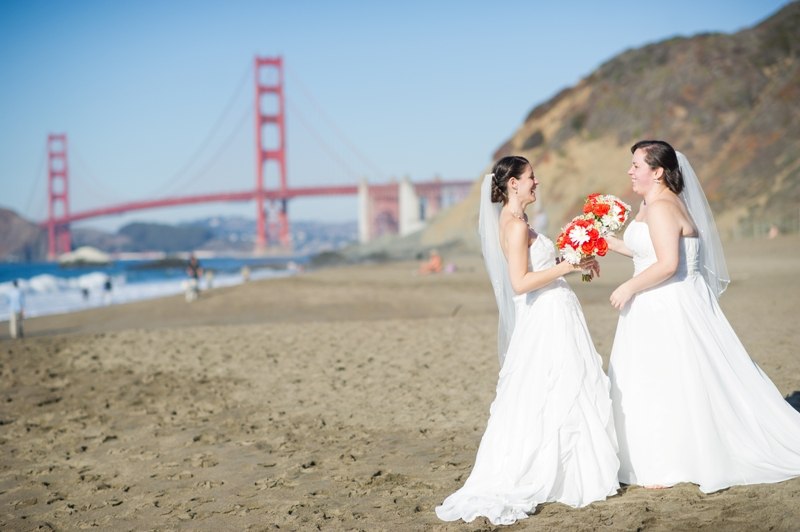 And if your California beach of choice is in San Francisco, you also get an iconic bridge backdrop!
Hang on a sec… beach weddings are not always as easy breezy as they look!
Beach weddings are not without their issues, however. Don't let the gorgeous photos on the Internet (Blue Sky Elopements site included!) fool you. There is often more than meets the eye when it comes to getting married on the beach.
Some things to think about before you jump in to having a beach wedding:
Most beaches in California require a permit to be married on them. It's not always as simple as just showing up with a couple of rings and a marriage license in hand. Beaches in California are governed and managed by municipal, state or federal agencies. State of California beaches require a permit even for a 2-person wedding. Most beaches in San Francisco are overseen by the Golden Gate National Recreation Area–a federal government agency. These weddings also require a permit. Rules for city and county-owned beaches vary and they're generally more flexible when it comes to requiring permits for their beaches.
When it comes to getting married on the beach in California, it helps to work with someone (like us) that knows the permit requirements. Otherwise, you run the risk of having a park ranger tap you on the shoulder as your ceremony begins to ask for your wedding permit. Fees for California central coast beach wedding permits (Big Sur to Marin County) range from free to $1,500. We have found (and if you're a Parks Department employee for the state of California and you're reading this, I hope I don't offend you!), navigating the various State of California sectors to obtain the proper permits can be an absolute nightmare. There are different fees, security deposits, and requirements for each county sector and the paperwork is different for each one. We apply for permits all the time so we've learned to navigate the tangled web of state bureaucracy that is sometimes necessary to navigate before coming out with a permit in hand. I feel for couples that attempt to go it on their own.
A permit does not grant you exclusive use to the beach site. Even after you obtain your beach wedding permit, all that means is that there will not be any other events scheduled at the venue on your date and time. You cannot prevent access to visitors at a public site. If you want an exclusive site for your wedding venue, mot beach sites are not for you.
California beaches can be crowded. Depending on the beach, the specific site on the beach, the time of year and the time of day, you may experience a range of unexpected wedding guests. While most beach-goers are extremely respectful when they see a wedding going on, you should expect some level of whoops and cries of "Congratulations!" with your fist kiss. For some couples, this is no big deal; for others it may be a real intrusion. We'll point you in the direction of the least crowded beach venues, but there may still be beach-goers present.
Two words. High tide. Some beaches disappear when the tide rolls in. Check with us or check tide tables.
Alcohol is prohibited on many beaches, so your Champagne toast may be out. Check with the permit-provider.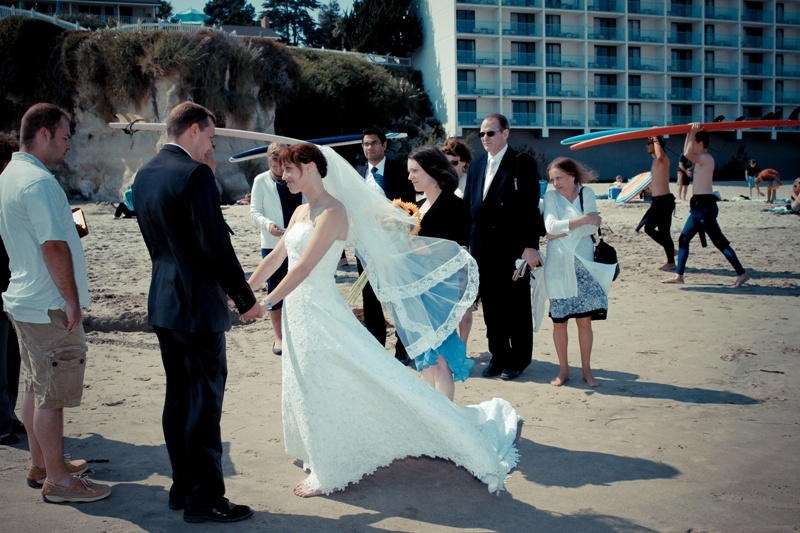 If you choose a beach wedding, be prepared for children in bathing suits and surfer dudes in the background.
California beaches can be windy and foggy even if the weather is clear just a few miles inland. Mother Nature can be fickle when it comes to the beach. You may leave your hotel in bright sunshine only to find the beach is shrouded in fog. And brides might consider foregoing the veil for a beach wedding.
And speaking of weather, California beaches do not have roofs. No kidding! Contrary to the song, it does sometimes rain in California. And while a wedding in the rain has its charms, it's not for everyone. Plan for this possibility by having an indoor backup location at the ready just in case.
The best time of day to get married on a California beach is an hour or two before sunset. (You can check the time of sunset on your wedding date

here.)

The soft light of the setting sun will give you much better photos that the harsh overhead light of high noon.
Also, plain ol' beaches can be boring. I know you probably don't think so if you live in a landlocked area of the world. But the cool things you love about the beach on your wedding day–the unique sounds and smells–won't be communicated in your photos. For truly memorable photos, select a beach with other points of interest–like a picturesque staircase or retaining wall, unusual trees and rock formations or a lighthouse.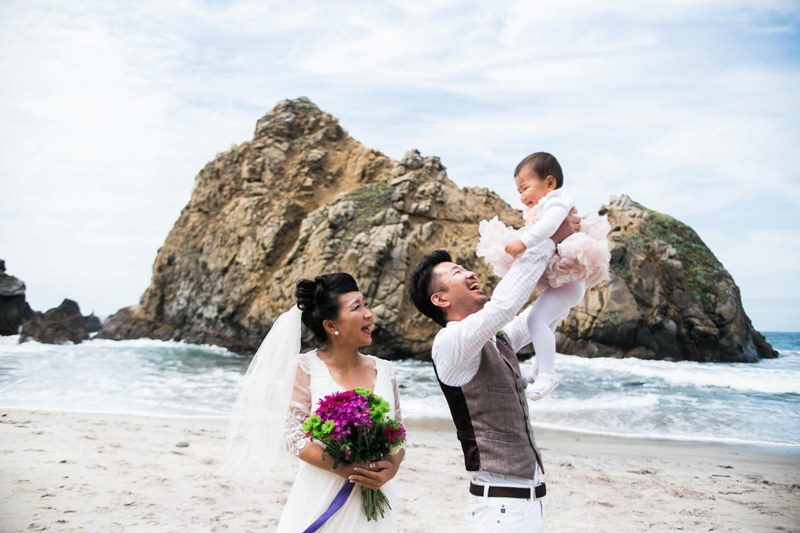 Rock formations make for interesting and fun beach wedding backdrops. The gorgeous baby doesn't hurt either (but you'll need to supply your own).
If you are getting married on the beach in California and you're having guests, think of their comfort as well. You may love the feel of the wind in your hair and the sand between your toes, but Grammy may be cold and miserable. And beach sand can be tough to walk on for older people or anyone with mobility issues.
Likewise, be clear in the expectations you have for your guests. Do you want them to dress up in formal wedding attire, or are shorts and flip flops acceptable? Are your guests expected to stand for the duration of the ceremony? Make sure they know in advance. Is parking a nightmare at your chosen beach? Arrange for a shuttle or taxi to drop folks off. Do you expect them to be present rain or shine? Have umbrellas handy.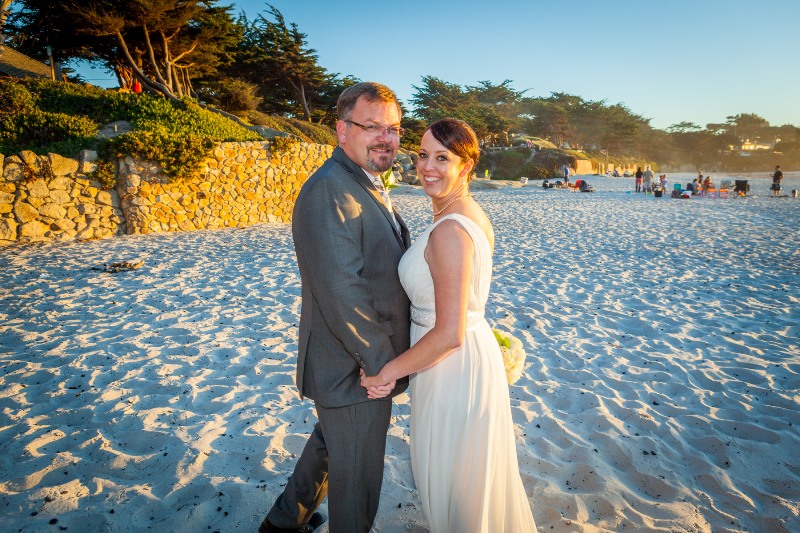 Getting married an hour or two before sunset will give your beach wedding photos a soft hue.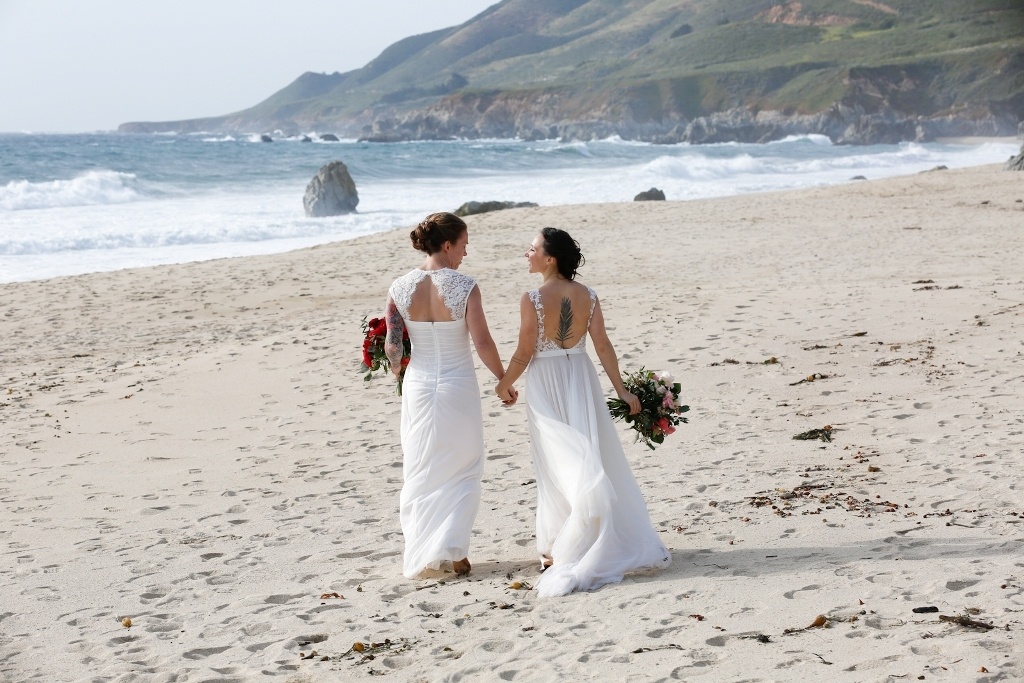 The best beach weddings are the one where the couple keeps things simple. You don't need a string quartet–the crashing waves will drown out most of the sound anyway. You don't need arches and urns of flowers–the wind may pick them up and send them flying. Wedding dresses with ginormous trains look out of place on a beach and do little more than pick up sand. Think simple, clean lines in your beach wedding attire, minimal fuss with accessories and opt for less structure over rigidity.
Beach weddings work best for couples that have a bit of a laid-back attitude toward their wedding day. Beaches can be unpredictable, so if you're the type of person that's going to get stressed out if the picture-perfect beach day doesn't present itself, do yourself a favor and choose a different type of venue. You can still have an outdoor wedding with a gorgeous backdrop without being right on the beach. If California is your ultimate wedding destination, you might consider a redwood venue; the backdrop is equally as gorgeous as the beach, but rain and wind are much less of a factor. You  could always opt for the redwoods for your ceremony and have photos of the two of you taken on the beach afterwards.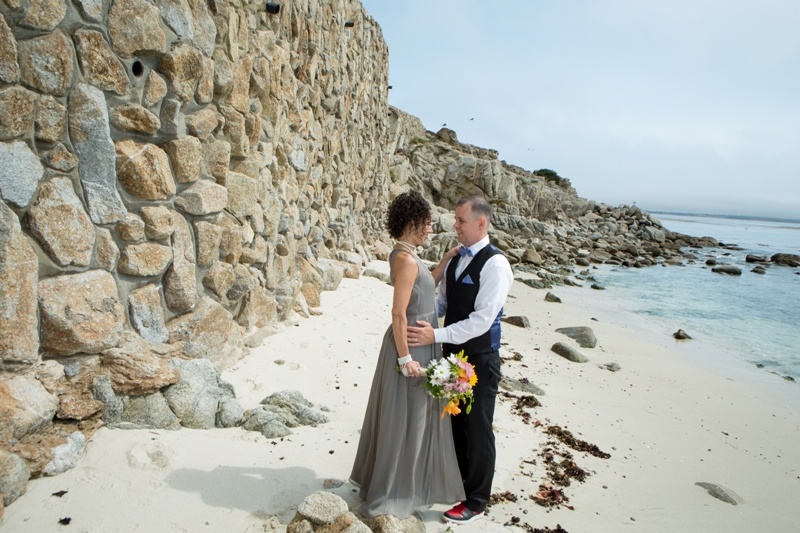 The bottom line on getting married on the beach in California
Beach weddings can indeed be an idyllic intimate wedding experience as long as you approach the day with open-mindedness and a willingness to be flexible. Realize there can be a ton of things that you didn't anticipate and hire a pro that specializes in helping couples get married on the beach in California.
Additional California Elopement Wedding Resources