Rick and Haley's Santa Cruz Cliff Overlook Elopement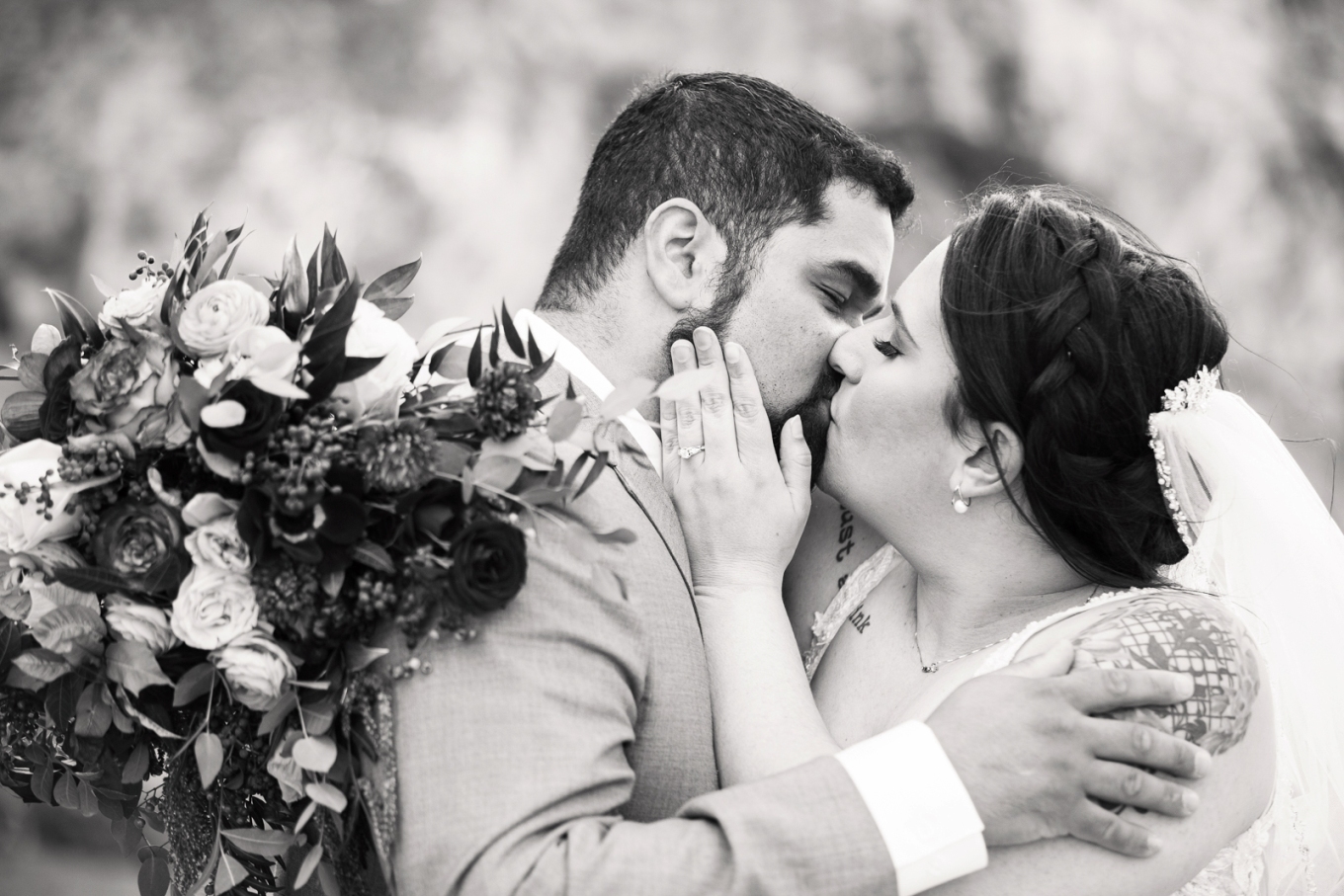 At first, it was all about the redwoods…
For Haley and Rick, the plan was to have a redwood wedding. They were envisioning tall trees, lots of green, ferns, moss.
The quintessential California redwood wedding experience.
So, that's what we gave them… or so we thought.
We started out just fine–connecting them with our favorite private redwood site deep in the redwoods of the Santa Crus mountains. They booked a simple elopement package with us; we got all the details ironed out and then sat back, relaxed, and prepared to enjoy the show.
Cue Covid…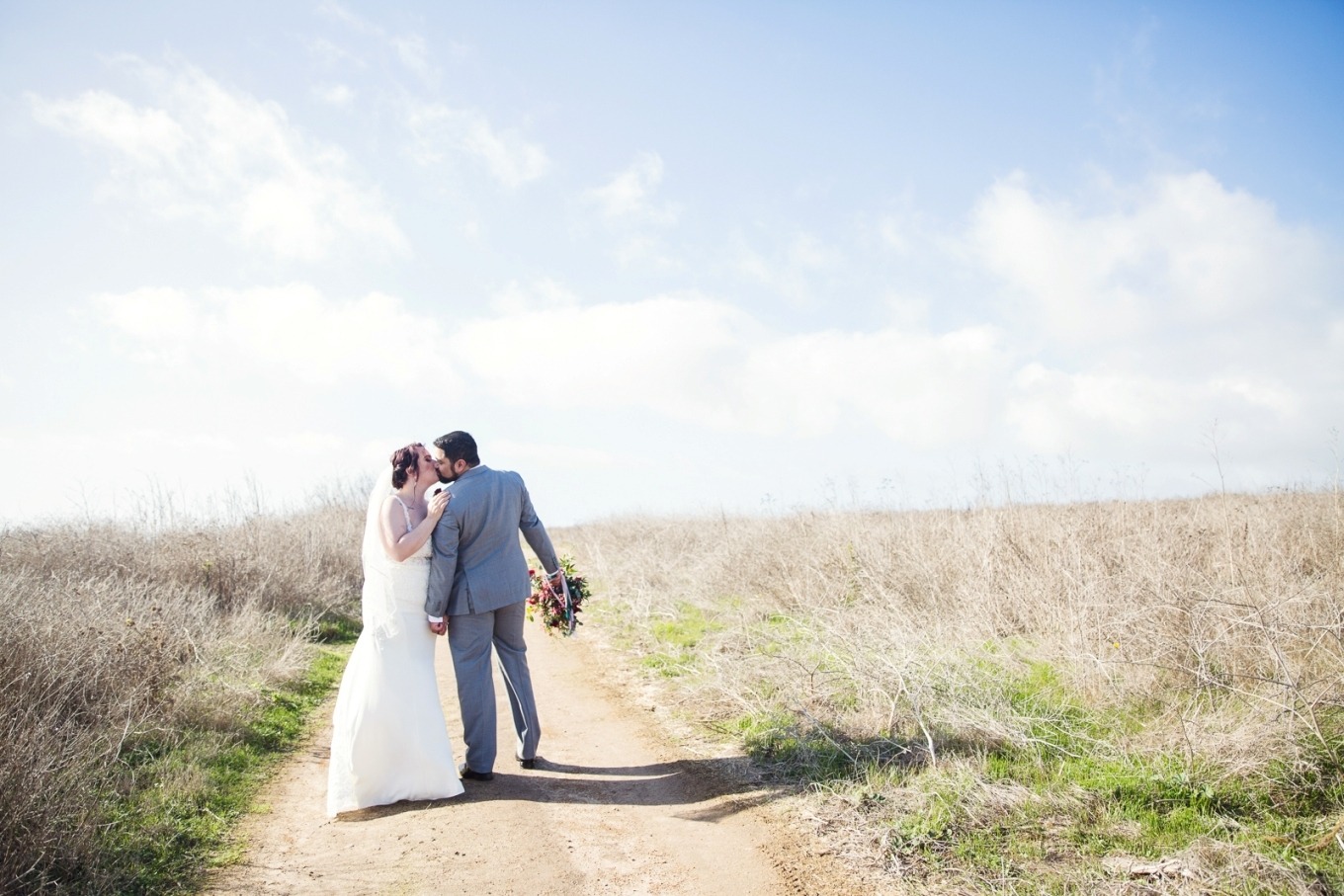 Suddenly, their redwood elopement turned into an elopement on the cliffs overlooking the ocean in Santa Cruz.
When we got word less than two weeks before their wedding that the private redwood venue was going to have to close down for Covid, we didn't have a whole lot of time to find a new location. Time for Plan B! Luckily Haley and Rick were unflappable throughout the process and we were able to to secure them a spot at a little-known cliff overlook site just north of Santa Cruz. (It helps when you know all the local haunts!)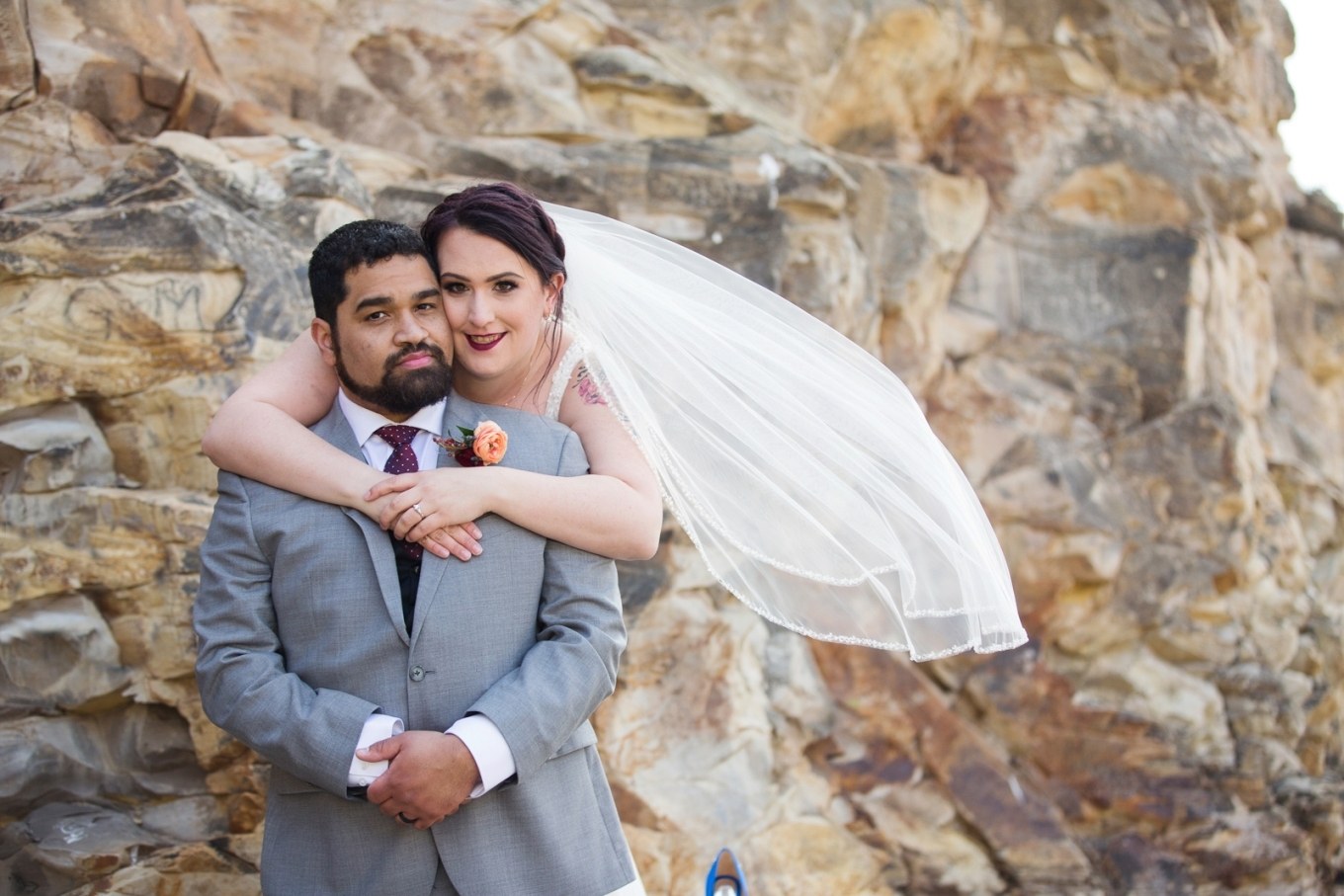 Their private venue wasn't the only site affected by the pandemic. Lots of area beaches weren't allowing weddings (regardless of how small) due to Covid-19 restrictions. I gotta be honest–it was no small feat getting these two rebooked at a different venue. But, you know, the show must go on and all that jazz.
So, we pivoted. And so did they. And the day went off flawlessly after that. Now this beach and overlook have become a part of their history as a couple and they're talking about coming back for family photos in the future.
Don'tcha just love a happy ending? Or, in their case, a happy beginning.
Let's take a look at how the day unfolded.
First… the arrival…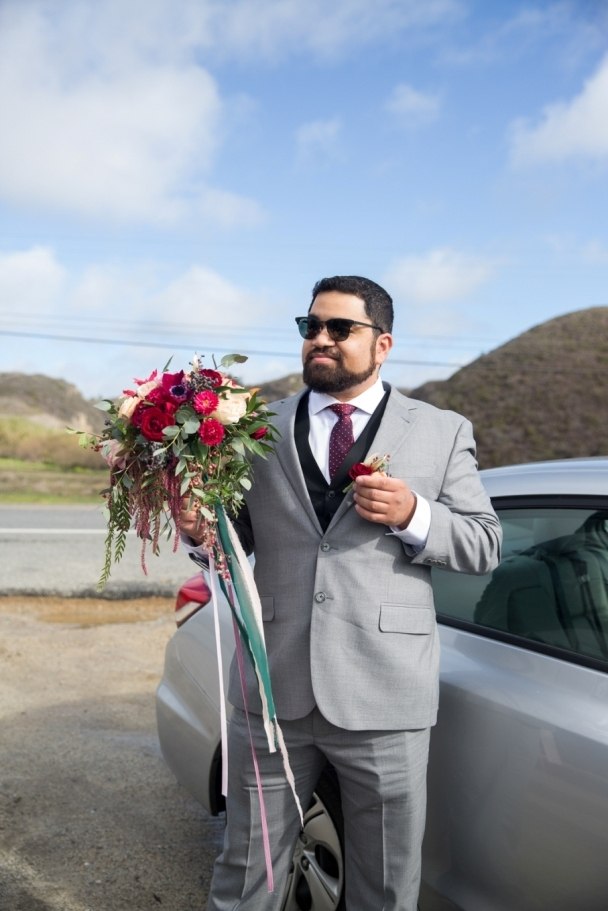 Rick arrives sporting Haley's bouquet and his own boutonniere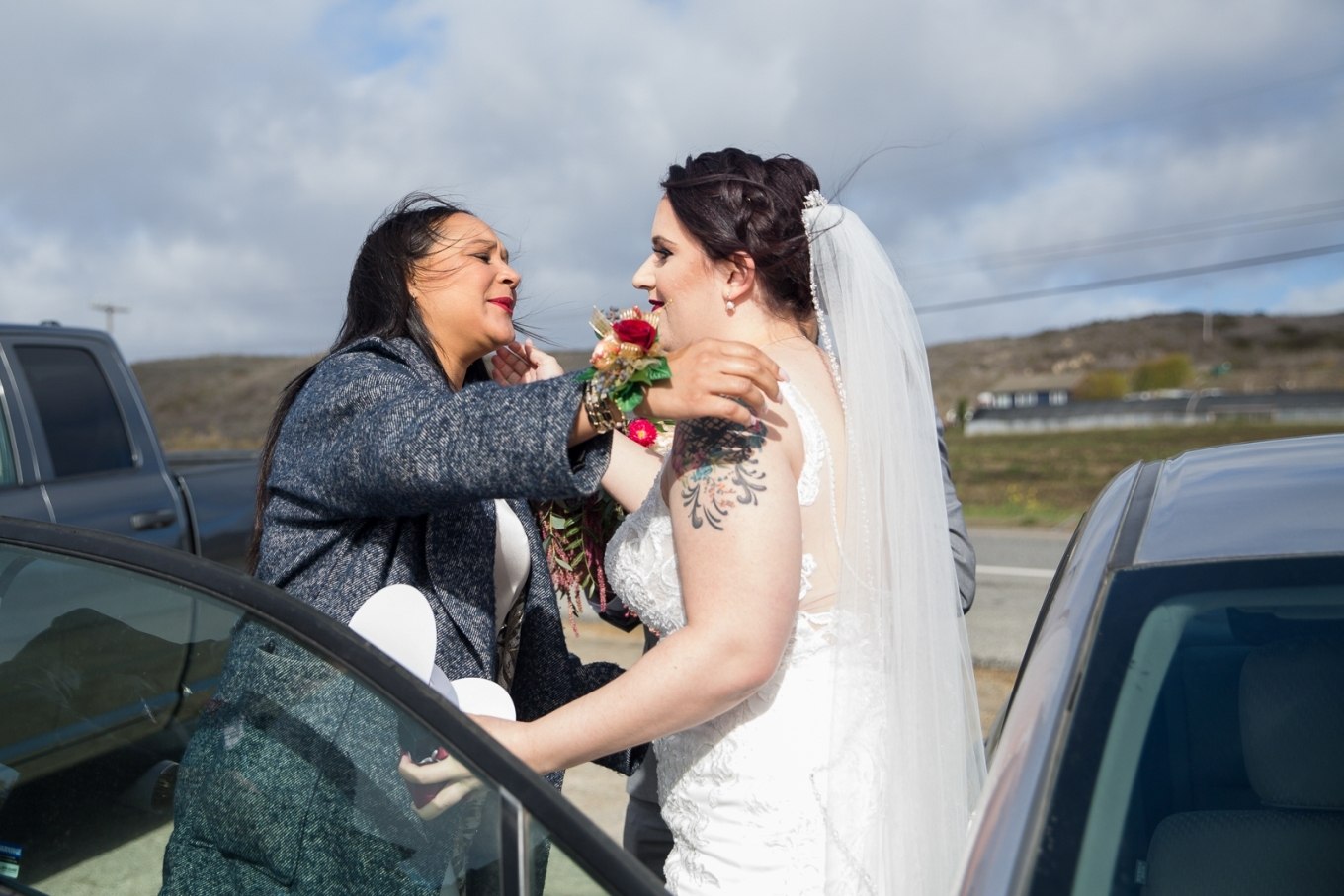 While Haley gets a last minute hug before the ceremony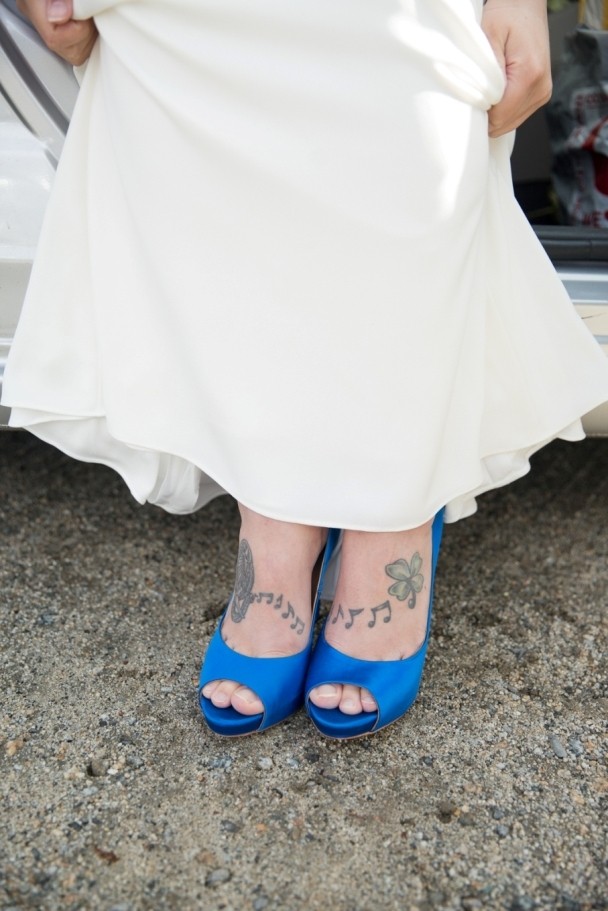 And these just might be our favorite wedding shoes of all time!
Their Cliff Overlook Site…
The overlook in Santa Cruz is not for everyone. it's a little… gritty. You have to walk across the railroad tracks to get to it. And down a path that is less than ornate. But at the end, they were rewarded with spectacular views of the Pacific Ocean and the rocky California coastline.
And no crowds.
And speaking of their Santa Cruz cliff overlook site…
The walk to the beach is definitely dicey. It's steep and rocky. Fortunately, it's short and they were up for it (blue shoes and all–although rumor has it that Haley wore different shoes to get down the path…).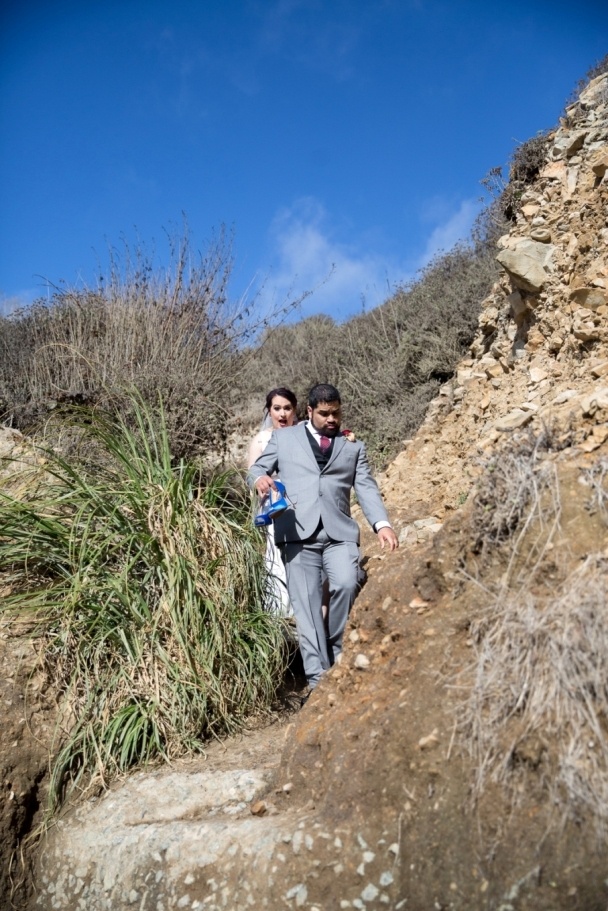 Once on the beach, the two of them had a great time and I think they forgot our photographer was even there documenting the whole thing. They just enjoyed themselves, the beach and each other.
Now, let's be honest–the reason that Rick and Haley's elopement wedding day went so beautifully was because they were willing to be flexible. A lot of other couples would have been upset with the loss of their first choice venue. And it was undoubtedly stressful for them. But their willingness to roll with the punches not only saved the day–it allowed it to flourish!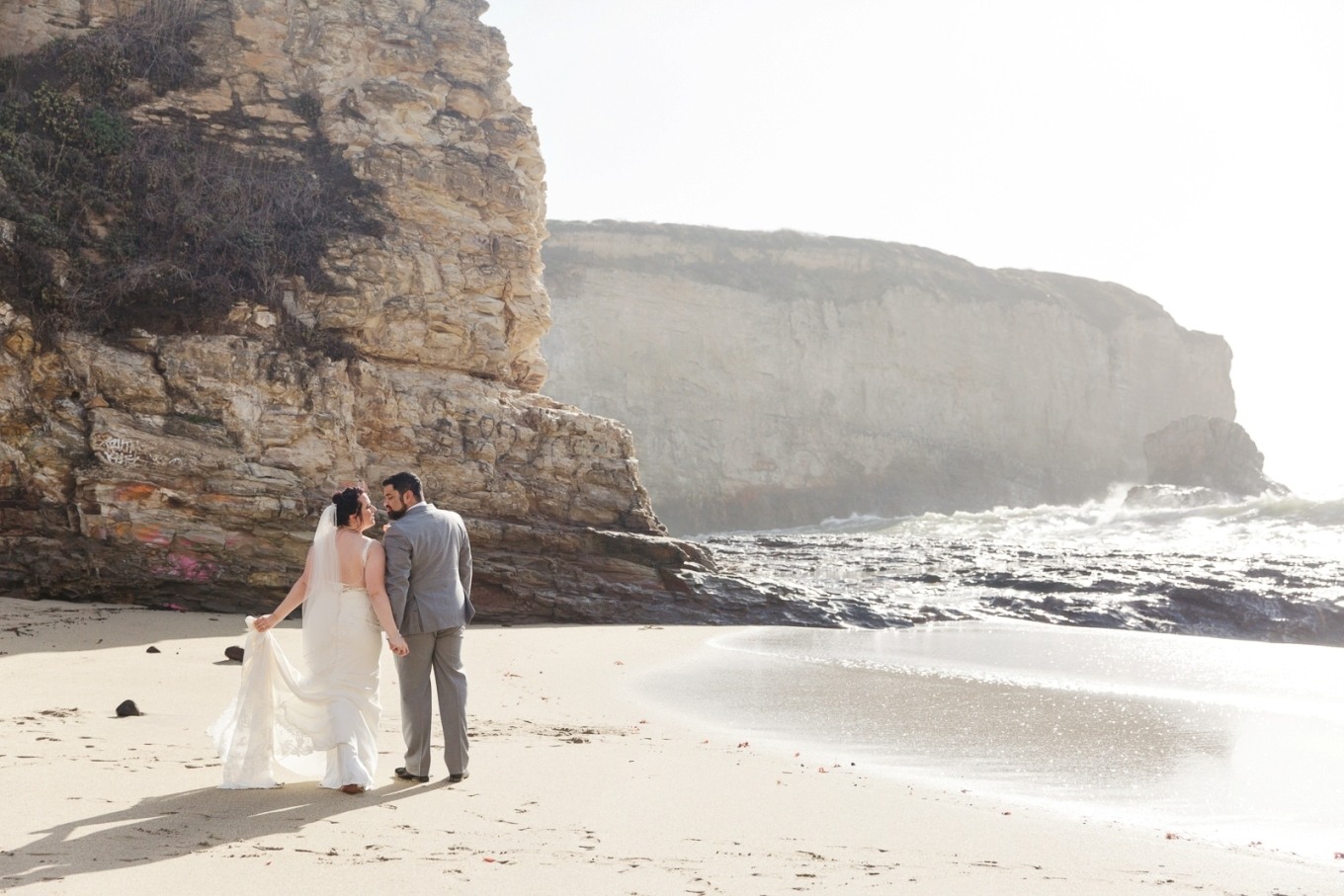 In their own words…
Why did you choose an intimate wedding? We wanted something that focused on us and our love for one another. Thinking of planning a big wedding felt like a hassle, or that we were planning it for other people and not ourselves.
What made you select the location you did? The location we got married at actually wasn't our first pick! Only 6 days before our elopement, we got a call that original venue had to close due to COVID-19 restrictions. To say we were devastated is an understatement. But after talking and digesting this information, we agreed that as long as we got married in a beautiful location then we couldn't ask for more. When we saw that the cove was an option, it felt like it was meant to be! We are so happy with the location. It holds such a special place in our hearts. We plan on taking baby announcements and family pictures out there in the future.
What words best describe your wedding day? Magical. It was very special and intimate.  Our wedding day was perfect, fairytale like, and so full of love. It was more than we could have imagined.
What was your favorite part of your wedding day? From Rick: I have two favorite parts; seeing Haley in her wedding dress for the first time and saying "I do."Haley: Saying our vows was incredibly moving for me. It felt almost like a movie! But I also loved being on the beach and taking pictures, trying to dodge incoming waves.
What was the best thing about having an intimate wedding? Rick: The best part is that it was for us. It wasn't us putting our love on display. It was us showing our love for one another. Haley: The best thing for me was really being able to focus on what we wanted to celebrate and focus on as a couple. Our wedding day really was about us. We got to spend quality time together making memories that neither of us will ever forget. Not only together, but with our parents as well.
Any advice for other couples planning to elope? Remember that your wedding day is about the celebration of you as a couple. Plan a day that means the most to you both! Stay true to your love for another. Do what feels right for you.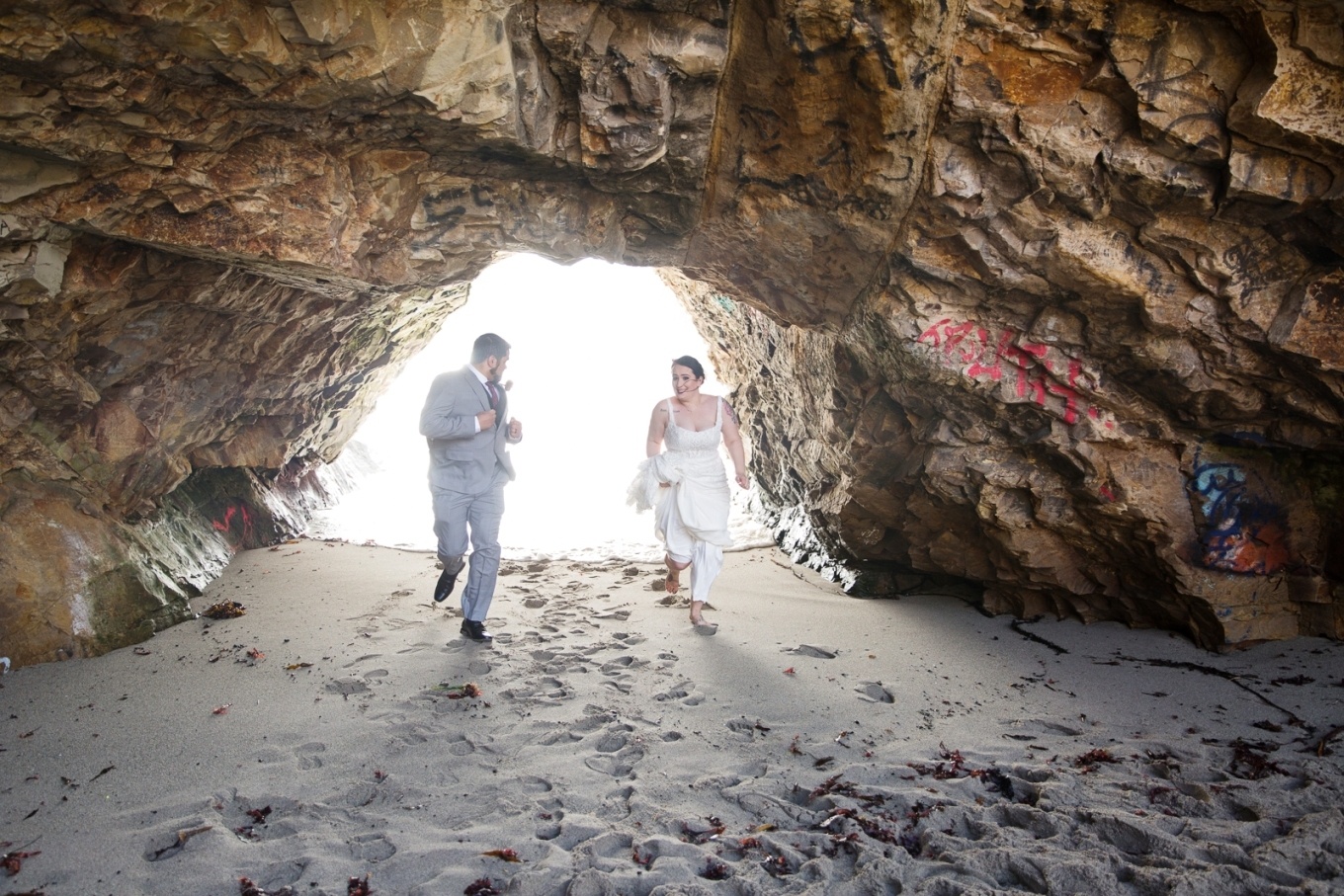 Blue Sky made the process of getting married low stress. We have friends who have gotten married who seemed so stressed the whole day. We feel fortunate that we got to enjoy our entire day. Thank you, Blue Sky Elopements! We couldn't have asked for a better elopement.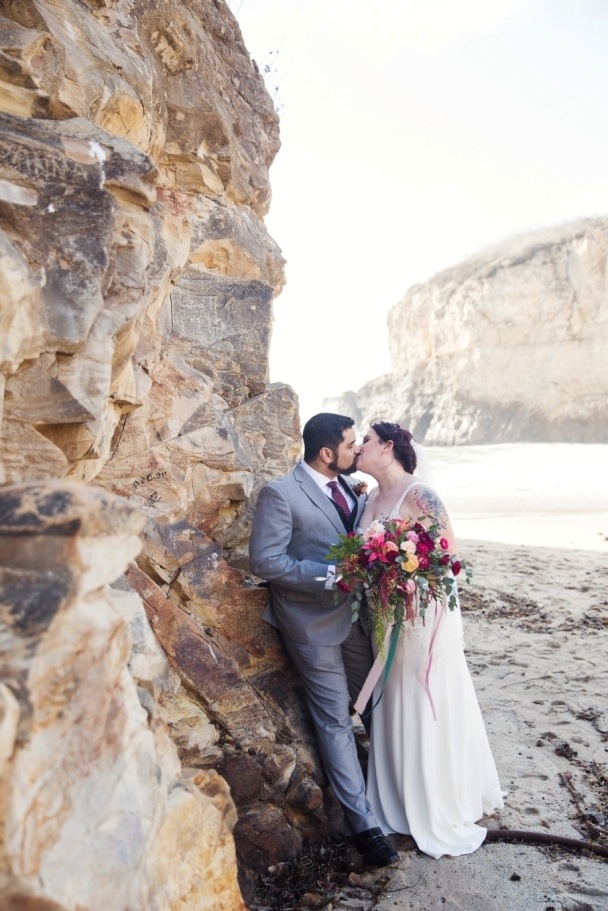 Services included in Rick & Haley's Santa Cruz Cliff Overlook elopement
(More location consutling!!!)
Officiating
Photography