Amber and Jerry Elope on the Beach in California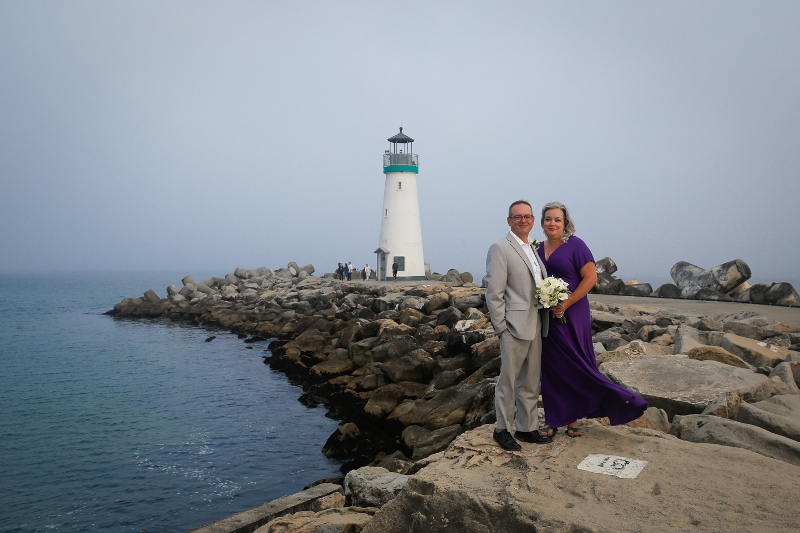 Amber and Jerry knew right from the start that eloping was in the cards for them. When Jerry proposed and a trip to Santa Cruz from their home state of Texas was already in the works, eloping on the beach in California instantly became the way to go.
And they never looked back!
Amber told me that she and Jerry clicked "from Day One" when they met in 2012. And their plan for a just-the-two-of-them wedding was also an instantly agreed-upon decision. They kept it simple–with a short and sweet ceremony, a bouquet and boutonniere, some photos and a post-ceremony "reception" composed of a gourmet picnic, Champagne and an ocean-side fire that our photographer helped them build before leaving the newlyweds themselves.
Oh yeah–and as if you can't tell by these photos–Amber rocked it in a gorgeous purple dress that was perfect for their casual wedding.
In Amber's own words:
Why did you choose to have an intimate wedding?
"From the second Jerry asked me to marry him, we were ready to make it official. One thing really important to me was not adding stress to our lives because of a wedding. I wanted it to be about us and only us."
What words best describe your wedding day?
"Exciting, relaxing, romantic, adventurous, joyous, seamless, surreal, serene, unforgettable."
What was your favorite thing?​
"Our most memorable moment was after all the excitement had calmed down, we sat beside a giant fire on the beach (that our photographer helped my husband build before he left) and had a gourmet picnic and Champagne and basked in all the happiness we were feeling."
What was the best thing about having an intimate wedding?​
"The best thing about eloping was not having to worry about silly details and being relaxed all day."
Any words of wisdom for couples thinking about planning an intimate wedding?
"Go for it. It's not about pleasing other people. It's about you as a couple, as a team."
How happy were you with the services provided by Blue Sky Elopements?
""Extremely happy with how everything worked out just as it was promised."