A Horseback Wedding on the Beach for Lori and Peter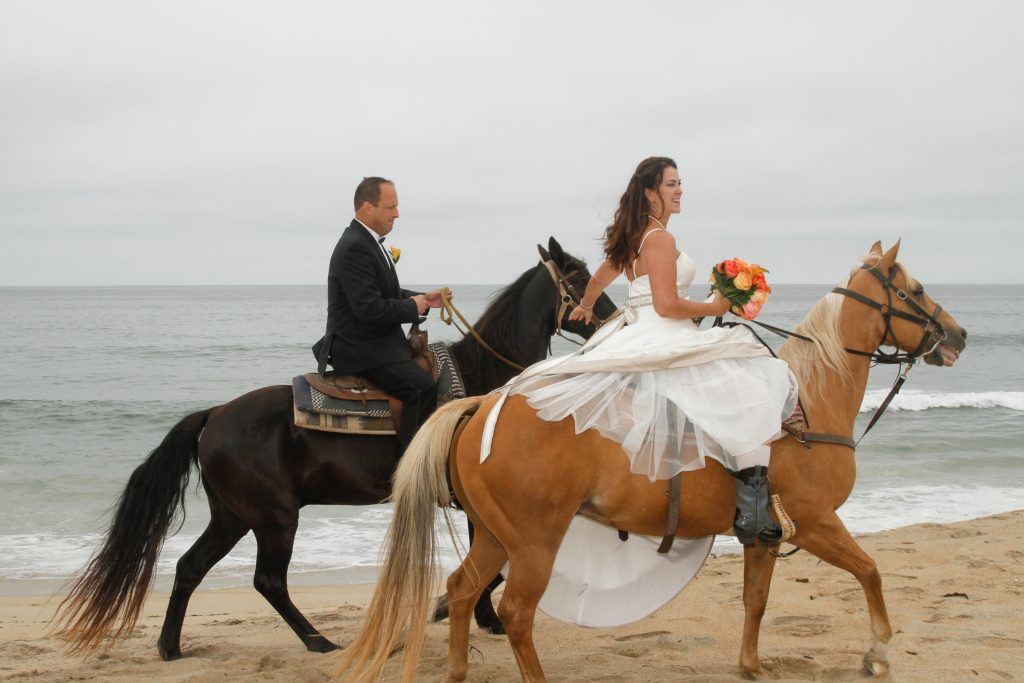 Peter and Lori contacted me for help planning a small, very short notice wedding with two important requests: they wanted a specific, rapidly-approaching date, and they wanted horses.. I took on the challenge and the result was gorgeous!
Peter and Lori decided to plan a last minute, late-August wedding that so Lori's beloved father would be able to attend. The intimate, family ceremony was an ideal setting to create beautiful memories of their special day.
Horses are a big part of this couple's life, and it made perfect sense for Lori and Peter to ride in to their ceremony on horseback. Lori was thrilled with the horses we rented from a local equestrian center because they looked exactly like two horses she currently owns.  To top that off, the horse that Peter rode on the beach shared the same name of the horse Lori was riding on the day they originally met!  Nothing short of serendipity!
The bride carried a bouquet full of peach, coral, and yellow flowers and wore a stunning white dress trimmed with sand-colored satin.  And peaking out from underneath her train?  Cowboy boots!
It was a beautiful day for Peter and Lori, stress-free and full of joy, surrounded by family.  Even though the wedding was last minute, it came together without a hitch and exceeded their expectations.
"Maureen, you were wonderful in getting everything together and making my day special and stress free! Your follow up was impeccable and you did above and beyond what I needed! Honestly, and I say this to everyone, if I had five years to plan, it would not have turned out better! I would not have changed one thing! Every vendor you organized was absolutely fantastic! Not just good–Fantastic!!"                          -Lori