A Monterey Beach Elopement for Michelle and Brent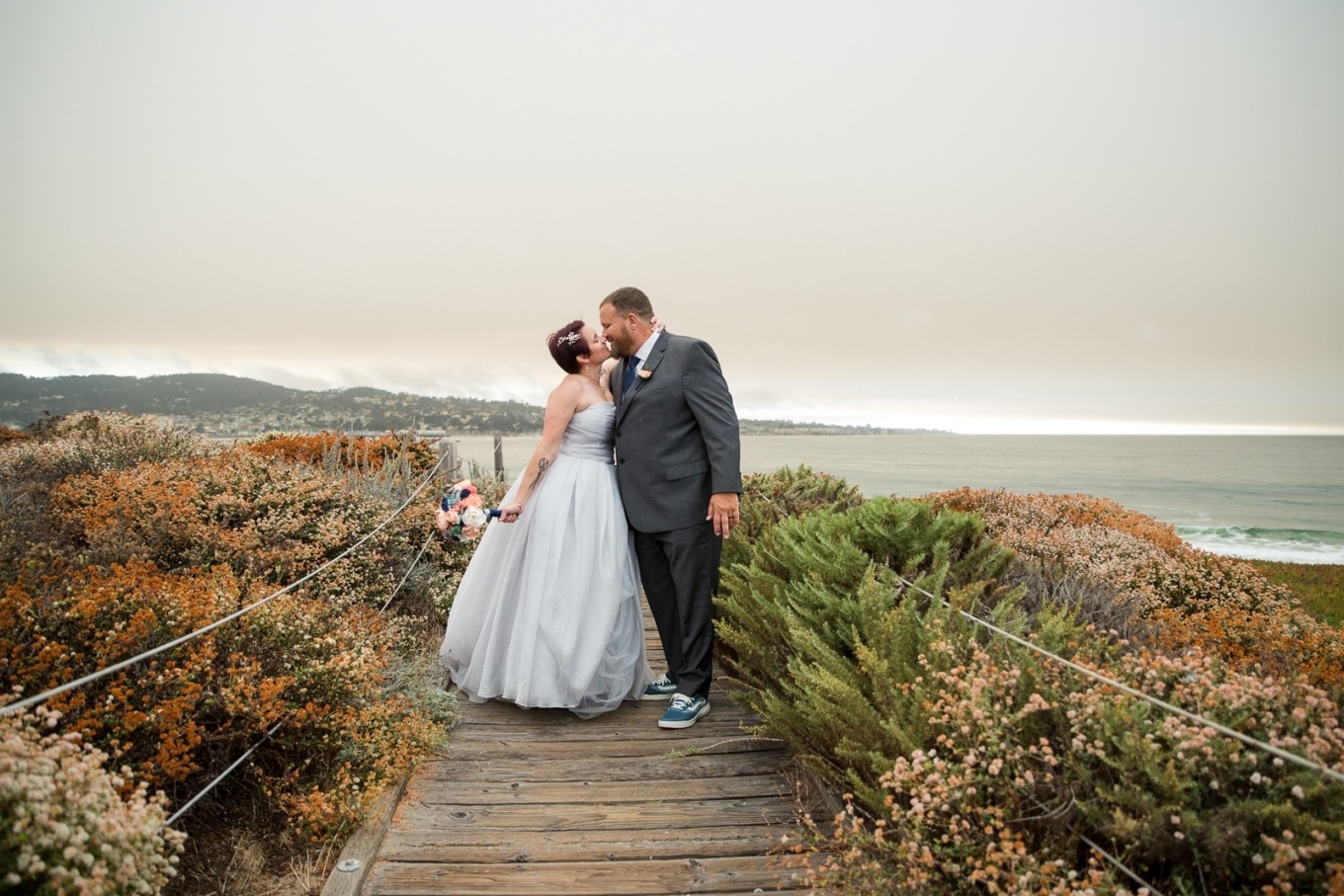 They weren't supposed to elope on the beach in Monterey
A Monterey Beach Elopement was never in the "getting married" plan for Michelle and Brent. They were supposed to get married at an intimate B & B in Rhode Island–which is where Michelle was to graduate from Johnson and Wales University.
But then… you know… Covid. First the graduation was postponed. Then cancelled altogether.
Okay… now what?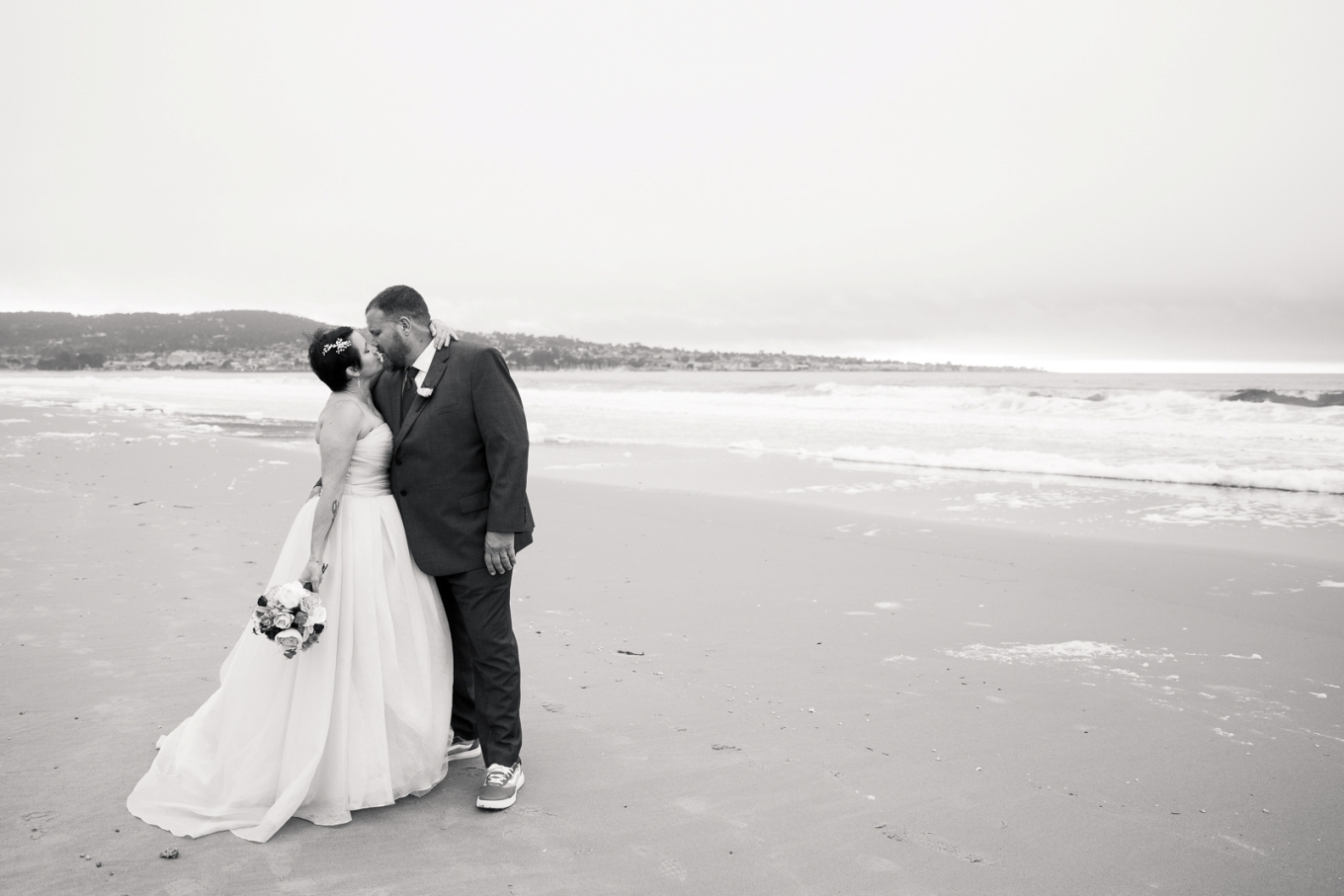 Unflappable, Michelle and Brent decided to elope closer to their home in California. Michelle reached out to us and we began discussing their venue options. It didn't take long for them to choose a gorgeous cliff overlook spot in Big Sur where they could state their vows overlooking the crashing waves of the Pacific.
Ummmm…. yeah… not so much.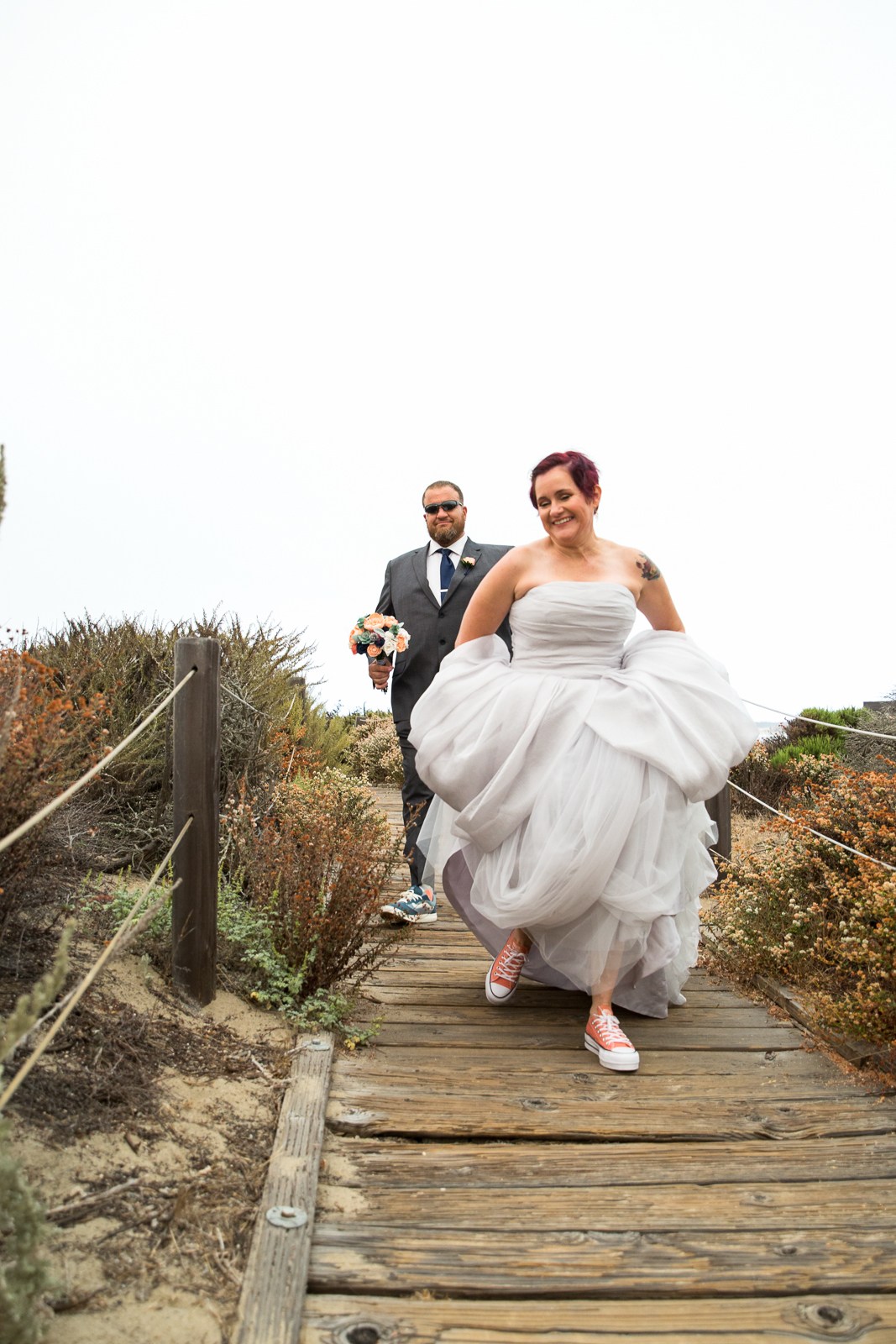 Enter the California Wildfires
The entire wedding planning process went as smooth as silk for these two. Easy peasy. Piece of cake. Nuttin' to it. We held our final consultation call a couple of weeks before the wedding and sent out the day of wedding timeline to Michelle and all the wedding vendors. T's crossed and I's dotted. Full steam ahead.
And then there were wildfires in California. Their cliff overlooking the beach venue was shut down temporarily due to fire danger.
We were not about to cancel this couple's wedding for a third time. With only a few days to go, we contacted Michelle and told her we had to change her location to a different nearby beach that was still opened during the dual crises of a pandemic and wildfires.
I'll be honest, I expected Michelle to be pretty upset with this last minute change. But she handled it like a trooper and put her trust in us to make sure everything played out the way she hoped.
And it did.
There was a bit of haze in the air on the wedding day, but the day otherwise went off without a hitch (finally!).
Michelle and her family arrived at the beach in Monterey early for some pre-ceremony photos.
Brent took one look at Michelle and promptly told her, "you look like a princess" and all of the craziness of repeatedly planning their wedding melted away.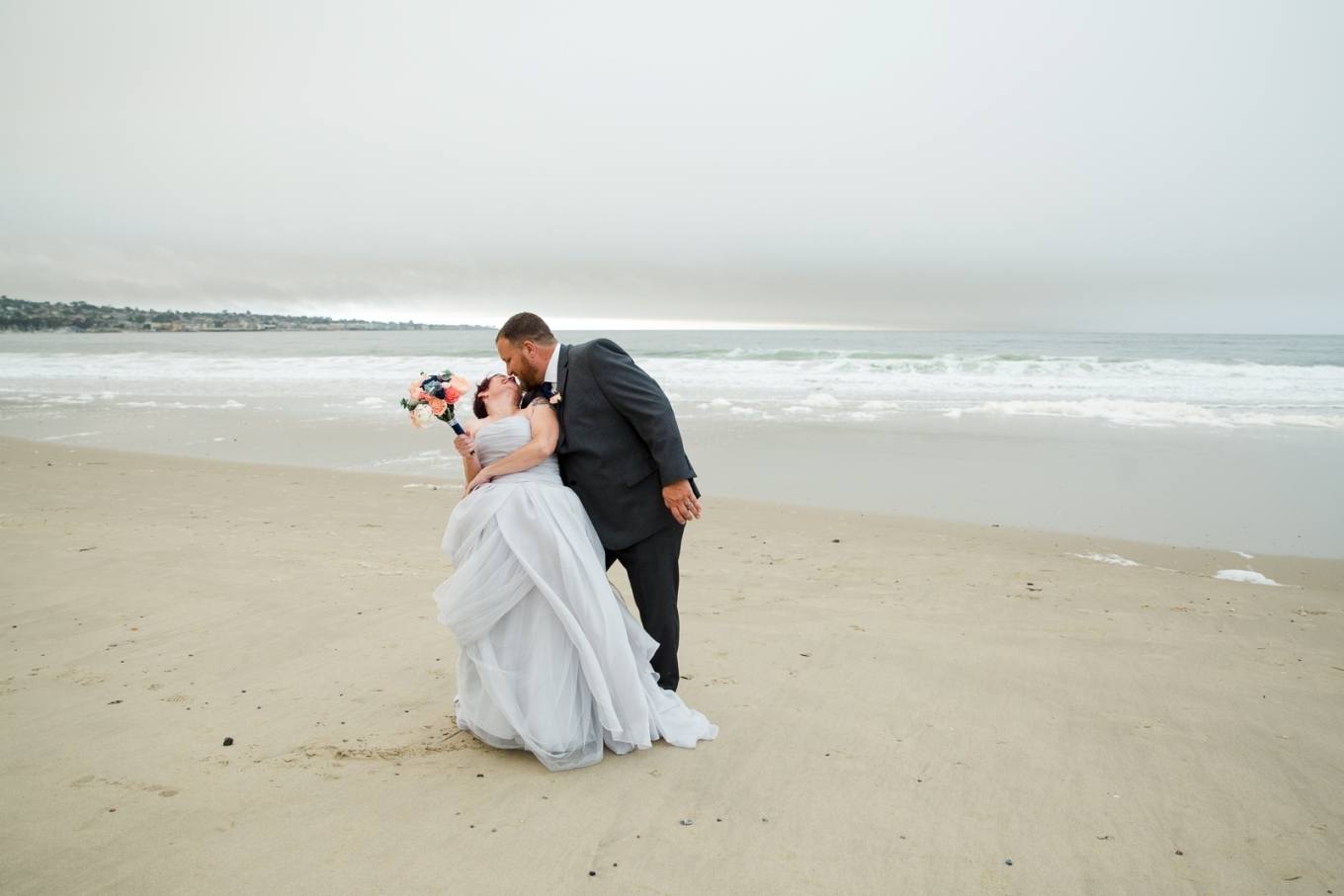 In their own words…
Why did you choose an intimate wedding?
We chose an intimate wedding because we wanted to save money on the ceremony and spend it on a larger reception later on. We also preferred not to exchange vows in front of a bunch of people.
What made you select the location you did? Originally we were supposed to get married in May in Rhode Island the weekend Michelle was graduating from Johnson & Wales University but due to COVID her ceremony was cancelled so we looked closer to home. Michelle is obsessed with the beaches in Northern California and Big Sur area because they have more character than most of the Southern California beaches. We originally chose the Garrapata State Park bluffs but day of the ceremony the park closed due to the wildfires burning nearby. Maureen and her team worked hard to find us a new location and within the hour offered us options. We chose the beach in Monterey and it was absolutely gorgeous and lent itself to so many different photo ops from the boardwalk to the cliff full of desert-y beachy flowers. AMAZING.
What words best describe your wedding day? Words that would describe our wedding day- stress free (except for the wildfires), fun, beautiful, simple but elegant, perfect
What was your favorite part of your wedding day? Our favorite part was being able to relax and just enjoy the day before the ceremony and of course the ceremony itself. It was absolutely a perfect day, even with the venue change.
Did you face any challenges in eloping? Any issues we might have had with people maybe feeling left out because they weren't part of our wedding disappeared when COVID shut the world down so we really didn't have any issues.
What was the best thing about having an intimate wedding? An intimate wedding was so great because we didn't have to worry about anything but remembering the rings/ marriage license and getting to the venue. Everything else was already taken care of so we could really just enjoy ourselves.
Any advice for other couples planning to elope? Eloping saves so much stress and money. Getting married is really about the two of you, so doing an intimate stress free ceremony really allows you to focus on each other.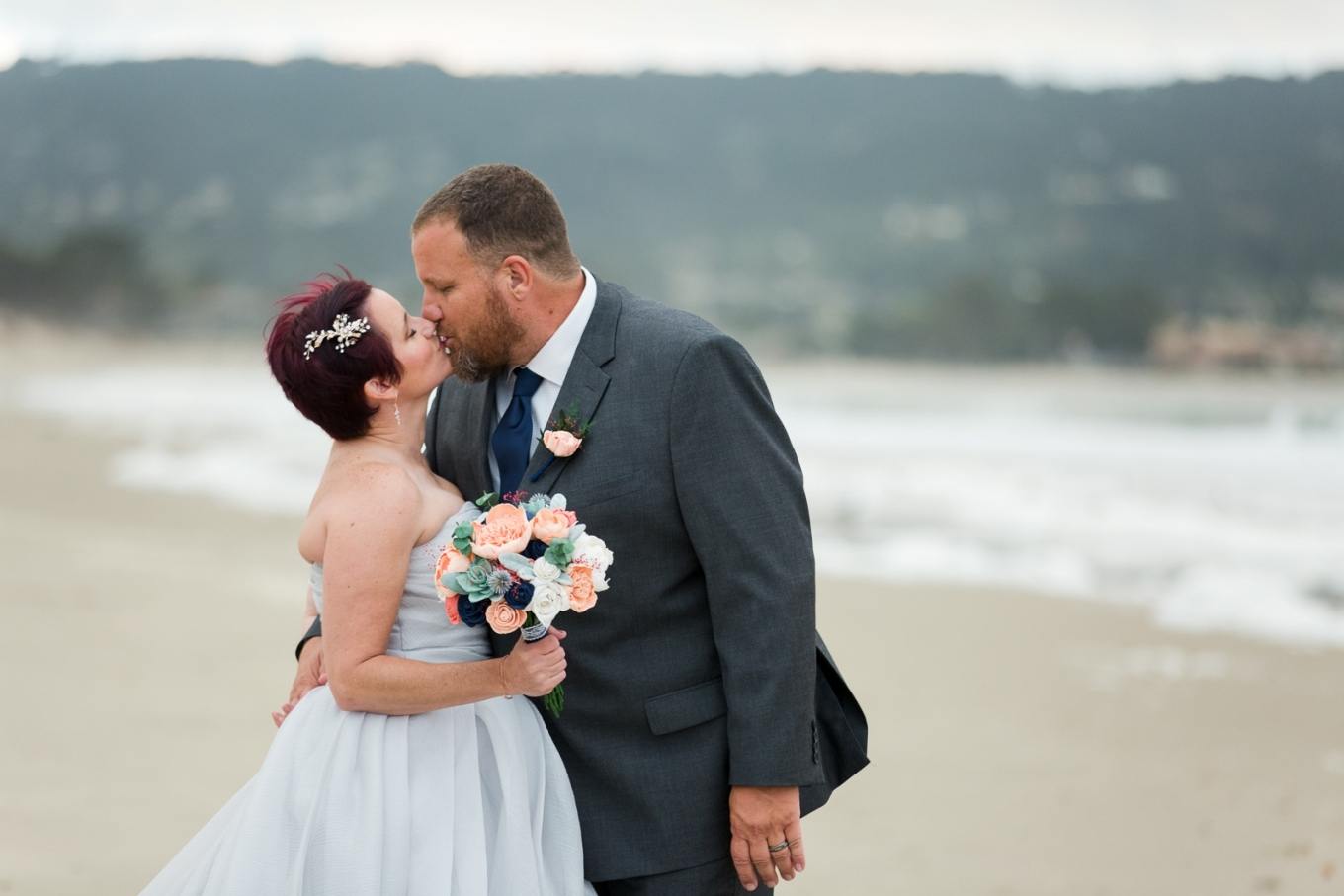 Blue Sky Elopements is fantastic. It made for a stress free wedding day, even with a last minute venue change due to nearby wildfires. The staff is so knowledgeable and organized. The timelines leading up to and including the wedding were very detailed and explained thoroughly. Communication was fantastic. Our officiant and photographer were amazing to work with and really helped to make our elopement so special.
Additional Resources if you're thinking about a California Beach Wedding
Services included in Michelle and Brent's Monterey Beach elopement
Officiating
Photography
Location Consulting