Mike and Christine are Married on the Beach in California
How's this for a love story? Mike and Christine went to high school together, grew up and lived their separate lives…only to connect at their 40th high school reunion where it blossomed into romance!
I just love a happy ending…or in this case…a new beginning
And that's how it came to be that these two were married on the beach in California–in an elegant ceremony-for-two on a picture-perfect day in January. That time of year can be a bit dicey–weather-wise–in central California (and we had a Plan B indoor venue in place) but the day dawned perfectly for the two and their outdoor on-the-beach wedding was a go.
It's clear that their love story was worth the wait! These two are obviously head over heels. Our photographer snapped some private pre-ceremony moments between the two.
Christine was the picture of understated elegance with her simple white dress and white floral bouquet with just a hint of greenery. Then she threw in a hint of whimsical surprise with stunning blue pumps!
And those gloves!! Absolutely love them!!
They choose an intimate wedding because they "wanted it to be all about them and their romance." (A couple after my own heart!) They describe their wedding day as "perfect from sunrise to sunset."
And the best thing (for them) about having an intimate wedding? "No stress/No drama."
Yep! That's what we're all about. Drama with a big huge red X drawn through it!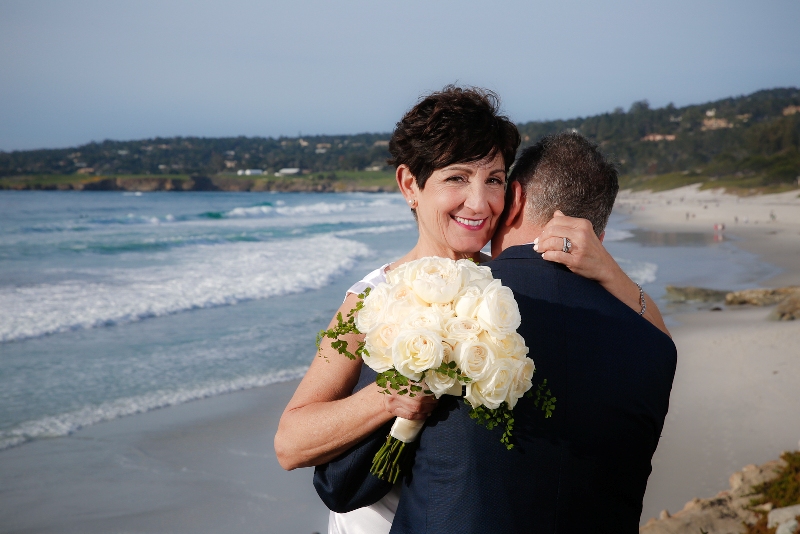 And why did they choose Carmel as their beach wedding destination? Although they'd never been to the area, they'd seen photos and instinctively knew this would be the right backdrop for their "I do's." We just helped them find the right beach.
Their advice for other couples planning to elope: "Save yourself from the hassles and focus on enjoying each other and your time away! It is so worth it!"
And as far as working with us goes, they hit the nail on the head, "Just follow the plan and everything works like a charm."
Congratulations to these two post-high school sweethearts!