Kristen and Kevin Elope on the Beach in Carmel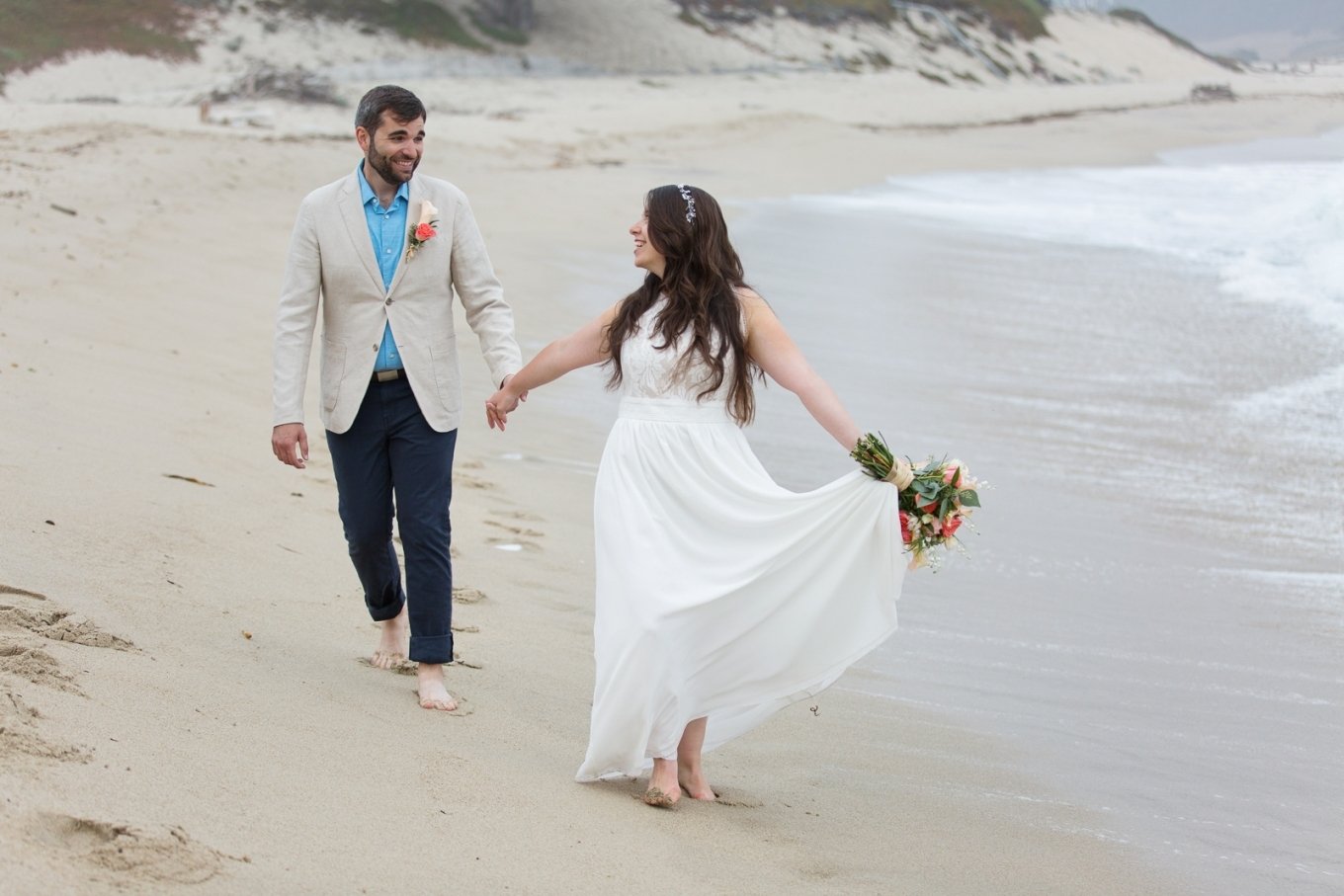 Choosing the Right Beach Location for them was Important
High school sweethearts Kristen and Kevin lead busy lives. Together for 17 years, they knew they would someday marry on the beach. In Kristen's words:
"Even though it took us some time before we decided to plan a wedding, we would talk about what our wedding would be like. Having our wedding on a beach was part of the plan with immediate family, specifically the beach we had in mind was Hatteras beach where Kristen's family vacationed. Kevin joined these family vacations to Hatteras in the summers during college. We both thought it would be a special and relaxing place to celebrate us.
We never put much pressure on ourselves to get married at a certain time in our lives. To be honest, day dreams of planning our wedding became overwhelming when we really started to think of just who would be there. We'd find that our intimate wedding with immediate family became larger when feeling we could not leave out our adopted family (good friends). Also, life has a funny way of distracting you especially since we both decided to go to graduate school to get our PhDs. And a combination of little free time, living in the middle of Pennsylvania (where there are no beaches :P), and limited funds put realistic planning to the side while we still would day dream on occasion.
We were always comfortable knowing that it would happen one day. After graduating (yay!), moving to California (yay!), and getting jobs (yay!) which happened in that order, we found that the frequency at which we both brought up getting married increased. And we were closer to beaches! Of course, we realized we were on the west coast and very far away from Hatteras Beach on the east coast, but we felt California had become a special part of our lives in only a short time.
We picked  our beach site from the large selection of beaches in Blue Sky Elopement's list of venue options thinking we wanted to get married in Monterey. We thought the cove looked intimate and cozy from pictures and descriptions and we were SO happy with our decision. Our first visit to the beach was our wedding day, and it was a perfect and comforting surprise!"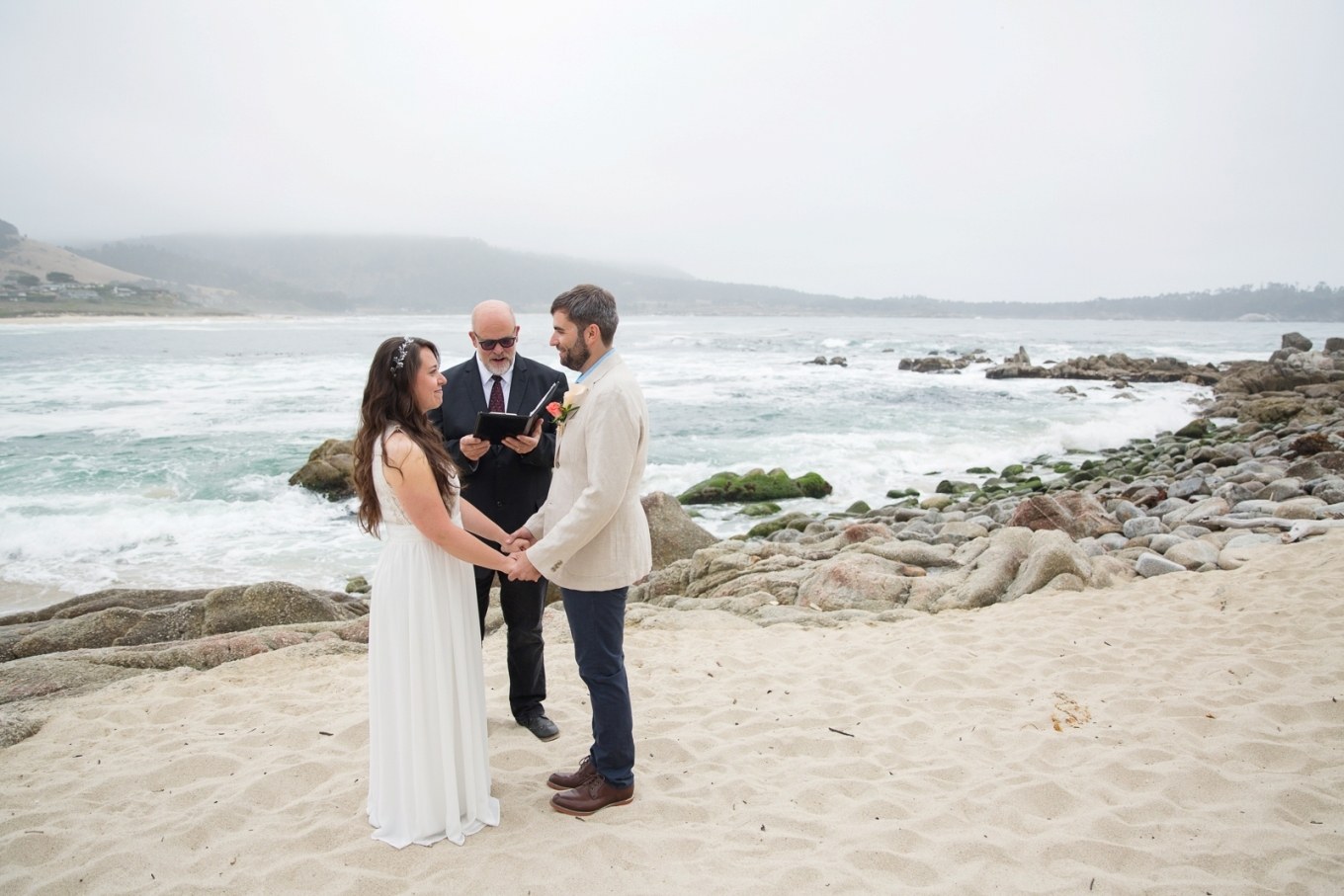 Keeping it Simple
They kept things simple–opting for just the the two of them on the beach in Carmel, with a gorgeous bouquet in shades of peach and coral for her and a coordinating boutonniere for him. Kristen did her own hair and makeup and their ceremony was relaxed and fun.
Their August wedding day was overcast, which gave our photographer excellent light for photos and these two just went with it. Kristen told me after the wedding, "We absolutely had a blast with the photographer. It was our first time doing a photo session with a photographer and we had tons of fun! She made us feel comfortable as she guided us through our time together. Her energy and enthusiasm was infectious. We really feel she helped our day feel special and we are so happy with the photos."
Their Carmel Beach Elopement Photo Shoot
The beach they chose in Carmel for their elopement is one of my favorites as its sheltered from the wind and offers a variety of backdrops for photos, including rocky outcroppings and a gorgeous staircase.
It's also not as well known as some other Carmel beaches. (And we're all about finding the most secluded places to elope.)
Throw in a couple that's willing to kick off their shoes and forget the photographer is following them and you've got the recipe for perfect beach wedding photos.
Kristen & Kevin's Carmel Beach Elopement: in their own words
Why did you choose an intimate wedding? ​​We always knew we wanted to have a small wedding. Our main thoughts were always that we did not want to end up spending a ton of money on just one day. We knew that whatever we decided to do, that it would be a day we'd remember and still be special to us no matter what.
What words best describe your wedding day? Exciting, fun, and relaxing.
What was your favorite part of your wedding day? Picking a favorite part of our wedding day is very difficult to do because the entire day was great. Standing in the sand on the beach and listening to the sound of the ocean while getting married and having fun during our photo session was pretty incredible! The entire day was unforgettable!
Did you face any challenges in eloping? We did not face any challenges. Blue Sky Elopement made it easy. And it was so great working with people that love what they do. On a personal side, it was important to us to give the news in person or over the phone to our immediate family and friends prior to our day. We did decide in the end that we wanted it to be just us (with the officiate and photographer). But I would not really describe this as a challenge, but it helped us feel like our family and friends were with us on that day from a far.
What was the best thing about having an intimate wedding? The best part for us about having an intimate wedding is that it really felt like we were celebrating each other. Even though we never put pressure on ourselves to get married at a certain time in our lives, our timing felt right and the way we decided to do it felt right. It really did feel like we were celebrating not only us, but just how far we had come. And we really could not have done it without the help of Blue Sky!
Any advice for other couples planning to elope? ​Have fun with it and enjoy the process.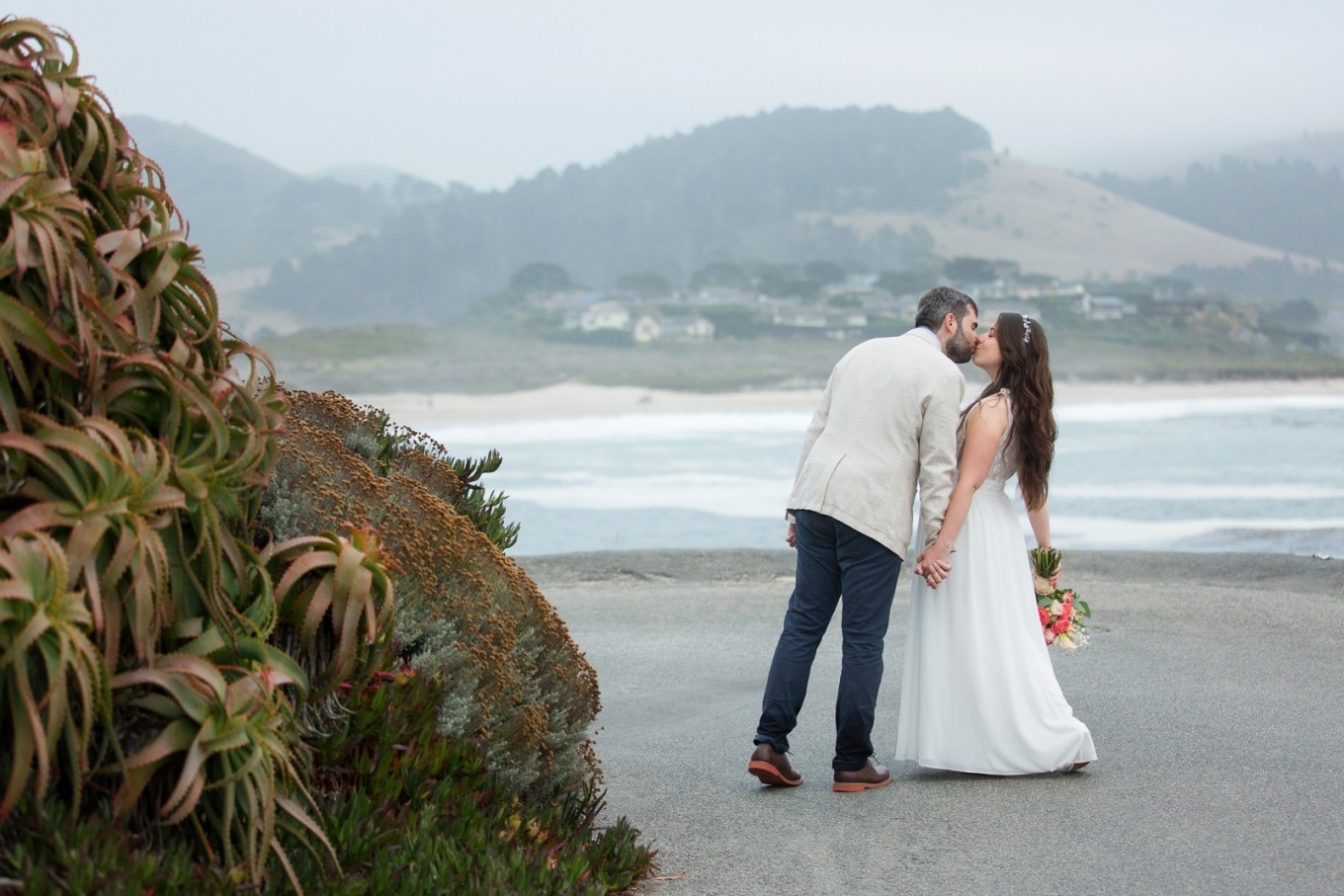 Thank you for making our day great! We interacted with Maureen, Jeremy, and our coordinator Kristin. Both were warm and willing to answer all our questions. Kristin was just a phone call or text away on our day if we needed anything. She even sent us a sweet message on the day and kept us updated on vendor arrivals.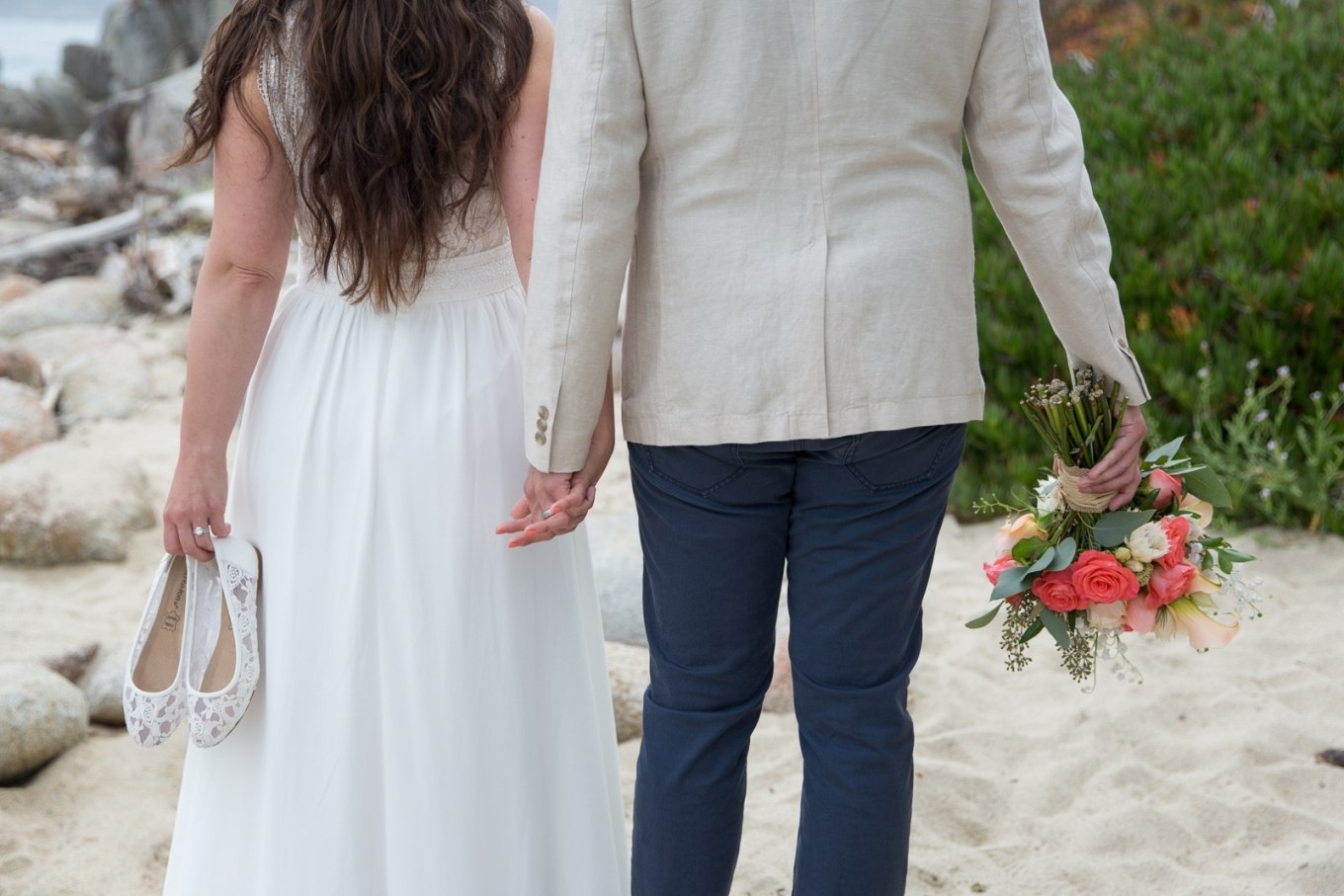 Services included in Kristen and Kevin's Elopement on the Beach in Carmel
Location Consulting​State of California beach wedding permitOfficiatingPhotographyBouquet/BoutonniereCoordination