Questions we get about Eloping in Colorado in Winter

Eloping in the winter in Colorado is very different than a summer elopement
We work with lots of couples that prefer to elope in the snow in Colorado. Blue Sky Elopements' owners Maureen (that's me!) and Jeremy were married on a snowy December evening back in 2007 so there's a special place in our hearts for those intrepid souls that want to get married in Colorado in the winter.
Questions about eloping in Colorado in winter
Couples ask us lots of questions about how to elope in Colorado in the winter, so I thought I'd take the time to consolidate all the answers in one convenient location. If we missed one, send us an email or just leave a comment in the comment section below.
So, grab your long-johns and a steaming cup of hot cocoa (even if it's summer when you read this–it's important to get into the mood!) and let's dive into it!
Why should I consider a Colorado winter elopement over a warm, sunny day in July?
Ah! Good question! And it has a variety of answers. For one thing, a winter elopement is not for everyone and it may not be for you. If you shiver when the temps go below 60, the thought of driving around in the snow on such a momentous day scares the bejesus out of you, and you're not interested in slogging through a few feet of the white stuff to get to a glorious mountain-backdrop elopement venue, then turn around right now and Google "how to elope in Colorado in the summer." (It's okay… we don't judge… 😊)
But if you're not hesitant about cold and snow and are toying with the idea of a snowy winter elopement, saying "I do" in Colorado in the winter can be a magical experience. There are so many answers to the this question, that I wrote a separate post about it. It's called The Magic of a Winter Wedding in Colorado and you'll find both the benefits and the potential drawbacks about eloping in Colorado in winter over there. Give it a read and then come back to this blog post to get the rest of your questions answered.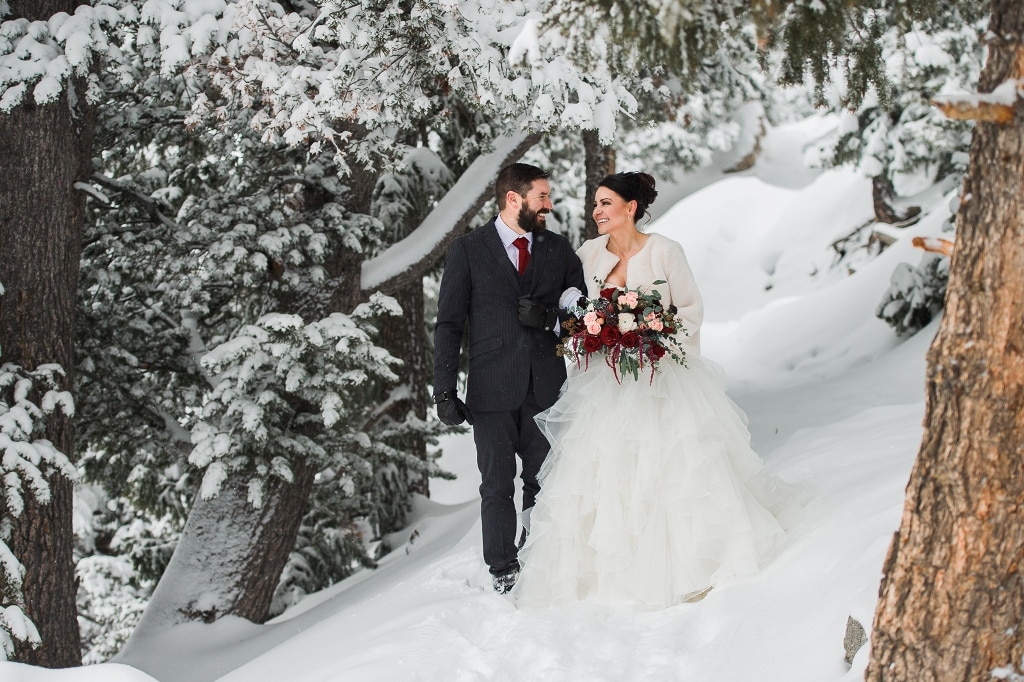 Where is the best place to elope in Colorado in winter?
The best place to have a Colorado winter elopement is going to depend on a number of factors. Where are you coming from? Are you driving or flying into Colorado? How comfortable are you with driving in the snow? Do you have guests or will it be just the two of you? How accessible does your elopement venue need to be? Are you willing to strap on snowshoes in order to get to the most secluded, breathtaking places, or are you okay with giving up some privacy for the sake of convenience?
Clearly, the best place for one couple may not be the best place for another. But here is a general guide: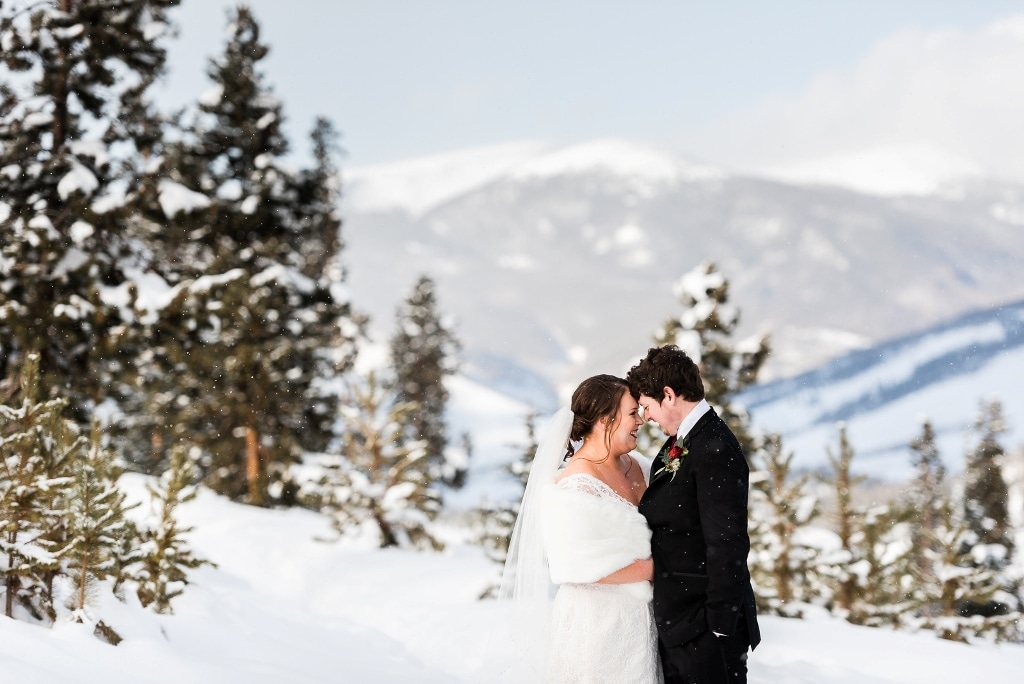 What's the best time of year for a winter elopement in Colorado?
If you want a virtual guarantee of snow on the ground in the Colorado high country, you should be safe with any time between early December and late April. As I mentioned, for areas of lower elevation (i.e. below 9,000 feet) snow is hit or miss.
If you choose to elope in a public place, weekday elopements will always be less crowded. And if you are coming to Colorado in winter to ski, avoid the weeks around Christmas and New Year's Day, as well as spring break weeks (which usually fall in early to mid-March). If a weekend wedding is a must for you, avoid the holiday weekends of Martin Luther King Day in January and Presidents' Day in February.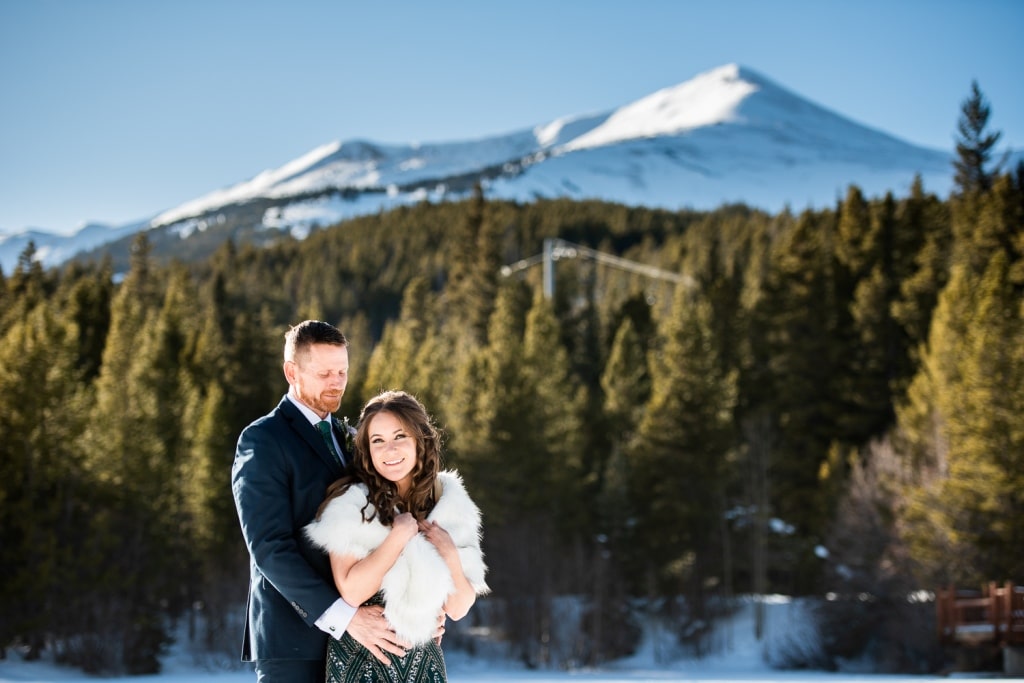 What do we do if it snows on our wedding day?
A snowstorm is a distinct possibility on your wedding day if you chose to elope in Colorado in winter. Couples that anticipate this will most likely avoid a stressful wedding day experience. So, let's tackle that head on. Here's what we recommend:
Assume it will snow on your wedding day and plan to dress accordingly. (I've addressed what to wear for a winter elopement below.) If it's a light to moderate snow, there's no reason the show can't go on as long as you're comfortable outdoors. Snow falling from the sky and sticking to the trees will offer you absolutely gorgeous photos of your wedding.
Discuss the possibility of snow with your photographer prior to the wedding. They will reassure you about what level of snowfall they can accommodate and still capture the best images.
Have an indoor Plan B. In most cases, this will be your lodging. Book a vacation rental home with a gorgeous fireplace or picture window view of trees or mountains. If it's snowing harder than you're comfortable with, you can always pull the ceremony indoors to your cozy quarters. Then, after you're legally wed, you might choose to venture outside with your photographer for some in-the-snow pictures.
Watch the forecast ahead of time. Colorado snowstorms seldom come from out of the blue. If you see something headed your way that will impact you on the wedding day, it's better to plan alternatives a few days before, rather than running around trying to make a last-minute change on the day of your wedding.
Be safe. If you're not comfortable driving in a snowstorm, make alternate travel arrangements. (If you're our client, we'll help you with this.) Arrange for a local car and driver or ask if your officiant or photographer is able to pick you up.
Check on your vendor's rebooking policy if you book a winter elopement in Colorado. Some will be willing to reschedule your elopement to the the next day if a storm torpedoes your original wedding day plans.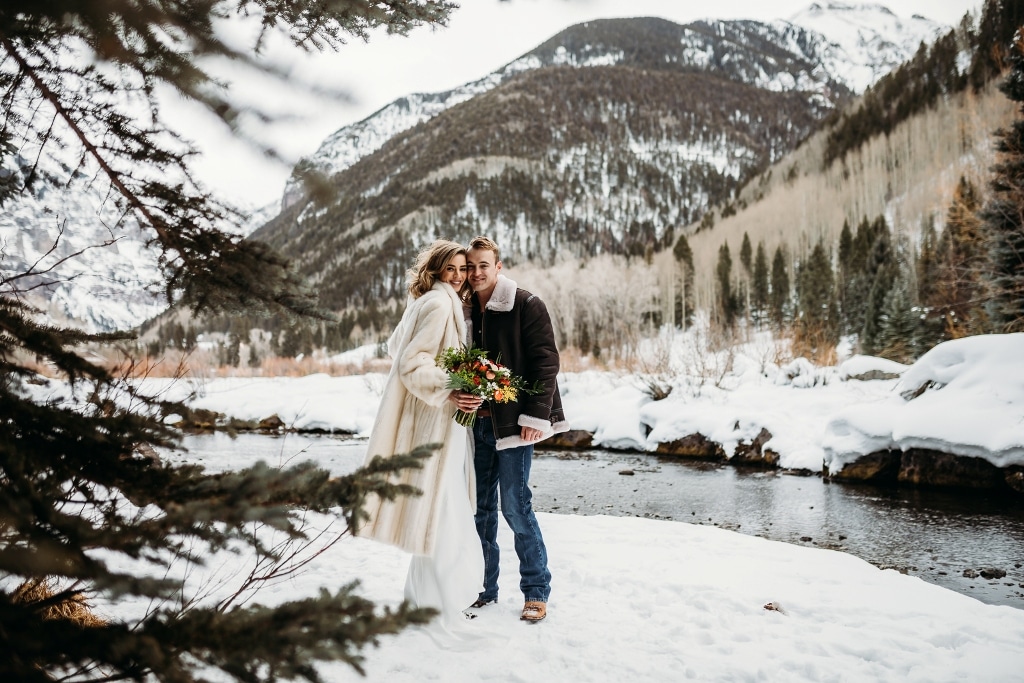 Can we elope on top of a mountain in Colorado in winter?
You can, but you may not want to. Remember that the higher you are in altitude, the colder and windier it's going to be. Given that, it might be better to get married with the mountain behind you rather than underneath your feet. Most mountaintops in Colorado are either going to be inaccessible in winter due to road closures, or they will be associated with local ski resorts. While we do offer elope on the slopes in Colorado, these are only for couples who will be able to ski or snowboard down the mountain. In other words, you shouldn't ride the lift up to the top of the mountain if you plan to simply walk around up there and hold a ceremony. It's dangerous to be walking around in the snow with skiers whizzing by you at every turn. And forget about that option if you have guests.
The best place to get married on top of a mountain in winter is in Telluride. There, we are able to get non-skiers up to the top of the mountain via the Telluride and Mountain Village free gondola. At the top, there is an area away from skiers with gorgeous views of the San Juan Mountains as well as the town of Telluride. Other than that, we'll suggest some elopement venues in Colorado that are easier and safer to access that have glorious mountain views.
What do I wear for a Colorado elopement in winter?
Wearing the proper clothing is the key to being comfortable for your winter elopement in Colorado. The trick is to dress in layers and make sure to keep your feet warm and dry. This means boots under your dress or pants and a warm coat or wrap on top of your finery. You can always shrug it off for a few minutes for a handful of photos. But you'll want to keep it handy for when the chill seeps in. Ladies should plan to wear tights or leggings under their dress–it's amazing how toasty they will keep you and no one will be the wiser.
And no one ever said it's a law that you have to wear a white dress and a tux to get married. Some of our couples have showed up in winter wearing skiwear from top to bottom and they looked adorable! Wear whatever style makes you happy. Just remember it needs to keep you warm.
How much does it cost to elope in Colorado in winter?
A winter elopement in Colorado shouldn't cost you any more or less than a summer one.  As far as total cost, that depends on what services you want and if you want professionals to handle them or you want to try going it alone. Technically speaking, the only cost you have to incur is $30 for the Colorado marriage license. You can self-solemnize your vows if you want. You can also hire amateur photographers for a few hundred dollars if you're not picky about the quality of your wedding photos.
A totally professional service like Blue Sky Colorado Elopements will run you a starting fee of around $3,000 for just the two of you with full coordination, a professional officiant and photography. Prices will increase with guests and number of services. Please visit our Pricing Page for a more details description of fees, or request our Pricing Guide.
What are road conditions like in winter in Colorado? What type of vehicle do I need to rent?
While Colorado state and local governments are quick to clear the roads, (They've had years of practice!) driving in a snowstorm can be hazardous (not to mention scary) if it's not something you're used to. There are also traction laws in effect in the state from September through May about the type of vehicle that can be driven in the mountains.  I wrote a blog post about winter driving conditions and traction laws in Colorado. Please review it, because the folks at the car rental companies will not inform you of these laws and they won't necessarily rent you a car that conforms to them. The short story is that you should rent an SUV with 4WD or AWD.
And speaking of driving in the snow, if I can give you one piece of indispensable advice about hiring vendors for a winter elopement in Colorado, it is this: only hire local vendors. Many vendors will tell you it's not a big deal for them to drive from Denver to Breckenridge (or Estes Park, Crested Butte, etc.) from Denver. And it isn't–in summer. But the interstate closes frequently in winter and no amount of fancy driving is going to get a Denver-based vendor into Breckenridge if I-70 is closed. Hire folks who are based in the town where you'll be eloping. They will be used to mountain driving in the snow and road closures won't impact them from getting to your ceremony.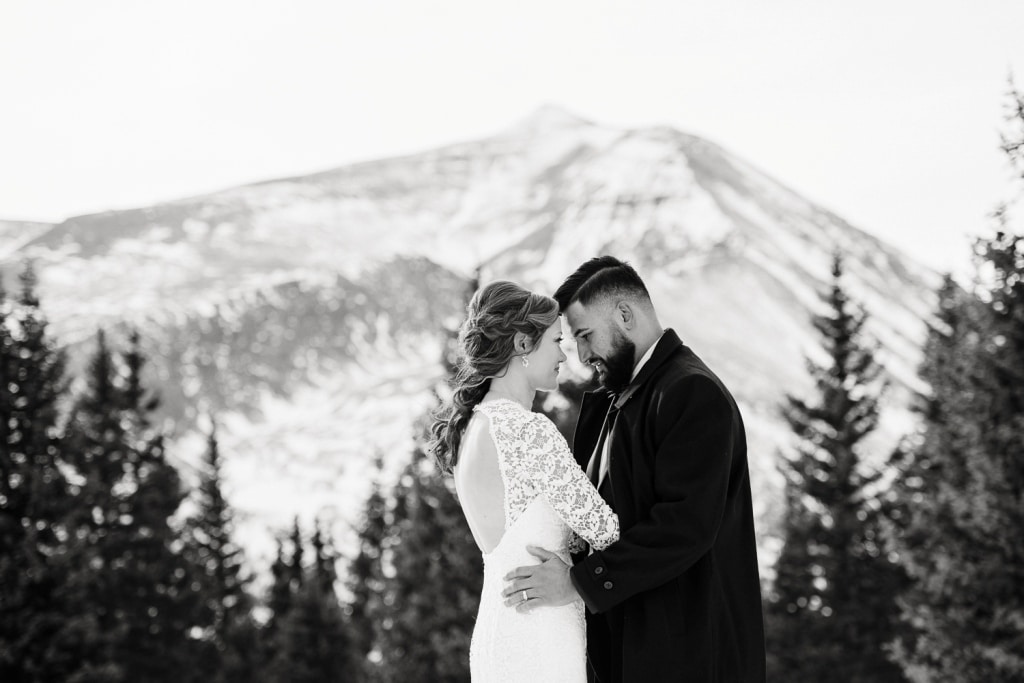 Do I need witnesses to elope in Colorado?
No you do not. Witnesses are not required to sign the marriage license in Colorado.
How do I incorporate elements of winter into my Colorado elopement?
There are so many options to incorporate the outdoors into your elopement to make it a magical winter wonderland experience.
Consider an adventure elopement. We have photographers and officiants who will take you on a guided snowmobile adventure. We'll even provide the snowmobiles, so all you need to do is show up and let us take you to remote locations high in the Rocky Mountains. These are best for 2-person weddings only (i.e. without guests).
Incorporate a horse-drawn carriage ride into your ceremony. We work with a couple of local providers that will provide either a carriage on wheels in which the two of you can ride off down the road into the sunset, or an actual "one horse open sleigh" (okay… I think they actually have two horses pulling them, but you get the drift!) that will take you on a mountain ride, complete with lap robes, hot chocolate and jingle bells.
As I mentioned earlier in this article, consider snowshoes to get you to the more remote locations.
If you're skiers or snowboarders, nothing says Colorado more than our elope on the slopes packages.
Integrate winter flowers into your bouquet/boutonniere. Pine cones, greenery and winter flowers can all be used to play up winter seasonal elements. Our florists will be happy to guide you.
Substitute hot toddies, spiced cider or hot chocolate (spiked or not–your call) for the traditional Champagne toast.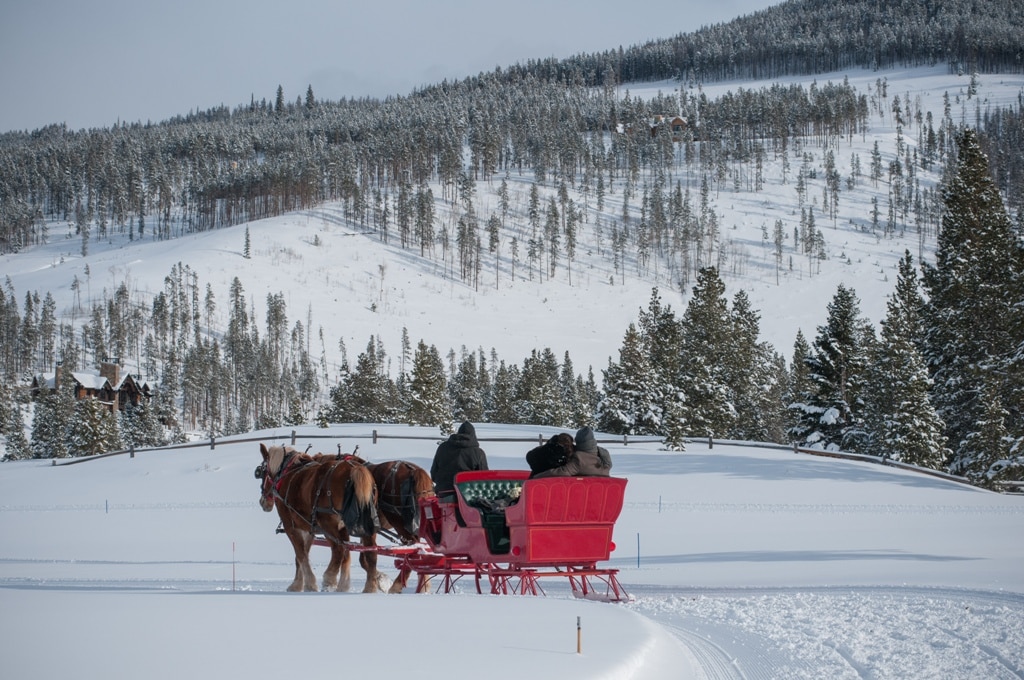 Further resources to help you plan a winter elopement in Colorado
Real wedding inspiration
Please contact us if you're ready to start planning your Colorado winter elopement.