Margot and Mollie: married on the ski slopes in Breckenridge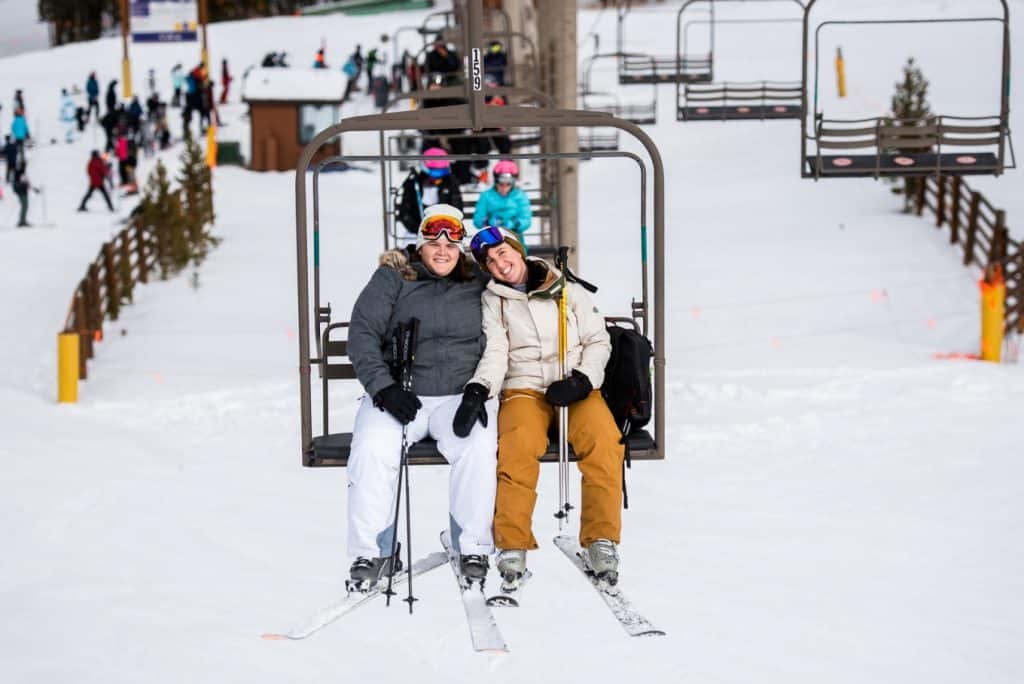 Mollie and Margot hadn't planned to get married on the ski slopes
The plan was for the big wedding–complete with party, friends, family and dancing. But then Covid intervened. And as usual, sometimes what is initially perceived as a negative event can result in a reorganization of priorities and a juggling of plans to the point where the end result works out better than what was planned in the first place.
Such was the case with Margot and Mollie. With Colorado being their adopted home, and skiing being their favorite joint activity, when the pandemic torpedoed their big wedding plans, they quickly pivoted to a Plan B. Maybe they had to keep it small, but that didn't mean they were stuck with a plain Jane courthouse wedding. Not these two! They contacted me about our Elope on the Slopes package and I just knew from the start that working with them was going to be  blast.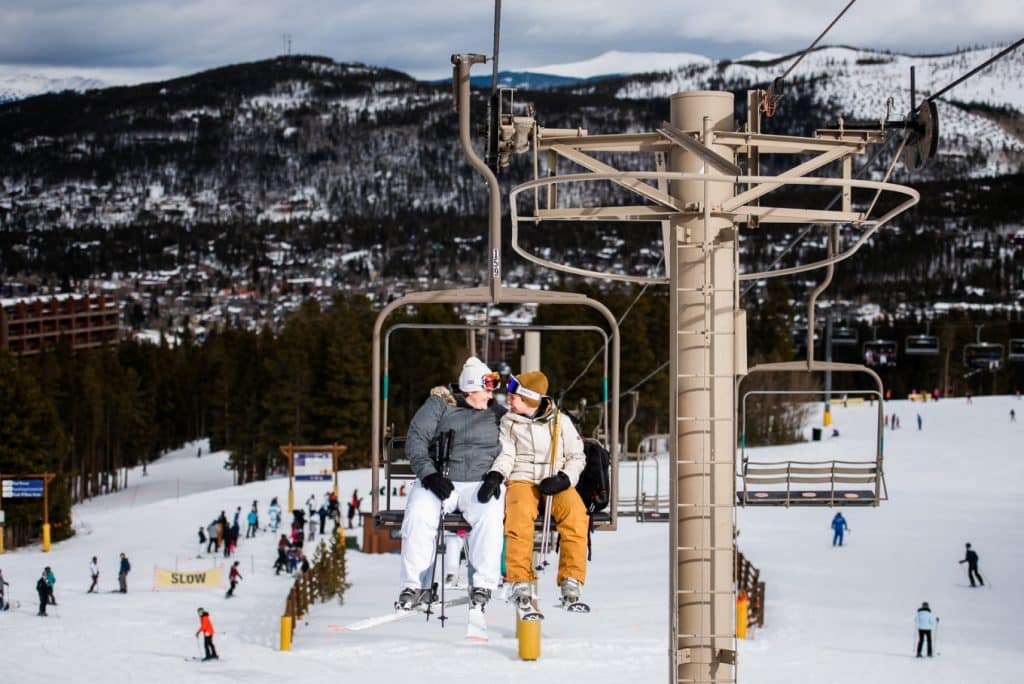 Even with them getting married without guests and outside, there was still some concern that the pandemic was going to throw yet another monkey wrench into the wedding day. Breckenridge Ski Resort was offering only a limited number of lift tickets in an attempt to keep skiers safe. But the resort's reservation system actually worked in our favor and we were able to get them up the lift and on the slopes for an intimate wedding ceremony and photos afterwards.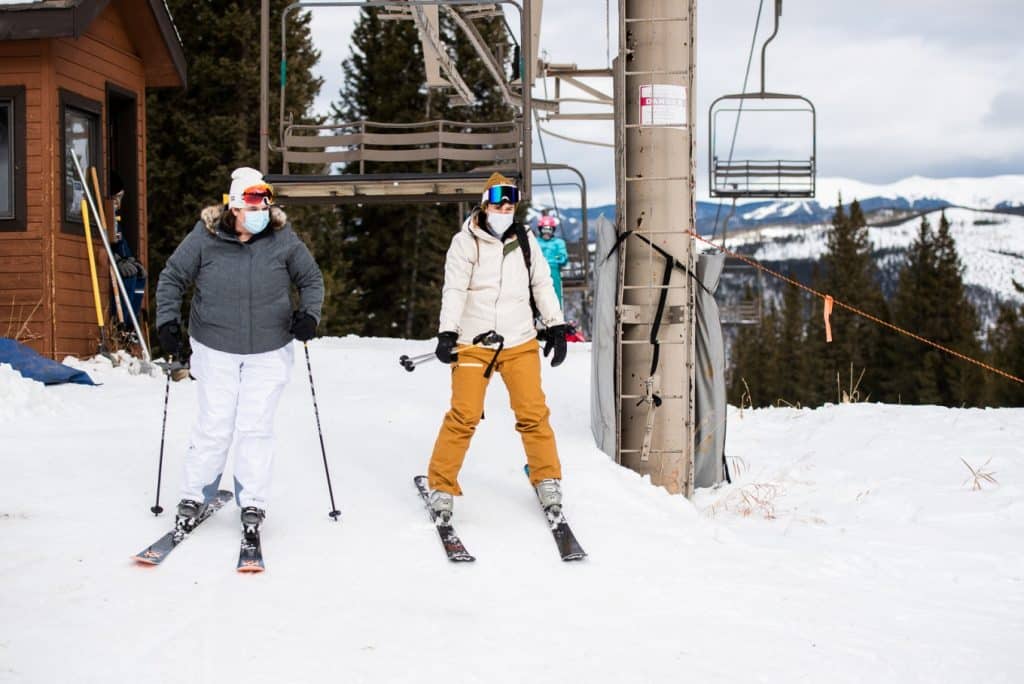 It's not always easy to pull off getting married on a ski slope!
It takes a unique and adventurous couple to successfully pull off a wedding on the ski slopes. You have to be willing to brave the elements, go with the flow, expect the unexpected and… oh yeah… knowing how to ski helps! Mollie and Margot were perfect for this type of adventure elopement. They simply showed up (and yes, they both knew how to ski), expecting to have a wonderful time and let us guide the process for them.
Likewise, it takes a special level of talent to officiate and photograph an elopement on skis. We need to provide vendors that posses a variety of skills. Not only do they need to be proficient in their chosen craft, but they need to be expert skiers and be able to execute the two skills simultaneously. (You just haven't lived until you see one of our Blue Sky photographers leaning over the back of a chair lift to catch a shot of our couple in the chairlift behind them.)
But we've got the perfect and wife photographer/officiant team in Breckenridge and they effortlessly navigated Mollie and Margo to a spot on the mountain with fewer people around. They got to say their vows privately and in full few of a spectacular Rocky Mountain backdrop.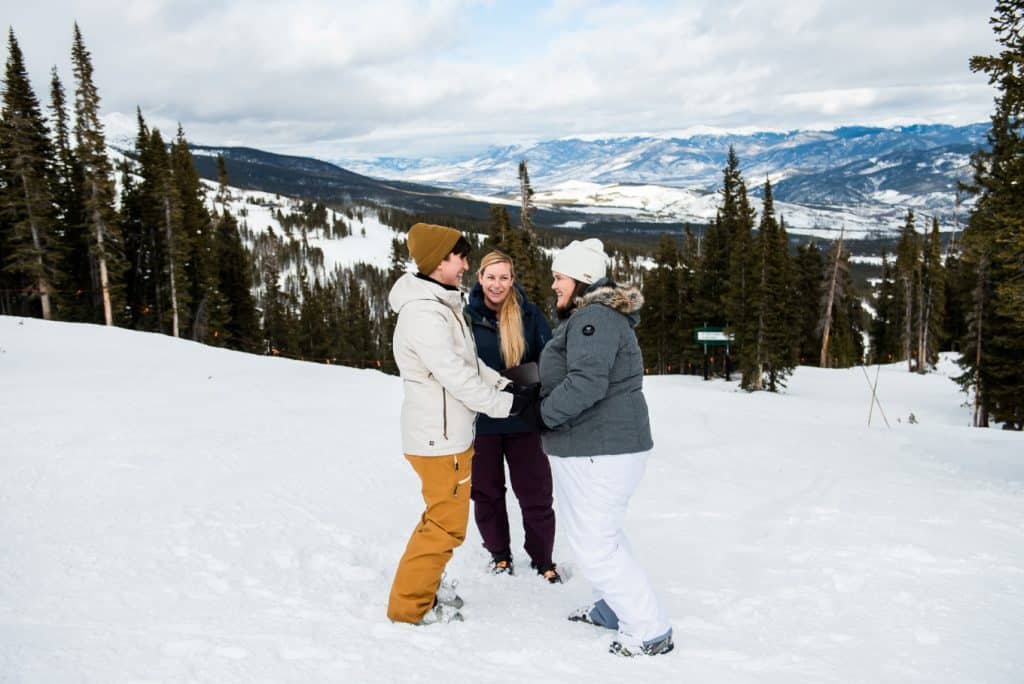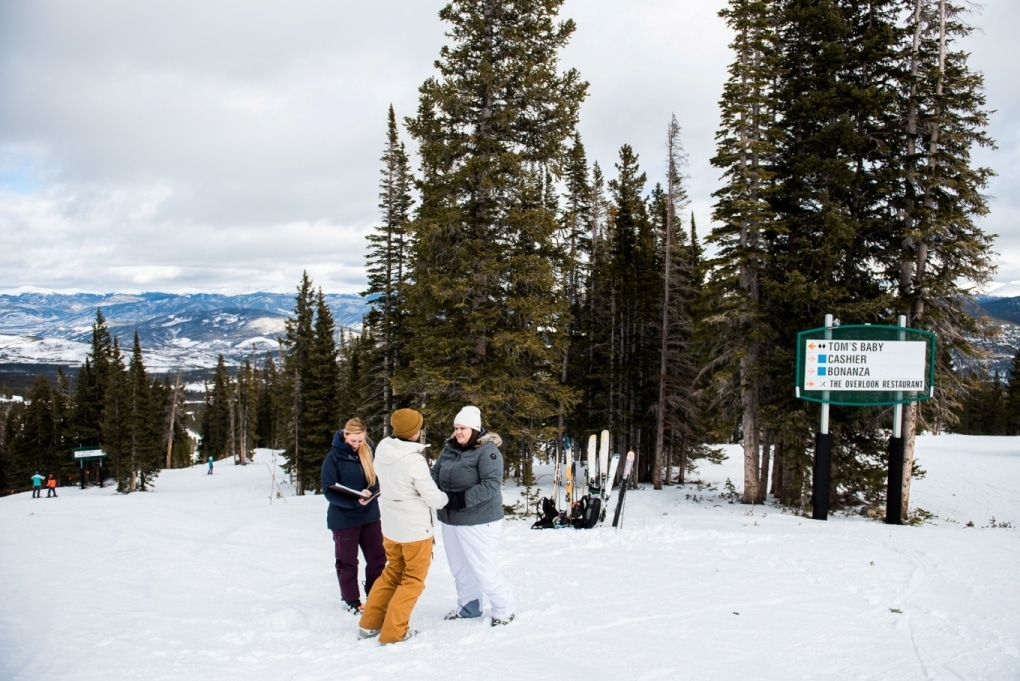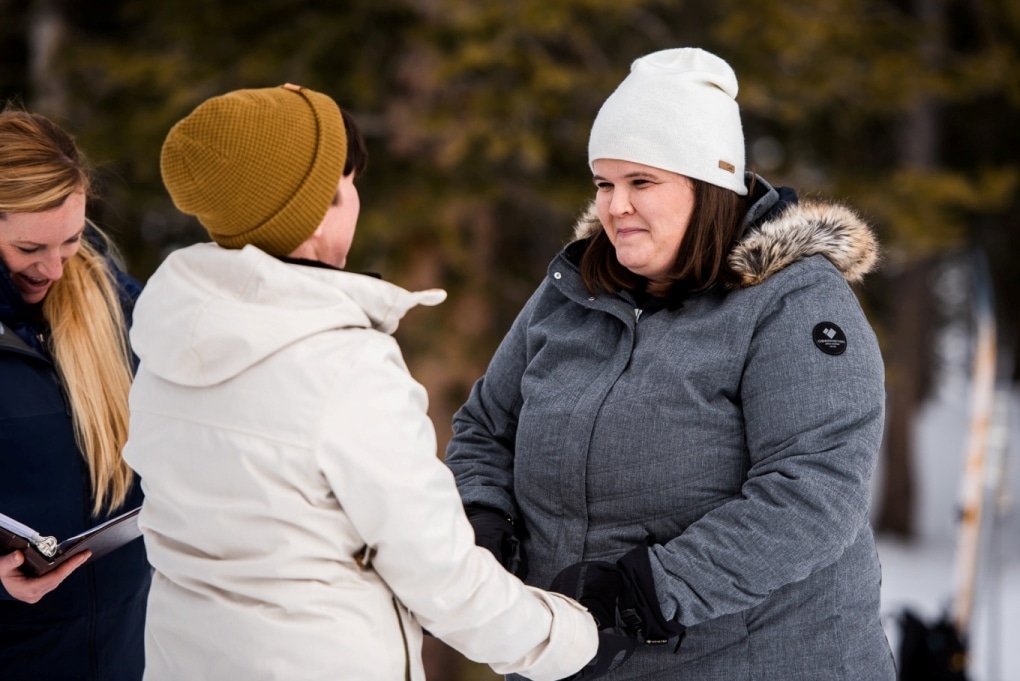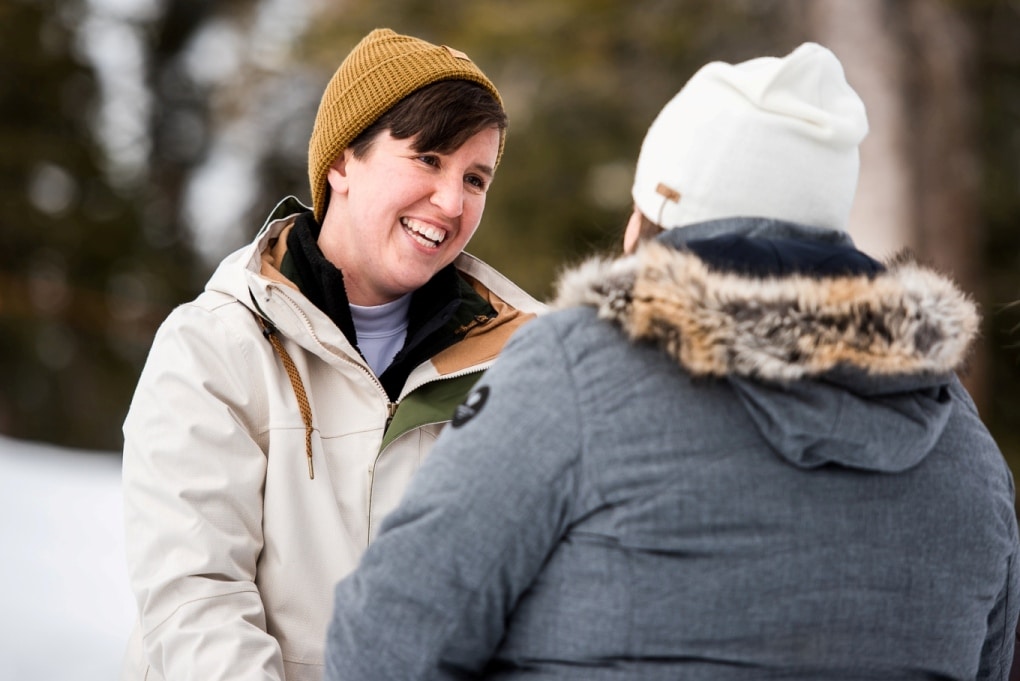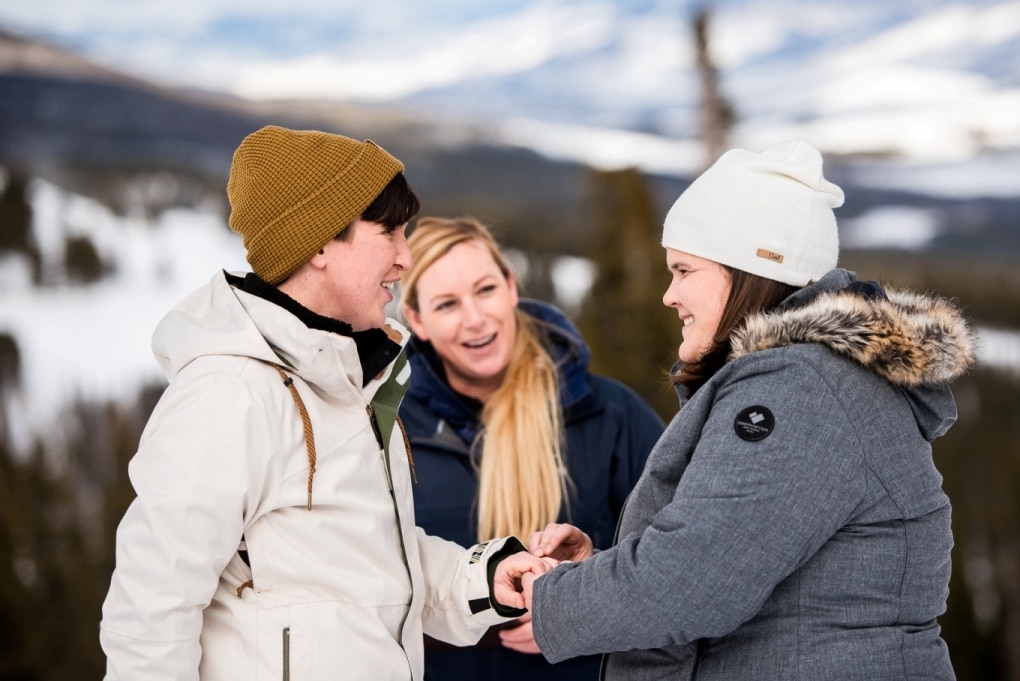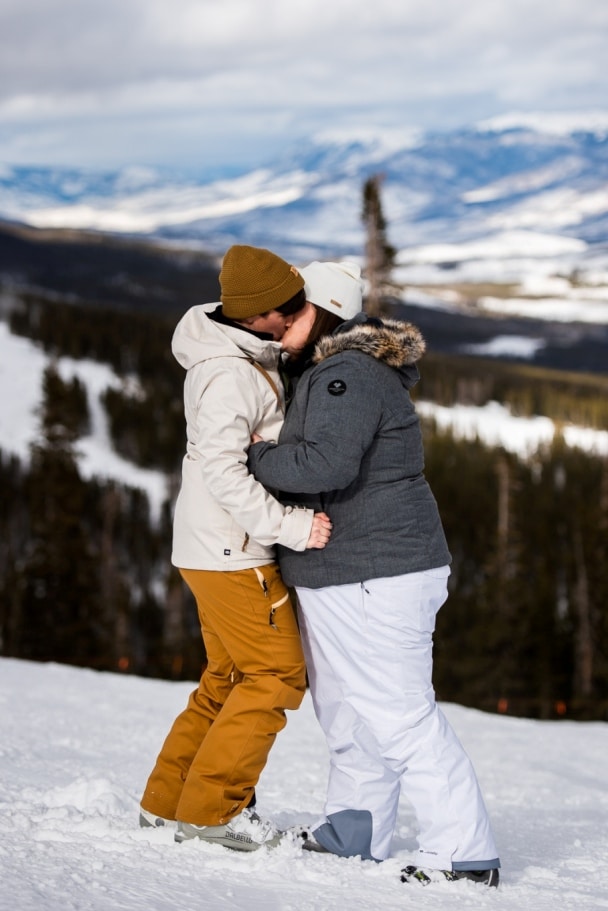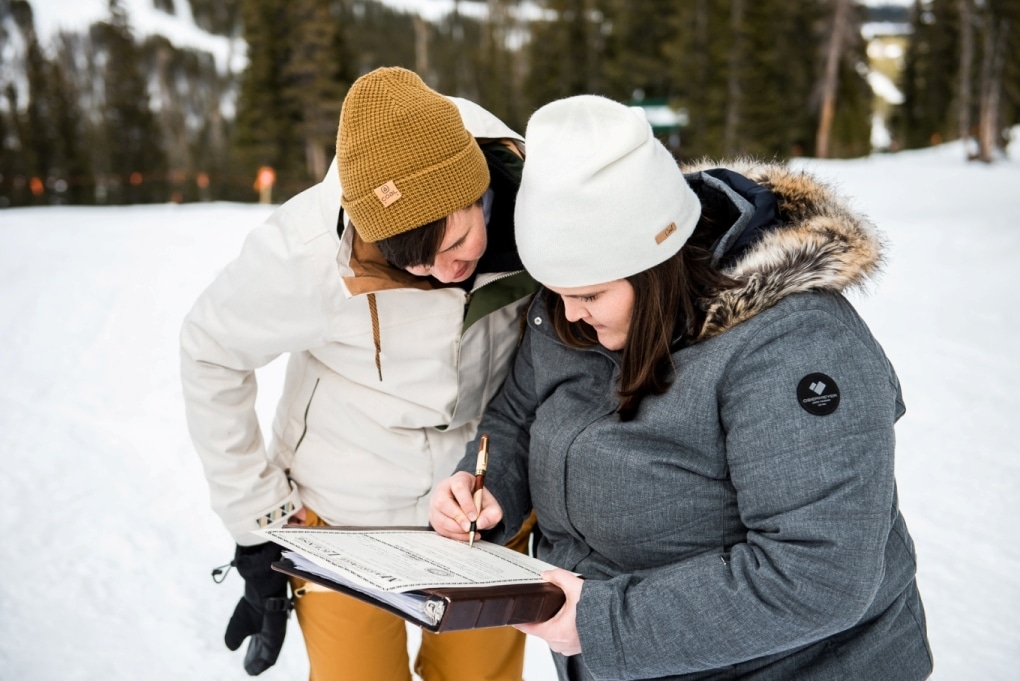 Officially married, it was time for the two to celebrate–Colorado-style.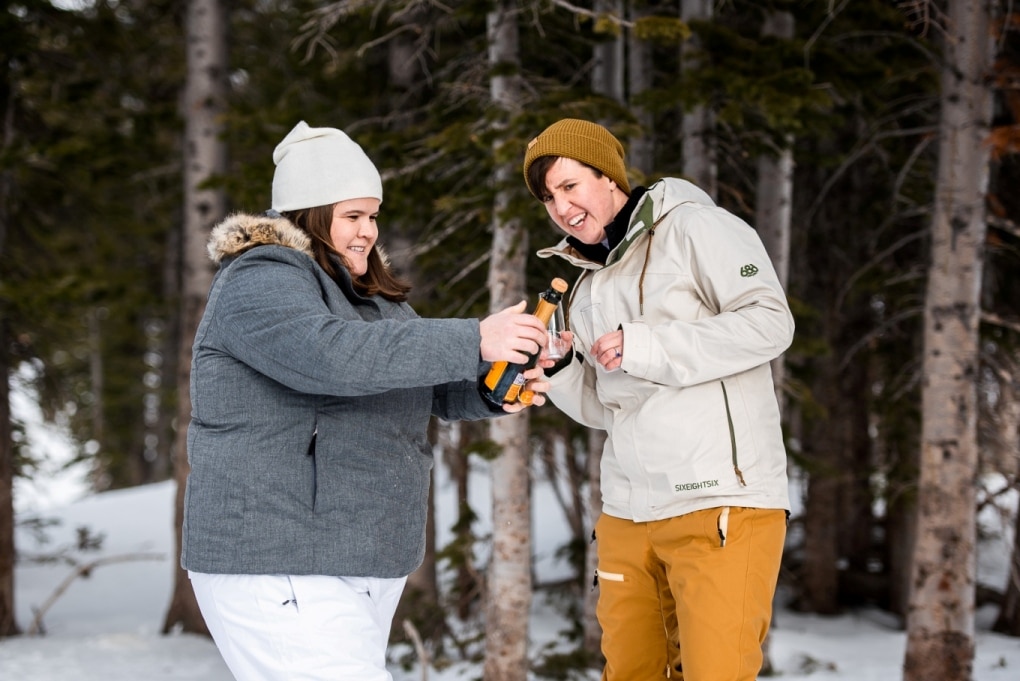 The first item on the agenda was to pop open the bubbly.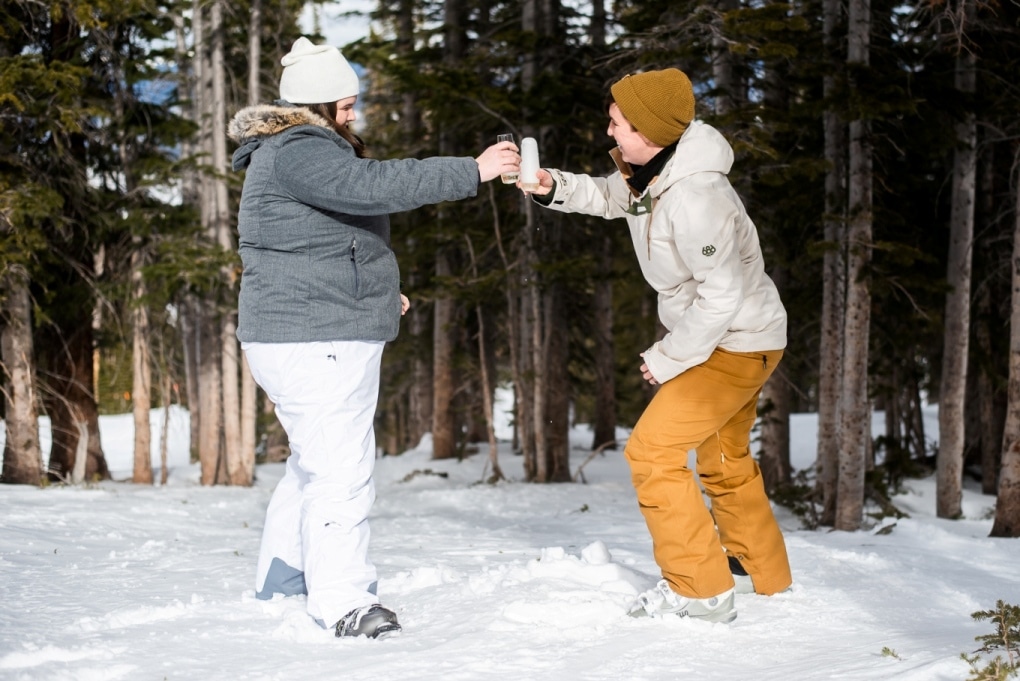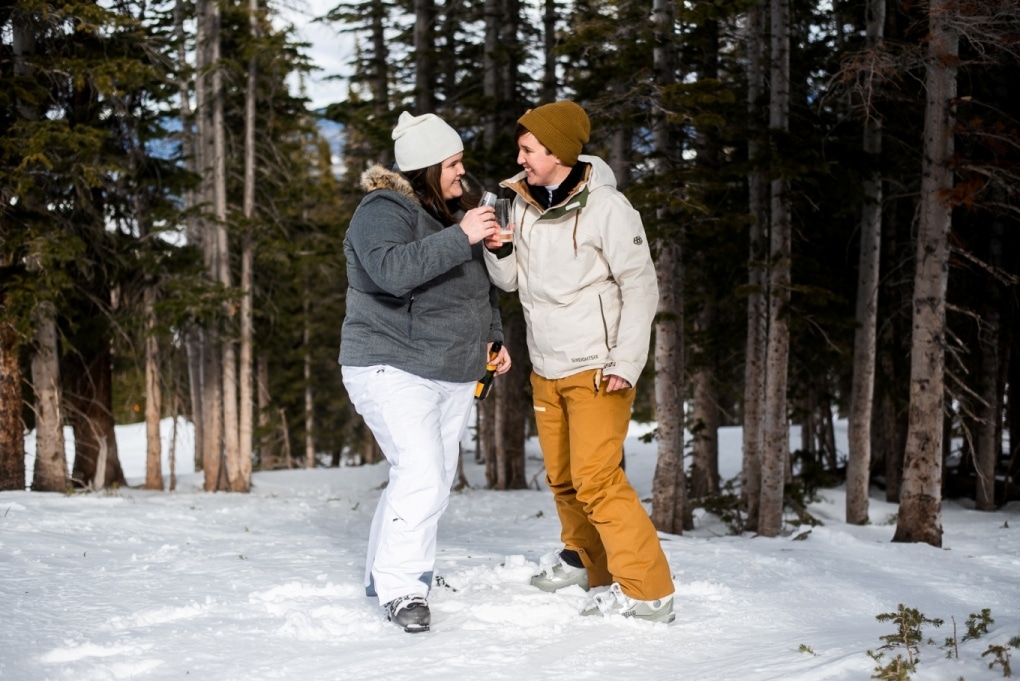 Then we had to allow time for some kissin' on the slopes.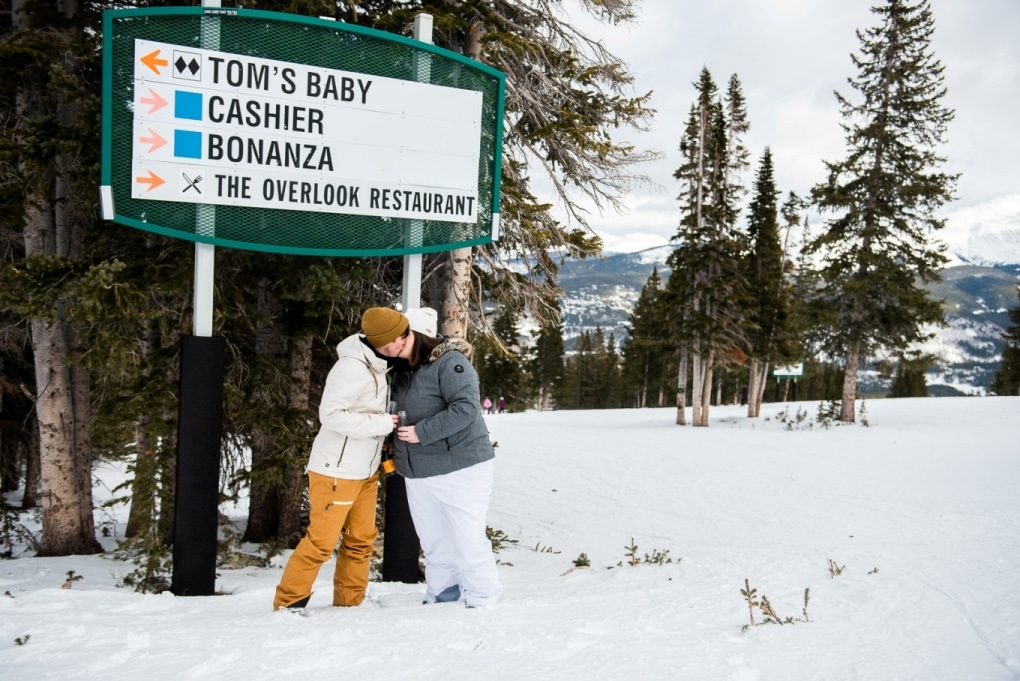 And for some appropriate, socially-distant, elbow-bumping congrats from the locals.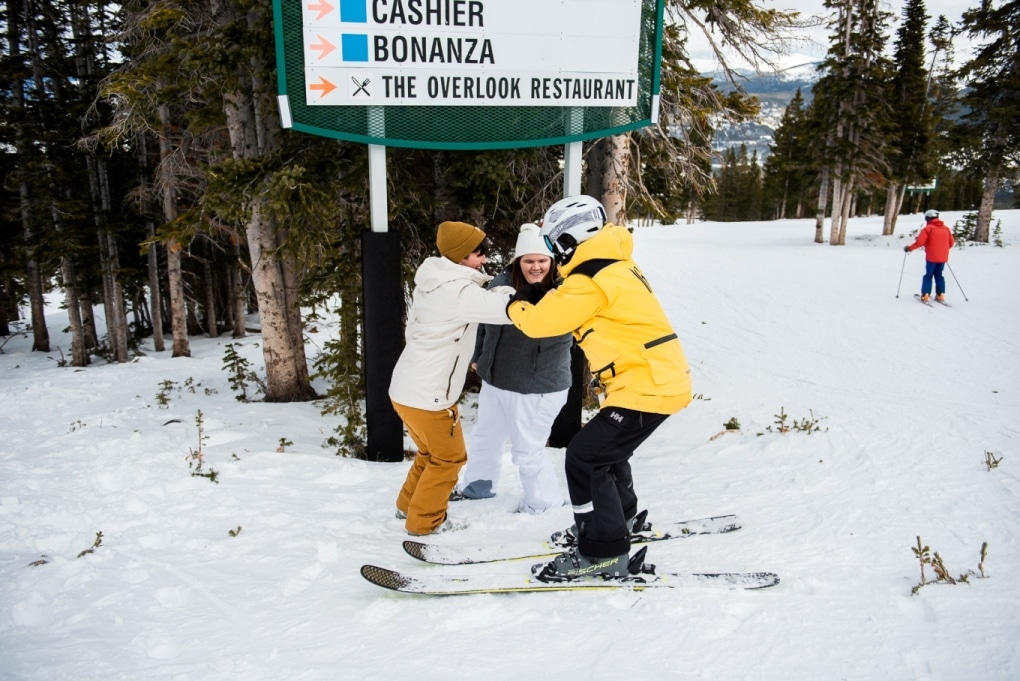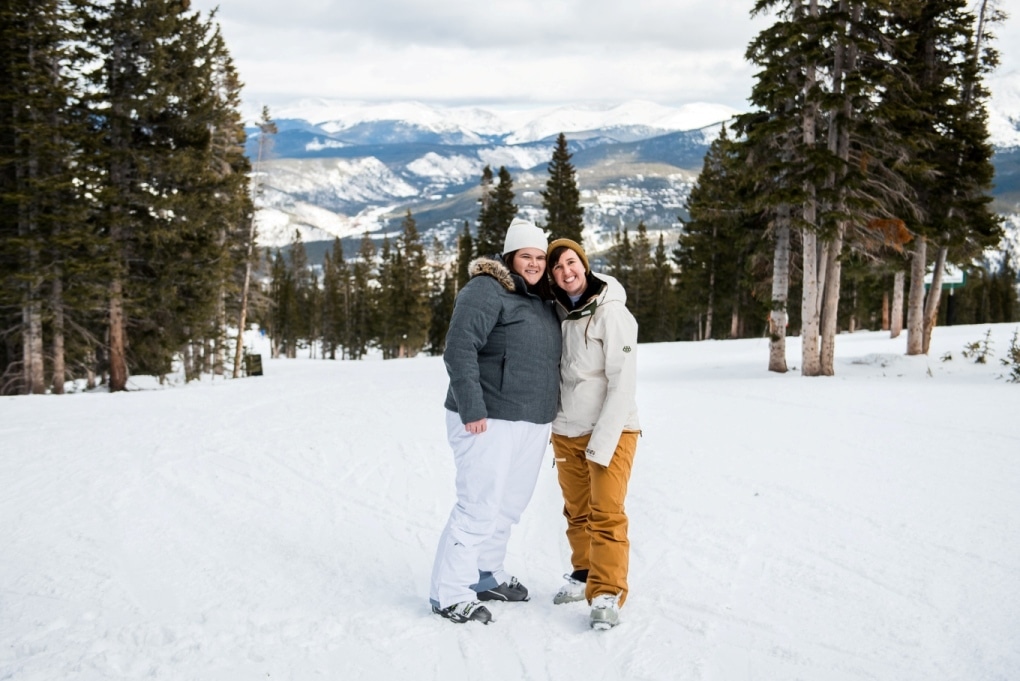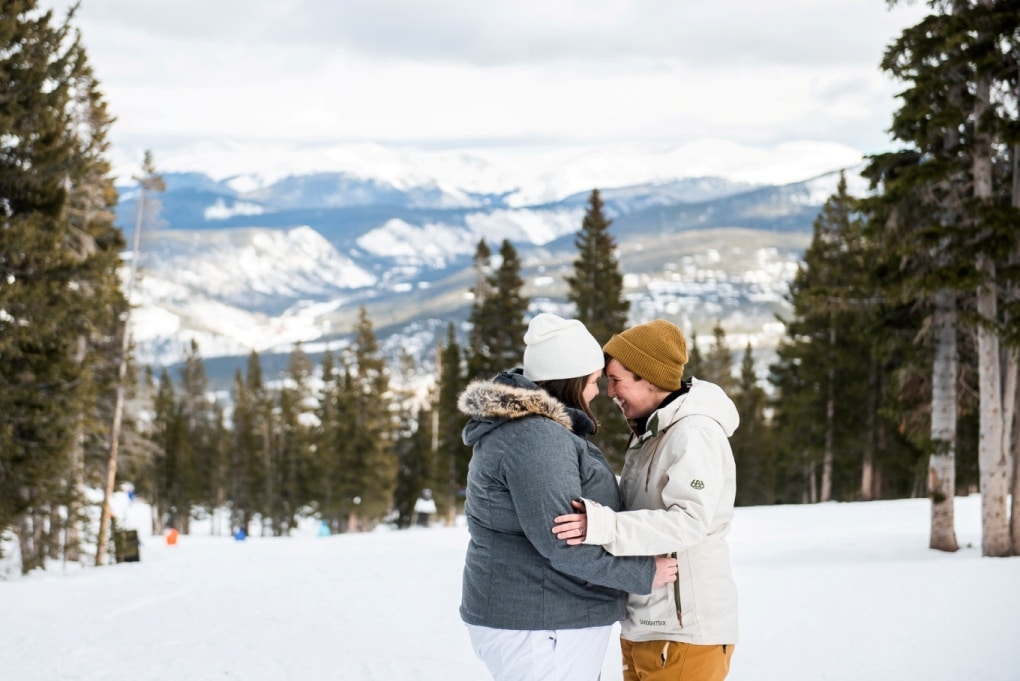 And then… ya know… you're on a mountain, you're all happy cuz ya just got hitched. So, what do you do? Why, you roll in the snow, of course. (These two didn't stop laughing the whole time we were taking their pictures. So. Much. Fun!)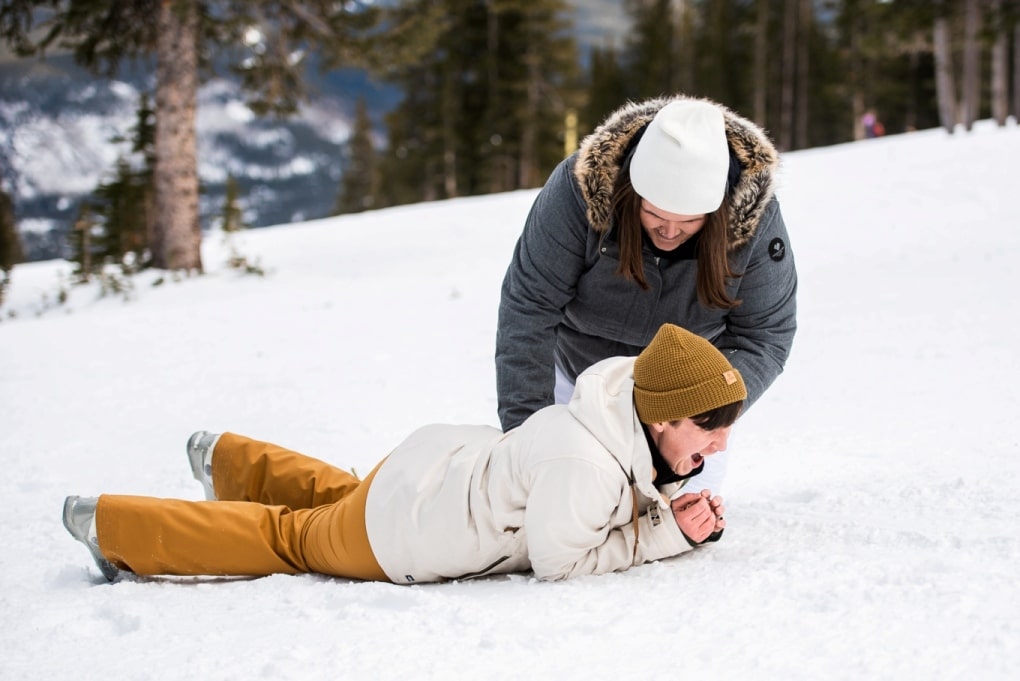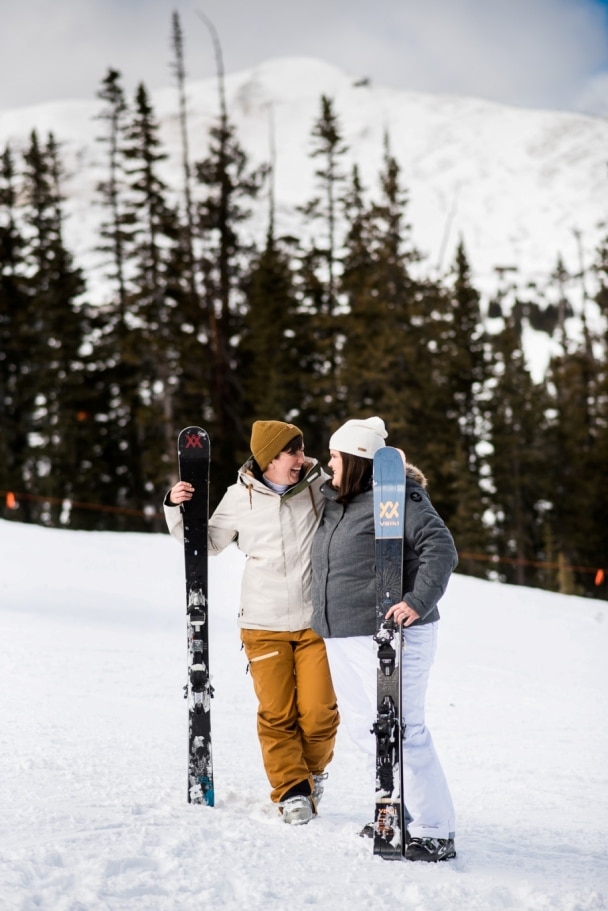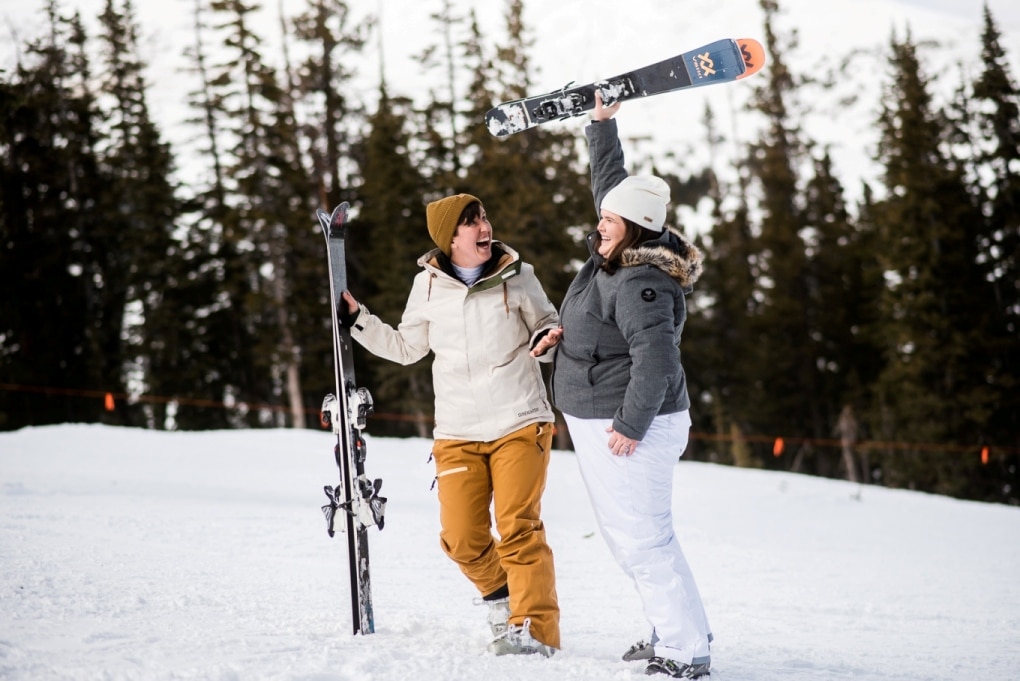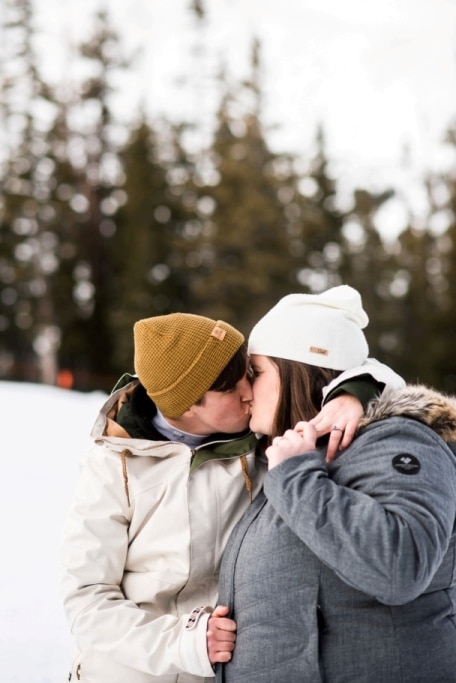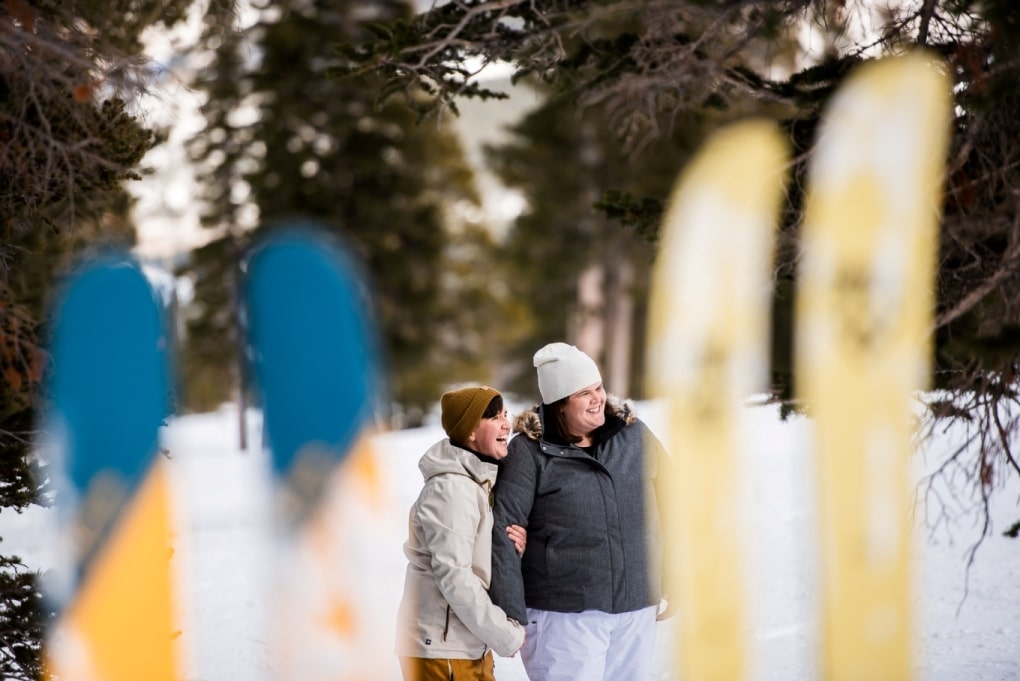 In their own words – what it was like for Mollie and Margot to get married on the ski slopes of Breckenridge
What made you select the location you did?
I (Margot) have been skiing since I was little, and when we moved to Denver, Mollie picked it up quickly. This last year skiing has been our favorite escape, and allowed us to fully take advantage of living in Colorado.
What words best describe your wedding day?
Simple, fun, beautiful
What was your favorite part of your wedding day?
We loved how relaxed it felt. 
Did you face any challenges in eloping?
We had no idea what we were doing, but Blue Sky made it so easy to get married in a beautiful place!
What was the best thing about having an intimate wedding?
It was wonderful just being able to focus on each other.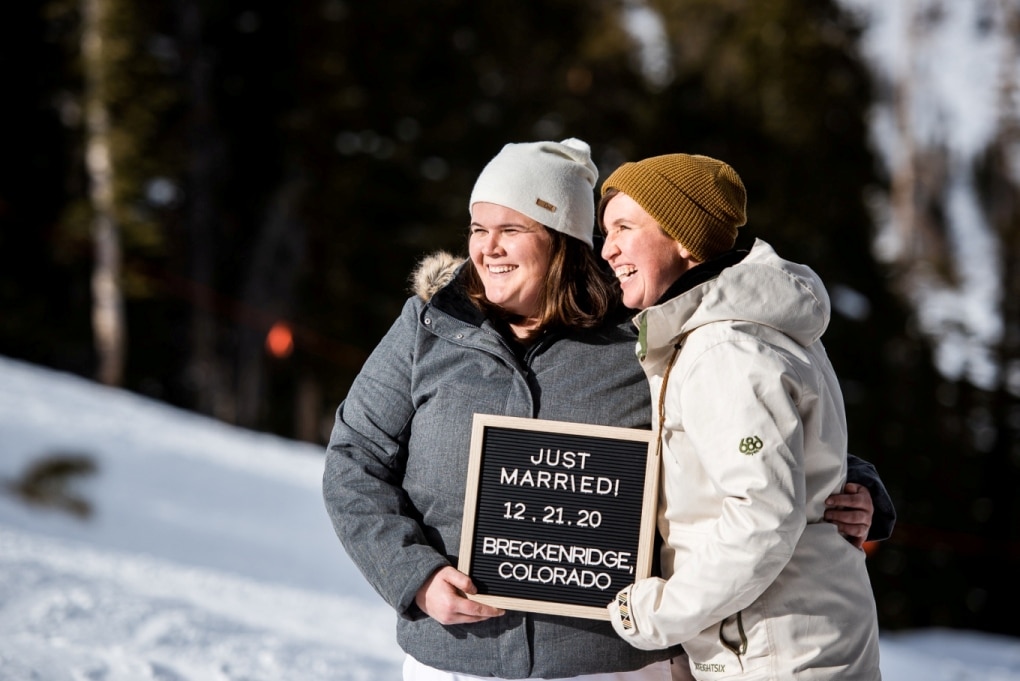 It was never our plan to elope- we always wanted to have a big party with our family. When the pandemic changed everyone's plans this elopement still allowed to a have a beautiful moment together to start our married life. We could not have asked for a smoother wedding day. Blue Sky handled everything, and we got to just focus on marrying each other!! Our officiant and photographer made us feel so comfortable. It was a wonderful day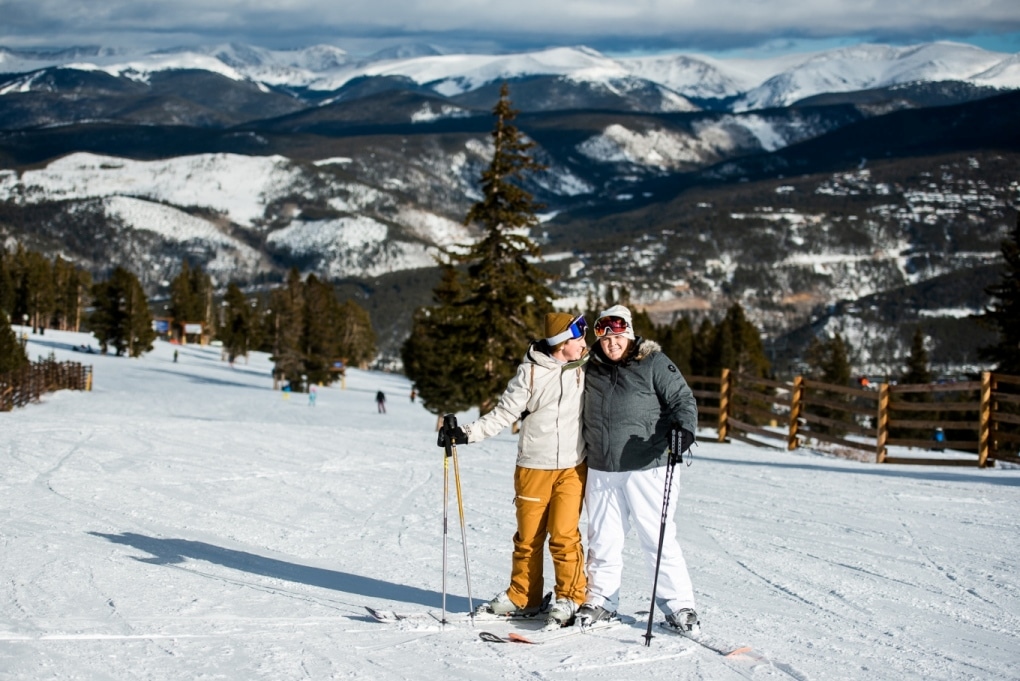 Services included in Mollie and Margot's Elope on the Slopes Elopement Package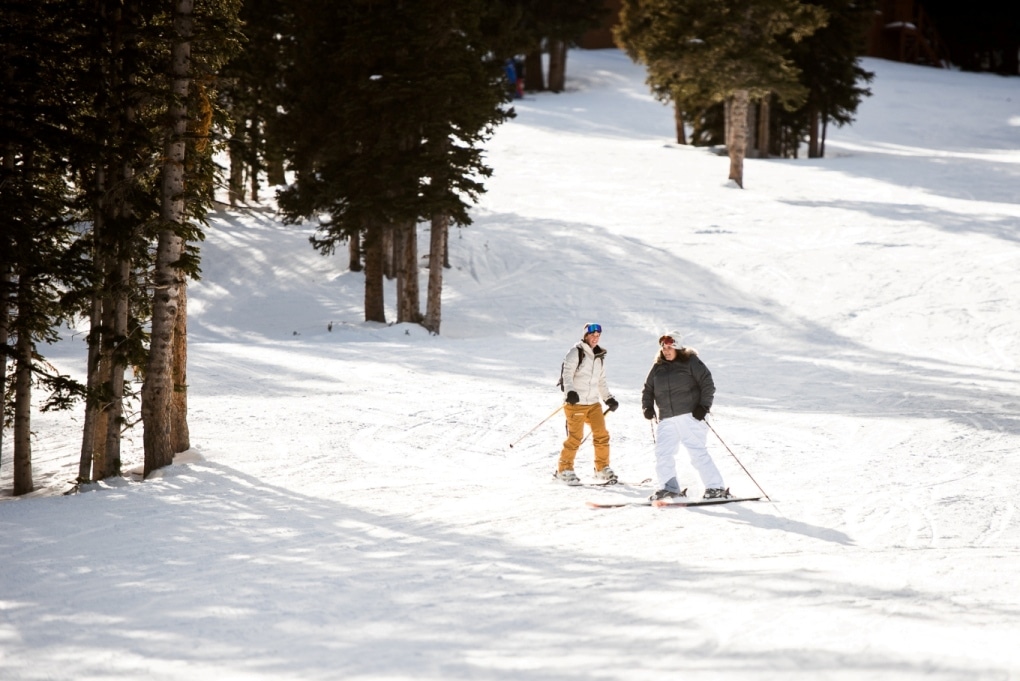 Things you need to know about getting married on a ski slope
Getting married on skis or a snowboard is not for everyone. In fact, at Blue Sky Elopements, we only do a handful of elope on the slopes per year. Some things are key to making this an enjoyable experience.
You both need to be of intermediate or higher ski level ability.
Getting married on the slopes is not what you want to undertake as a beginner skier. You don't want to be worried about keeping up with your more advanced-skier partner, getting on and off the lifts on skis and crashing into a tree because you can't control your speed.
If you're skill level isn't up a Black Diamond run–don't go there. A better option might be to get married at the base of the slopes–where you don't have to be on skis, but you still have the ski-resort ambiance and mountain backdrop. If you want, after the ceremony, your photographer can get photos of the two of you on the lift and possibly even shushing down the mountain.
Getting epic on-the-slopes photos is an art. Make sure your photographer has experience shooting elopements on the ski slopes.
You're looking at a combination of skills that not many have: technical photographic expertise, navigating on skis, and the combination of the two, which isn't easy. As to see portfolios of actual slope side weddings that your photographer has shot.
Get married on the slopes on a weekday when crowds are smaller.
And not during Christmas or Spring break.
Consider a lesser known ski area.
If your photographer is a ski or snowboard enthusiast, they should be able to direct you to lesser known options. For Blue Sky Elope on the Slopes, we help you choose the ski area that is best for you.
Get your lift tickets prior to the wedding day.
You don't want to spend an hour waiting in line. That's no fun.
Rent any needed equipment ahead of time.
If you need to rent skis or snowboards, do that before the wedding day as well.
Consider your wedding attire for getting married on the slopes.
Margot and Mollie went full-on practical with ski suits and hats. We've had other couples go more formal with their elope-on-the-slopes attire. Just remember it's hard to ski/snowboard in a gown and it can be super-cold at the top of a ski slope.
Ditch the bouquet.
It's way too hard to juggle a bouquet and ski poles. If you want flowers, opt for a corsage.
Keep you guest numbers low.
Elope on the slopes are best for a just-the-two-of-you wedding. Having a group of 25 standing still on a busy ski slope for a 10-minute wedding ceremony is a disaster waiting to happen. Plus, all your attendees would have to posses halfway decent ski ability, and that's not likely. Getting married on a ski slope often requires last-minute flexibility on timing and and precise location. Trying to do that with more than a handful of people isn't practical.
Don't overlook the legalities.
Don't get so carried away with your slope side wedding that you forget to get your marriage license! (Your officiant should help you with this.)
See other elope on the slopes weddings we've done.
Most popular Colorado ski resorts for elope on the slopes weddings.