A winter elopement in Telluride for Krizelle and Enrique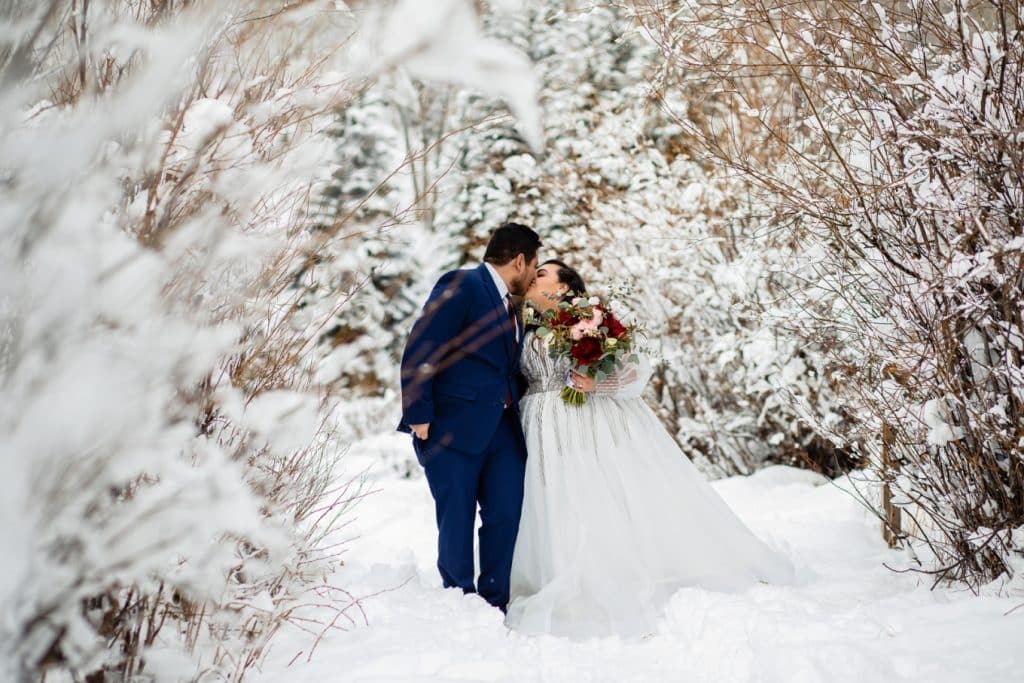 High school sweethearts Krizelle and Enrique's Telluride winter elopement
Krizelle and Enrique met in French class in high school and developed a friendship that lasted for a year before they became sweethearts. Deciding to have a winter elopement in Telluride was easy for them–except for the worry that there might be some hurt feelings on the part of their huge families. But in the end, it all turned out splendidly–as things invariably do–and the two got their winter wonderland backdrop when they eloped in Telluride in November of 2020.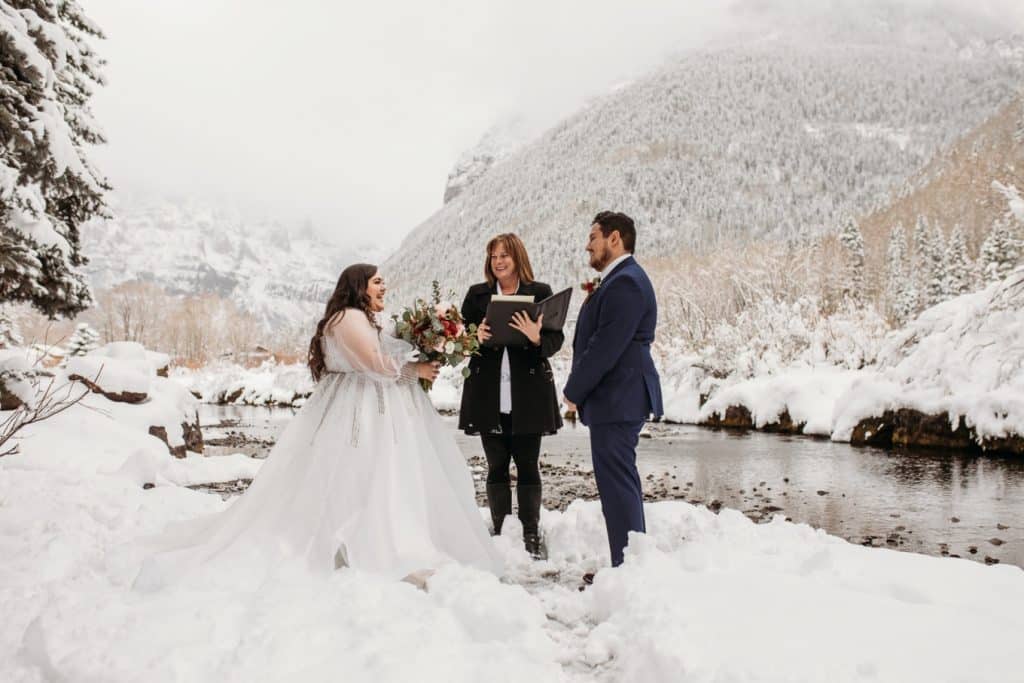 Their wedding day
Krizelle wished for a snowy, "winter wonderland" backdrop for their elopement. Getting married in Telluride in late November promised–but didn't guarantee–that outcome. But Mother Nature cooperated. With snow already n the ground from an earlier storm, it flurried lightly on the morning of their wedding–just enough to coat the trees and turn the entire town into something out of a Christmas card.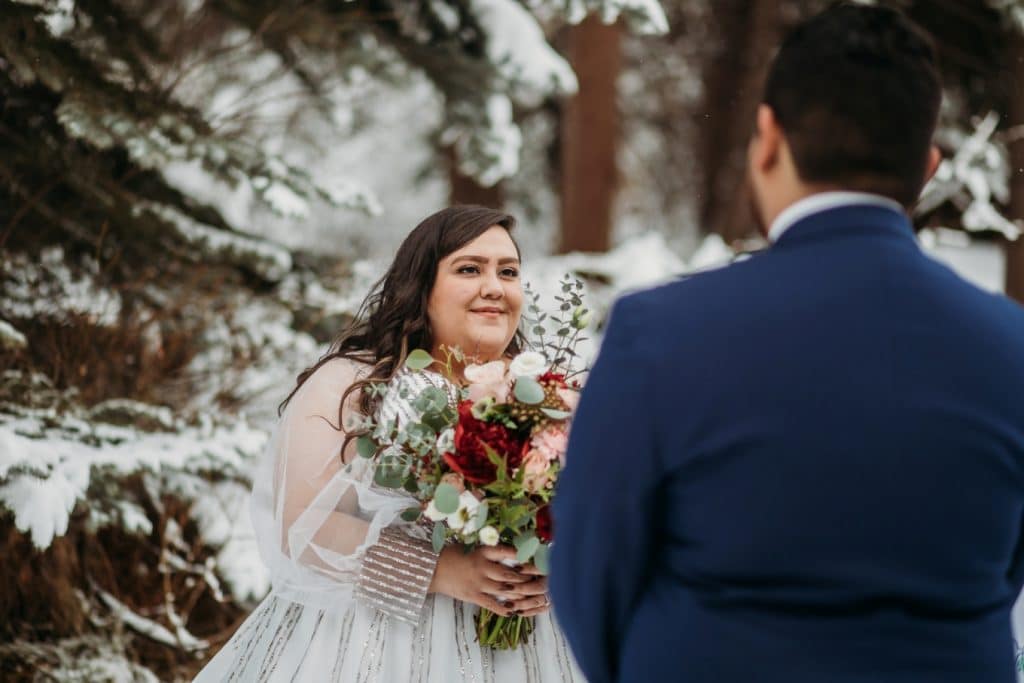 An intimate elopement for two alongside the river in Telluride
Telluride is a tiny town, but the options for places to elope outside in winter are seemingly endless. The San Miguel River flows through the center of town and Telluride town planners have taken advantage of this by constructing pathways and bridges that wind alongside and over the river for miles. Enrique and Krizelle chose one of our favorite riverside locations in town–with gorgeous view of the San Juan Mountains as well as a flowing stream and lots of snow-covered trees.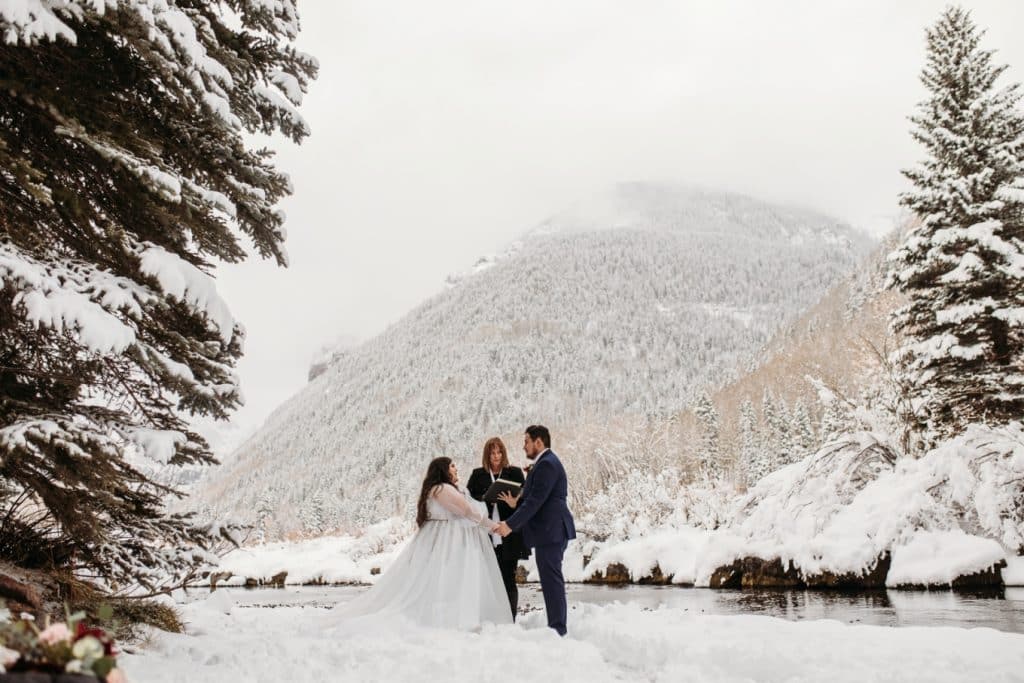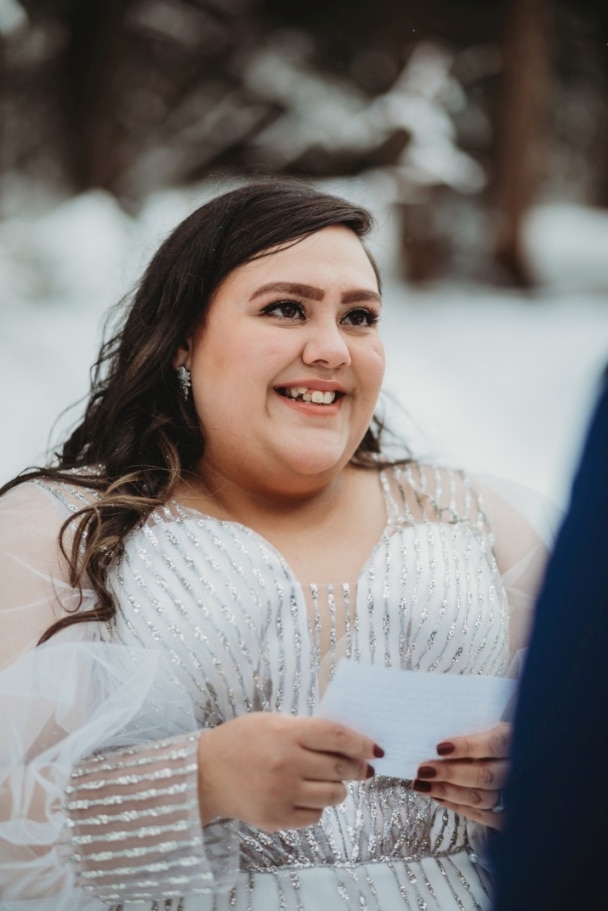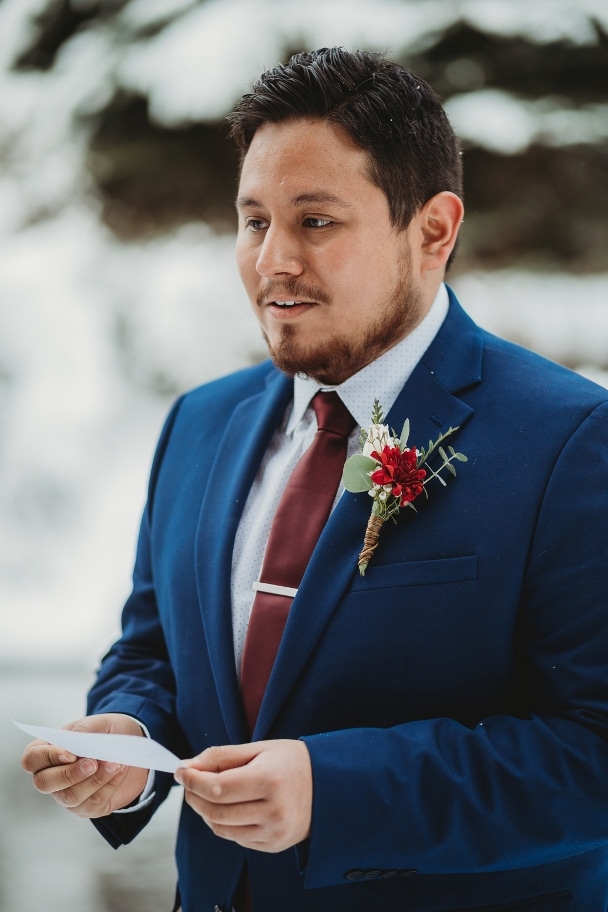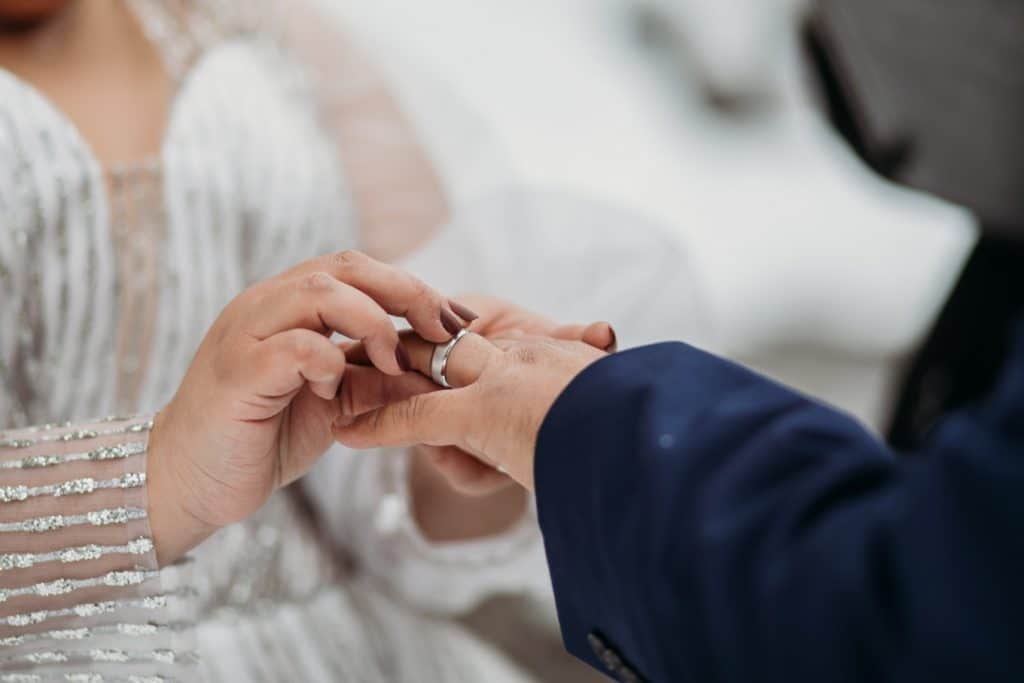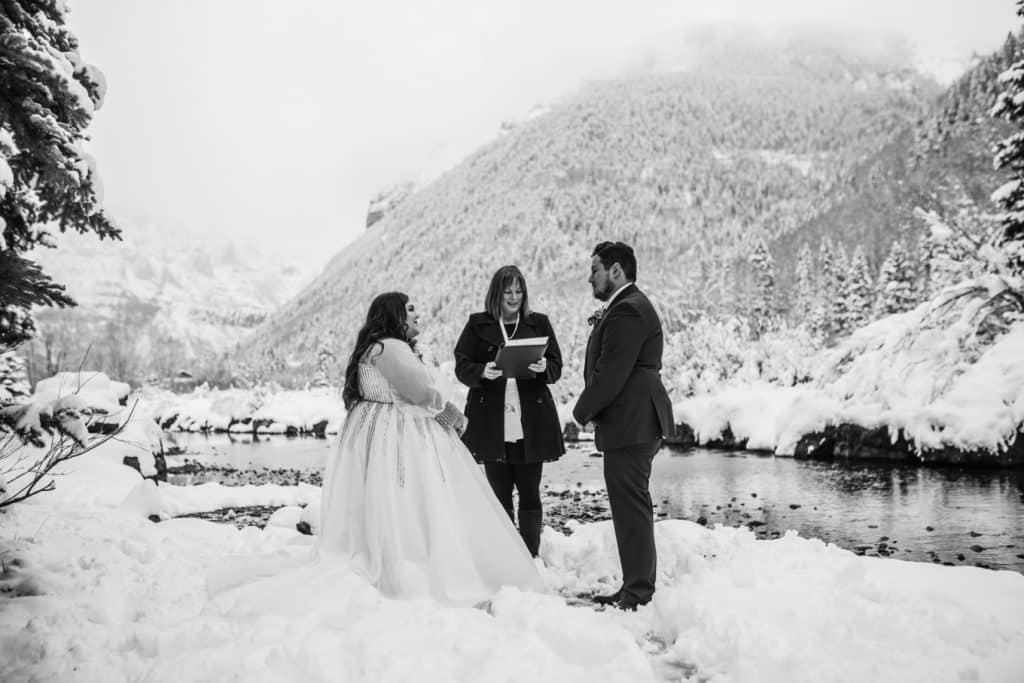 Officially married, Krizelle and Enrique shared their first married kiss. Then they were swept up by our photographer to capture their winter elopement in Telluride in all its snow-covered glory!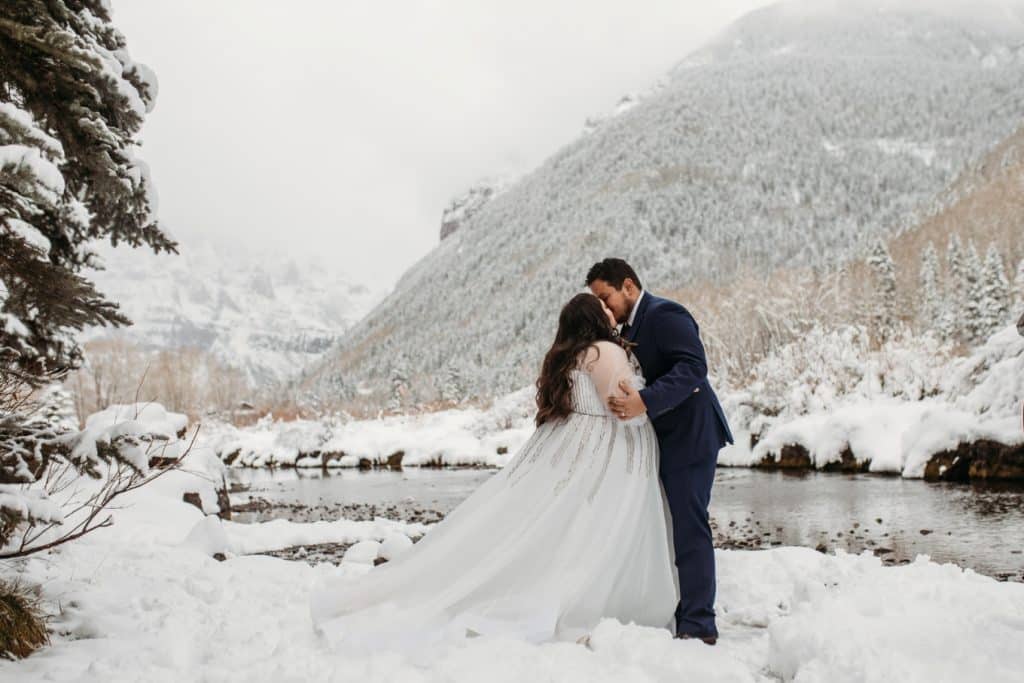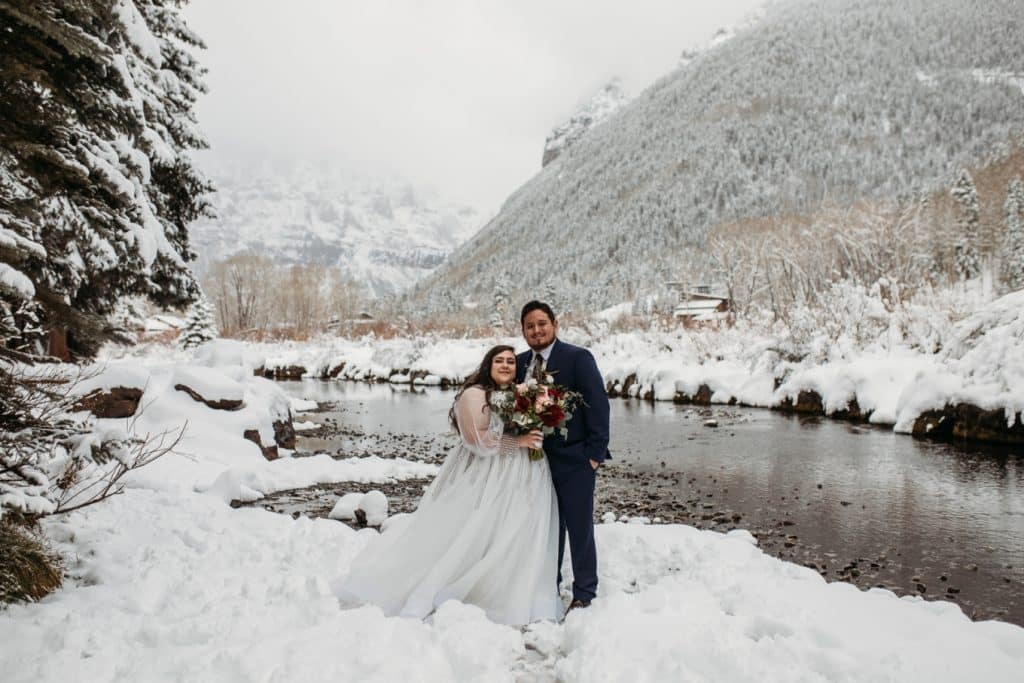 Krizelle's flower bouquet was a stunning combination of roses, dahlias, carnations and greenery–with a coordinating boutonniere for Enrique.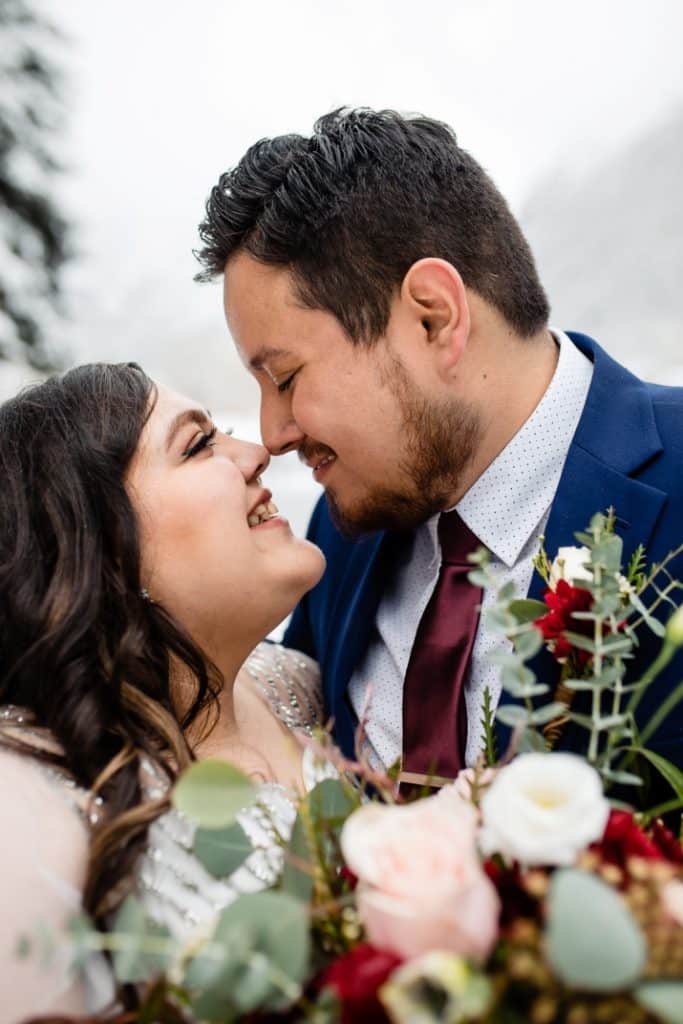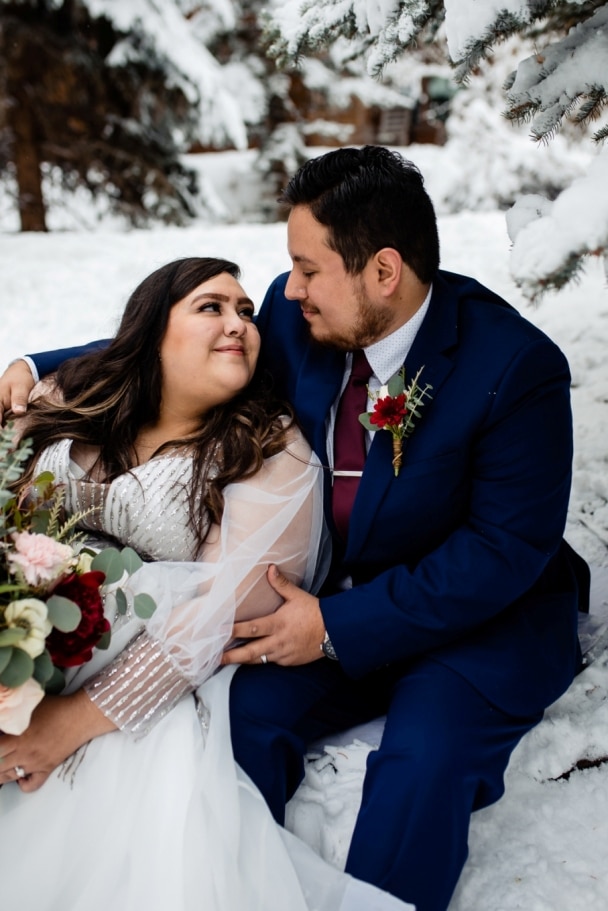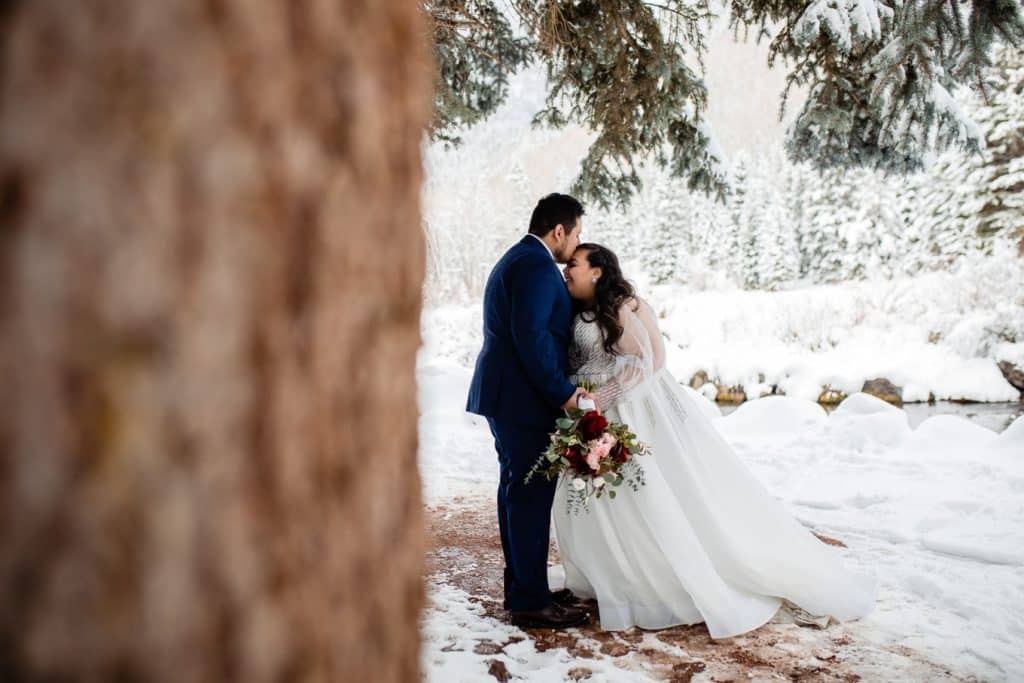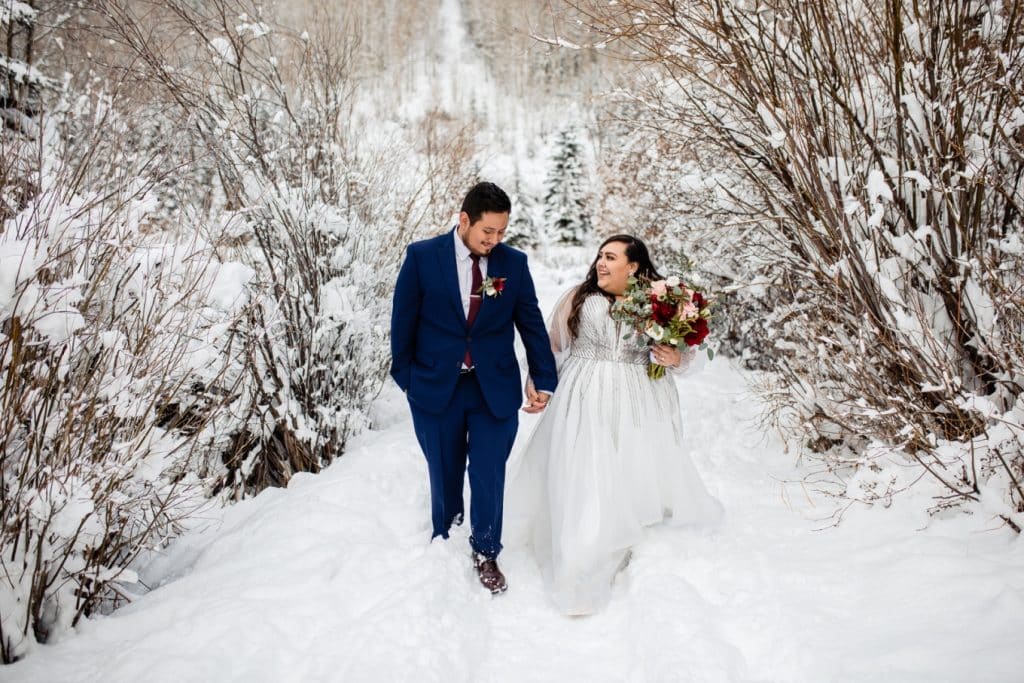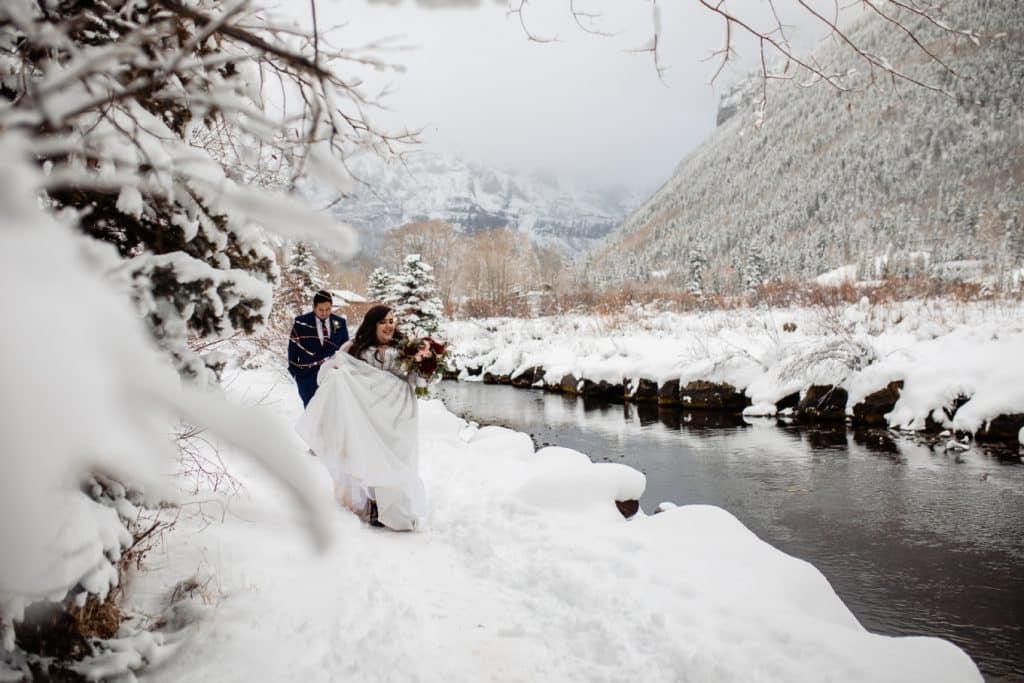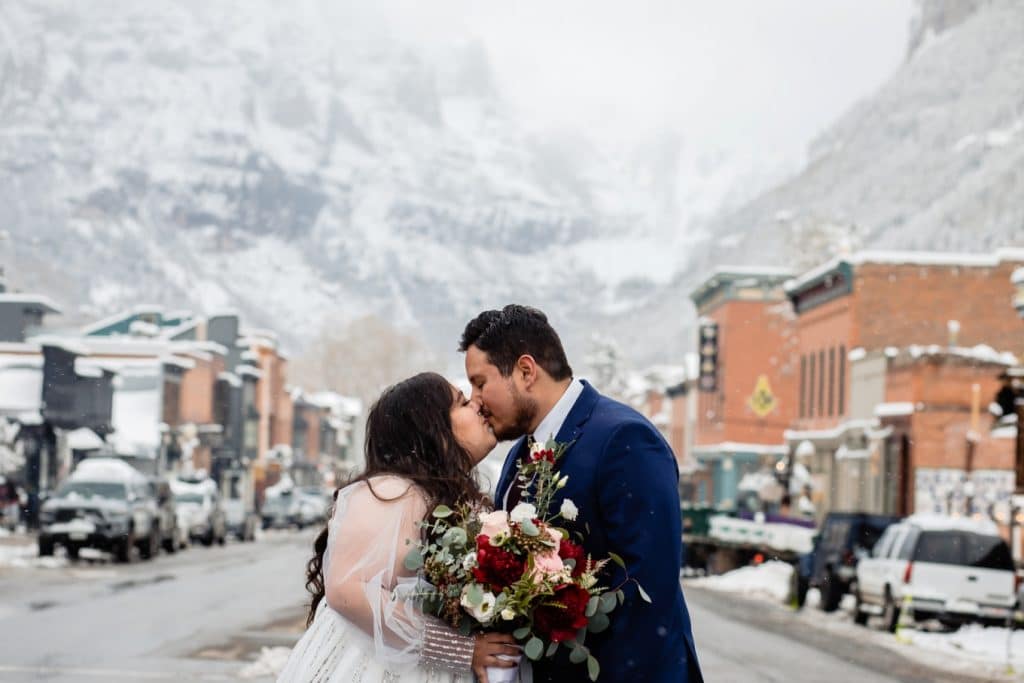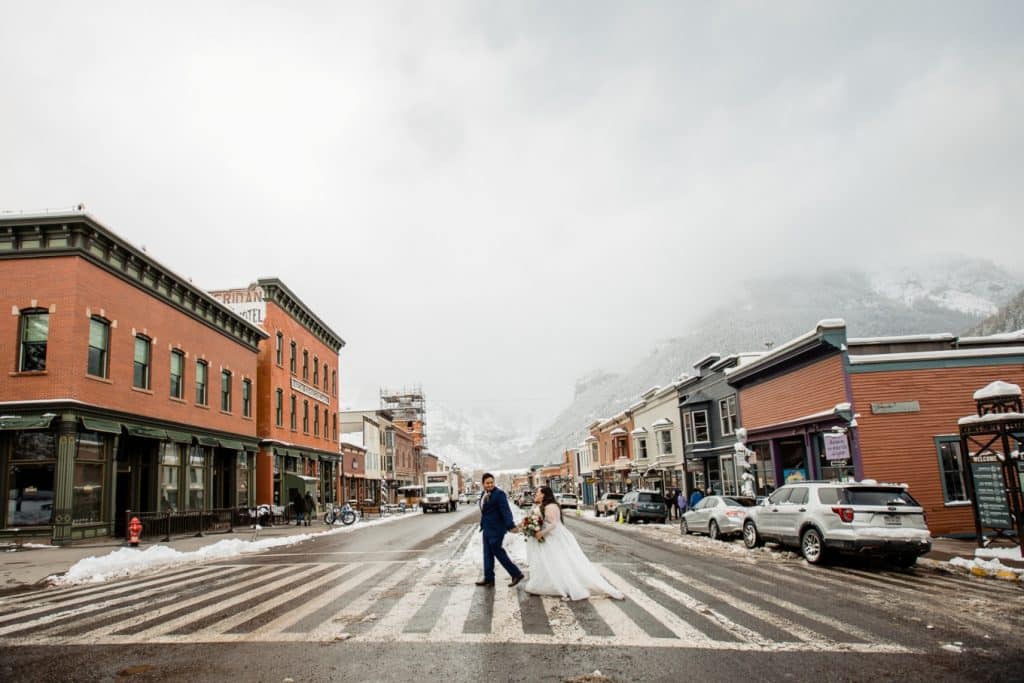 In their own words
Why did you choose an intimate wedding?
We had both talked about a huge wedding to celebrate our day; however, as we grew more mature, we decided an intimate wedding was more suitable for us. Although we both have huge families, we knew our wedding day would mean more for us if it was just us two.
What made you select Telluride for your winter elopement?
Since we knew we wanted to marry in November, we wanted a scenic location such as Telluride. We were fortunate the day blessed us with a winter wonderland.
What words best describe your wedding day?
Our wedding was magical, incredible, and sublime.
What was your favorite part of your wedding day?
Our favorite part of our wedding day was sharing the special moments of exchanging our vows, taking pictures, embracing, kissing, and laughing the entire time. There wasn't a moment that we didn't love.
Did you face any challenges in eloping?
The only challenge we faced was breaking the hearts of our family and friends when we told them we would he eloping. I'm sure our family was disappointed in not sharing our wedding day with us, although they never showed their disappointment with us. They were quite supportive of our decision.
What was the best thing about having an intimate wedding?
The details of a huge wedding such as choosing flower arrangements, the entertainment, a caterer never mattered to us. What mattered was celebrating our most intimate day with one another, just the two of us.
Any advice for other couples planning to elope?
At the risk of sounding cliché, listen to your hearts. At the end of the day, your wedding is just that, yours. Not anyone else's.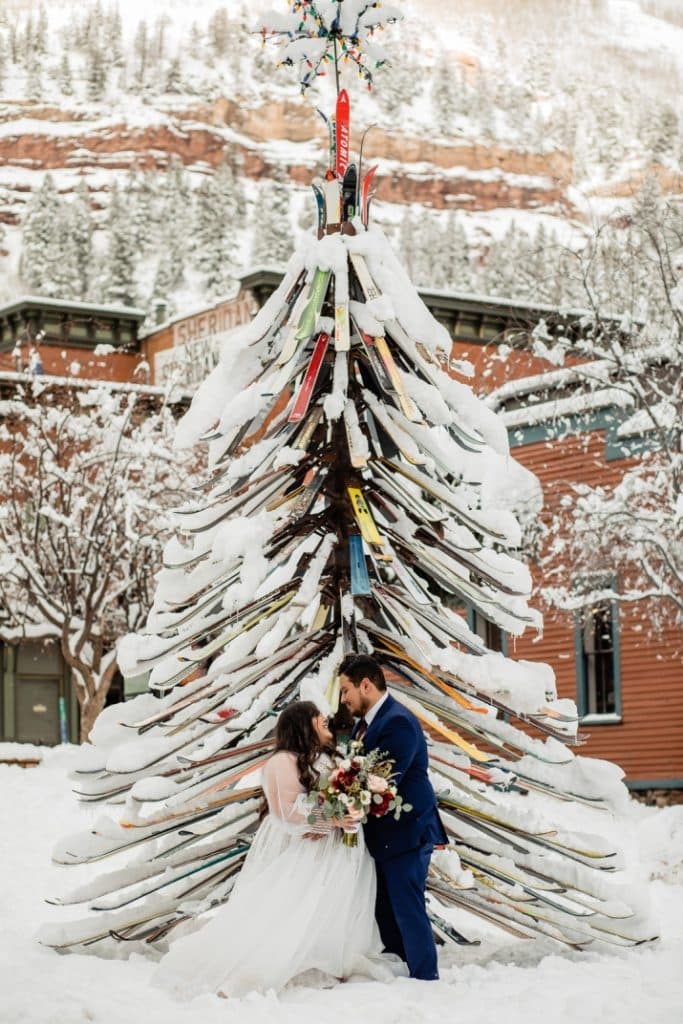 Services included in Krizelle and Enrique's Telluride winter elopement package: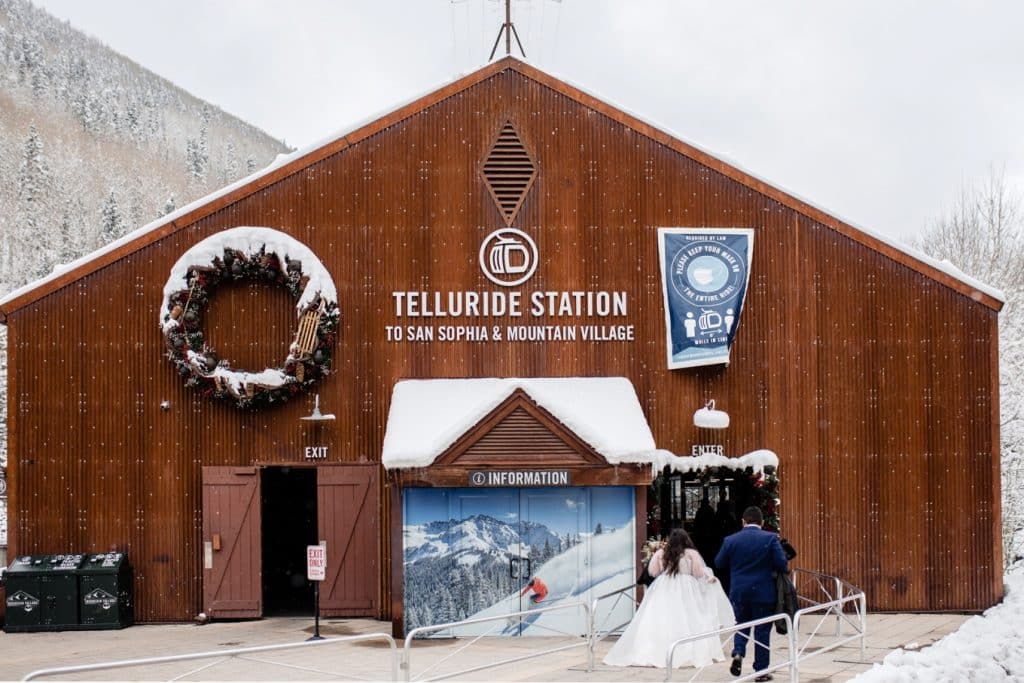 Blue Sky Elopement surpassed our expectations; they were fantastic! Since day one, Blue Sky Elopements was attentive to our needs and wants. I'd definitely recommend them to anyone!