The Magic of a Winter Wedding in Colorado
You're thinking of a winter wedding in Colorado! Why not?
I have a special place in my heart for Colorado winter weddings in the snow, being as Jeremy and I were married outside on a clear, crisp December day in Colorado. So, I'm admittedly biased. 
But think about it–my personal prejudice aside, the possibilities and the benefits of a winter wedding are endless!

The benefits of a winter wedding
Maybe it's just me, but I think there's something magical about winter–especially in places with snow. Snow's blanket forces us to slow down and get quiet. Cold weather sends us heading for the home and hearth, and what better environment to celebrate love and the beginnings of a life of commitment? It's like your own personal snow globe.
It's a less-busy time of year for most wedding vendors. This may or may not translate into lowered costs to you, but at the very least, it will make it easier to score the date you want.

Getting married in front of a blazing fireplace as the snow falls gently outside. Hello!! Does it get any better than that?

Being married in the winter automatically labels you as adventurous of spirit, creative and fun.

You can have an ice sculpture with no fear of having it melt!
Imagine how fabulous you'll look in your faux fur wrap. Can't do that in July!
How much fun would it be to end the evening with a horse drawn carriage accompanied by jingle bells, a hot toddy, a blanket and each other? (I know the answer to this because I did it on my wedding day. Way fun, indeed.)
There are so many decorating options for winter themes–holly and red berries, blue and silver stars, winter white snowflakes, sophisticated black and white, branches with tiny white lights, pine cones, evergreen boughs. Endless possibilities.
Things to consider if you're planning a wedding in Colorado in the winter
People avoid winter weddings because they fear bad weather will throw a monkey wrench into the planning. And that's a possibility. (We'll talk about that in a minute.) But then again, ask any June bride or groom whose wedding has been upset by hurricanes, tornadoes, flood, earthquake, thunderstorms or searing heat and they'll tell you that no season gives a guarantee. We're pretty much at the mercy of Mother Nature no matter when we say "I do."
If you want to get married in Colorado in the winter, you might be envisioning an outdoor wedding with snowcapped mountains as your backdrop. This is especially true if you're travelling to Colorado from outside the area. Most couples don't come to Colorado to get married inside! Colorado is all about the mountains and they are breathtaking in the winter months. Whether you picture a mountaintop elopement after which you both ski off into the sunset, a cozy gathering or your family around a roaring fire  (or out in the snow!) or an elegant black tie reception for 200, don't rule out the winter months. However, there are some things of which you should be aware of before you begin planning a winter wedding.
The fewer guests, the better. If you want to get married outside in Colorado in the winter months, think about a Colorado elopement rather than a big wedding. If we're faced with a last minute weather glitch, it's easier to shift when it's just the two of you and a handful of guests than if you'd planned to have 50 people in attendance at your winter wedding.
And speaking of guests, winter weddings in the Rocky Mountains are not the event to which you want to invite anyone with mobility, breathing, or health issues. Most of the places to elope in Colorado in winter are going to be at a minimum elevation of 10,000 feet and there will most likely be quite a bit of snow on the ground. It's simply not a good idea to bring along anyone who is in frail health to this type of outdoor wedding.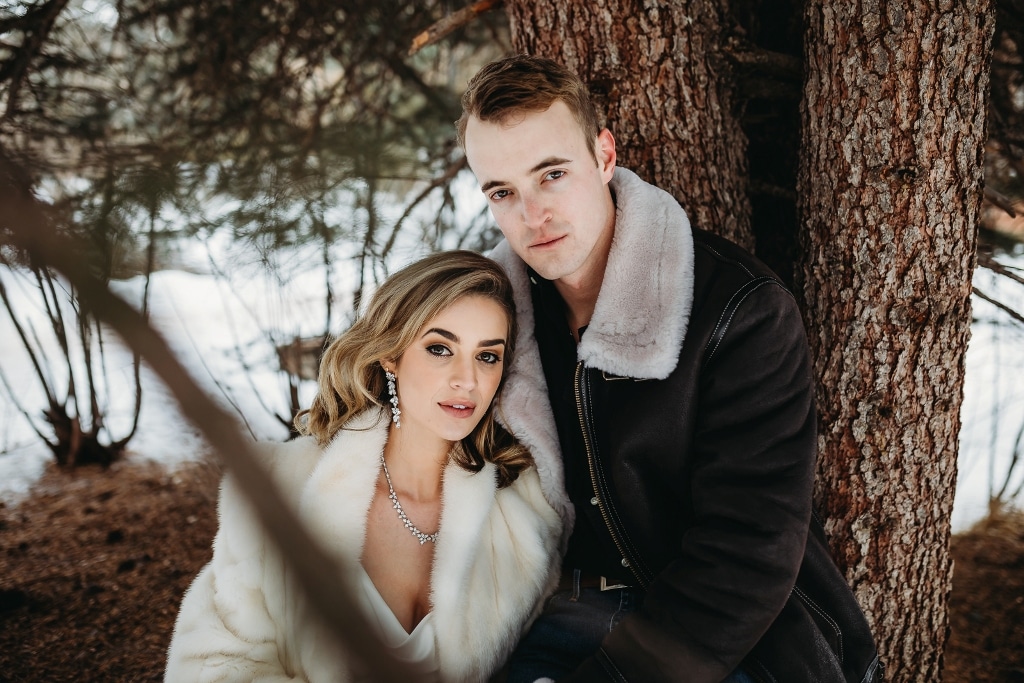 You definitely want a Plan B in the case of inclement weather. That doesn't mean you should shelve your outdoor wedding plans if the forecast calls for snow. If the snow is coming down lightly to moderately, it makes for fantastic winter wedding photos. However, you don't want to be married outdoors in a blizzard, or in freezing sleet. The best plan for an indoor backup ceremony venue is your lodging. Book a gorgeous mountain vacation rental (be sure they allow events) with a eye-catching fireplace or a picture window with a gorgeous view. If it does snow like crazy on your wedding day, you can easily move things indoors without sacrificing the winter wedding ambiance. In all likelihood, you will still be able to get outdoors for photos after the ceremony itself.
Be sure your wedding vendors are locally based and are comfortable with getting around in the snow. This is critical. When we at Blue Sky Elopements assign one of our photographers to your wedding, we only assign someone who is based in the immediate area to provide your photo coverage. Sending a photographer from Denver when you're having a winter wedding in Breckenridge is way too risky. If one of Colorado's mountain passes closes due to a storm, that photographer isn't going to make it to your wedding. Ditto with our florists, wedding officiants and hair and makeup artists.
And speaking of your photographer, be sure yours has experience with shooting winter weddings. It takes a very special set of skills to capture outdoor images in the snow.
Remember! The sun sets earlier in winter–especially in November, December and January. Set the timing of your ceremony to take advantage of the warmest part of the day (typically early to mid-afternoon). Then you'll be wrapping up your photography session as the sun just begins to dip behind the mountains.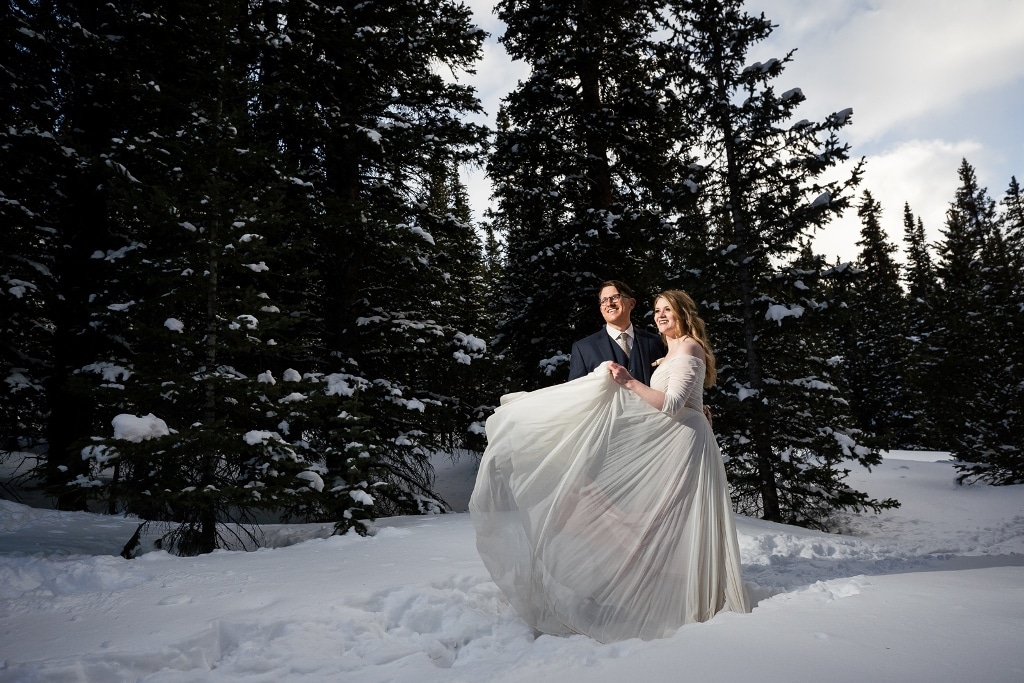 Be realistic about your ability to drive in the snow. If you're not used to winter driving, it'll add unnecessary stress to your wedding day. We'll suggest alternate ways of getting you around if you don't want to slip and slide over slick Colorado mountain roads. And speaking of vehicles, do not rent a car (or drive your own) that isn't practical for snowy conditions. A Prius is going to get stuck in the snow if you take it up to Breckenridge in January. Guaranteed. At minimum, you'll need an SUV with good clearance and all-season tires. Even better if it has snow tires. Colorado has winter driving traction laws to which everyone must adhere, so familiarize yourself with them.
Dress for the conditions! I can't tell you how many couples show up to elope in the winter in Colorado having ignored our warnings about what to wear. If you don't have warm boots, a heavy coat/wrap, tights on under your dress, and gloves, you're going to be cold, wet, and stressed. Both men and women should dress in layers for a winter wedding. You can always peel layers off for a picture or two if need be. And don't even think about wearing dress shoes (men or women) in the snow. It's a twisted ankle waiting to happen.
If you're traveling to Colorado to elope in the winter, plan your wedding for the mid-point of your trip. Allow an extra day or two from the time you arrive in case bad weather impedes your ability to get a Colorado marriage license prior to the ceremony. Likewise, add a couple of days after your wedding date as a buffer in case you need to postpone your ceremony a day due to a snowstorm.
Think about your personalities before you start planning a winter wedding in Colorado. Your fantasy self might love the idea of getting married outside in the snow with a Rocky Mountain snowcapped backdrop. But your reality self might get totally stressed if you get a substantial snowfall on the morning of your wedding. Getting married in winter requires an adventurous spirit and a willingness to go with the flow. Not everyone wants to embrace that on their wedding day. (And that's okay!)
If you want to get married outdoors in Colorado in the winter, the best way to access the most breathtaking sites is by putting on snowshoes. I'm not saying you have to hike an hour to get anywhere with a gorgeous mountain view (although you can if you want to!) but sometimes, the ability to snowshoe for even 5-10 minutes can get you to secluded mountain sites that you won't find simply by hopping out of your car. Snowshoes don't require any previous experience, so even if you've never worn them before, you won't have any issues. If you can walk, you can snowshoe. (And our vendors will help you put them on! 😁)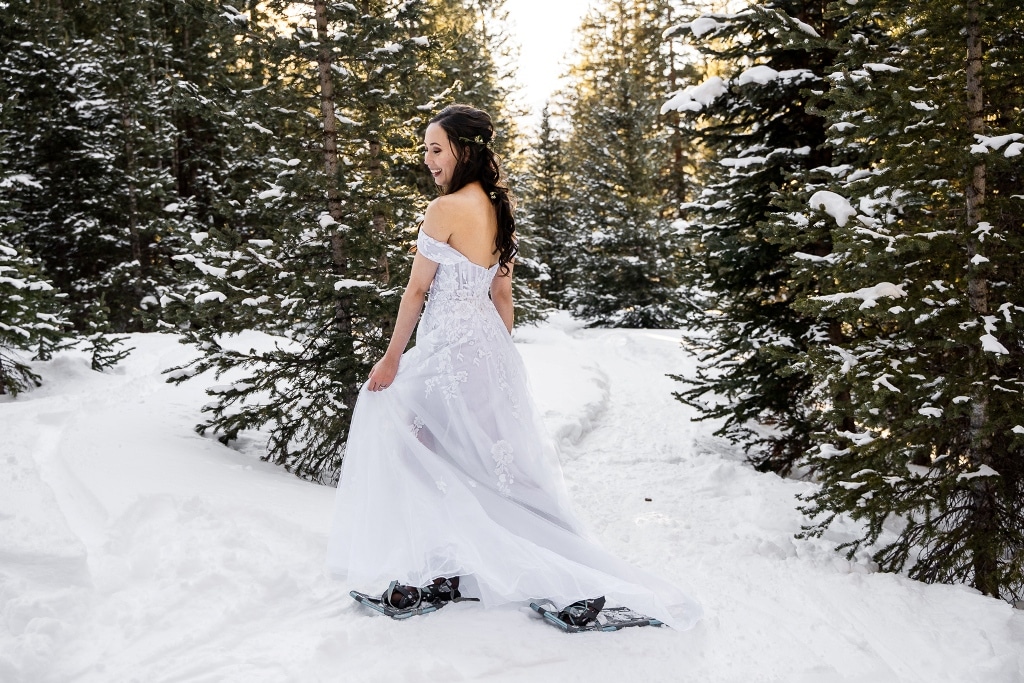 Winter bride, Maddy was rockin' it in her snowshoes!
 If you want to be married in or near one of Colorado's ski resort towns, or if you want to elope on the slopes, avoid the weeks around Christmas and New Year's Day, as well as the period around spring break. The slopes and the towns will be less crowded. Or, choose a Colorado mountain town (like Estes Park) that isn't a ski resort area.
What are the best months to plan a snowy wedding in Colorado?
If you plan your wedding for a location in the Colorado High Country, you're almost guaranteed a winter wonderland backdrop from December through the end of April. Bear in mind that the Metro Denver/Boulder area does not always have snow during this time. So if you absolutely must have the white stuff underfoot when you marry, you'll want to head further west in Colorado to get to the areas where there is virtually always snow in winter.
If you want to elope to Colorado in the winter
We'd love to help you plan. Request our Colorado winter wedding pricing guide, or simply send us an email with your questions. Alternatively, check out our online winter wedding resources below.
More winter wedding inspiration from our blog