A Snowy Colorado Elopement for Geri and Ron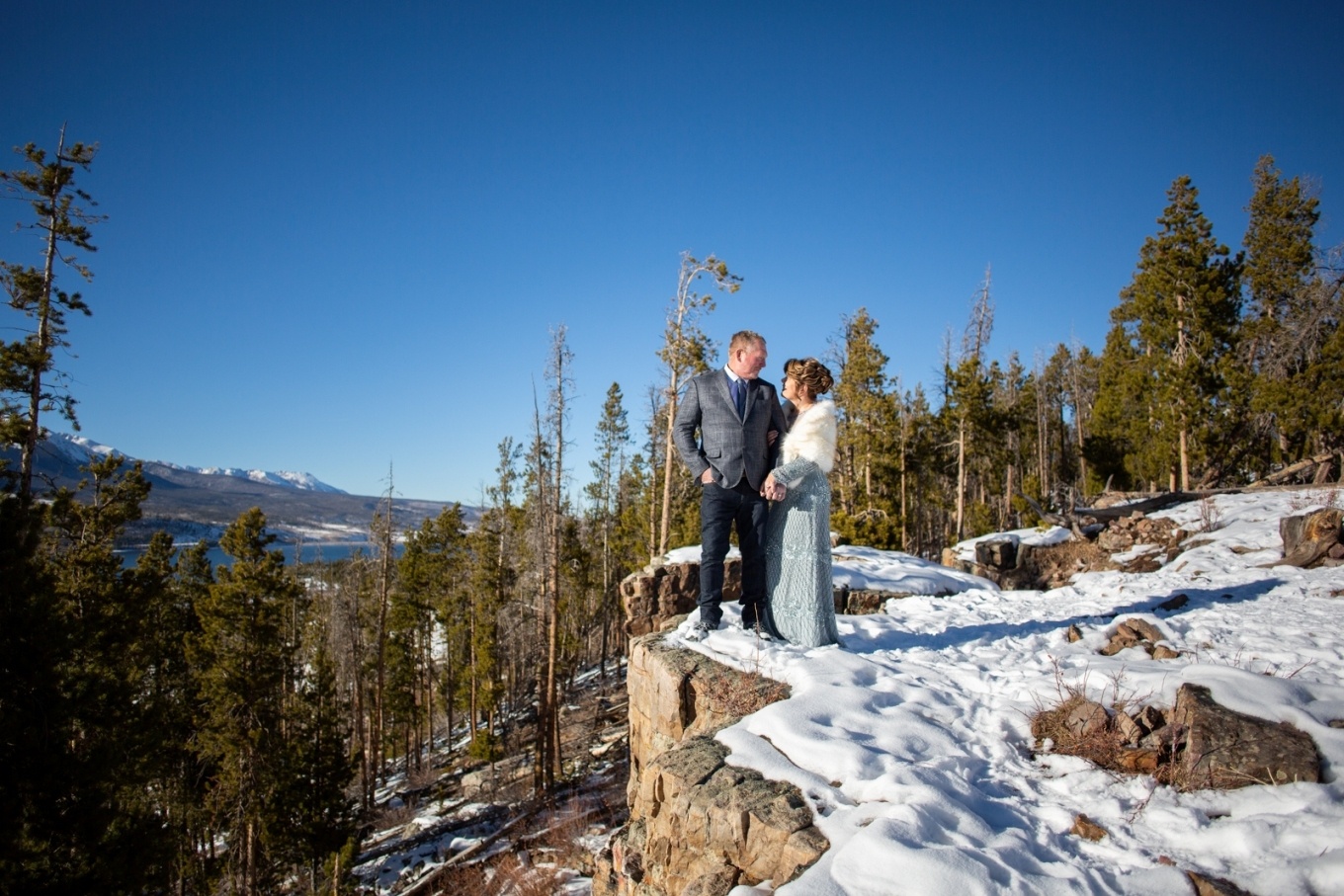 A December Elopement in the Colorado Snow
Not exactly what Geri always envisioned, but she was open to numerous possibilities! And once she and Ron decided a snowy Colorado elopement was what they wanted, they went full steam ahead.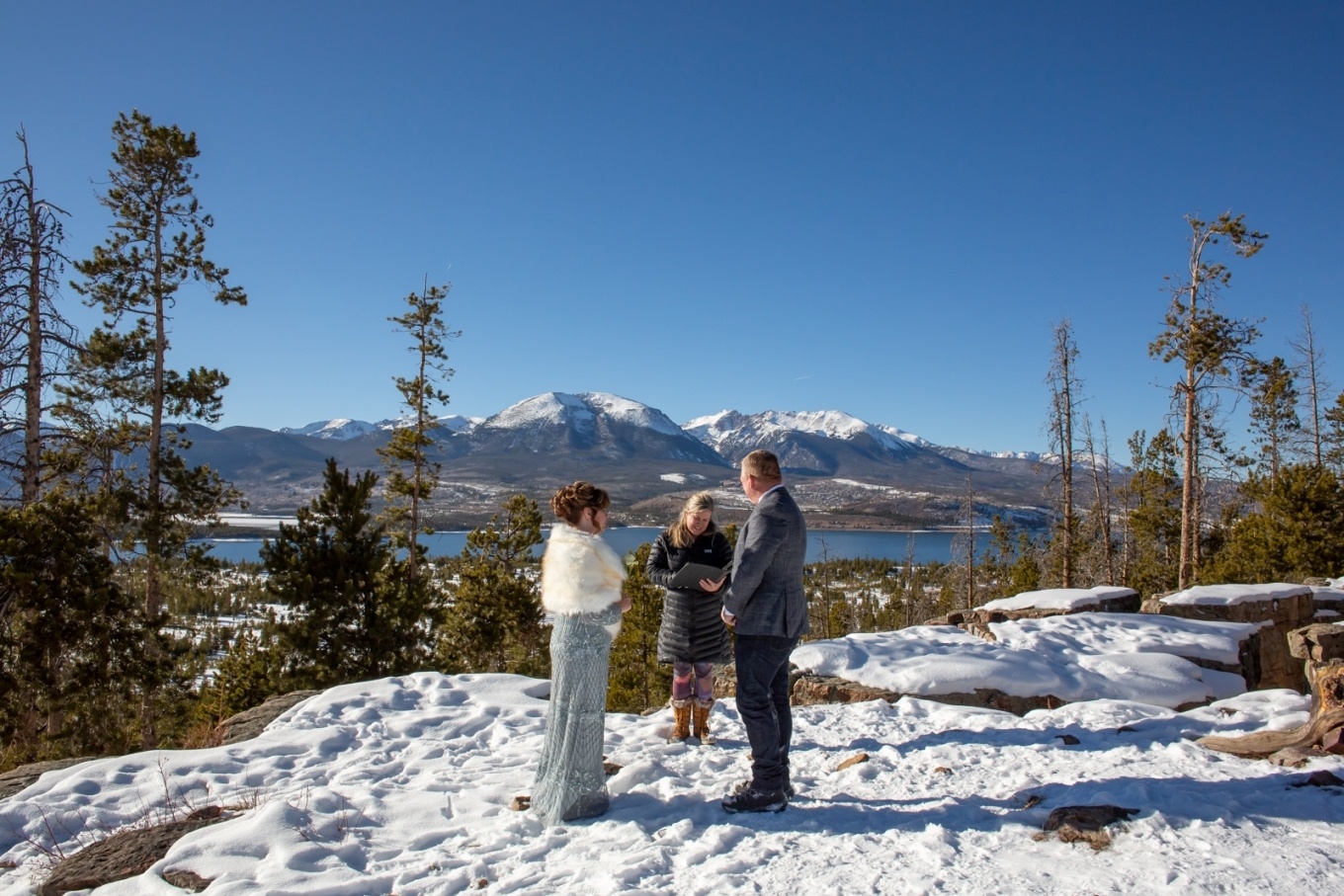 Simplicity was the name of the game
Once the venue was chosen (a hidden gem overlooking Lake Dillon in Breckenridge), the only thing these two were concerned with was keeping things simple. It was to be the two of them, the Colorado Rockies, the crisp December sunshine, a vintage blue dress, a single white rose and a bottle of Champagne celebrating their commitment. Anything else was deemed superfluous.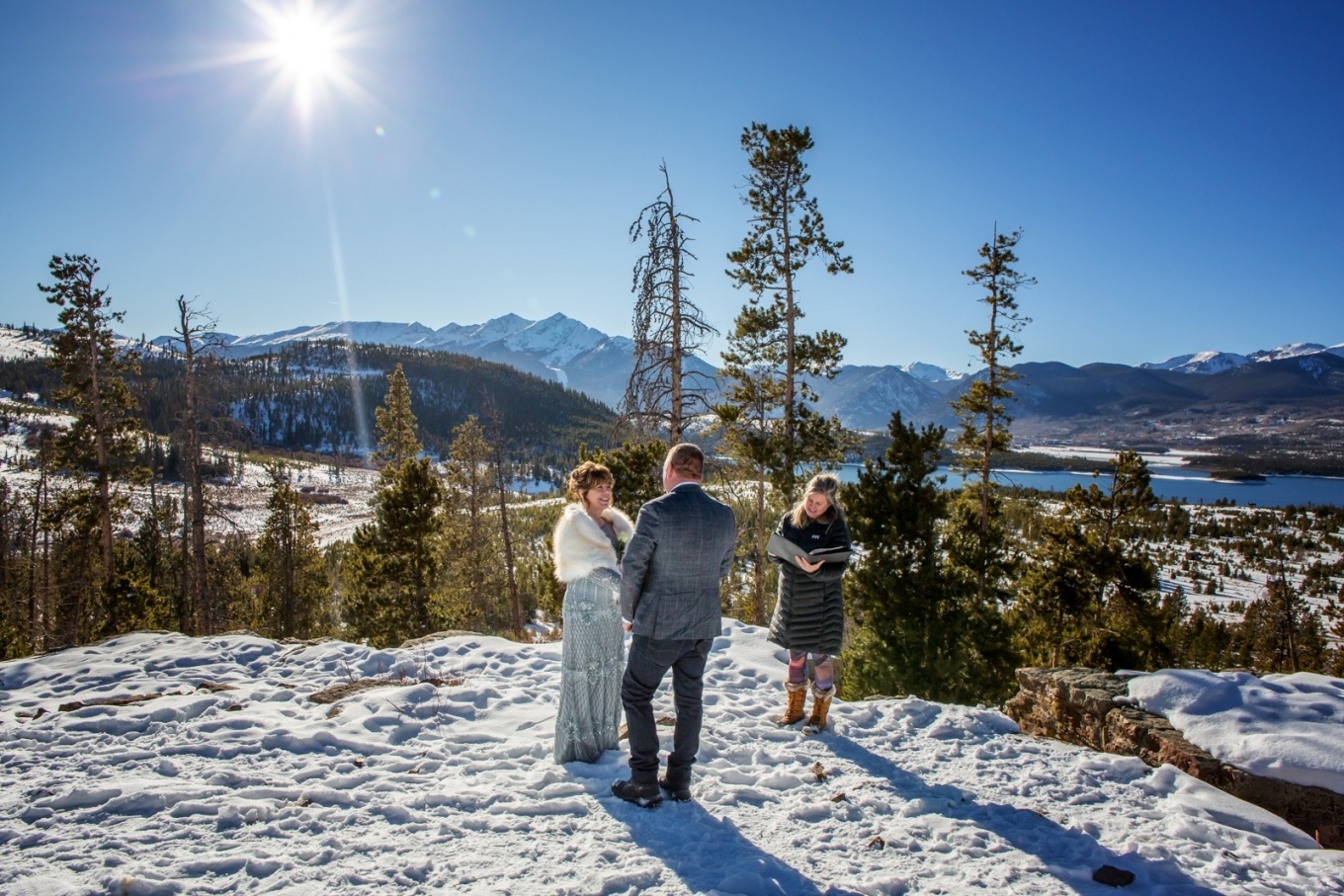 Geri and Ron's Love Story
I have to take a break from their wedding day story to share their love story, because it's really cool. In Geri's own words:
We have known each other most of our life, we live in a small community everybody knows each other. We had gone to school together and were acquaintances as adults. A few years ago, we both found ourselves going through some tough times and alone in life. Following a community meeting, we started up a conversation. The next few months we talked every night on the phone after work. Eventually we decided we should go out to dinner one night and then maybe a ride on the motorcycle. Our relationship just continued to grow and soon we were best friends, enjoying each other company and spending all our time together – some where along the way the friendship turned into a romance. Romance turned into love and marriage plans.
Small towns, romance and motorcycles! it doesn't get any better than that!
Okay–back to their elopement…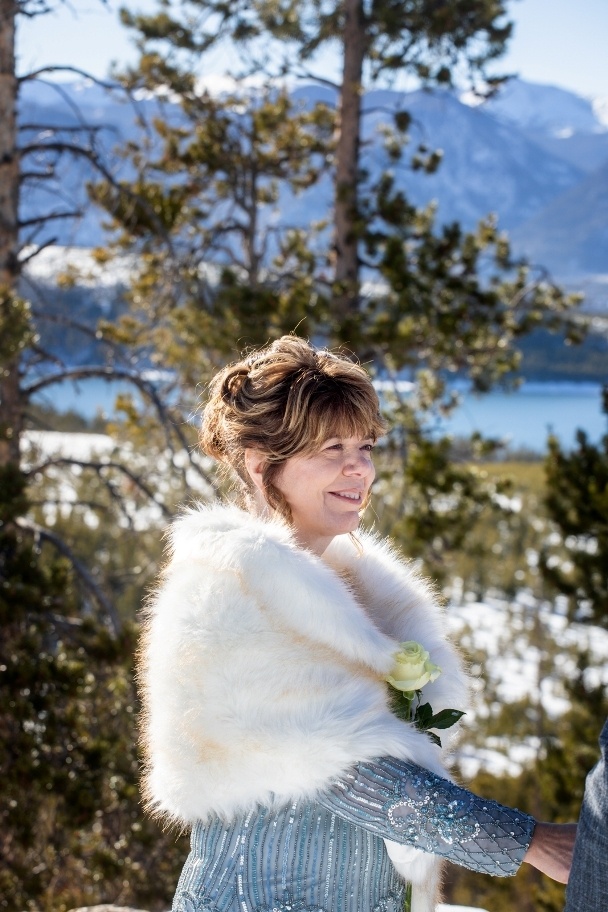 Usually their chosen venue requires snowshoes to access in winter, but the snowy season in Colorado held off for a bit this year–giving us just a little of the white stuff to walk through–totally doable with the hiking boots worn by our couple.
And the Colorado sun did its thing–shining brightly on the two of them as they made their vows at 10,000 feet.
In their own words…
Why did you choose an intimate wedding?  With all the current restrictions with COVID a wedding just didn't seem possible and although we could wait the more we thought about it we just didn't want a traditional wedding. I wanted something unique and amazing. The WOW factor without the hassle.
What made you select the location you did?  We browsed the internet for elopement ideas. I saw photos of some beautiful winter weddings. I had never thought about getting married in the snow but the more I looked into setting and venues, I just kept going back to the idea of a winter elopement. Colorado seemed to be the perfect location for us. Maureen assisted us in viewing the different locations and we were able to find the perfect location for our perfect day.
What words best describe your wedding day?  Perfect, beautiful, stunning, and peaceful.
What was your favorite part of your wedding day?  Looking out at the mountains and the lake and being surrounded by nature's best – with my best friend.
Did you face any challenges in eloping?  Honestly with the services provided by Blue Sky it was very easy.
What was the best thing about having an intimate wedding?  No stress .., no hassles we could just concentrate on making it all about us. We kept it simple.
Any advice for other couples planning to elope?  It is your day, do it your way. Talk about what is really important and focus on making your special day exactly that your special day.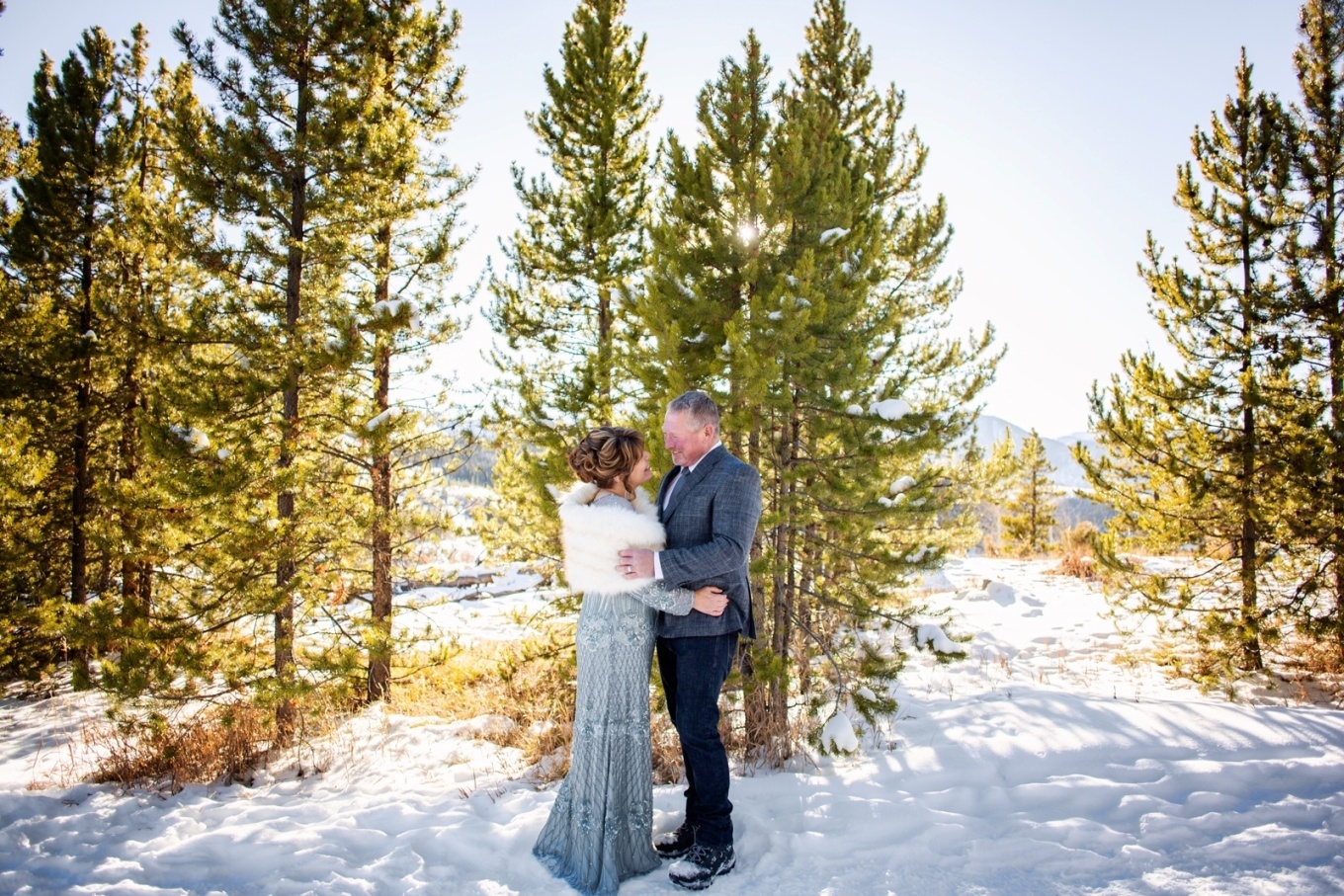 Services included in Geri and Ron's snowy Colorado elopement package: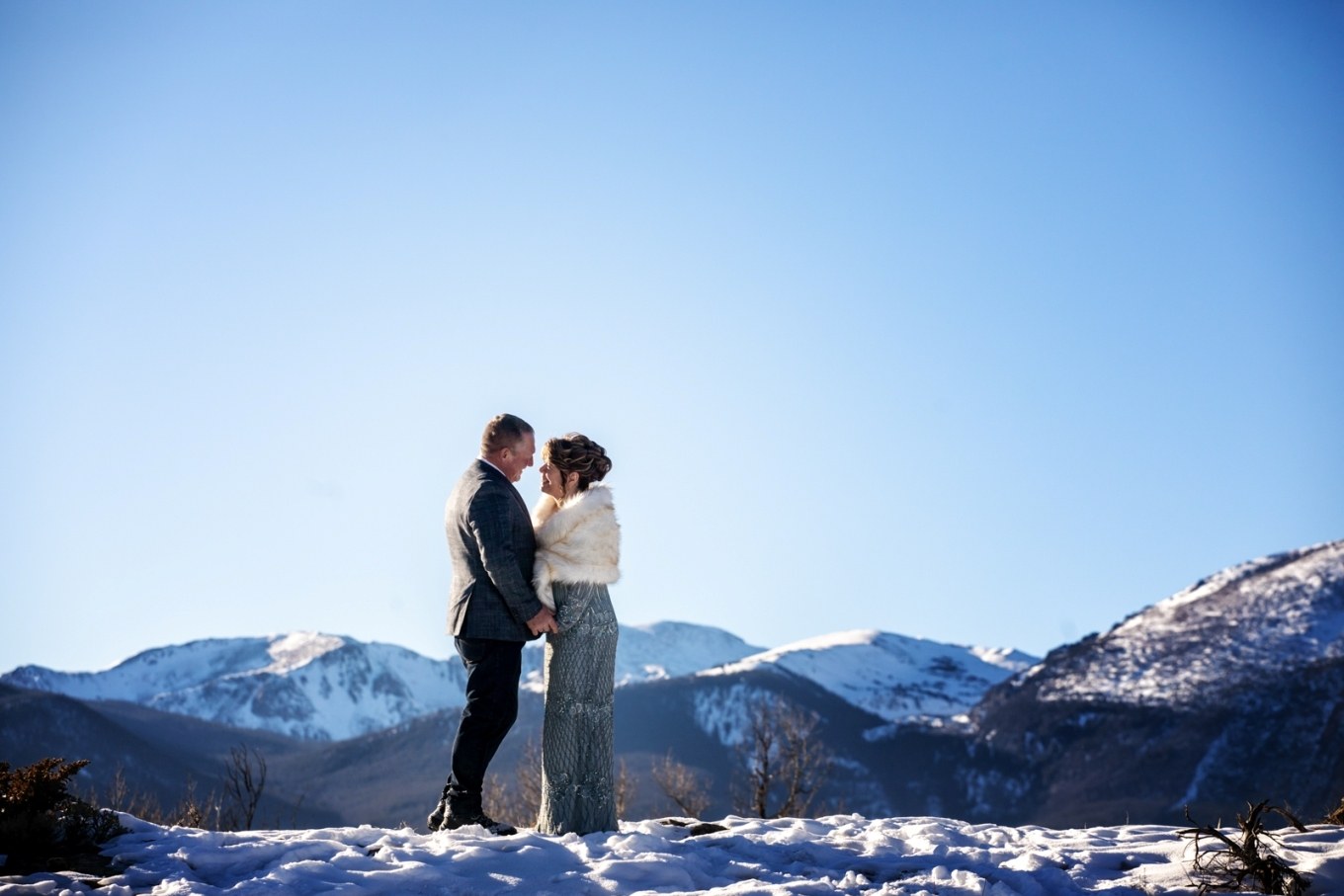 We were extremely happy with Blue Sky! I can't thank you enough for helping us with our perfect day. Maureen, our officiant and our photographer were professional, friendly, offered advice and made our dream become a reality.