Elope in Breckenridge
Couples elope in Breckenridge for mountains, alpine lakes, sun, waterfalls, the quaint downtown area and of course our fabulous ski slopes. Only 90 minutes from Denver, the options for easy-to-access, yet off-the-beaten-path elopement venues, great dining options, the vast array of things to do and the recreational opportunities are unrivaled.
Blue Sky Elopements has been offering all-inclusive elopement packages in Breckenridge since 2002. Tell us your vision and we'll handle all the details for your Breckenridge elopement. All you have to do is show up and enjoy the day. We don't want to simply exceed your expectations; our intention is to blow you away with our attentive service, location options and the quality of our photography.
Read on for more specifics of how we can help you to have the perfect-for-you Breckenridge elopement. Or, if you want to dive right in, request a custom quote.
Our Breckenridge Elopement Packages:
Blue Sky Elopements elopement packages in Breckenridge provide the following:
A mountain elopement in a breathtaking and secluded Breckenridge outdoor location.
The absolute best professional elopement wedding photography.
Hands-on coordination and planning oversight from start to finish.
All of your wedding services bundled into one all-inclusive package. You pay us one fee (and sign one contract). We'll make sure all your vendors are paid.
Things you won't have to stress over:
All the ridiculous details inherent in a big wed-a-palooza.
Spending months planning an elopement in Breckenridge on your own.
Inexperienced wedding vendors.
The uncertainty of trying to plan a long distance wedding by yourself.
Being the center of attention in front of 200 people on your wedding day.
If you're ready for more info, check out our pricing guide for Breckenridge elopements or request a custom quote.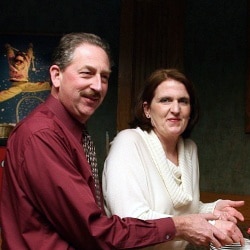 We're husband and wife team Maureen Thomson & Jeremy Myers and we love elopement weddings. (We had one ourselves!) We and our crew of talented Breckenridge elopement wedding professionals have been putting together elopements in Breckenridge filled with laughter and happy tears since 2002.
Why couples choose to elope in Breckenridge
Breckenridge is by far the most popular place to elope in Colorado. Its amenities rival those of Vail, Telluride, or Crested Butte, yet it's a much shorter drive from the Metro Denver area or from Denver International Airport. In addition to its geographic desirability, couples come to Breckenridge to elope for the following reasons:
Breckenridge has plentiful options for secluded, out of the way (but still easily accessible) places to elope that offer killer mountain views. We know the trails, mountaintops, valleys, waterfalls and hidden gem, picturesque sites of the area like no one else (poking around the mountainsides of Breckenridge is basically what we do in our spare time!) and will point you in the the direction of the best places to elope in Breckenridge.
The Summit County Clerk and Recorder's office is conveniently located right in downtown Breckenridge for you to easily obtain your Colorado marriage license. And, like the rest of Colorado, marriage licenses in Breckenridge are valid as soon as you obtain one (i.e. there is no waiting period); they only cost $30 and you don't need witnesses.
For winter elopements in Breckenridge, the resorts here offer world-class skiing and snowboarding. If you are a diehard ski fan, you might be interested in our Elope on the Slopes elopement package for Breckenridge. We also offer half- and full-day snowmobile adventure elopements in Breckenridge in the winter.
With a year-round population of just under 5,000 people and countless other folks who come to Breckenridge as tourists, the town affords guests many options for dining, lodging and entertainment. If you're planning to combine your Breckenridge elopement together with your honeymoon, you won't be at a loss for things to do while you're here. In fact, your biggest challenge will be fitting it all in!
Unlike other recreational area and ski resort towns in Colorado, Breckenridge is a true four-season venue for your Colorado elopement. Its restaurants and hotels do not shut down for what's known as "shoulder season," but are open 12 months of the year. Breckenridge is gorgeous at any time of year–offering pristine snow-covered mountain vistas in winter and spring, wildflower-filled meadows in early summer, and glorious yellow-gold aspens in fall.
Here's a tip that you may not have heard about eloping in Breckenridge
If you're thinking of eloping at Sapphire Point Overlook in Breckenridge, be advised that we do not always recommend that location. It is crowded more often than not, and odds are you won't get the secluded feeling you're after unless you plan your wedding there for off-peak times of the year. A Sapphire Point elopement will not be a stress free affair unless you're okay with lots of strangers hovering about when you're exchanging your vows! We are locally based and can give you insider knowledge about spectacular, lesser-known and less-mobbed elopement sites in Breckenridge.
As of January, 2022, elopements at Sapphire Point are limited to three (total) per day. Also, Summit County has really cracked down on parking on Swan Mountain Road. Since the parking lot at Sapphire Point is most often full, that leaves no options for overflow parking unless you want to be ticketed or towed. Bottom line on getting married at Sapphire Point Overlook is that it's gorgeous, but extremely crowded. You'll most likely need to arrive in a one vehicle, regardless of your guest count. We can recommend a shuttle service if you like.
If you would like a general idea of our services and pricing, get our Breckenridge elopement pricing guide, or request a custom quote.