Justin and Annie – a Breckenridge Wedding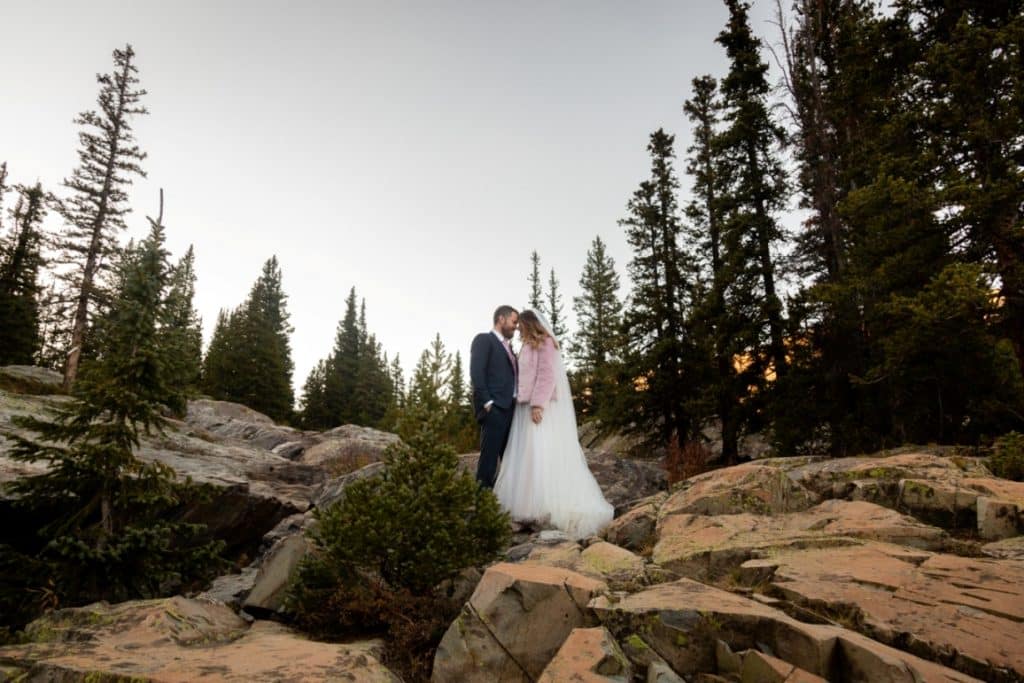 A wedding in Breckenridge was just the thing for Justin and Annie
Travelling from Tennessee (home of the Smoky Mountains), Justin and Annie knew they wanted a mountain backdrop for their wedding. And the two are also water-lovers. Once I knew that, I knew exactly where to send them for their Breckenridge wedding–an out-of-the-way, little known waterfall at the base of a Colorado fourteener (that's what we call our mountain peaks that are 14,000 feet tall or higher).
With fewer than 10 guests, this location checked all the boxes: a little-known off the beaten path site, but not requiring an arduous walk to access; a gorgeous rushing waterfall along with a pristine lake; lots of trees; and of course, a mountain backdrop. They also wanted it to be dog-friendly so their best four-legged friend could be present.
There was only one problem: about three weeks before their wedding, the road to the site they'd chosen became so torn up and damaged that we knew it wouldn't be feasible to send them and their guests up there. Enter Plan B. You wouldn't think there'd be two elopement sites in Breckenridge that met all their criteria, but… you know… they had an inside resource. (That would be us!)
They booked our services in July of 2020. Yep! Pretty much at the height of the Covid-19 pandemic. The plan was that things would open up a bit by the fall, and that's exactly what happened in Colorado. Annie and Justin took all the right precautions for a pandemic-era wedding–they kept their guest list small, they drove to Colorado from Tennessee, and they held their wedding outdoors. So we were beyond thrilled that they were able to be married in Breckenridge without any hiccups on their chosen date.
We started the day off with bridal hair and makeup services for Annie–conducted right at their lodging, so there was no need for her to run out to the salon.  Then it was off to the falls for the fun stuff!
Justin and Annie's first look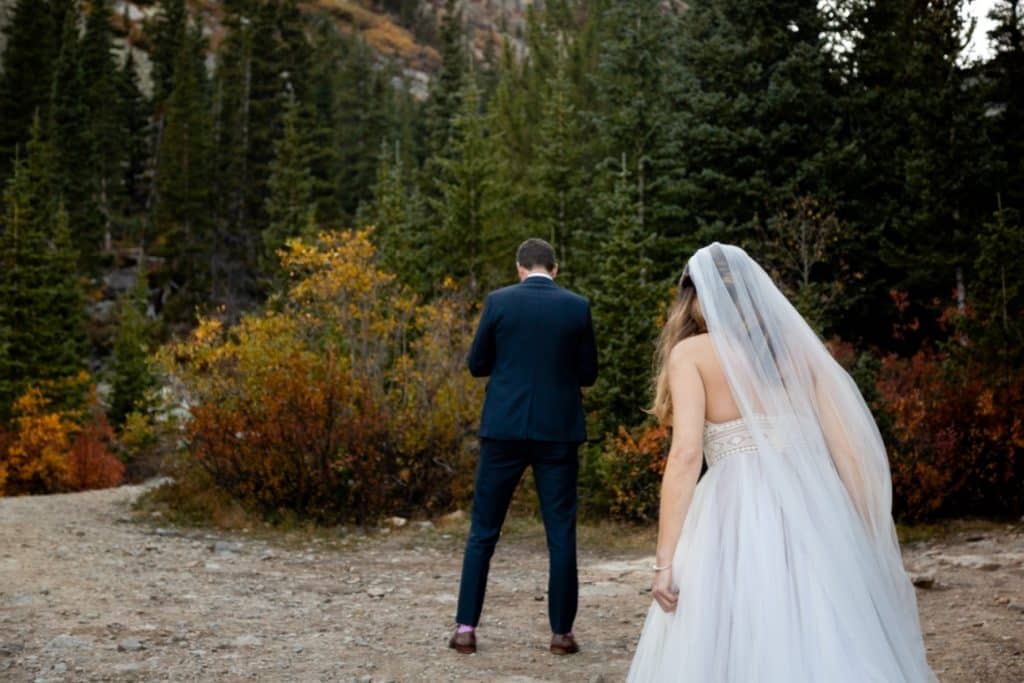 Annie had managed to keep herself hidden from Justin prior to the ceremony, so the first time he laid eyes on her was at the falls. The look on his face says it all.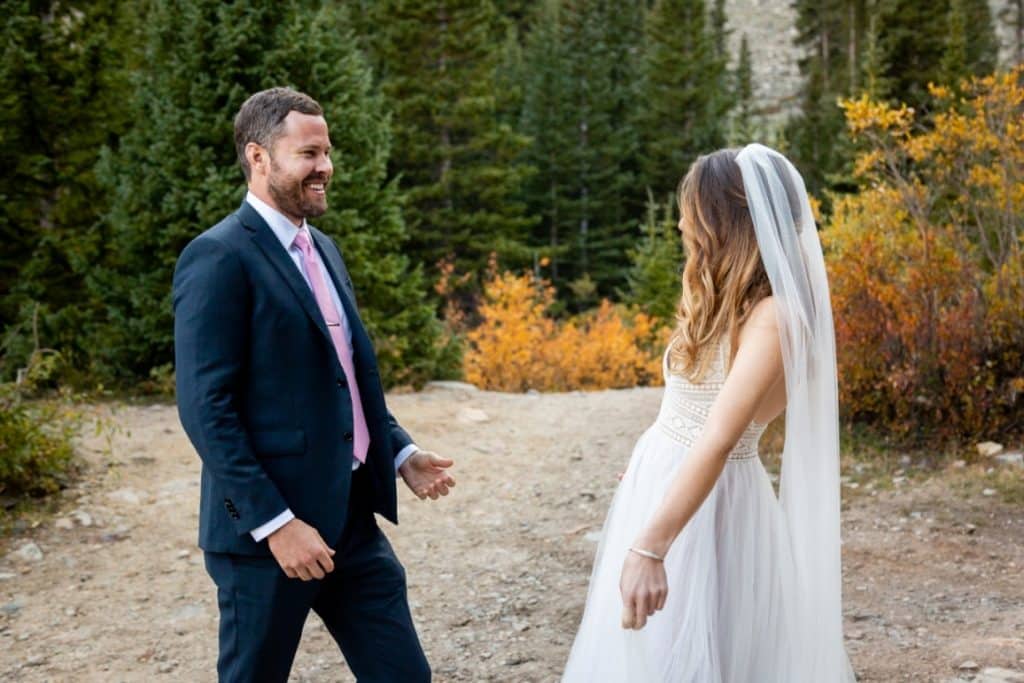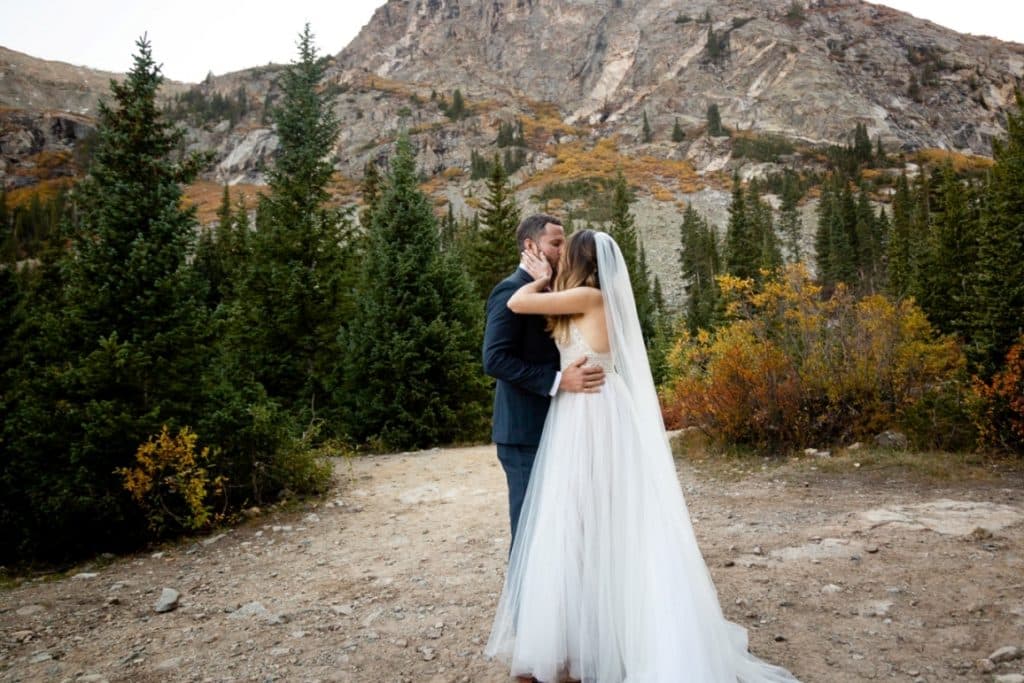 The Breckenridge wedding ceremony
Starting out with an escort to the falls from Dad…no small feat as they navigated the rocky terrain.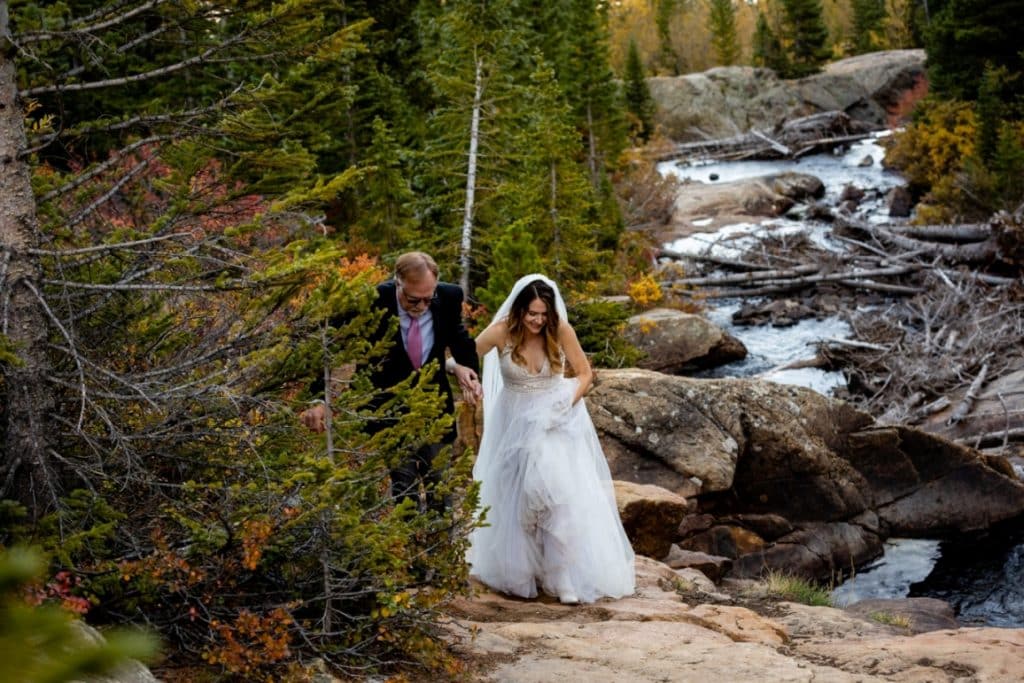 Their ceremony was short and sweet on a perfect Colorado autumn day.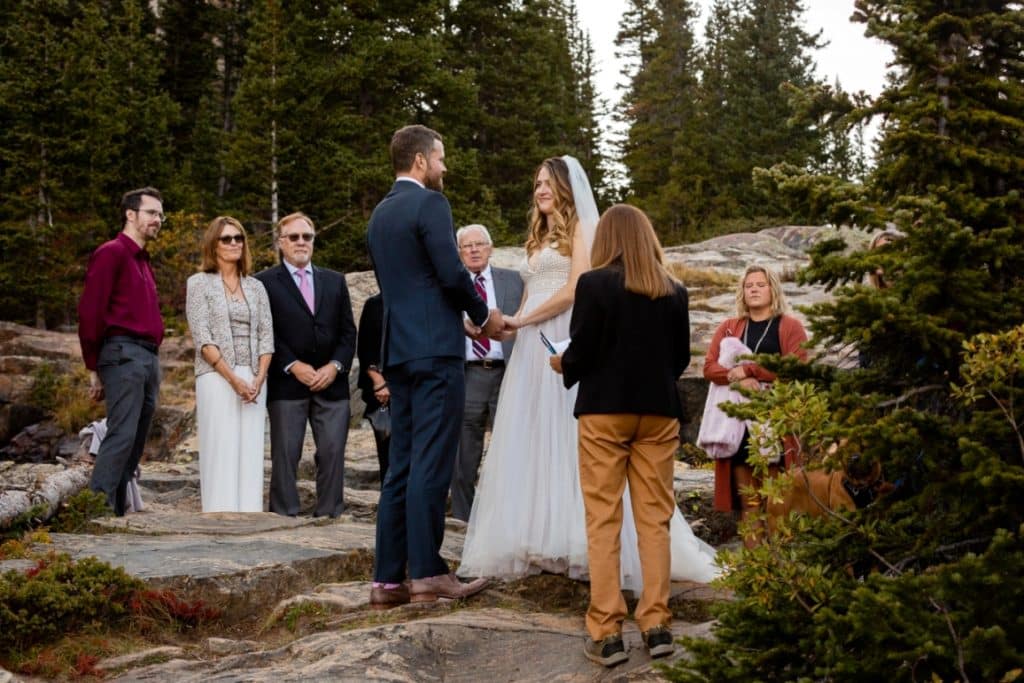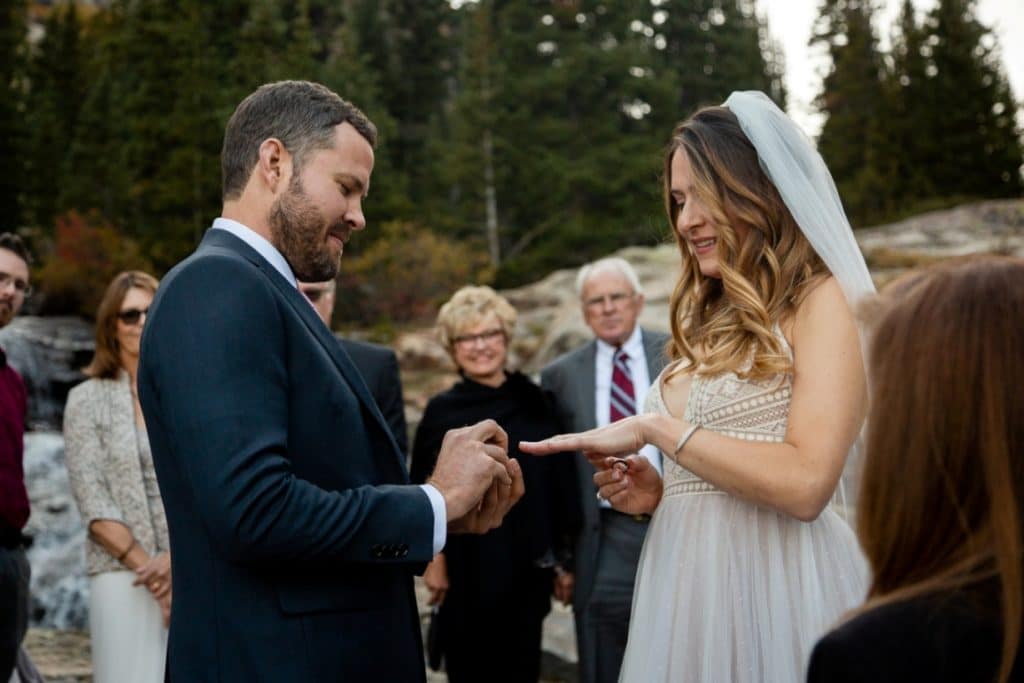 And the parents beamed throughout…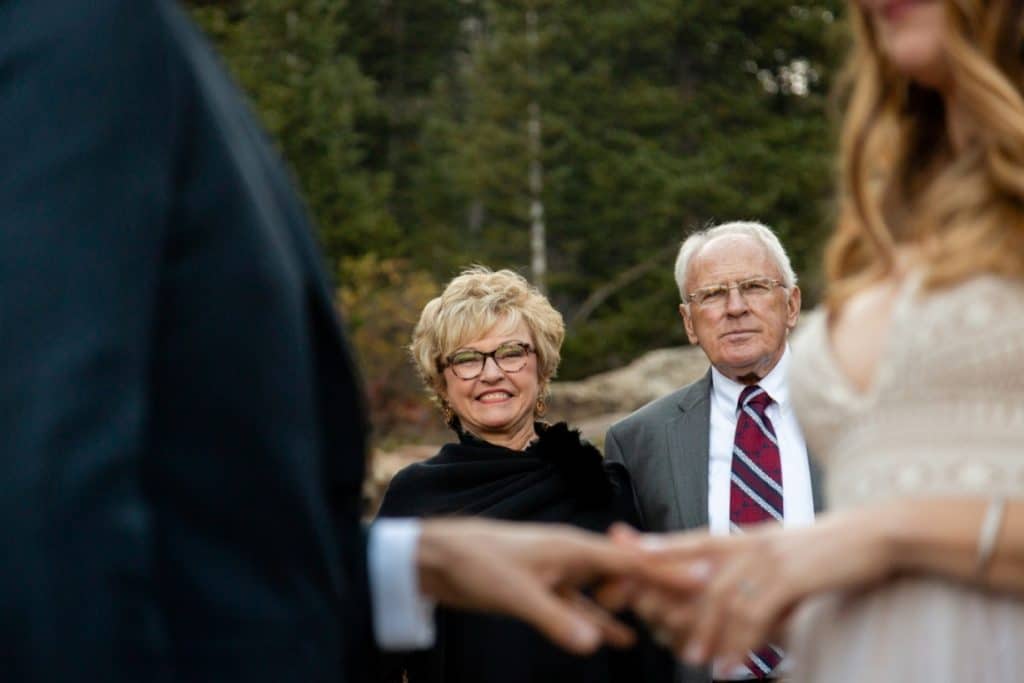 Their first married kiss…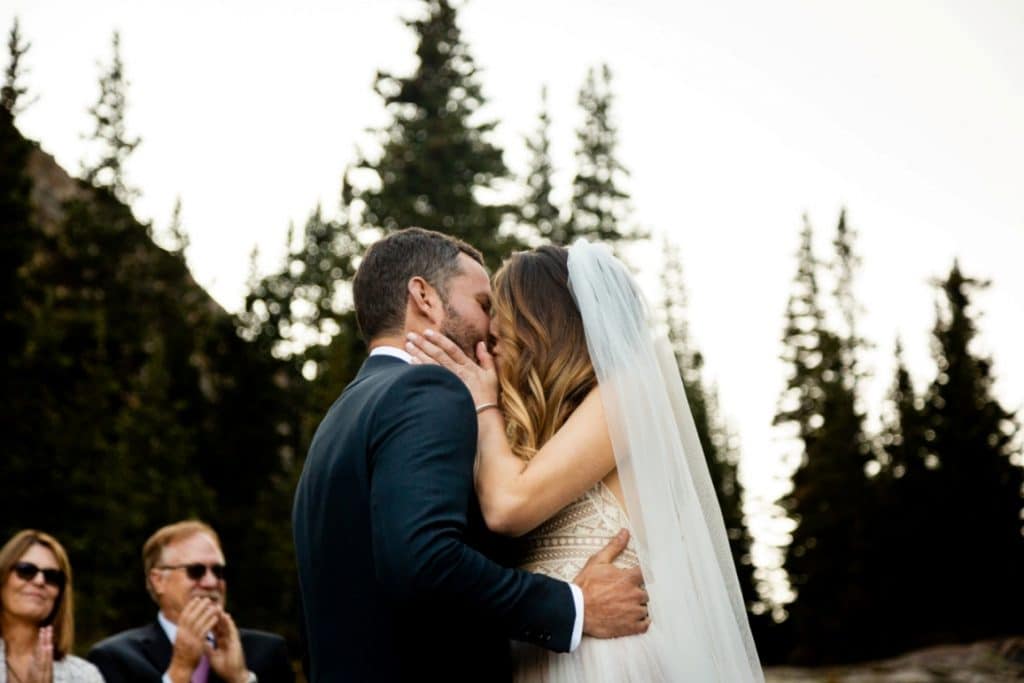 And then it came time for the true highlight of the day–the signing of their Colorado marriage license by their very special witness.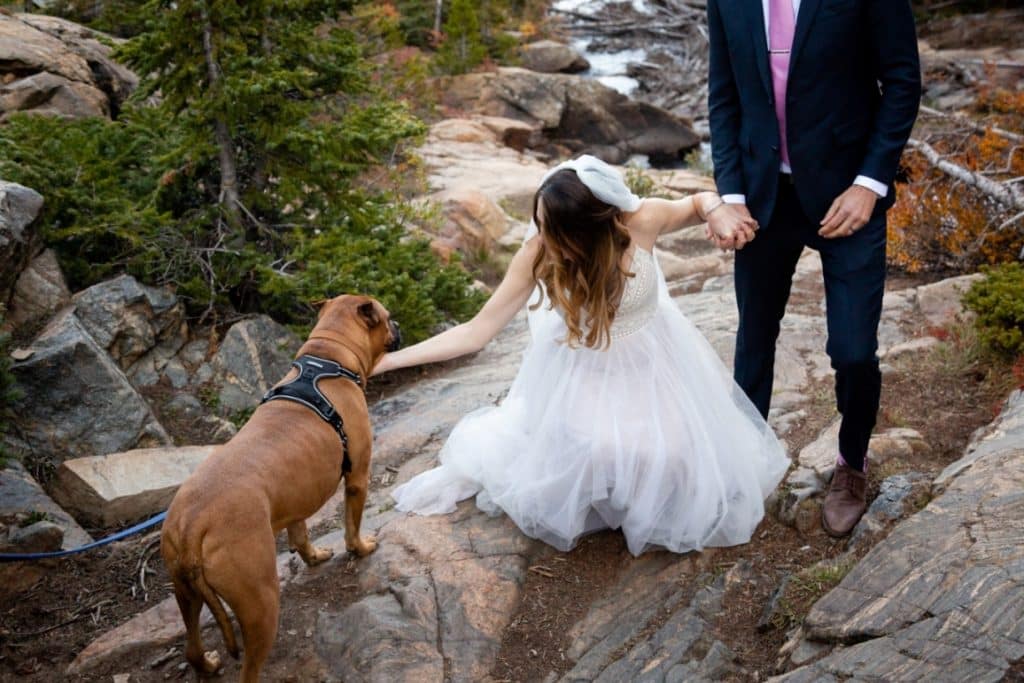 Then, their first official married family portrait!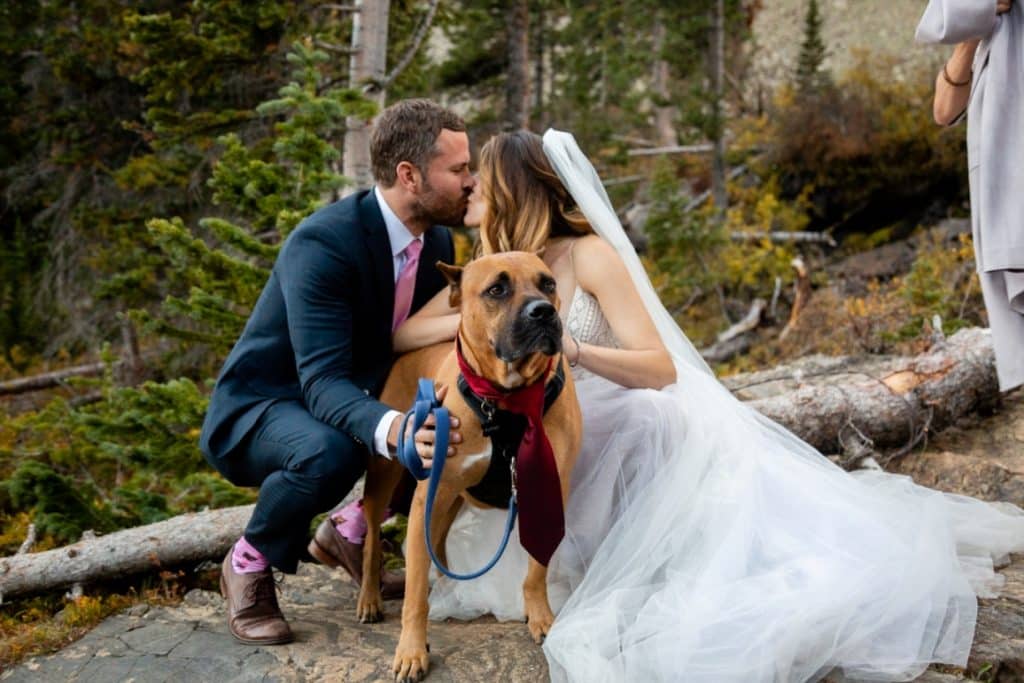 After their wedding ceremony in Breckenridge
It was time to capture their guests partaking in the festivities.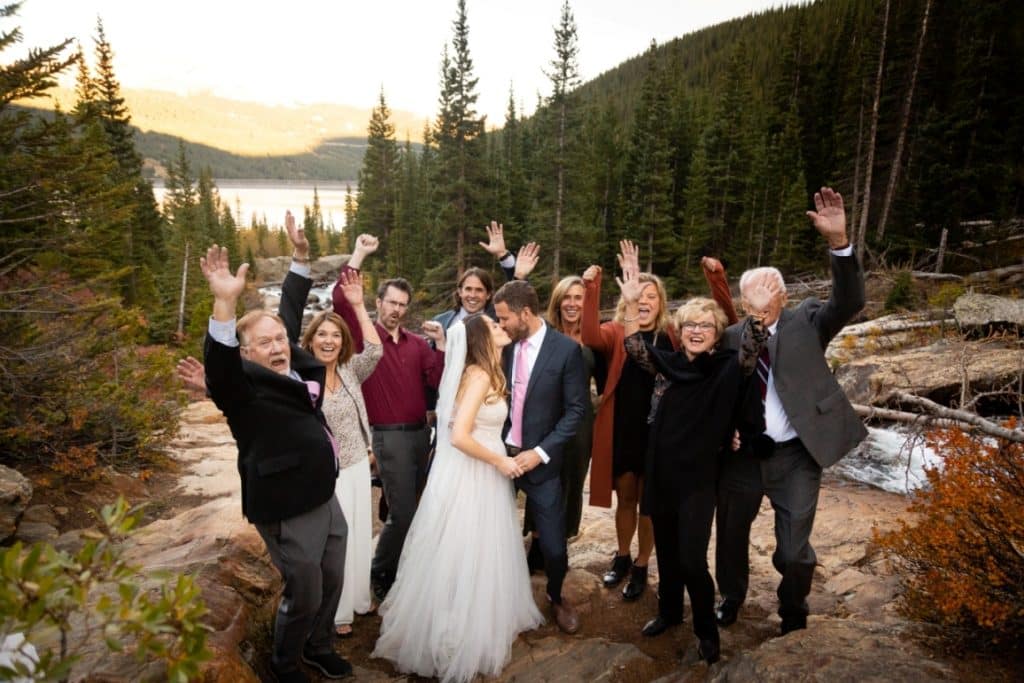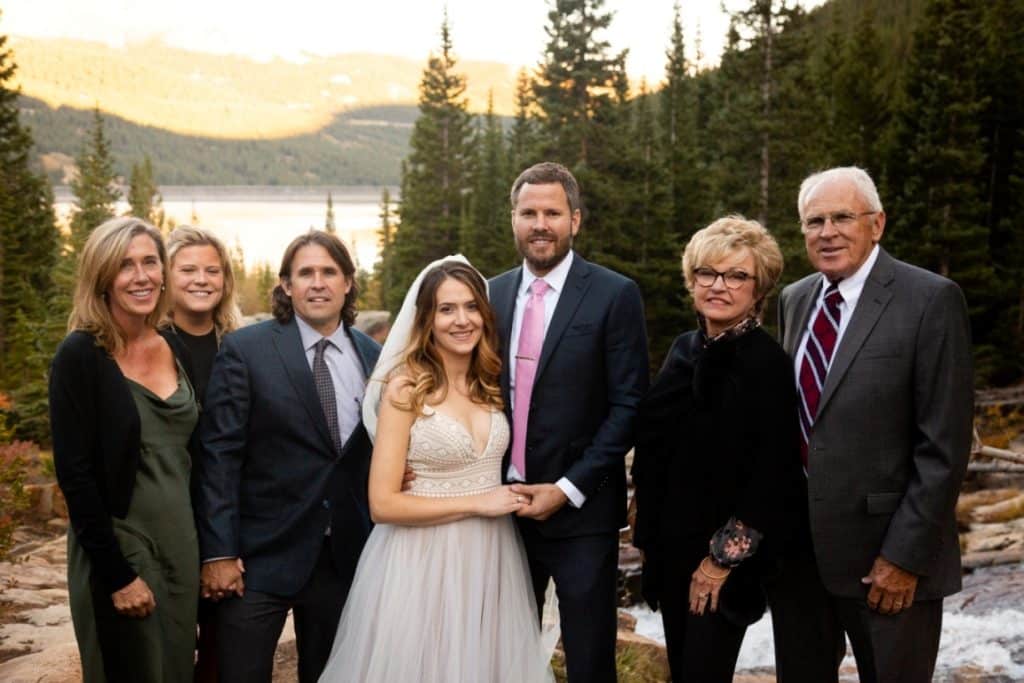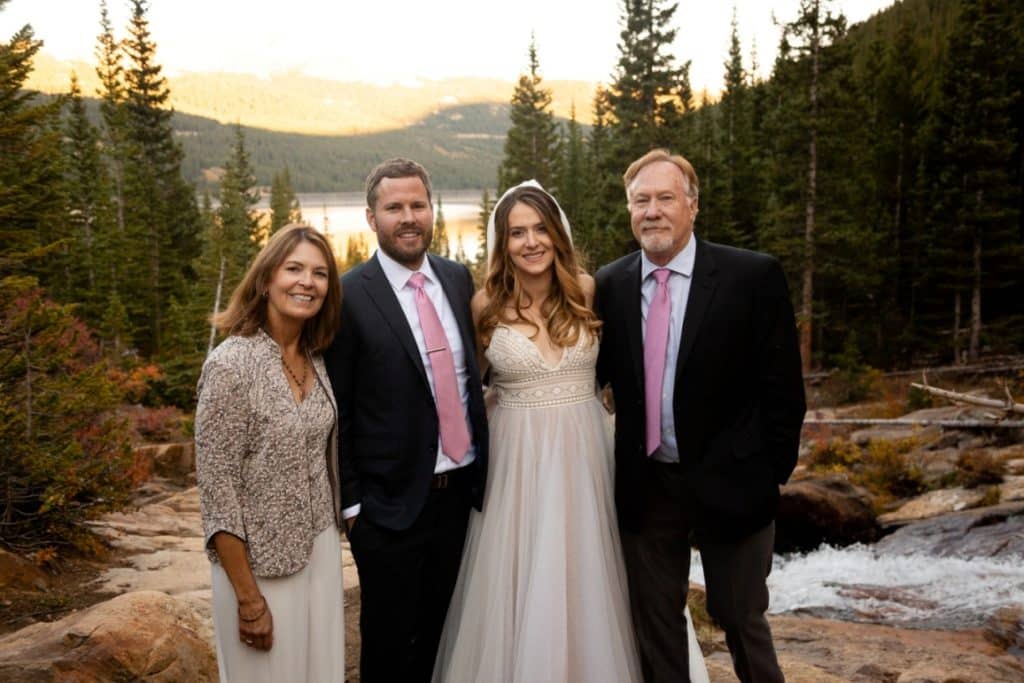 Then it was all about the two of them
My favorite thing about our elopements is capturing the moments between the couple before and after the ceremony. It's such an honor to witness a couple's special connection to one another and to be the ones lucky enough to record these memories for them.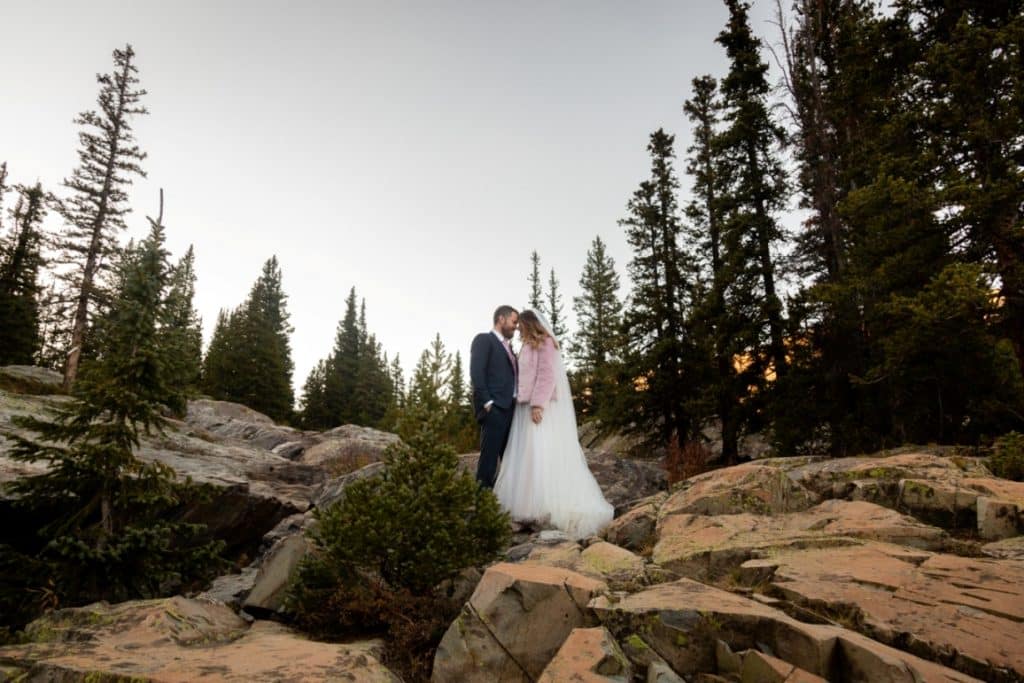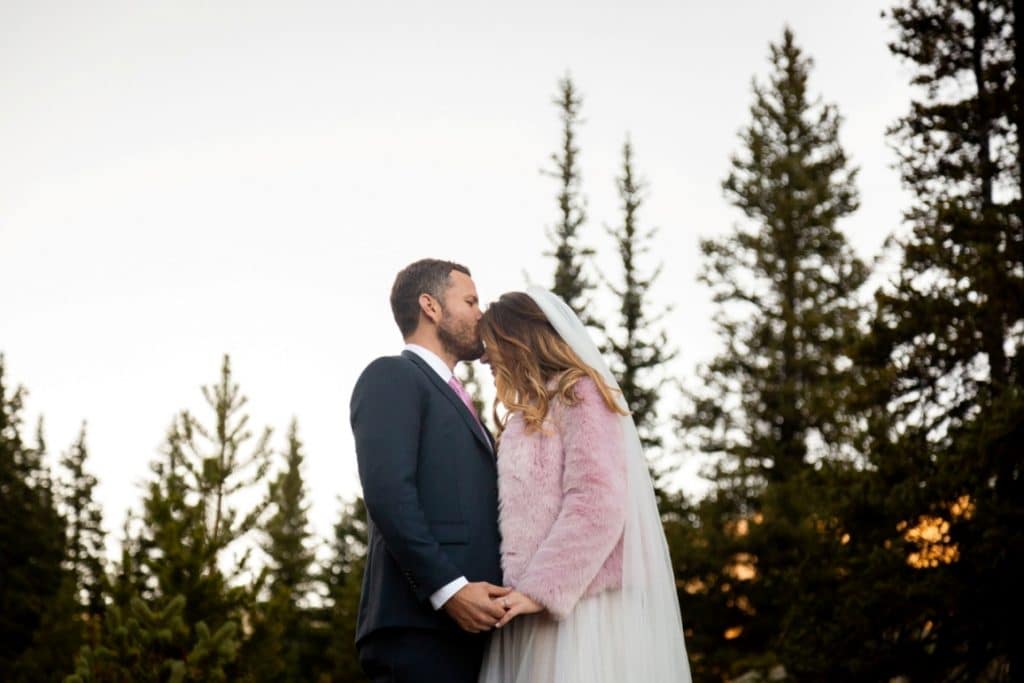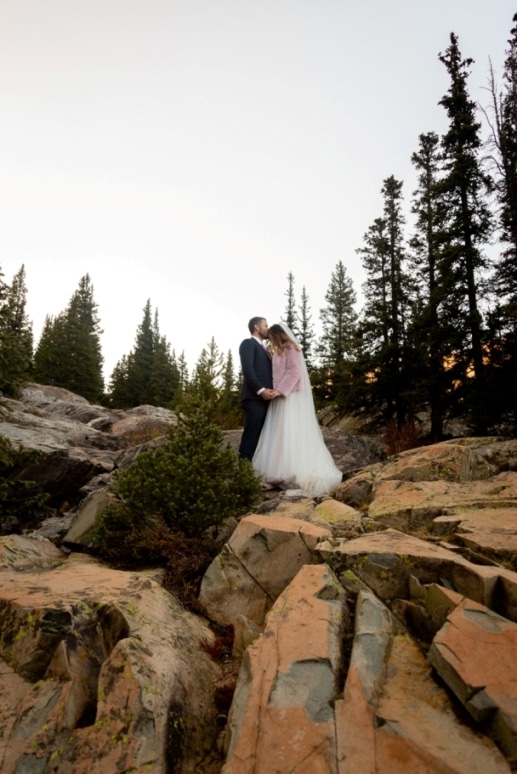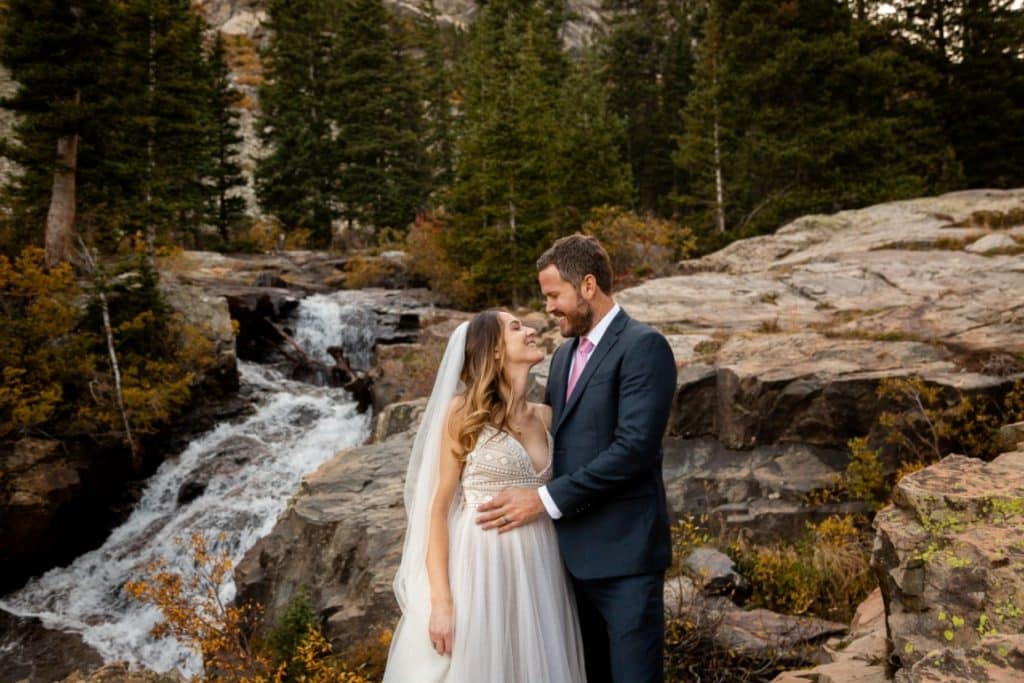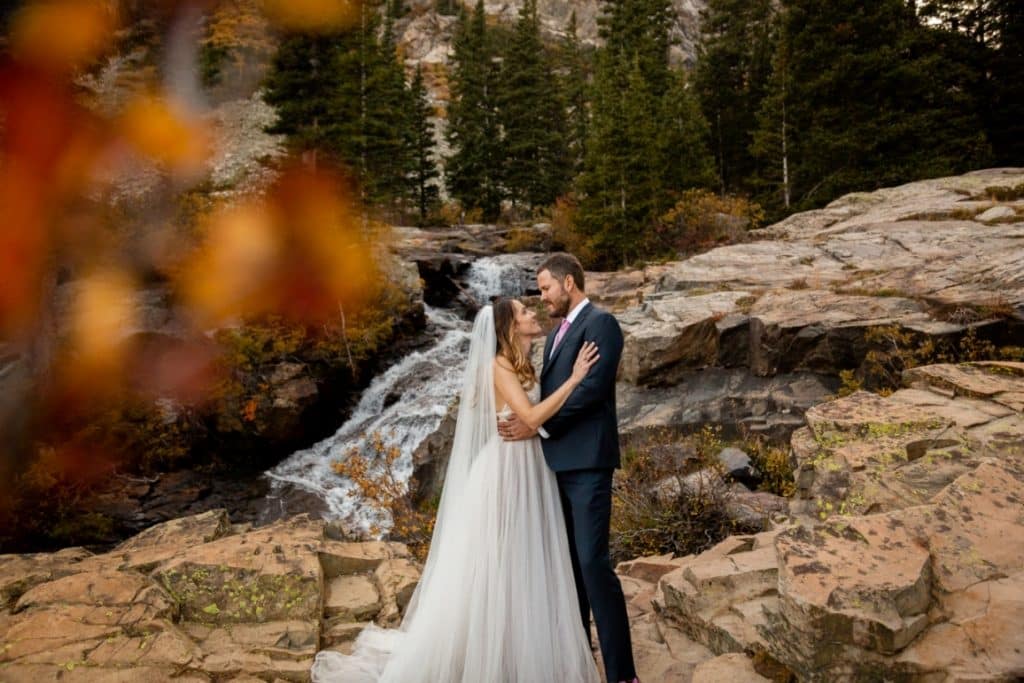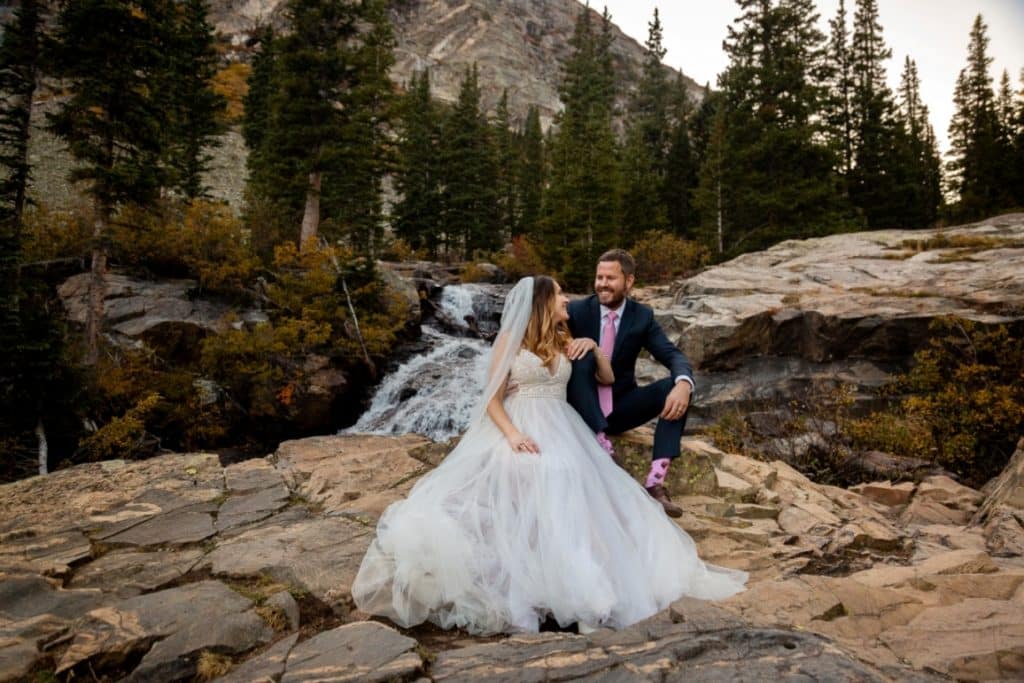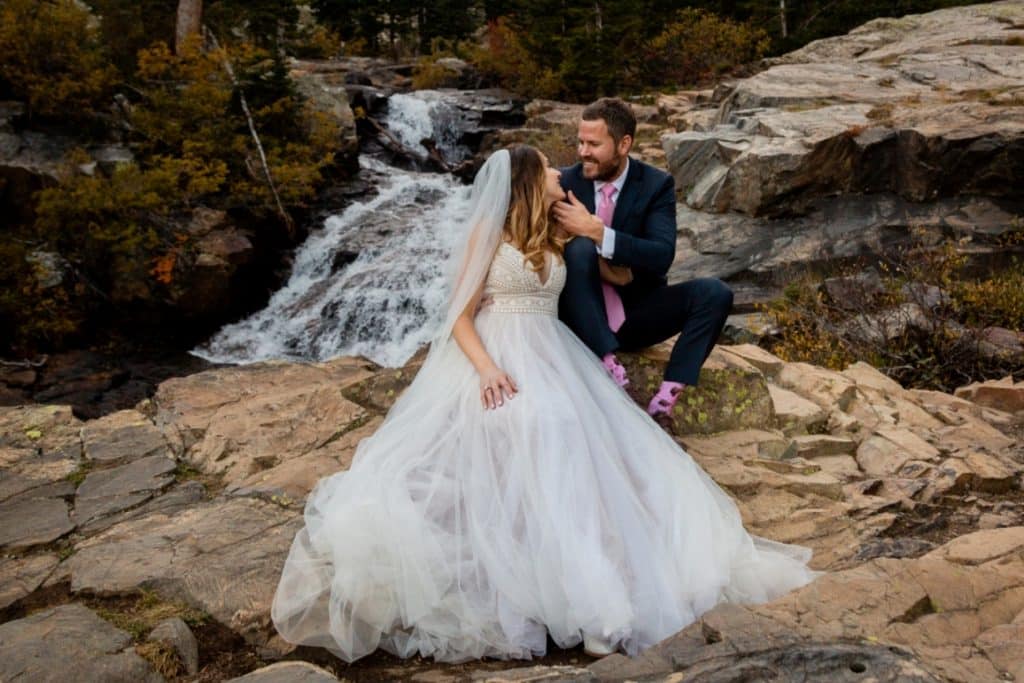 And we adored their fancy footwear! There's no doubt these two love their pup.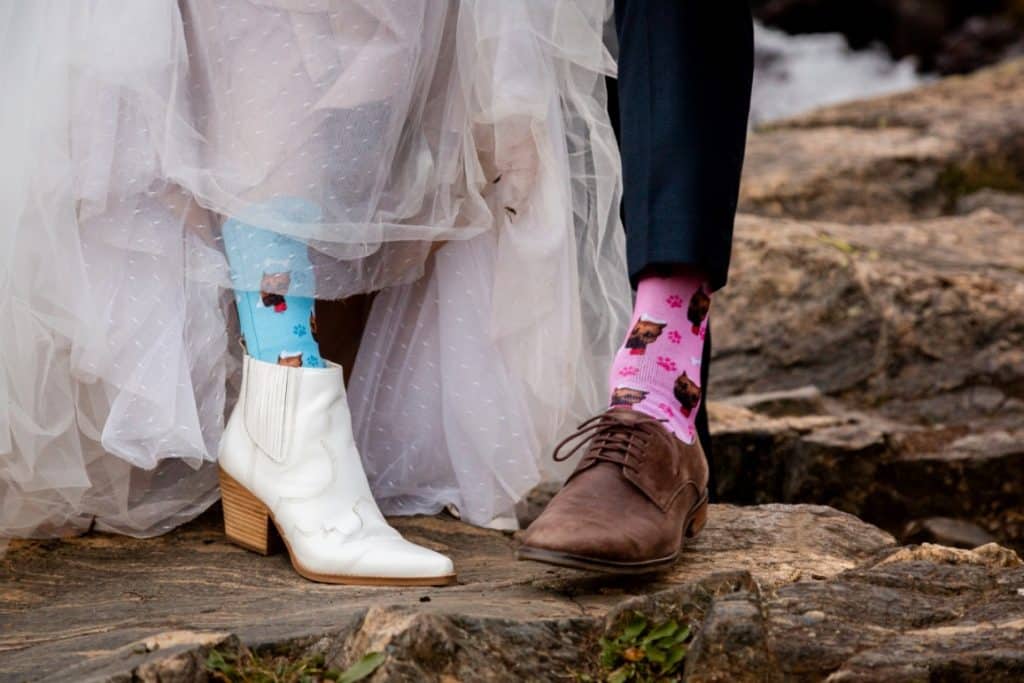 In looking at their poses, it looks like the two are part mountain goat, but in actuality, this is a pretty easy outdoor elopement site to navigate (especially if you're wearing the right shoes!).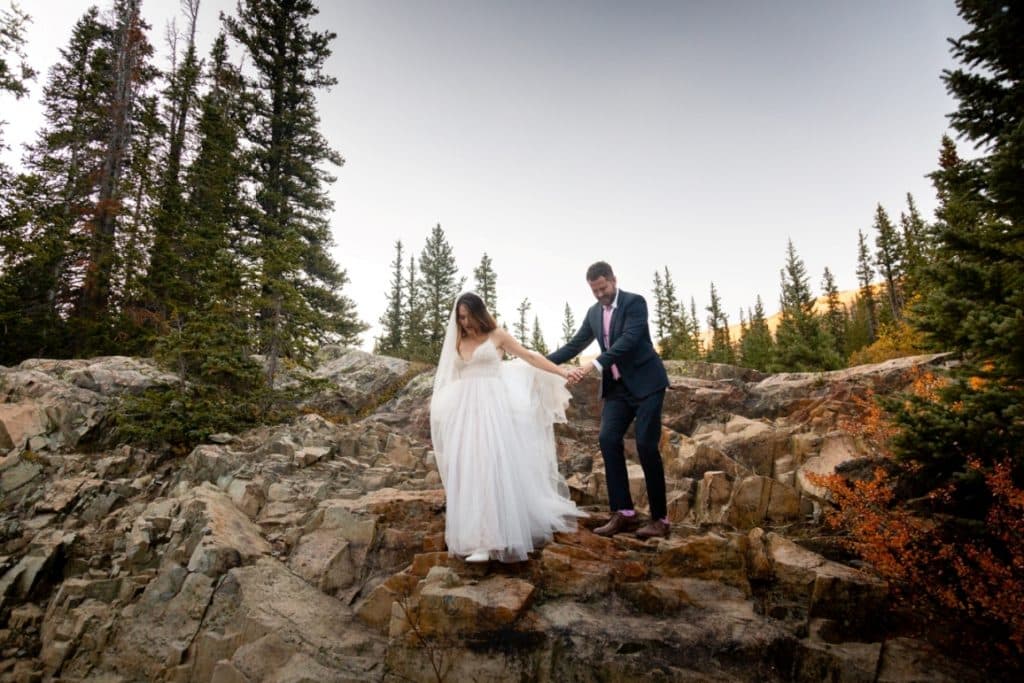 More post-wedding pictures
For a bit of variety, our photographer posed Annie and Justin in front of a lovely old abandoned mining building.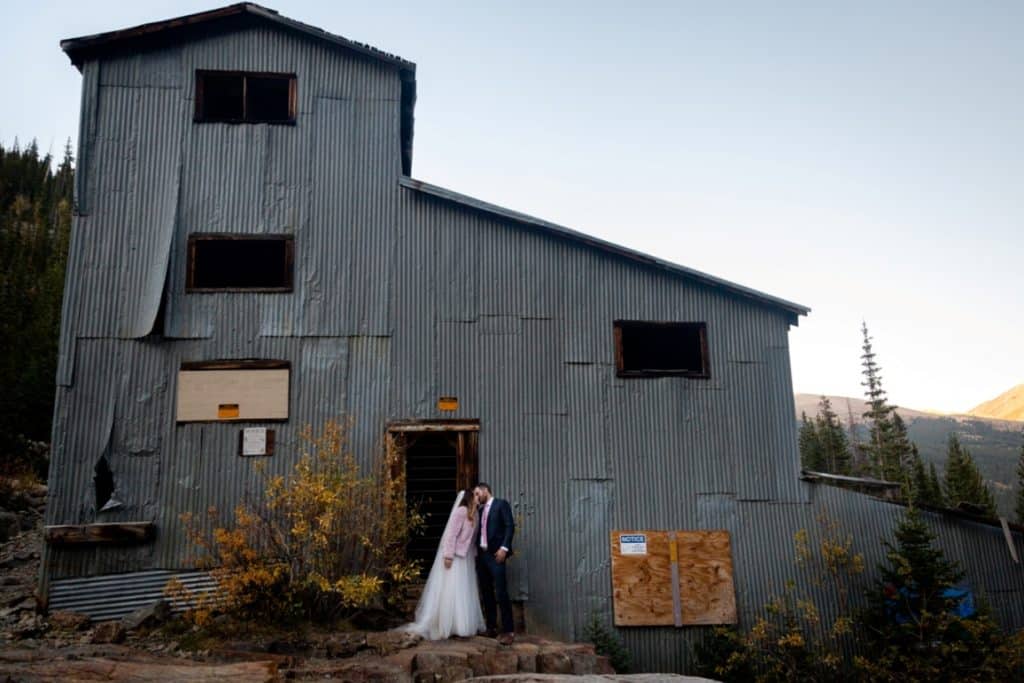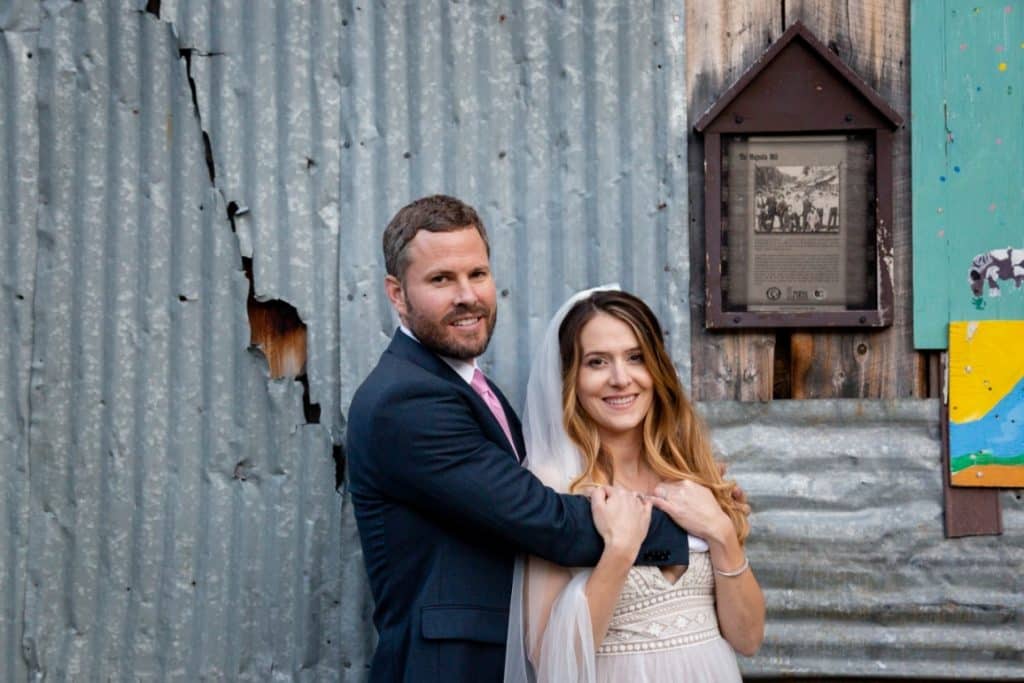 And, since nothing says 2020 wedding like a mask-wearing bride and groom!
Probably not the photos they'll be printing for their wedding album, but they will make an interesting story for their future grandkids.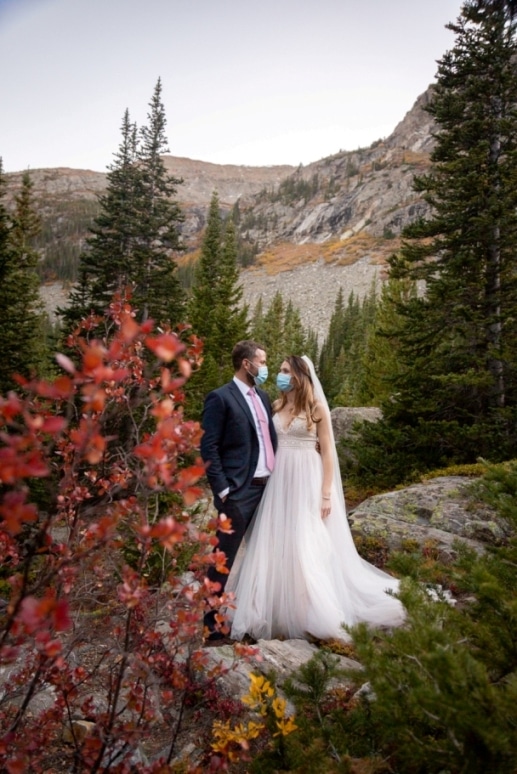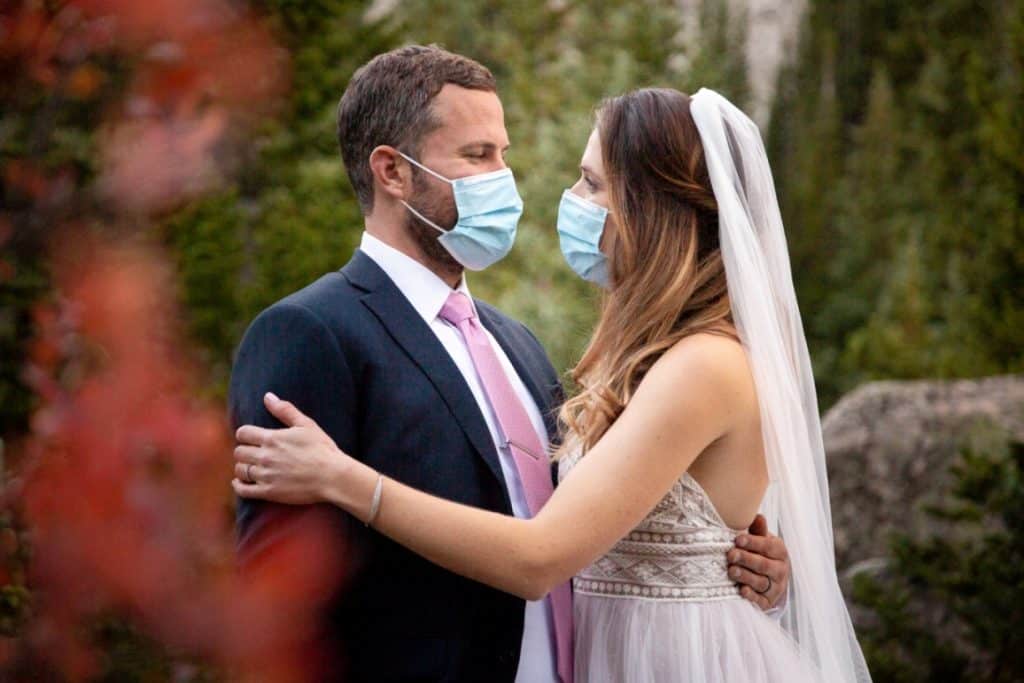 In their own words
Why did you choose an intimate wedding?
We wanted it to be small and simple, we're not big planners and we didn't want to deal with a hassle of a big wedding.
What made you select the location you did?
We wanted mountains and water and this was the best of both.
What words best describe your wedding day?
Perfect! Stress free and absolutely beautiful.
What was your favorite part of your wedding day?
Having our dog be able to be there and especially having him be our witness. His paw print is on our marriage license.
What was the best thing about having an intimate wedding in Breckenridge?
How easy and stress free the whole process was.
Any advice for other couples planning to elope?
Do it! It's so special and you really get to enjoy every aspect of your day, there are tons of ways to elope too, it doesn't have to be just you two.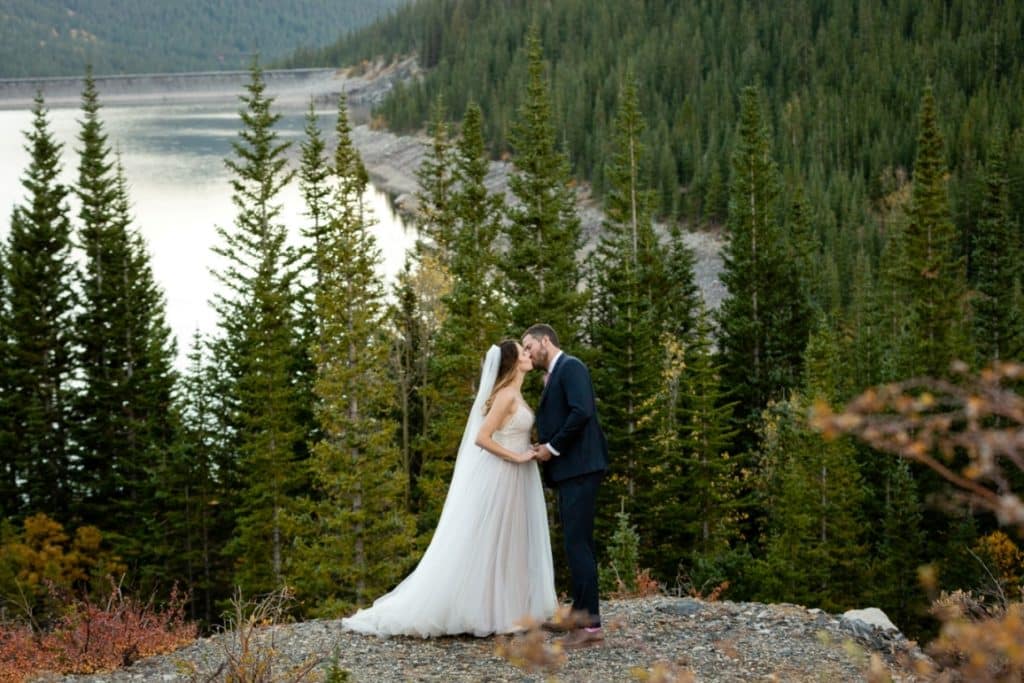 Blue Sky Elopements was great. Communication was frequent but not overwhelming and they really worked with you to make sure you have everything you need
Services Included in Justin and Annie's Breckenridge Wedding Package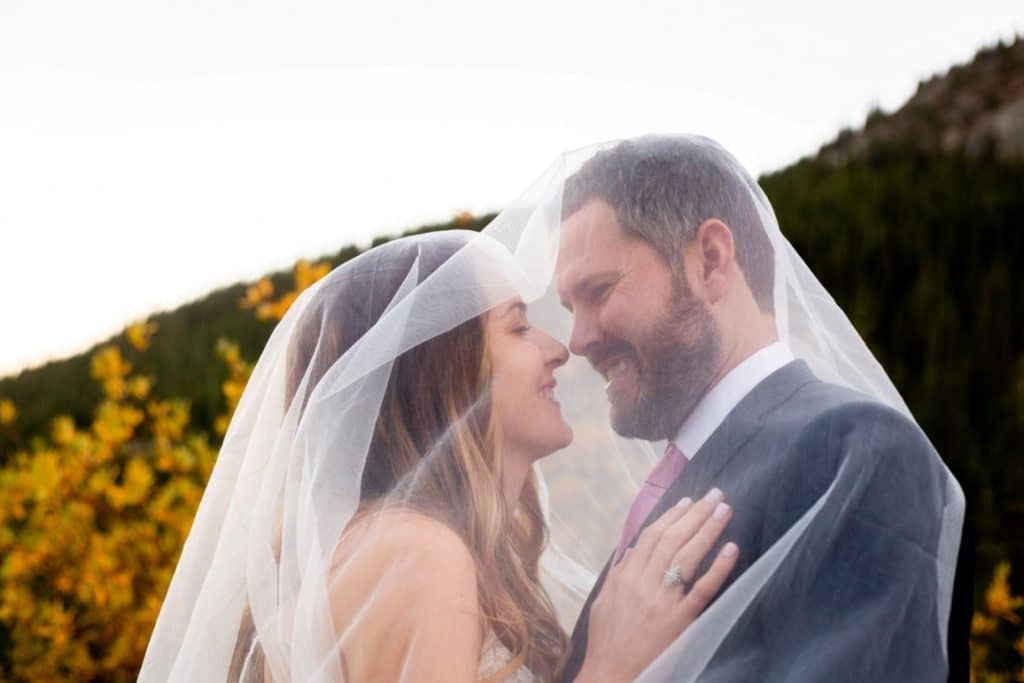 Things to think about if you're planning your own Breckenridge wedding
I think the reason that Justin and Annie's wedding in Breckenridge went so smoothly was because the two of them were open to professional advice on everything. Coming from Tennessee, there was a lot they didn't know about eloping in Colorado. And, as with many things, oftentimes achieving a positive outcome comes from admitting you don't know what you don't know.
Establishing trust is critical between Blue Sky and our couples, and that seemed to come easily for these two. It's never fun to tell a couple that the site they've chosen for their wedding isn't going to materialize after all (but that's the risk we run when a couple chooses a non-reserved site), but when I broke the news to Annie and Justin, they calmly rolled with the punches and that allowed us to smoothly deliver the stress-free wedding day they'd been promised.
Plus, by keeping their guest list down to under ten guests, they sidestepped all the possible pitfalls of the pandemic. At one point, Colorado was only allowing groups of 10 or less to congregate, and this lead to some disappointment on the part of many couples. Annie and Justin erred on the side of caution from start to finish and they trusted Blue Sky to make it happen for them. It all worked out perfectly!
Other things to think about when planning a destination wedding in Colorado
You must obtain a marriage license in Colorado; you don't bring one from your home state. It's really easy to pick up a license here–all you need is $30 and photo ID. But the county clerk's offices are not open on weekends or holidays, so bear that in mind when planning your travel, because you both have to be here in person to be given a license.
Altitude sickness for you or your guests can quickly derail an otherwise perfect wedding day. As part of our services, we'll walk you through the process of what to do if you begin to experience altitude sickness. (Hint: the short story is to keep yourself hydrated both shortly before and during your time in the Rocky Mountains.) Justin and Annie's wedding in Breckenridge was held at an altitude of over 11,000 feet. At that elevation, it's important to take precautions.
Monday through Thursday is a much better timeframe for planning to elope outdoors in Colorado. Hiking trails are less busy; most wedding vendors charge less for weekday weddings (We do!); restaurants will be less crowded and lodging will be cheaper. By marrying on a Thursday, Justin and Annie escaped the weekend crowds of day users that might have otherwise crowded their site. As it was, they had the entire waterfall site to themselves.
Please contact us or request our pricing guide if you're interested in your own small wedding in Colorado. We'd love to make your Colorado elopement as perfect and stress free as Annie and Justin's was.