A Breckenridge micro-wedding for Haley and Nic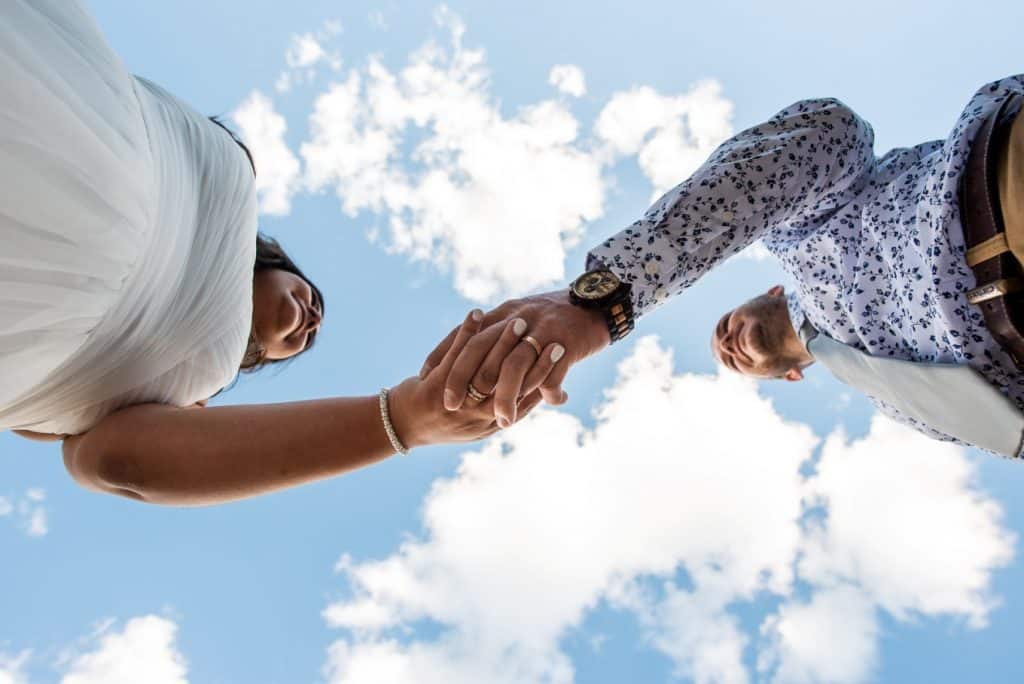 Nic and Haley knew right from the start that they wanted a Breckenridge Micro-Wedding
Okay, Grand Lake, Colorado was a close second. But after showing them photos and video of the gorgeous site we use in Breckenridge for our micro-weddings and elopements, they were sold. They also knew from the beginning that they wanted to keep it to their close family members and make sure their two kids were involved. Having booked us in 2019 for a September of 2020 wedding, what they didn't anticipate was a pandemic.
And you know what? It's didn't make one bit of difference! By keeping their wedding small and outdoors and exercising a few basic precautions, Haley and Nic didn't have to make any adjustments for their wedding. Try doing that with a wedding with 200 guests! (Just kidding… please don't.)
From Haley:
We got married during a pandemic and did not have to change a single aspect from our day and this is all because we eloped. Not many other brides from 2020 can say this, I don't think.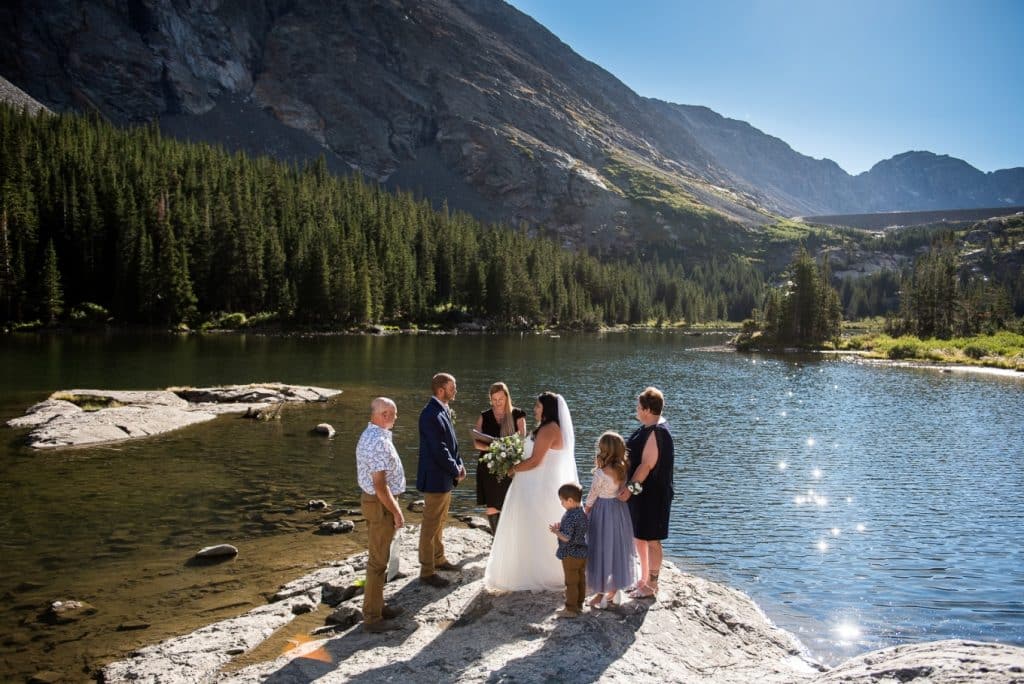 The decision to elope
Some couples are hesitant to elope when they first reach out to us. Not so with Haley and Nic. Haley made it clear, "every married couple that we had talked to prior to our wedding stated how the day of their wedding was stressful, a waste of money for one day to let other people celebrate, and that if they could do it again they would elope. Made our decision to elope so easy!"
LOVE the way this gal thinks!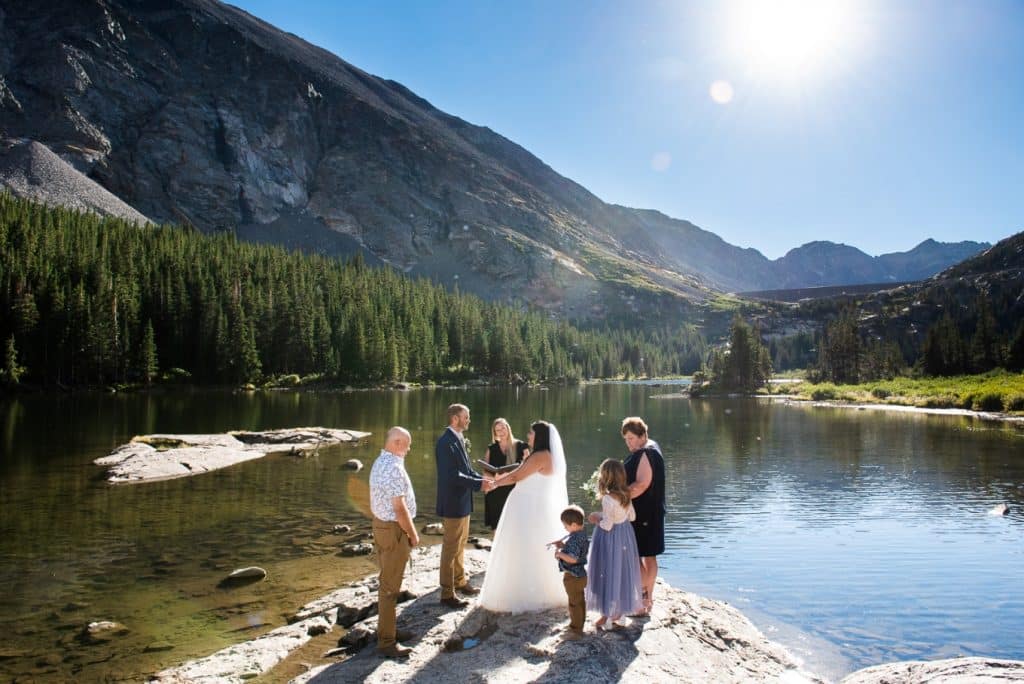 Nic and Haley's wedding day
The day was a gorgeous end-of-summer sunny Colorado day. September is so idyllic for getting married outdoors in Colorado. The day started out with Haley pampering herself with bridal hair and makeup services from our fabulous stylist in Breckenridge–who came out to Haley's lodging to work her magic. The results? Stunning, as always. Haley looked gorgeous, but not overly made-up. The exact look she was seeking.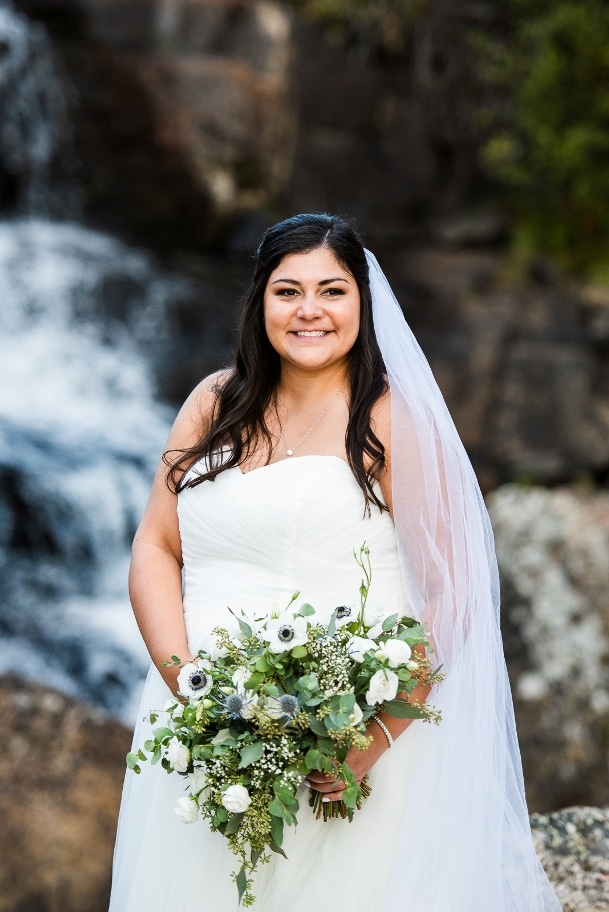 Haley and Nic's bouquet and boutonniere were delivered right on time in Haley's requested color choices of whites, dusty blues and greens.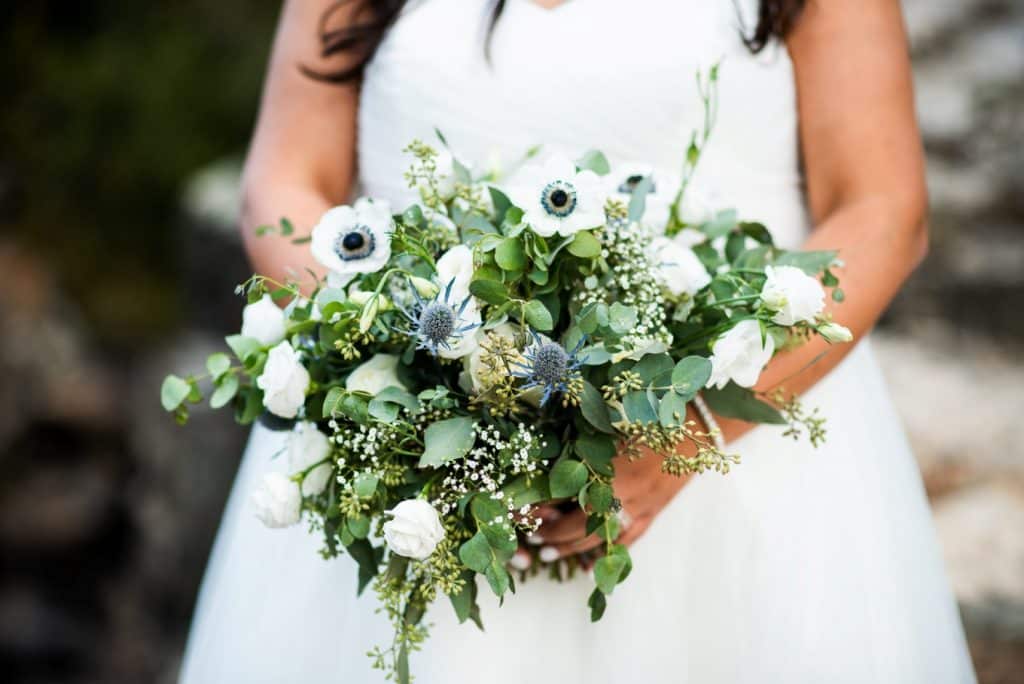 Their micro-wedding ceremony
Their ceremony was exactly what they'd envisioned–based on family, love and lots of laughter. Not to mention, a daughter wearing a twirly skirt and a son with an adorable tie!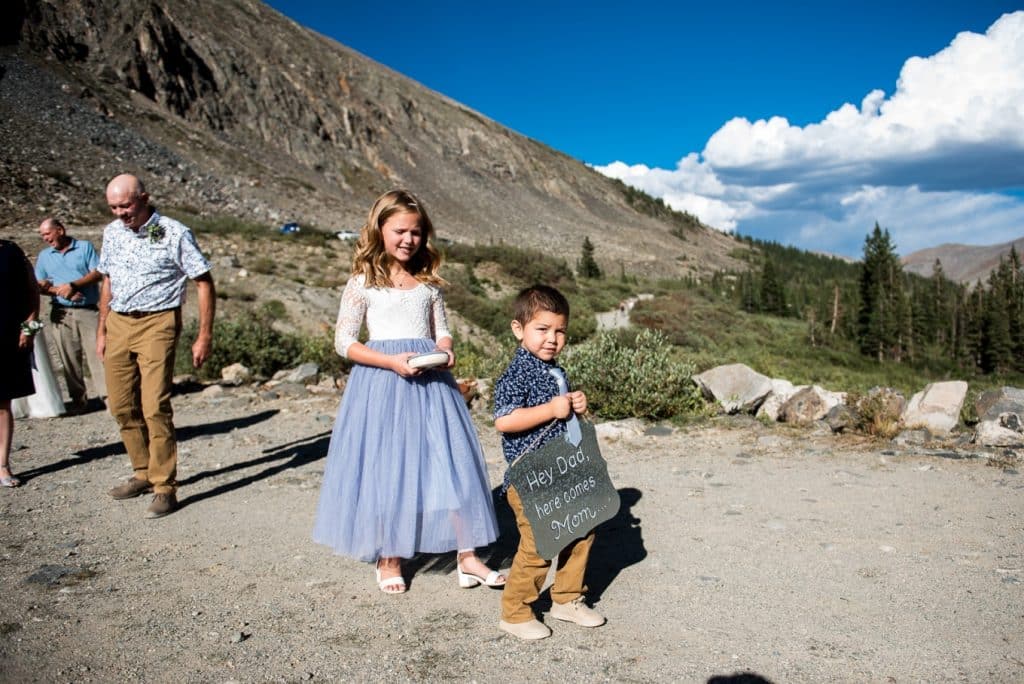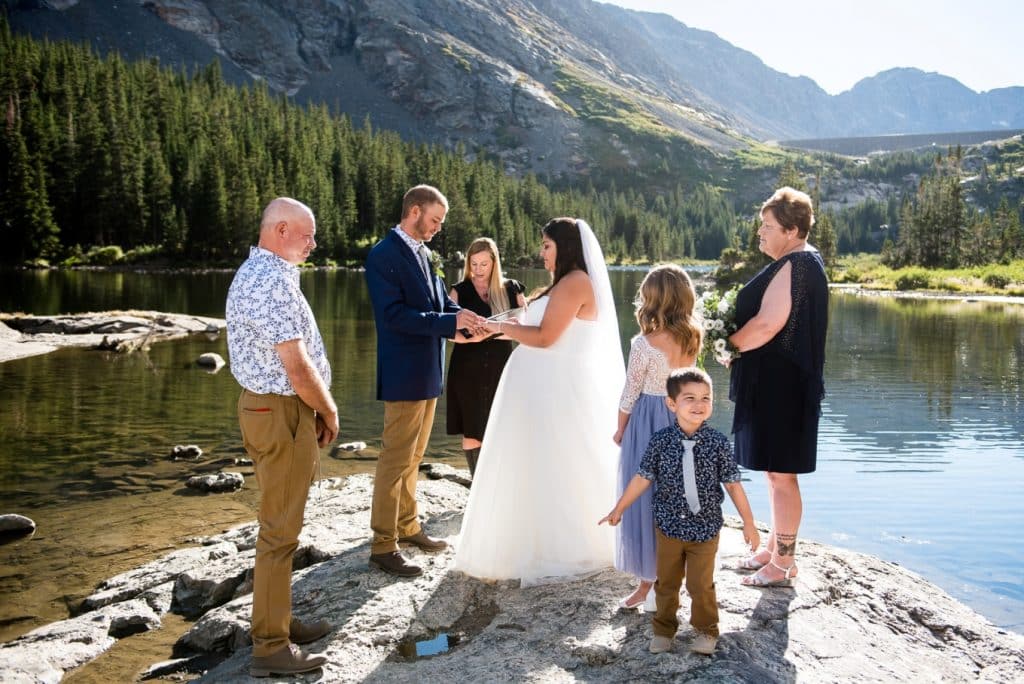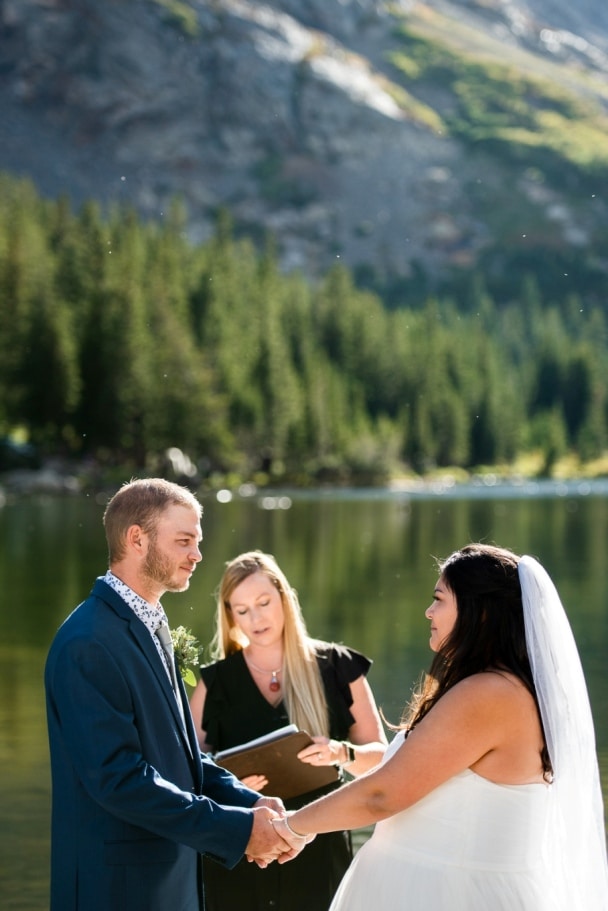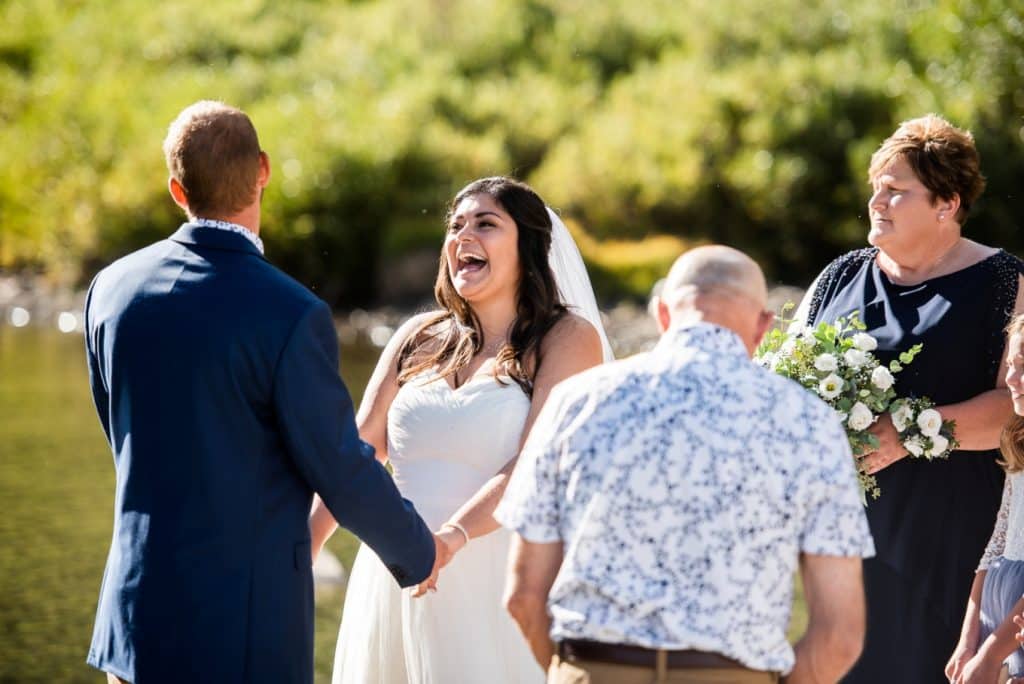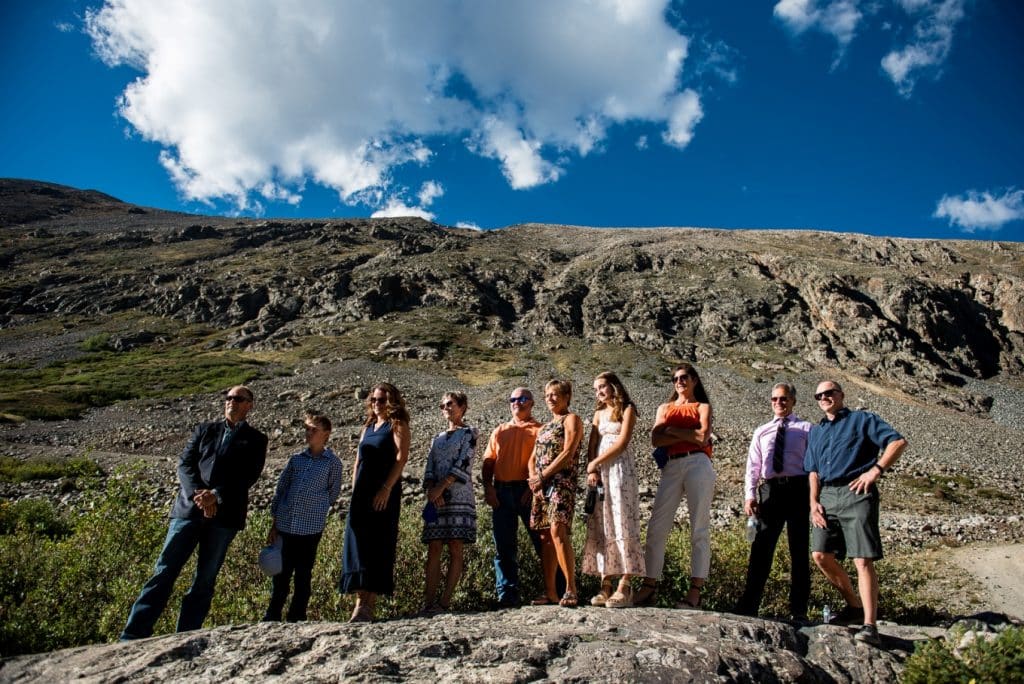 After the Ceremony
A few shots of the guests (wearing masks, of course… how else do you commemorate your pandemic wedding?).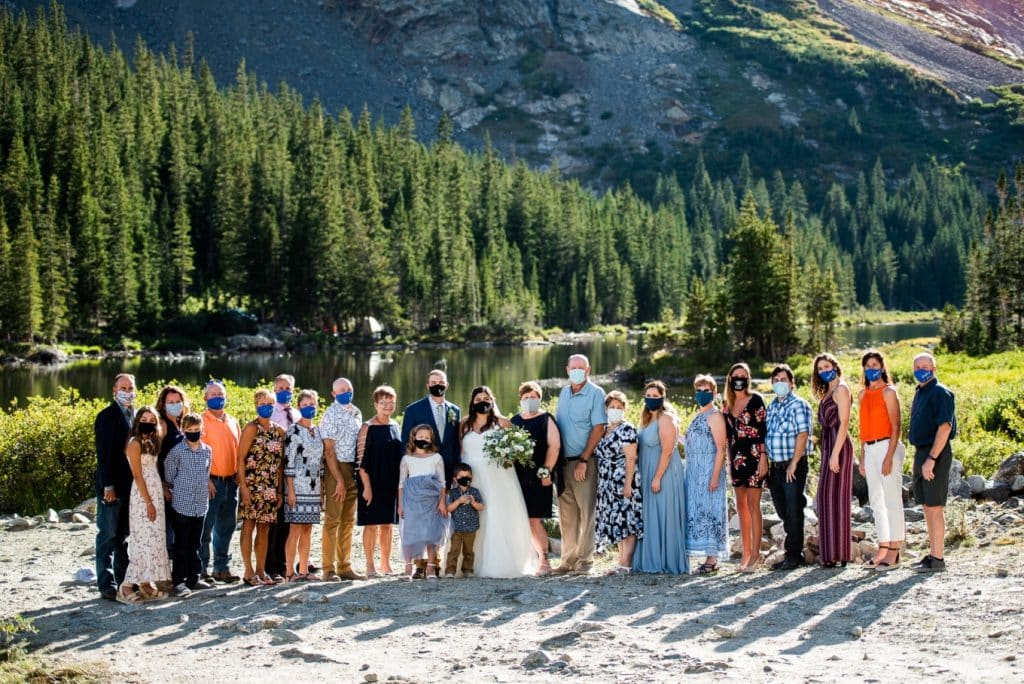 And one showing their smiling faces (because these guys and gals are waaaaaay too good-lookin' to hide behind masks!).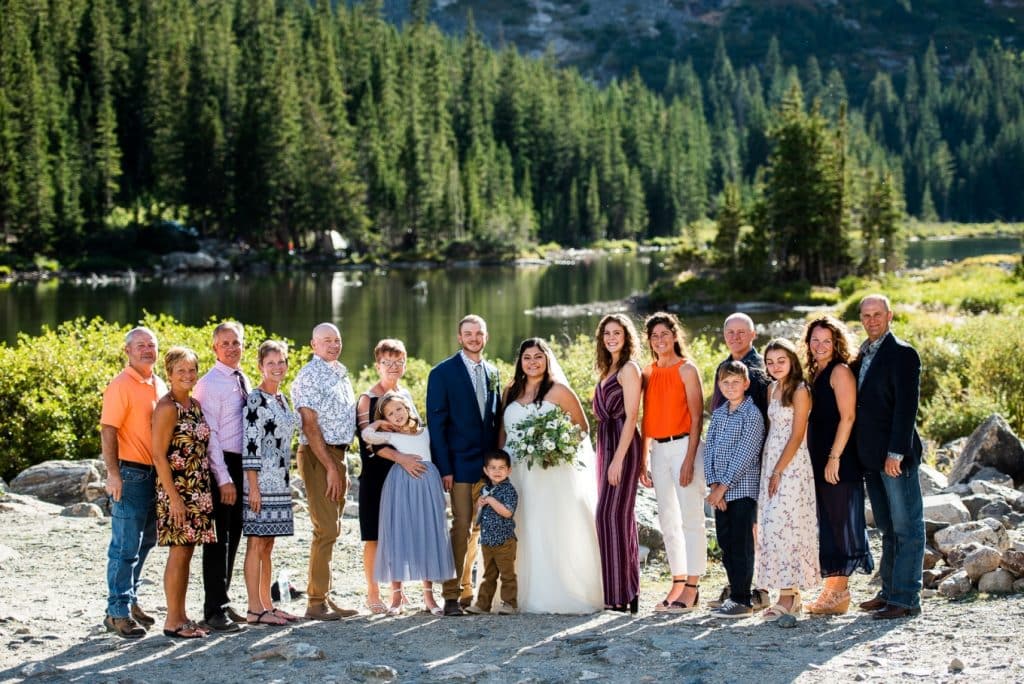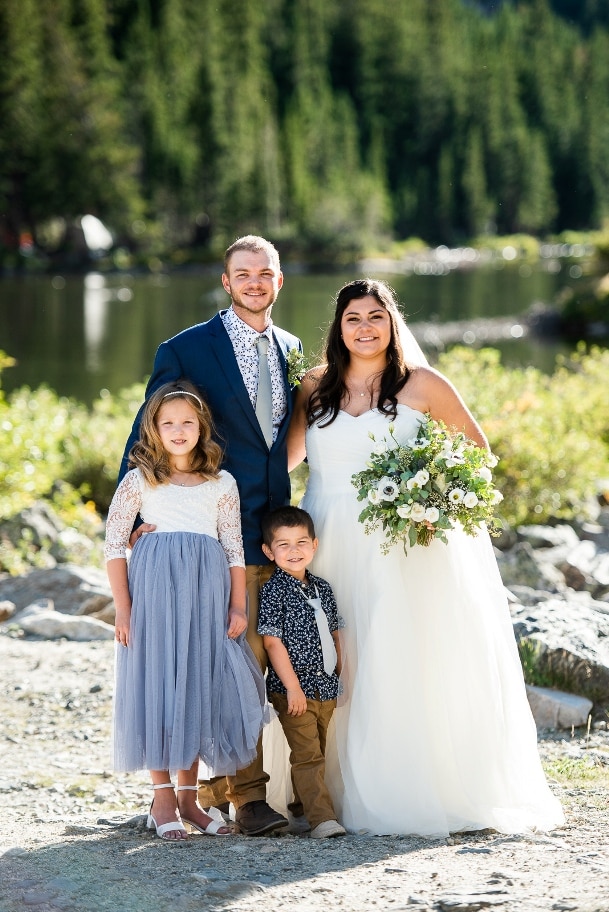 Then it was Nic and Haley's turn to be alone in front of the camera for a bit. This site in Breckenridge features not only a lake and gorgeous mountain views, but also a wetlands area and a waterfall and we wanted to take full advantage of all the good stuff!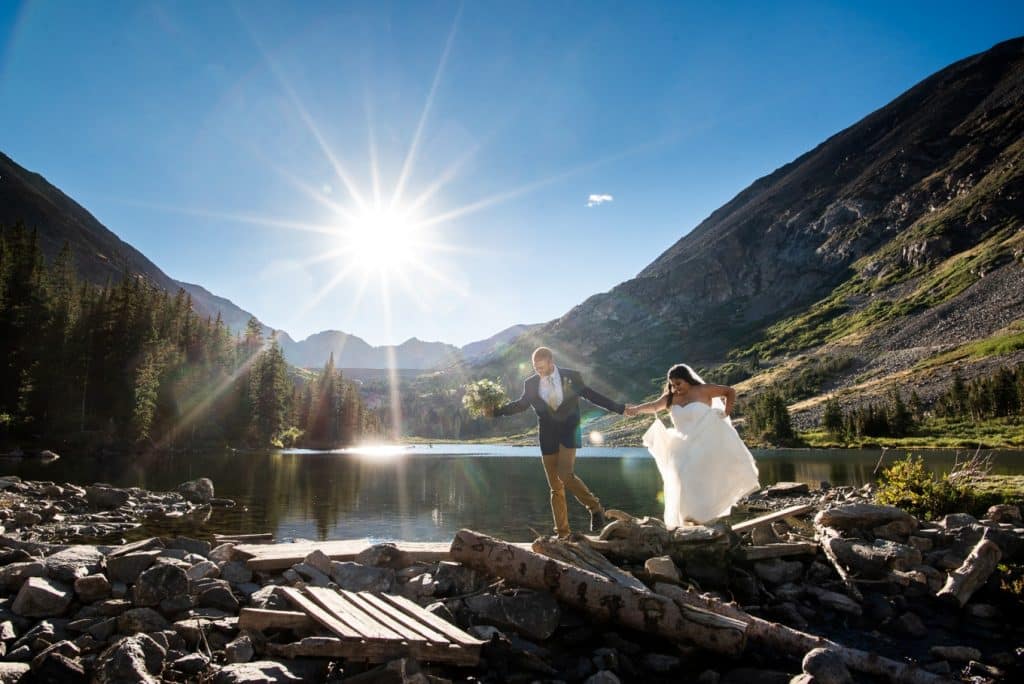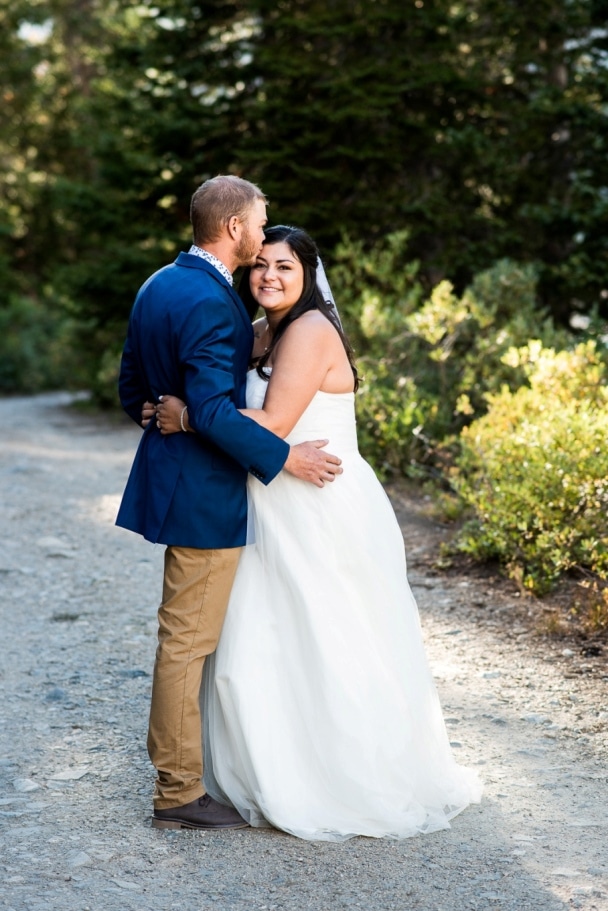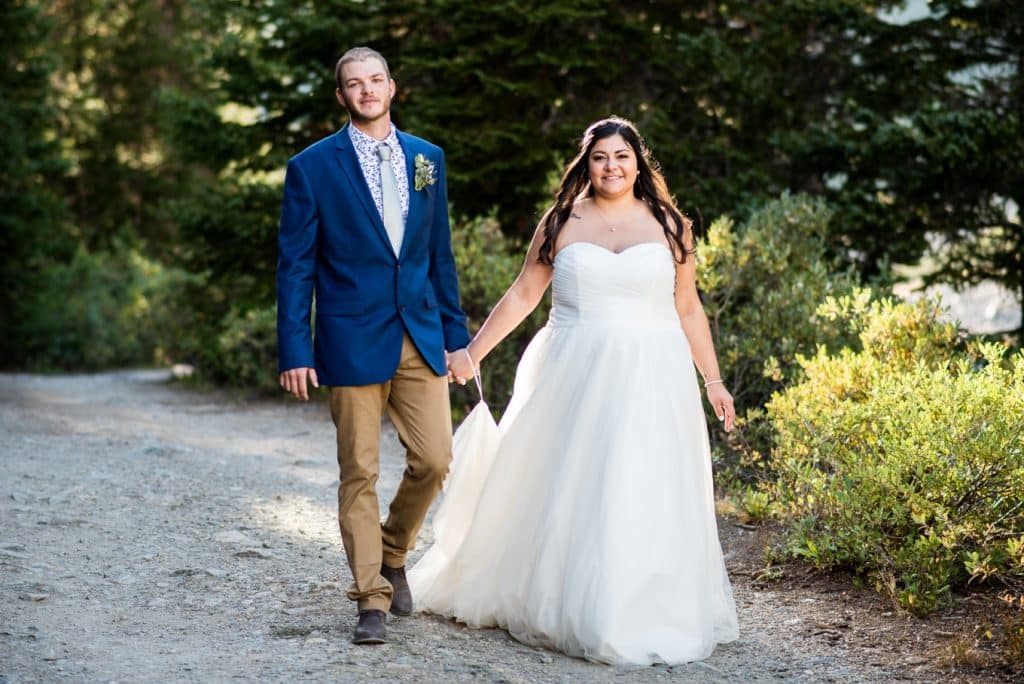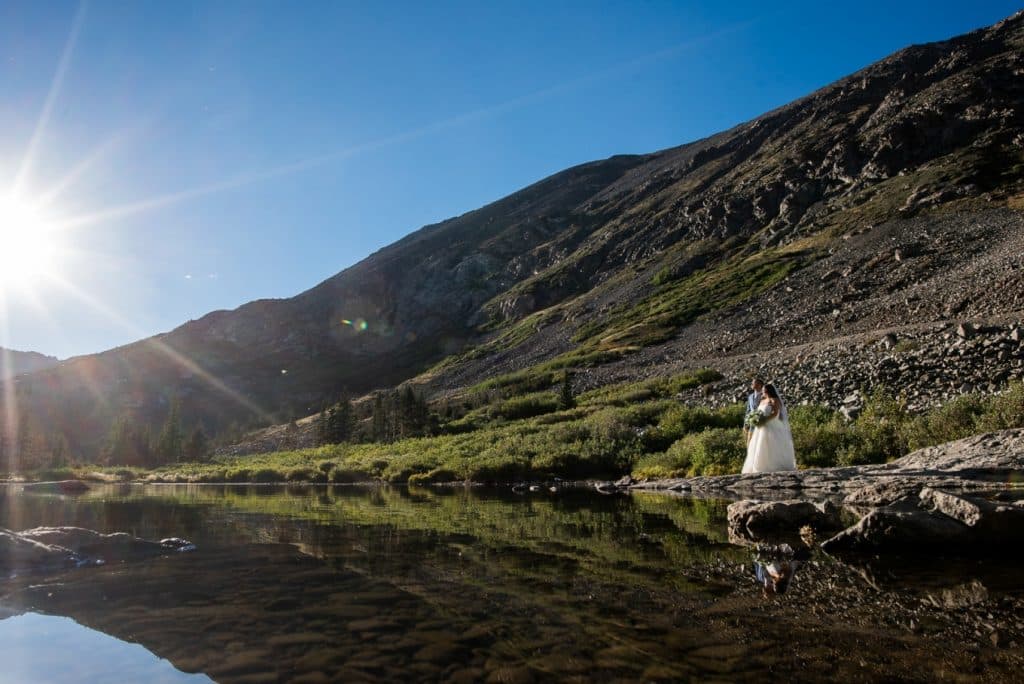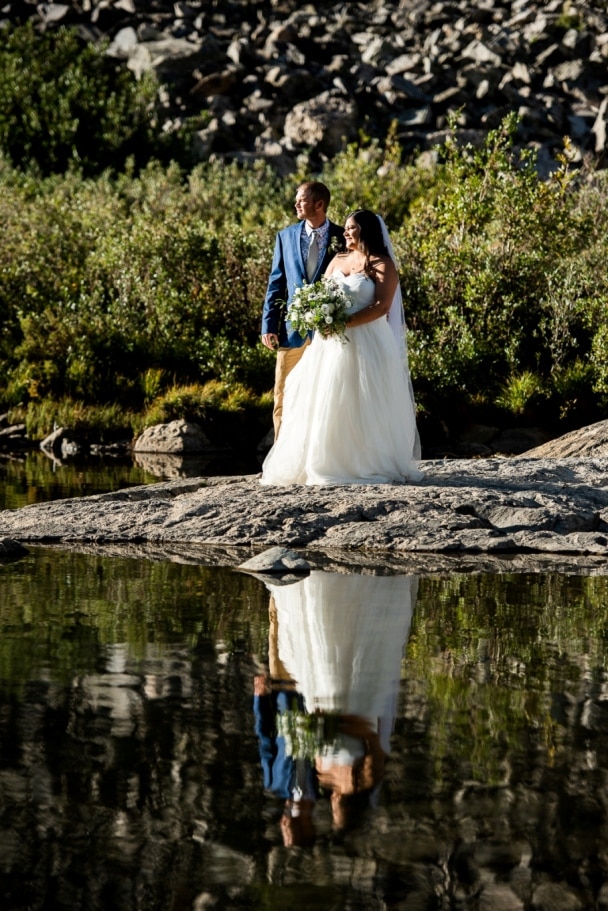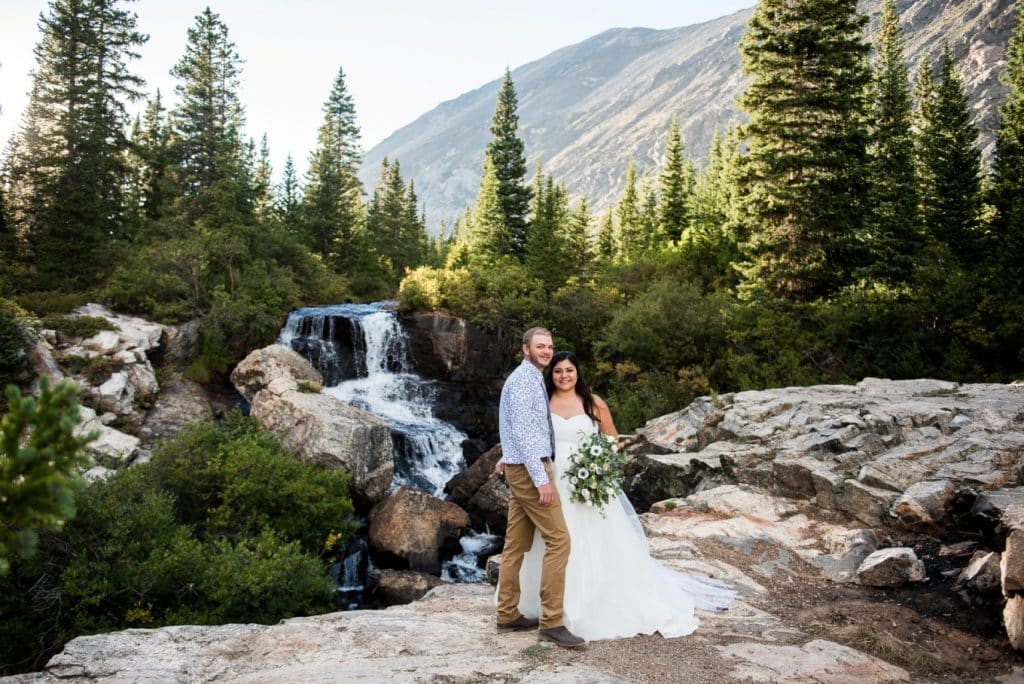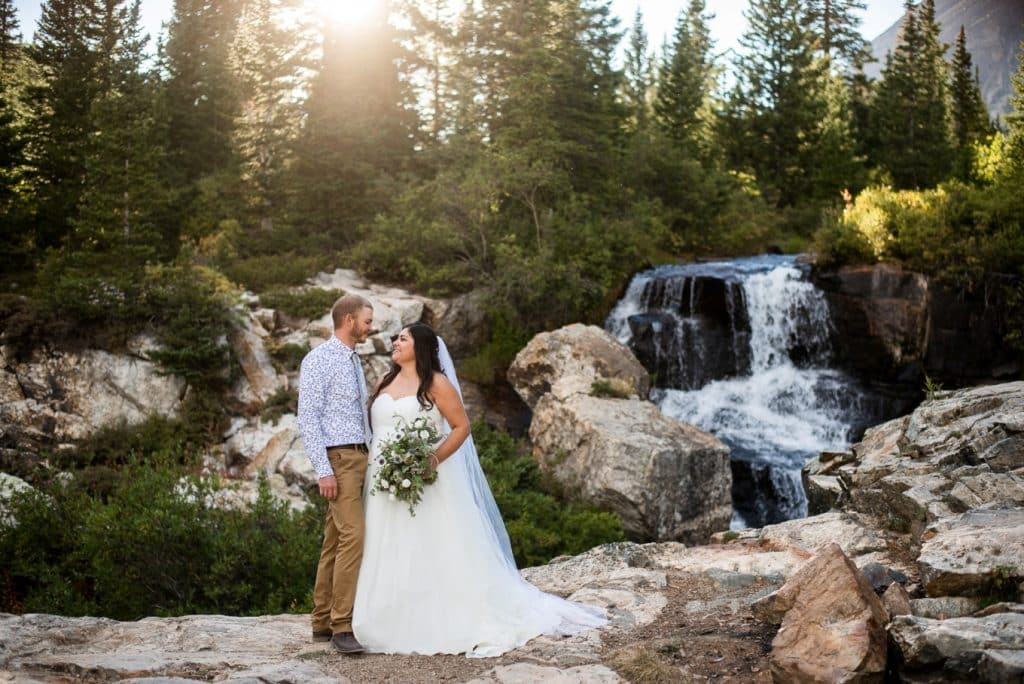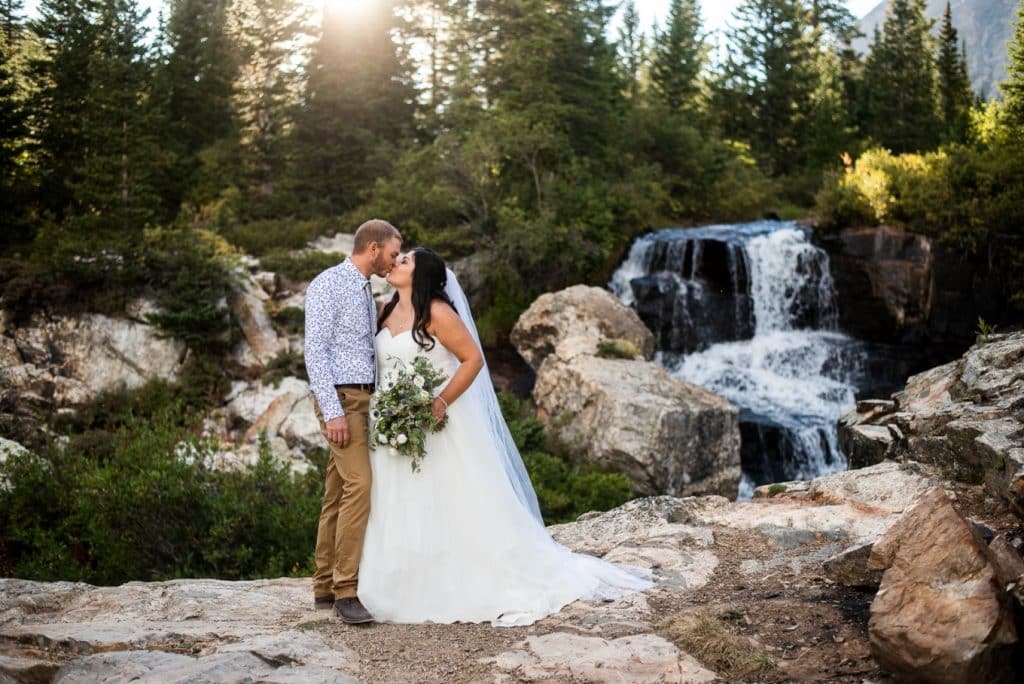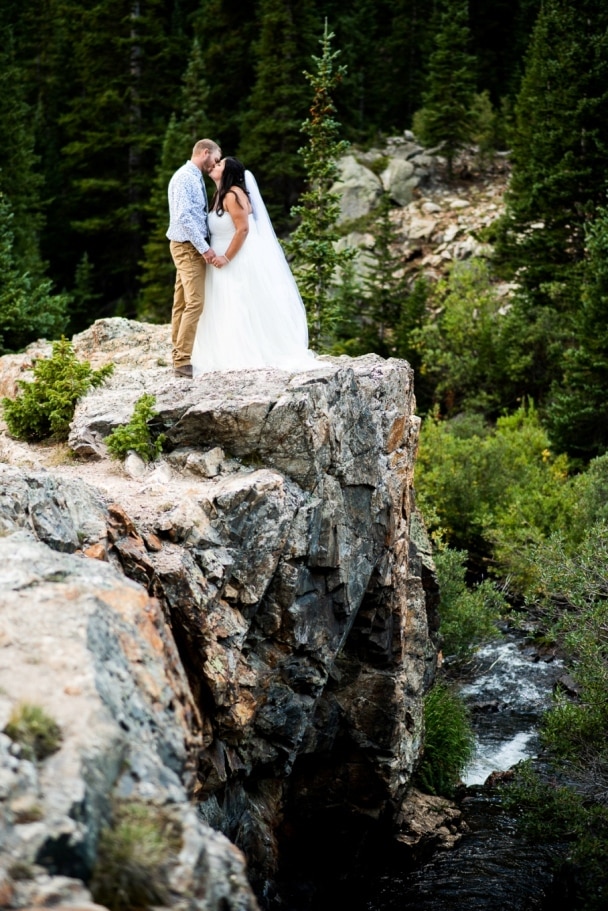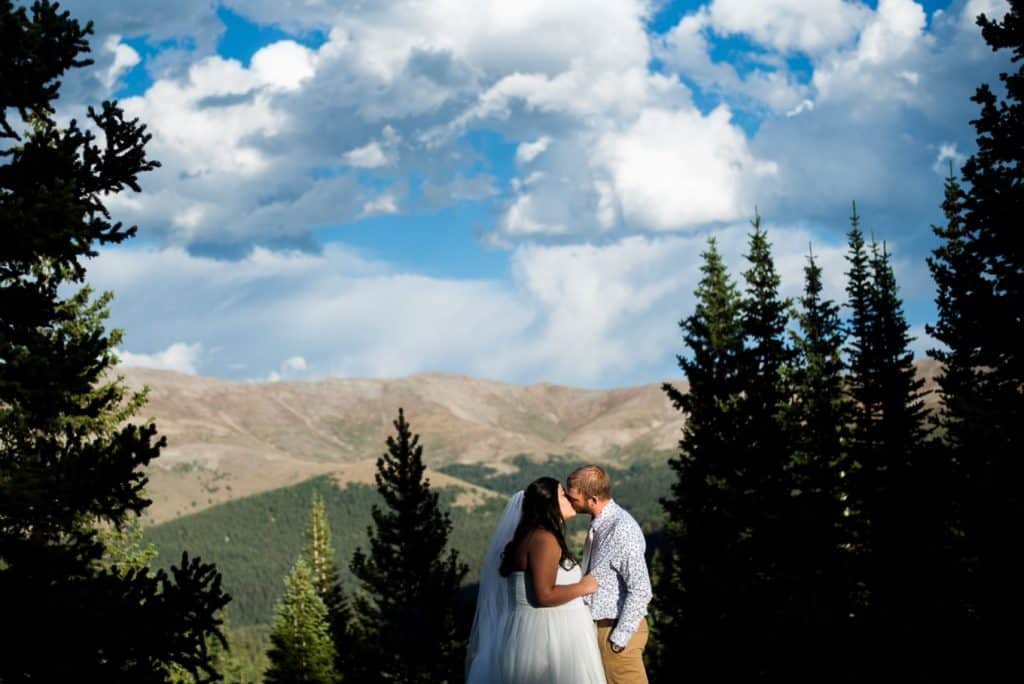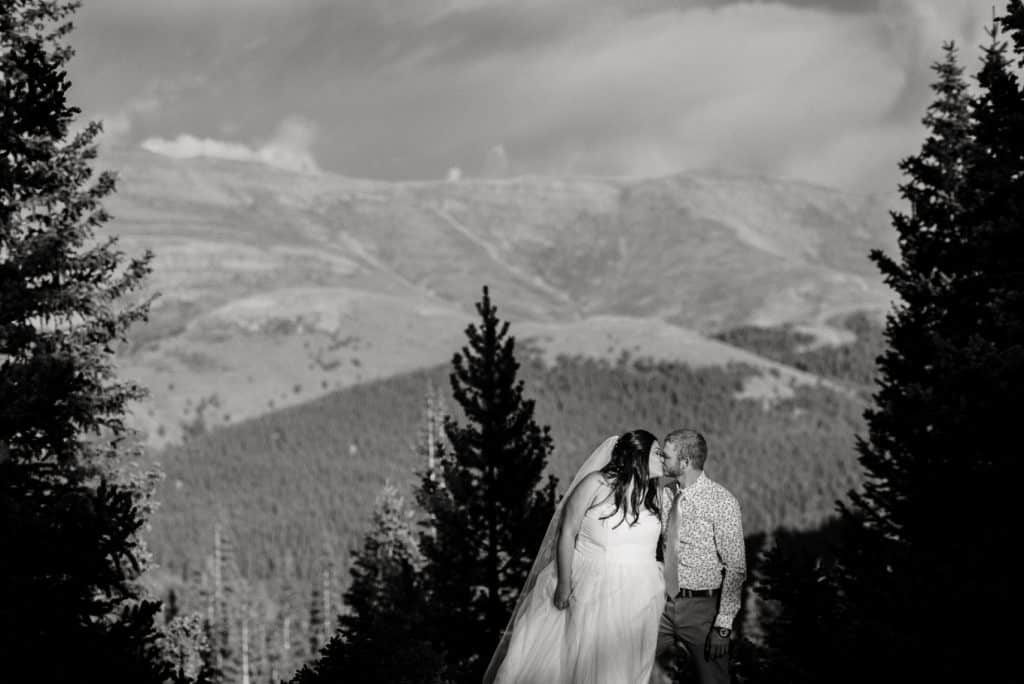 In their own words
Why did you choose an intimate wedding?
Nic and I knew right away that we wanted a small intimate ceremony because of our children. We wanted them to feel just as important that day as Nic and myself did. We very much wanted our ceremony to be much more then 'thing' before the party.
What made you select the location you did?
Honestly, we knew we wanted outside and with the help of Blue Sky Elopements location consulting with us we truly went with what felt right only after seeing pictures and I'm so glad we did! We constantly get told how amazing our wedding looked from our pictures and our location.
What words best describe your wedding day?
Smooth is the very first word that comes to mind. I honestly had little to no stress the day of our wedding.
What was your favorite part of your wedding day?
Our ceremony, hearing Nic and I say our vows to each other with our children and parents will forever be our favorite part of our wedding day.
What was the best thing about having an intimate wedding?
Our vows meant so much to us, our children played a huge part, and it felt like the day was about Nic and me and celebrating our love for one another and not just a day to party with people we aren't that close to.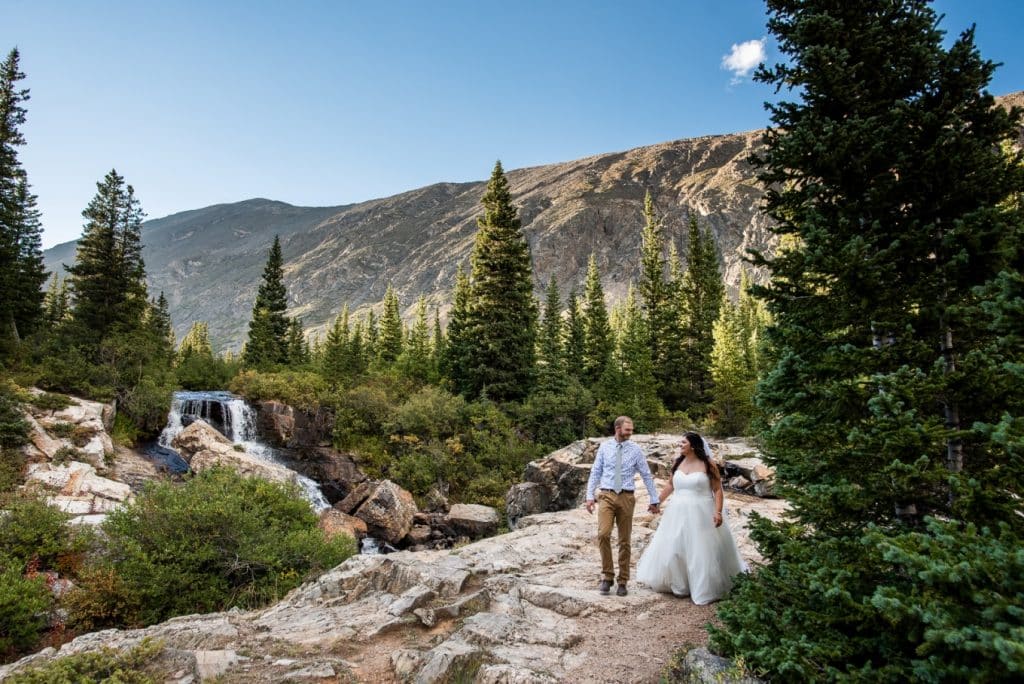 Blue Sky Elopements went above and beyond to make sure our wedding day was stress free, organized, and happened even during a pandemic. We were so happy with our services and would hands down recommend this company for anyone who is considering eloping! They made every step of the way so smooth, and with how much we talked they always listened to what we wanted for our day and with us living almost 12 hours away we knew we needed a company we could trust and they put us right at ease and take care of every detail big and small!
Services included in Haley and Nic's Breckenridge micro-wedding
Location Consulting
(They provided the adorable children on their own.)
If you're interested in your own Breckenridge micro-wedding (We serve weddings with up to 30 guests), please: