Laura and Matt Elope at a Waterfall in Colorado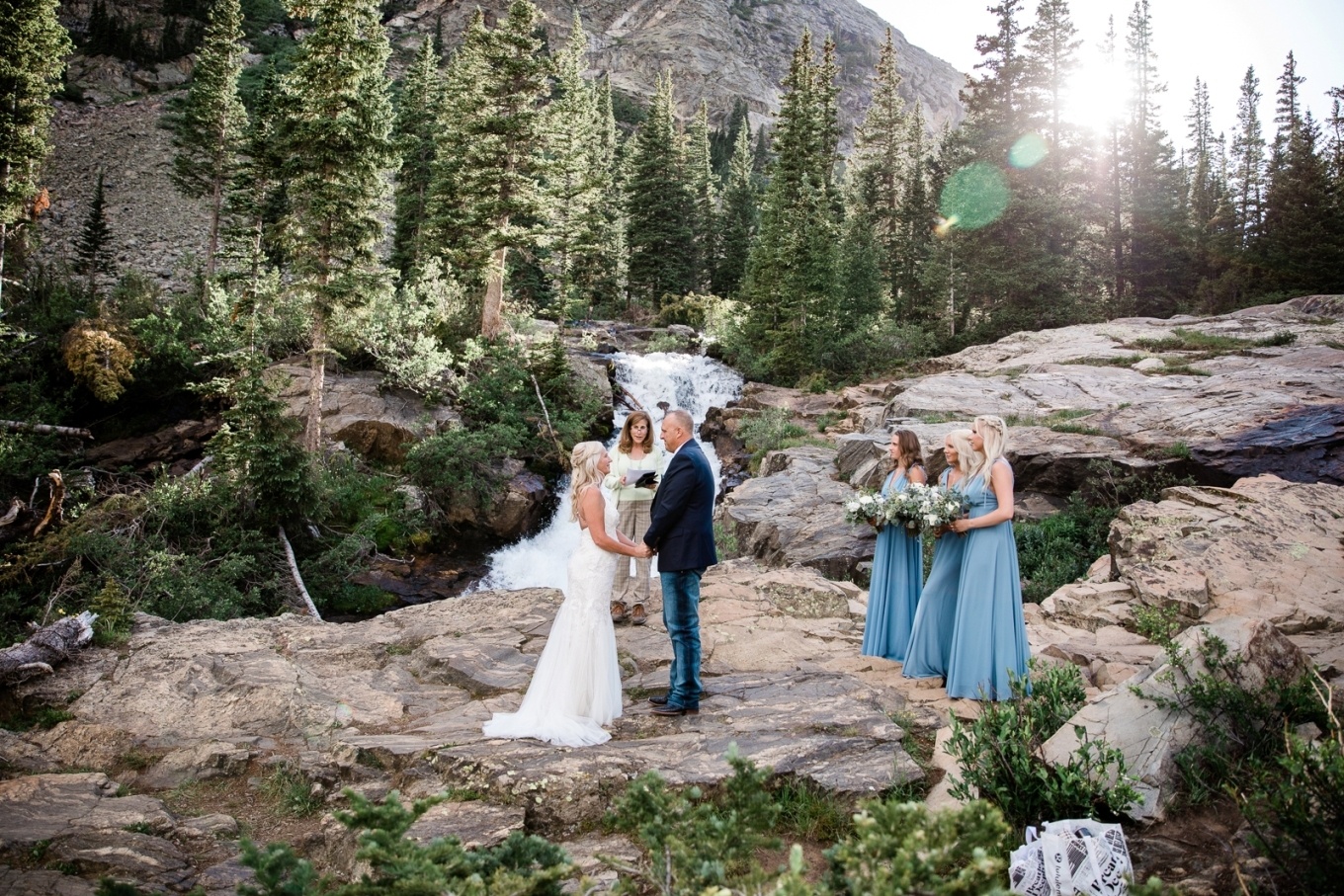 An elopement at a hidden gem Colorado waterfall
When Laura first contacted me, her only idea for her elopement in Colorado was "a mountain view with a lake, waterfall or other water backdrop." It was going to be just the two of them and their three grown daughters.
Although we provide all options for elopement venues with our location consulting services, I like to get a feel for the couple, their personalities and their wedding vision while I'm on the initial consultation call with them. Then I can suggest one or two specific venues that I think would most appeal to them.
Being that they wanted to get married on a Saturday in high tourist season (Oh yeah–I should mention that we were making these plans prior to Covid-19 hitting the world!), I wanted to be super careful about making sure they didn't choose a spot where they were going to be surrounded by an assortment of tourists, gawkers, hikers and dog-walkers.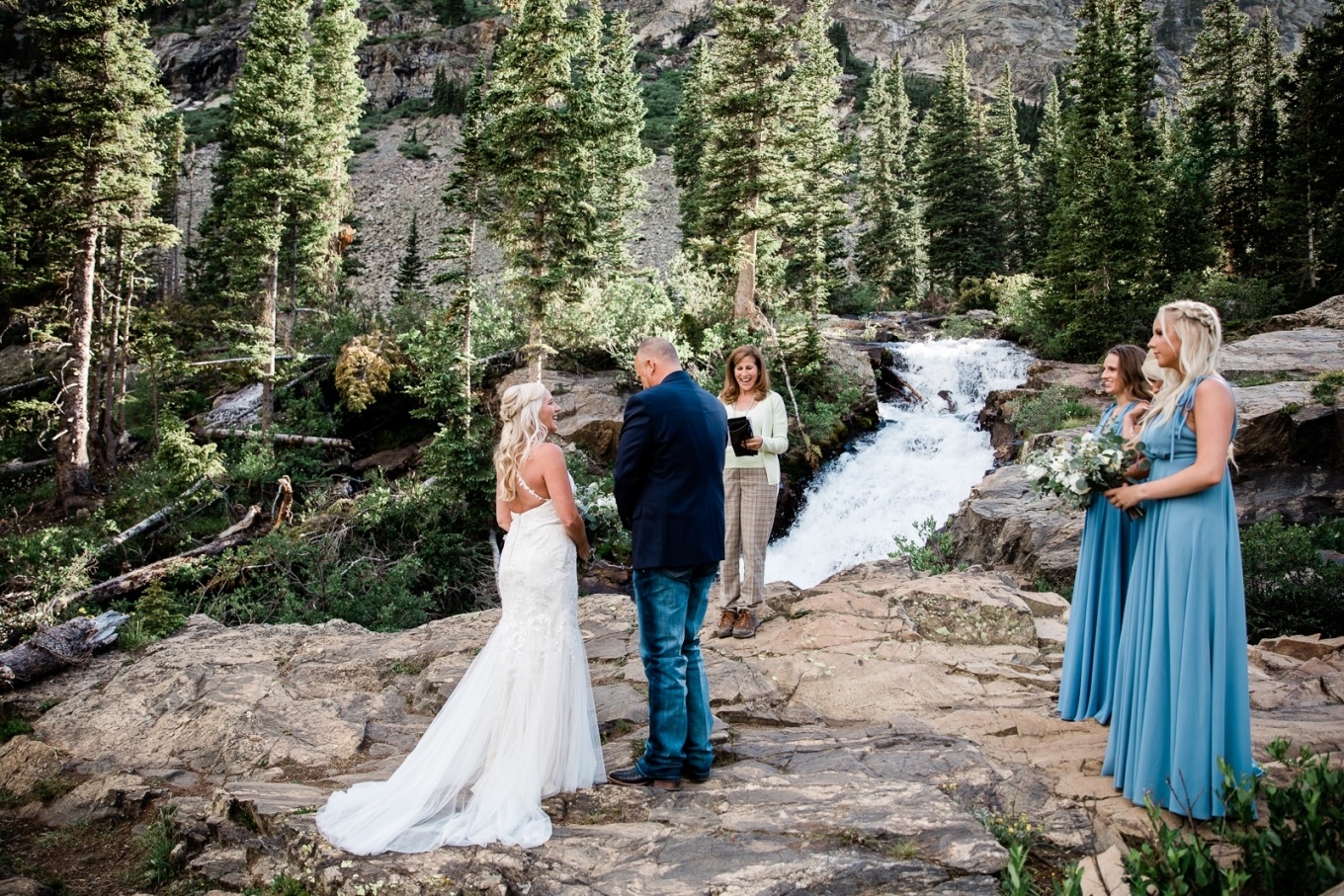 Two minutes into our consultation call, I knew the exact elopement location I was going to recommend. We've got a super-secret, easy-to-access waterfall and lakeside site in the mountains that I absolutely love. And it's usually fairly deserted.
So, while we went through the entire location consutling process together, I wasn't surprised when Laura and Matt chose this site. I was so excited for them and I knew they were going to be blown away when they saw the waterfall in person. (Spoiler alert: Laura later described the site as "breathtaking" and "beyond what she ever could have imagined.")
Score!
The ceremony
We held the ceremony on the rocks just steps away from the waterfall. With a "fourteener" mountain as their backdrop, it was the quintessential Colorado elopement wedding experience.
Their daughters were attired in matching sky blue dresses and carried smaller versions of Laura's bouquet–which was a gorgeous blend of off-white roses and greenery.
After the ceremony.
After the ceremony, it was time for exploring the nooks and crannies of the waterfall, a Champagne toast, and fun and laughter all the way around.
In their own words…
Why did you choose an intimate wedding?  We both had been married before and really didn't want anything big. First we thought about 50-75 family members and then decided it was going to be too much, both financially and organizing. We always wanted a destination wedding. So we made the decision to just "elope" and go through Blue Sky and it was going to be just us and our girls. Then COVID hit and so thankful this was the direction we went.
What made you select the location you did?  We had been scouring over places on the internet and it became just too overwhelming. That's when we decided to have Blue Sky handle everything. They had an option for location services, where they sent us pictures and videos of locations in Colorado (we did narrow the search to Colorado since it was driving distance from home). We wanted something secluded and a beautiful scenery, so we choose the falls, it was breathtaking!
What words best describe your wedding day?  Perfect! It was everything we wanted. Stress free day, so organized and all the vendors were on time. The flowers were exactly as I had requested and gorgeous. Hair/makeup was perfect. It was just the best day. Photos were amazing and the photographer was easy to work with and got shots we wanted and then some.
What was your favorite part of your wedding day?  It's hard to say which part was our favorite because it was all perfect. Obviously the ceremony itself is the most meaningful because your joining two families together and sharing your love to your partner. The setting of the wedding was beyond what I could have ever imagined.
Did you face any challenges in eloping?  Nothing, maybe in the beginning with COVID hitting, not knowing if Breckenridge would open so we could travel there. As far as Blue Sky Elopements, we didn't face any challenges at all. They were very easy to work with!!
What was the best thing about having an intimate wedding?  We could just focus on the day and each other. Spending time with just our girls and becoming a family. We didn't have any stress about how things were going to come together, it just did. We believe the intimacy of a small wedding you can just focus getting married, and each other. Not worrying about all the details and everyone else, focus on you and your future spouse.
Any advice for other couples planning to elope?  Eloping was the best decision for us and our family. Though our parents were a little upset about not being included, they understood since it was a second wedding. Low key, low stress but didn't skimp on quality at all. The most beautiful setting ever, the ceremony was "US" and Blue Sky Elopements did all the work.
Blue Sky Elopements made this so easy. We were extremely happy with choosing Blue Sky and so glad we went the "elopement" route. Literally we would change nothing about our wedding in Colorado. It felt like a vacation because we just showed up and it all fell into place beautifully, an amazing day!
Everything was so uncomplicated and Blue Sky was very organized, timely information and communication sent to you. Ease of working with the vendors that Blue Sky uses and letting them know what you want. The vendors were awesome, Blue Sky stays on top and handles all that. Staff of Blue Sky was very pleasant to work with over email and text. They are always available to you. 
Location Consulting
Coordination
Officiating
Photography
Flowers (bouquets for Laura and the ladies and Matt's boutonniere)