Julia and Kyle Elope at Boreas Pass
Want the Quintessential Fall Elopement Experience? Then Elope at Boreas Pass!
It took us a couple of tries (what with the pandemic and all), but ultimately Julia and Kyle's Boreas Pass elopement turned out to be picture perfect. Granted, they were supposed to get married in March of 2020. (Did anyone actually get married during that month and year? I'm guessing very few.) The two were literally packed and ready to head up to the mountains from Denver when Coronavirus began shutting everything down.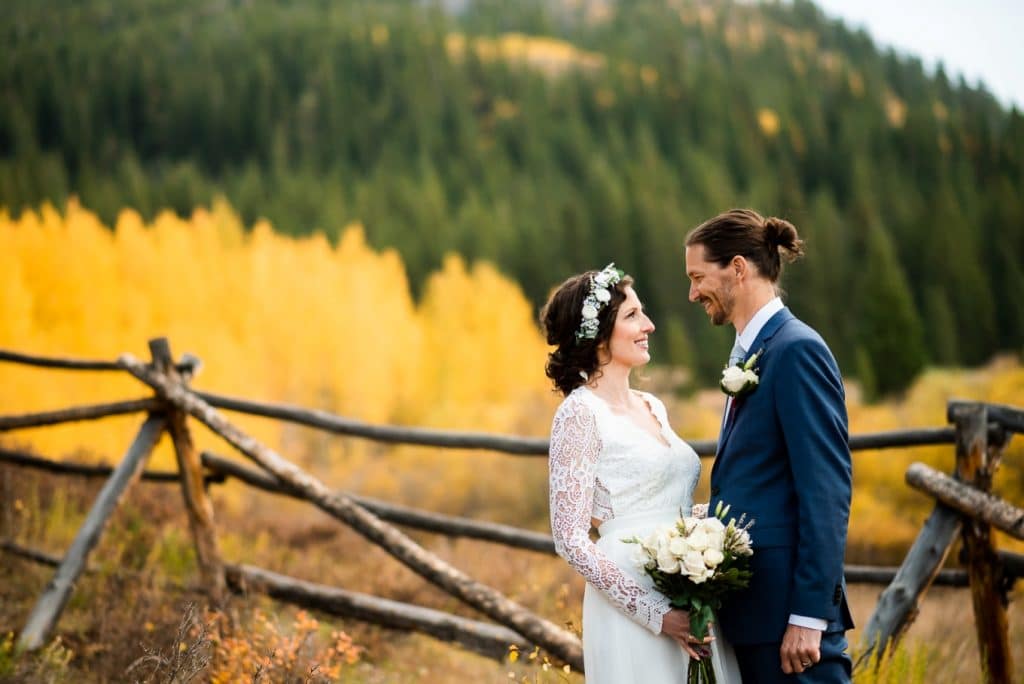 While the change in plans must have been a challenge for these two, I can't say I regret the ultimate outcome. (And neither did they!) While March in Colorado is a glorious backdrop of snow and sunshine (most of the time), autumn in the Rocky Mountains of Breckenridge presents an unrivaled experience that is simply breathtaking. And nothing shows off the Colorado aspens in fall like Boreas Pass.
Located at just over 11,000 feet, Boreas Pass is on the mountain road that joins Breckenridge to the tiny town of Como, Colorado. With a number of spots to tuck away for an intimate ceremony, Boreas Pass offers the quintessential fall mountain elopement experience. It can also be a nuthouse on fall weekends, and with Julia and Kyle's elopement being held on a Sunday in September, we had to do some clever maneuvering to steer them away from the leaf-peeping crowds. Our photographer took them to a couple of great locations on the mountain–one with awesome mountain views and the other with a yellow-gold aspen backdrop.
Julia and Kyle's Elopement at Boreas Pass
We started them off with a first look.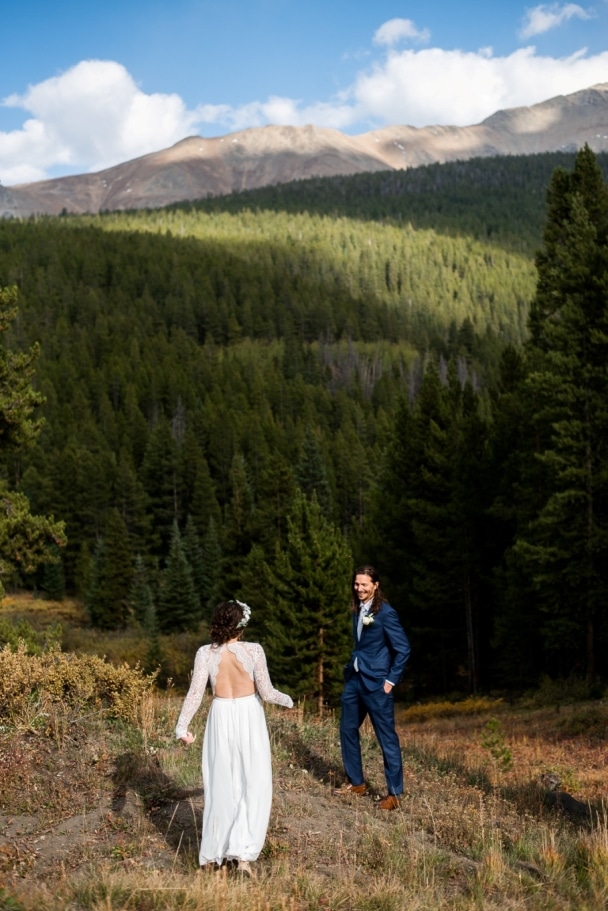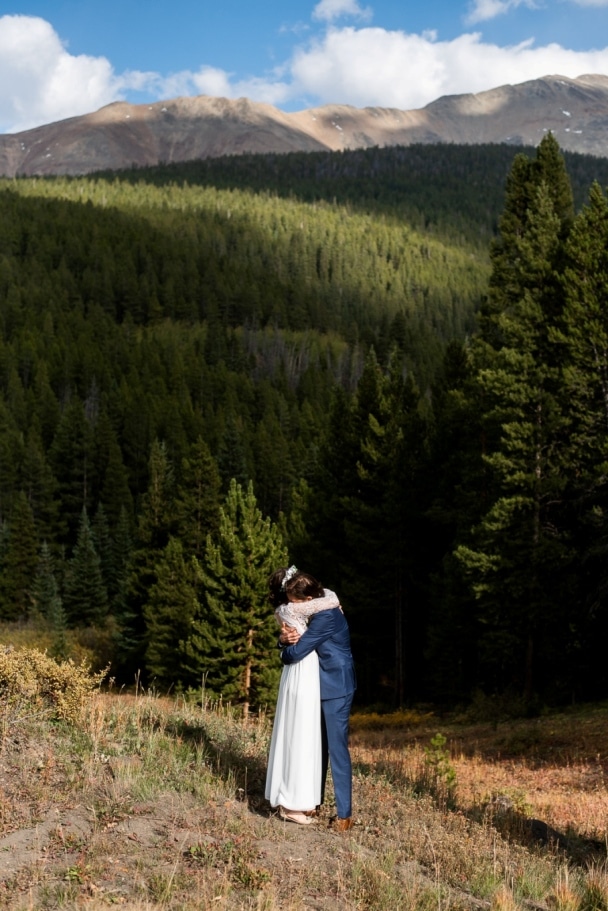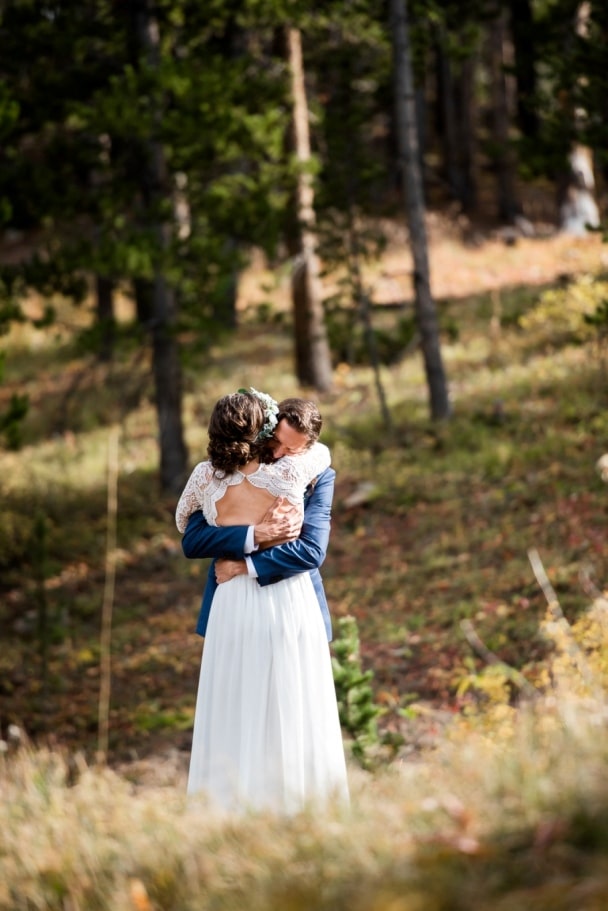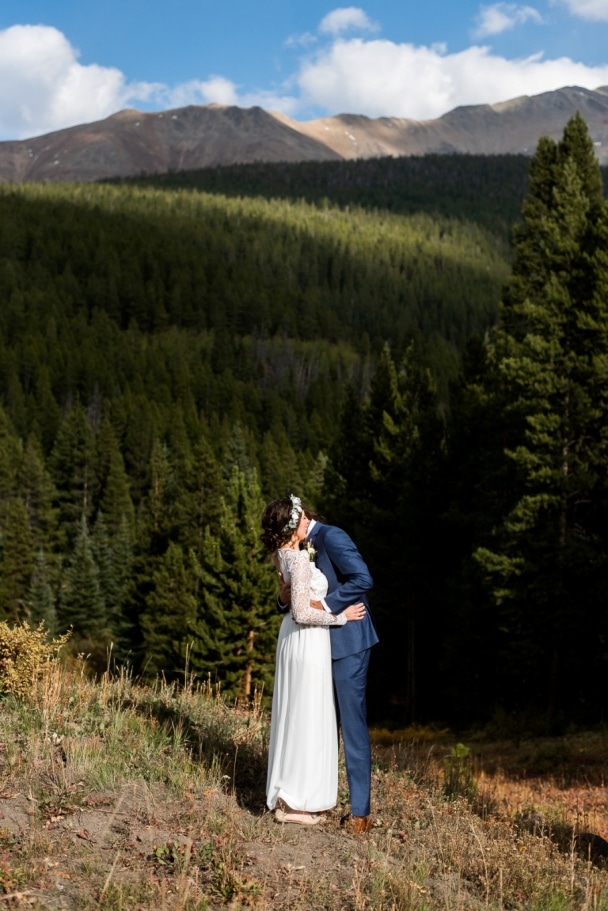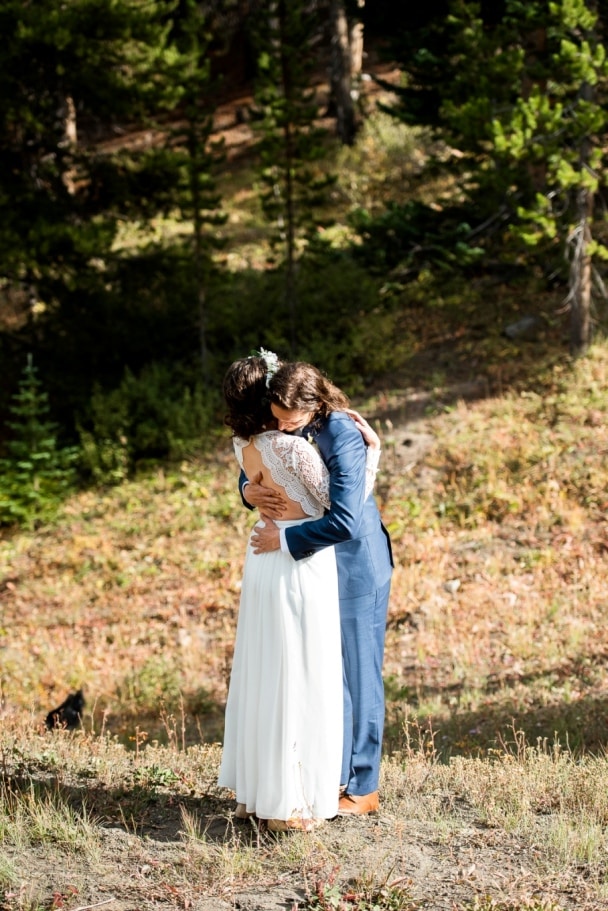 Then we took them around the Boreas Pass meadow to get pre-ceremony photos with those mountain backdrops that Julia and Kyle craved.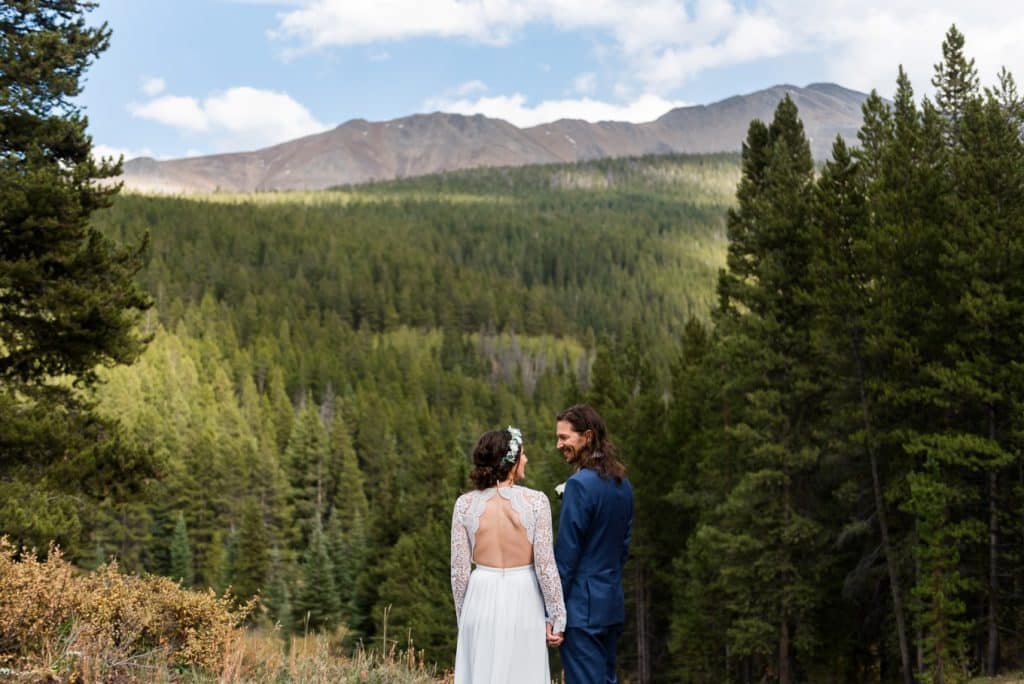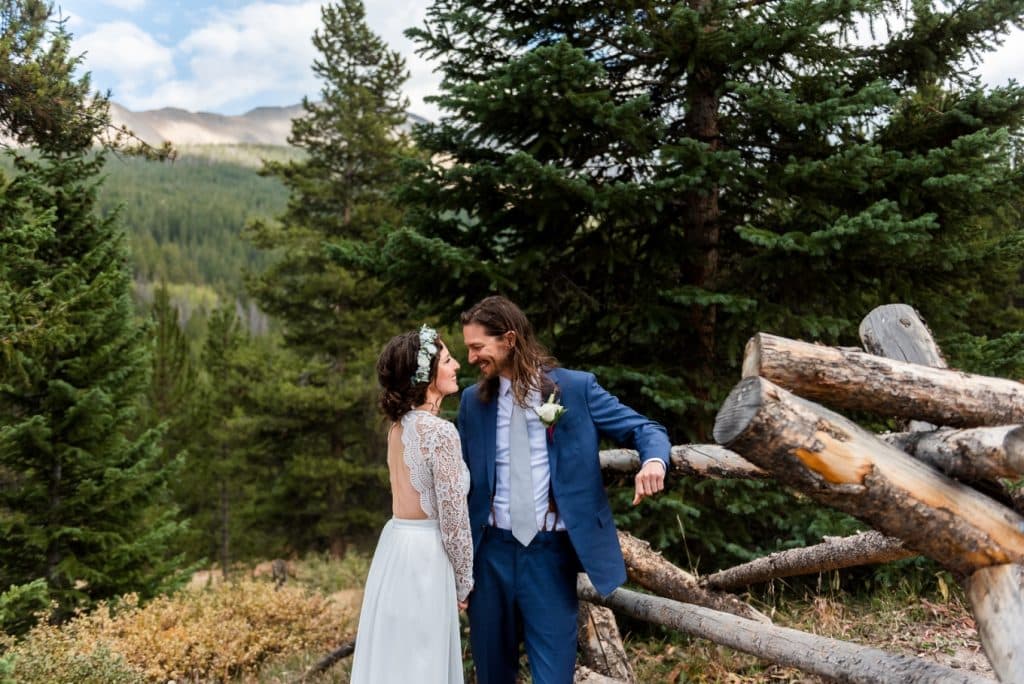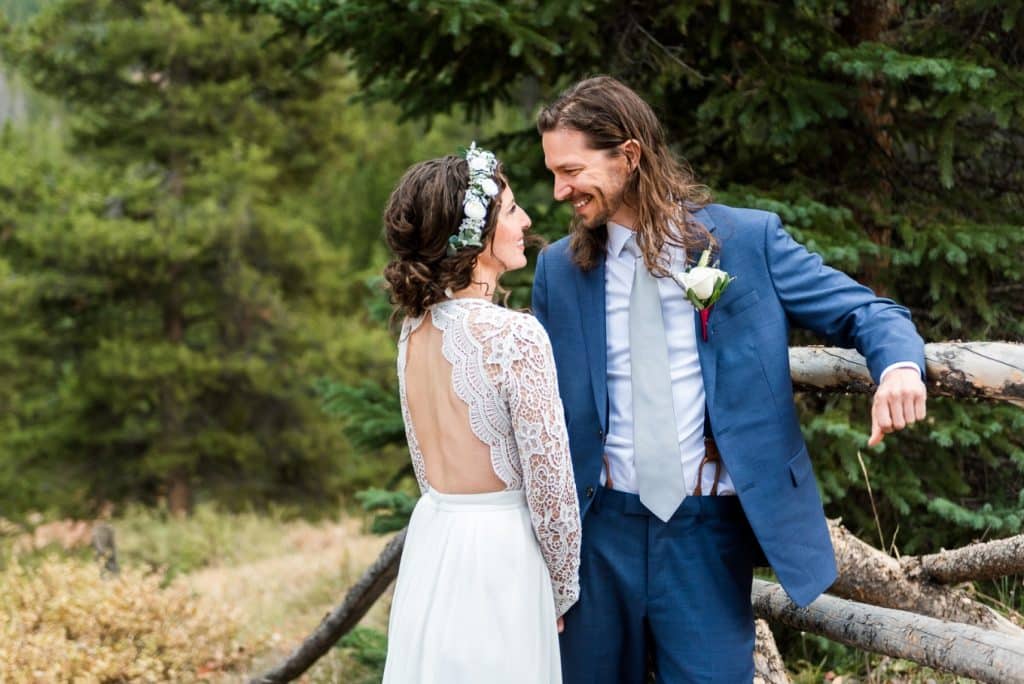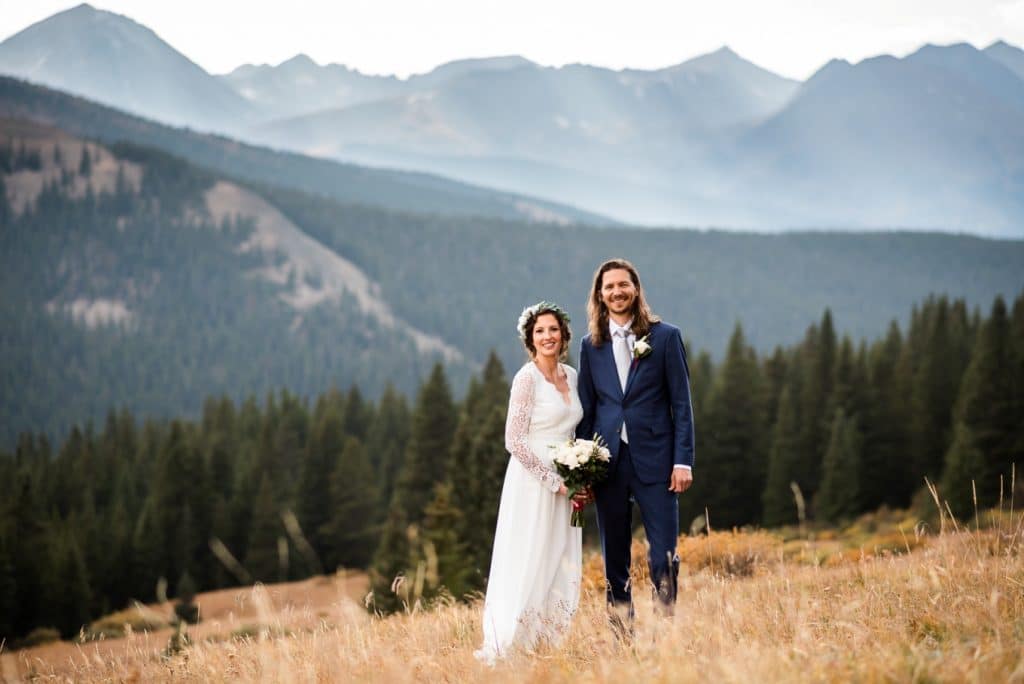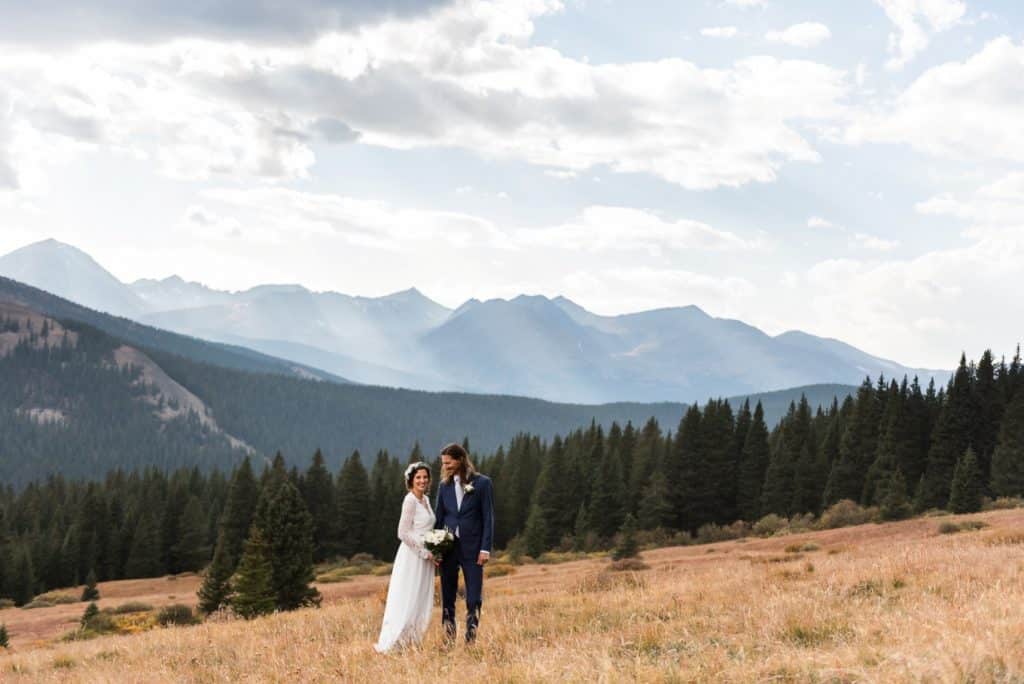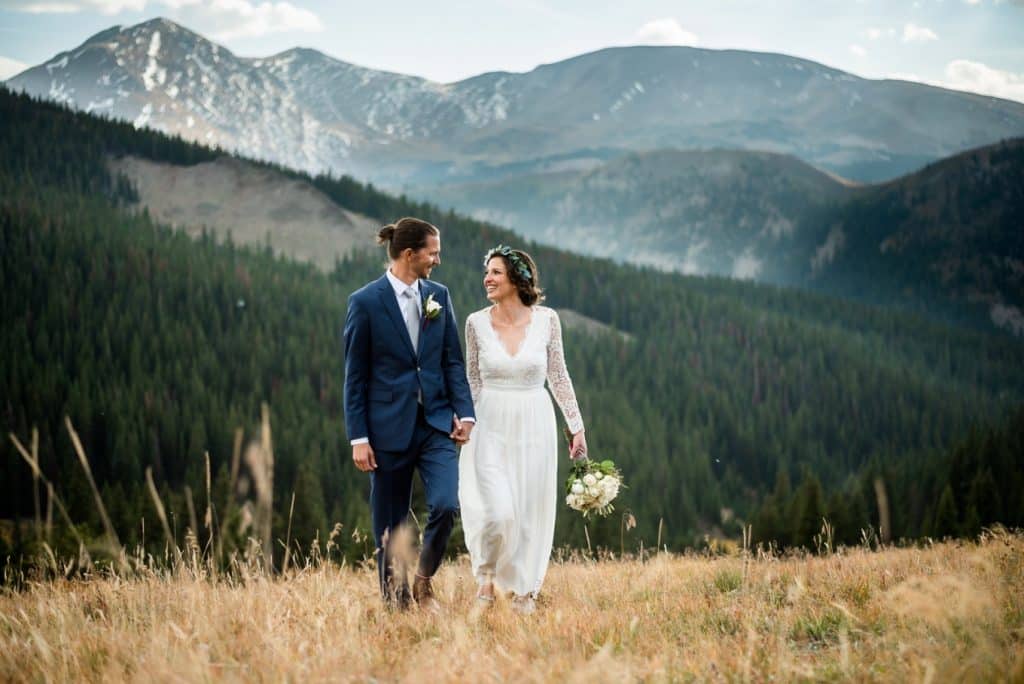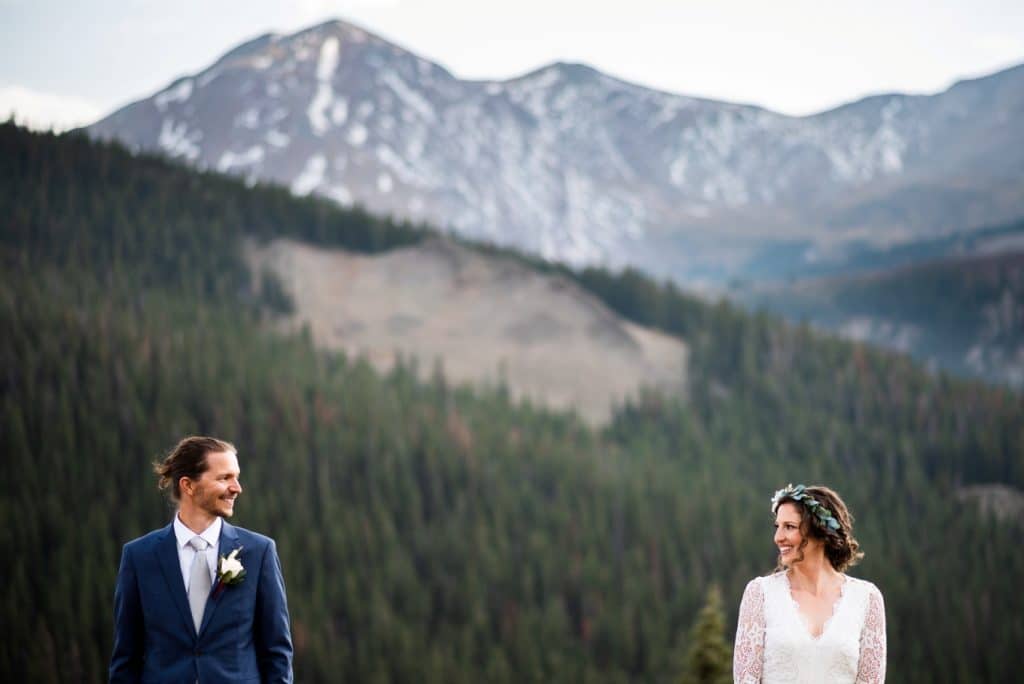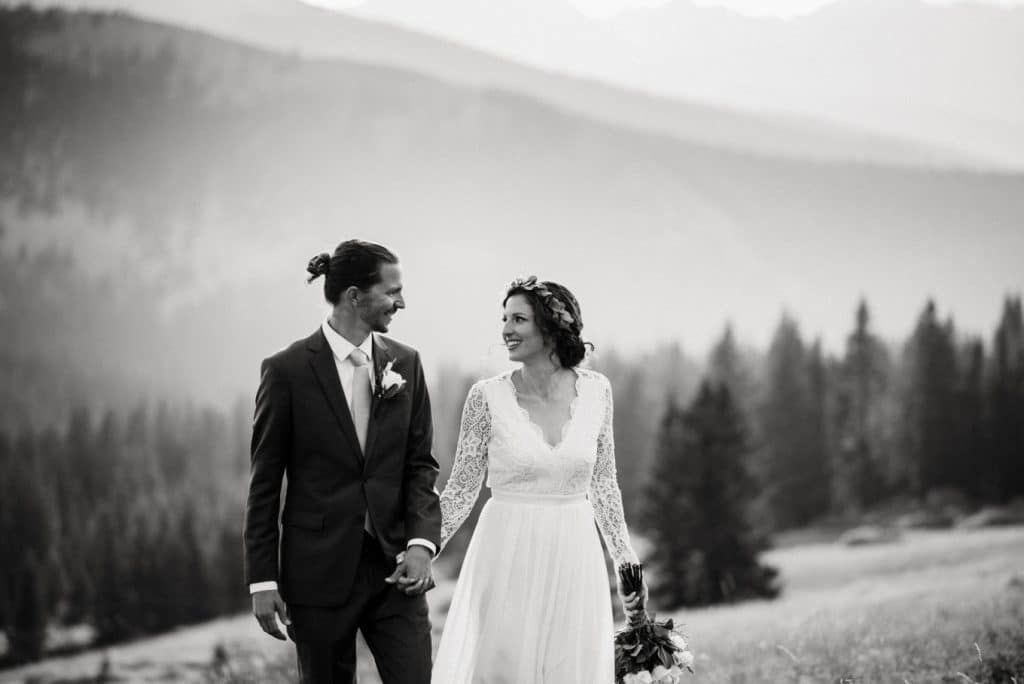 The Ceremony
Having exhausted the possibilities for mountain views at the pass, we moved Julia and Kyle into the aspens to actually get married.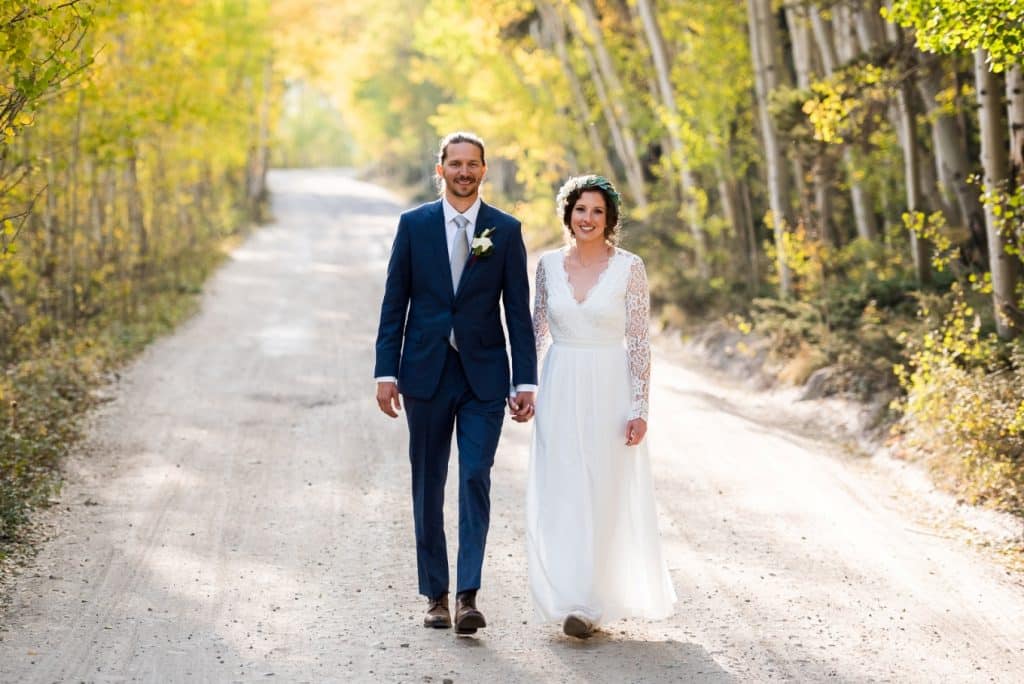 But first things first, we had to get a photo of their most important guest. Is this pup insanely cute, or what?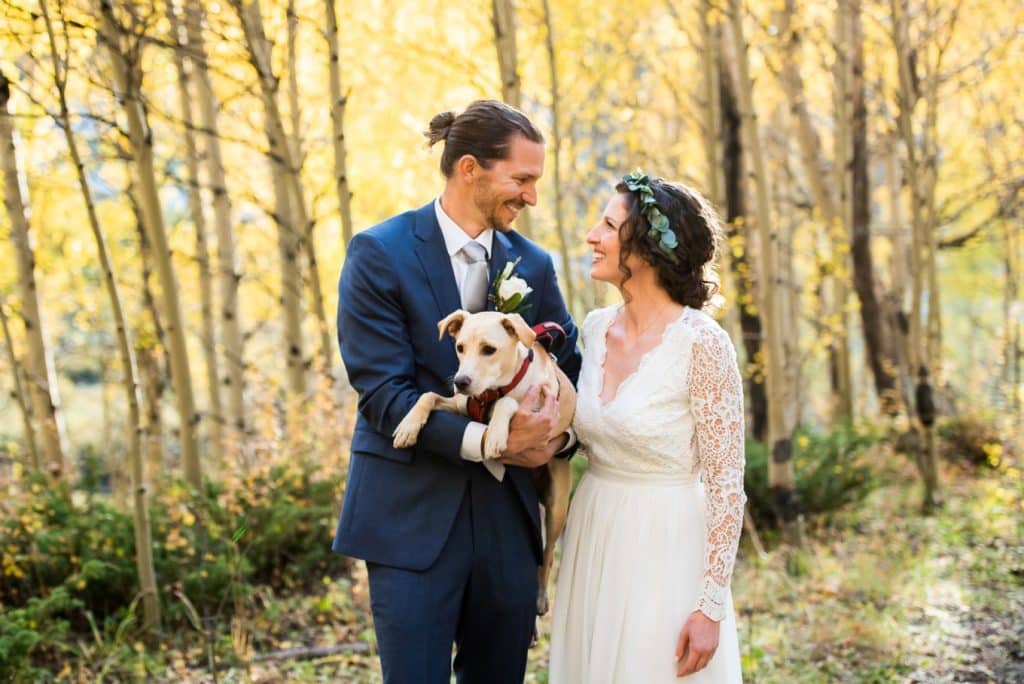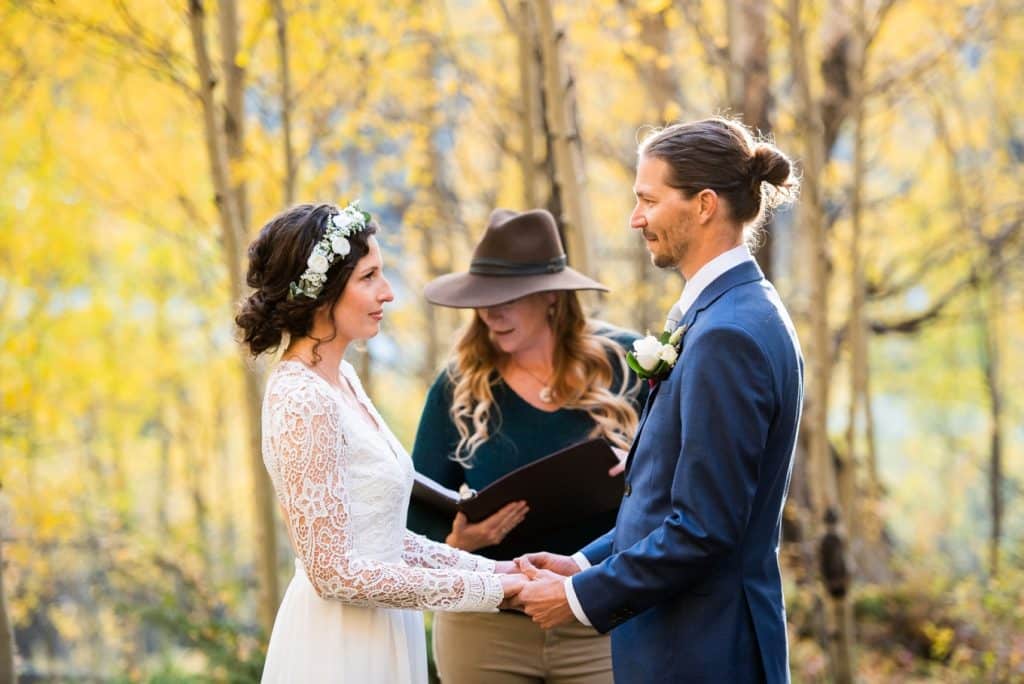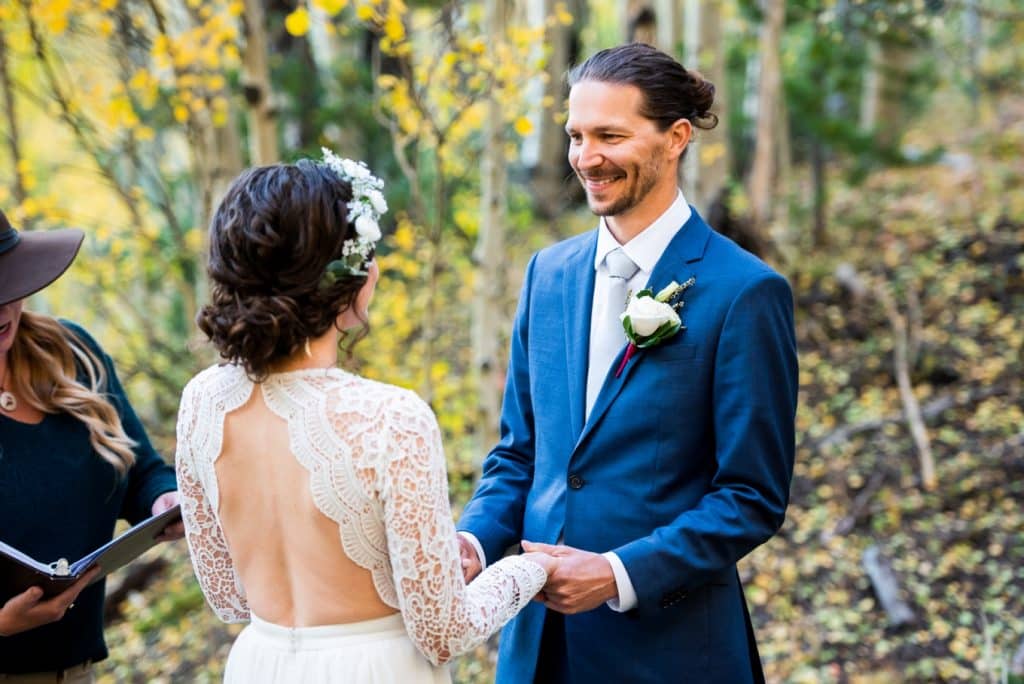 We captured their first married kiss…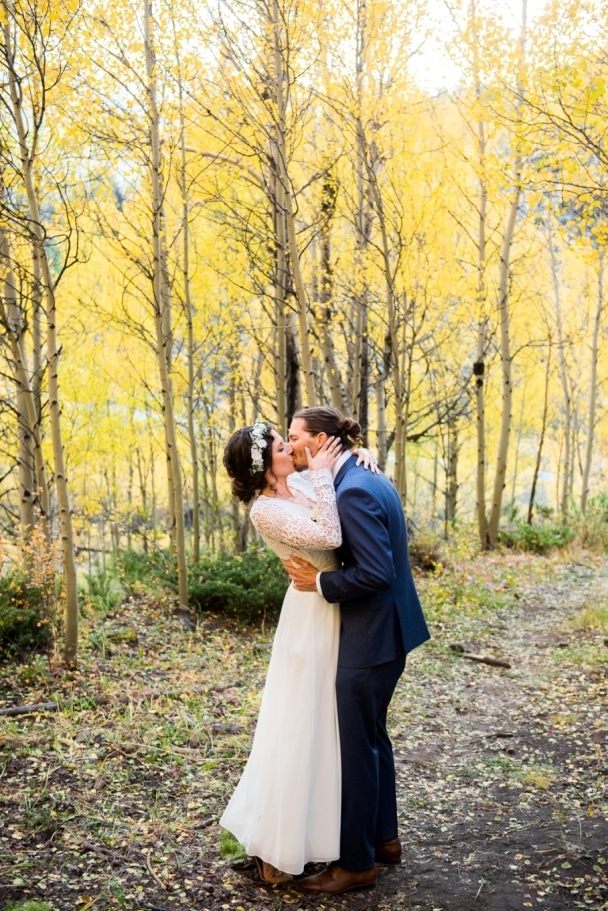 A few guest photos…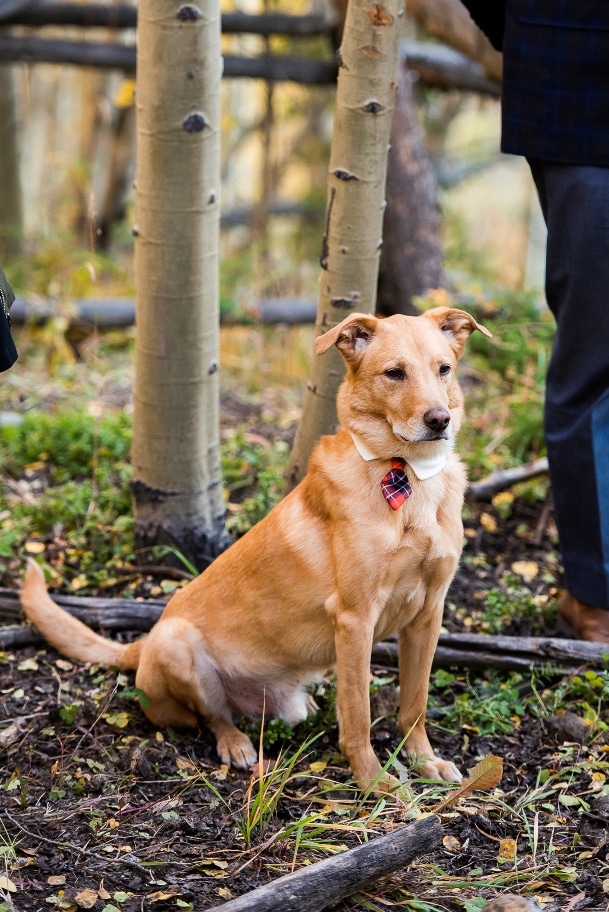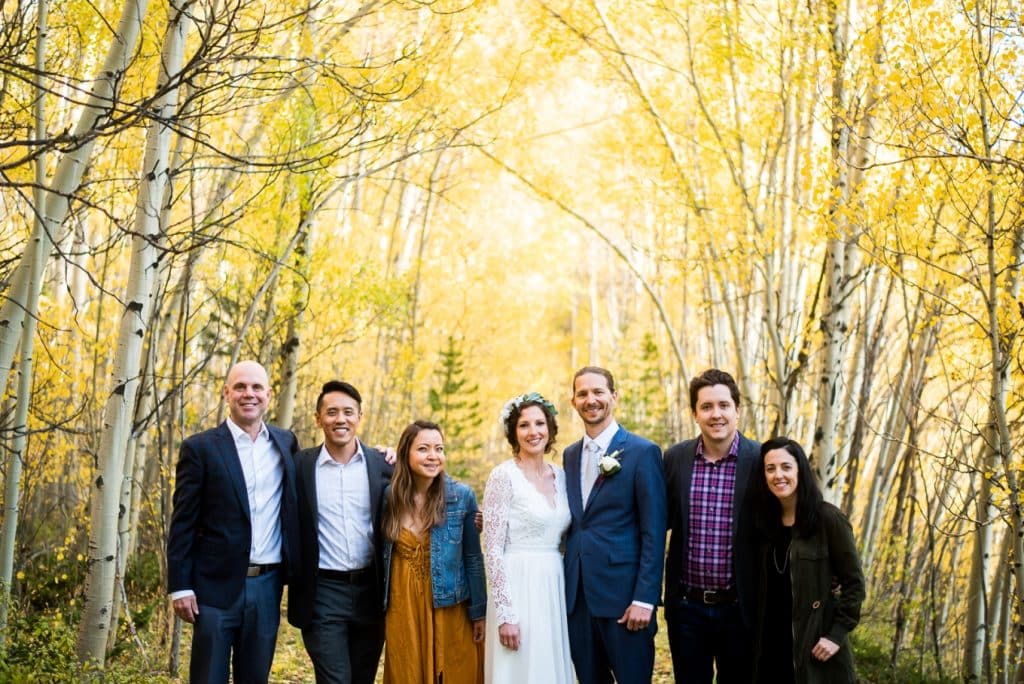 And then it was time to venture deeper into the aspens to capture them in all their glory.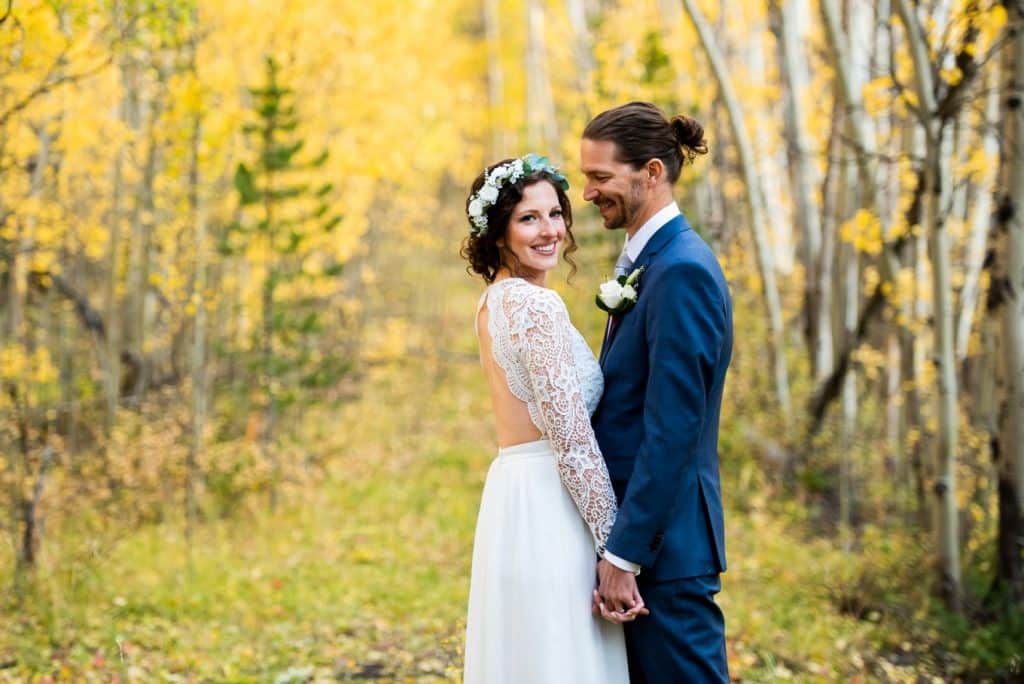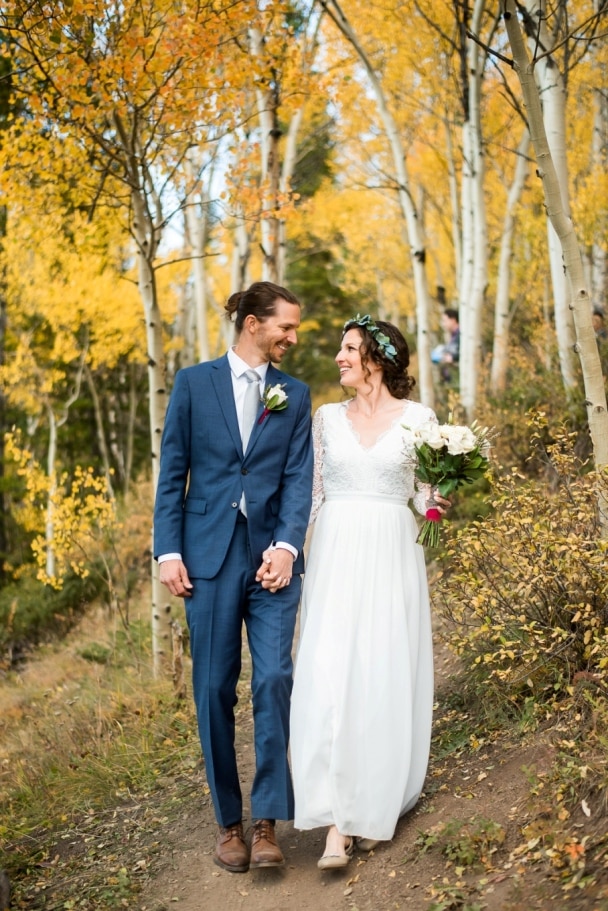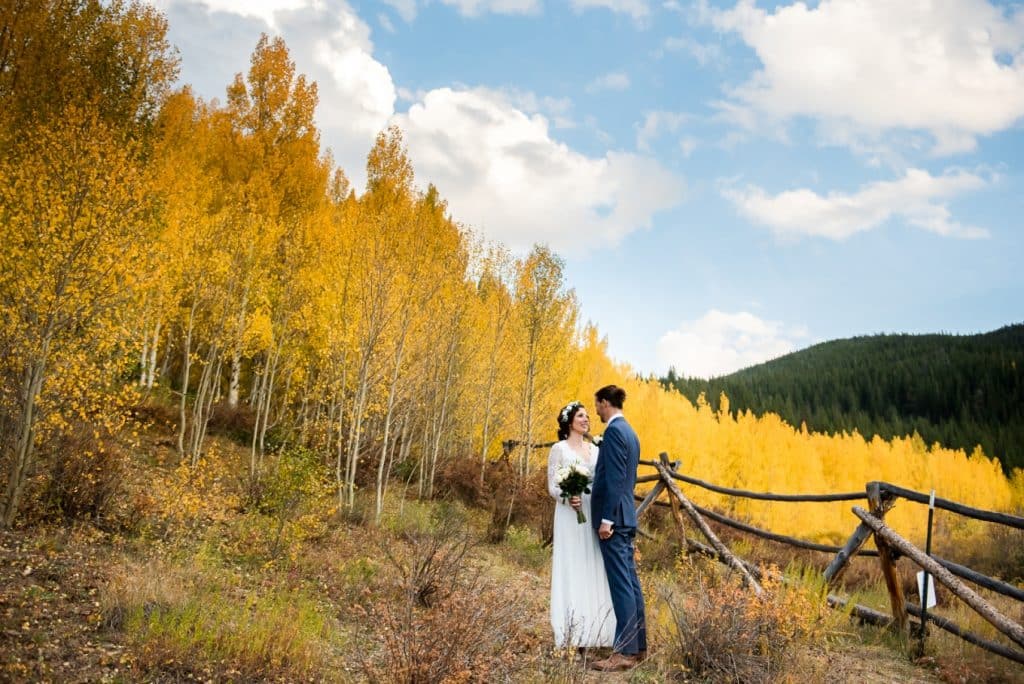 In their own words
Why did you choose an intimate wedding?
We liked the ease and simplicity of a small wedding, and an intimate ceremony outdoors in the mountains felt right for us.
What made you select the location you did? 
Breckenridge is a beautiful mountain location, and its close to Denver, making it easy for our guests to join us for the weekend. Fall is our favorite season and it's an excellent place to see fall foliage and mountain vistas.
What words best describe your wedding day?
Magical, Perfect, Romantic, and Fun!
What was your favorite part of your wedding day?
We decided to do a first look, and we were both unexpectedly nervous leading up to it. It was so fun to wait and surprise each other, and then after the first look all the nervousness melted away and we had so much fun taking photos and participating our ceremony.
Did you face any challenges in eloping?
Hah! Oh yes. Our original wedding was planned for March 21st, 2020 – and we were packed and ready to leave for the mountains when coronavirus shutdowns began. We made the decision to postpone four days before the wedding. Even in September, we planned our event with safety in mind: all of us getting tested before the event, and celebrating with dinner on a patio.
What was the best thing about having an intimate wedding?
The day was easy, happy, and simple. We could really focus on each other without a lot of pressure from lots of attendees. We could be more spontaneous, too.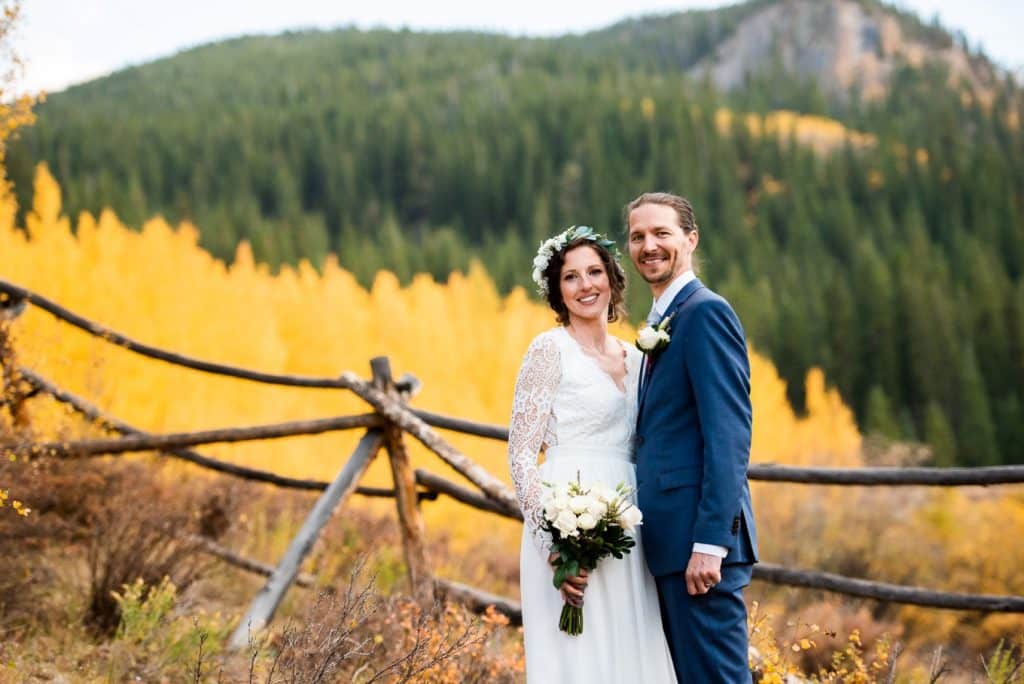 The location services were really helped us think through what we wanted from an outdoor ceremony. We were matched with an amazing husband/wife team that took our photos and performed our ceremony. They were true professionals, and we felt really comfortable with them.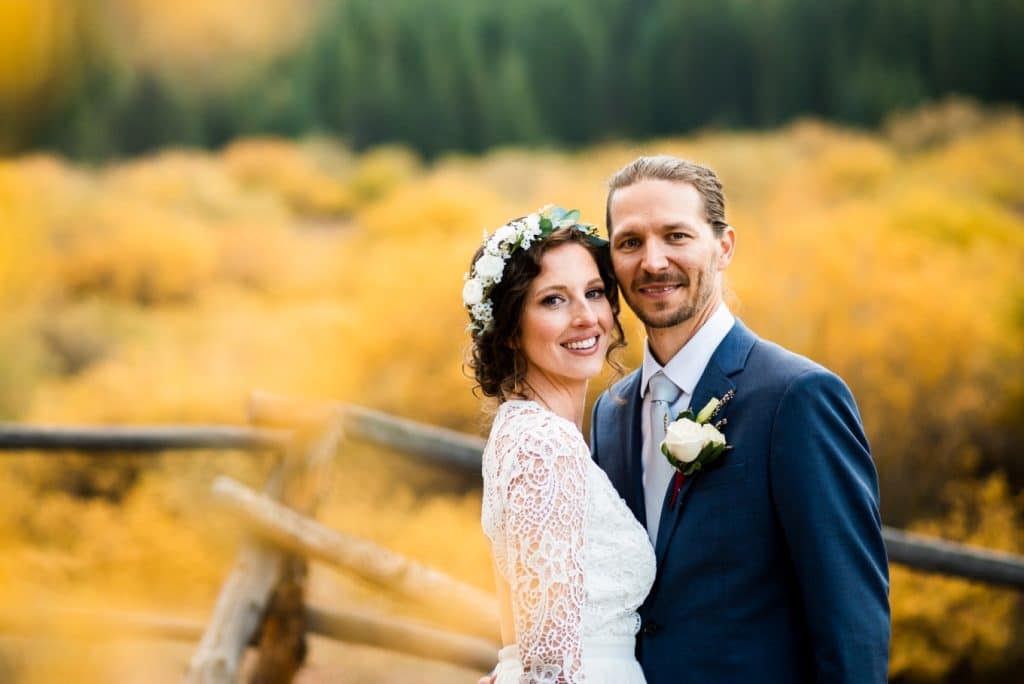 Services included in Julia and Kyle's Boreas Pass Elopement package
Interested in your own elopement at Boreas Pass (or anywhere in the glorious Colorado Rocky Mountains)?
Request our Pricing Guide or send us an email.
Important notes if you're considering a Boreas Pass Elopement
Boreas Pass Road is closed during the snowy season. Elopements there need to be between mid-June and early October.
Weekends in summer and (especially) fall are very busy. Schedule your elopement for a weekday.
Boreas Pass sits at an altitude of over 11,000 feet. It's not suitable for anyone with breathing problems and everyone should take precautions against altitude sickness.