What to Wear for a Winter Elopement in Colorado

Everything you need to know about what to wear for an outdoor elopement in the Colorado snow
Full disclosure if I sound a little whiny with this post. Here's the thing: I've lived in Colorado since 1995 and prior to that, I lived in Vermont. So, I know snow. I know how to drive in it, and how to walk in it so you don't end up going headfirst into a snow drift. I know how to build the best snow fort. My snowpeople are works of art.
And trust me, I know how to dress for it.
I also know how stressful it can be to be freezing cold on your wedding day. And since we're all about stress-free weddings, I go out of my way to emphasize how couples should dress to ensure their  Colorado winter elopement is a joy-filled experience as opposed to a frostbitten one. I got married outside in Colorado in December. I've been there.
So, why am I whining?
My whining stems from the couples who adamantly believe that their January elopement at altitudes of 10,000+ feet in the Colorado Rocky Mountains will be held in 50 degree temps and that it will be sunny. No matter how much I tactfully-but-emphatically hammer the point home that they should plan (and dress for) cold, snowy and windy (translated: winter in Colorado) conditions any time between November through mid-May, several times a year, I get feedback from a photographer or officiant asking me why our mutual client showed up dressed as though they were getting married on a balmy summer day, when in fact the temperatures were hovering near zero!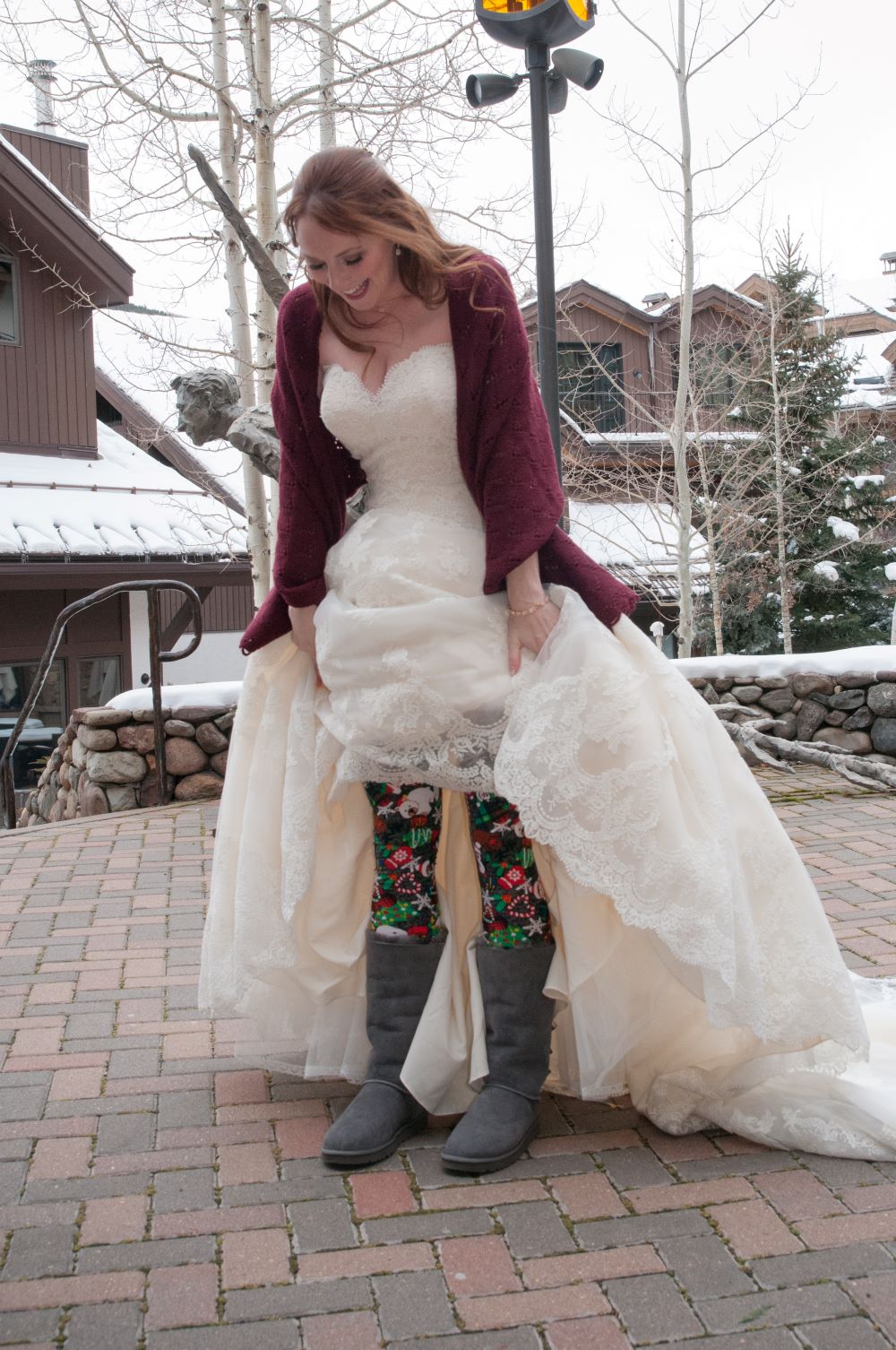 While I'm on the subject: to debunk another common myth – no, you won't be so excited on your wedding day that you won't notice the cold. Believe me, if it's cold, you're going to be aware of it, regardless of how much in love you are.
In spite of my guidance to our couples about dressing to make sure they both look and feel good on their wedding day, I'm absolutely floored at how many of you blatantly ignore my advice. I'm not telling you to dress in layers because I want to burst your winter wedding bubble or because I'm dying to have you look like a polar bear when you get married! I'm giving you these tips because I've seen how miserable couples can be when they aren't dressed for wintry conditions.
At some level, it becomes impossible for our photographers to continue their photo coverage because our couples are so uncomfortable that it's clear that we need to get them inside as soon as possible. And these same couples who disregarded everything I told them about how to dress for a winter elopement, will be the first ones complaining that they didn't get all the photography time they paid for.
Hence, my whining.
Granted, that's not the case with the majority of my winter wedding couples. Most of them will own that they should have paid attention to our advice rather than assuming that it didn't apply to them and that they would be "fine" in the cold. But whether or not the couple assumes responsibility for their inadequate attire doesn't change the fact that their wedding day was less than perfect simply because they didn't dress warmly enough.
I don't want this to happen to you, so it's time for some tough love.
The Basics on Winter Conditions in Colorado
You may have read that Colorado has lots of sunshine. Statistics constantly cite that Colorado has over 300 days of sunshine per year. Welllll…. that's a wee bit misleading. When you really dive into that stat, it turns out that's a generally accepted myth. While the weather here is pretty darn gorgeous, what constitutes a "sunny day" in Colorado is defined as sunny at any time of the day. Even for a few minutes. So a storm in the morning followed by cloudy conditions in the afternoon counts as a "day of sunshine" if the sun comes out for 90 seconds in between the two.
Yeah… a little misleading.
Let's be realistic; the mountains of Colorado can get anywhere from 150 to 400 inches of snow during the winter season. Do you think the sun is shining while all of that white stuff is coming out of the sky? No, it is not.
So, while it's possible that you'll have a glorious sunny day in winter for your Colorado elopement, it's just as likely that it'll be overcast. Note: this is not a bad thing–assuming you're dressed for it–overcast days actually provide much better lighting for your elopement wedding photography. But it does require a bit of forethought in planning one's wedding day wardrobe.
Besides, you can always remove layers if you are warm enough.
The average high temperature in the Colorado High Country in winter hovers around 30 degrees. That's an average–not a guarantee. And that doesn't count any wind chill. (You do know that it can get windy at higher altitudes in Colorado, right?)
What NOT to wear for a winter elopement in Colorado
I know this is going about things backwards, but lest you roll your eyes at my whining and think I'm being overly-dramatic, I'm here to tell you that we've encountered all of these scenarios (often more than once).
Not having a coat or wrap handy
Skipping gloves
Wearing 5″ stilettos–or heels of any height (I kid you not)
Donning dress shoes without socks
Donning dress shoes at all (You need to think BOOTS, not shoes! You may be traipsing through multiple feet of snow!)
Having made the list of winter elopement attire faux pas abundantly clear, let's talk about how to keep you warm, but still polished, for your Colorado winter elopement.
The definitive guide for what to wear for a winter elopement in Colorado
For brides:
Choose the dress of your dreams, but layer it with a gorgeous wrap, coat or cape. You can always shrug it off for a picture or two–or during the entire ceremony if you're really hearty–but you'll want it handy to slip into when your teeth are chattering.
Wear tights or leggings under your dress. Fleece-lined ones are best.
Splurge on cute-but-warm boots. I think this is the most important thing you can invest in for an outdoor elopement in winter. Keeping your feet warm will go a long way in ensuring the rest of you is comfortable. Boots with a decent tread will also help you to remain upright when you're slogging through snow. And it doesn't mean you have to clump around like Herman Munster. There are so many adorable styles of winter footwear available. Choose one that makes you look great and keeps you warm. (And be sure to break them in a little bit ahead of time.)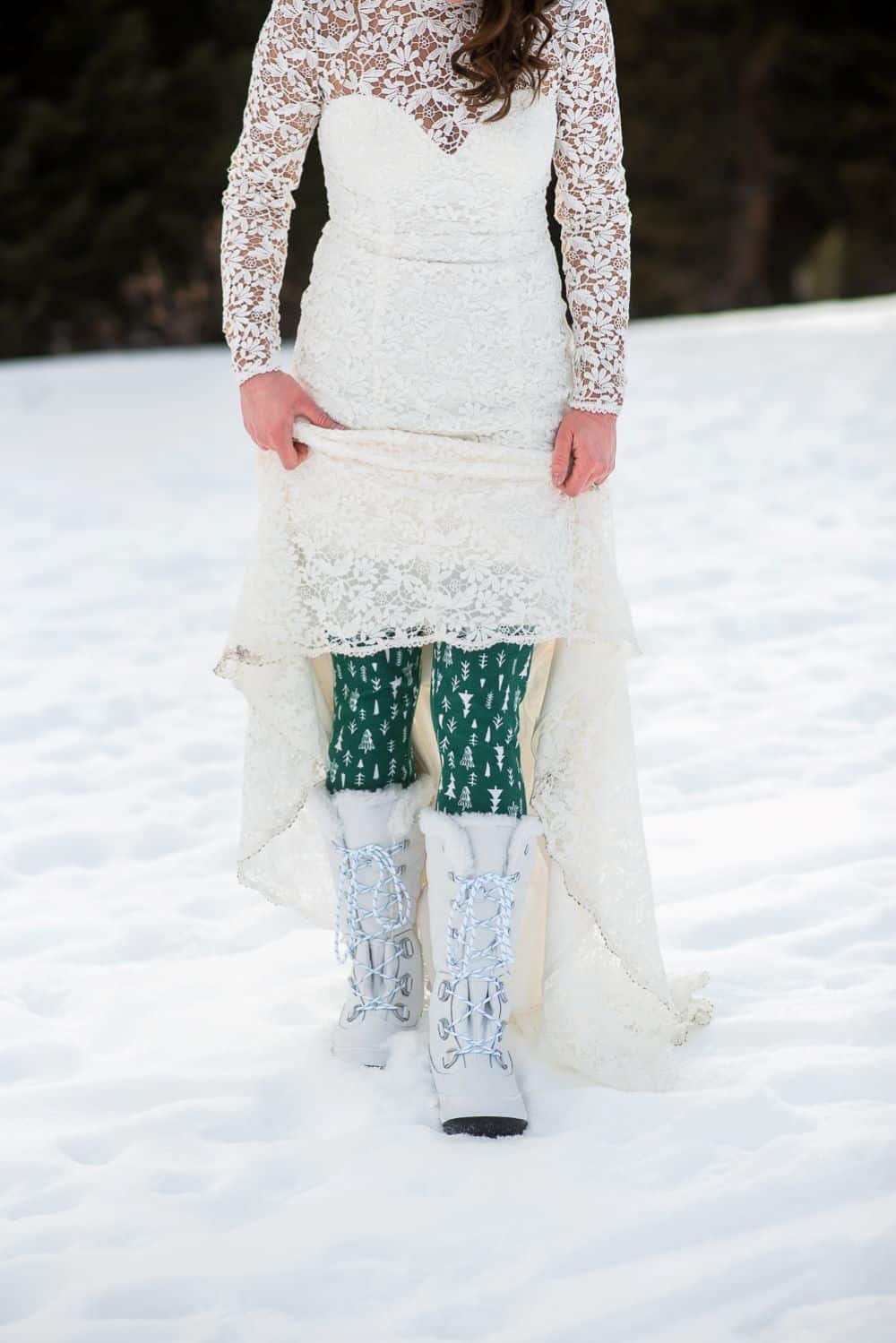 For grooms
Don't show up wearing a suit and nothing else. Maybe you're not wearing a backless dress like the bride, but that doesn't mean you don't have to prepare for winter conditions. Bring a warm overcoat to wear over your suit.
See that note on boots for the bride above? That goes for grooms as well. You don't even need to worry about the cute factor. Just get something warm and not too clunky.
For both of you
Don't forget gloves. Your hands will be the first thing to freeze if they are exposed to single-digit temperatures for more than a few minutes. Like the boots, there are some great options out there. You don't have to resort to bulky ski mittens.
Consider hand and foot warmers. Slip those babies into your boots and gloves and you'll be gliding through the snow and cold like a Colorado native.
Scarves are sexy and warm! They can also add a splash of color to your outfit that will look beautiful against a snowy mountain backdrop.


Other things to think about for your Colorado winter elopement attire
Another idea to consider is that you don't have to wear traditional wedding attire for your winter elopement. The beauty of eloping is that you can make up your own rules. We've had several couples wear ski suits for their outdoor wedding in the Colorado mountains. If you really want the elegant look of traditional wedding attire, you might consider dressing up and having your ceremony indoors (in front of a fireplace, for example), then dressing in warmer attire for some outdoor photos. You can do and wear whatever works for you–even if it involves a change of clothing.
If you're just convinced that boot wear is just not the look you're going for (well, then I wonder why you've chosen to elope outdoors in Colorado in the winter… but I digress) then rest assured our photographers can artfully drape your dress (assuming it's long enough) to cover your feet for a number of your photos. Note: certain dress styles work better for this than others, so choose your dress accordingly if this is a concern for you.
Many of our Colorado elopement venues require snowshoes to access in winter. In that case, you pretty much have to wear boots since a pump is not going to strap into the snowshoe at all.
The other thing to consider is your guests. We don't want them freezing either! Be sure to pass along these tips and advice to anyone that is attending your wedding. In addition to keeping them safe and comfortable, you won't be spending any mental energy on your wedding day worrying that your friends and family are uncomfortable.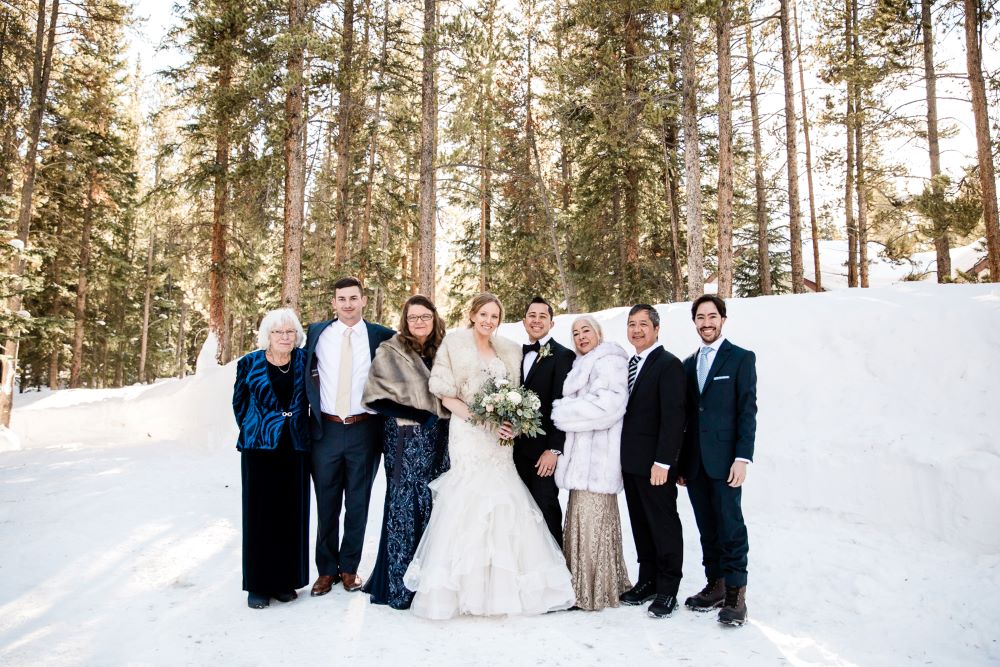 Getting past the "what to wear' discussion, plan to have some warming drinks available for yourselves and your guests just after the ceremony. Hot chocolate, fancy coffees, spiced cider and hot toddies are all excellent options to chase away the winter chill.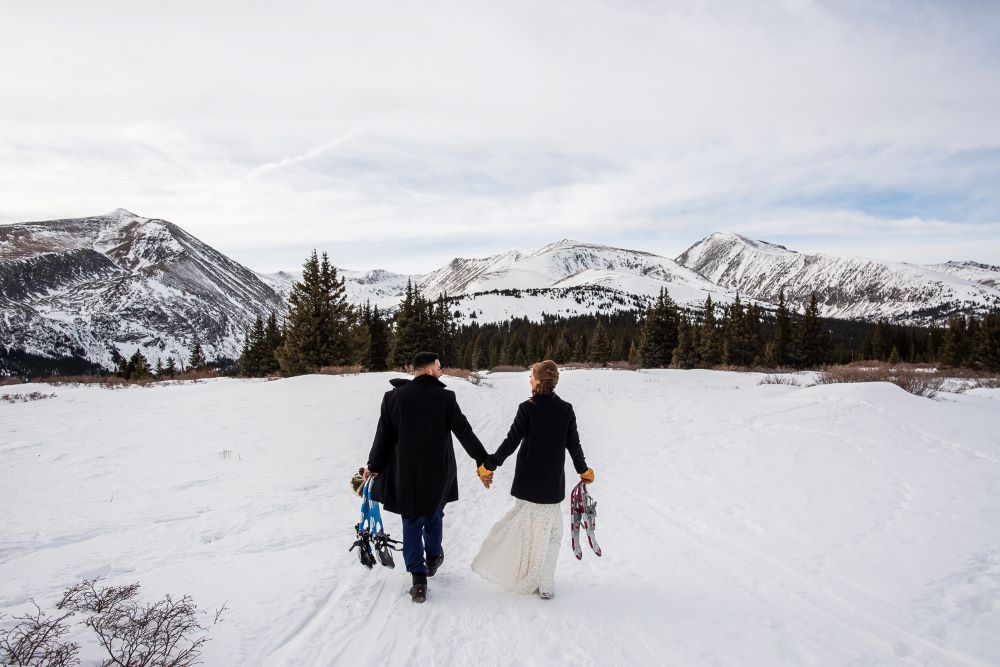 The Bottom Line
Winter elopements in Colorado are awesome. The mountains are spectacular when they're snow covered. But they do require some advanced planning in the "what to wear" department. Please let us help you in that regard so you don't fall prey to adverse wedding conditions that can severely dampen your joy on such an important day.