Chrissy and Jason's Estes Park Elopement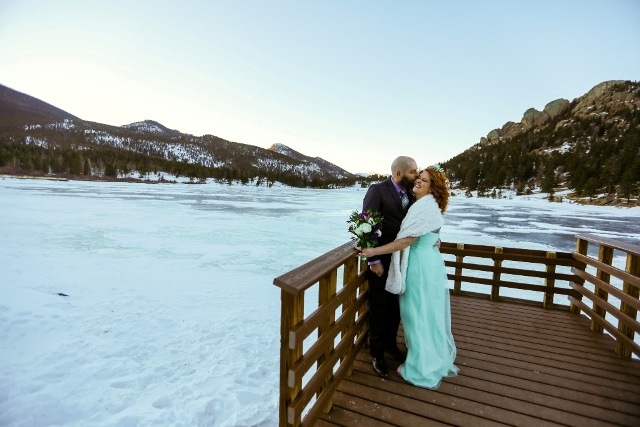 Chrissy made it very clear to me from the start that they wanted something simple and carefree for their Estes Park elopement. And oh yes, we were talking an outside wedding in Colorado in December.
Yea! I couldn't wait to get started on this one. Having been a Colorado (outdoor) December bride myself way back when, I confess I have a soft spot for couples like Chrissy and Jason that want to express their commitment to one another with only the crisp Colorado sky for a witness. Throw in some snow and a mountain backdrop and you had me at "hello!"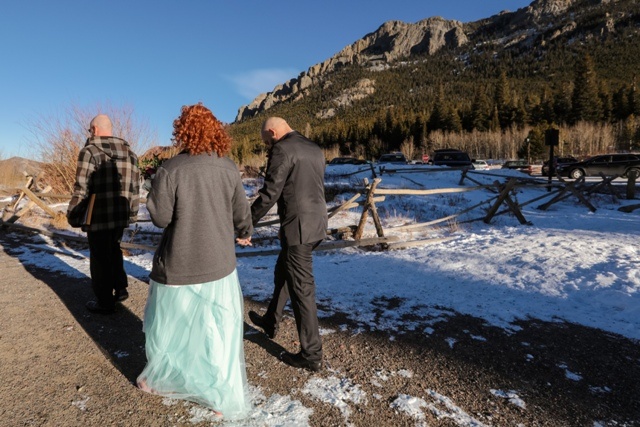 Colorado is a favorite vacation spot for this couple from Ohio, so getting married with a lake and Rocky Mountain backdrop was what they were hoping for.
In their words, "We come to Estes Park every year for New Years and knew when the time came it was exactly where we would get married! We love the mountains, the blue sky and the romantic scene."
We chose a lake in Rocky Mountain National Park for their elopement because of its ease of access. It's right off the main highway going in to Estes Park and–although it does require a permit–you don't have to pay Rocky Mountain National Park admission fees or wait in a long line of cars to get in. It's wonderfully peaceful and quiet there on a snowy winter day.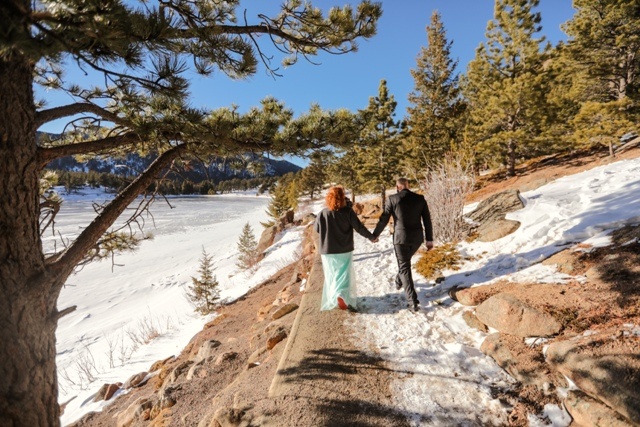 Chrissy and Jason actually met when they were 13, but life intervened; they grew up, married other people and eventually returned to one another. ("Turns out my Prince Charming was just waiting for me," quips Chrissy.) They chose to elope, in Chrissy words, because "being a second marriage, this felt more like an actual commitment between us that we are going to take on together."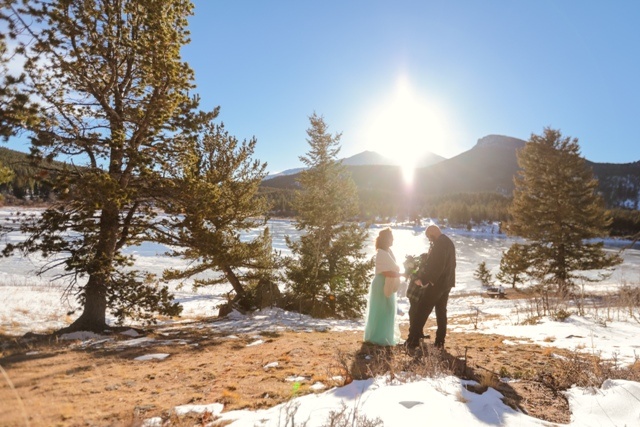 And her dress!! Oh-la-la! Chrissy was a stunner in her mint green gown (which, by the way, masked a fabulous pair of pink snow boots–this was a bride both beautiful and practical!). And take note of the garter (complete with mint green bow!) OVER her white "wedding leggings." Totally awesome!
What words best describe your wedding day?
"Fairy Tale!!!"
What was the best thing about having an intimate wedding?
"It was all about us! We didn't have to worry about any but ourselves."
Chrissy's bouquet was a mixture of white roses and purple calla lilies.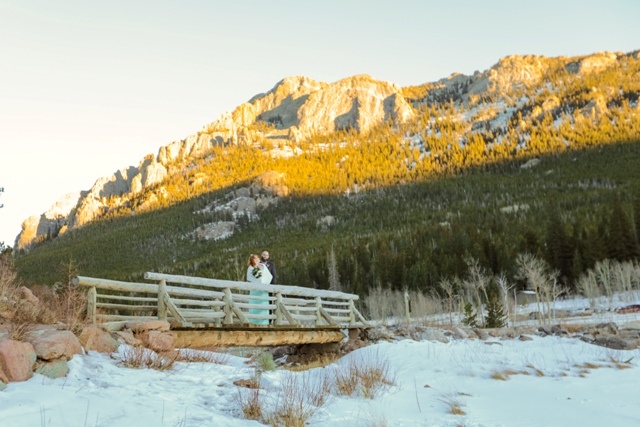 What was your favorite part of your wedding day?
"Standing next to Lily Lake with the man I love."
Any advice for other couples planning to elope?
"DO IT!!! The intimacy sets a beautiful tone for a wonderful marriage."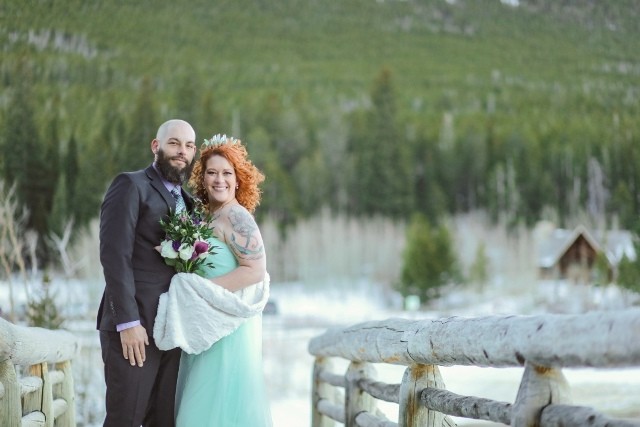 Words of praise for Blue Sky Elopements
"I don't know where to start to tell you how AMAZING everything was!!! My hair and makeup stylist was amazing, not only was my hair and makeup fabulous but she kept me calm, cool and laughing the whole morning. The flowers were delivered right on time and blew my mind. My bouquet was everything I imagined and more!!"
"The photographer and officiant were right on time at the lake and made everything just magical. Our photographer was helpful, fun and running all over the snow and ice for us to capture the perfect photos. Our officiant was kind, sincere and said all the right things, it was perfect."
"Your company did an absolutely wonderful job from start to finish and let me and my now hubby have a relaxing wonderful time and I can't thank you enough for that."