Things People Say that Make Couples want to Elope
Sometimes planning the big wedding just isn't worth it
I've been hearing from more and more couples who are in the throes of planning a pearls, pumps and pantyhose wedding who just want to chuck the whole wedding planning thing and elope. I've been following a thread posted on the Wedding Wire Couple's Forum titled "Has anyone else wanted to call off the wedding and just elope?" Here are some of the responses:
Me, every day since we started planning.
I think about it daily. FH (future husband) wanted the wedding, so we are doing the wedding, and I'm just hoping it will all be worth it!
It happens…. we talked about it, too, on the days when I was overwhelmed with planning, or ran into issues I was too tired to deal with (which were all minor in the long run).
I want to elope and not tell anyone.
Yeah, I'm getting pretty close to throwing in the towel and running away with FH! dealing with everyone else's opinions gets really tiring, really quickly.
I had the desire to elope when planning got pretty intense
Yes, I thought that many times. I had many headaches from the future in-laws, my mom, money in general… the list goes on.
Every. Single. Day. I wanted to elope from the get go. However FH wanted a large wedding.
I thought about it as soon as we got engaged.
Raises both hands in the air!!!! (in response to question)
Daily
Now, while my research is certainly not scientific, anecdotally, I can say that I've seen a rise in the number of couples who either decide to elope, or fervently wish they had–especially in the last couple of years. I think–thanks to the economy tank of several years ago–elopements are becoming much more "in" as opposed to the traditional last-ditch resort of couples who are either broke, pregnant or desperately overwhelmed to escape the traditional wedding planning craziness.
Elopements are the new black? Perhaps.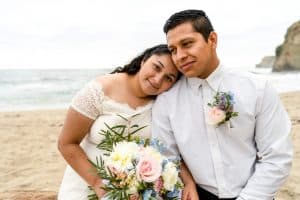 Comments virtually guaranteed to make couples want to elope
Anyway, I've heard some "interesting" comments that couples have heard from friends and family members that have pushed them to (and over) the brink of eloping. Some of them are absolute gems.
"I didn't receive my invitation." (Ummm…if you didn't get an invitation, you weren't meant to be invited!)
"Oh yeah, you're happy NOW–just wait til you're married a few years."
"Still getting married?"
"Oh finally! With how long you were engaged, we didn't think you were actually going to commit!"
In response to receiving the Save the Date card: "I got your funeral announcement today."
"My invitation is addressed only to me, but I'm bringing my boyfriend so I put '2' on my RSVP. We'll both have the lobster."
"What do you mean, you're having a kid-free wedding? My kids go EVERYWHERE with me and they are well-behaved little angels."
"You're not wearing a veil? But that's tradition!"
For couples who've been married before,  "Are you SURE she/he's the one? You were wrong last time."
"At MY wedding, we had (fill in the blank: mason jar flower arrangements, a photo booth, bacon-wrapped scallop appetizers…)"
Are you pregnant?
Ahhh….people. You gotta love 'em.
I've got no advice on this one. If you want to elope before, during, after or instead of the wedding planning process, then that's great. I've never had a couple say they regretted eloping (unless it was a courthouse wedding; those some people do regret). But I do hear hoards of couples say they wised they'd chucked the entire big wedding right from the get-go.
The choice of course is yours. People are gonna say the most insensitive things whether your elope or not. It seems to be built into their DNA. So elope away if that's what you're thinkin'!
Considering eloping? You need to do what's right for you. Request our Pricing Guide, which is a good place to get started.