How much photography time do I need for an elopement?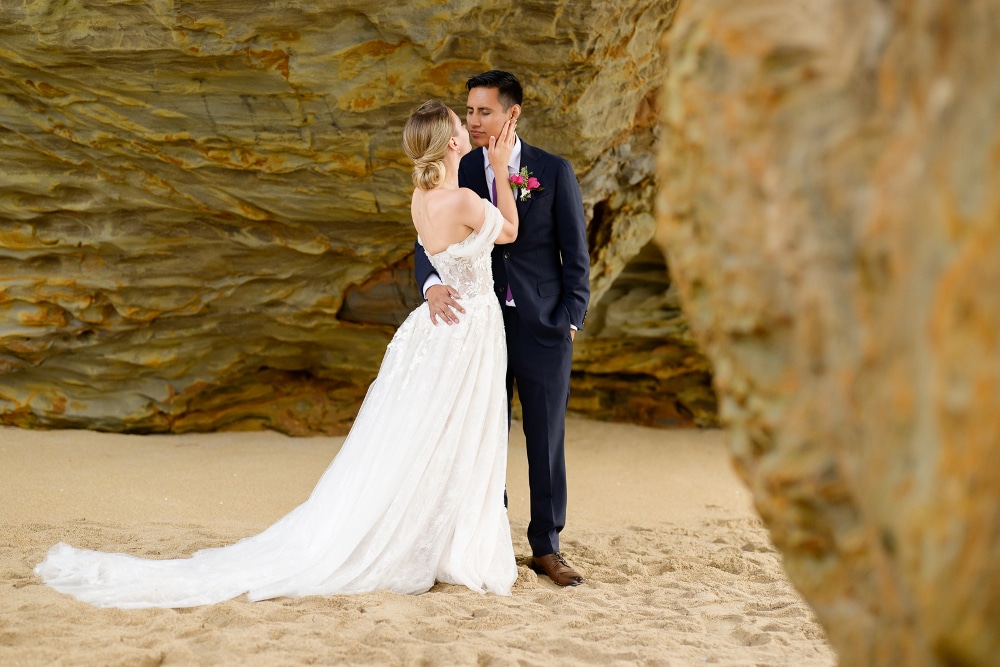 One of the questions I get asked the most is, "how much time should we allow for photography for our elopement?"
There are many factors that go into answering that question, so let's see if I can help you break it down. You have to look at things like your budget, how comfortable you are in front of the camera, your attention span (not everyone can handle an all-day photo shoot!), whether or not you have guests, what your other plans are for the day, and how many different backdrops you'd like.
Let's start with the basics
Just like with all things elopement-related, there really are no "shoulds" when it comes to the amount of photography you select for your intimate wedding. The very nature of an elopement implies that you are not adhering to traditional wedding do's and don'ts, and photography is no exception. You can arrange for anything from having pictures taken at the ceremony site only, all the way up to a multi-day adventure wedding with the photographs to document it.
The minimum
At Blue Sky Elopements, the minimum amount of photography time we allocate for our couple-only elopements is 90 minutes. That's enough time to photograph the ceremony and get some stunning shots of the two of you in and around the ceremony venue. Any less time than that, and you're either going to feel rushed, or your wedding photos won't reflect the quality and variety that you're hoping for.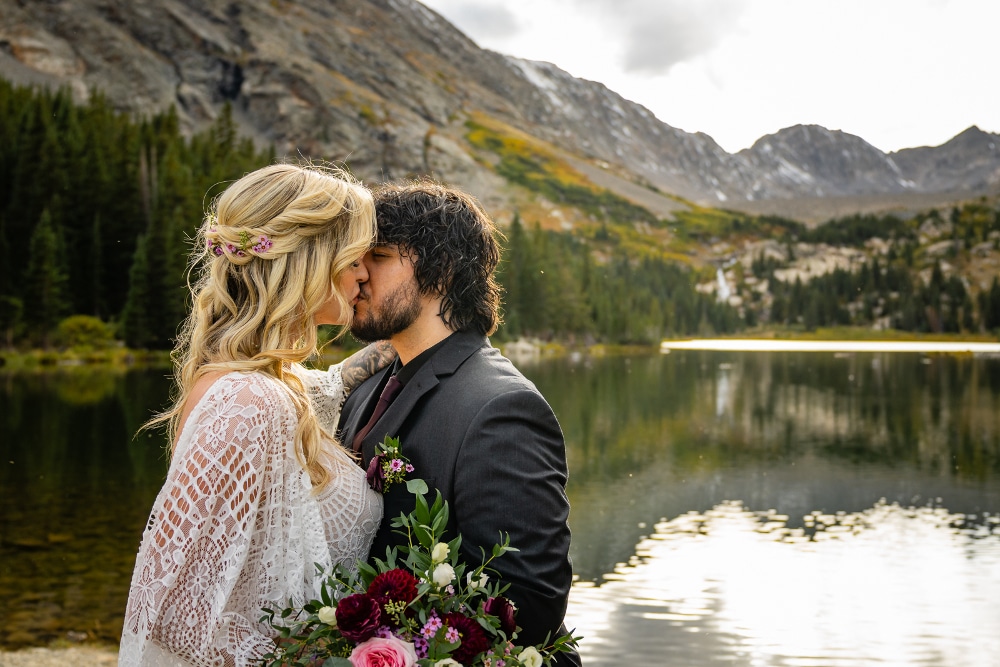 If you have guests, we recommend increasing the amount of photography time in and around the ceremony venue accordingly. You'll probably want to add another thirty minutes for every 15 guests that you have in attendance. If you have kids and/or pets at the ceremony, we'd encourage you to add more time. Kids and pets are known for being wriggly and they often require extra time to set up the shot.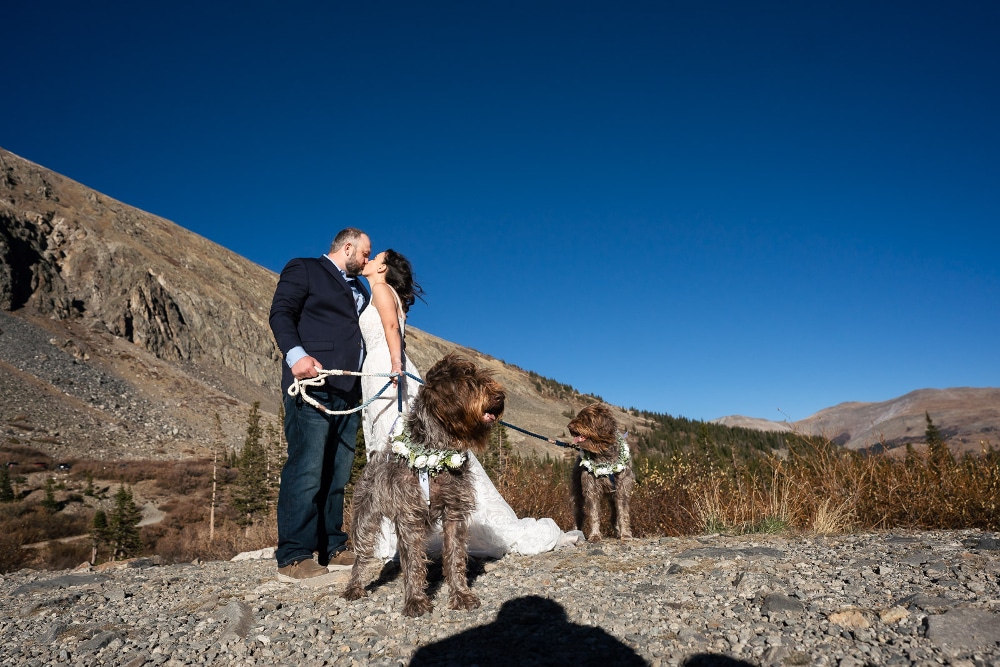 If your venue has many backdrops that allow your photograher to showcase its uniqueness and beauty from many angles, you may want to add a bit more time. As a side note, this is why we don't encourage couples to hire an out-of-state photographer to shoot their elopement. A non-local may be really experienced and have the best technique, but if they don't know the ins and outs of the outdoor venue you've chosen, you're going to end up missing out on a lot of cool shots. A locally-based photographer that is familiar with the site will guide you to those hidden waterfalls, massive redwood tree stumps, secluded knolls, sweeping cliff overlooks and to-die for vistas than an outsider might miss.
On the flip side, it's possible to arrange for too much photography time at the actual ceremony site. As happy as the two of you will be on this special day–and as gorgeous as you look–there are only so many shots even a great photographer can snap of the two of you kissing, dancing, looking into each other's eyes, dipping and walking hand in hand! More than a couple of hours at the ceremony site is inevitably going to have you getting bored and antsy.
And, by the way, an honest professional photographer that is familiar with your site should be able to give you an accurate assessment of how much time is ideal for you. If you feel like a photographer is pressuring you to add more time simply so they can charge you more money, then run like the wind. You don't need 27 pictures of the groom's boutonniere and 36 images of you signing the license just so the photographer can justify being onsite that long. That's called "spray and pray," meaning they basically fire off their camera at anything that moves for a designated amount of time, and cross their fingers that you'll like at least some of which comes out. It usually turns out the most dull and unimaginative wedding photos on the planet.
If you want more than just the basics
Assuming you've decided how much time is optimal at the ceremony site, but you'd like more photo documentation of your elopement day, consider adding the following:
Getting ready photos

Photos of the two of you getting ready are pretty standard at bigger weddings, and if you think that would be a fun addition to your day, then go for it. If you're both staying at the same place and aren't planning a first look (more on those below), then 30 to 45 minutes of photo shooting at your lodging should give you a good amount of these photos. And if it's just the two of you, consider shots of you helping each other get ready. Images of dresses being zipped up, ties being straightened and boutonnieres being pinned on can be really romantic.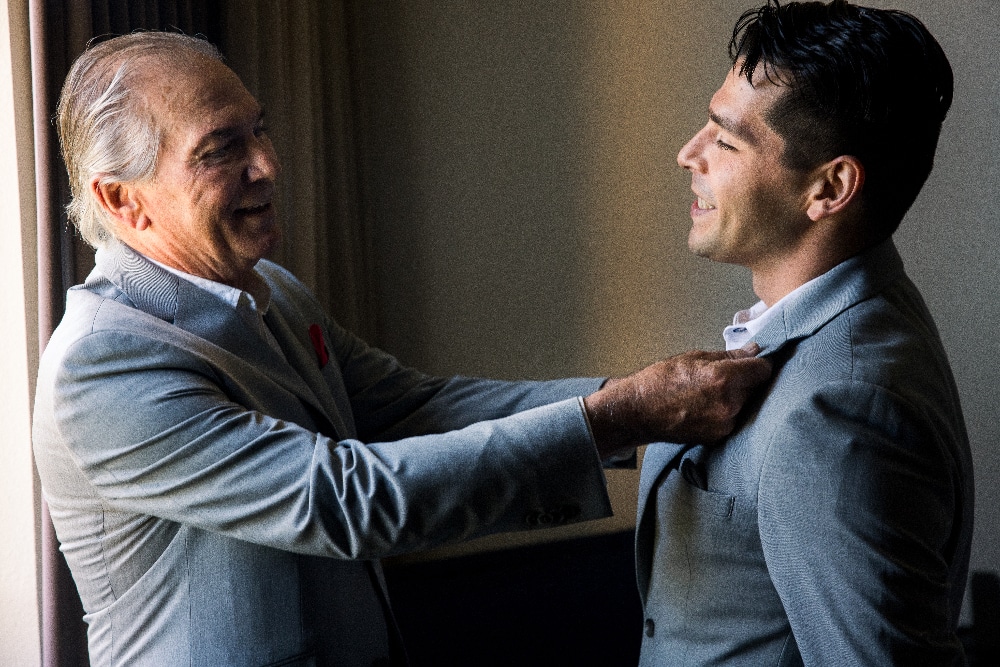 First look photos
Back in the old days, it was considered bad luck for brides and grooms to see each other on the wedding day prior to the ceremony. (And I use the term "bride and groom" because, unfortunately, in the old days, that's all they had at weddings. Happily, all genders and lifestyles now apply to how first looks are recorded.) So, traditionally, the "first look" was when the partner at the altar (typically the "groom") laid eyes on the one coming down the aisle (a.k.a. the "bride") for the first time.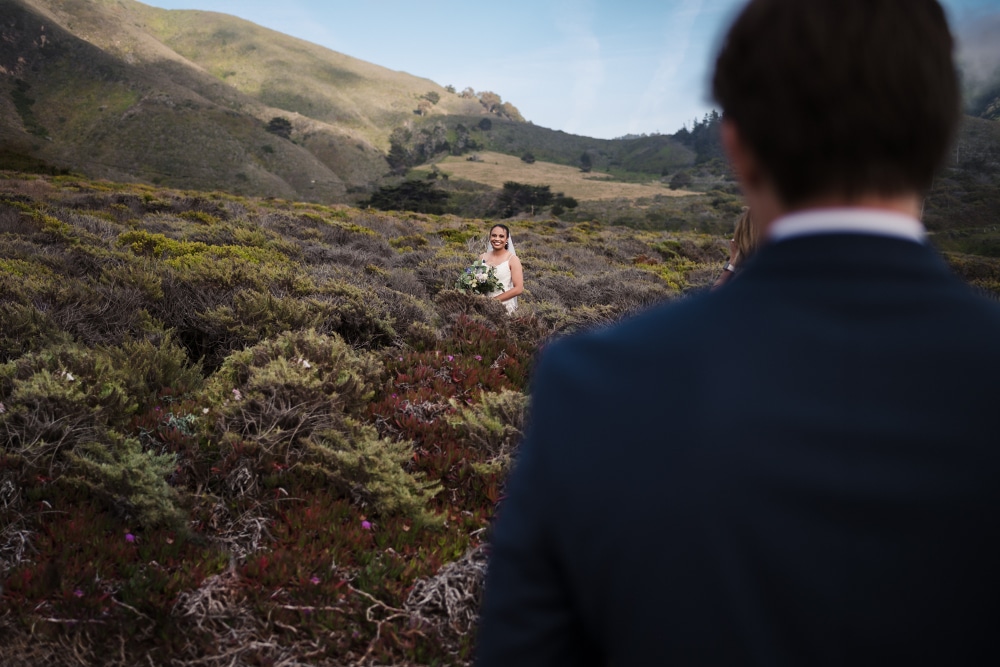 That's still one way to do it–capture the expressions on the faces of the partners as they first see each other at the ceremony. But it's not the only way–and quite honestly, it can be a bit cumbersome for a couple if you're doing a destination elopement and it's just the two of you.
More often than not, first look photos are staged to happen just before the ceremony, and they can be done so in a variety of ways. They usually don't take much time and can generally be done within the time allotted for the ceremony site photos.
There's no law saying the first look photos have to be taken at the ceremony site. Many couples–especially those that are eloping without guests–choose to have their first look photos taken at their lodging (generally in combination with getting ready photos). That gives you the opportunity to really take your time with them, and it sidesteps the conundrum of figuring out how to get the two of you to the ceremony with only one car without seeing each other beforehand.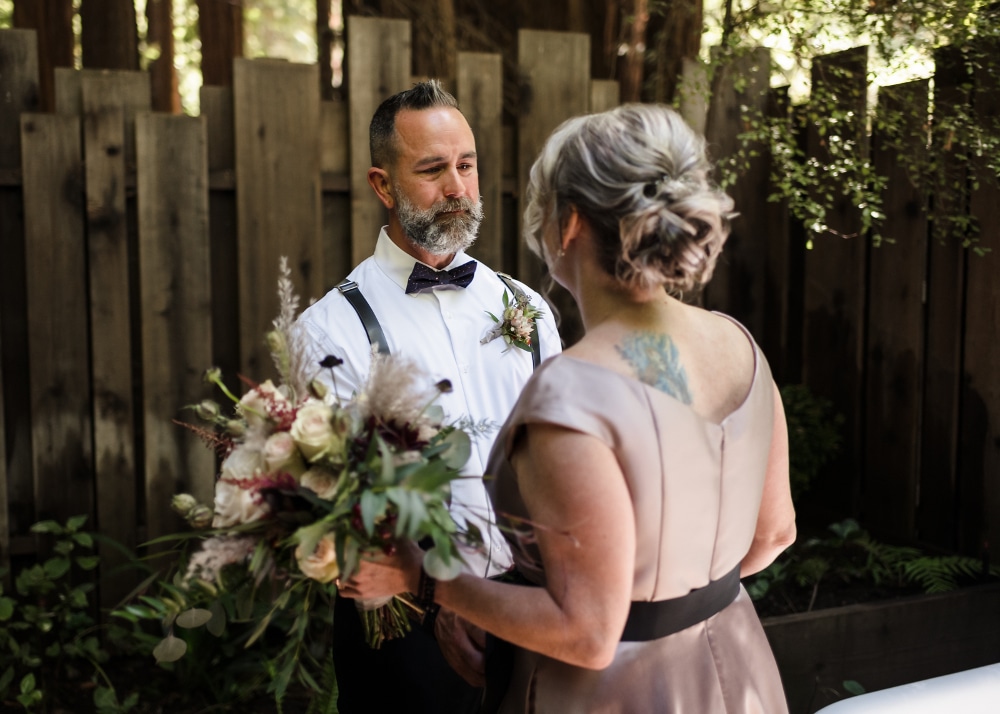 Five to 15 minutes is usually sufficient for first look photos.
Include a first dance at the ceremony site
Bring some Bluetooth speakers and have your first dance as a married couple under the open sky.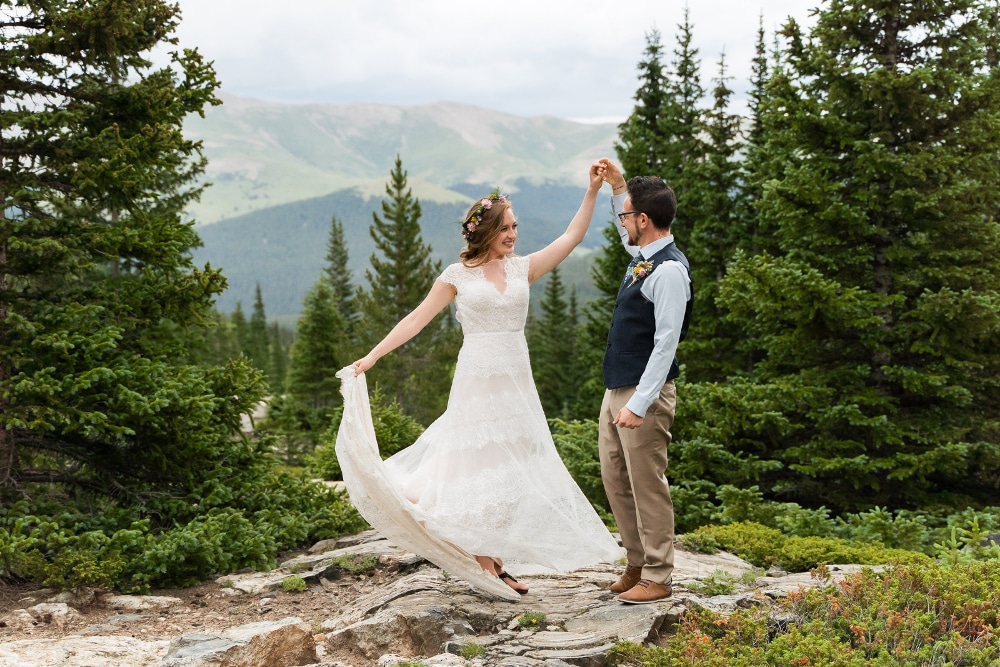 Head off to a second (or third) site for more photos
If you can't change up the subject matter in all the photos (i.e. the two of you), then get creative on the backdrop! One of the most popular ways to infuse some local color into a destination elopement is to head to the center of the town closest to your ceremony venue. That will allow your photographer to include architecture, street signs, artwork, bridges and whatever other hidden gems the town has to offer.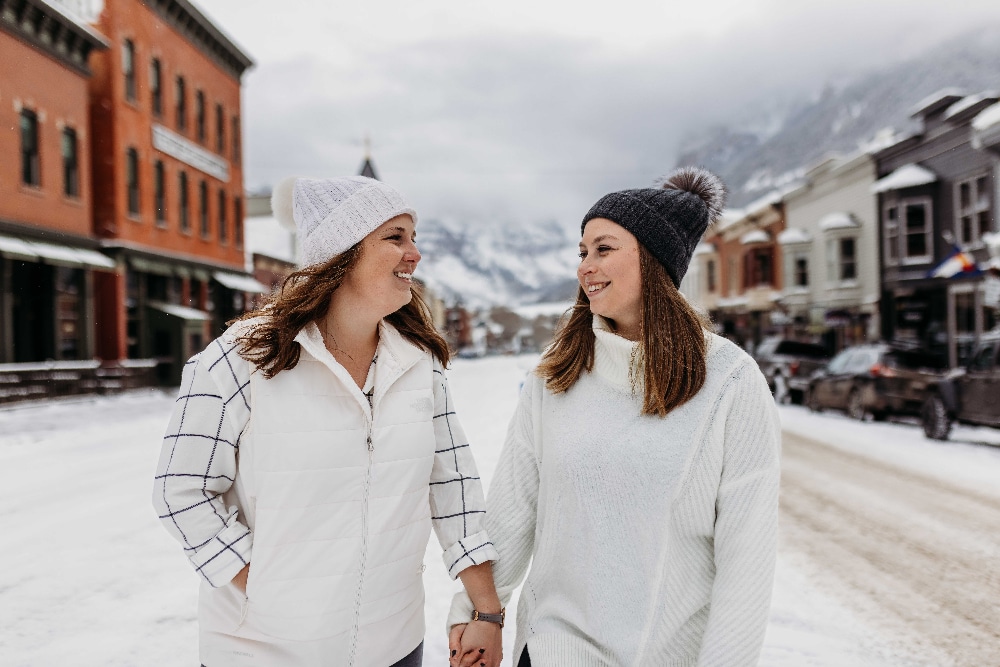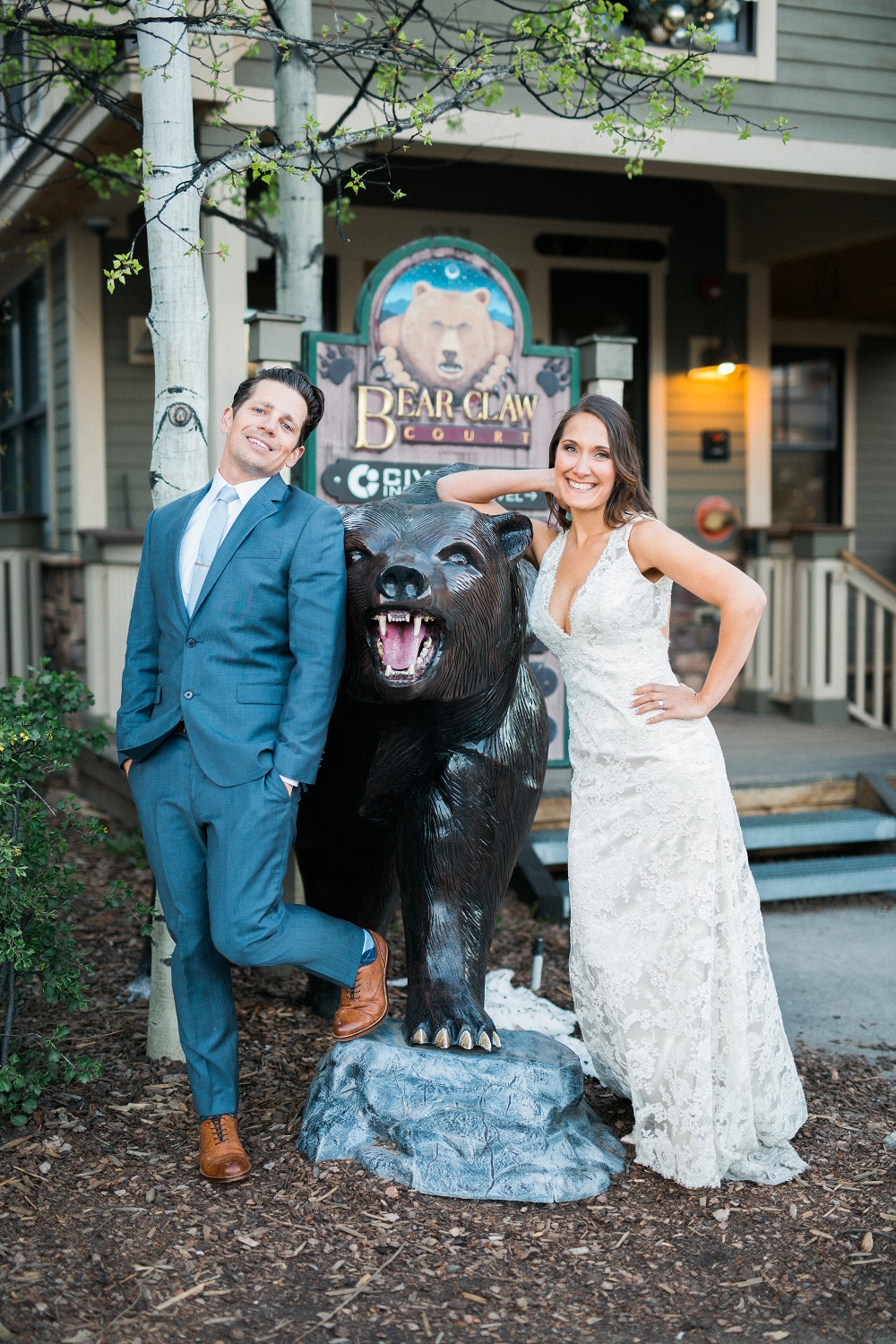 Don't be afraid to take your photo shoot indoors. A quaint tavern or restaurant can offer an ideal place to kick back, have a cocktail or hot chocolate and have all of those memories captured for you.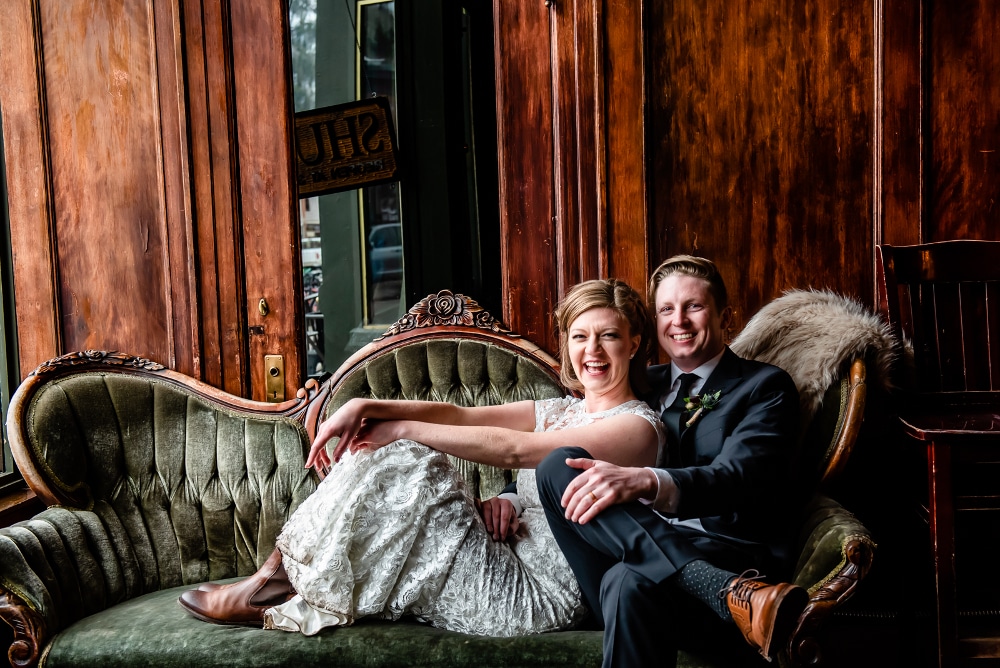 Include tourist sites into your wedding photos
Many times, couples that elope in our larger cities (such as San Francisco and Denver) will have the photographer take them around to iconic spots within the city for a photo session. The Denver Clock Tower, Red Rocks Amphitheater, Union Station and the pavilion at Cheesman Park are all fun backdrops in Colorado. And for San Francisco, the Golden Gate Bridge, San Francisco City Hall, and cable cars provide that unique touch.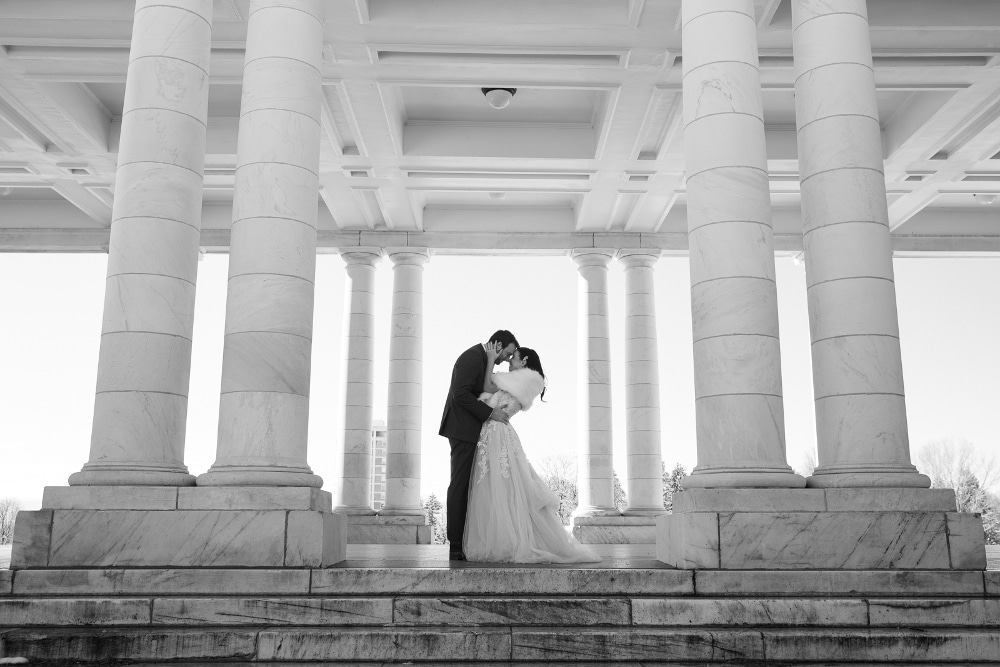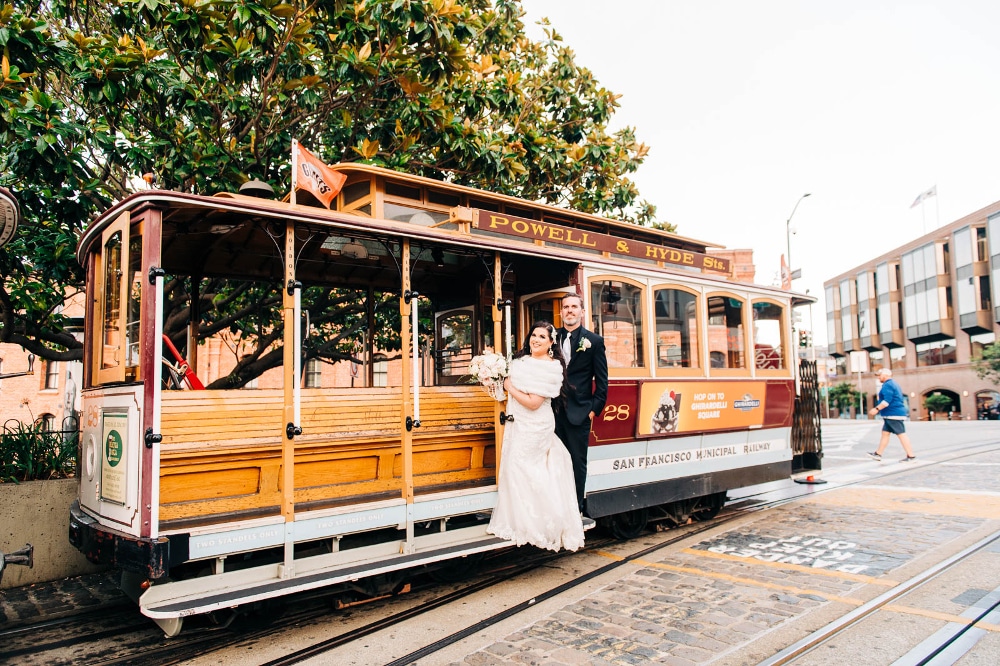 Have a picnic during your photography shoot
I think this is a very clever way to showcase your personalities in your wedding photos. Plan a light snack (charcuterie boards and Champagne are perfect for this) in an attractive basket. Throw in a pretty blanket or tablecloth and set it up right at the ceremony site. Keep it simple; you don't want to be toting tables, glassware and utensils. And you don't want something that takes a lot of time to set up and put away afterwards. But an uncomplicated cheese and cracker tray and something to drink not only keeps hunger at bay, but it gives the two of you something to do (and focus on–especially helpful if you're uncomfortable in front of the camera). It makes for great photos!
A simpler way to do this would be to bring a small cake and a bottle of bubbly.
This idea really only works if it's just the two of you. Setting up something to feed a large group during your photo time isn't practical. Also, there are companies that will come out and set this up for you, but honestly, those setups would probably be more than you need. We can also provide you with an onsite assistant if you want help laying everything out.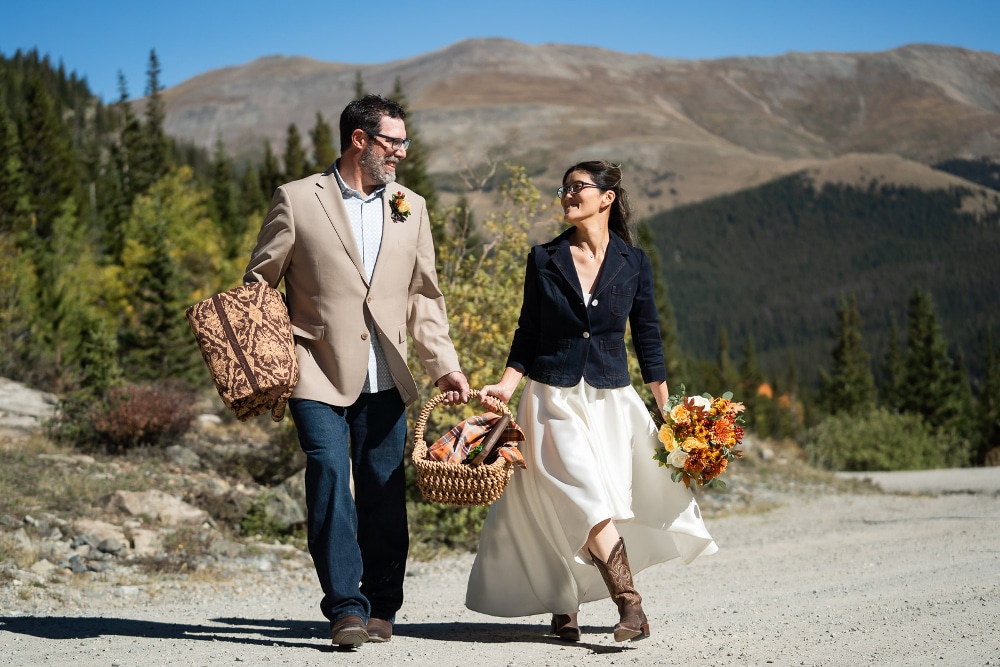 Incorporate a hobby into your wedding
If you really want to kick it up a notch, incorporate a hobby or another fun activity into your wedding day and your photos. Whether it's horseback riding, snowmobiling, a visit to a winery, or rock climbing, integrating a shared passion into your elopement offers fantastic photo opportunities.
Can you document the entire day in photos?
You sure can! In fact, many photographers won't take on an elopement with less than full day coverage. You can also include the days before and after if you want. Many eloping couples forego engagement photos, so an elopement is the perfect time to add those types of pictures. We've had couples do a mini photo shoot the day before their wedding showcasing them out and about in clothing other than their wedding attire.
And if you want the entire day photographed from start to finish, that's also a possibility–as are "day-after" sessions. The bottom line is that you want to do more than just throw more time into the mix. Your photography time should be carefully planned and crafted to include enough variety so that you look back on your photos in the years to come and smile from ear to ear!