Washington Rainforest Weddings
Thing about getting married in a simpler way–in a gorgeous, secluded rainforest. Then think of having everything handled for you from start to finish. We provide rainforest elopement experiences that have every service included and every detail covered.
The rainforest lends an air of enchantment to elopement weddings. The air even smells different here! In addition to popular rainforests like The Hoh in Olympic National Park, we also have some hidden rainforest gems tucked up our sleeves if you really want to get away from crowds.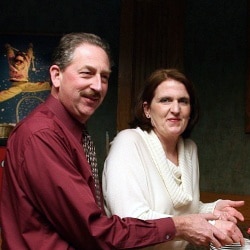 We're husband and wife team Maureen Thomson & Jeremy Myers and we love elopement weddings. (We had one ourselves!) We and our crew of talented local wedding professionals have been putting together small weddings filled with laughter and happy tears since 2002.
Couples tell us the biggest hurdle they face when planning an elopement is finding the perfect wooded site. We've got that covered for you. As part of our Location Consulting Services, we'll give you firsthand, local knowledge of rainforest venues that will give your wedding that deep-in-the-woods feeling, while not actually having to hike for hours to get there! Of course if you want to hike, we're always up for an adventure elopement!.
Should you choose a rainforest setting that is within Olympic National Park, we'll obtain the necessary wedding permits for you.
We also have ocean, lake, mountain and waterfall backdrops to suggest. Visit our Olympic Peninsula elopements page for more info and to get started.