Blaine and Scotty's Lookout Mountain Elopement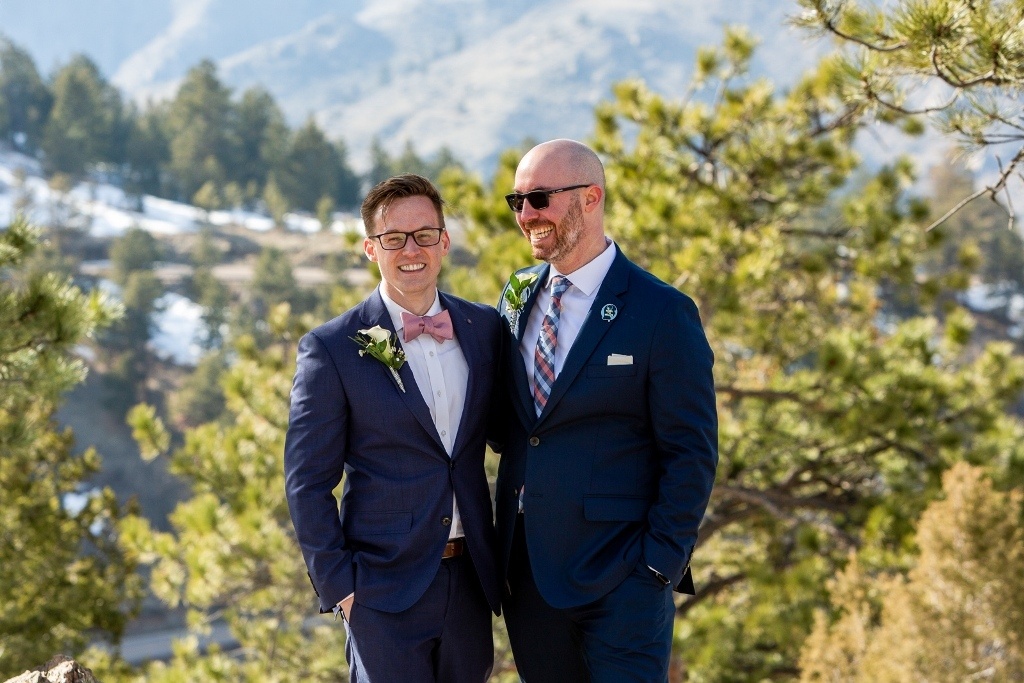 Scotty and Blaine rank up there in my Top 10 Favorite Couples of All Time so I took it quite personally when Mother Nature decided to get persnickety and interfere with their early spring elopement at Lookout Mountain.
The weather was so bad that airports were closed across the Midwest and the two couldn't even get a flight out of Texas. So even if we'd all been able to power through on our end…well…we still would have been short a couple of grooms.
I'd be lying if I told you there wasn't a bit of a freak-out.  (Not us, Silly–them. The Queen of Weddings NEVER freaks out about wedding problems. They always get solved one way or the other.) But Blaine was…let's just say…a bit concerned when he called us from the airport.
The two briefly considered renting a car and driving to Colorado, but we quickly dissuaded them from that idea. That didn't sound stress-free at ALL!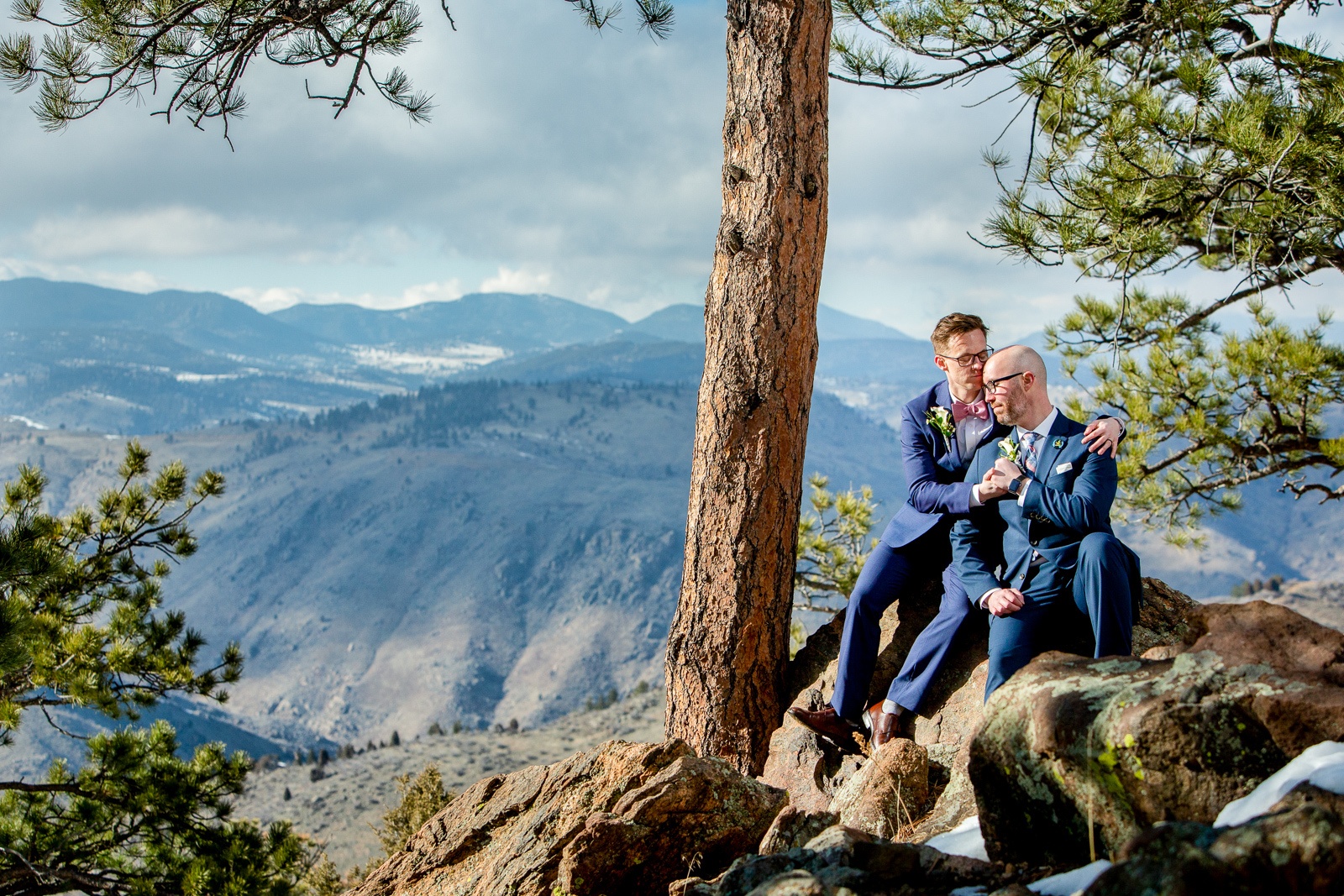 Not knowing when airports would be reopened, we simply told them to get here when they could and we'd make it happen.
So the two men turned around and went home!
All was not lost (and much was gained), because we were able to reschedule for the following week. As an aside–yet another reason to elope. As Blaine mentioned after the wedding, "Having a small wedding meant that everything was a lot easier to change on the fly! I can't imagine having tried to reschedule everything due to snow-out with a wedding of 150 people the same way we did for a wedding of two."
Smart man!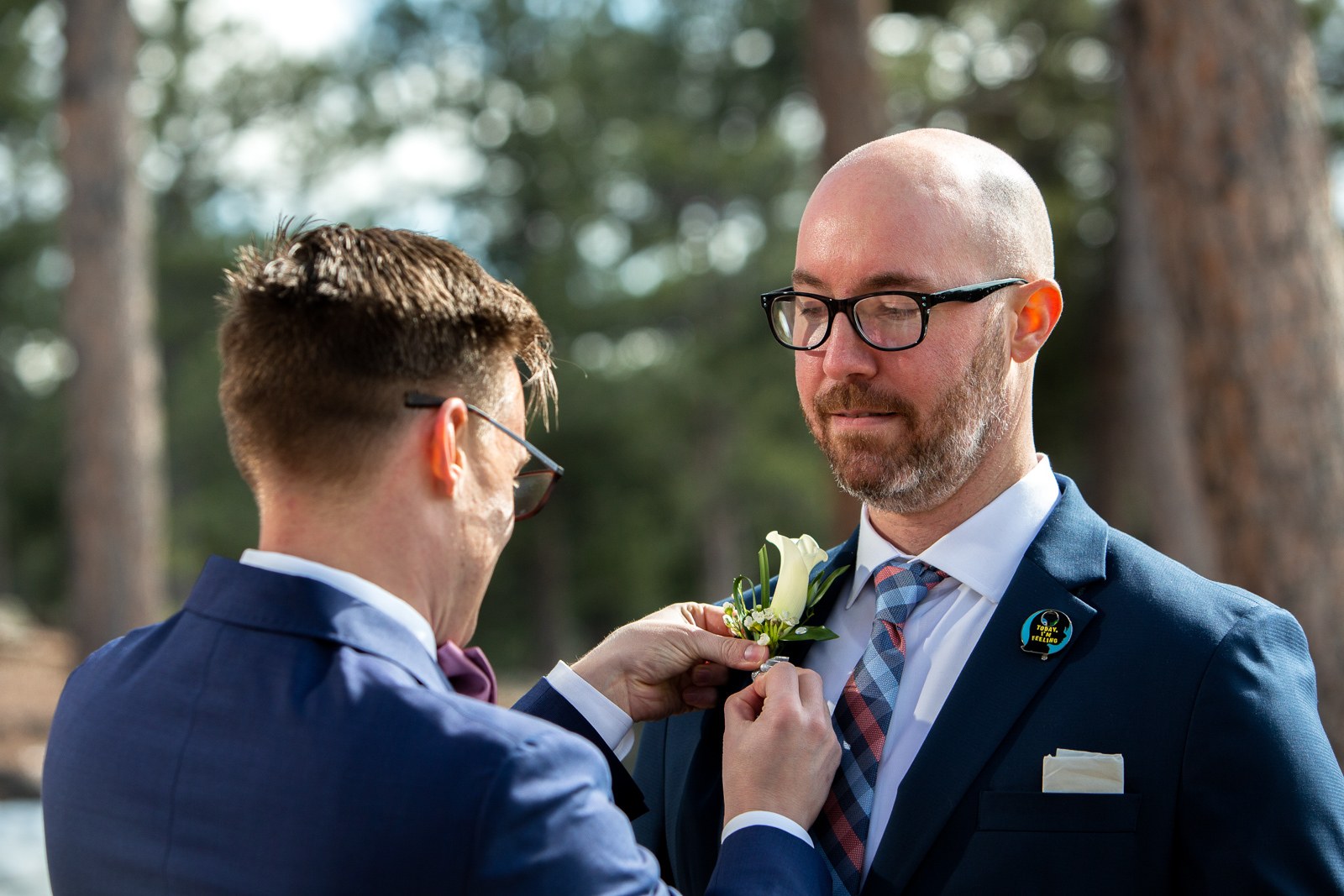 While there was still some residual snow on the ground at Lookout Mountain, the day dawned sunny and clear. Perfect for an elopement!
Scotty and Blaine chose to self-solemnize their wedding. We had our officiant on hand to oversee the process and ensure all the legalities were properly taken care of. Okay–he also served as boutonniere-deliverer and ring bearer man. We are nothing if not multi=talented.
Scotty took the time to build Blaine a customized wedding book that tells the story of their entire romance in about 30 pages, and Blaine wrote Scotty a narrative incorporating some of his favorite literary characters.
And the next thing they knew…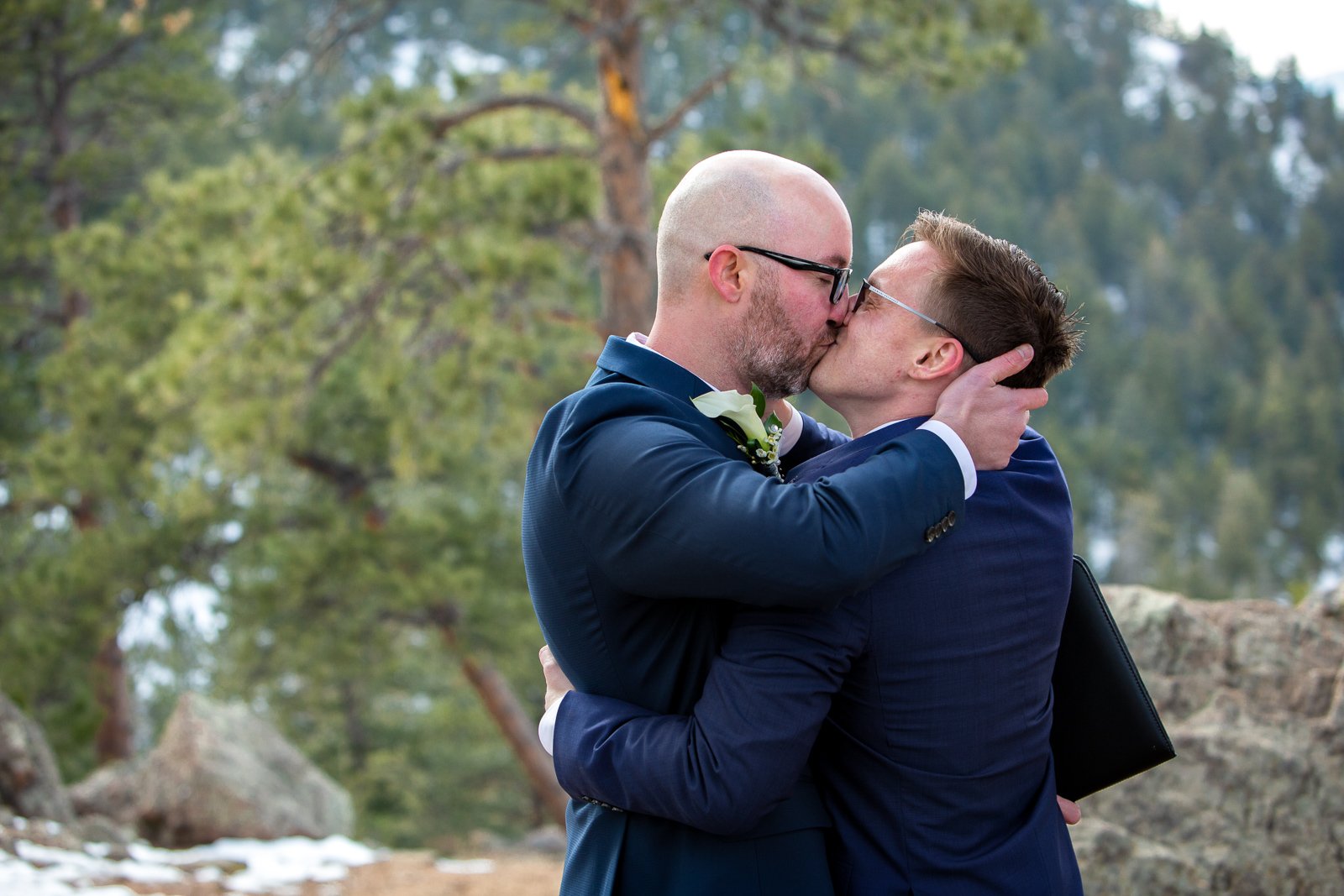 …they were married! Officially, paperwork-signed, sealed with a kiss–MARRIED!!!
High five moment!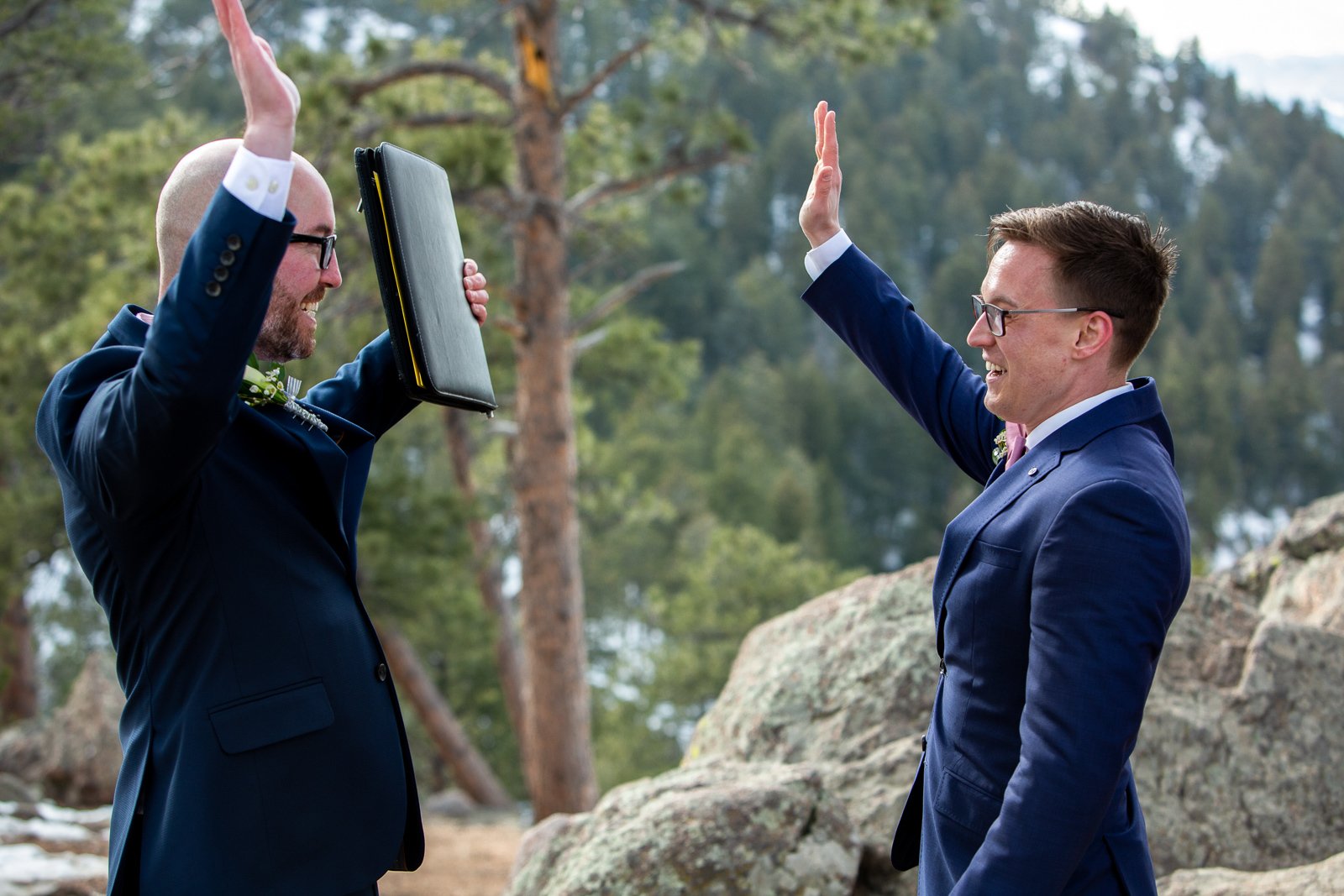 Officiant Bill just had to get into the action for at least one photo. He was, after all, an extraordinary ring-bearer!
Why did you choose an intimate wedding? Trying to juggle all of the competing agendas of everyone who would want to come to a traditional wedding sounded really intimidating, not to mention expensive. We ultimately realized that our wedding was really all about us, and decided that we would just do it exactly as we wanted with only the two most important people there.
What made you select the location you did? Lookout Mountain was gorgeous. We picked it because of the beautiful mountainous background and because of my secret longing for snow – something we don't get to see too often as Texans.
What words best describe your wedding day? Mildly panicked, beforehand – I didn't feel ready at all, and I had packed a bow tie without knowing how to tie a bow tie (good job, me!). But once we got up there, our wedding day was uniquely and weirdly us, just as dorky as we are.
Did you face any challenges in eloping? We faced a million challenges! The week of our wedding, we were going to fly in 3 days early, just to get set up – but a massive snowstorm hit Denver, forcing us to completely change all of our plans at the last minute. Fortunately, Blue Sky was phenomenal and helped us get everything worked out with all of our vendors.
What was the best thing about having an intimate wedding? There were two great parts about the wedding being intimate. First and foremost, I wasn't worried about anyone else – I could really just focus on OUR wedding and not on being anxious about whether or not other people were satisfied. Secondly, having a small wedding meant that everything was a lot easier to change on the fly! I can't imagine having tried to reschedule everything due to snow-out with a wedding of 150 people the same way we did for a wedding of two.
Any advice for other couples planning to elope? Be ready to have a few awkward conversations with your loved ones. Upon being told that we were eloping, SO MANY of our friends and family asked, "Can I come?" – defeating the purpose of an elopement. Be ready to respond firmly and compassionately with the reasons why keeping the wedding small is important to you (if you are!). Also, PLAN, PLAN, PLAN! We had rehearsed everything to ensure we were prepared for how it would go on the day itself, alleviating a lot of the anxiety.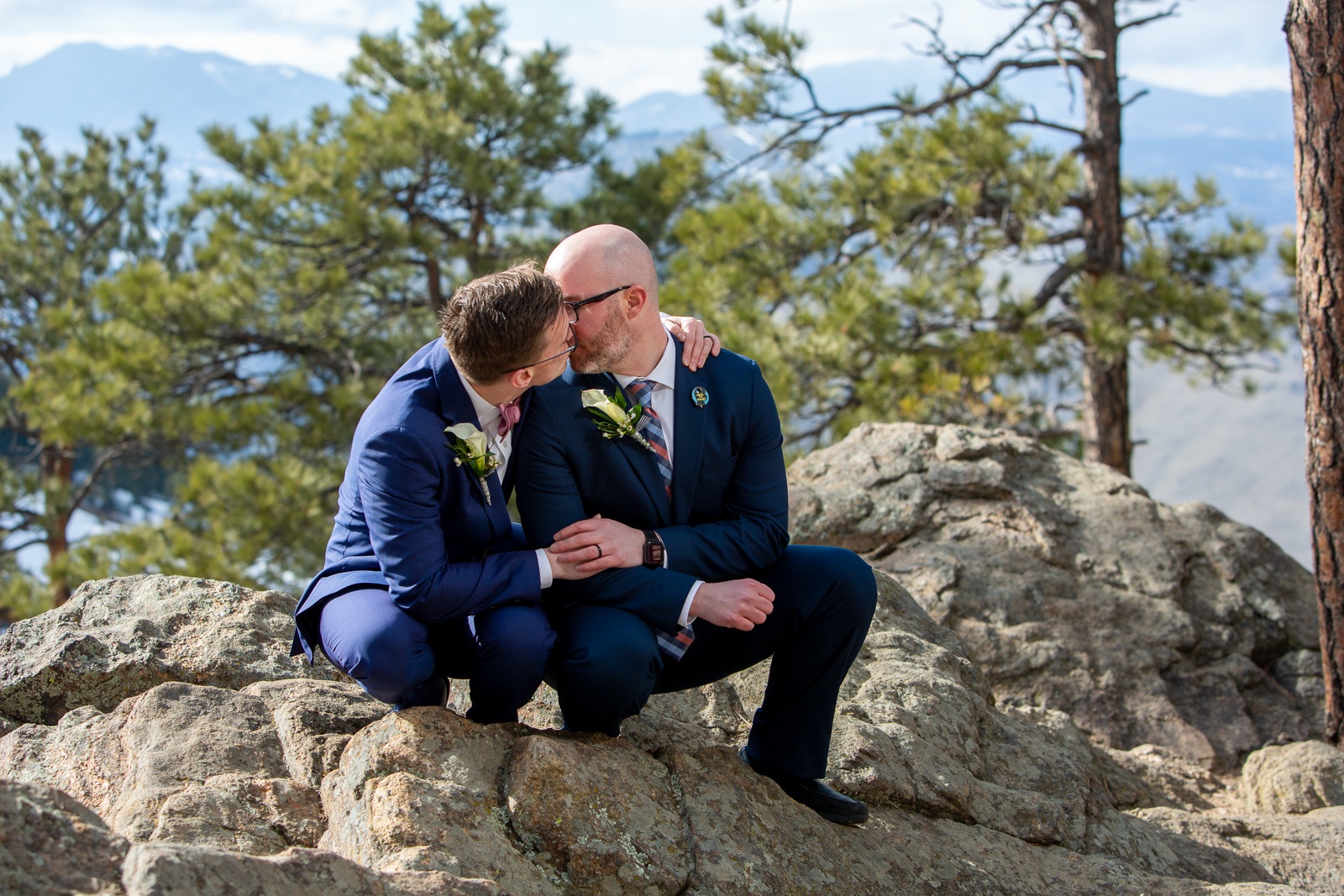 Our photographers deserves an extra shout-out – we didn't realize we'd lose cell service on Lookout Mountain, and we'd taken a Lyft up there, so we had no way back down! They were going through Golden anyway, and very kindly dropped us off on Main Street there on their way. They went above and beyond to pose us and make sure we got A++++ pictures.
I cannot recommend Blue Sky enough. Maureen and Ashley were SO INCREDIBLY HELPFUL from the jump all the way to the end, and I am insanely happy with all of the vendors we worked with – our officiant, Bill, endured so many questions from me. Thanks again!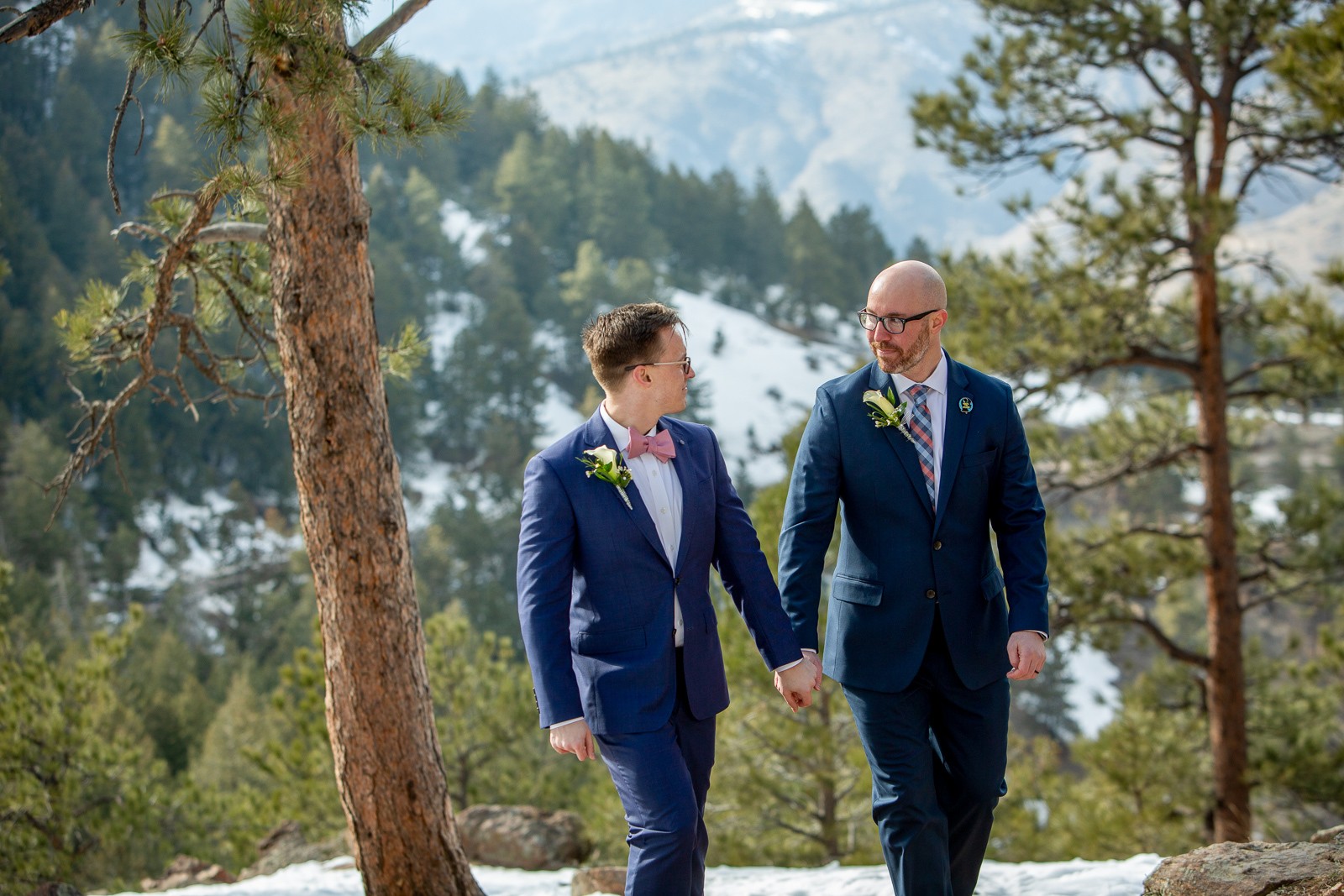 Services included in Blaine and Scotty's Lookout Mountain Elopement package: Location Consulting, Officiating, Boutonnieres, Photography, Coordination.