Courtney and Aaron's Santa Cruz Redwoods Wedding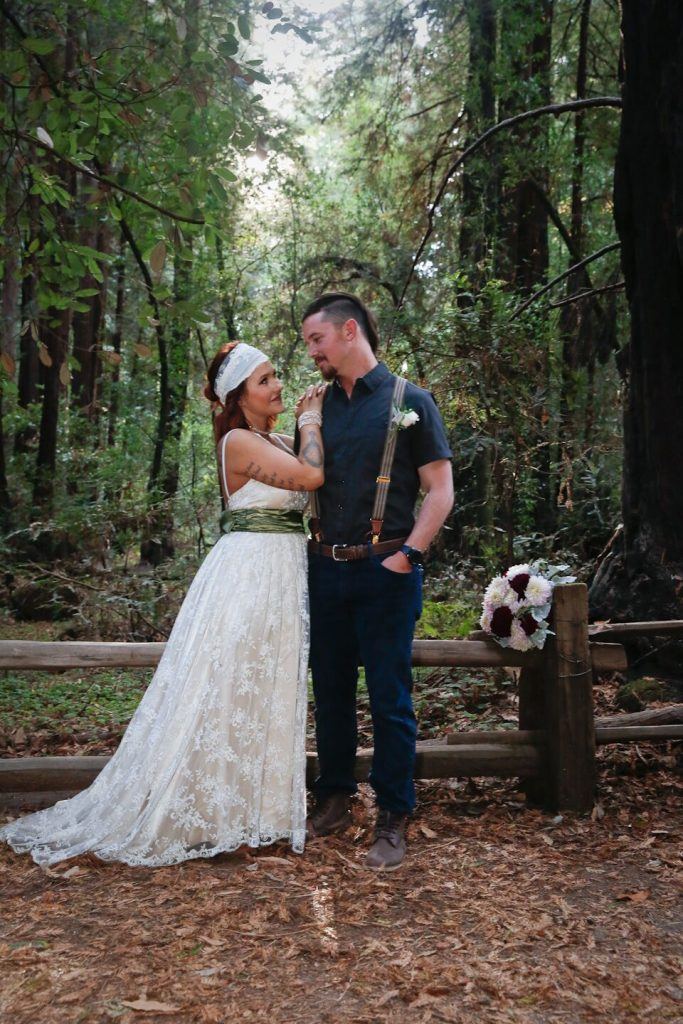 Courtney and Aaron's romantic wedding in the Santa Cruz redwoods
Our couples have a number of reasons why they want to elope. For Courtney and Aaron, eloping made sense primarily because (I'm going to be a little blunt here), they were tired of juggling the opinions and input of others. There is something about a wedding that causes many people to offer unsolicited advice. (Or, as one bride asked me, "Why is it that the minute you tell someone you're getting married, they feel entitled to become personally invested in the details?"  To which my unimaginative reply was, "I have no freakin' clue.")
While the input of friends and family is generally offered with the best of intentions, it can sometimes (often!) cause a couple to want hide under the bedcovers until it's over.
Or, in this case… elope! Bear in mind, that not everyone's idea of the perfect fairy tale wedding is 300 people in a cathedral with a mile-long aisle in which the bride makes her trumpet-heralded entrance (with a mile-long train a la Lady Diana Spencer style to match). For some, the fairy tale is a quieter, more intimate commitment–focused on the two of them.
This was the case with Courtney and Aaron.
So, feeling overwhelmed with wedding suggestions from family and friends, nontraditionalists Courtney and Aaron opted for a stress-free ceremony among the redwoods near Santa Cruz.
Their Santa Cruz redwoods ceremony venue
Not being from the area, Courtney and Aaron had no clue of where to begin looking for a redwood venue where they could get married. There's a lot to consider, and when you don't live here, it can feel as overwhelming as… well… trying to accommodate friend's and family's opinions for a big wedding back home.
We didn't want them trading in one type of wedding stress for another!
The two were wise enough to know what they didn't know about eloping in the redwoods, so they turned to the experts (that would be us!) to help them out. Our location consulting services helped them narrow down their options until they ultimately decided on a park outside of Santa Cruz that offered them the old growth redwoods they craved. And by eloping on a weekday, we skirted the crowds that can sometimes be found at public parks.
What was important to them for their wedding
A better way of putting that might be to say, what was important to them to NOT have on their wedding day. It was critical that they not spend the day focused on throwing a massive party. They didn't want to have to get up at the crack of dawn and jump into a whirlwind day-of-wedding schedule of hair appointments, tending to out of town guests, coordinating with wedding party members and handling last-minute details.
What they did want–and ultimately got–was a relaxed morning complete with a leisurely breakfast… then a leisurely lunch, and a walk on the beach. Back to their lodging to put on their wedding finery and grab their flowers (delivered while they were out and about) and their California marriage license, then a short drive to our agreed-upon meeting place, where they met up with our officiant and photographer. A ten-minute walk down a forested path lead them to the most gorgeous old-growth redwood grove for their elopement.
The best thing, for them, about marrying in this matter is that they got to focus on what is important to them. Aaron and Courtney place a high value on nature and the outdoors, so starting their new life together beneath magnificent old redwood trees was both magical and romantic. And Aaron simply isn't the tuxedo-wearing type. They wanted to be free to express themselves, to dress in a way that made them feel comfortable and to express their love and commitment with personal touches that may have been out of place in a traditional (translated: BIG) wedding. Besides, who wouldn't want to showcase Courtney's artistic tattoos?
They looked absolutely fabulous–and more importantly, they looked like themselves.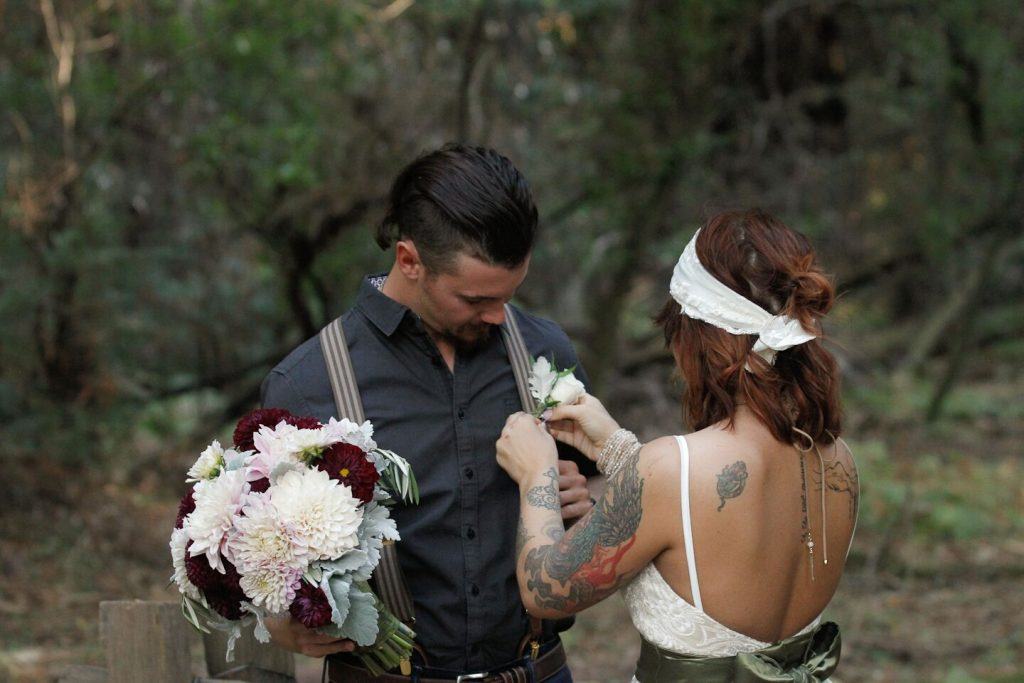 The unique mix of casual and formal details that Courtney and Aaron included in the ceremony highlighted their individual character as a couple.  From Courtney's lace headband and olive green sash to Aaron's suspenders and blue jeans, the two offered their own spin on wedding traditions.
The couple first met when Courtney started a new job. Aaron stopped by to see his sister, who was her coworker. He asked Courtney out the next day, and they've been together ever since.
"My favorite part of our elopement was spending the day with no plans other than our marriage," wrote Courtney. "It was so stress-free. We went to the beach, had lunch in downtown Santa Cruz, got dressed, got married, and had a romantic dinner afterwards. This wedding was way more than I imagined. Way to go, Maureen, for giving us our fairy tale wedding!"