Cassie and Seth's Destination Wedding at San Francisco City Hall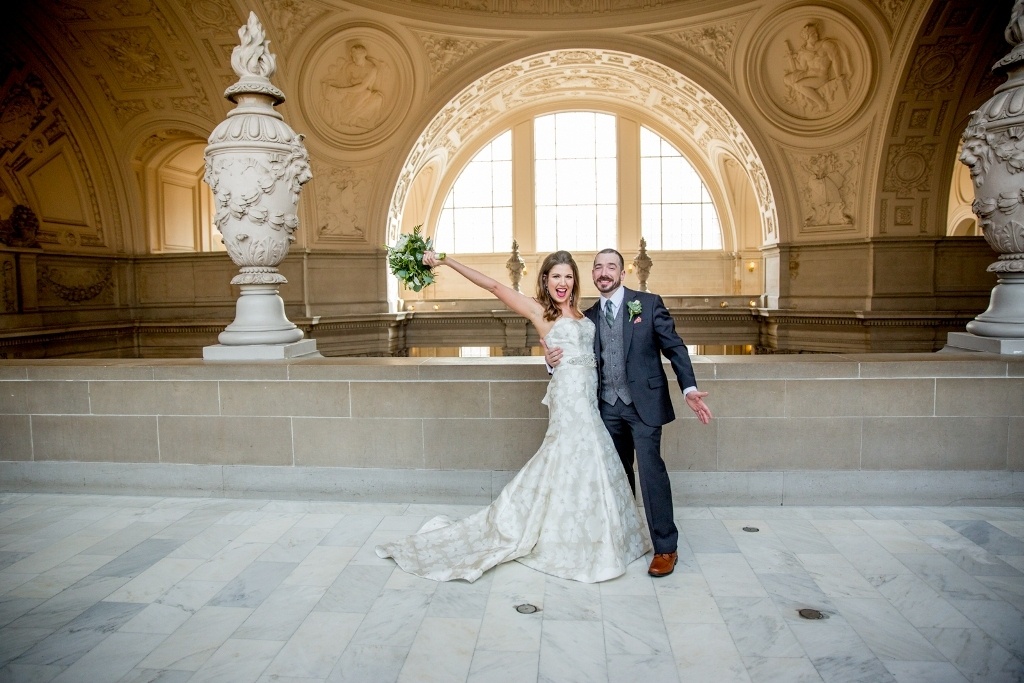 Cassie and Seth wanted more than something run of the mill for their  destination wedding at San Francisco City Hall. As if eloping to the city by the bay isn't offbeat enough!
So, after their laughter-and-tears-filled ceremony at city hall, they arranged for a local ice cream shop (Thanks, Ice Cream Bar!) to open up just for them for their post-ceremony "reception" for two. Weddings and ice cream (two of my favorite things!!) all in one day! Is it any wonder this wedding was one of my all time favorites for 2018!?!
But wait! it gets better! After their ice-cream gorge-o-rama (I'm not kidding–look at the photos below!), the took off for a tour of San Francisco in a hippy dippy "love bus… a.k.a. a psychedelic 60's style VW van. Alas, our photographer had departed by then, so we didn't get photos of that. But check out the stunning images from the rest of their magical day.
Let no one say that these two didn't have fun from start to finish on their wedding day!
For her bouquet, Cassie simply sent us a picture of her dress, said she liked succulents and left the rest up to our fabulously talented florist to work their magic. The result was perfect!
Then it was off to the Ice Cream Bar for more fun and festivities (and food!).
Why did you choose an intimate wedding? Some women dream about planning the details of their wedding day: table linens, seating charts, favors, food, decor, invitations, music, etc. Honestly, the thought of all those decisions and having to please all involved gave anxiety and heartburn! Furthermore, Seth and I are both busy working professionals with family scattered across the country, so it would be that much more difficult to arrange the details of a traditional ceremony and reception. That being said, I'm still a romantic and somewhat traditional woman. I wanted to do all the fun "pretty princess" wedding day stuff – white dress, handsome suite, bouquet, beautiful location, meaningful vows, and pictures – only without the daunting drama, stress, and unnecessary expense of a typical wedding. 
What made you select the location you did? San Francisco is a beautiful and romantic city, and the architecture of City Hall is spectacular.
What words best describe your wedding day? Romantic, fun, unique, stress-free, beautiful.
What was your favorite part of your wedding day? Our ceremony! I felt beautiful, I wasn't distracted by details. I was just focused on looking into my beloved husband's eyes, expressing love and devotion with our vows, and just enjoying the moment. Our officiant and photographer were professional and also really fun and relaxed which was important for me.
Did you face any challenges in eloping? Nope. Our family was supportive. A lot of people thought it was really cool and romantic. Some of my friends that are planning weddings said they were a little jealous!
What was the best thing about having an intimate wedding? Our ceremony was romantic, unique, and most importantly, it was about US. We both love our friends and family and didn't elope to evade drama or disapproval. It was simply OUR day, a special ceremony to mark and celebrate our love and commitment to each other.
Any advice for other couples planning to elope?  If you have an idea, go with it! Don't feel like you have to follow traditional wedding "rules" if you don't want to. After googling some random ideas, we ended up going to an ice cream parlor after our ceremony and then getting driven around San Francisco in a vintage, rainbow painted hippy bus for before going to dinner to dinner at a fine Michelin Star restaurant.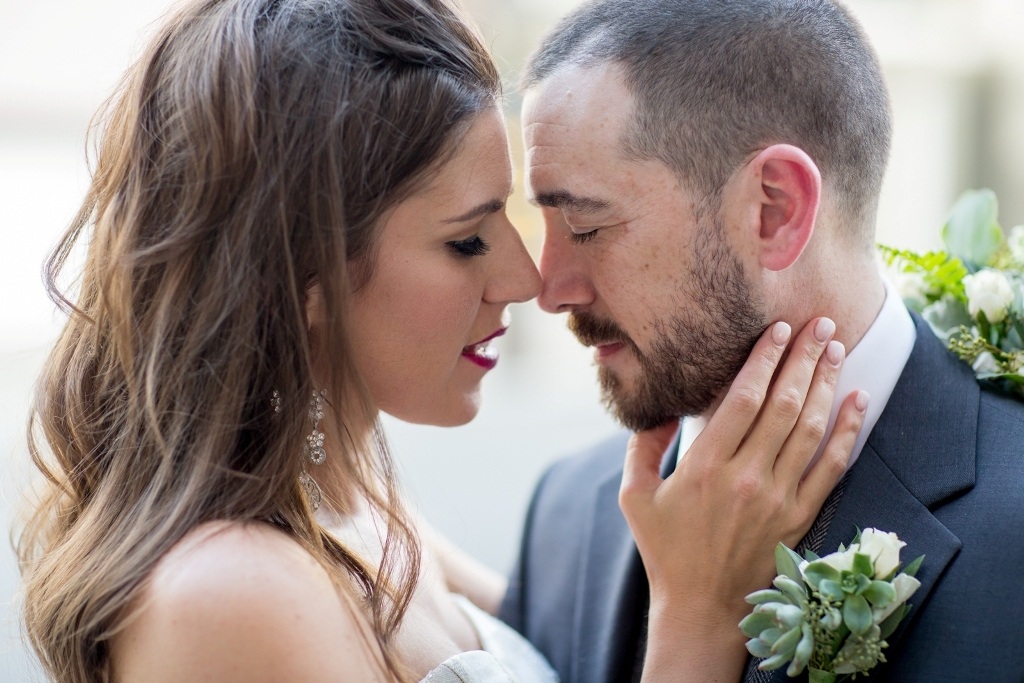 Blue Sky Elopements took care of the details and made it easy for us to enjoy our perfectly fun, intimate, quirky, and romantic event! Maureen and her staff are great at making your dreams possible, but will also reign you into reality if your ideas are not possible or are super costly/budget busting!
We were very, very, VERY happy!
Services included in Cassie and Seth's elopement package for their wedding at San Francisco City Hall: Location Consulting, Officiating, Photography, Bridal Hair and Makeup. Flowers, Coordination.