A California Elopement for Louis and Brieanne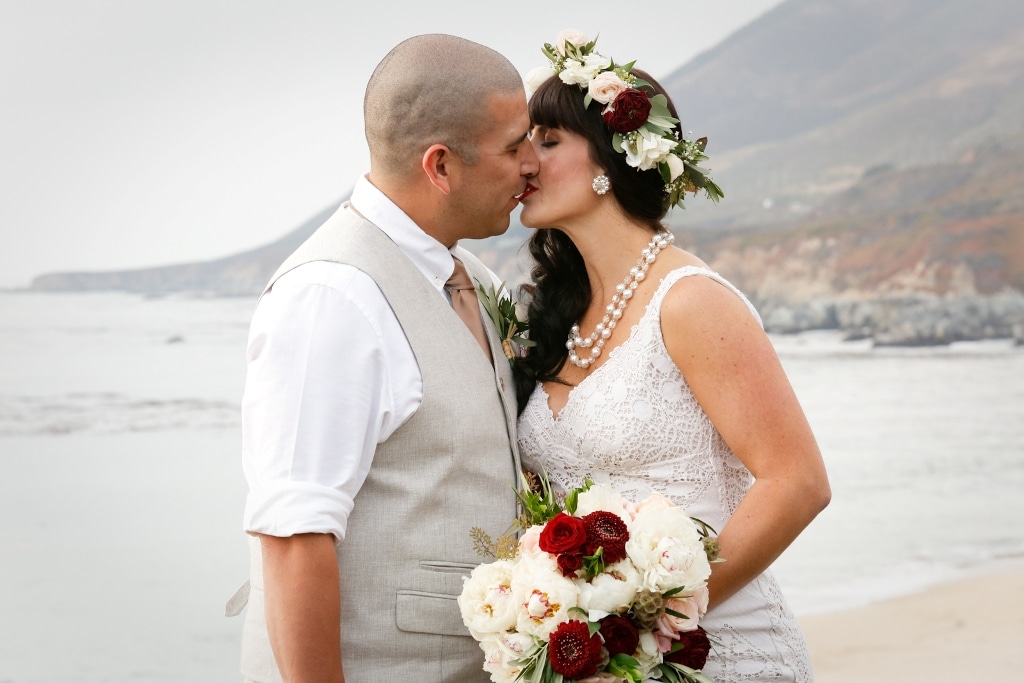 These two were intent on pulling off a California elopement
With two little ones at home, it was a bit of a challenge for Brieanne and Roy to get away for their California elopement. But with an intense desire to have an intimate wedding that focused only on the two of them (Bravo!), they did the necessary juggling that allowed them to get away to Big Sur for a just-the-two-of-them wedding experience.
Wanting the best of all the natural backdrops that Big Sur offers, they elected to have their ceremony at a gorgeous private redwood venue in Big Sur, followed by an hour of photography at the nearby Big Sur cliffs and beach. They had all the quintessential Big Sur backdrops rolled into one for their wedding day!
We started off with a private first look for the two of them just outside of their lodging amid the redwoods.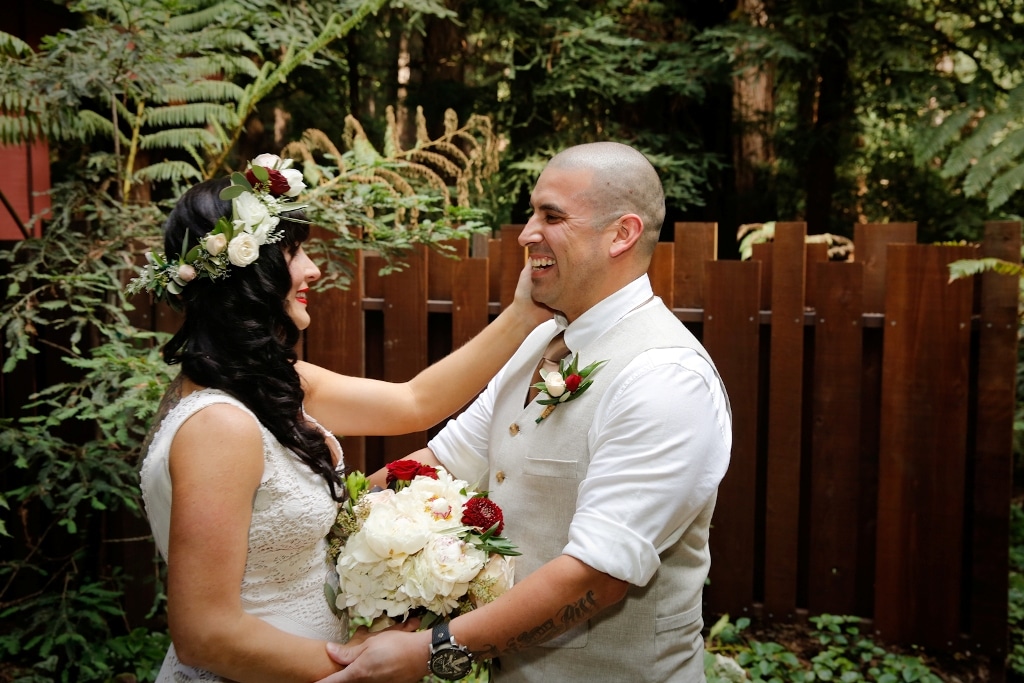 Their elopement ceremony amid the redwoods
Louis and Brieanne shared their personal vows to one another under towering redwood trees alongside the Big Sur River.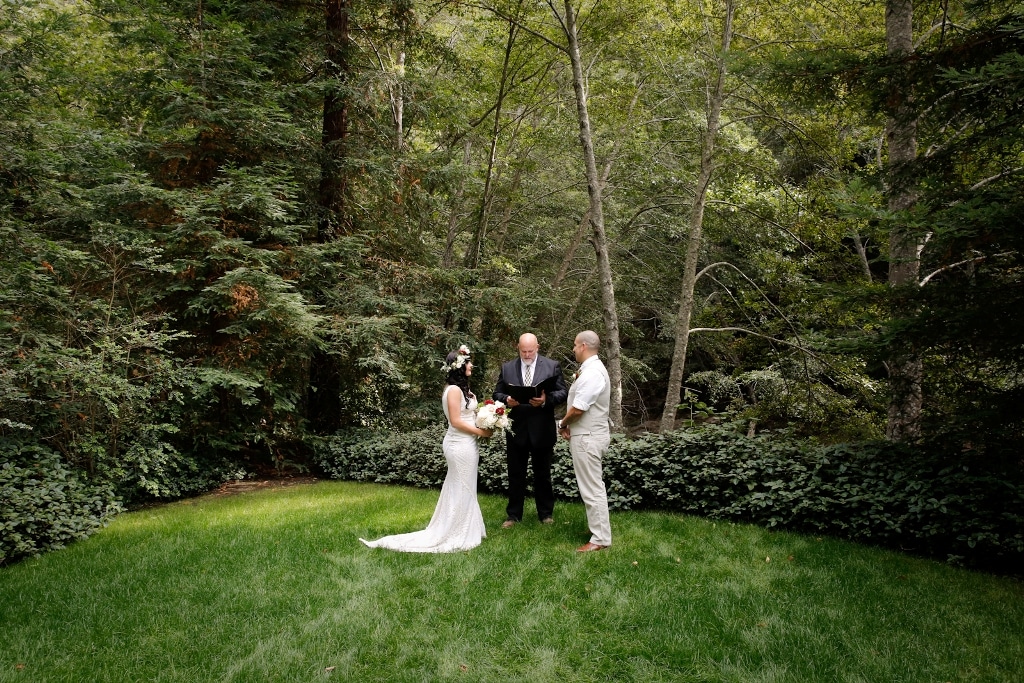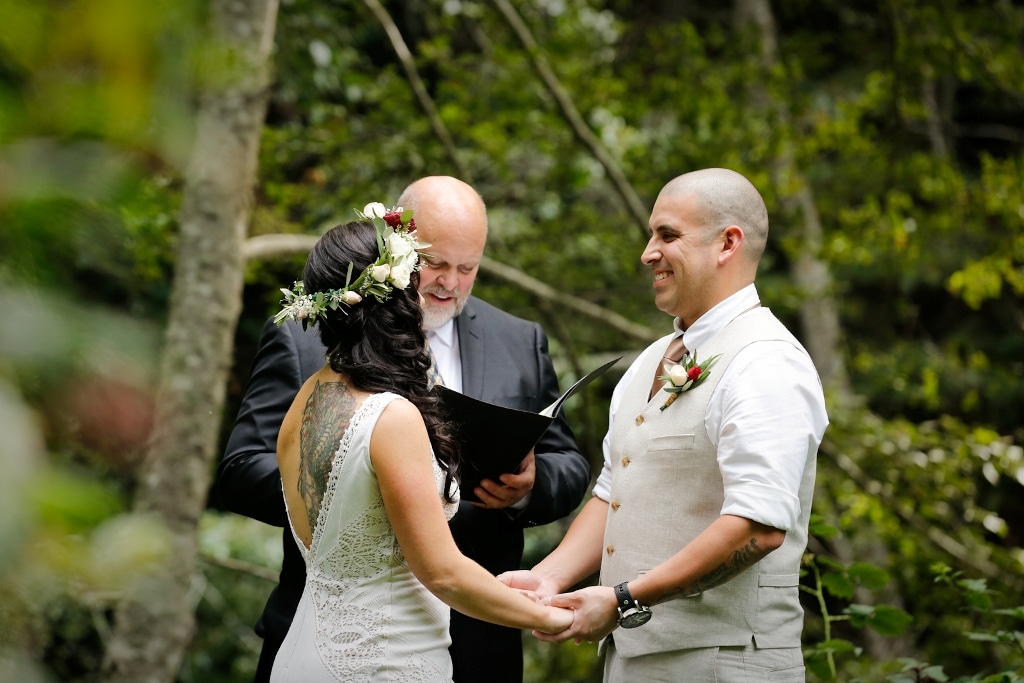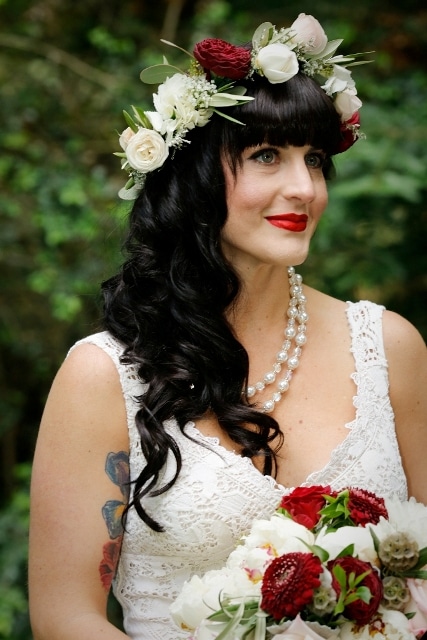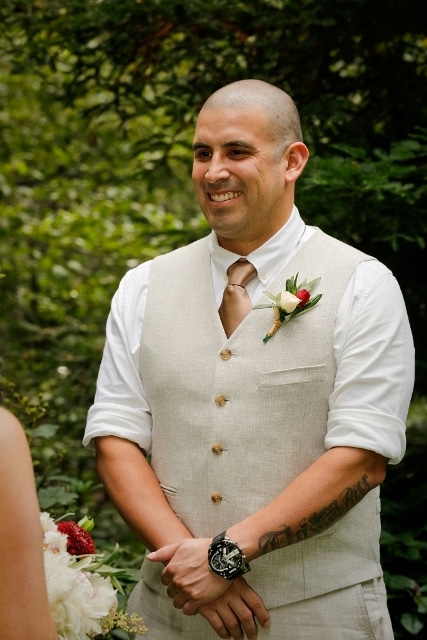 Their pictures are absolutely stunning! My favorite thing about them is how–in almost every photo–they are always touching each other. Their connection is palpable.
And the way he looks at her! Wowza! Every woman's dream!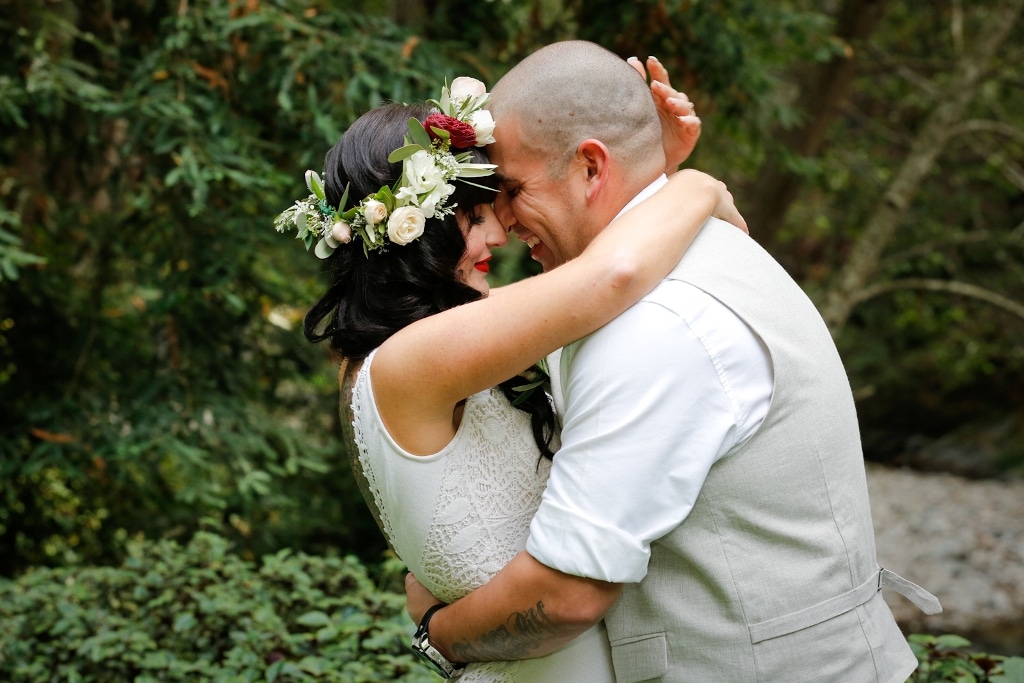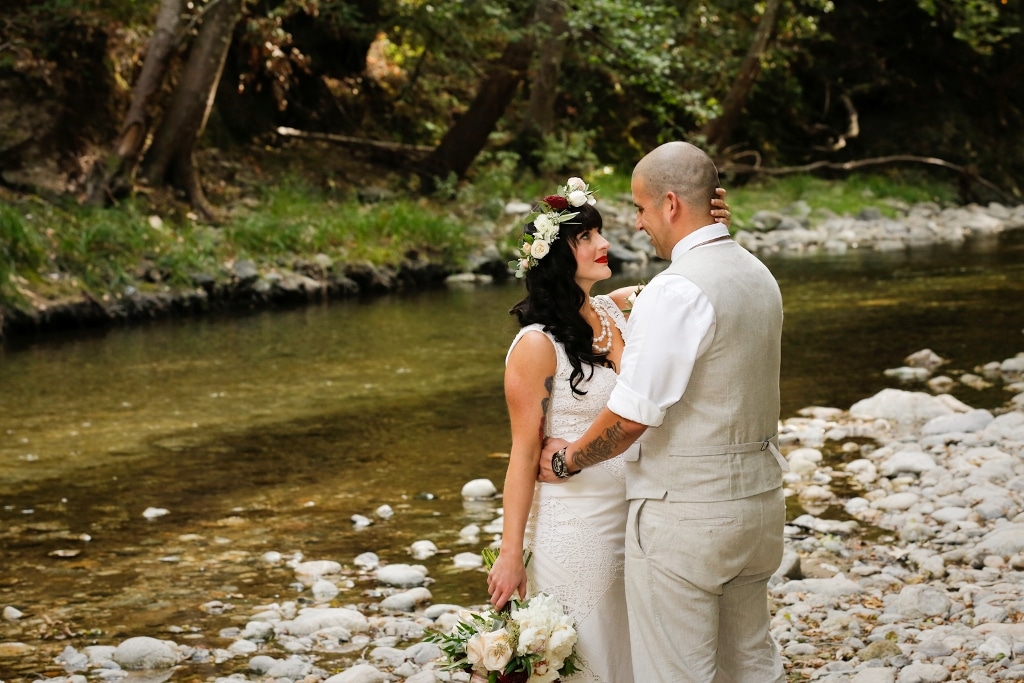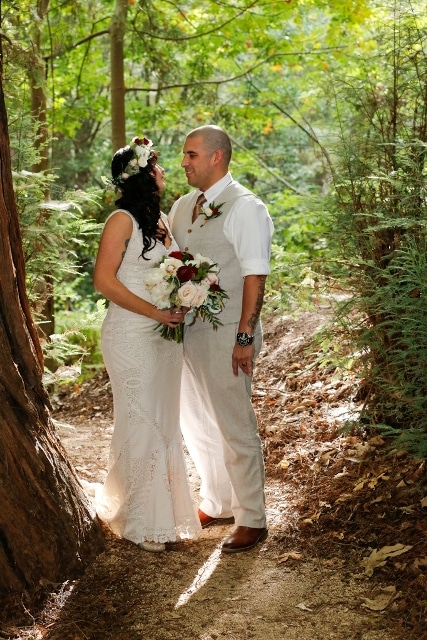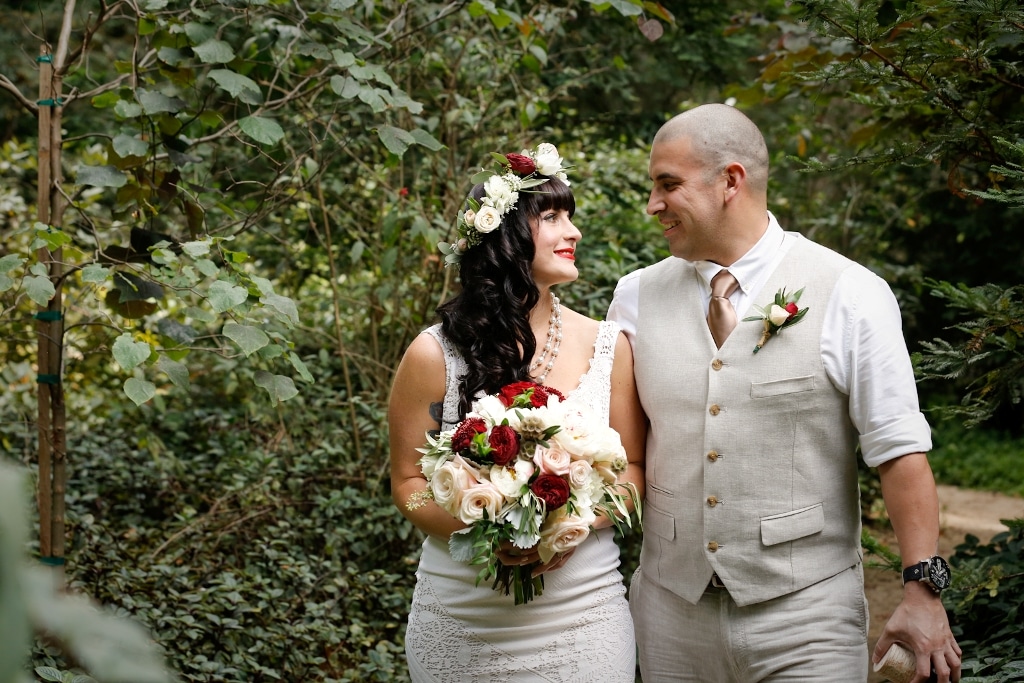 And they simply could NOT stop smiling!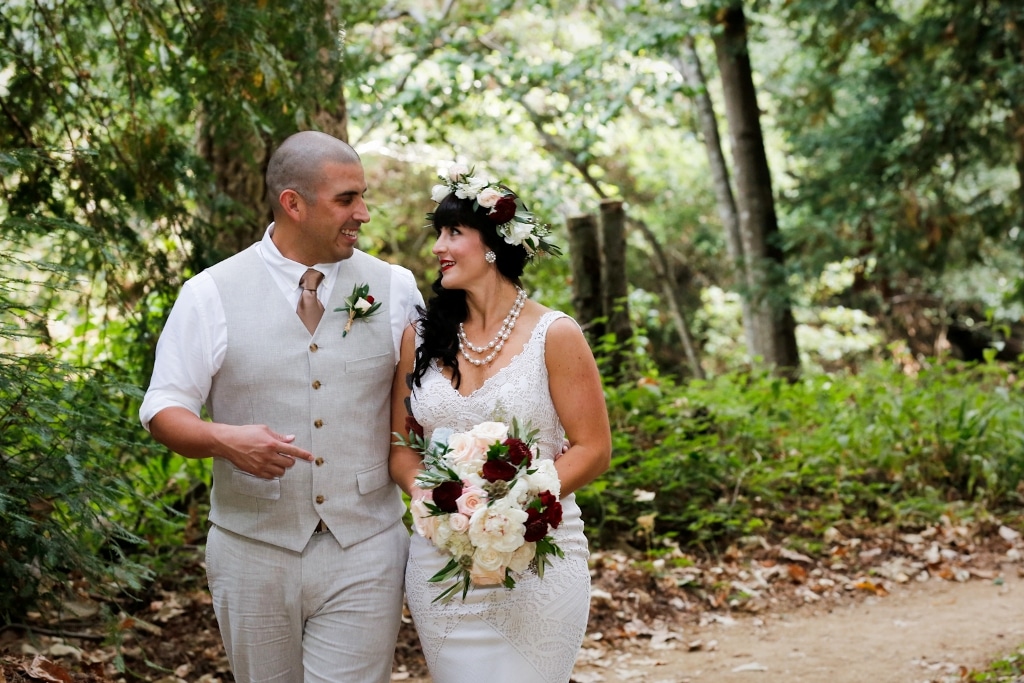 Our florist designed a gorgeous flower crown for Brieanne that coordinated perfectly with her bouquet and Louis' boutonniere. Then our hair and makeup artist wove the crown into Brieanne's thick dark hair for a dramatically stunning effect.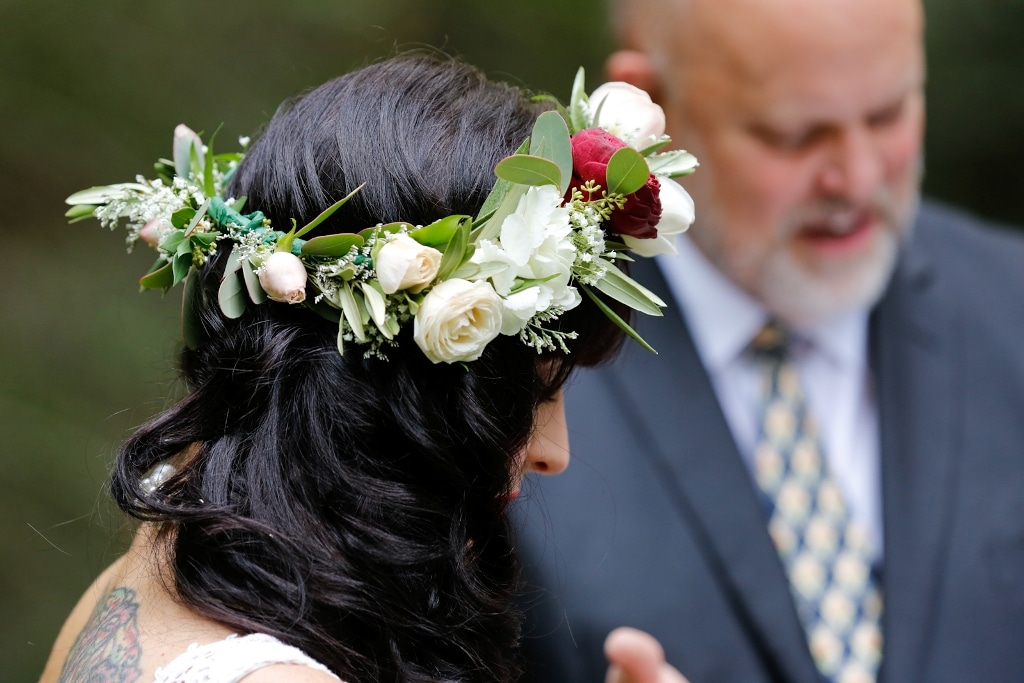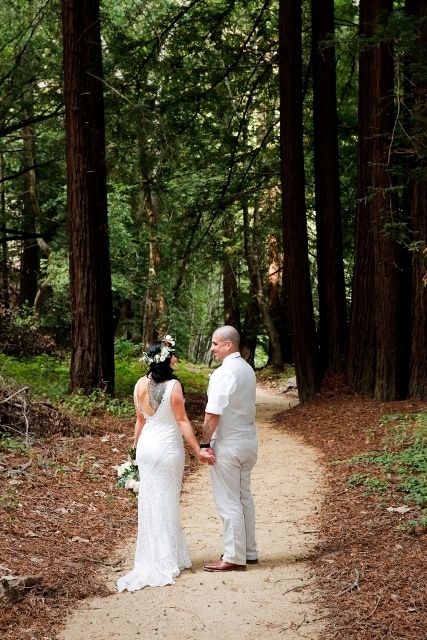 Then it was off to a secluded beach in Big Sur for more photos
Having exhausted their redwood backdrop for pictures, we moved them up the way a bit for dramatic cliffside and romantic toes-in-the-sand beach wedding photos.
In their own words
Why did you choose an intimate wedding?
We wanted to focus on each other and make the event about us rather than all the extra that goes into planning a wedding.
What made you select the location you did?
We wanted the best of both world and Big Sur gives you an enchanting forest as well as a breathtaking beach. We wanted nature to do the decorating and wanted to be in a place that felt other worldly; for us this was Big Sur.
What words best describe your wedding day?
Intimate, relaxing, beautiful, fun, everything that I ever wanted.
What was your favorite part of your wedding day?
We woke up early and walked through the woods to get coffee. It was so calming and intimate. There was no stress at all just nerves (the good kind) and joy.
What was the best thing about having an intimate wedding?
The only people we had to worry about pleasing was each other. There was no stress, which by far ruins so many weddings.
Any advice for other couples planning to elope?
I would say do it if it's what you really want. We have both been married before and this by far was the best experience for us both.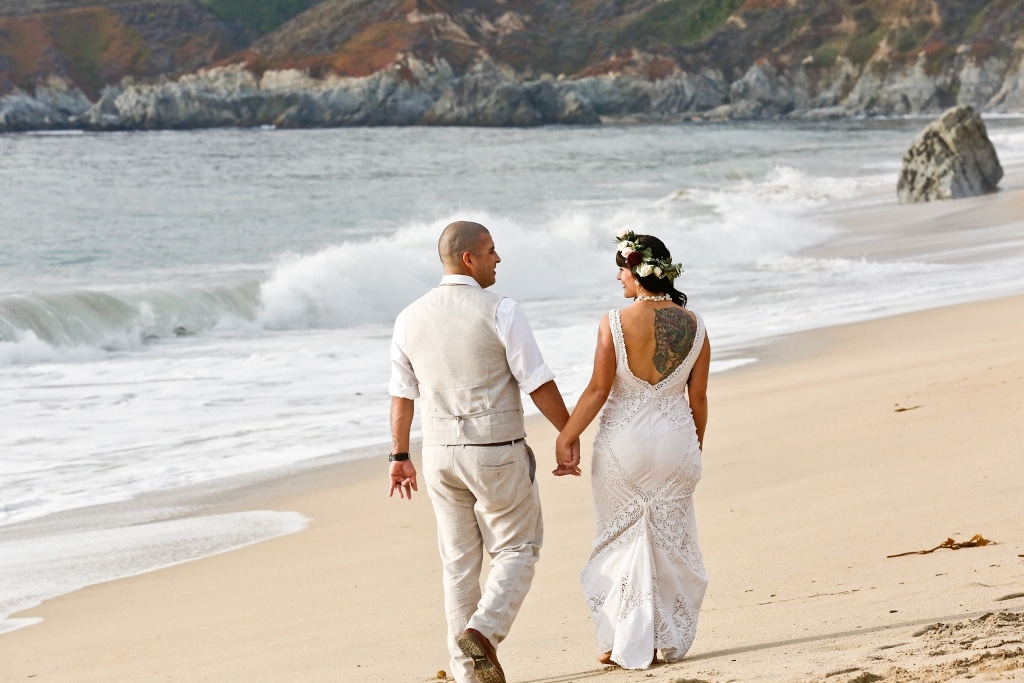 We were very happy with the service and all the vendors. If felt like working with close friends rather than total strangers.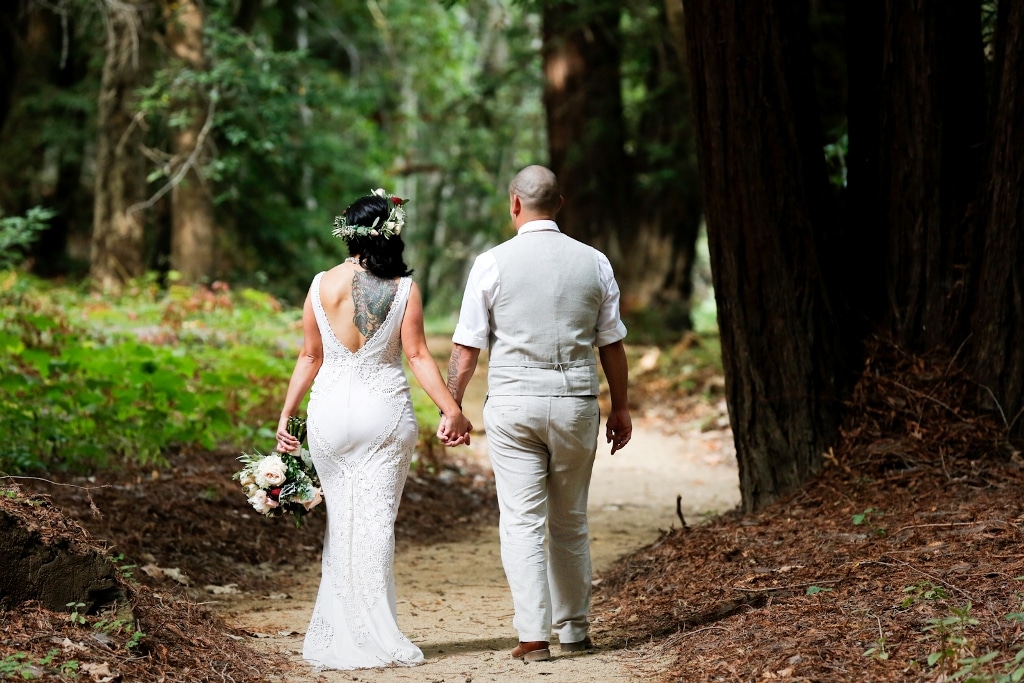 Services included in Brieanne and Louis' California elopement wedding package
Helpful things to know if you're planning a California elopement
If you're coming to elope in California from another state, bear in mind you need to get a California marriage license.
Fortunately, marriage licenses in California are easy to obtain. There is no waiting period, but you do have to appear together in person at a county clerk's office prior to the wedding day. Here's more info on obtaining a California marriage license.
We suggest arriving a couple of days prior to your wedding so you can pick up the marriage license the day before the wedding. It won't be relaxing if you have to run out to get a license on the morning of your wedding day! Since the Covid pandemic of 2020, many county clerk's offices in California are offering appointments to get a license. This cuts down on waiting time once you arrive. Many offices are now allowing couples to fill out their preliminary application online. Our officiant will guide you on the process once you decide which office you'll be going to.
Most couples who elope to California choose one of three types of venues
Most of our couples come to marry in California wanting a site that is either on the beach, on a cliff overlook, or in the redwoods. Like Louis and Brieanne, many couple choose to add a bit more photography time to their elopement package so they can incorporate more variety into their elopement wedding photos.
If you're undecided about which type of venue you want, we can help you. That's what we offer under our Location Consulting services. Redwoods are usually better than beaches in winter, as a beach wedding between November and March has a higher chance of rain and wind. Redwoods act as a natural umbrella against such conditions.
The best time of day to elope outdoors in California depends on the location you choose and the time of year.
If you're on or overlooking the beach, you'll want to aim for what photographers call the golden hour–the last hour or two before sunset. That's when the light is softest and the most flattering.
In the redwoods, however, you'll want to avoid getting married at the end of the day, where the setting sun can really cast shadows amid the trees. Early to mid-afternoon is the best time for a redwood elopement. The good news is that you can marry in the redwoods earlier, then go to the beach for more photos at golden hour time.